At this point in medical research, it would be a challenge to produce and defend the health benefits of constantly wearing high heels.
Not even Victoria Beckham or Sarah Jessica Parker can deny that there aren't some health risks that go along with the fashion style.
But, beyond the basic warnings associated with prolonged effects from wearing heels, there haven't been too many tangible suggestions for heel-wearers to keep in mind when donning the footwear.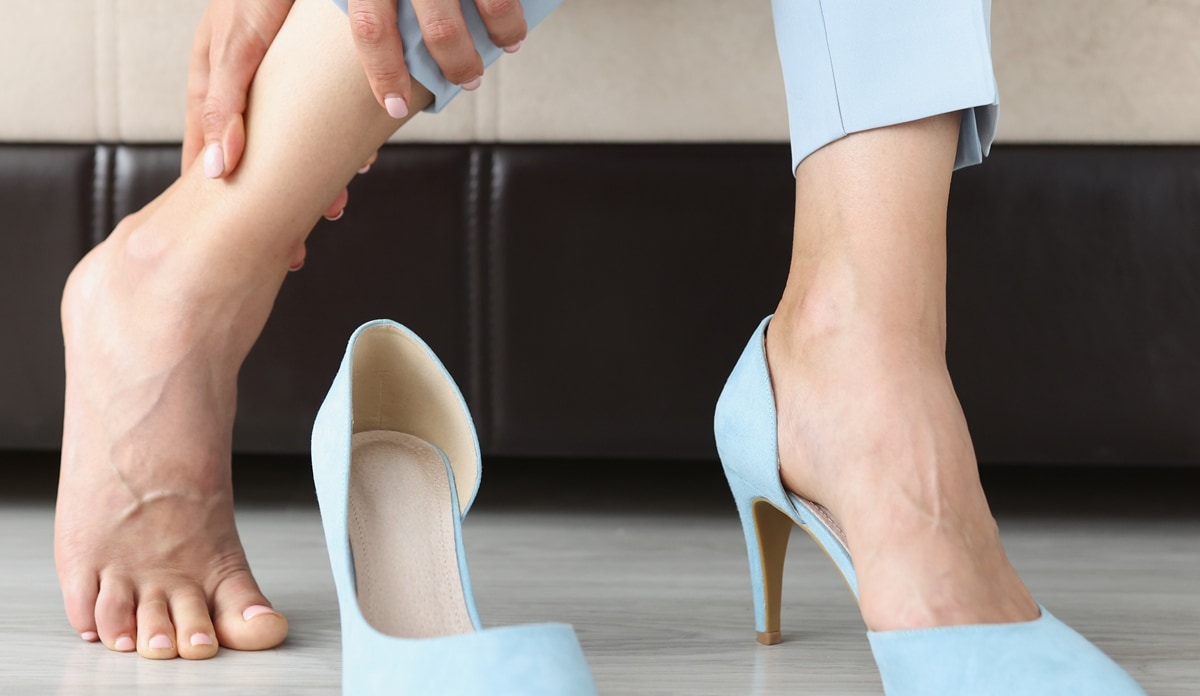 How long you can wear a pair of stilettos depends on the height of the heel (Credit: H_Ko / Shutterstock)
For many people who prefer the look of a few extra inches, the health risks are just part of the sacrifice of fashion.
While cutting back and opting for flat footwear from time to time is viable, for many people, the idea of giving heels up completely would be a challenge.
Take Naomi Campbell, for example. This supermodel has strutted across so many runways in such towering heels that she's developed painful bunions on her poor feet, but that doesn't stop her from persisting:
Naomi Campbell shows off her feet at the Fashion for Development 5th Annual Official First Ladies Luncheon on September 28, 2015, in New York City (Credit: WENN)
Luckily, thanks to a podiatrist-consulted episode of "The Doctors," we have some actual numbers to work with that suggest more gradual changes than the radical option of cutting heels cold turkey.
Whether or not we listen to these suggestions is up to us and our outfits, of course, but at least now we can't say we didn't know.
During the high heel segment of this episode of "The Doctors," available for viewing below, the lady doctors detailed three of the main heel heights and provided a podiatrist-recommended timeline for how long you can healthily wear each before the pain settles in and you increase your risk of long-term damage.
Though they admitted that they don't always adhere to these time constraints, the doctors are certainly advocating more awareness concerning the issue.
Kitten Heels: 4 Hours
Although Dr. Rachel Ross, a family physician on the show, commented that she could probably wear these shorter heels all day, there are still serious health risks associated with prolonged wear.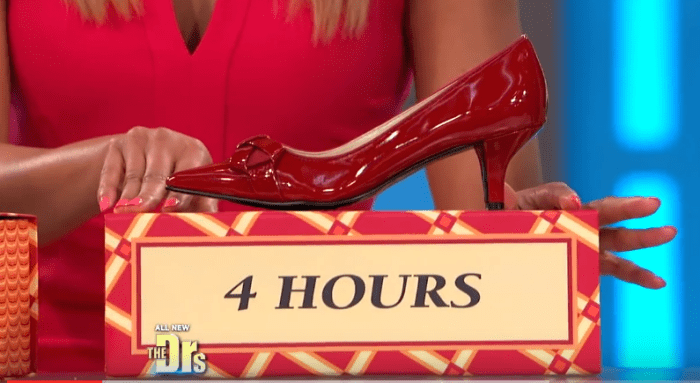 You can wear kitten heels for at least 4 hours, possibly all-day (Credit: The Doctors)
Podiatrists recommend choosing the kitten heel over stilettos, but just because these shoes look and feel more comfortable doesn't mean they're good for a whole day of wear.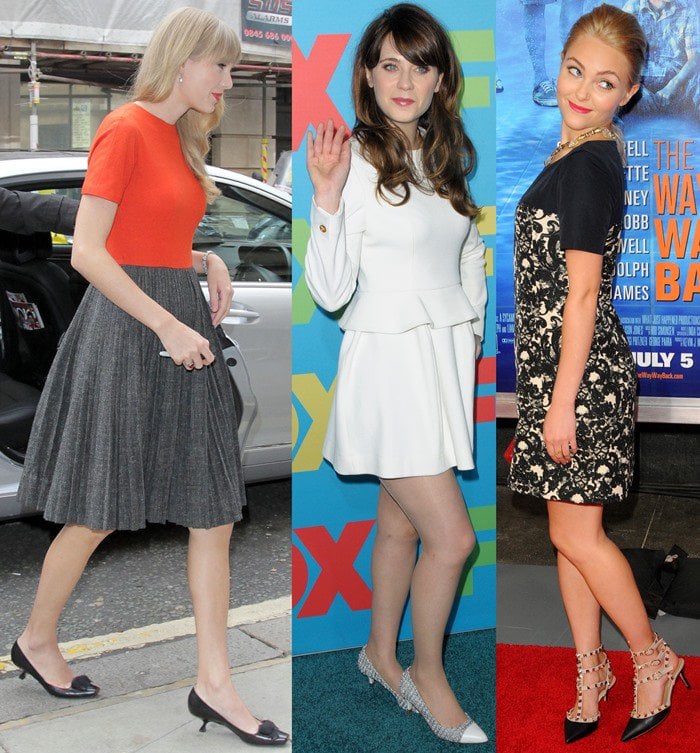 Taylor Swift outside the BBC Radio 1 studios in London on October 5, 2012, in a pair of black kitten heels / Zooey Deschanel arriving at FOX Upfronts at The Beacon Theater in New York City on May 13, 2014, in a sparkling pair of kitten heels / AnnaSophia Robb in Valentino 'Rockstud' kitten heel pumps at 'The Way, Way Back ' New York premiere held at AMC Loews Lincoln Square in New York City on June 26, 2013 (Credit: WENN)

Despite some fashion backlash for the kitten heel in recent history, the style appears to be picking up speed in the celebrity world.
With more information about the health risks of heightened footwear, stylish stars like Taylor Swift and Zooey Deschanel are opting for shorter heels and flatter footwear from time to time.
Bear in mind that even if you find yourself a cute pair of shoes with a kitten heel, 4 hours is likely all your feet can handle painlessly!
Medium-Height Dinner Heels: 3 Hours
Slightly higher than the kitten heel but not tall enough to be stilettos, mid-height heels are the standard option for adding a classy feminine flair to your outfits without the pain of ultra-high heels.
Mid-height heels can be worn for around 3 hours per day (Credit: The Doctors)
Although many celebs choose the tallest heels when it comes to outings and events, this mid-level heel is also quite popular.
For many women, this heel size is standard for daily wear. The mid-height heels can be seen as chic and professional, as displayed elegantly by the Duchess of Cambridge and Michelle Obama.
Duchess of Cambridge, Catherine Middleton attends a Christmas party at the Anna Freud Centre in North London on December 15, 2015, in Stuart Weitzman "Power" pumps / First Lady Michelle Obama has tea with the Camerons as part of her UK visit to London on June 16, 2015, in some classy and simple black pumps (Credit: WENN)
For this heel height, podiatrists recommend wearers not exceed 3 hours in one day for maintaining optimal health.
Though they might seem comfortable and fine for a day's work in comparison to the higher options in your closet, 3 hours is all your body should really be trying to take in at one time!
Highest Heels/Stilettos: 1 Hour
1 hour might sound like an impossibly short period of time, but there's no denying how quickly your feet can begin to ache from wearing stilettos.
When you add the extra inches to your heels, the balls of your feet and your toes have to manage the extra weight, putting you in an unnatural position that makes you vulnerable to back pain and other problems.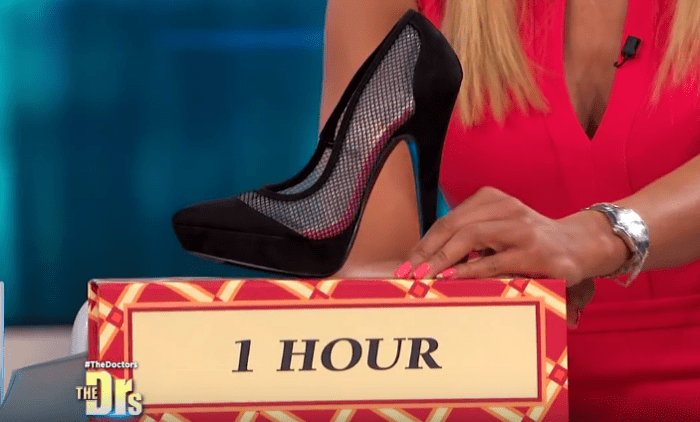 You can wear high-heel stilettos for up to 1 hour per day (Credit: The Doctors)
If you can't imagine your life without stilettos, perhaps you can try Dr. Rachel Ross's hack: she admitted she wears Uggs to work and changes into her heels when she arrives!
Bringing an extra pair of shoes might seem like a hassle, but it could definitely save you from future pain.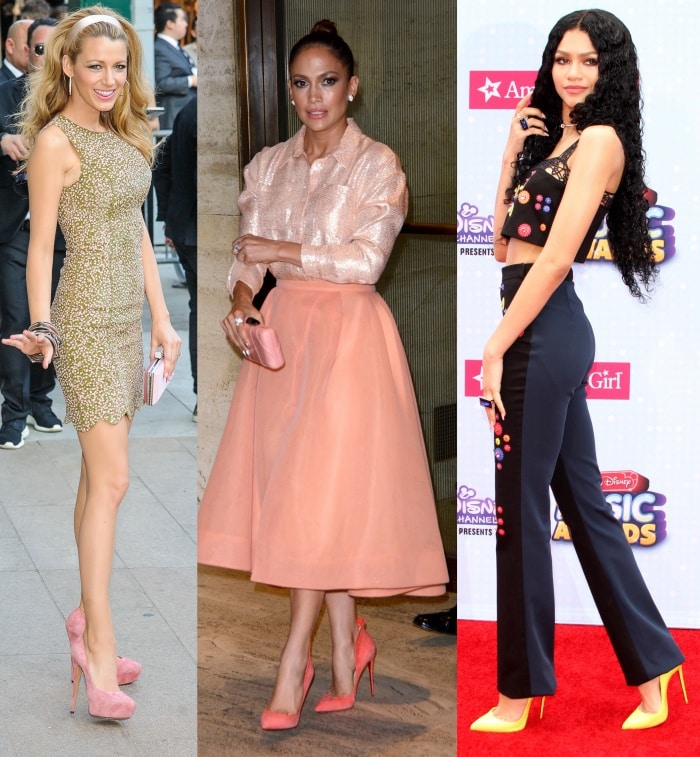 Blake Lively arrives at the 2014 CFDA Fashion Awards in New York on March 6, 2014, in light pink suede platform pumps / Jennifer Lopez at the UN Foundation's gender equality event in Manhattan on September 25, 2015, in some towering Christian Louboutins / Zendaya Coleman at the 2015 Radio Disney Music Awards held at Nokia L.A. Live in Los Angeles on April 25, 2015, in some spunky Christian Louboutin pumps (Credit: WENN)
The doctors mentioned that when buying or wearing stilettos, choosing a pair with a platform is the best. Without the extra padding on the balls of your feet, your toes can really take a beating from being so close to the ground.
In the celebrity world, especially for red carpet events, towering heels are the norm, and they can certainly add a sexy display to an ensemble.
We just hope some of these stars are packing an extra pair of flats in their clutches!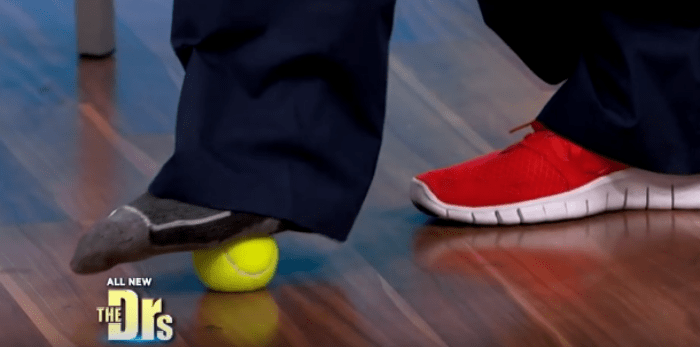 Using a tennis ball for a foot massage can relieve soreness and pain (Credit: The Doctors)
To further our concerns about heel-wearing, Dr. Andrew Ordon, a plastic surgeon, named a frightening list of potential health issues including, "bone spurs, plantar fasciitis, back pain, and hammer toes."
Although hearing the technical problems that could arise from prolonged heel wear is scary, it's also important to be reminded that the pain we feel from wearing heels is not something to be ignored.
Thankfully, the doctors also detailed a few ways to combat some of these health issues including rolling a round object such as a tennis ball or water bottle under your feet at the end of the day or soaking your feet in an ice bath.
Whether you decide to adhere to this podiatrist-recommended timeline or not, being aware of the guidelines and correlating them with the pain you may be experiencing from wearing heels is essential for maintaining a healthy relationship with your feet and body!