Have you ever wished you could grow a few extra inches? If you're petite, you've likely wondered what life is like on the other side.
Being taller gives you an instant confidence boost and can naturally elongate your silhouette. You don't need to be blessed with a 6'2 body to create the illusion. Your shoes are your secret weapon.
The right pair of platform heels can instantly add a few extra inches without killing your feet. The platform gives you the benefit of extra height while lessening the pressure on your feet.
If you're exploring heels for the first time, platforms are a staple. They're the perfect choice for a full day of running errands or exploring the city.
With the Y2K aesthetic bringing early 2000s trends back into style, trendy platform heels are back in vogue. We're sharing our favorite trendy platform heels that will boost your height in 2022. With spring and summer right around the corner, these are the shoes you'll want to add to your closet.
What Are Platform Heels?
Platform heels are shoes that have a traditional heel with a thicker sole. You'll typically find a platform added to shoes with a thicker heel, such as a block or wedge.
By lifting the balls of your feet with the platform, it lowers the distance between your ankle and the foot of your front. This shorter arch makes the shoes more comfortable to wear without compromising on the overall height of the heel.
Zoe Saldana, Kelly Ripa, and Christina Aguilera boost their height in Saint Laurent's stylishly strappy Tribute sandals (Credit: Everett Collection / Shutterstock)
These shoes first entered the mainstream in the late 60s and early 70s, becoming synonymous with the disco scene. Everyone from David Bowie to ABBA became associated with platform heels.
Platform heels came back into style in the '90s, thanks to Vivienne Westwood and the Spice Girls. One of the most popular platform heels is the YSL Tribute sandal that first hit the market in 2004. These platform heels remain amongst the best-selling style for Saint Laurent and have inspired a variety of similar shoes.
Some of the biggest celebrities of today – including Ariana Grande and Lady Gaga – are famous for their love of platform heels.
How to Style Platform Heels
With platform heels being one of 2022's biggest shoe trends, you might be wondering how to incorporate these shoes into your closet.
You can't scroll through Instagram without seeing someone rocking platform heels. These shoes aren't just for party girls. They're more wearable than you might think.
Platform heels are one of the best-kept styling secrets. They work with almost anything in your closet, from knitted twin sets to little black dresses. If you're nervous about wearing platform heels, start by keeping the rest of your outfit simple.
If you're opting for a statement pair of platform heels, you can let them take center stage. The sky's the limit with these shoes.
The secret to styling platform heels is to focus more on the specific style of shoe. While it's easy to get distracted by the platform, don't forget about the shoe's overall silhouette. Style your platform ankle boots the same way you'd wear traditional boots. The platform simply takes your outfit – and your height – to the next level.
Don't be intimidated by platform heels. If you want to shake up your closet for spring/summer 2022, these shoes are the perfect way to elevate your style.
17 Trendy Platform Heels You'll Love in 2022
Not sure where to start shopping for your platform heels? We've rounded up a list of the 17 best trendy platform heels to add to your closet in 2022.
1. RAYE Camilla Heel in Cognac, $168 at Revolve
Platform heels are a go-to for spring and summer. If you're looking for your signature shoes for your next vacation, we've got you covered.
The 'Camilla' heels by RAYE have braided detailing with a one-inch platform heel that makes the 4-inch block heel easier to wear.
Cognac RAYE Camilla ankle-strap heels with buckle closure
Its ankle strap adds an elegant twist and extra support. You'll want to style these platform heels with a maxi dress and an oversized tote for cocktails by the beach.
2. Sam Edelman Jildie Platform Slingback Pump, $140 at Nordstrom
Every girl needs a classic pair of platform heels. Meet the 'Jildie' pump by Sam Edelman. They're the sleek basics that will take you from a day at the office to brunch with your girlfriends.
These patent faux leather shoes have an elasticized ankle strap and an adjustable buckle for extra comfort.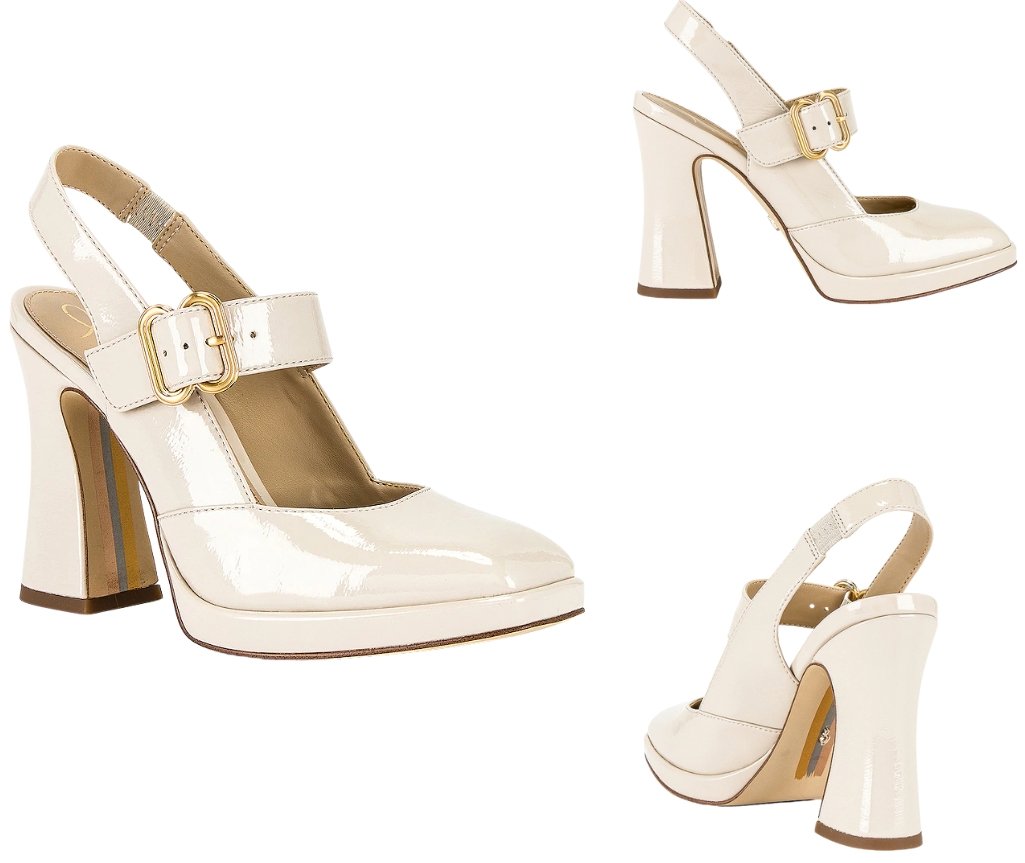 A glossy slingback pump elevated on a platform and flared heel brings sharp style to a variety of looks
The style encapsulates classic American elegance and is a budget-friendly option at under $150. We love the effortlessly chic slingback silhouette that adds a timeless look to the shoes.
3. Iridescent Schutz Lunah Platform Sandals, $138 at Saks Fifth Avenue
Platform heels are often considered 'party girl' shoes. They give you the seductive look of heels without pinching your feet while dancing.
The 'Lunah' platforms guarantee you a spot on the best-dressed list. These platform heels have braided straps with a metallic fuchsia purple finish.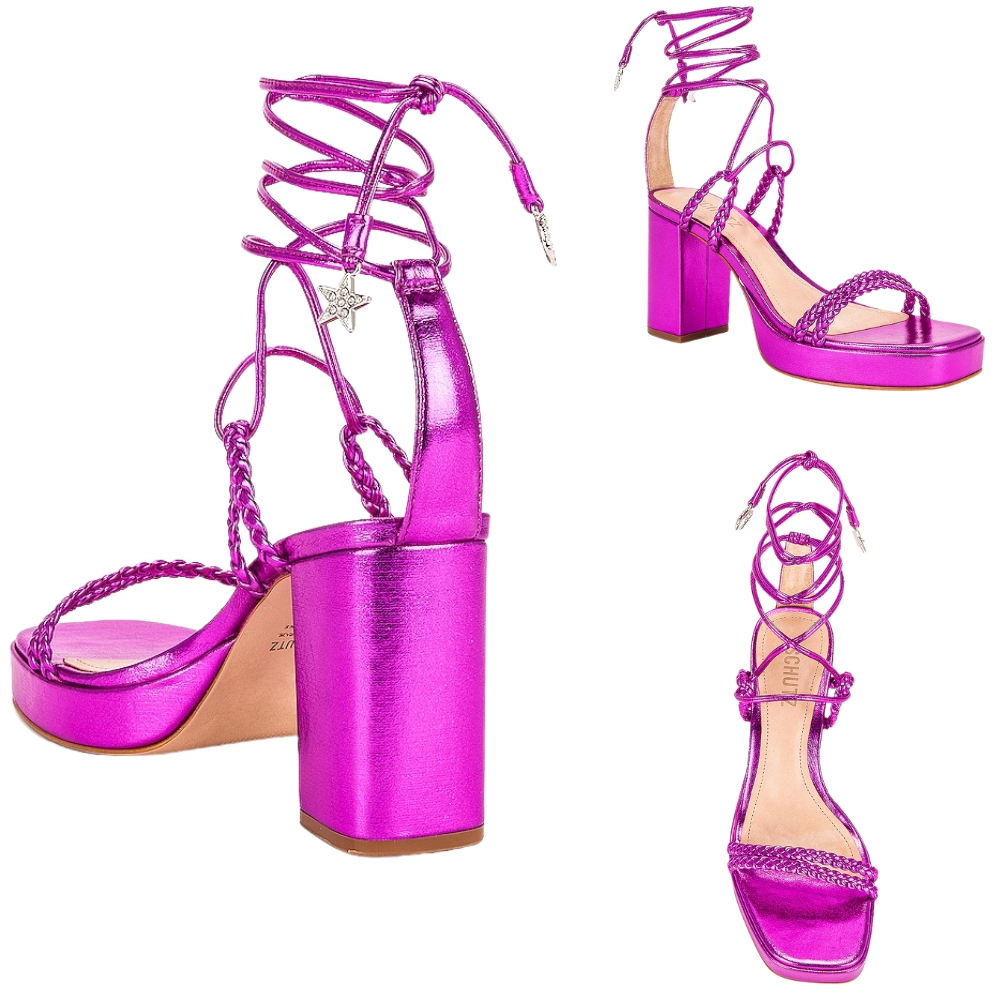 These iridescent platform sandals showcase an ankle wrap, celestial charm details, and braided straps
The ankle wrap and tie closure give the shoes a fun and quirky silhouette for dancing the night away. What we love about these shoes are the crystal-embellished moon and star charms that sit on the back of the ties.
4. Jeffrey Campbell Hollywood Platform Mule, $112.50 at Revolve
Want to channel your inner Kardashian-Jenner? These A-List worthy platform heels by Jeffrey Campbell are an instant 'add to cart'.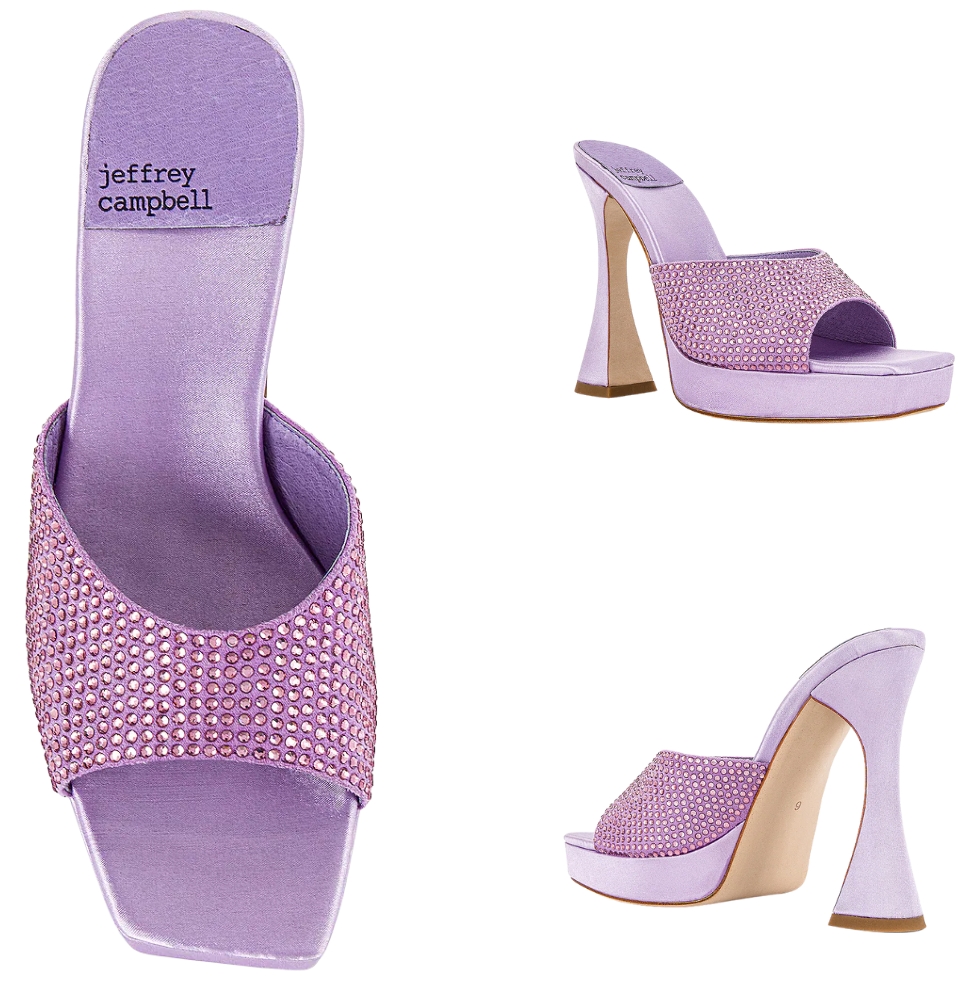 Platform square toe mule with a chic flared heel
While they remind us of shoes that a Bratz doll would wear, we could see them going viral all over TikTok. These shoes give you the mules silhouette and platform heel in one.
The crystal-embellished satin upper adds a feminine twist to the classic slip-on style with its angled square toe. You can wear these platform heels with wide-leg jeans or a sparkly mini skirt for a night out.
5. RAYE Leona Heel in Blush Pink, $198 at Revolve
Not all platform heels are just for the nightclubs. The 'Leona' heel by RAYE takes a classic pair of loafers to the next level with a block heel and platform.
These shoes are made with croc-embossed faux leather and have an elevated look with their gold-tone chain-link strap.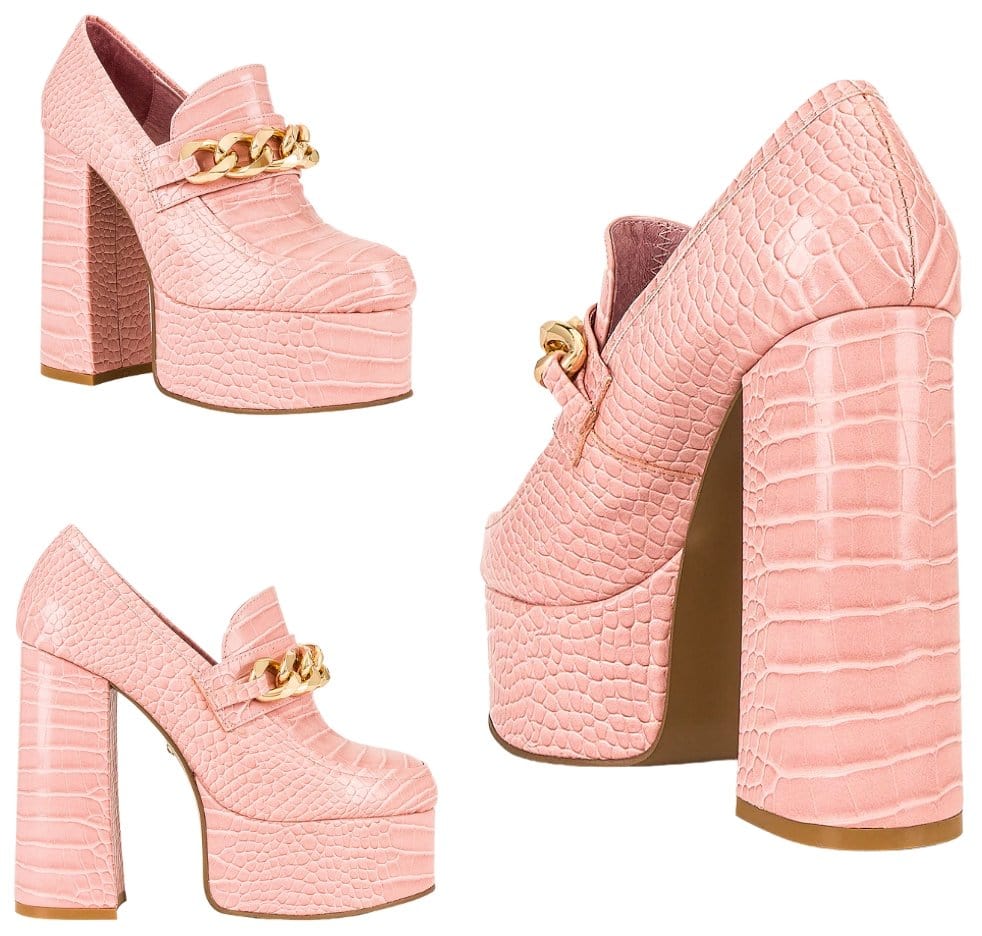 Croc-embossed faux leather upper with gold-tone chain-link top strap
At under $200, these shoes are a more affordable alternative to styles by luxury brands like Gucci and Balenciaga. These platform heels are amongst the most wearable style on this list and the perfect addition to your workwear closet.
6. Saint Laurent Bianca 110mm Platform Sandals, $895 at Farfetch
We couldn't write a list of the best platform heels without mentioning this iconic style. If you want to splurge on a classic style of platform heels, look no further than the Bianca style by Saint Laurent.
These shoes are a slightly more wearable alternative to the infamous 'Tribute' style by the fashion house and give you a similar look.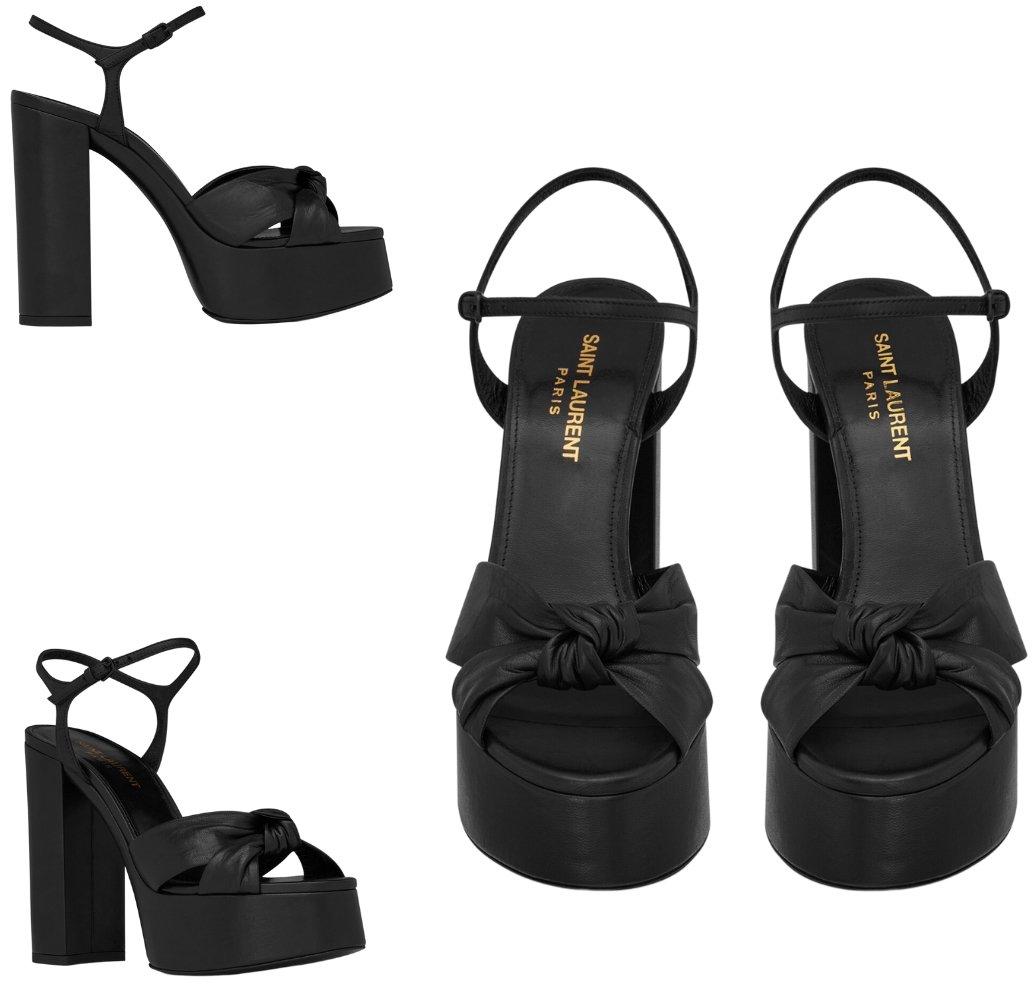 Platform sandals with crisscrossed front tied in a knot, featuring an adjustable ankle strap and covered block heel
The 110mm heel is made with sumptuous brown leather that takes your shoe closet to the next level with its knot detail and open-toe silhouette. The 'Bianca' shoes are available in a rainbow of shades for every aesthetic and style.
7. Black Suede Studio Kristen Platform Heels, $348 at Nordstrom
Gladiator sandals add a goddess-worthy look to any summer outfit. While they're great for showing off a fresh tan, they can often make your legs appear shorter due to their flat sole.
That's where a platform heel comes in. The 'Kristen' heel by Black Suede Studio gives you the best of both worlds.
A wraparound ankle strap maximizes the modern allure of a standout sandal lifted by a bold platform sole
The structured spiral ankle wrap is a statement look for your spring and summer closet. Whether you're going to Vegas or catching the sun in Santorini, these shoes are guaranteed to set your Instagram on fire.
8. Simon Miller Vegan Leather Platform Bubble Clogs, $555 at Saks Fifth Avenue
It's not just traditional heels that you can shop for. One of the most wearable types of platforms is clogs. These shoes give you extra height without the pressure of wearing heels.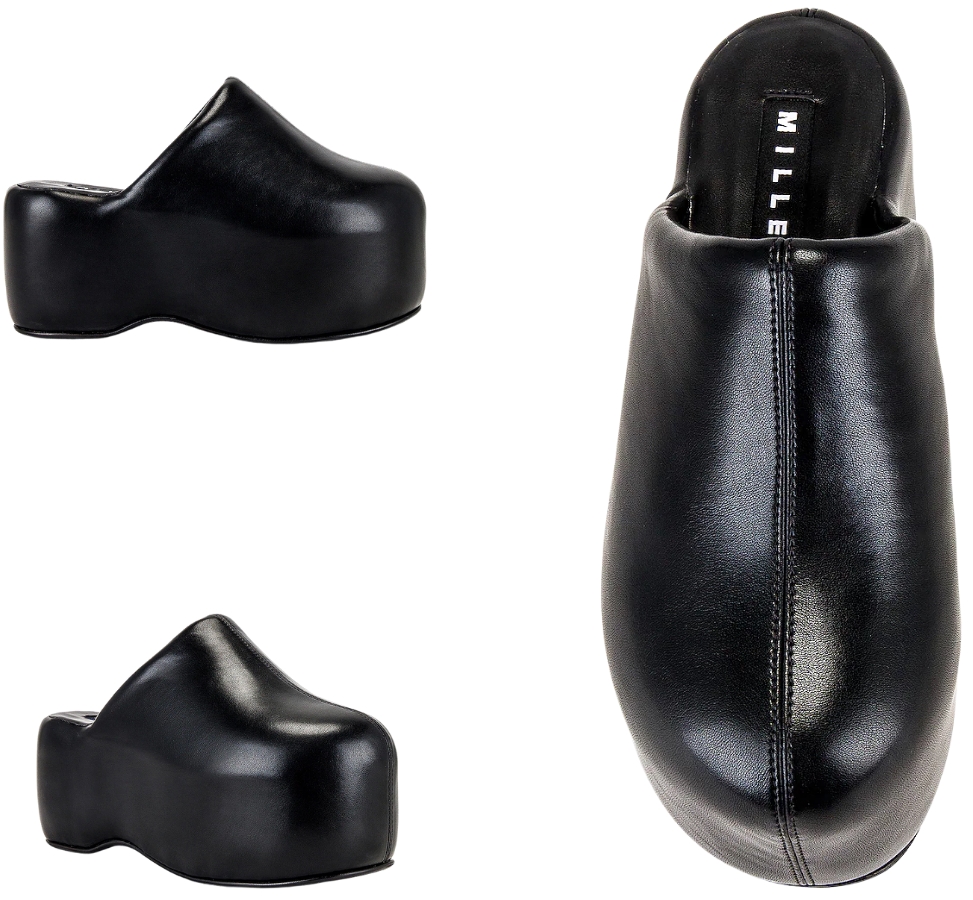 Crafted of smooth vegan leather, these bubble clogs flaunt a minimalistic design, mounted on a thick platform
If you prefer a more casual look, these platform bubble clogs by Simon Miller are a must-have. You can wear them as an alternative to sneakers or slides.
9. Larroude Dolly Crystal Platform, $375 at Revolve
Platform heels are the ultimate choice for a party girl. If you want to make a statement or go all out, these are the shoes for you.
The 'Dolly' crystal platform from Larroude is the perfect plus one for an engagement party, tropical vacation, or a girl's night out.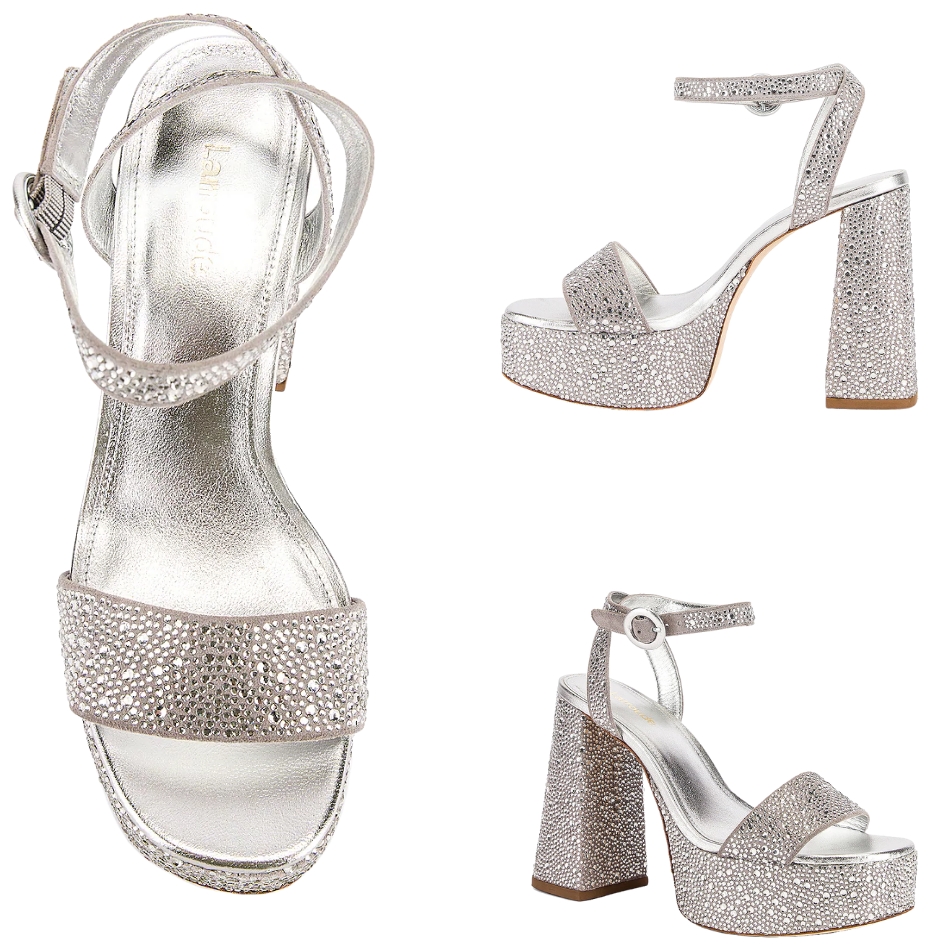 Dolly platform sandal with allover eye-popping sequins
These shoes are stylish without compromising on comfort with their round toe, padded heel, and ankle wrap with buckle closure.
10. Si Rossi Cork Platform Mules, $730 at Farfetch
Platform heels aren't just for spring and summer. One of the most versatile options on this list is from Si Rossi.
These cork platform mules are a new release from the diffusion line of Sergio Rossi and encapsulate the brand's younger and refreshed look.
Crafted from white leather, these high heeled mules feature a retro-inspired design highlighted by a square toe and sinuous heel
These platform heels are made with white leather and feature a retro-inspired design that's finished with a square toe and structural heel.
11. Versace High-Heel Platform Mules, $1,225 at Mytheresa
If you want to make a statement with your platform heels, look no further than this style by Versace.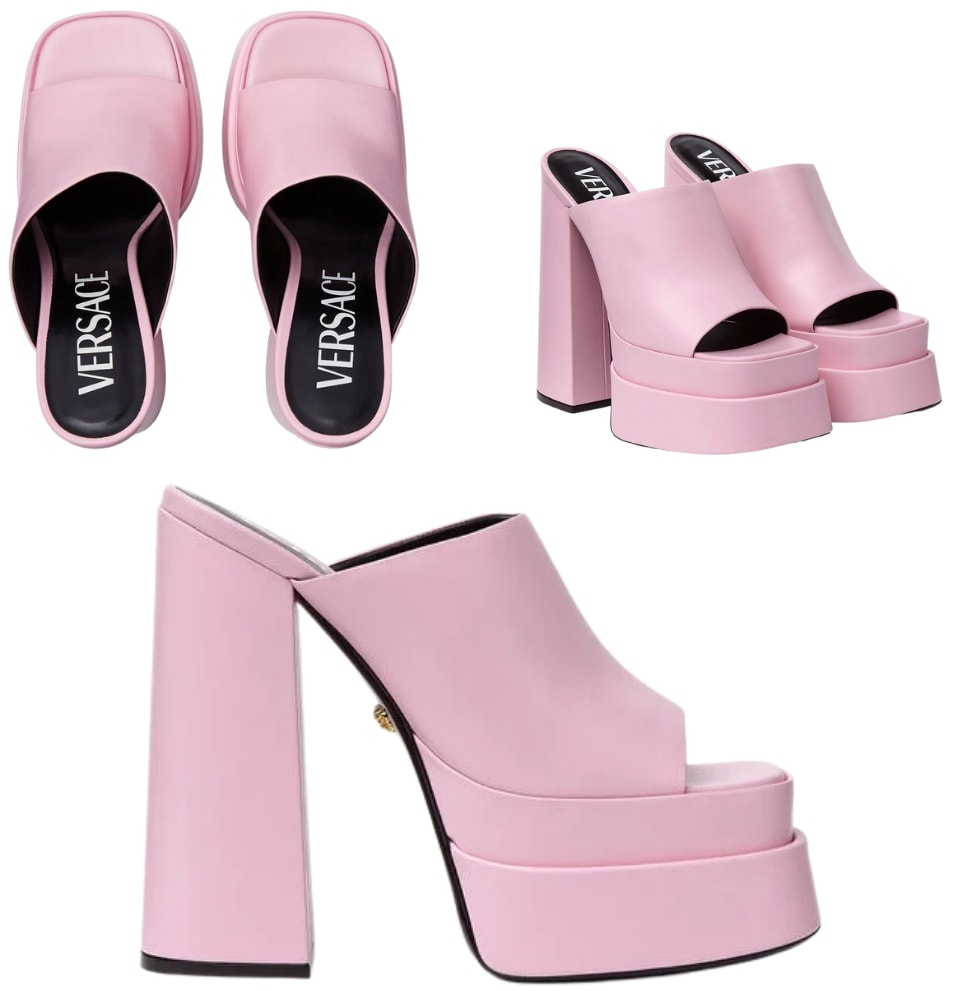 Boasting a bold silhouette, these Versace mules feature a high block heel and chunky platform
Its distinctive shape gives the illusion of two platform soles and comes in a show-stopping baby pink that is guaranteed to make an impression. These shoes are one of the must-have styles for spring/summer 2022.
12. Casadei Mary-Jane Platform Pumps, $1,095 at Farfetch
When it comes to platform heels, the Mary-Jane style is a classic choice. If you want to invest in a style that you'll wear for many seasons to come, check out this pair by Casadei.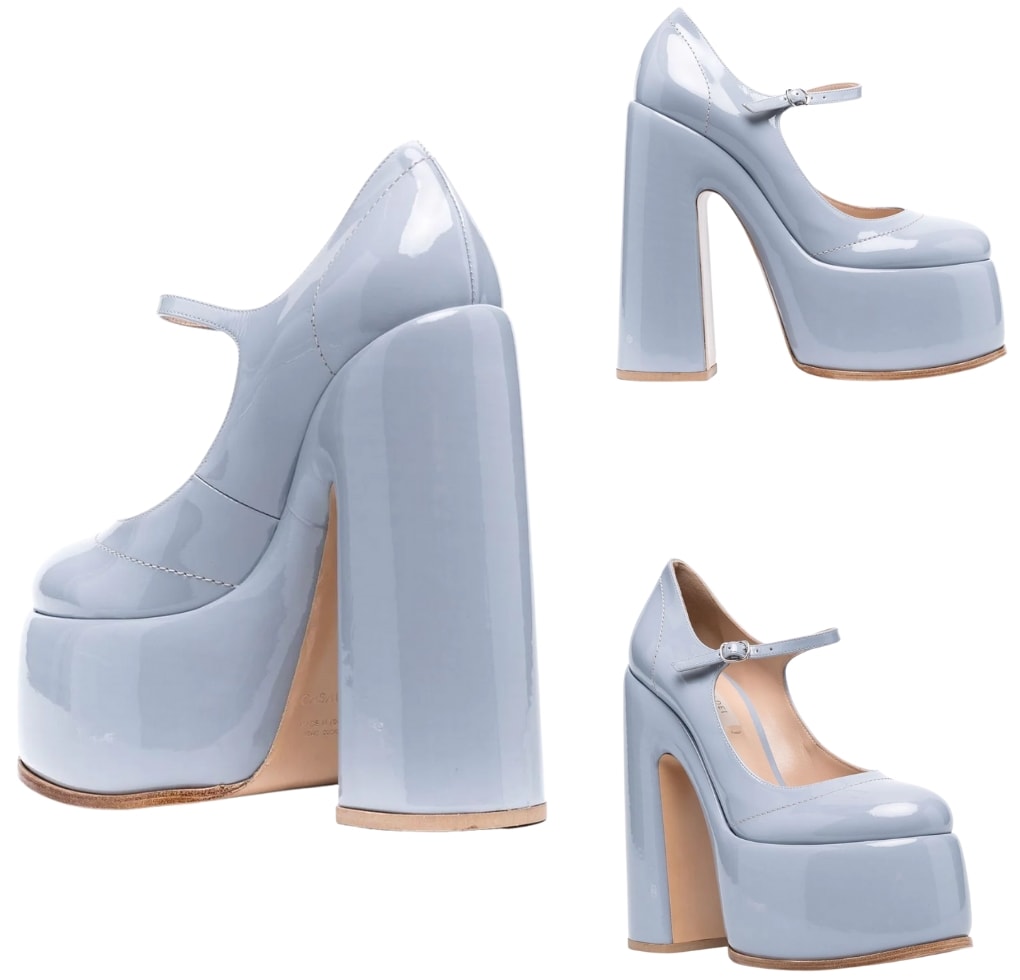 The plasticity of the Rock platforms that come in stone grey patent leather is an ode to innovation
The light blue patent leather shoes have a high block heel and round toe for extra comfort. These platform heels are amongst the most versatile on our list and add a timeless touch to any closet.
13. The Saddler Open-Toe Platform Leather Sandals, $628 at Farfetch
If you're building your summer closet, you want a pair of open-toe shoes that can take you from a day of shopping to dinner with your significant other.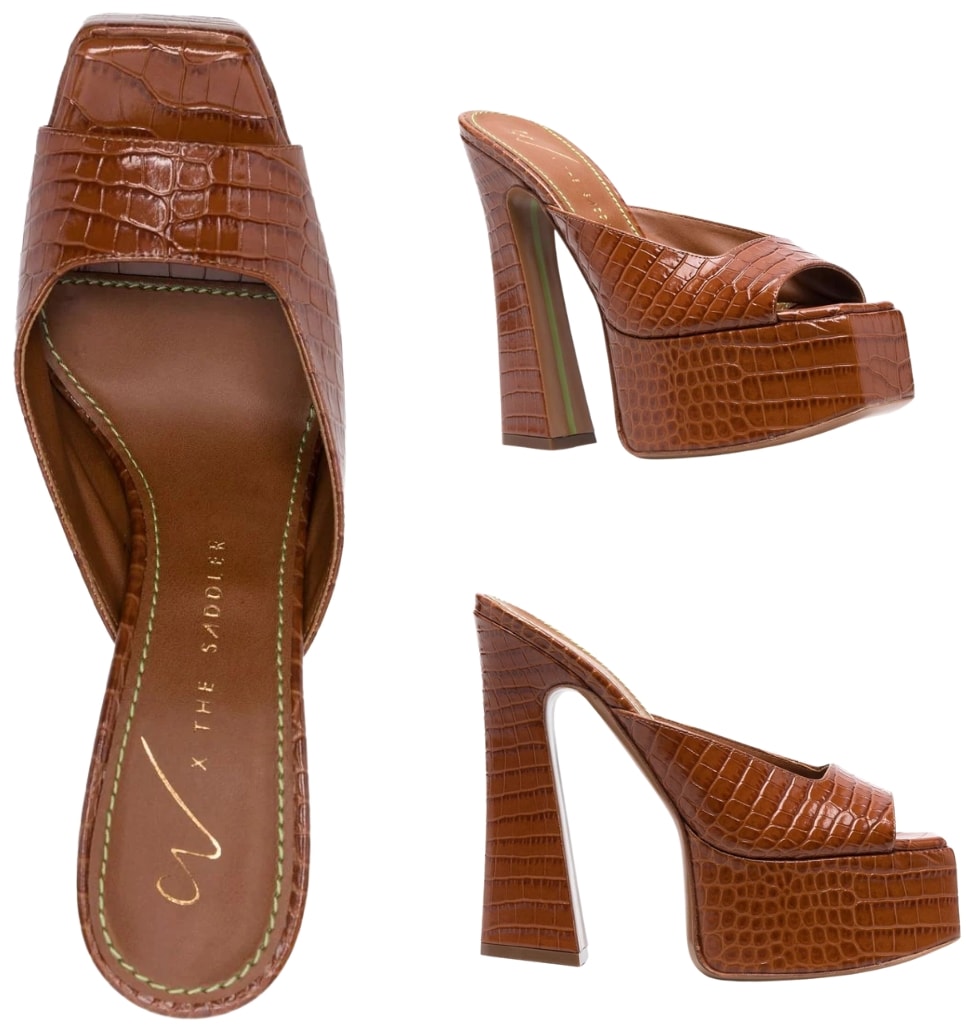 Brown The Saddler open-toe platform leather sandals with embossed crocodile effect
These open-toe platform leather sandals by The Saddler have an embossed crocodile effect and high block heel. This '80s-inspired style is a capsule closet staple and an easy way to elevate even the most minimalistic outfit.
14. Maje Platform Goatskin Loafers, $385 at Farfetch
Not everyone is a fan of heels. Platform loafers are the perfect way to sneak in a little extra height without committing to block heels. These goatskin loafers have a platform wedge, silver-tone hardware, and a round toe silhouette.
Black Maje platform goatskin loafers with silver-tone hardware
The Maje platform loafers are a must-have for those with a casual style or who want comfortable shoes that aren't sneakers.
These minimalistic loafers have a rubber lug sole and encapsulate a casual chic look that you can style with anything, from jeans to a mini skirt.
15. Bottega Veneta Flash Platform Clogs, $510 at Farfetch
No 2022 shoe list is complete without mentioning Bottega Veneta. This fashion house is at the forefront of every fashion trend – with platform heels being no exception.
In a vibrant papaya orange hue, these rubber clogs feature a square toe and is set atop a high block heel
The flash platform clogs are an instant standout with their distinctive heel and platform silhouette – complete in a daring deep-sea blue. This bold take on the classic clog shoes makes them look more stylish than ever before.
You want to add this slip-on style to your spring/summer closet before they end up all over Instagram. At just over $500, this style is one of the more attainable priced options from Bottega Veneta.
16. Gucci GG Maxi Platform Sandals, $670 at Farfetch
Another new release on our list is from Gucci. The 'GG Maxi' platform sandals instantly add a few extra inches of height and are a most stylish alternative to slides or flip-flops.
Crafted with an exaggerated platform and open toe, these Gucci maxi platform sandals are finished with a rubber sole also flaunting the acclaimed interlocking GG logo
These shoes incorporate the historic GG monogram and have an open-toe silhouette with an exaggerated platform. They're at the top of our shopping list for our next tropical vacation.
17. Saint Laurent Tribute 105mm Platform Sandals, $925 at Nordstrom
We're finishing off this list with the OG platform heels. When it comes to designer heels, few have as big a cult-following as the YSL 'Tribute' heels.
These shoes were launched almost two decades ago and continue to be re-released every season.
Sky-high heel elevates iconic patent leather sandals
They're a must-have for every designer shoe collector and a seasonless style that you'll wear for years to come. The 105mm Tribute sandals have a distinctive T-bar front strap and skyscraper stiletto to elongate your legs for a supermodel-worthy look.
Which of these platform heels will you be adding to your closet?