Mel B, or Scary Spice of the 90s singing group, the Spice Girls, has lost most of her Spice Girls fortune to lavish spending and embittered divorces. The Spice Girls were wildly successful during their time in the spotlight, leaving Mel B with a $30 million fortune.
Mel B has gone on to other entertainment ventures, including a very successful career as a TV presenter on talent shows. Her most lucrative deal was being a judge on America's Got Talent for six years.
Mel B was joined by her daughters Madison Brown Belafonte, Angel Iris Murphy Brown, and Phoenix Chi Gulzar, and her stepdaughter Giselle Belafonte, at the Nickelodeon's 2018 Kids' Choice Awards held at The Forum in Inglewood on March 24, 2018 (Credit: Tinseltown / Shutterstock)
During the divorce proceedings from her ex Stephen Belafonte, it was revealed that she had spent most of her extensive Spice Girls fortune, leaving her with just $6 million net worth.
Financial Problems For Mel B
Mel B's financial problems were revealed when she faced her ex, Stephen Belafonte, in court in 2017. Her divorce was just the tip of the iceberg of her financial problems.
She revealed that her extensive Spice Girls fortune, a sum of $30 million, was gone. One of her companies, Moneyspider Productions, which was set to receive the income for her solo recording career, was revealed to have just £961 in the company account.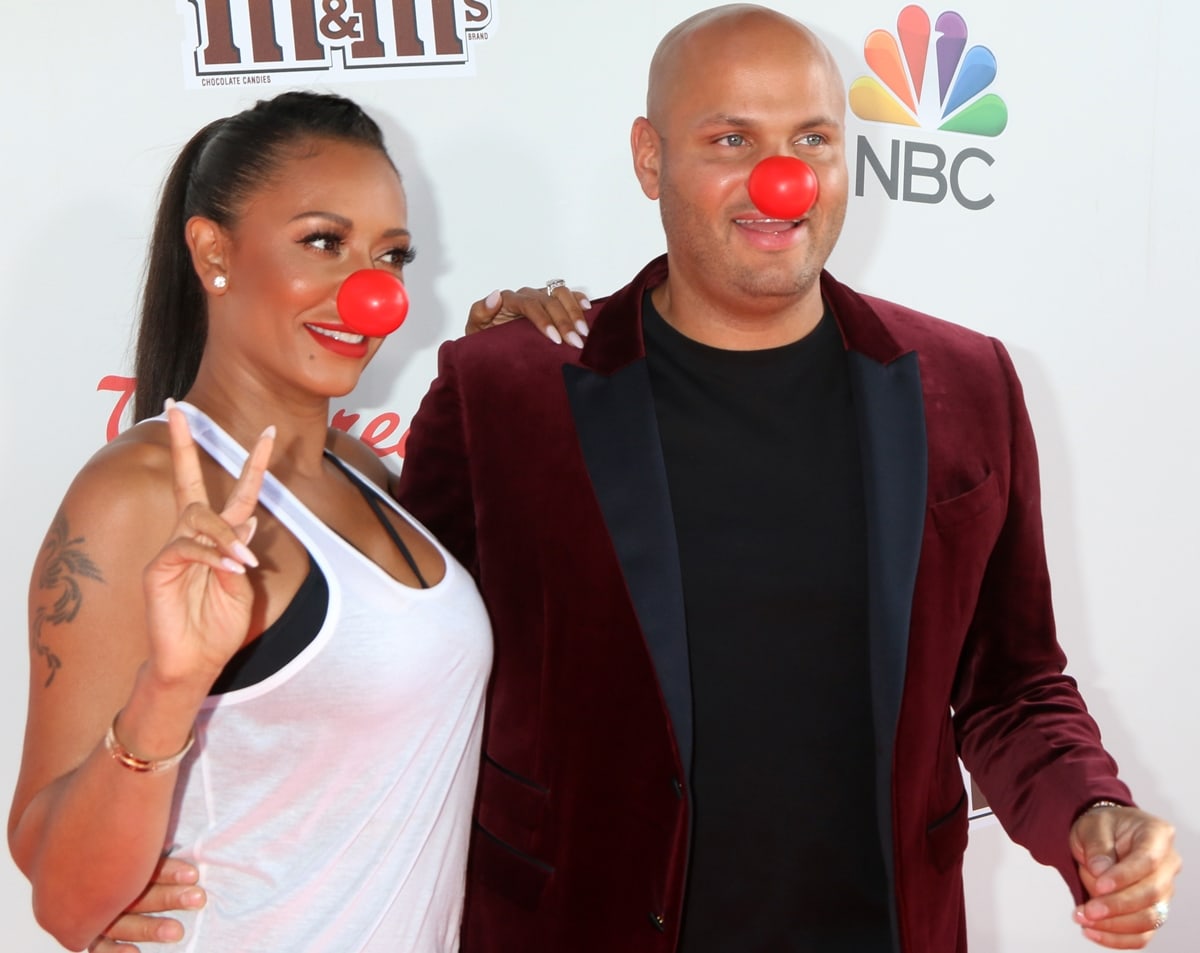 Mel B finalized her messy and expensive divorce with Stephen Belafonte in December 2017 (Credit: Kathy Hutchins / Shutterstock)
Scary Spice is also a director of Spice Girls Limited, owning 20% of the company. According to the Daily Mail, Mel B used her millions for everything from armored cars, private jets to destination holidays, diamond rings, and designer handbags.
Where Did The Money Go?
She brought three armored vehicles, including a Cadillac Escalade ESV with a cost of £200,000 that was "capable of delivering an electric shock to anyone who grabs the door handles."
The mixed-race singer owned other luxury vehicles like a black Bentley Continental GTC that was worth £165,000 and a Ferrari worth £150,000.
She has a love for high-end jewelry that includes a £500,000 3.5 carat pair of diamond earrings, a pear-shaped diamond ring worth £425,000, and a massive canary diamond ring with a price tag of £200,000.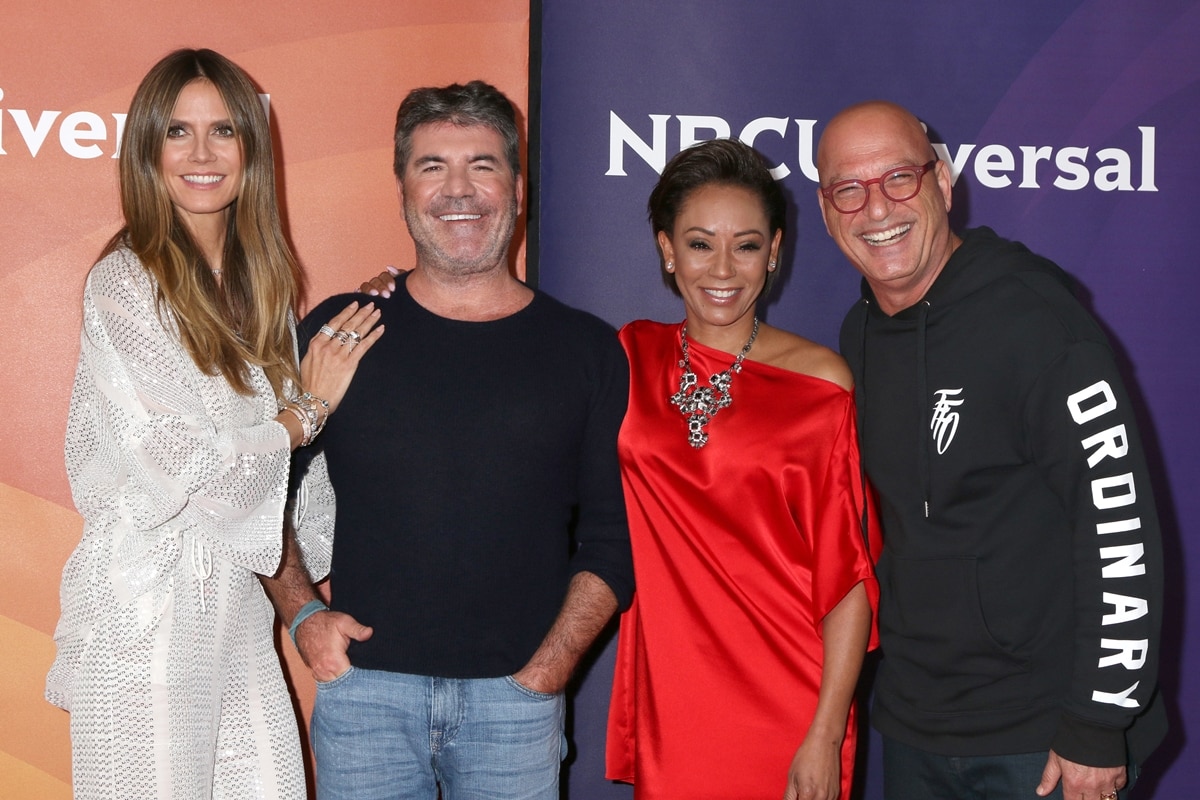 Mel B judged competitors on the NBC reality show America's Got Talent (2013–2019) with Heidi Klum, Simon Cowell, and Howie Mandel (Credit: Kathy Hutchins / Shutterstock)
This impressive jewelry collection was added to with a Rolex watch and an upgraded engagement ring in 2014 from Belafonte.
The lavish lifestyle included jet-setting holidays to spoil her daughters, overnight trips from Los Angeles to Las Vegas to watch Jennifer Lopez in concert, and holidays to Hawaii with staff.
Mel B also bought her hubby a private island off Virginia for his birthday in 2014. The island reportedly has a price tag of £1 million.
Her other expenses included lavish holidays, designer gear, high school fees, and lots of staff, including an agent, publicist, PA, a housekeeper, gardeners, and pool technicians.
Mel B in a glittering gold wrap dress at the "America's Got Talent" Season 13 Live Show Red Carpet at Dolby Theatre on September 4, 2018, in Hollywood, California (Credit: Kathy Hutchins / Shutterstock)
The staff is estimated to have cost Mel B £250,000 a year. According to her lawyer, Jacalyn Davis, the stars' lavish lifestyle meant that the couple "never had money at the end of the year to pay their taxes."
This was all revealed during her divorce proceedings. She owed $800,000 in tax debt, and $100,000 in credit card debt, according to legal documents that she submitted in 2018.
Maintenance Fees
Her first divorce to Jimmy Gulzar in 2000 took a massive chunk out of her Spice Girls earnings, costing a whopping £1.6 million in alimony. The pair share a daughter, Phoenix.
Mel B has a daughter with Eddie Murphy, Angel, and her daughter Madison with Stephen Belafonte. Belafonte was asking for massive sums of money for maintenance for the care of the daughter, Madison.
Stephen Belafonte met Mel B met on a set of a film called Talk and they married in June 2007 after just a few months of dating (Credit: Jaguar PS / Shutterstock)
A judge ordered Mel B to pay $40,000 in spousal support per month and to vacate and sell their shared home, worth $6.5 million, to support her upcoming financial obligations. She was then ordered to pay a further $1.7 million in legal fees and accounting.
She later pleaded with a judge to lower the amounts as she struggled to pay them with no work due to the Covid-19 pandemic.
Due to post-traumatic stress from the entire ordeal, she was forced to move in with her mother. At this time, Eddie Murphy stepped in with higher maintenance payments for their shared daughter Angel.
"Eddie and Melanie have both established careers in the entertainment industry. Melanie is a singer, songwriter and television personality. Eddie is a legendary comedian and actor. Until recently, Melanie has been fortunate in her career to sustain a comfortable lifestyle for herself and Angel. Unfortunately, Melanie's income has dramatically reduced, such that she must consider modifying child support for the first time," court statements filed in October 2020 stated.
The Nasty Divorce From Stephen Belafonte
The embittered divorce from Belafonte included sex tapes, restraining orders, allegations of domestic violence, as well as drug and alcohol abuse.
Mel B stated in her divorce filing that she had tried to leave the Belafonte several times and stated that he "threatened me with violence and threatened to destroy my life in every way." While the couple shared financial woes, Belafonte had his own problems to deal with as the film producer had two movies flop before the divorce proceedings.
Melanie Janine Brown, known as Mel B, in a leopard print sequin dress at the Opening Ceremony and the "La Vérité" (The Truth) screening during the 76th Venice Film Festival at Sala Grande on August 28, 2019, in Venice, Italy (Credit: Matteo Chinellato / Shutterstock)
A luxurious lifestyle, bitter divorce proceedings, and tax debt led to Mel B's fortune withering away. Reality TV may be the best way for Mel B to change her luck. While her judging gig on America's Got Talent ended in 2019, she has since made a number of lucrative television appearances.
Among other ventures since her divorce, she has released a memoir, Brutally Honest, made guest appearances on The Masked Singer, and joined the other Spice Girls in a reunion tour in 2019. The tour won the Billboard Live Music Award for highest-grossing engagements.
Mel B slicks her hair back at the 2016 NBCUniversal Summer Press Day held April 1, 2016, at the Four Seasons Hotel Westlake Village near Thousand Oaks in California (Credit: WENN)
We usually see Mel B stick to daring outfits on the red carpet, but in April 2016 the former Scary Spice proved that she also knows a thing or two about power dressing.
The then 40-year-old singer and actress stepped out to attend the NBCUniversal Summer Press Day at Four Seasons Hotel Westlake Village in California.
She promoted the upcoming eleventh season of "America's Got Talent," which premiered on NBC on May 31, 2016.
Mel B wears a studded red power suit at the 2016 NBCUniversal Summer Press Day (Credit: WENN)
Melanie Brown was joined on the red carpet by her fellow returning judges Howie Mandel, who opted for an all-black ensemble, and Heidi Klum, who was chic in a white dress.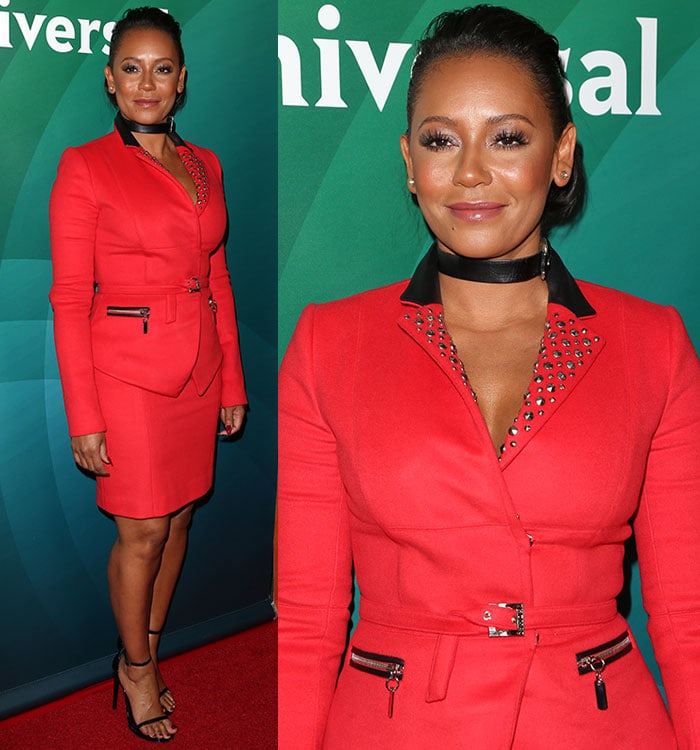 Mel B rocks red, studs, and black leather accents on the red carpet (Credit: WENN)

Mel showed off her toned legs in a red skirt, which she teamed with a red blazer that featured studded lapels, a contrasting black leather collar, a belted waist, and front zipped pockets.
Mel B, Howie Mandel, and Heidi Klum pose for photos on the red carpet (Credit: WENN)
She amped up the edginess of her look with a leather belt choker and kept the rest of her accessories simple with black heels and a pair of stud earrings.
Scary Spice rounded out her look with slicked-back hair, bronzed eyeshadow, and pink lipstick.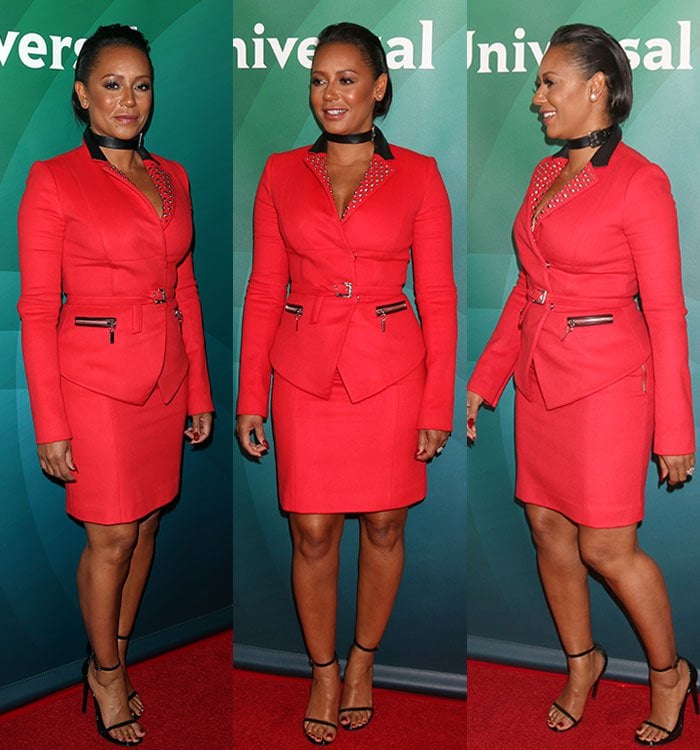 Mel B flaunts her legs in a red skirt suit set (Credit: FayesVision / Nicky Nelson / WENN)
Melanie Janine Brown topped off her ensemble with a pair of minimalist black patent leather sandals.
Mel B's feet in black Saint Laurent sandals (Credit: WENN)
She picked the "Jane" sandals by Saint Laurent, which feature adjustable ankle straps, open toes, and about five-inch heels.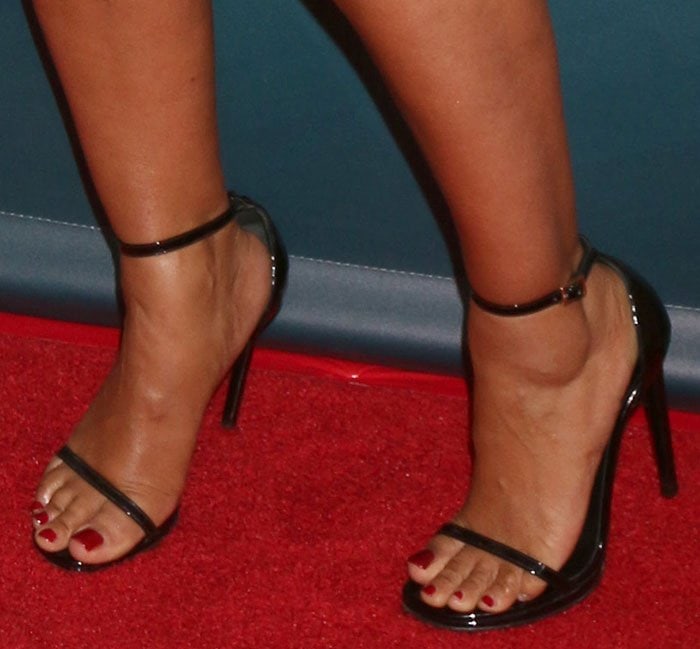 Mel B's feet in patent leather "Jane" sandals (Credit: WENN)
Check out these sandals in different versions at Farfetch and Nordstrom.
Saint Laurent Jane Ankle-Strap Sandals, $695 – $795
Sleek black patent leather Jane sandals from Saint Laurent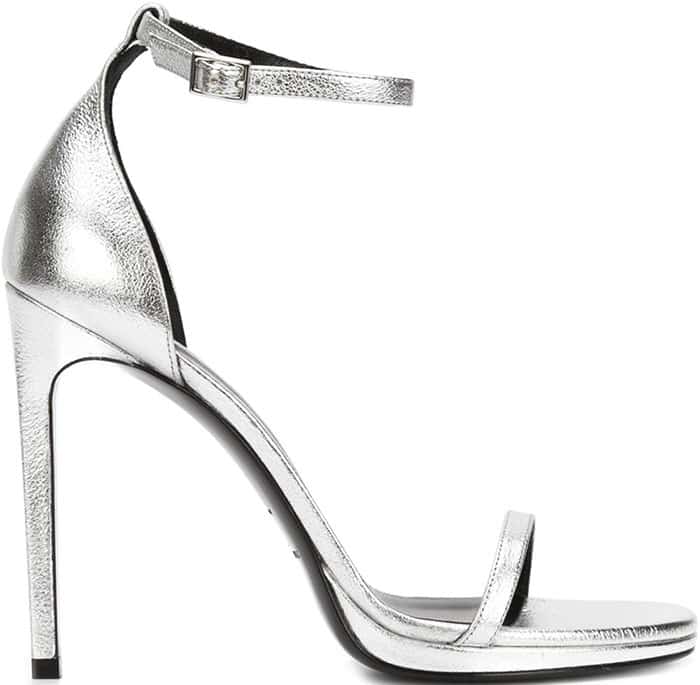 Silver Saint Laurent sandals featuring an open toe, an ankle strap with a side buckle fastening, a high stiletto heel, and a brand embossed insole