With a net worth of around a staggering $12 million, it's obvious that success and fame have welcomed Janelle Monáe enthusiastically.
Who is Janelle Monáe?
Janelle Monáe is a well-known American rapper, singer, and actress. Signed to Atlantic Records, this artist is also signed to her very own Wondaland Arts Society, making her mark on music through various connections.
Janelle Monáe Robinson worked at Office Depot while she was attending the American Musical and Dramatic Academy in New York (Credit: Tony Norkus / Shutterstock)
After becoming a rising star in contemporary R&B, Monáe has received countless nominations and awards throughout her career.
How it all began
Emerging from a working-class background, Monáe witnessed the dangers of drug addiction through her father at an early age. This, and the other struggles in her background, are said to have influenced her intense drive for success.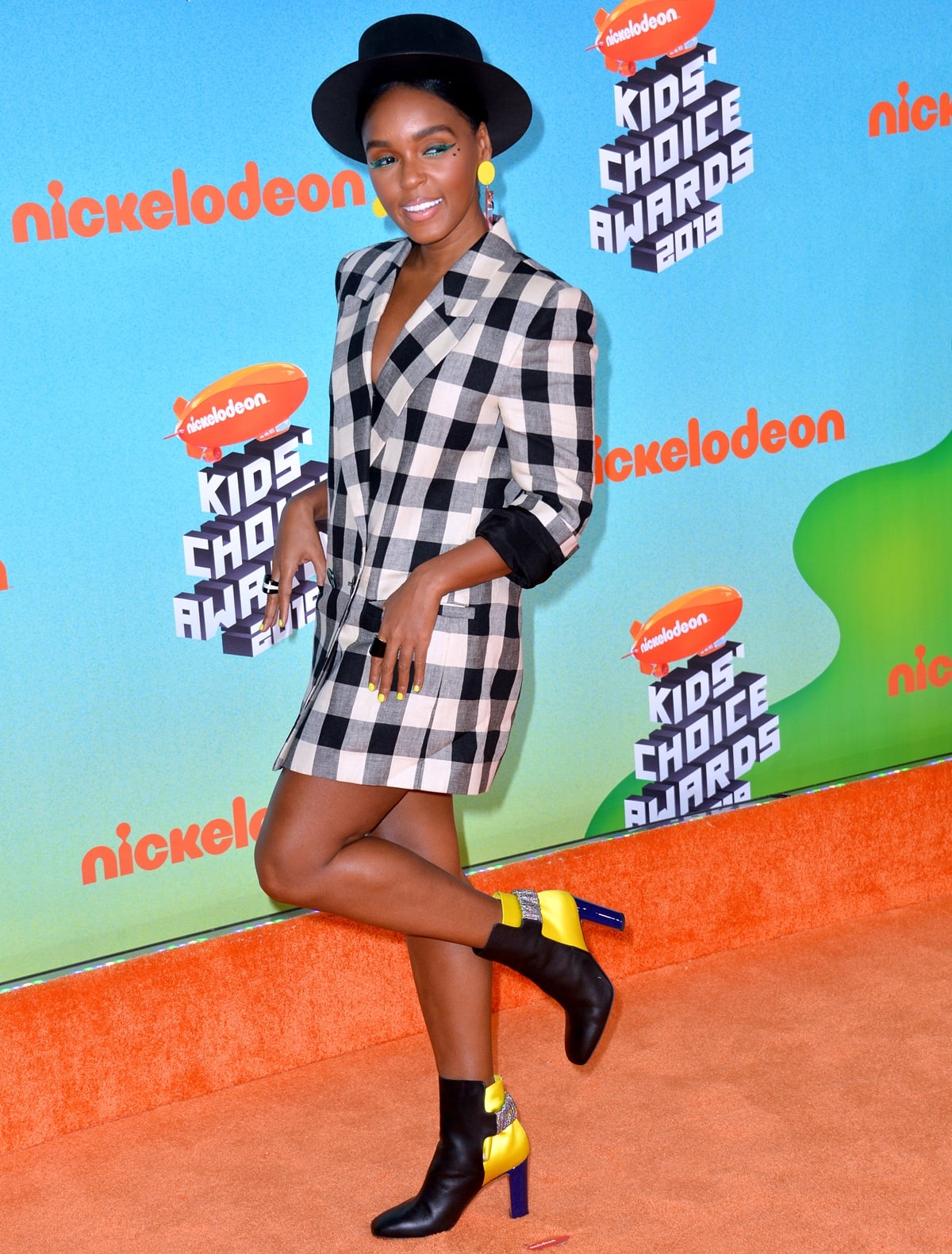 Janelle Monáe in a gingham Petar Petrov Spring 2019 blazer, Christian Louboutin embellished ankle boots, and a wide-brimmed leather hat by YVY at Nickelodeon's 2019 Kids' Choice Awards at Galen Center on March 23, 2019, in Los Angeles, California (Credit: Featureflash Photo Agency / Shutterstock)
Indeed, from very early on in life, Monáe indulged in the arts. She was a singer at her local church, appeared in some productions, and even joined a playwright group to fuel her talent for writing several musicals and plays.
She began a musical theatre course but dropped out when she realized that she wanted to express herself more creatively.
2003
Monáe's career in music kicked off in 2003 when she released a demo album named The Audition.
2005
2005 was a crucial year for Monáe's career, with her big break coming into play. At an open mic, she performed Killing Me Softly With His Song when Big Boi was present in the audience.
Janelle Monáe got her big break in 2005 when she performed Roberta Flack's "Killing Me Softly With His Song" at an open mic night with Big Boi was in the audience (Credit: Lev Radin / Shutterstock)
As on half of the hip-hop group OutKast, he decided Monáe was worth featuring on two tracks from Purple Ribbon All-Stars' album. Monáe featured in Lettin' Go and Time Will Reveal, helping set her on a path to success.
2006
Only a year after Big Boi had been captivated by what Monáe had to offer, OutKast featured this artist in Call the Law and In Your Dreams, two more great hits from the album Idlewild.
2007
Just a year later, Monáe started to create her own music with the help of her two Wondaland Arts Society partners. She completed an EP named Metropolis: Suite I (The Chase), attracting the attention of famous and thriving producer Diddy.
Janelle Monáe in an embellished Honayda dress and Goshwara tassel earrings at the premiere of "Harriet" at The Orpheum Theatre on October 29, 2019, in Los Angeles, California (Credit: DFree / Shutterstock)
Diddy signed Monáe to Bad Boy Records label, helping her to release and promote her EP. This EP managed to reach no. 15 on the Billboard Album Charts, and one of its lead singles even got a Grammy nomination.
2010
2010 is the year that Monáe's debut album, The ArchAndroid, was introduced to the world, featuring hits such as Tightrope. Peaking at no. 17 on the Billboard Album Charts, this project did better than anything Monae had done before.
This album is about Cindi Mayweather, a robot living in 2719. As a sci-fi, futurist project, Monáe made her mark on music with its pure uniqueness.
2013
Monáe's second album, The Electric Lady, came out and was met with flawless reviews. This album continues the sci-fi theme present in The ArchAndroid, using Cindi Mayweather to take fans on the ultimate musical journey.
Janelle Monáe Robinson was honored with the Billboard Women in Music Rising Star Award in 2015 and the Trailblazer of the Year Award in 2018 (Credit: Ben Houdijk / Shutterstock)
With the album featuring other respected artists such as Prince, it managed to reach no.5 on the Billboard Top 200.
2015
In 2015, Wondaland Arts Society combined with LA Reid's Epic Records in order to promote Monáe's artists. It started with the release of Wondaland Presents: The Eephus and features a range of tracks with a collection of artists.
2016
In taking her acting career to the next level, Monáe starred in the drama Moonlight and the biopic Hidden Figures.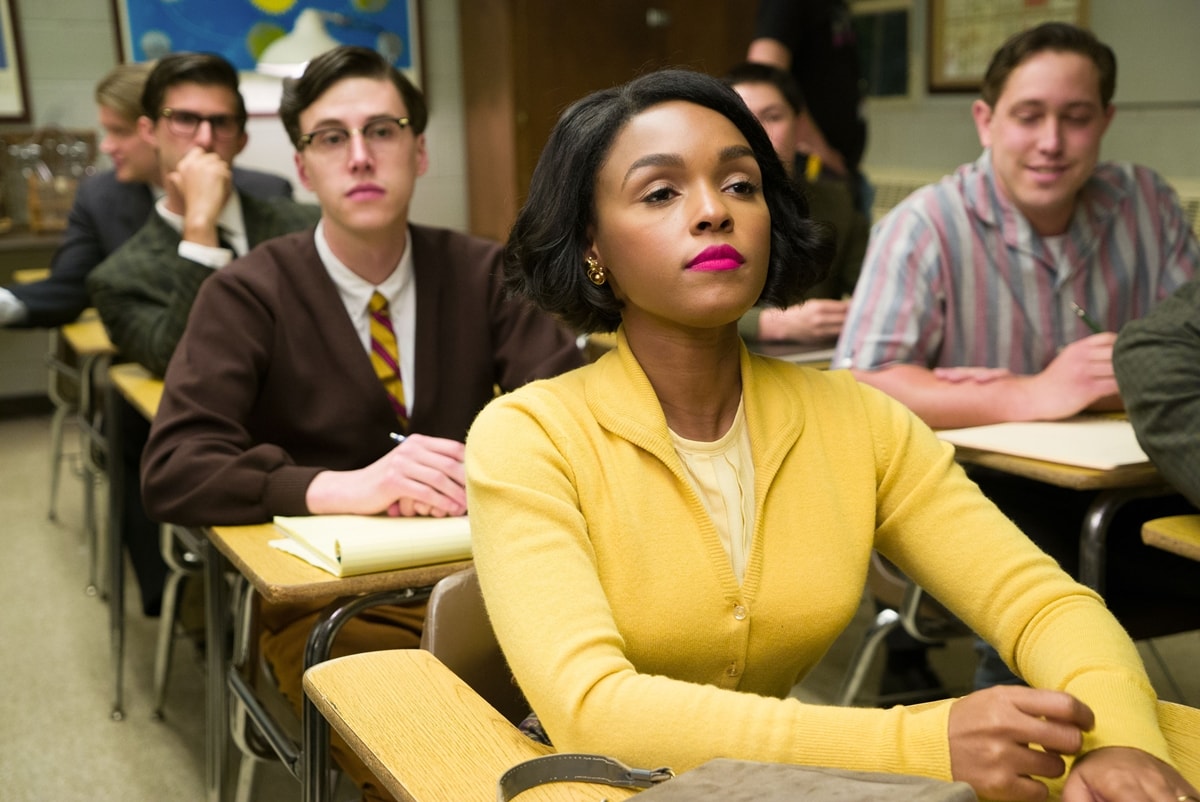 Janelle Monáe starred as NASA mathematician and aerospace engineer Mary Jackson in the 2016 American biographical drama film Hidden Figures (Credit: Fox 2000 Pictures / Chernin Entertainment)
2018
Releasing two new singles named Django Jane and Make Me Feel, Monáe's next single, PYNK, was debuted in April 2018 as a collaboration with Grimes.
Her much-anticipated following album, Dirty Computer, was released a few weeks after this. From all her hard work to date, it's no surprise that Monáe earned an Album of the Year nomination for Dirty Computer.
2019
Monáe experimented with voiceover work for another few films, including Lady and the Tramp and UglyDolls. She also appeared in Harriet as the character Harriet Tubman.
Janelle Monáe as Veronica Henley/Eden in the 2020 American thriller film Antebellum (Credit: Lionsgate)
2020
Continuing to branch out further, Monáe became the lead in season 2 of one of Amazon's best thrillers, Homecoming, replacing Julia Roberts and continuing to make her mark on various forms of art.
So, what's next?
With a commitment to making challenging and unique music, it's no surprise that Monáe managed to climb the ladder of career success as early as she did. After countless songs, films, and collaborations, Monáe is hoping to release her first published book this year.
Janelle Monáe replaced Julia Roberts in the American psychological thriller television series Homecoming (Credit: DFree / Shutterstock)
Some people take Star Wars very seriously — like Janelle Monáe.
In December 2015, the recording artist seemed to take some serious inspiration from Darth Vader when it came to her ensemble.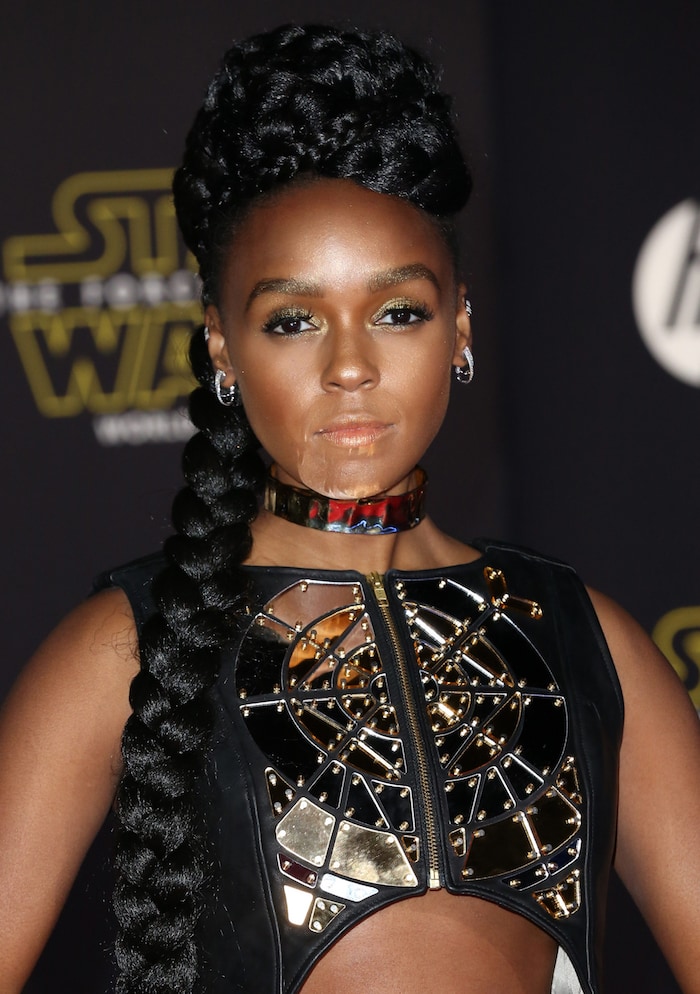 Janelle Monáe braids her hair for the LA Premiere of "Star Wars: The Force Awakens" on December 14, 2015 (Credit: WENN)
The then 30-year-old wore an interesting Erevos Aether embellished top and skirt, which featured an ab-revealing stomach cutout and mirrored plating on the chest that almost looked like the Death Star.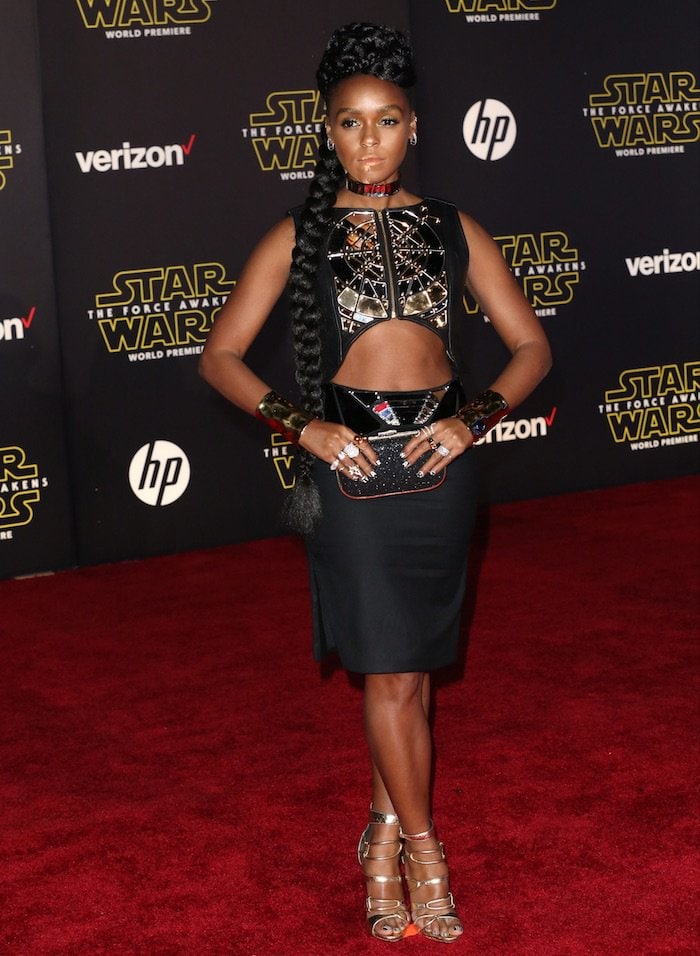 Janelle Monáe channels her inner Star Wars fan in an Erevos Aether ensemble (Credit: WENN)
She accessorized with Butani ear cuffs, Djula and Casa Reale rings, and an Anya Hindmarch clutch.
Janelle Monáe accessorizes with Butani ear cuffs, Djula and Casa Reale rings, and an Anya Hindmarch clutch (Credit: WENN)
She rounded out her look with a pair of gold Giuseppe Zanotti caged sandals that matched the metallic embellishments on her Erevos Aether set.
Janelle Monáe shows off her legs in an embellished Erevos Aether set (Credit: WENN)
Her whole ensemble screamed Star Wars — even her funky braided hairstyle and themed nails.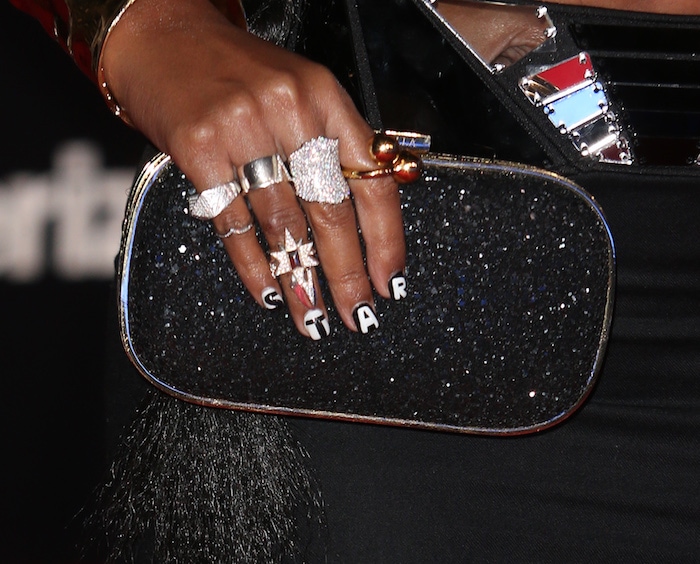 Janelle Monáe shows off her Star Wars-inspired manicure (Credit: WENN)
We loved seeing how other Star Wars fans showed up at this premiere as well. Sofia Vergara took clear inspiration from Princess Leia, while Jaime King kept it futuristic with her funky outfit.
Janelle Monáe's feet in gold Giuseppe Zanotti sandals (Credit: WENN)
What did you think of Janelle's funky futuristic ensemble? The designer has several other similar pieces if you're digging the eclectic vibe.
Erevos Aether top from "Lost in Siwa" Collection
Janelle's pair of shoes are no longer available online, but here is a great alternative from the same designer that you can buy at Farfetch and Amazon.
Giuseppe Zanotti Zoey Cage Sandals, $1,055
Do you think Janelle nailed the Vader look?