In December 2015, the Los Angeles premiere of "Star Wars: The Force Awakens" came pretty close to ComicCon when it came to fans and celebrities paying homage to the saga on the red carpet.
Jaime King was just one of the celebrities to attend the premiere in a character-inspired outfit.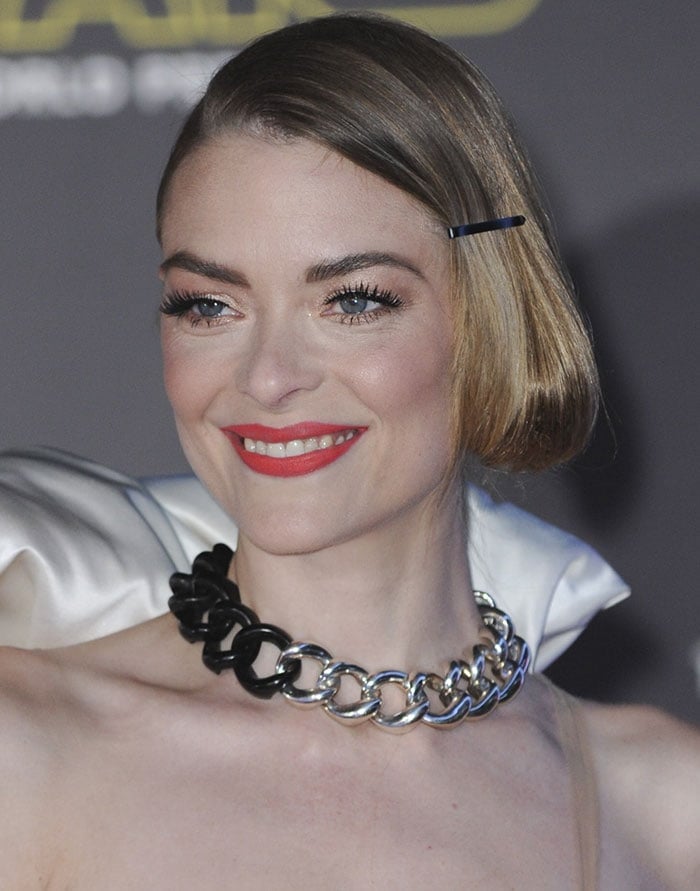 Jaime King clips her hair back at the film premiere of "Star Wars: The Force Awakens" in Hollywood on December 14, 2015
Are Jaime King and Joey King sisters?
No, Jaime King is not related to Joey King, an American actress known for portraying Ramona Quimby in the comedy film Ramona and Beezus (2010). They just happen to share a very common English and Scottish surname.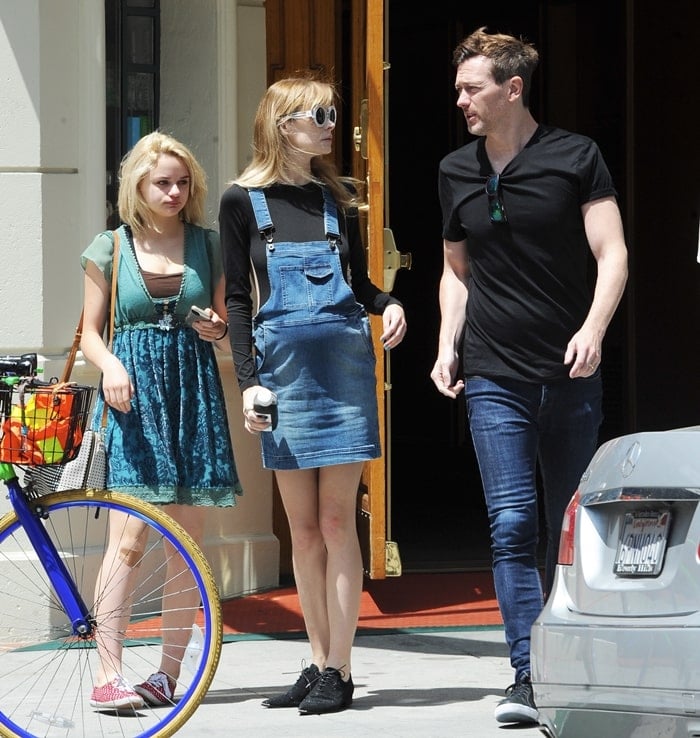 Pregnant Jaime King heads to her doctor's appointment with Joey King and husband Kyle Newman in Beverly Hills on June 15, 2015
However, Joey and Jaime are good friends. In an August 2016 interview, Joey discussed their relationship with WWD:
Oh my god. Literally, her closet is the greatest thing in the world. A lot of people think we're related too. We're actually not. But we want to be. We went out to breakfast or lunch one time and I had on this like vintage dress. It was fine.

She had these Chanel overalls on. I'm like, "Dude. Kill me. Get out of that. I look stupid next to you." She was like, "What?" And she had her cute little baby bump. I was like, "Stop. Looking so cute all the time."
Jaime King and Joey King share the same surname but are not related
The then 36-year-old actress and model, who voices the role of Aurra Sing in the "Star Wars: The Clone Wars" animated TV series, stood out in a custom white Monse dress.
The unusual asymmetric frock features an off-the-shoulder sleeve on the right side, a ruched effect on the top half, and a draped back panel that appeared to be made of long sleeves with buttoned cuffs. She looked as if she just rolled out of bed.
Jaime King wears a white Monse dress on the red carpet
The mother-of-two styled the quirky number with a chunky chain necklace, a pair of earrings, a couple of rings, and showed off her feet in black pumps.
Jaime King wears a chunky chain necklace and a Monse dress at the premiere of "Star Wars: The Force Awakens"
To complete the look, she wore gold eye shadow and coral red lipstick and styled her blonde hair into a side-parted faux bob pinned back on one side.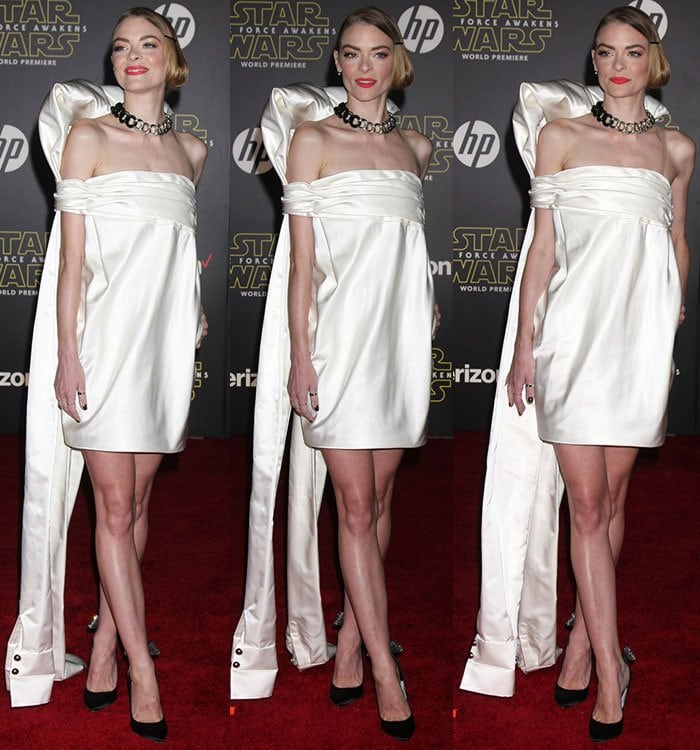 Jaime King looks futuristic in a Monse dress at the premiere of "Star Wars: The Force Awakens"
Jaime paired the futuristic dress with the Brian Atwood "Magda" pumps.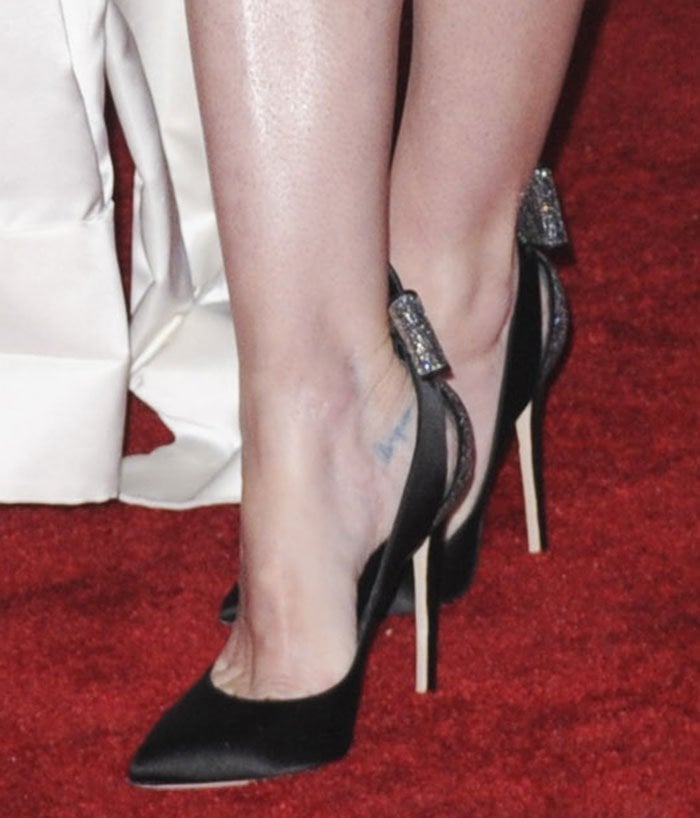 Jaime King's feet and tattoos in Brian Atwood pumps
These satin pumps have crystal-embellished sculptural bows at the back, pointed toes, and 4.75-inch heels.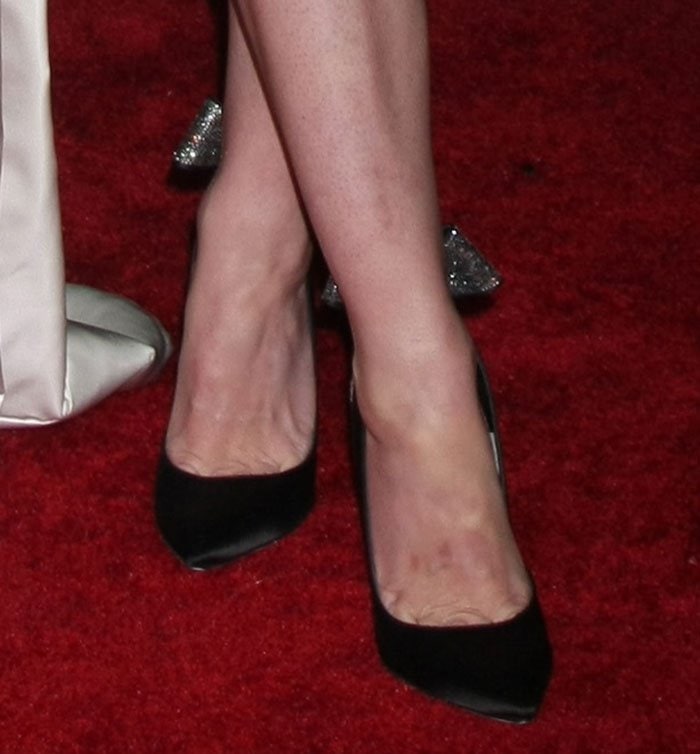 Jaime King reveals sexy toe cleavage in Magda pumps
These Brian Atwood pumps are available at Amazon!
Brian Atwood Magda Bow Pumps, $1,595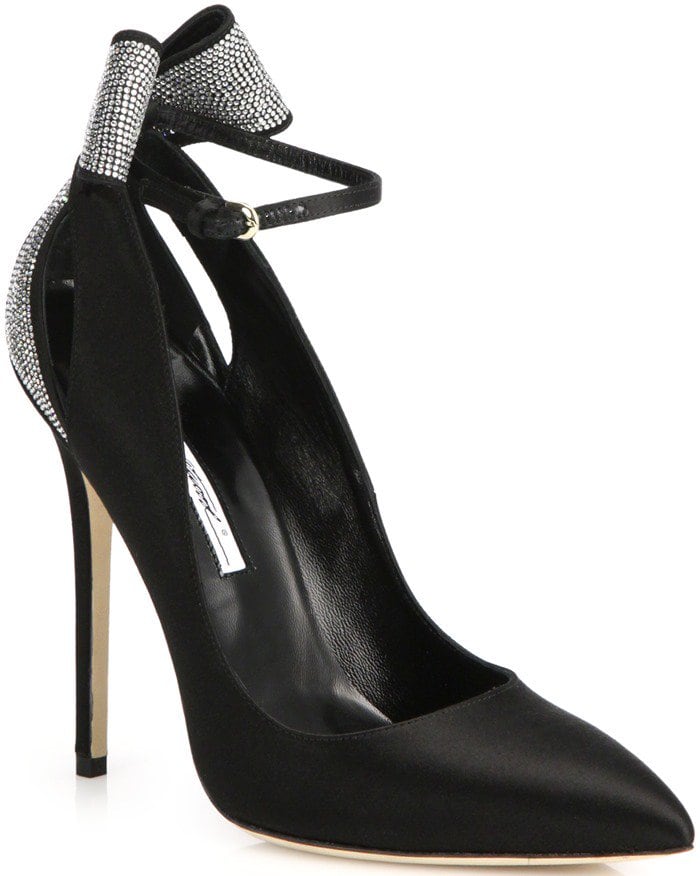 Credit: Nicky Nelson / Apega / WENN / Cousart / JFXimages