She's a multi-hyphenate star who burst onto the international music scene after she was featured in DJ Fresh's Hot Right Now song in 2012.
Her success in music made her an international celebrity and helped her create a name for herself in film and television.
The English singer-songwriter has appeared in movies like the Fifty Shades of Grey trilogy and as a host and a judge on different reality competition TV shows.
Rita Ora partners with ShoeDazzle on a brand-new curated shoe collection
Aside from the entertainment industry, Rita Ora has also taken the fashion world by storm. She has become a staple figure in the fashion industry with several endorsements and ad campaigns under her belt.
The Masked Singer judge has collaborated on collections with various brands, including sportswear giant Adidas and Italian footwear designer Giuseppe Zanotti.
Just recently, Rita Ora teamed up with the largest fashion subscription e-commerce company, ShoeDazzle, on a new curated shoe collection.
Released on Thursday, the collection includes a range of shoe styles—from sneakers and loafers to boots and heels—that are priced under $100. You can get your first pair from the collection today for only $10 when you sign up as a new VIP member at ShoeDazzle!
"I've always wanted my own shoe collection that is chic, as well as accessible, which is why partnering with ShoeDazzle has been so great," Rita said of their collaboration.
She added: "I Believer that fashion can be a creative outlet for individuals to express themselves freely. I think it's important for everyone to have access to footwear that gives them confidence and that's what really drove my desire to collaborate with ShoeDazzle."
On partnering with the singer-songwriter, ShoeDazzle's Chief Marketing Officer Petra Fukuda said Rita Ora is "the true epitome of what the ShoeDazzle woman is—bold, sexy, and cool."
Combining her love for music and passion for fashion, Rita named her shoe designs after her song titles and lyrics. She also showed sultry poses with some musical instruments for the collection's campaign images.
Rita Ora x ShoeDazzle 'Night Is Young' Boots, $10
We love Rita's white-hot look featuring the "Night Is Young" asymmetrical boots in teal color.
Made from faux leather, these boots have a croc-effect pattern, asymmetrical top lines, pointed toes, and 4-inch stiletto heels.
Rita Ora is white-hot in a cropped top, midi skirt, and Night Is Young asymmetrical stiletto boots
Rita Ora x ShoeDazzle 'Let You Love Me' Boots, $10
One of Rita's standout looks features the "Let You Love Me," which is a pair of stretch over-the-knee boots in hot pink faux suede.
Rita Ora wows in a belted coat and Let You Love Me thigh-high hot-pink boots
Rita Ora x ShoeDazzle 'Keep Me High' Booties, $10
Showing yet another sexy look, Rita wore a plaid coat with the "Keep Me High" boots.
Made from faux leather with a croc-print design, these ankle boots feature a chain-link detail around the ankles. They also have adjustable laces, side zips, and about 4-inch stiletto heels.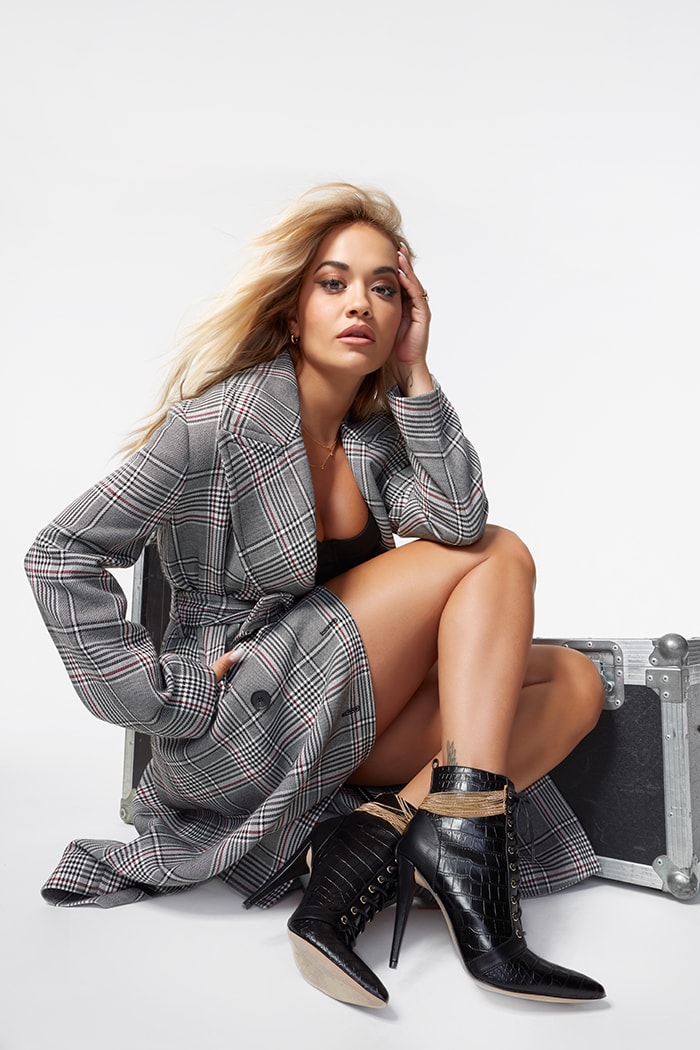 Rita Ora looks sultry in a plaid coat teamed with Keep Me High ankle boots
Rita Ora x ShoeDazzle 'Don't Let Me Go' Combat Boots, $10
For everyday casual use, the collection has the "Don't Let Me Go" combat boots. These trendy boots feature gold-tone side zippers, lace-up fastenings with gold-tone D-rings and eyelets, and 1.5-inch low block heels.
She wore the combat boots with a form-fitting bodycon mini dress, which clearly highlighted her curves.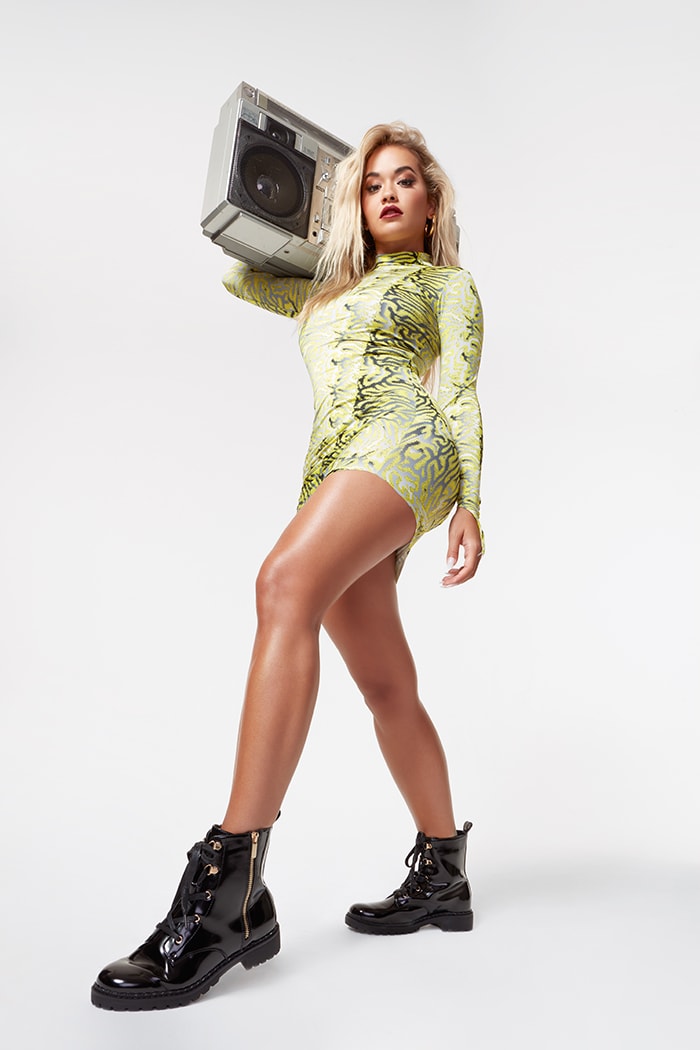 Rita Ora shows off her curves in a bodycon mini dress with trendy Don't Let Me Go combat boots
Rita Ora x ShoeDazzle 'Playground' High-Top Sneakers, $10
Giving off a rock-chic vibe are the "Playground" sneakers in grungy plaid print. Made from faux leather, these high-top shoes have lace-up fastenings and about 0.75-inch studded flatforms.
Rita Ora is a rock-chic babe in green co-ordinates with Playground plaid high-top sneakers
Rita Ora x ShoeDazzle 'I See You' Clear Jeweled Sandals, $10
The collection also offers a pair of red carpet-worthy heels like the "I See You" sandals. They feature clear crystal-embellished front straps with open toes, embellished ankle straps, and 4-inch clear block heels.
The Albanian singer looked hot as she paired the sandals with a white strapless dress.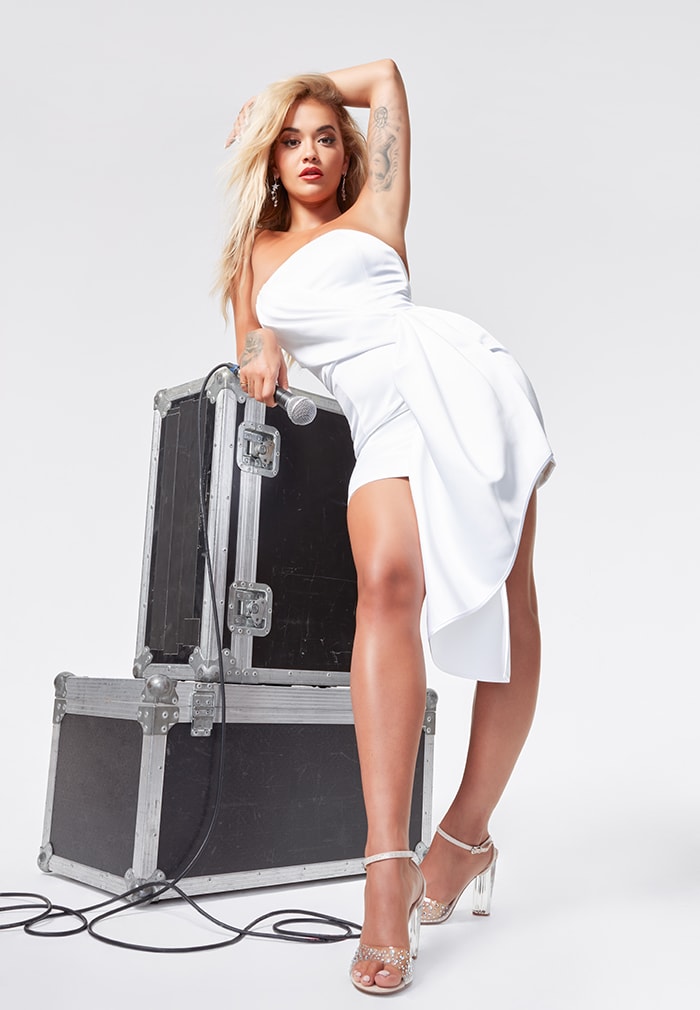 Rita Ora stuns in a white dress and I See You jeweled sandals
In line with their collaborative collection, Rita Ora and ShoeDazzle are also launching the Women of the Future Fund.
It is a $100,000 investment to be awarded in grants to three women working in creative industries.
Credit: ShoeDazzle