If you're a fan or at least a casual viewer of the hit ABC drama series Scandal, you've definitely heard of Kerry Washington, who plays Olivia Pope in the show.
With her stone-cold and hard-hitting style of political maneuvering and sexual encounters, the character quickly became popular as the lead of the show – serving as a great character and a fashion icon for her style of dress, which has inspired countless outfits from fans of the show.
Scandal, an American political thriller television series starring Kerry Washington, aired on ABC from April 5, 2012, until April 19, 2018 (Credit: ABC)
Before starring as Olivia Pope, however, Washington enjoyed roles in both television and feature films, working her way up to a very successful acting career.
In this article, we'll take a look at Washington's career leading up to her success in Scandal (and the beginnings of Olivia Pope), and what she's been up to since the show concluded in 2018.
The Beginning of Kerry Washington's Career
Washington was born in The Bronx in January of 1977, to a real estate broker and a professor. Her first taste of acting came when she was a child, as she took part in the famous TADA! Youth Theatre Group.
She further developed her acting skills at the Michael Howard Studios, where she studied under professionals in New York City.
After having limited work in commercials, her first screen debut came in 1994 with the made-for-tv film Magical Make-Over, when Kerry was 17.
Chris Rock and Kerry Washington in the 2002 action comedy film Bad Company (Credit: Buena Vista Pictures Distribution)
This experience lead to more work for Kerry as well, as she moved to star in feature films in the early 00s, with roles in Save the Last Dance (2001), Bad Company (2002) and The Human Stain (2003), and Spike Lee's She Hate Me (2004) – a role in which she received increased recognition for.
She leveraged this role to receive even more high-profile work in the mid-00s as well, most notably as Kay Amin, wife of Ugandan dictator Idi Amin in The Last King of Scotland (2006), which received critical acclaim and was a financial success.
Forest Whitaker as Idi Amin, James McAvoy as Dr. Nicholas Garrigan, and Kerry Washington as Kay Amin in the 2006 historical drama film The Last King of Scotland (Credit: Fox Searchlight Pictures)
Kerry continued to appear in films and even had her Broadway debut in 2010, two years before being cast as Olivia Pope in Scandal, which debuted in April of 2012 when Kerry was 35 years old.
How Kerry Washington Was Cast in Scandal
Scandal was conceptualized by Shonda Rhimes, a famous American showrunner who gained notoriety for creating shows such as Grey's Anatomy and Private Practice.
By early 2011, it was announced that Rhimes was producing another pilot, this time for a show called Scandal, starring a character named Olivia Pope – who was inspired by Judy Smith, the African-American crisis manager who worked as a press aide for George W. Bush during his era as the president of the United States.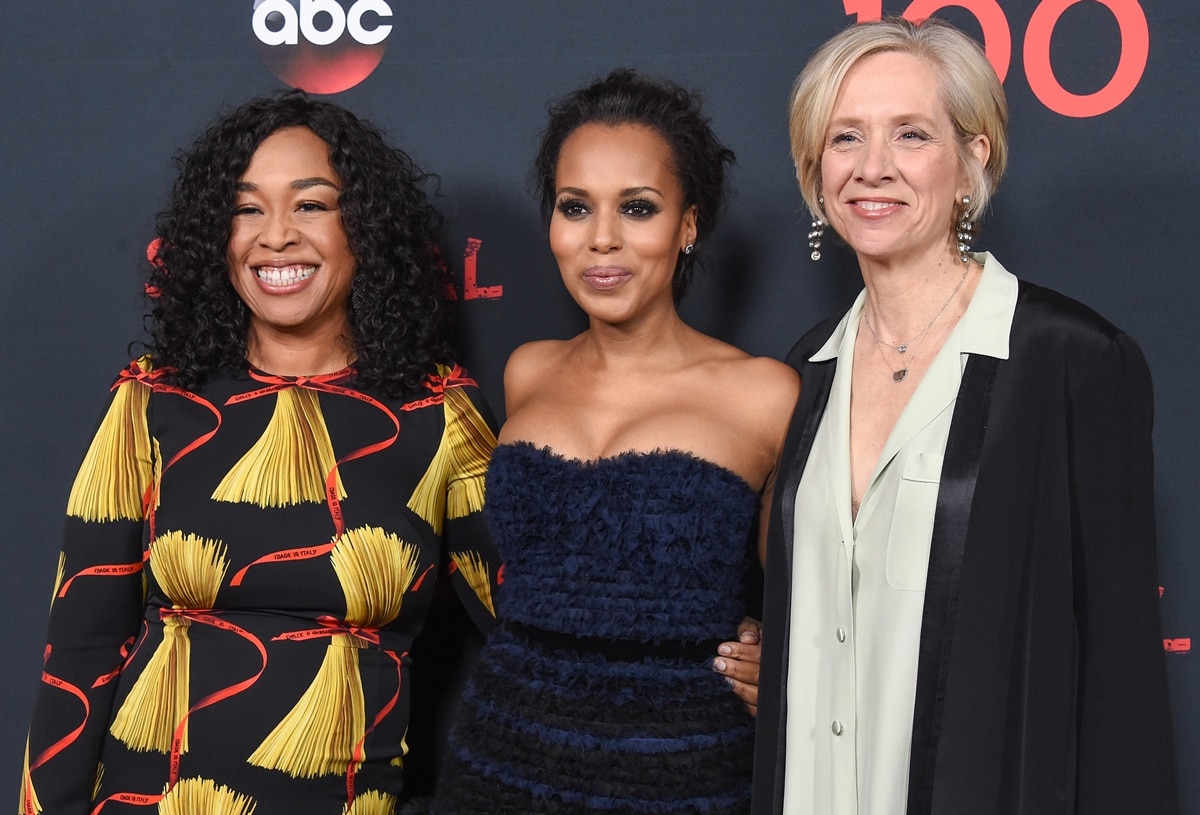 Producer Shonda Rhimes, actress Kerry Washington, and producer Betsy Beers attend ABC's "Scandal" 100th episode celebration at Fig & Olive on April 8, 2017, in West Hollywood, California (Credit: DFree / Shutterstock)
Like Olivia Pope in the show, Smith also founded her own company, Smith & Company, to provide crisis management services to a variety of high-profile clients, including former NFL quarterback Michael Vick.
Shonda must've seen a little bit of Judy Smith in Kerry Washington, as Kerry was the first actor announced to appear in the series, as the lead character of Olivia Pope.
Kerry had some stiff competition for the role, as famous actresses Gabrielle Union and Taraji P. Henson both auditioned for the role as well.
Kerry Washington as Olivia Pope would often wear white to depict herself as a rescuer (Credit: ABC)
Kerry being cast as the lead of the series was notable, as she was the first African-American female lead in a studio series since the mid-70s.
Casting Kerry was a great decision, as the actress received Emmy awards for her performance as Olivia Pope – a testament to her acting skills and to the characterization by Shonda Rhimes.
How Olivia Pope Became a Fashion Icon
Another notable thing about the character of Olivia Pope is the influence she had on fashion in general. Since the series premiered in 2012, Washington has received recognition for the various costumes she wore while starring in Scandal.
Actress Kerry Washington in a printed Altuzarra Spring 2018 dress with mesh overlay for the Scandal: Final Season Panel at Vulture Festival Los Angeles at Hollywood Roosevelt Hotel on November 18, 2017, in Hollywood, California (Credit: DFree / Shutterstock)
Many fans of the show were inspired by the looks Pope constantly served every episode, and multiple guides to "get the Olivia Pope" look began to sprout up online.
Pope's tailored trousers, stylish coats, and necklace and blouse combos inspired the fashion of young women during the nearly six years the show was on the air.
"It is not about, 'I'm going to buy myself some new clothes to cheer myself up.' It's that [Olivia] has decided that she is going in a different path and a new direction," costume designer Lyn Paolo told EW in March 2016 of Olivia Pope's careful fashion choices.
"She's always been powerful, and she's always been able to express her power in very subtle ways … and when they see these bright colors people should know: this is a new human. She is even more driven, even more determined, and she is going to do whatever it takes for Olivia Pope to survive."
Actress Kerry Washington displays her feet in black Christian Louboutin sandals (Credit: DFree / Shutterstock)
"Kerry and I get together every week and we sit and we go through each of the scenes, and before she comes in I will have done some preliminary some sketches or ideas of what's going to happen within that, or maybe a color arc for that episode and I have a fantastic crew who will run out and find things for me. So we're very weekly, and very much a team effort with Kerry. We do it all together," Paolo said about working together with Kerry Washington to select the clothes for the series.
Whether it's due to her stunning fashion sense or her acting prowess, the character of Olivia Pope was a huge hit with audiences, and Kerry Washington became an in-demand actress during the years she played Pope as well.
We eagerly anticipate Washington's continued presence in an array of compelling roles. Her recent appearances in films such as "The Fight" (2020) and "The Prom" (2020), as well as her work in television on shows like "Little Fires Everywhere" (2020), only reinforce her status as a versatile and sought-after actress.
Kerry Washington Stuns in Red Jimmy Choo Heels at the Emmy Awards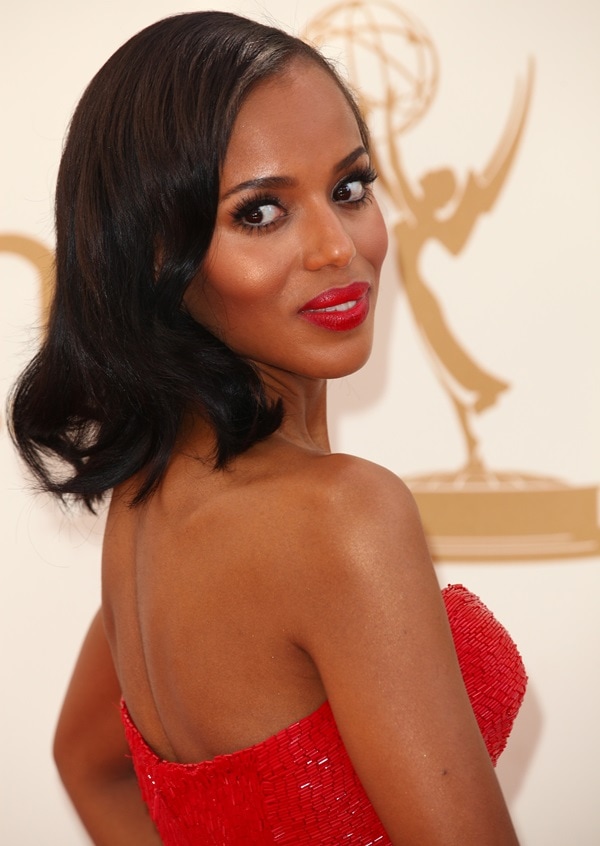 Kerry Washington at the 63rd Primetime Emmy Awards held at the Nokia Theater LA LIVE in Los Angeles on September 18, 2011 (Credit: FayesVision / WENN / Adriana M. Barraza / B.Dowling / Joseph Marzullo)
In September 2011, the Emmy Awards brought out beautiful red dresses and tons of hot shoe styles for us to drool over.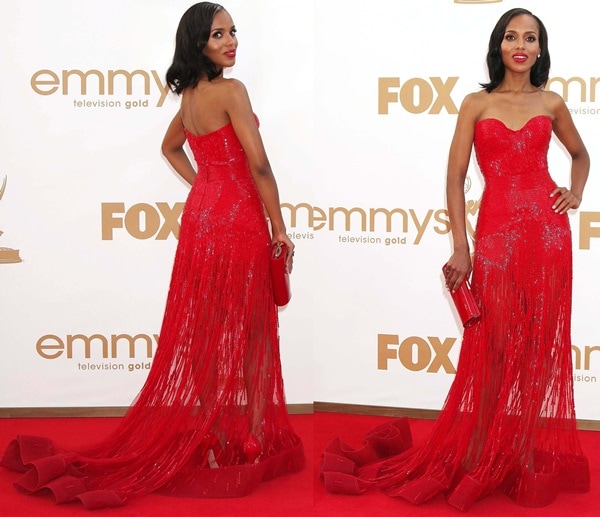 Kerry Washington in a bright red Zuhair Murad dress on the red carpet of the 2011 Emmy Awards (Credit: WENN)
When I spotted Kerry Washington in these sultry red pumps from Jimmy Choo, I knew I could not keep them to myself. I love Jimmy Choo heels, and the 'Vibe' is no exception.
Kerry Washington was cast as Scandal's Olivia Pope in early 2011 (Credit: WENN)
The American actress, director, and narrator wore the pumps with a Zuhair Murad Fall 2011 Couture red gown, a Jimmy Choo Tube clutch, and Lorraine Schwartz jewelry.
Kerry Washington totes a red Jimmy Choo Tube clutch (Credit: WENN)
This pump is also available in silver, which is equally as lush as the red version that Kerry wore to the Emmy Awards. You can shop the latest releases from Jimmy Choo at Farfetch and Mytheresa.
Earlier the same year, Kerry attended another red carpet event in an amazing Catherine Malandrino silk cap-sleeve dress paired with a ruby red Jimmy Choo 'Latoya' envelope clutch.
Kerry Washington displays her feet in high heel peep-toe pumps (Credit: WENN)
We have not identified her pumps, but perhaps you can help.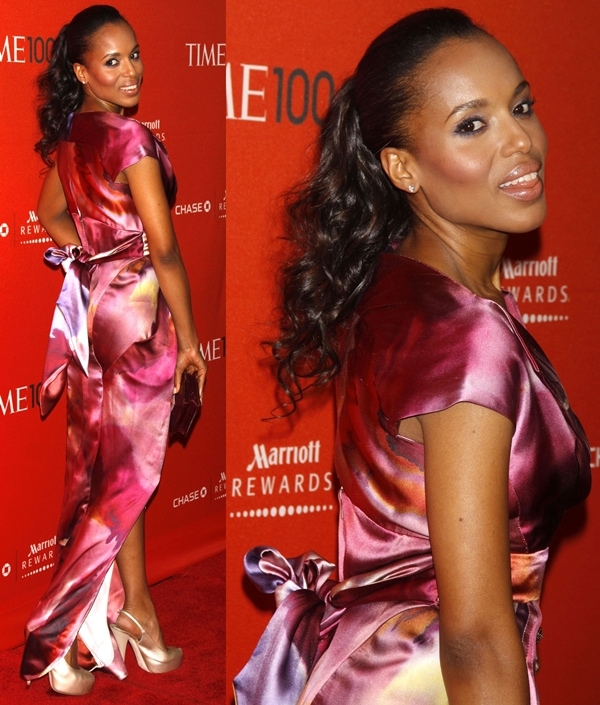 Kerry Washington in a watercolor Catherine Malandrino dress (Credit: WENN)
Which of the two outfits do you like better?
Kerry Washington at Time magazine celebrates its Time 100 issue, listing the one hundred most influential people in the world, held at Home of Jazz at Lincoln Centre in New York City, April 26, 2011 (Credit: FayesVision / WENN / Adriana M. Barraza / B.Dowling / Joseph Marzullo)