No woman's shoe collection is complete without a pair of classic pumps. Elegant, versatile, and flattering – pumps have it all.
It's no wonder that they've been a staple since the 19th century! Pumps can be used to elevate casual outfits, complement business attire, or polish off a going-out look. They're also excellent for creating the illusion of mile-long legs.
Want to find out how pumps became one of the most popular shoe styles in history? We're sharing everything you need to know about pumps below!
What Is a Pump?
Iconic as they are, pumps are sometimes hard to define. The simplest meaning is a heel with a low-cut front and clean design. Pumps are free of laces, ties, and zippers; you should be able to easily slip your feet into a pair of pumps.
Pumps are heels with a low-cut front and a clean design, free of laces and ties (Credit: Elena Belonogova / Shutterstock)
Minimal doesn't mean boring though. Pumps can have many different design features, from varying toe shapes and heel heights to mixed colors and textures.
The most extravagant pumps may have a glittery exterior with peep-toes or a slingback detail, while a classic pump will likely be in a neutral color with a closed design.
The History Of Pumps
Pumps are one of the oldest shoe styles to still be worn today. Fashion historians have traced them all the way back to the 16th century, though their true origins are often debated.
Some believe that modern pumps derive from chopines, the heeled platforms worn by European nobles that wanted to appear taller.
Others believe that heels were first invented to help equestrians reach stirrups more easily when they were riding horses. Either way, some form of rudimentary heels paved the way for the pumps that we know and love today.
Chopines are high platform shoes worn by European nobles that wanted to appear taller (Credit: Met Museum)
Heels have had a luxurious reputation since the beginning. They were favored by nobles and royals, though it may come as a surprise that they were originally worn by men!
Women started wearing heels in the 19th century when men began opting for practical, flat styles.
The heeled shoes worn by women were to be called court shoes since they were worn by members of European royal courts.
Across the Atlantic, they were known as pumps. This variation was derived from the French word pompe, an old shoe style originally worn by men and servants.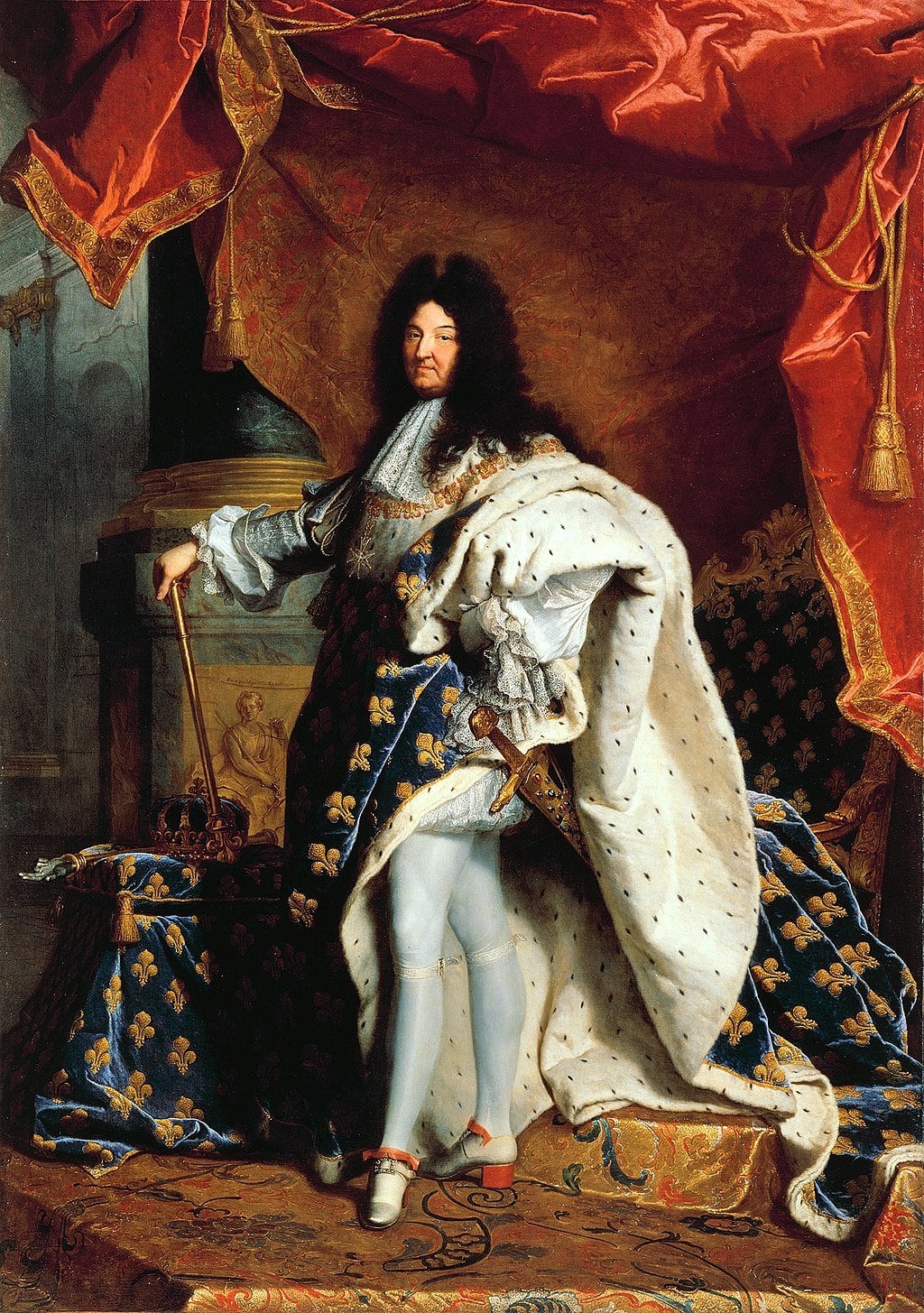 A portrait of Louis XIV in a pair of heels as a sign of nobility, painted by Hyacinthe Rigaud in 1701 (Credit: Wikimedia)
The refined pumps of today were introduced to the world by the legendary French shoe designer Roger Vivier in the 1950s.
Then working for Christian Dior, Vivier invented sleek heels that were supported by steel rods. His innovation paved the way for all future luxury shoe designers to create designs that would be treasured for generations.
Roger Vivier, the Fabergé of Footwear, invented sleek heels supported by steel rods for Christian Dior (Credit: Roger Vivier)
5 Different Types Of Pumps
We've already mentioned that pumps can come in many different shapes and forms. Here are the most common types of pumps you'll find when you're shoe shopping:
1. Kitten Heel Pumps
These are pumps with low heels (1-2 inches). They can have round or pointed toes and an open or closed back.
Pumps with kitten heels have low heels measuring just about one to two inches
2. Peep Toe Pumps
As the name suggests, these pumps have open-toe detail. They can have heels of any height and have an open or closed back.

Peep-toe pumps have an open-toe design and can come in any heel height
3. Slingback Pumps
These are pumps with open back detail. They tend to have pointed toes, but they can have heels of any height.
Slingback pumps will almost always have a back strap to keep feet in place, which is what differentiates them from mules.

Slingback pumps have an open back design with a back strap and usually come with pointed toes
4. Mary Jane Pumps
First popularized by flappers in the 1920s, Mary Jane pumps are distinguished by an ankle strap over the instep.
Mary Jane pumps are defined by the strap across the instep
5. d'Orsay Pumps
These distinctive pumps feature side cut-outs that stand out next to the closed-toe and back. Named after a French noble, Count Alfred d'Orsay, this style has been around since the 1800s!
Named after a French noble, d'Orsay pumps have side cutouts and have been around since the 1800s
Pumps Across The Pond
It's important to note that pump isn't a universal term. The heeled shoes that we're familiar with in North America are still called court shoes in the UK.
Brits have an entirely different meaning for pumps. They're what Americans call slip-on sneakers, though some Brits prefer to use the term plimsoll.
Pumps for Brits are plimsolls or slip-on sneakers for Americans
Pumps vs Stilettos vs Heels
What's the difference between pumps and stilettos? Both are types of heels, but there are a few notable distinctions between the two.
Stilettos are famously long and thin, with heights ranging from 2 to 10 inches. Pumps can be any height, and they tend to have thicker heels with a tapered effect.
Heels can be used to describe all other types of heels, such as strappy sandals, block heels, or wedges.
Fashion's 4 Most Iconic Pumps
1. Jimmy Choo Romy Pump
These sophisticated Jimmy Choo pumps have been enchanting celebrities, brides, and royals since the '90s. The glitter and lace versions are especially popular for special occasions and events.
The Jimmy Choo Romy pumps come in a variety of versions, with the glitter and lace being the popular ones for special occasions
2. Manolo Blahnik Hangisi Pump
These cobalt blue beauties were coveted by almost every fashion lover after being worn by Carrie Bradshaw in Sex and the City. Their vibrant color and crystal buckle were the perfect way to add a glamorous touch to any outfit.
Manolo Blahnik's Hangisi pumps in cobalt blue became famous after Sex and the City's Carrie Bradshaw wore them in the show
3. Valentino Rockstud
A perfect combination of edgy and sophisticated, the Rockstuds basically became the shoe of the decade after their 2010 launch.
Spotted on everyone from Reese Witherspoon to Emma Stone, the Rockstud became synonymous with the house of Valentino.
The Rockstud pump has gained a cult status since its release in 2010
4. Christian Louboutin So Kate
Inspired by Kate Moss, these prestigious, red-soled shoes became the footwear of choice for the fashion elite.
Featuring a classic pointed-toe design and narrow heels, the So Kate pumps were perfect for pairing with a blazer and jeans or special occasion dresses, as demonstrated by the legendary model herself.
Inspired by supermodel Kate Moss, Christian Louboutin's iconic So Kate pumps are another celebrity red-carpet favorite
Do you have a pair of pumps in your shoe collection?
Quotes About Pumps
A good pump is a silhouette, like the bone structure of the face. It's like a beautiful face with no make-up. You can cover a not-so-beautiful face with make-up, but it is just a mask – it is the same with shoes – Christian Louboutin

Funnily enough, the most difficult style to do is the plain pump because it needs to look good on a variety of feet. I compare it to having a good bone structure. Make-up will make you look good, but it helps if you have a good skeleton to begin with – Christian Louboutin

My red patent-leather, 5-inch peep-toe slingbacks are not mere shoes. They are fine art. They make me feel tall. They make me feel sexy. They make me feel powerful. I call them my 'special-day shoes.' – Nancy Lublin

There are only two kinds of women in the world, those who love shoes and those who had the misfortune to be born without the ability to experience total bliss on finding a pair of perfectly designed pumps in the right size at half price – Jane Eldershaw