Romantic and elegant, bow shoes have become a go-to statement piece for all women who love embracing their femininity.
This glamorous shoe style has been reinterpreted by all the fashion greats, from Jimmy Choo and Christian Louboutin to Dior and Gucci.
Behind this ladylike motif lies a long history and sweet symbolism, which we'll be exploring below.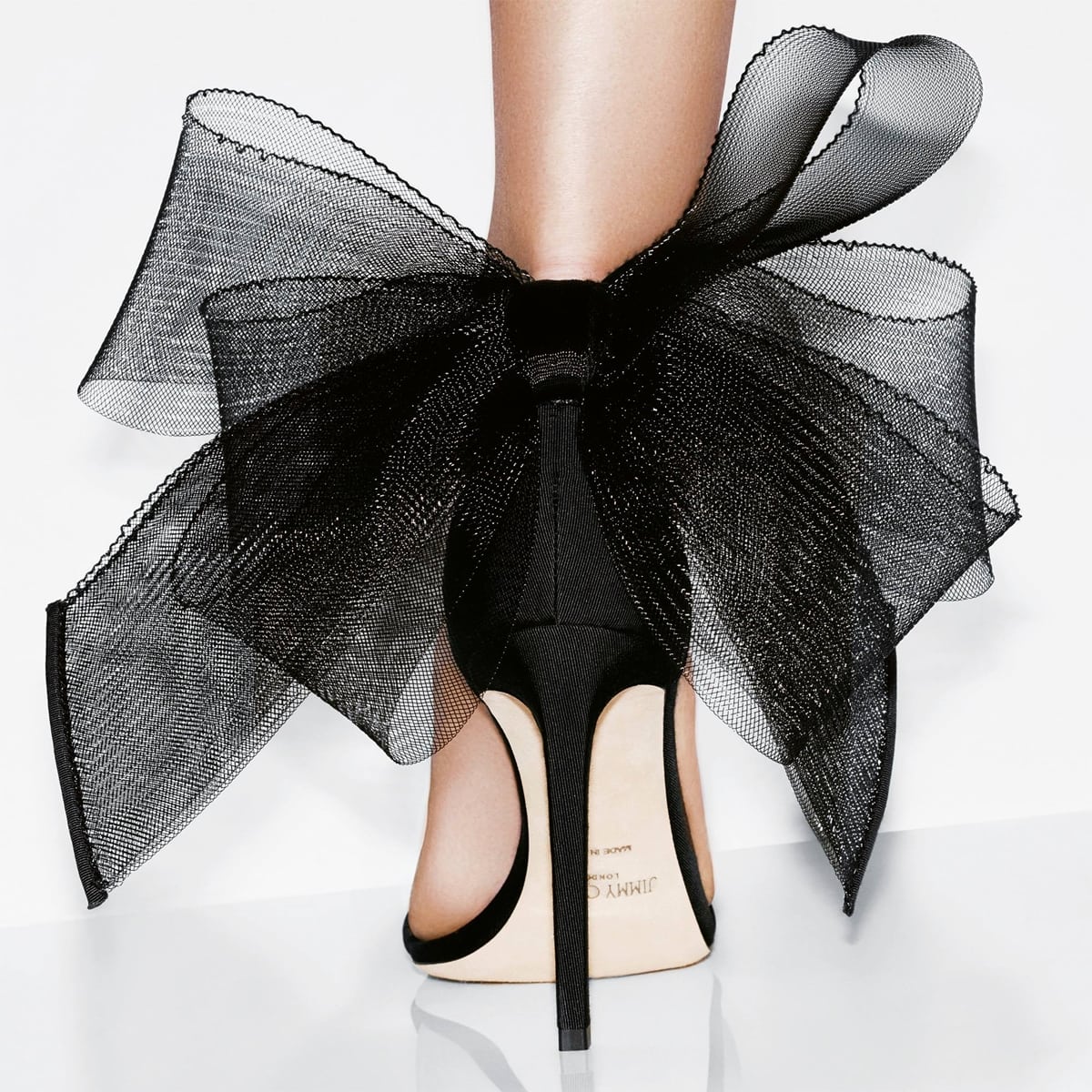 Jimmy Choo's Aveline sandals are crafted in Italy from black grosgrain and decorated with two oversized bows that are intricately woven, hand-tied, and sewn on for a dramatic finish
What Are Bow Shoes?
Any shoe that is embellished or decorated with a bow can be considered a bow shoe. The bow can be placed anywhere on the shoe, but the most common areas are along the topline or vamp (the toeline of a heel), against the counter (the back of a heel), or against the ankle strap if applicable.
Bow shoes can also be called bow tie shoes, but there are a few subtle differences between the two. Bow shoes tend to have bigger, more extravagant bows.
Sometimes they're made of contrasting materials such as organza or satin. Bow tie shoes, on the other hand, tend to have smaller bow ties, such as mini accents on ballet flats or loafers.
Dior's J'Adior slingback pump is embellished with a flat bow, and the comma heel offers the final elegant touch for an evening look (Credit: AndersPhoto / Shutterstock)
The History Of Bow Shoes
This sweet style dates all the way back to 17th century France. Bow motifs became popular throughout Europe under the reign of the Sun King Louis XIV. Both men and women in his court would adorn their clothing, accessories, and shoes with bows.
This trend trickled outside of Versailles throughout France and the rest of the continent. It's believed that the tradition of bow shoes is a continuation of this noble French trend.
Wedding shoes with bow embellishments are the perfect accessory for a romantic bride (Credit: DfrolovXIII / Shutterstock)
Bow Shoes as Bridal Wear
Bow shoes have become synonymous with bridalwear over the decades. They add a romantic feel to bridal outfits, and their luxurious detailing often makes brides feel like princesses on their big day.
Aside from their beautiful appearance, bow shoes also have a meaningful symbolism that relates to love and marriage. Bows have been symbols of love for centuries.
Europeans used to wear bows around their necks as chokers or would keep them close to their hearts in the form of brooches to let the world know they were in love. Ever since this tradition started, bows have become emblems of love, affection, and marriage.
The bow is also a playful take on the phrase "to tie the knot." Although the phrase has Celtic origins that go back centuries before Louis XIV, adding a bow to your wedding day outfit is a stylish way to reference this tradition.
Miu Miu lace-up ballet flats with interchangeable ribbons that tie around the ankle
Ribbon Shoes vs Bow Shoes
Ribbon shoes are another style that can be confused with bow shoes. The two are similar and can even overlap in design, but there is one key difference.
Ribbon shoes are shoes with ribbon straps that often extend up the calf. They are inspired by the satin ribbons that are used to attach ballerina slippers to the legs. Modern ribbon shoes can be made into heels, flats, or even sneakers.
Whether you prefer bows that are opulent and oversized or small and subtle, the bow shoe trend is a timeless design that will elevate any feminine outfit.