Bridal shoes take a little more consideration than shoes that you might buy as an impulse purchase. You'll want to choose your wedding dress before deciding on your shoes.
This order is important as otherwise, you could end up picking up a pair of shoes with a heel that is too high for the hem of your dress.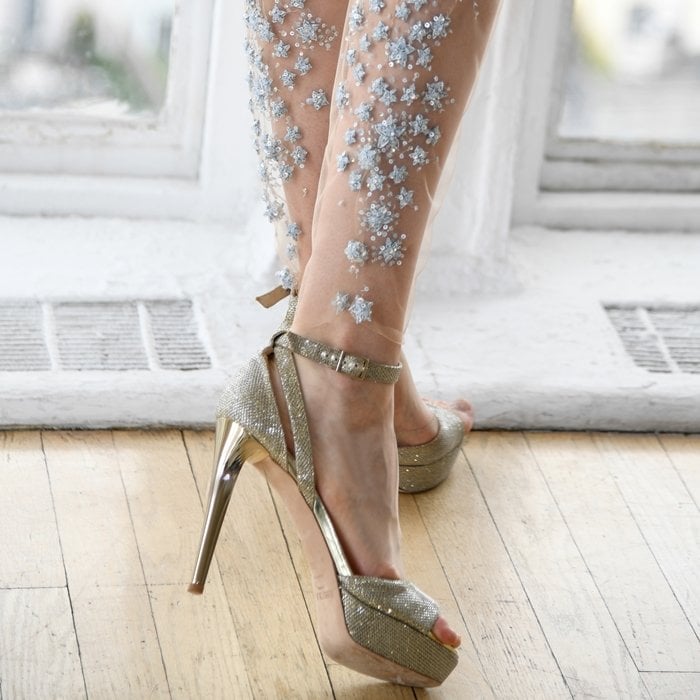 Ines Di Santo New York FW21 bridal collection heels (Credit: A. Oparin / WENN)
Once you have the color and aesthetic of your dress chosen, it'll be significantly easier to track down a pair of shoes that suits your wedding day look.
Avoid opting for a heel type that you don't typically wear. You'll be standing in your shoes for several hours at a time, especially for photographs.
It's best to find your wedding dress before deciding on your bridal shoes (Credit: A. Oparin / WENN)
The last thing you want is to be uncomfortable on your wedding day. The following are our top tips for choosing the perfect bridal shoes at one of the best places to buy wedding shoes online:
1. Find your dress first
Consider the length of your dress, as you want your heels to be high enough to stop you from tripping over your train.
2. Research heel options
If comfort is your priority, you can consider kitten heels or an unconventional choice of flats.
Your shoes are an opportunity to have some fun with your outfit. You can use them as an opportunity to incorporate your 'something blue' or even to add a splash of your favorite color.
Picking your bridal shoes goes beyond just matching them to your wedding dress (Credit: Shchus / Shutterstock)
3. Decide on the color and material
While most brides opt for traditional white shoes, you can choose any color. If you want your shoes again after the big day, a colorful pair of shoes will be more versatile than white.
Start researching bridal shoe options early and prioritize comfort, as you'll be on your feet all day (Credit: Tetiana Humeniuk / Shutterstock)
The perfect match for most wedding gowns, it doesn't get more classic or elegant than satin shoes for your big day!
4. Try them on
Don't forget to wear your shoes ahead of time. You want to try and break them in and see if you need to add an insole to improve your grip and comfort.
You can wear them around your home a few times and keep the plastic covering on the sole to keep your shoes looking pristine before your wedding day.
The most popular bridal shoe colors are white and ivory (Credit: Kyryk Ivan / Shutterstock)
5. Consider the season
You will want to consider the time of year that you're getting married, as well as your venue.
Sling-back and open-toe heels are ideal for summer months, while a court heel is suitable for any setting.
6. Prioritize comfort
If you know you'll do a lot of walking around your venue, particularly between buildings and outdoor areas, then you might want to opt for a shorter heel.
You should buy your bridal shoes in good time before your wedding (Credit: ProWeddingStudio / Shutterstock)
Add a silver sixpence to your shoes for good luck. Bridal shoes often come with a customary silver sixpence as a traditional token of good luck, as the sixpence represents love and happiness.