All brides dream of a fairy-tale wedding. No Cinderella moment is complete without your own glass slipper. For some brides, the shoes are just as important as the dress.
Satin shoes are the most popular choices for brides – or any special occasion. You can't scroll through a bridal Pinterest board without spotting a pair of satin shoes along the way.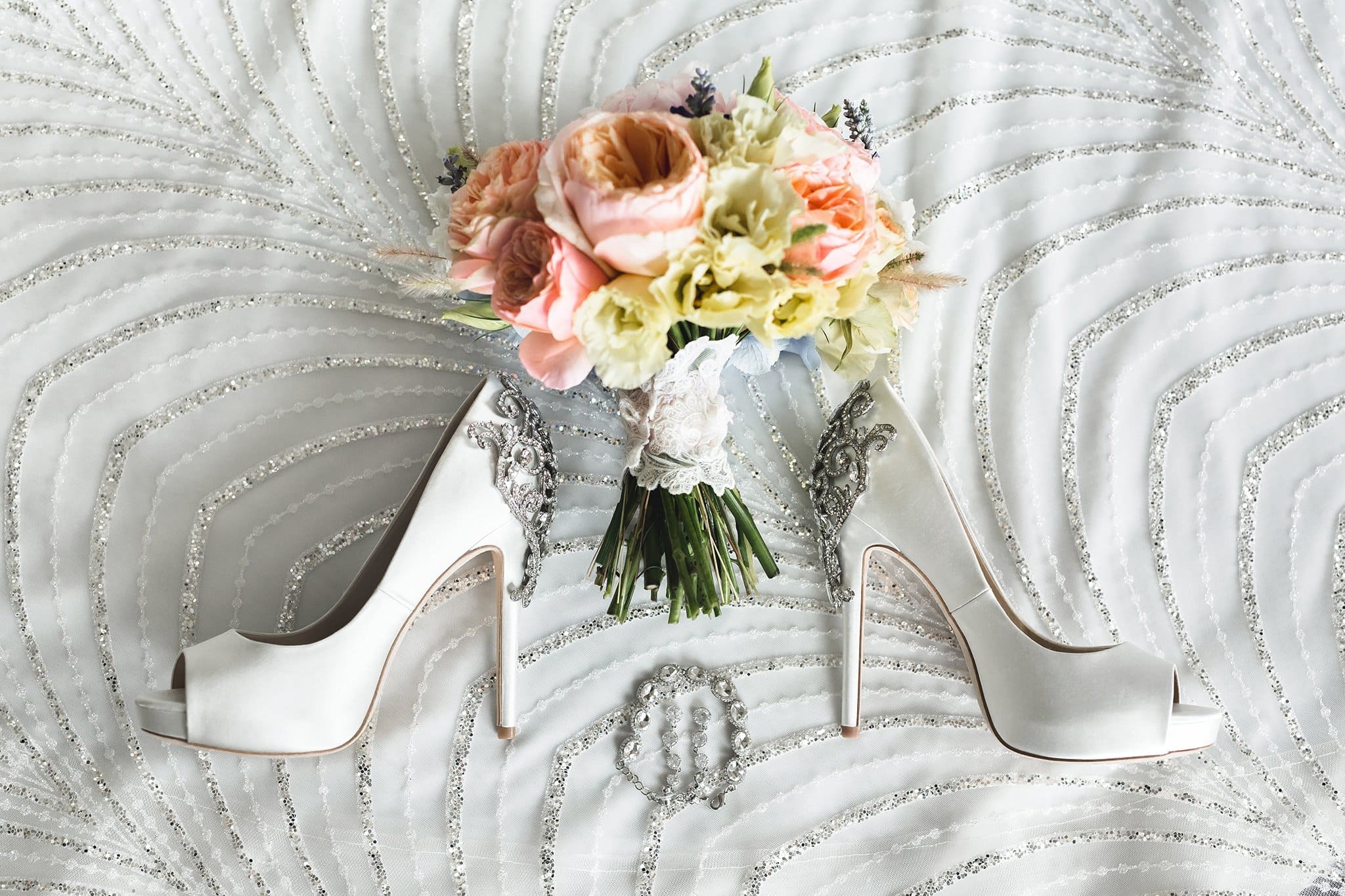 Satin is one of the most popular choices for wedding shoes among brides (Credit: Studio Peace / Shutterstock)
If you're a bride or attending a wedding, satin shoes should be at the top of your shopping list. We're diving into the world of bridal shoes to discover why satin shoes are so popular and which styles are the most sought-after.
What to Consider When Buying Wedding Shoes
While you might be itching to buy your bridal shoes, there are a few things to consider before splurging on satin shoes.
1. Buy your dress first
You want to choose your dress before your shoes. Ideally, you should buy your shoes between choosing your dress and attending your final fitting. You'll want your shoes there to allow you to see the finished look.
Choose the right heel height depending on the length of your gown, or you may alter your dress to create the perfect length (Credit: Andrei Zveaghintev / Shutterstock)
The heel height of your shoes may mean the hem of your dress needs to be altered.
2. Look out for sales
Most brides spend months planning their wedding. If you want to save money on your designer wedding shoes, look out for potential sales.
Some bridal footwear never goes on sale, but less conventional options may be discounted during semi-annual sales.
Look out for semi-annual sales to save money on designer wedding shoes (Credit: Alexa_Space / Shutterstock)
3. Research your size
When you buy your wedding shoes, you'll likely not wear them till the big day. Don't let them sit gathering dust in the box!
Try your shoes on as soon as possible to make sure they fit. Sizing can differ between brands, especially with certain silhouettes.
Try on your bridal shoes to make sure they fit comfortably (Credit: Vikkin / Shutterstock)
Research the brands you're interested in and how their sizing may differ between styles. If you're ordering online, choose a variety of sizes and styles to try at home.
Why Are Satin Shoes Popular for Brides?
When you're scrolling through Pinterest for wedding shoe inspiration, you might start to notice a trend. Most brides choose satin shoes.
Whether it's an intimate courthouse wedding or an extravagant four-day celebration, satin shoes make an appearance at almost every wedding. What makes satin shoes so popular?
Satin shoes are popular among brides because of the minimalistic, effortless elegance (Credit: Julie Photo Art / Shutterstock)
It's the effortless elegance of the style. A satin bridal shoe has something to offer every woman, whether it's a minimalistic look or the perfect base for diamond detailing.
Satin shoes will never go out of style. They can be the 'something borrowed' or 'something new' of your wedding look. Whatever style you choose, satin shoes will add timeless glamour to your look.
You'll find satin bridal shoes with an open-toe silhouette or even chic ballet flats if you're having a beach wedding.
The Best Bridal Satin Shoes
Every bride wants her wedding to be a day they'll never forget. Just like choosing your dress, finding the perfect shoes can take a little trial and error.
You can create your Cinderella moment with a pair of satin bridal shoes. Whether you're saying 'I do' by the beach or eloping somewhere exotic, experience your fairy-tale moment in your own glass slippers.
We're rounding up six of the best satin bridal shoes to help you find your glass slipper moment. This list has something for everyone – from minimalistic heels to quirky contemporary styles.
1. Manolo Blahnik – The Hangisi Pump, $1,181 to $1,125 at Nordstrom and Farfetch
The "Hangisi" became the bridal shoes of the decade when Mr. Big proposed to Carrie Bradshaw with a pair of blue Manolo Blahnik heels.
The classic favorite Hangisi pump is defined by the square crystal buckle encased in a gunmetal frame
You might want to keep it classic in neutral colorways or use your shoes as your 'something blue.'
These satin bridal shoes are guaranteed to make your heart skip a beat. They're the modern Princess shoe – and a favorite of the Duchess of Cambridge.
2. Sarah Flint – Wedding Perfect Pump, $550
Are you looking for royal inspiration for your bridal shoes? Sarah Flint is an American footwear brand made famous by Meghan Markle.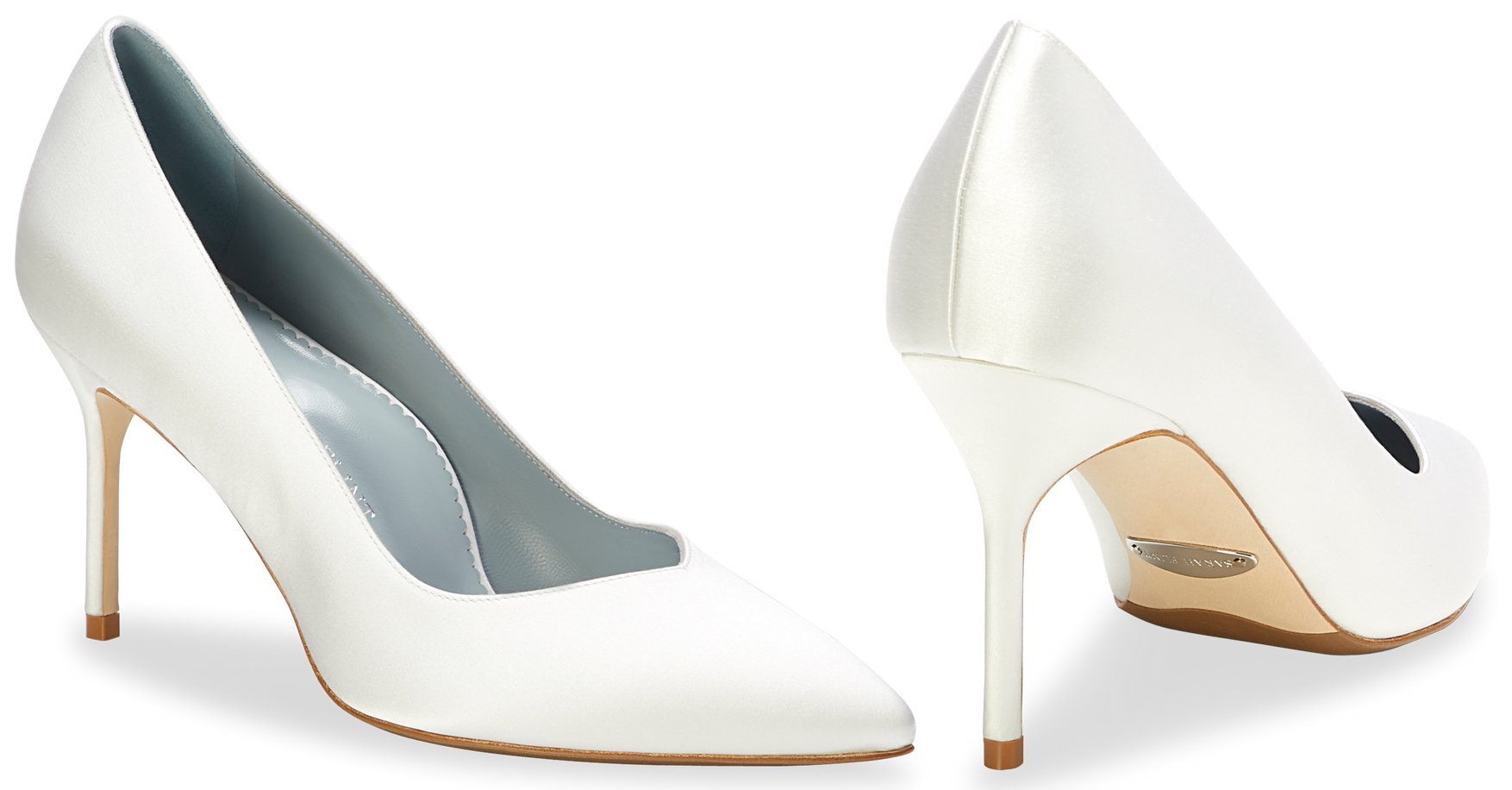 Literally the perfect wedding pump, this Sarah Flint design is made from water-resistant satin and features extra padding, anatomical arch support, and a wider toe box
The "Wedding Perfect Pump" is chic and understated, reminding us of Elizabeth James from The Parent Trap. These Sarah Flint shoes are a splurge but won't break the bank as much as the Manolos.
Not sure what the weather will be on your Wedding Day? These bridal shoes are made using water-resistant satin!
3. Jimmy Choo – Romy 100 Pump, $695 at Mytheresa and Farfetch
Jimmy Choo is a brand most women dream of having in their closets. You might be saving your pennies for your first pair of Jimmy Choo shoes for your wedding day.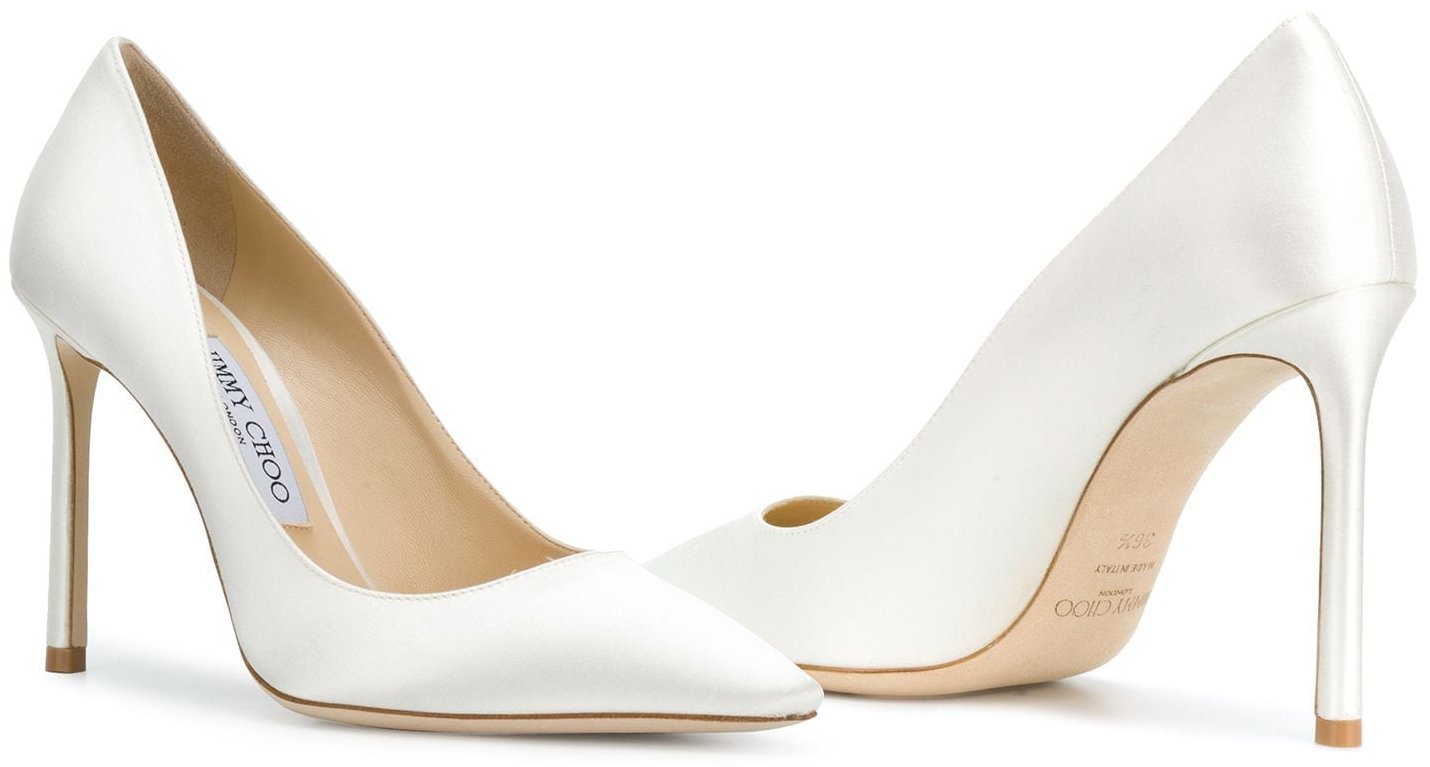 Ooze ladylike elegance in the Romy pumps, which boast a classic silhouette with slim, leg-lengthening 4-inch heels
The "Romy" pumps are the most sought-after wedding shoes from Jimmy Choo. These bridal shoes have a classic silhouette with a 100mm heel that will give you an extra lift for your big day.
4. Freya Rose – Celine Pump, $491
Give your wedding a whimsical feel with the "Celine" satin heels from Freya Rose. These ivory silk-satin heels have hand-embellished crystals on the back of the shoe.
Perfect for shorter wedding dresses, Freya Rose's Celine ivory silk-satin pumps have romantic hand-embellished crystals on the heels
They're the perfect statement to wear with a shorter wedding dress or to peak out under the hem.
5. Sophia Webster – Mariposa Pump, $484 (from $605) at Farfetch
British footwear designer Sophia Webster is quickly becoming a go-to for modern brides. Her feminine and quirky styles can add an unexpected twist to your wedding look.

Sophia Webster's Mariposa pumps are feminine and refined in ivory satin with a romantically placed small butterfly at the heel
The "Mariposa" pump is one of Sophia Webster's more understated styles, incorporating a romantic butterfly onto the back of the shoe.
6. Sophia Webster – Wifey for Lifey Pump, $675
Sophia Webster's most famous shoes are the "Wifey for Lifey" pumps – which are available with a matching clutch. These statement shoes are made using ivory satin and finished with 'Wifey for Lifey' on the front and soles of the feet.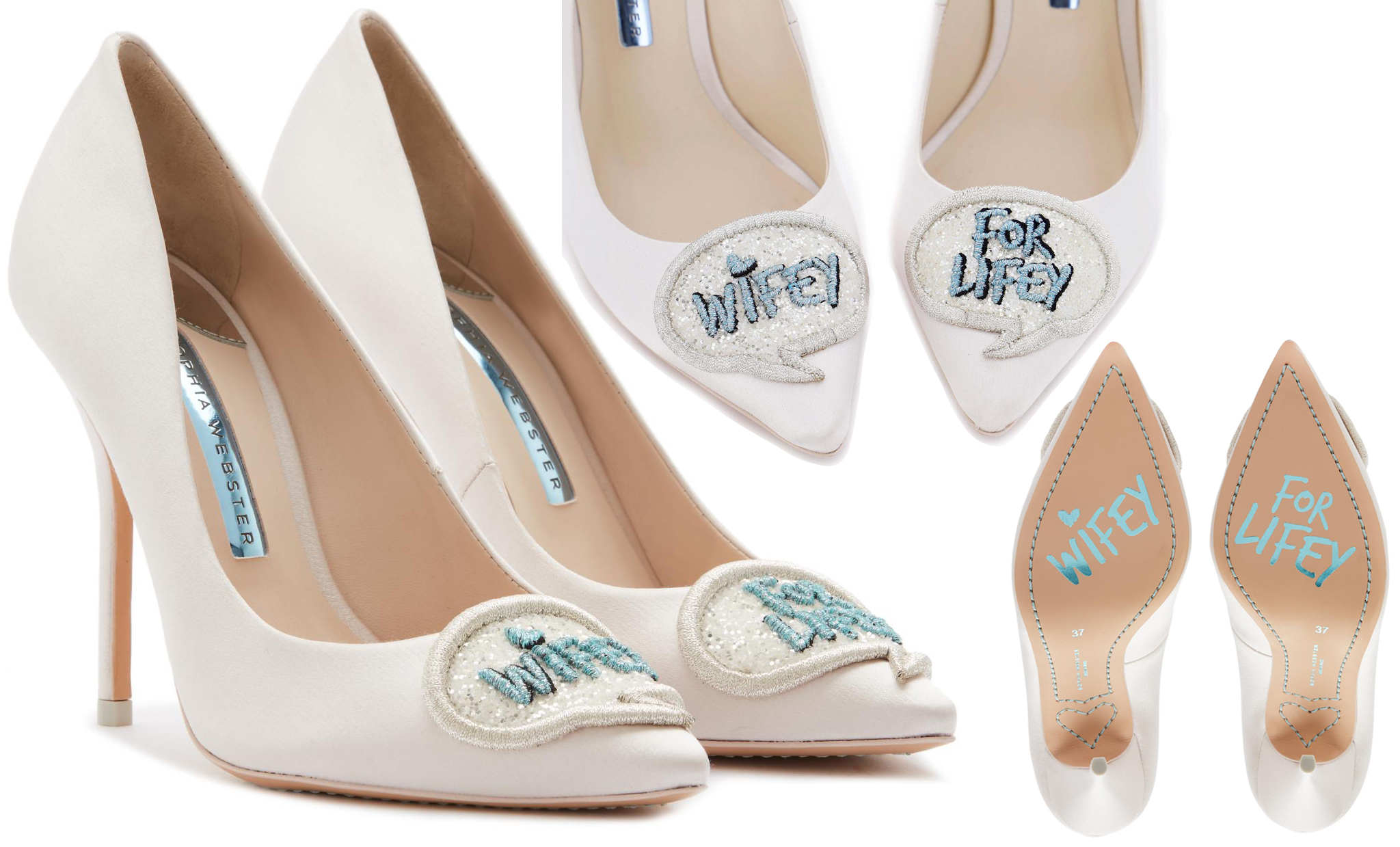 Make a statement on your wedding day in Sophia Webster's popular Wifey for Lifey pumps
These shoes are the perfect choice for the bride who wants to get Instagram-worthy photos with your wedding shoes. Add the matching clutch to finish off your look.
Say 'I Do' With Satin Wedding Heels
Make your wedding day a moment you'll never forget with your own Cinderella moment. A satin heel is the perfect glass slipper for marrying your Prince (or Princess!) Charming. Put your best foot forward with these satin wedding shoes.