Of all the accessories a bride can wear on her wedding day, her shoes are perhaps the most important. Clutches and bags will likely get tossed to the side during dances and photo ops, but wedding shoes will be in the spotlight all day long.
And there's one style of shoe that reigns supreme for brides: feminine and romantic lace shoes.
Lace has been the go-to fabric for most brides for decades (Credit: Julie Photo Art / Shutterstock)
The fabric has been closely linked to bridalwear for decades and shows no signs of losing popularity. Below we'll be sharing why brides love lace wedding shoes so much, as well as the most popular designs for current and future brides.
What Are Lace Shoes?
As the name suggests, lace shoes are any shoes with lace detailing on the upper.
Usually, lace shoes come in quintessentially feminine styles such as pumps and slingbacks, but over the years, shoe designers have begun experimenting more with lace. Nowadays, you can easily find lace booties, flats, and even sneakers.

Shoe designers have incorporated lace detailing on every shoe silhouette, including boots, flats, and sneakers
The entire shoe upper can be covered in lace, or it can just be a partial detail. Some lace shoes are further embellished with pearls and crystals to create an ultra-glamorous effect that is ideal for special occasions.
Why Brides Love Lace Wedding Shoes
As a long-time symbol of romance and femininity, it's no surprise that lace is a favorite of brides. It's unknown exactly when the tradition of lace wedding dresses and accessories began, but fashion historians have found many Victorian-era wedding dresses and shoes featuring lace.
To this day, the delicate fabric and its intricate patterns feature heavily in all things bridal. It's an extremely popular choice for wedding dresses, therefore all of the accessories that brides use to complete their looks for their special day.
Lace wedding shoes are a favorite among brides because of their feminine and romantic style (Credit: Fatseyeva / Shutterstock)
Lace shoes are traditionally feminine, which makes them perfect partners for almost every style of wedding dress. They bring a certain softness that hard leather styles simply can't compete with, especially when paired with other luxurious fabrics such as satin.
Brides that are big fans of lace may even opt for head-to-toe lace looks with a dress and shoes that feature the material. Most bridal designers recommend getting matching dresses and shoes so that the patterns feel harmonious.
Depending on the style of the shoe, lace can also lend a vintage feel which is perfect for classic romantics opting for an old-world aesthetic.
The Most Popular Lace Wedding Shoes
Lace shoes in every shape and size are popular among brides. Because lace is such a beautiful fabric, it looks elegant in any style or heel height.
This means that brides don't have to sacrifice style for comfort and can easily choose lower heel heights – or non-heeled styles – while still looking sophisticated and feminine.
4 Best Lace High Heels
1. Jimmy Choo Romy Pointed Toe Lace Pumps, $850
You can't go wrong with the classics. Jimmy Choo's take on the lace shoe is timeless and versatile, featuring a lace-adorned version of a pointed-toe pump.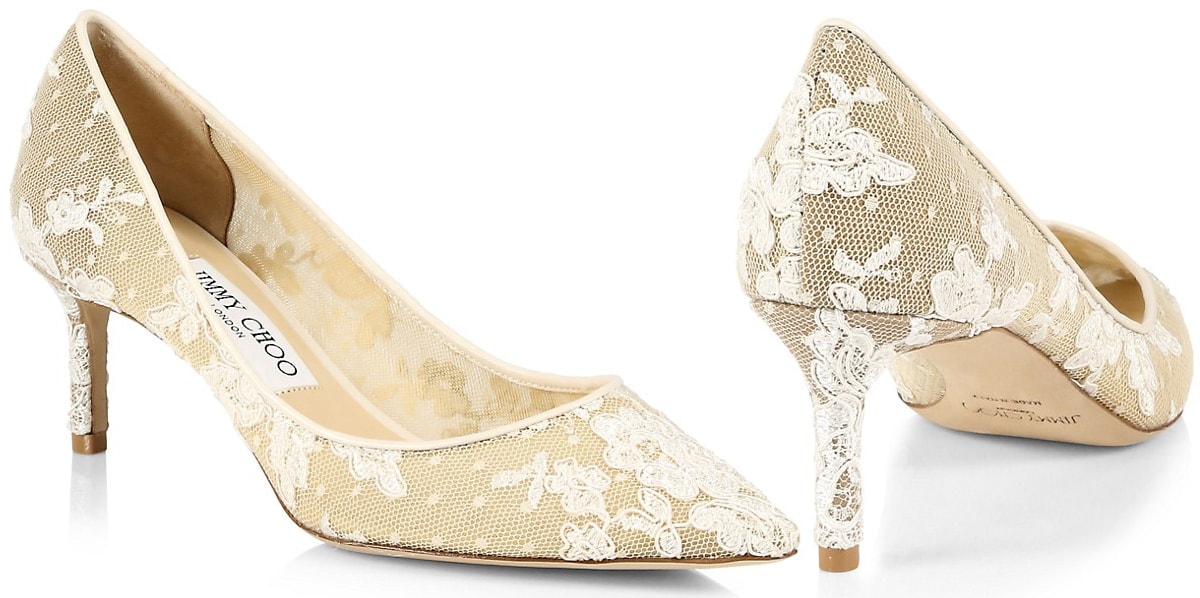 These Jimmy Choo Romy pumps are rendered in romantic floral lace, finished with pointy toes and high heels
2. Bella Belle Anita Illusion Lace Cross Strap Pump, $325 at Nordstrom
With its chic criss-cross detailing and 'illusion' lace upper, the Anita shoes from Bella Belle prove that timeless doesn't mean old fashioned.
This gorgeous design is ideal for fashion-forward brides seeking the perfect blend of classic and contemporary.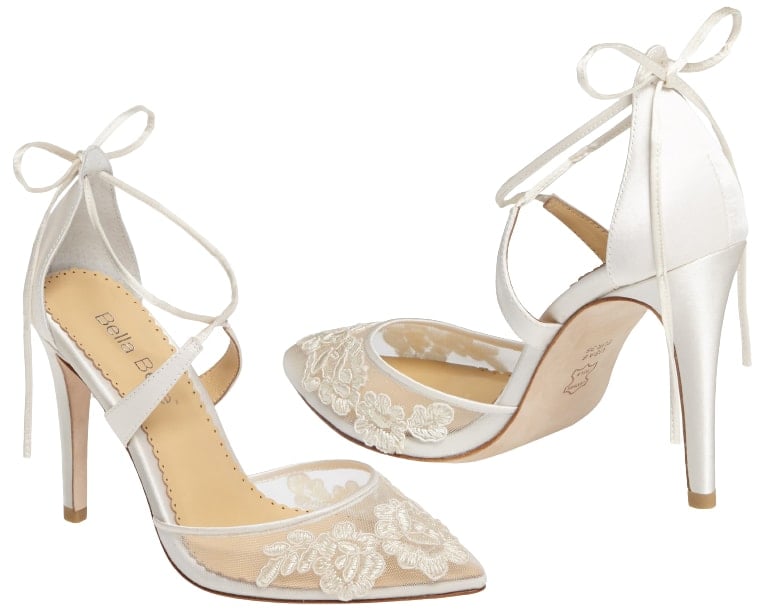 Floral Alençon lace blooms on a bed of ivory illusion mesh at the pointy toe of a wedding pump that comes complete with silk-tie straps
3. BHLDN Something Bleu Arlene Heels, $345
Sophisticated brides that want a different take on lace will love these opaque Italian lace pumps.
The upper features a rich, jacquard-like texture that still displays the beautiful floral elements of traditional lace. Bows are added to the vamp for an even more feminine feel.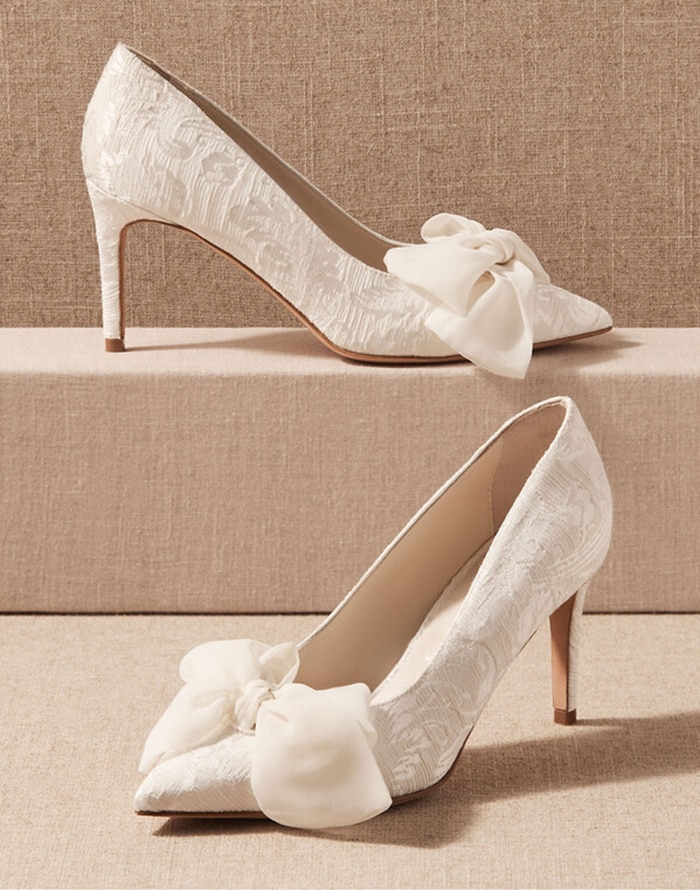 The Something Bleu Arlene features an Italian fabric lace upper with soft organza bows for a more feminine look
4. Lulus Mazzy Satin Peep Toe Booties, $44 at Lulus
Wedding heels don't have to be pumps! Booties are an excellent alternative for fashion-forward brides that want to create a modern feel on their big day.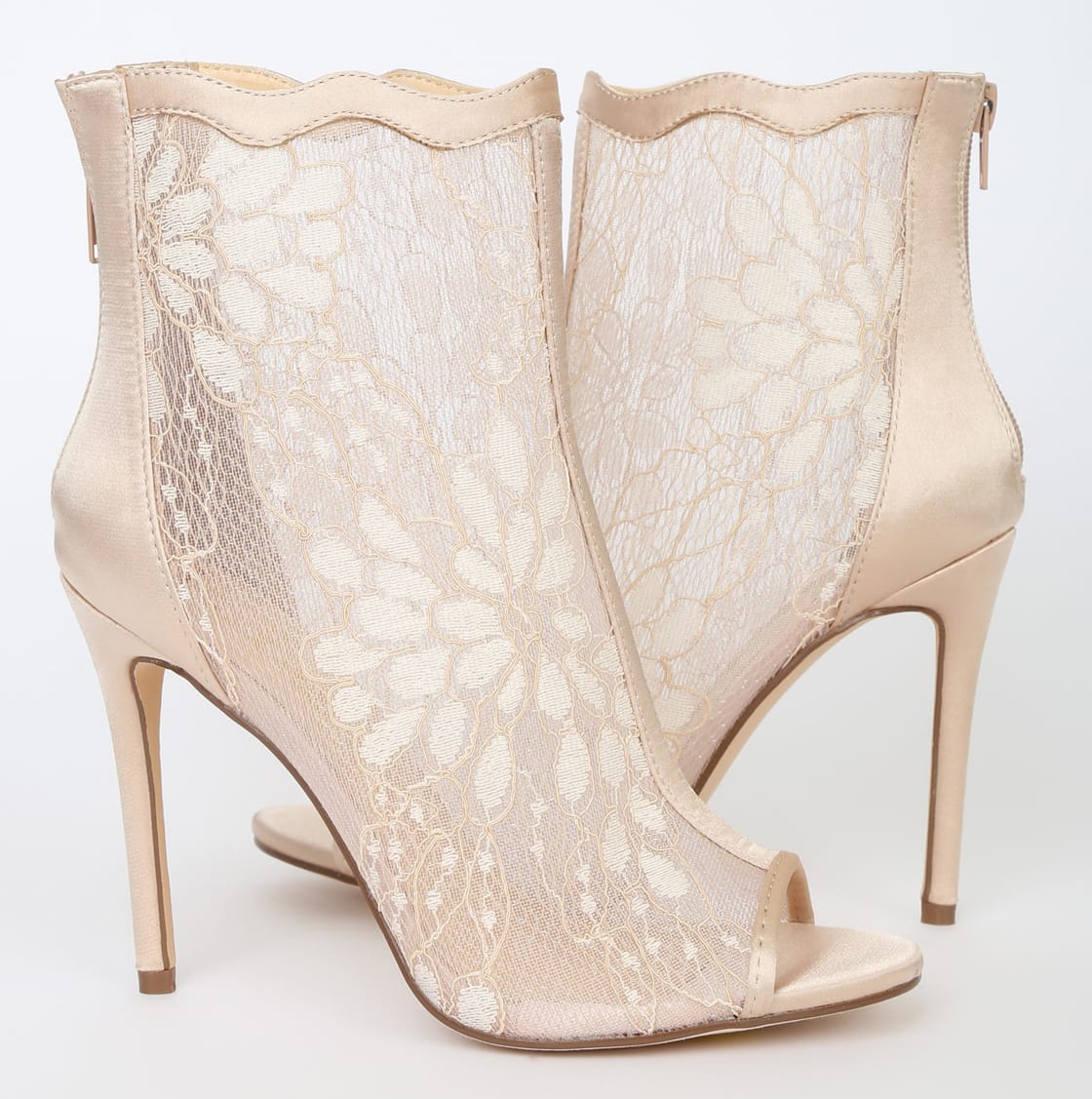 The Mazzy booties by Lulus feature a sheer mesh shaft with embroidered lace and sexy stiletto heels
2 Best Lace Low Heels
1. Badgley Mischka Betsy Lace Kitten Heel Pumps, $144.91 – $187.62 on Amazon
Kitten heels are perfect for brides who want the comfort of flats with the glamour of a heel. This beautiful design from Badgley Mischka provides both sweetness and bling with its bedazzled ankle strap.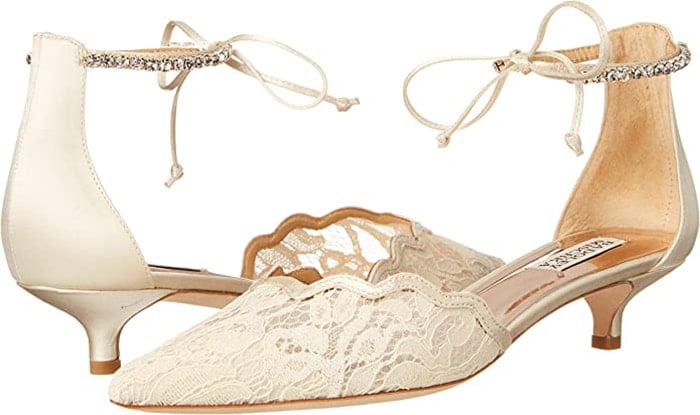 Badgley Mischka's Betsy Lace pumps have feminine lace vamps, crystal-embellished ankle straps, and comfy kitten heels
2. Bella Belle Serena Flower Lace Wedding Shoes, $325 at Bella Belle Shoes
Planning a warm-weather wedding? Give your feet some breathing room with these strappy sandal alternatives.
The Serena slingback pumps feature a hand-sewn lace rose at the center, two straps that cross the ankle, and 2.5-inch kitten heels
2 Best Lace Flats
1. Bella Belle Ivy Lace And Pearl Wedding Flats, $405 at Bella Belle Shoes
For brides that know they'll be on their feet all day long, these flats are a safe and stylish bet. An elevated take on ballet flats, this gorgeous design features lace embellished with delicate pearl beads and an elegant ribbon strap for an even more romantic feel.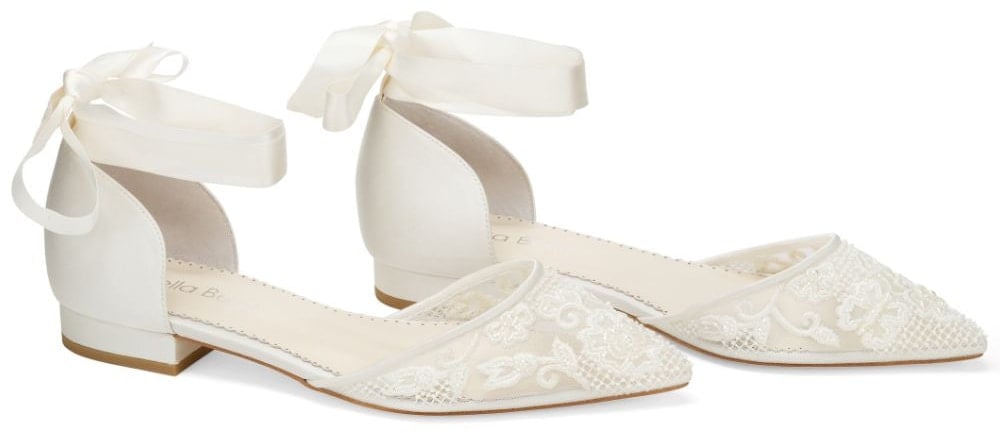 Reminiscent of traditional ballet slippers, the Ivy flats have pearl bead embellishments and silky ivory ribbons that loop around the ankle and knot into an elegant trim bow
2. Chloe Lauren Lace Low-Top Sneakers, $550 at Mytheresa
Alternative brides may want to forgo dressy styles altogether and keep it comfortable in sneakers. Lace varieties are perfect for adding an elegant touch to this otherwise casual shoe style.
For day-to-evening comfort, opt for Chloé's Lauren sneakers, featuring an intricate, logo-adorned lace upper, scalloped trims, and elevated soles