Having turned 60 on October 13, 2019, Marie Osmond looks as fabulous today as she did back in her twenties.
Marie is the only girl of the Osmond sibling clan and one half of the famous singing duo Donny and Marie Osmond. In November 2019, they celebrated the end of their 11-year Las Vegas residency at Flamingo Las Vegas.
The Osmonds: Jay Osmond, Marie Osmond, Merril Osmond, Donny Osmond, Alan Osmond, Jimmy Osmond (front) and Wayne Osmond The Osmonds (May 27, 1975)
How does Marie look so fabulous at 60? Many have inquired as to whether or not she has gone under the knife to keep up with her gorgeous appearances. Marie has neither admitted to nor denied this claim, but the internet continues to speculate.
Marie Osmond Facts
How much is Marie Osmond's net worth?
She is an American actress and singer with an estimated net worth of $20 million.
Full Name:
Olive Marie Osmond
Born:
October 13, 1959, in Ogden, UT
Dating/Husband:
Steve Craig (m. 2011), Brian Blosil (m. 1986–2007), Steve Craig (m. 1982–1985)
Kids:
She has two biological and five adopted kids.

One adopted son, Michael, committed suicide in 2010 by jumping from the eighth floor of his apartment building in Los Angeles.
Weight:
119 lbs / 54 kg
Feet/Shoe Size:
7 (US)
Height:
5'5″ (165 cm)
Nationality:
American
Source of Wealth:
Film, Television, and Music
Ethnicity/Race:
English, Welsh, Danish, Scottish, Irish, Swiss-German, and Dutch
Is Marie Osmond still married to Steve Craig?
Yes, they are still married. She remarried her first husband, Stephen Craig on May 4, 2011.
Is Marie Osmond Mormon?
Yes, she is a member of The Church of Jesus Christ of Latter-day Saints.

Marie remarried her first husband Steve Craig in The Las Vegas Nevada Temple, the 43rd operating temple of The Church of Jesus Christ of Latter-day Saints.
New Jersey plastic surgeon Dr. Adam Hamaway spoke with Closer Weekly and stated, "Botox and Fillers [are the] staple of most celebrities, [and] she looks like she may have had a brow lift and eyelid surgery to keep her (face) looking fresh and energetic."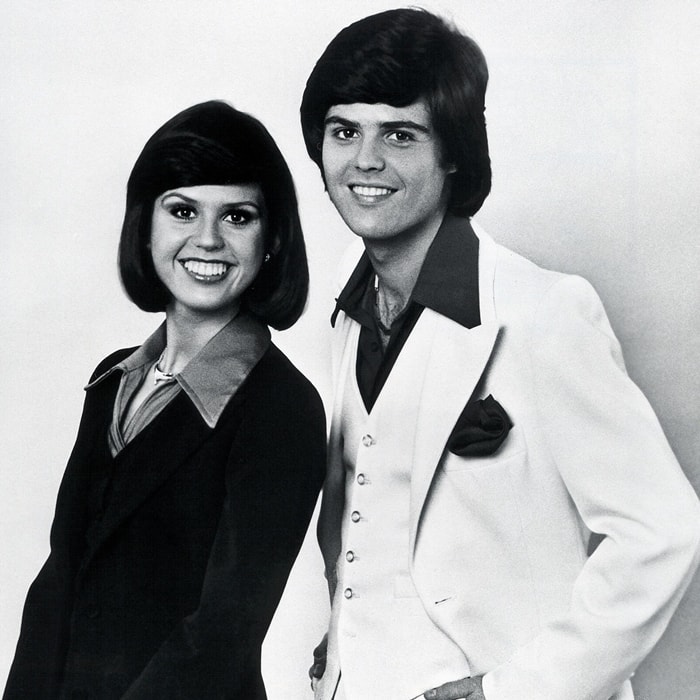 Donny & Marie is an American variety show starring brother-and-sister pop duo Donny and Marie Osmond that aired on ABC from November 1975 to May 1979
See below for a side by side comparison of Marie in 1999 (left) and again in 2020 (right).
Marie Osmond attends the 26th Annual American Music Awards on January 11, 1999, and the 13th Annual Essence Black Women In Hollywood Awards Luncheon at the Beverly Wilshire Four Seasons Hotel on February 6, 2020, in Beverly Hills, California
When examining the photos, look closely at her cheeks, eyes, and brows. While her forehead is shielded by her bangs, there is a subtle yet noticeable lift in the corners of her eyes. More speculation suggests a nose job.
When comparing the two photos here, the bridge of her nose is longer and skinnier in the first photo and a bit widened in the next.
Second and third opinions from plastic surgeons Dr. Andrew Miller and Dr. Vartan Mardirossian suggest the singer "may have had her eyes done along with a cheek lift and fillers".
Looking at the contrast between her face and neck, it would not be a far off guess to think she had a facelift done.
Entertainer Marie Osmond (R) poses with the recipient of the Nevada Ballet Theatre's 2020 Woman of the Year award Shania Twain during the 36th annual Black and White Ball honoring Nevada Ballet Theatre's 2020 Woman of the Year event at Caesars Palace on January 25, 2020, in Las Vegas, Nevada
According to an interview with The Guardian in 2012, Marie did not altogether deny having plastic surgery done, but only admitted to having undergone a topical laser treatment to tighten her skin.
Marie says of her healthcare regime and plastic surgery claims, "I am a huge advocate of drinking water. I don't drink alcohol. I don't smoke and rarely have caffeine. People ask me about plastic surgery. I have a tightening laser treatment – it has wonderful results, a permanent effect and there's no cutting".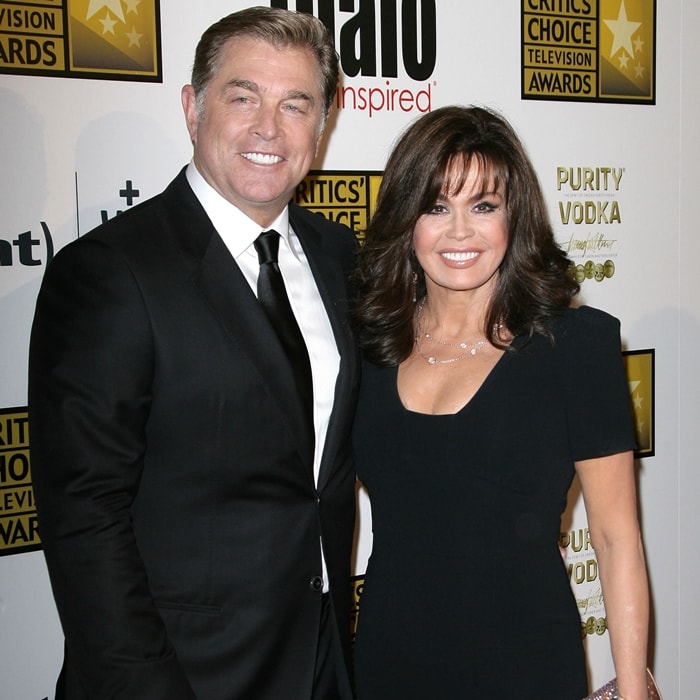 Marie Osmond remarried her first husband Steve Craig on May 4, 2011, in a Mormon ceremony at the Las Vegas Nevada Temple
Marie is a woman who cares about her image. In 2007 Marie famously lost over 50lbs when competing on Dancing with the Stars. She attributed the weight loss to a new spring of energy and youthfulness for her life and ability to perform. Marie says, "it's very energetic, so you stay in shape whether or not you want to".
Entertainers Donny Osmond (L) and Marie Osmond arrive at the unveiling of their star from the Las Vegas Walk of Stars outside Flamingo Las Vegas on October 4, 2019, in Las Vegas, Nevada
Despite this denial of having any procedures, Marie admits to a fear of aging in several interviews throughout the years. In the same piece for The Guardian, she says, "I don't want to age, but I would never take back a year for the wisdom I've gained in that time". Who can blame her?
Her entire career is being in the spotlight, which included performing in 5 nights a week with Donny at The Flamingo in Las Vegas up until November 2019 when their residency ended.
Whether or not she has had more than Botox, Fillers, and laser treatment remains unverifiable. In any case, no judgments here. Marie looks gorgeous for her age and we applaud her.
Face before and after rumored plastic surgery: Marie Osmond in 1982 (L) and in 2020 (R)
Credit: Chris Connor / WENN / Instar / Judy Eddy / Adriana M. Barraza