Critics couldn't help but draw parallels between Glass Onion: A Knives Out Mystery and the world's richest man, Elon Musk, who has a net worth of roughly $189.4B as of this writing.
In the murder mystery movie, Daniel Craig's character, detective Benoit Blanc, is investigating a murder case that takes place on a private Greek island owned by Miles Bron, played by Edward Norton, a tech billionaire and a self-proclaimed genius who has amassed a huge fortune with various companies.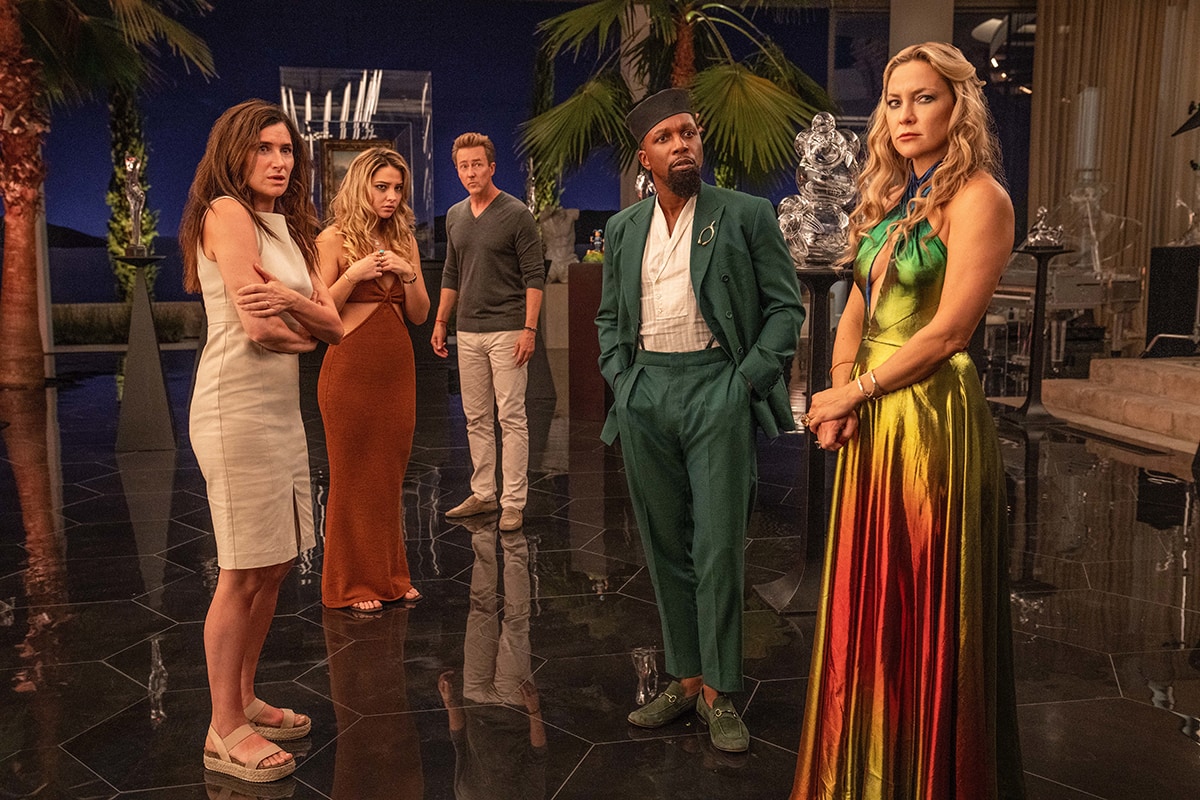 Glass Onion: A Knives Out Mystery follows detective Benoit Blanc as he investigates a murder case on a private Greek island owned by tech billionaire Miles Bron (Credit: Netflix)
Since it premiered at the Toronto International Film Festival in September, film critics have mentioned the similarities between the film's storyline and Elon Musk, founder of SpaceX, CEO of Tesla, and more recently, the new owner of Twitter.
Vanity Fair's chief critic Richard Lawson said that writer and director Rian Johnson "has mostly aimed the film squarely at the foolish, and at times dangerous messianics of the tech industry, framing Miles as a mélange of Elon Musk, Steve Jobs, and other masters of the universe."
Elon Musk, dressed as Devil's Champion for Heidi Klum's 2022 Halloween party, is believed to be the inspiration behind Glass Onion: A Knives Out Mystery (Credit: ROGER WONG / INSTARimages / Cover Images)
Mashable also compared Miles Bron to Elon Musk, describing Miles Bron as "an obnoxious tech billionaire whose character is a none-too-subtle scathing and silly send-up of Elon Musk."
In an interview, however, Johnson denied the claims and said that the character is not inspired by any specific person.
Glass Onion: A Knives Out Mystery is scheduled to have a one-week limited theatrical release on Wednesday, November 23, before its streaming release on December 23 by Netflix.
Glass Onion: A Knives Out Mystery Los Angeles Premiere
Just recently, stars gathered at the Academy Museum of Motion Pictures to attend the Los Angeles premiere of Glass Onion: A Knives Out Mystery.
From Kate Hudson to Janelle Monae, below is a roundup of the best-dressed celebrities from the premiere.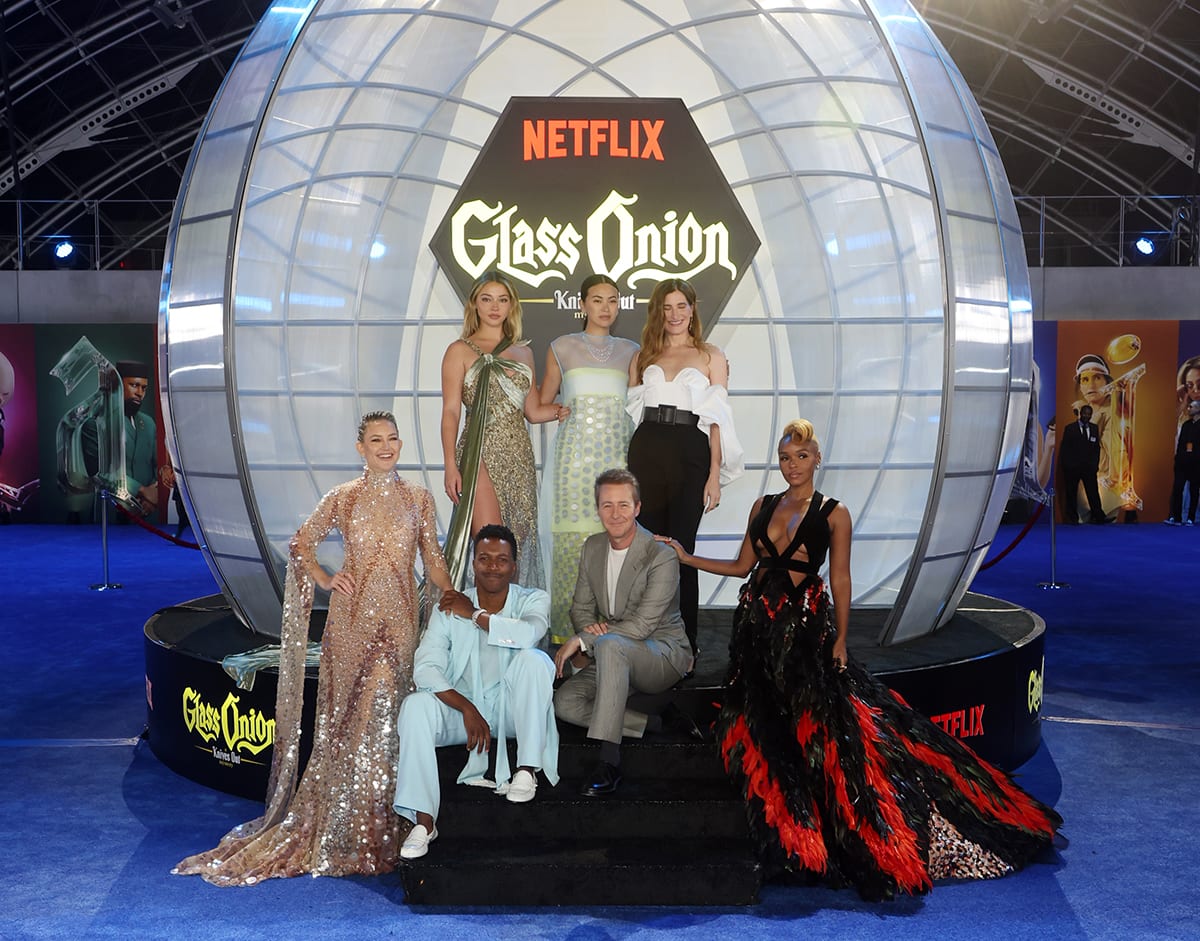 Glass Onion: A Knives Out Mystery cast and director Rian Johnson at the Los Angeles premiere of their movie on November 15, 2022 (Credit: FAYES VISION / Startraksphoto / Cover Images)
1. Kate Hudson in Elie Saab
Kate Hudson led the night's glamour as she showed up in a sparkling sheer gown from Elie Saab's Fall 2022 Haute Couture collection.
Fully embellished with pearlescent sequins and crystals, the floor-sweeping champagne-colored dress highlighted the "Dr. T & The Women" actress' figure with its body-skimming silhouette. It also featured a high neck, a sexy open-back design, and statement-making sleeves that cascaded to the floor.
Kate Hudson leads the glamour in a sheer sequined Elie Saab gown with dramatic cascading sleeves (Credit: BauerGriffin / INSTARimages / Cover Images)
As if the sparkles were not enough, stylist Sophie Lopez added a pair of Double Diamond Star earrings by Candy Ice and a set of rings by Simone Jewels and Kallati to the actress' look.
Hairstylist Peter Lux swept Kate's dirty blonde hair back into a bun, keeping the focus on her intricate gown.
To complement her look, makeup artist Tonya Brewer applied warm-toned makeup to Hudson's gorgeous features. She wore bronzed eyeshadow, mascara, dark eyeliner, and a hint of nude pink lip gloss.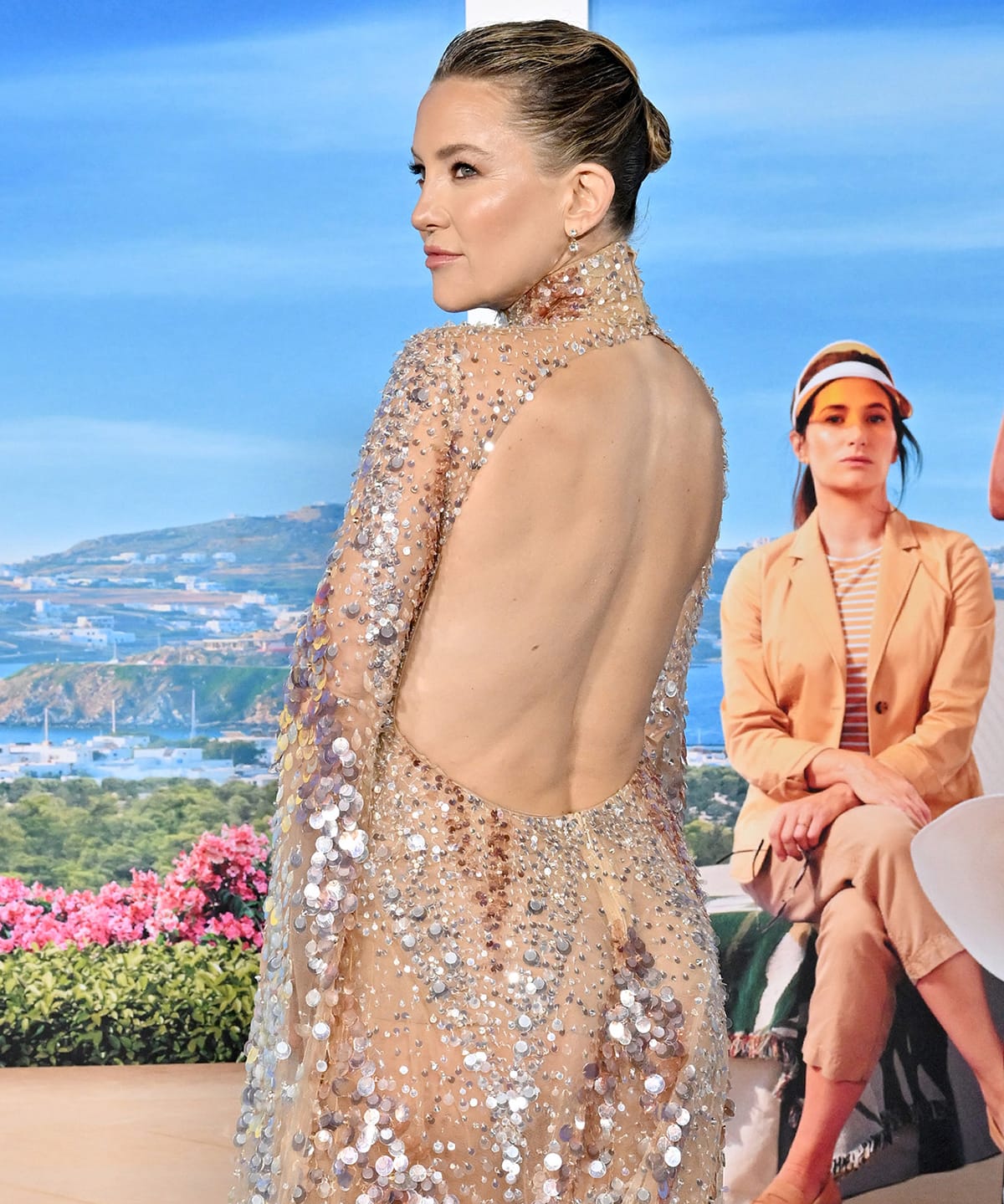 Kate Hudson wears her dirty blonde hair in a bun to show off her sexy back (Credit: BauerGriffin / INSTARimages / Cover Images)
2. Janelle Monae in Elie Saab
Janelle Monae has been showcasing her penchant for bold looks during this promo tour. And at the LA premiere of the movie, she commanded attention in a striking Elie Saab Fall 2022 Haute Couture gown.
Putting more than just her underboob on display, the Moonlight actress wore a daring ensemble that featured a cutout velvet bodice and a plunging V-neckline. It also had a dramatic full skirt—adorned with black and red feathers and finished with crystal embellishments—that took attention away from her breasts.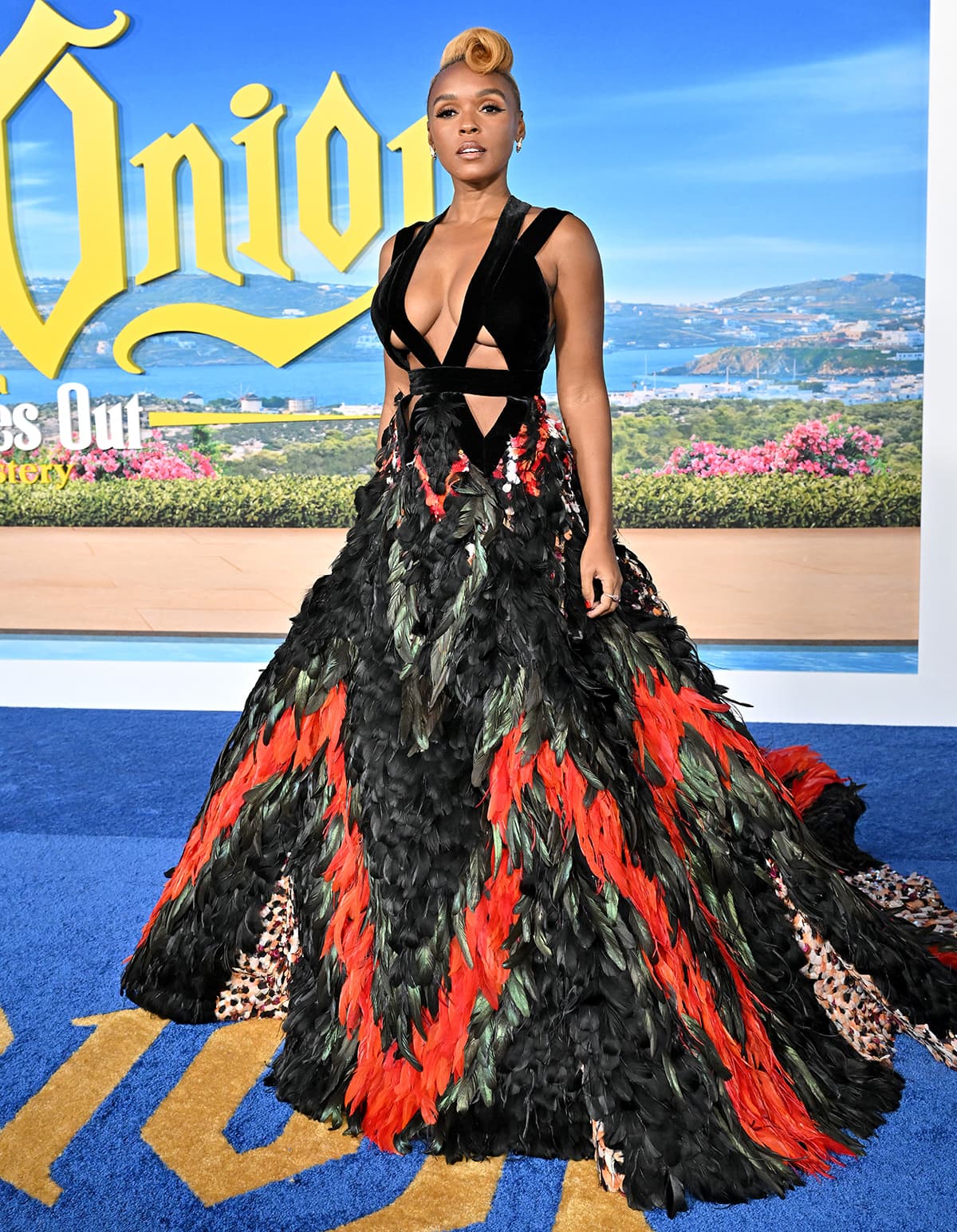 Janelle Monae flaunts her boobs in an Elie Saab cutout feathered gown (Credit: BauerGriffin / INSTARimages / Cover Images)
Stylist Alexandra Mandelkorn accessorized Janelle's look with diamond rings and earrings by Al Zain and U Los Angeles.
She then carried a red Rodo clutch, which matched her red nail polish done by Temeka Jackson.
Hairstylist Nikki Nelms paid homage to the 1940s by styling Monae's blonde hair in victory rolls, while makeup artist Keita Moore applied minimal makeup to keep the emphasis on the singer and rapper's gown.
Janelle Monae styles her tresses in 1940s victory rolls and wears minimal makeup (Credit: BauerGriffin / INSTARimages / Cover Images)
3. Jessica Henwick in Tory Burch
Going for a summery vibe was Jessica Henwick, who wore a Tory Burch Spring 2023 dress to the premiere.
Her quirky dress featured a see-through pastel blue organza layered over a neon green and white strapless dress that had mirrorwork embellishments all over.
Jessica Henwick opts for a summery Tory Burch mirrorwork dress with a blue organza overlay (Credit: BauerGriffin / INSTARimages / Cover Images)
While her outfit was already eye-catching, the Game of Thrones star accessorized with a multi-tier crystal necklace and a pair of sparkling earrings.
Her center-parted ponytail and Casadei white leather Blade pumps rounded out her look.
Jessica Henwick pulls her raven hair into a sleek center-parted low ponytail (Credit: BauerGriffin / INSTARimages / Cover Images)
4. Kathryn Hahn in Carolina Herrera
The 49-year-old actress kept things sleek and sophisticated in a black-and-white look from Carolina Herrera's Resort 2023 collection.
Kathryn showed a glimpse of cleavage in a white cropped bustier top that had a one-shoulder design and balloon sleeves. She paired it with form-fitting black trousers, which she styled with a wide buckled belt.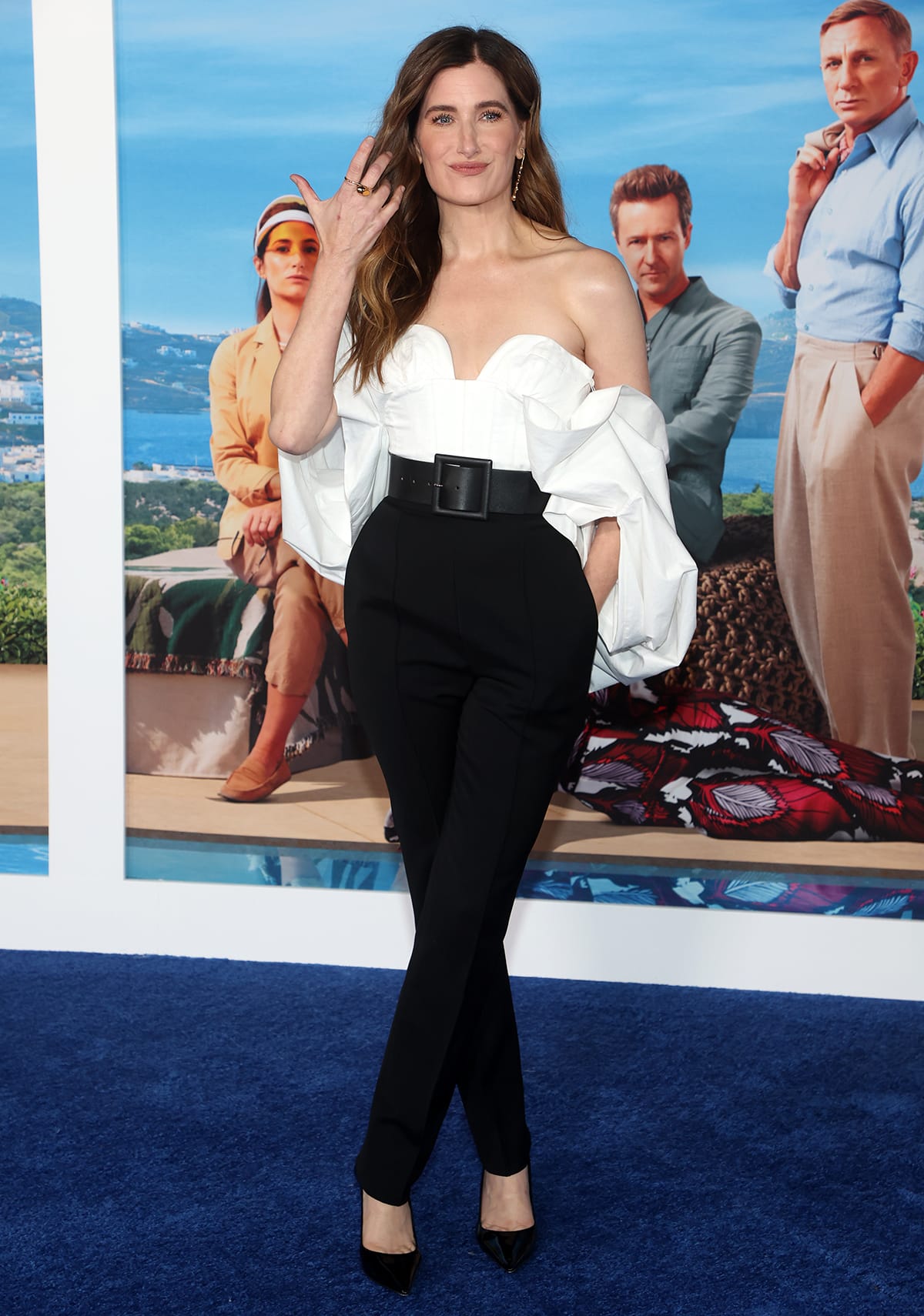 Kathryn Hahn shows a hint of cleavage in a white Carolina Herrera bustier-style top with balloon sleeves (Credit: FAYES VISION / Startraksphoto / Cover Images)
To complete, the WandaVision star slipped her feet into a classic pair of pointy pumps and accessorized with dangling earrings and a few colorful rings.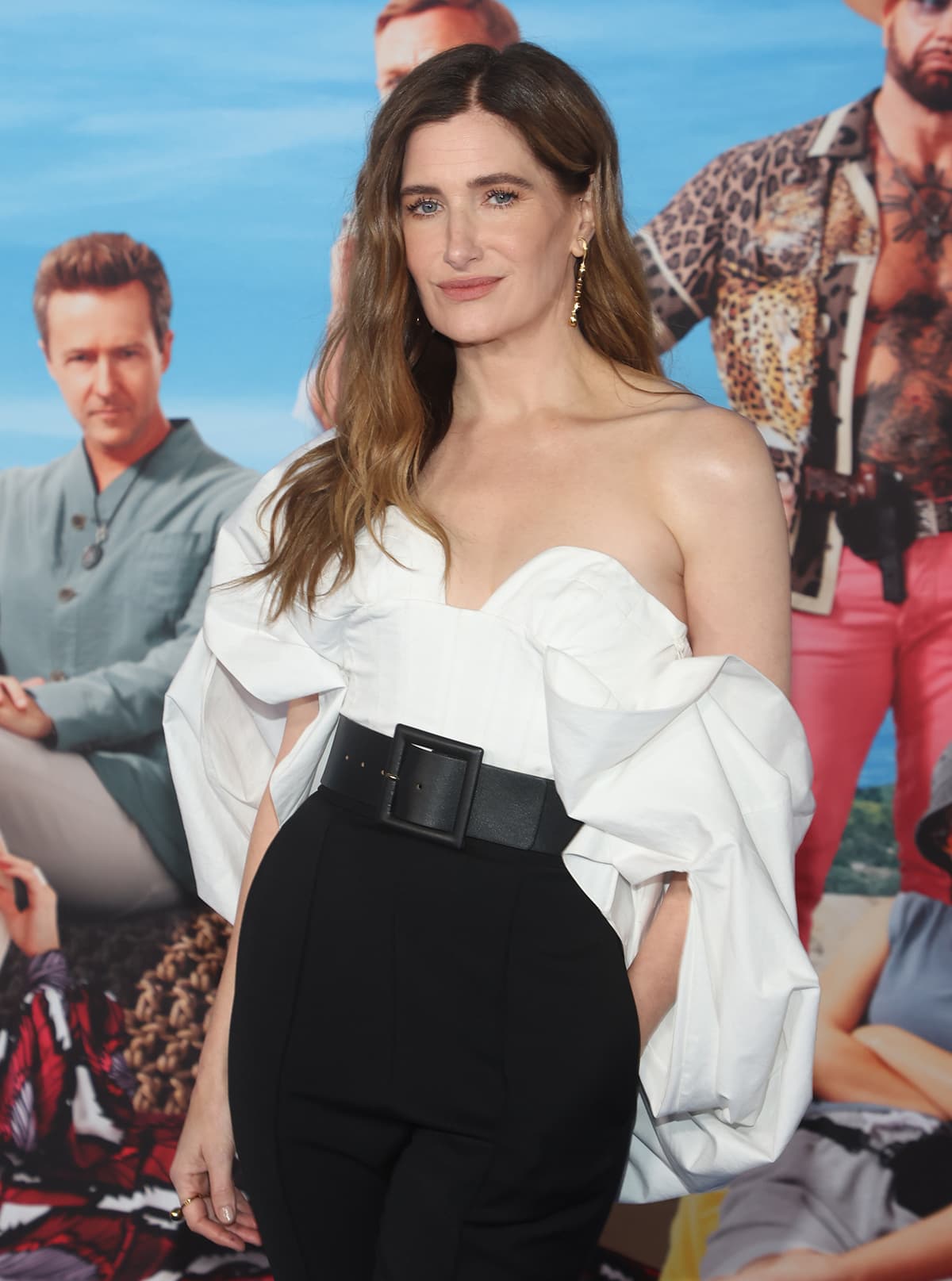 Kathryn Hahn keeps the look classy with side-parted waves and minimal soft pink makeup (Credit: FAYES VISION / startraksphoto / Cover Images)
5. Madelyn Cline in Versace
Outer Banks' Madelyn Cline opted for a classic evening red-carpet look in a jade green Atelier Versace Spring 2018 gown.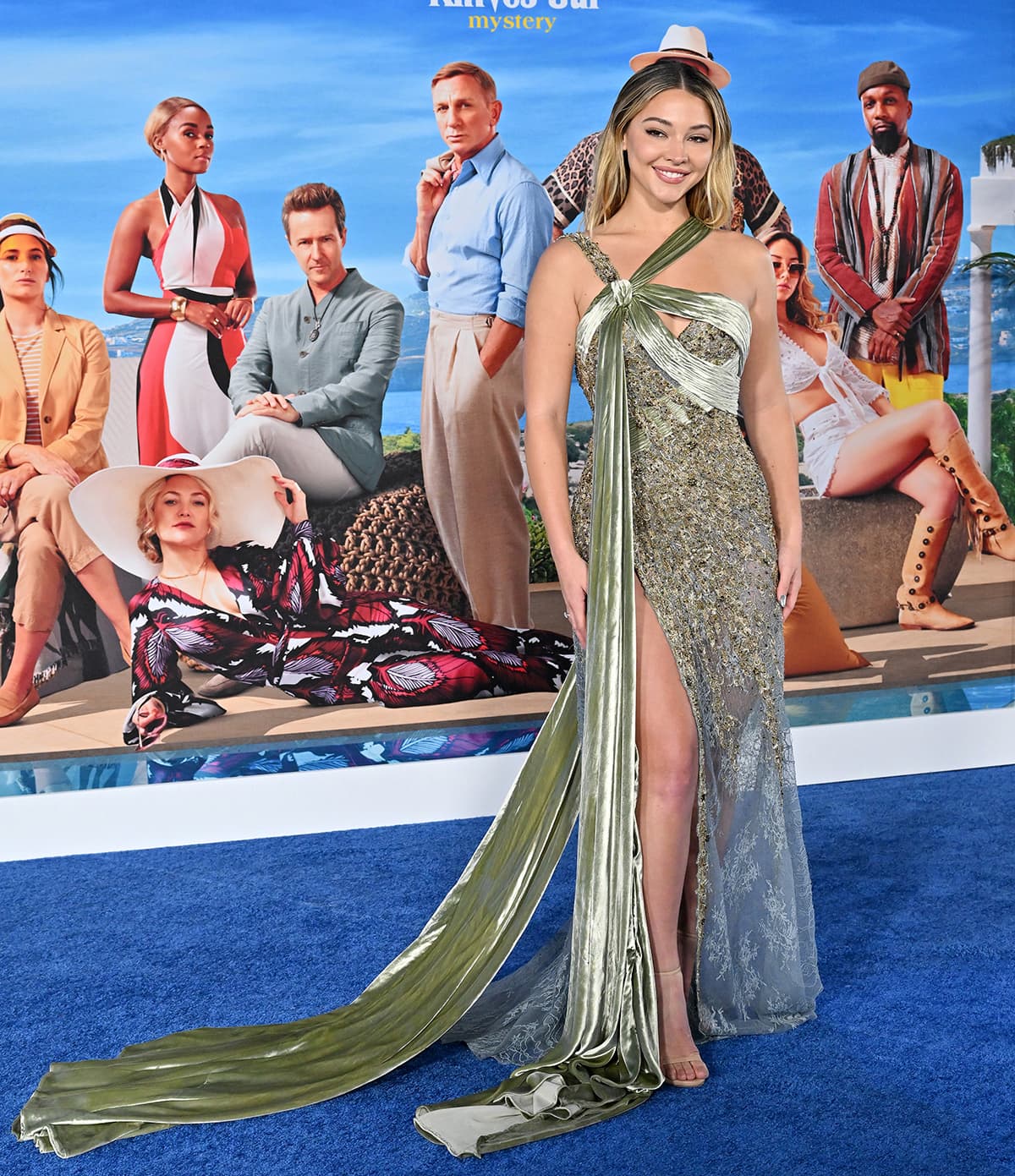 Madelyn Cline flaunts her legs in a jade green lace and velvet gown by Versace (Credit: BauerGriffin / INSTARimages / Cover Images)
Parading her flawless legs, the 24-year-old model wore a velvet number detailed with metallic baroque embroidery, gold threads, and crystals. It also had a sweetheart necklace and a long velvet fabric draped around the bodice.
Madelyn Cline displays her feet and legs in nude ankle-strap heels (Credit: Ovidiu Hrubaru / Shutterstock)
Wearing a cat-eye flick and tousled hairstyle, the Stranger Things actress completed her look with Reza jewelry and nude open-toe heels.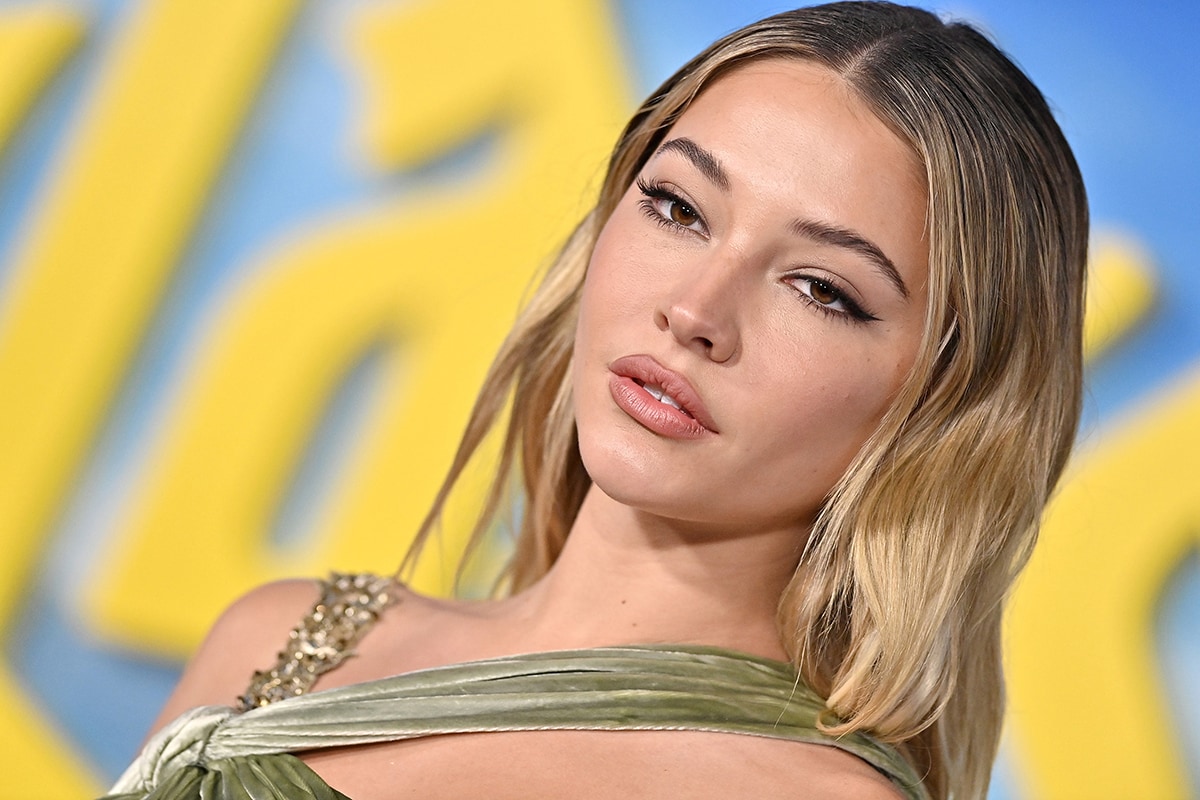 Madelyn Cline wears cat-eye flick with nude lipstick and sultry waves hairstyle (Credit: BauerGriffin / INSTARimages / Cover Images)
6. Madison Bailey in Fendi
Showing her support for her Outer Banks co-star, Madison Bailey attended the Glass Onion premiere in a pink satin suit from Fendi's Spring 2022 collection.
The American Horror Stories star flaunted her abs and cleavage in the striking co-ord as she wore nothing but a bra underneath.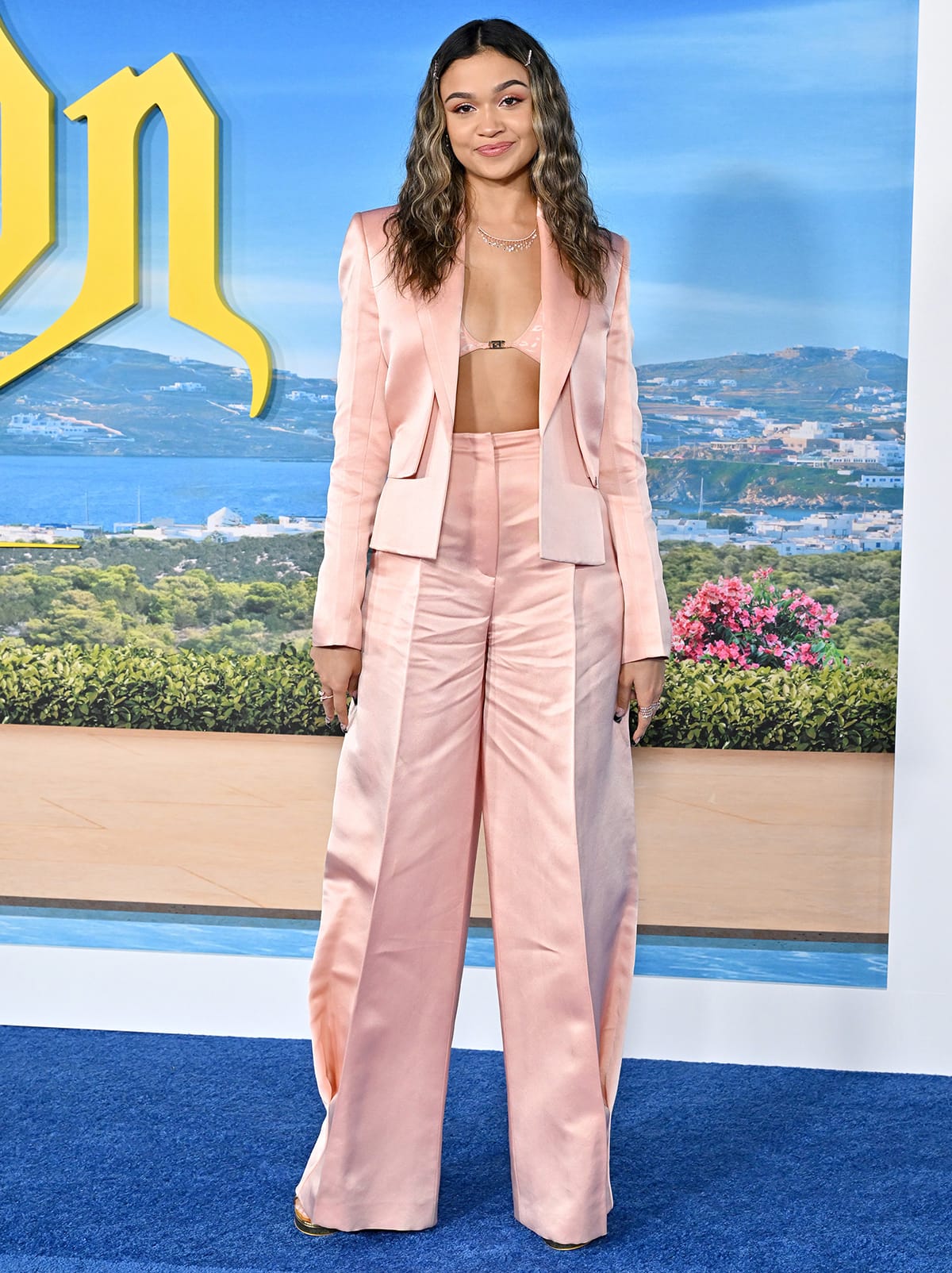 Madison Bailey flaunts her abs and cleavage in a pink bra with pink co-ords by Fendi (Credit: BauerGriffin / INSTARimages / Cover Images)
She accessorized the look with a crystal necklace and a selection of rings and slipped her feet into a pair of metallic gold platform heels.
Adding a cute element to the edgy look, Madison styled her curly tresses with thin barrettes on both sides. She then highlighted her eyes with pink smokey eyeshadow and eyeliner and added a hint of pink lipstick to complement her outfit.
Madison Bailey adds a cute element to her power suit with thin barrettes and pink makeup (Credit: BauerGriffin / INSTARimages / Cover Images)
7. Katherine Langford in Dior
Katherine Langford, who's known for her role as Hannah Baker in the Netflix series 13 Reasons Why, went the gothic route in a Dior Resort 2023 black dress.
The frilly lace number was held up by spaghetti straps and had a tulle underlay to create volume.
Katherine Langford goes the gothic route in a Dior black lace dress styled with a wide belt (Credit: FAYES VISION / Startraksphoto / Cover Images)
Styled by Molly Dickson, Katherine cinched her waist with an extra-wide black leather belt with gold-tone hardware. She further accessorized with jewelry by Dior that included a large pair of pearl earrings and a gold bracelet.
To elevate her glam-grunge look, Langford sported a tousled wet-look hairstyle done by Mashal Afzalzada. Makeup artist Shayna Goldberg then gave the actress a smokey eye-makeup with black eyeliner and dark nude lip color.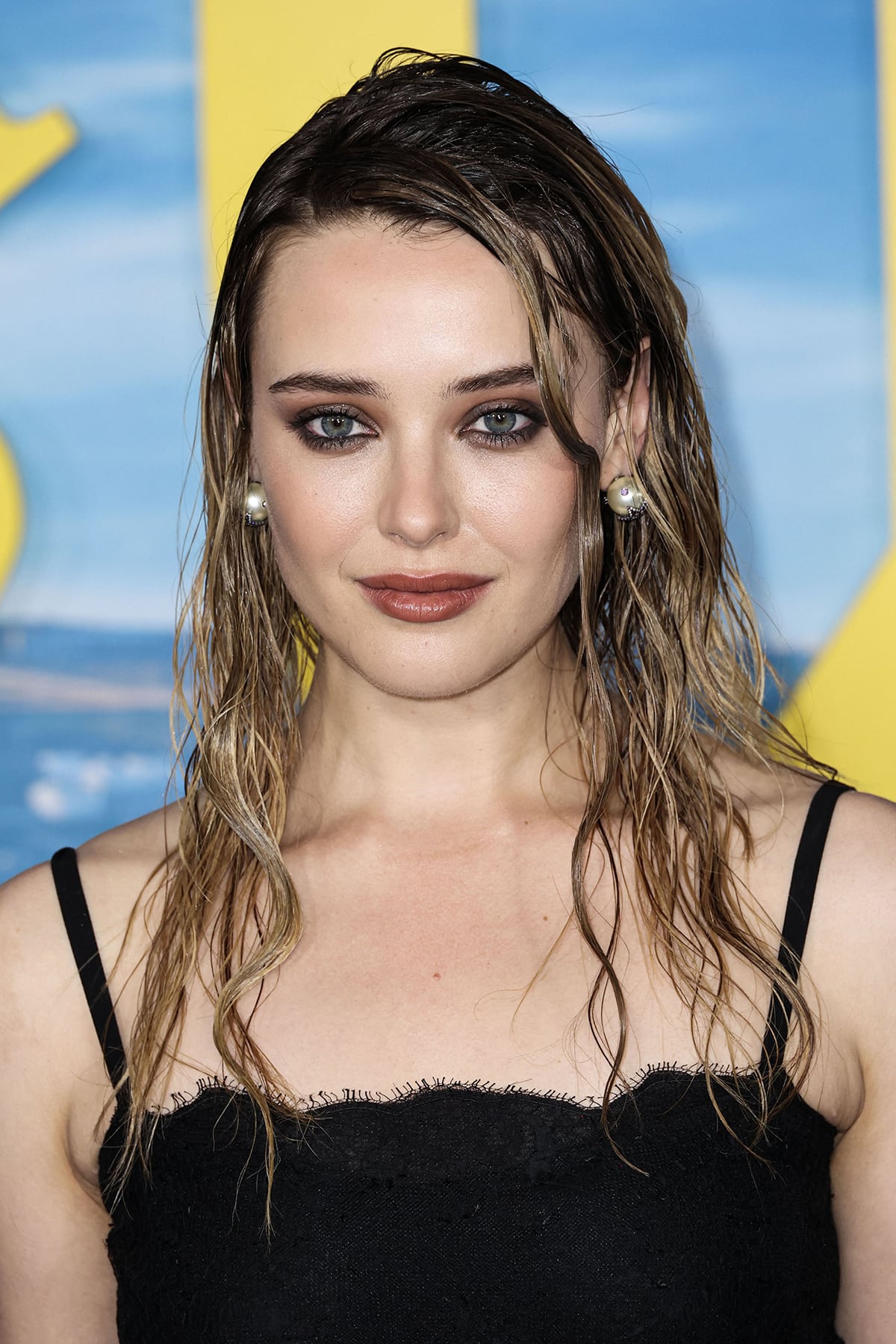 Katherine Langford keeps the glam-grunge vibe going with a wet-look hairstyle, smokey eyeshadow, eyeliner, and dark nude lipstick (Credit: David Acosta / ABACA / INSTARimages / Cover Images)