Madelyn Cline is one of the most talked-about actresses of the year, but she was hardly on the radar before now.
Somehow, the 25-year-old actress managed to go from being virtually unknown to being a sensation, seemingly overnight.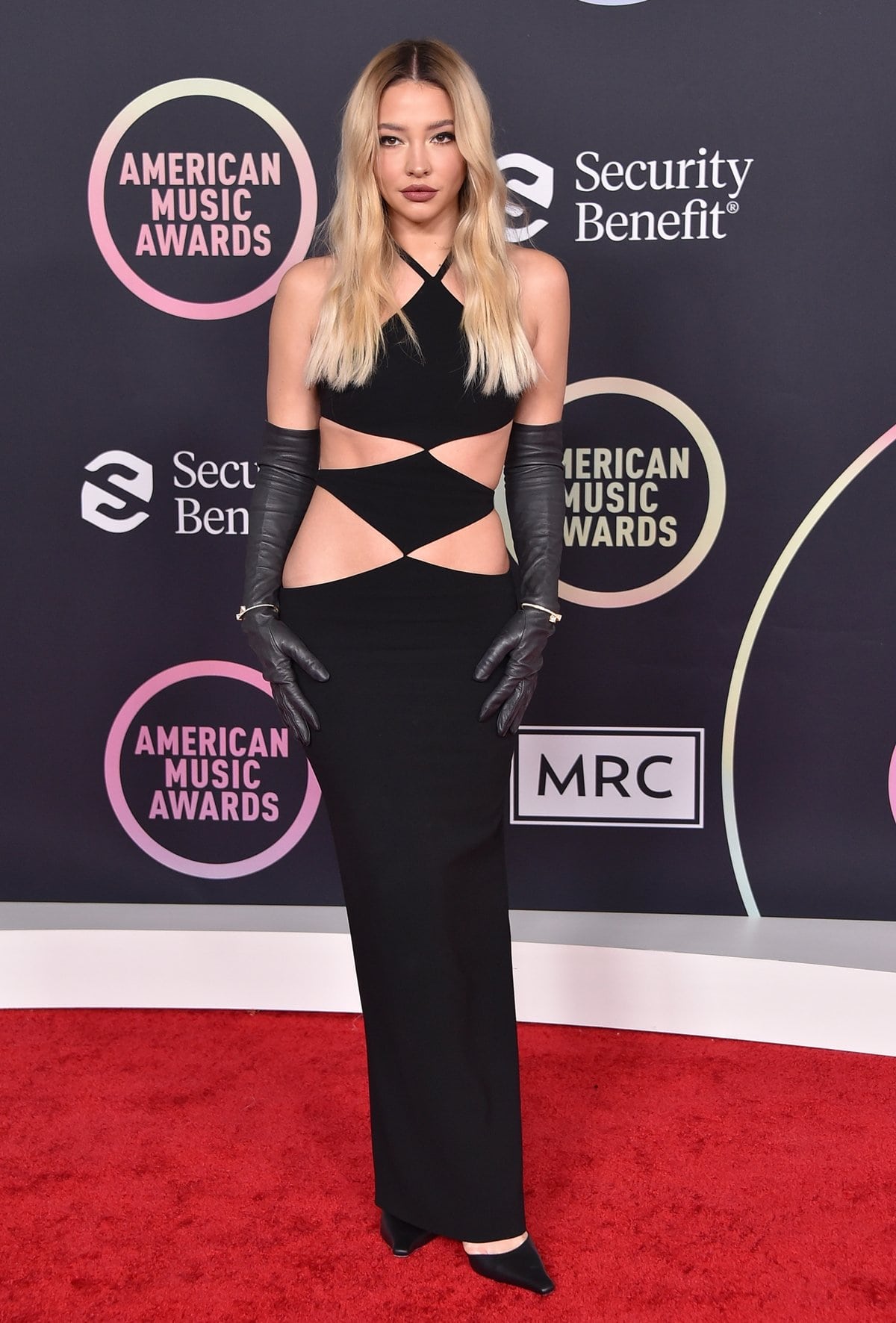 Madelyn Cline in a black Mônot cutout dress and pointy pumps at the 2021 American Music Awards held at the Microsoft Theater in Los Angeles on November 21, 2021 (Credit: MEGA / WENN)
You might know her best as the pouty beauty Sarah Cameron on Outer Banks or from any number of tabloid magazines, websites, or TikTok posts that her image graces. In a world where word spreads like wildfire, there is no doubt that Cline's star will continue to shine.
Let's look back to see what led to Madelyn Cline's fast journey to stardom and everything along the way.
Madelyn Cline Facts
How much is Madelyn Cline's net worth?
She made $20,000 per episode for season 1 of Outer Banks and is believed to have a net worth of around $1 million.
Full Name:
Madelyn Renee Cline
Born:
December 21, 1997, in Charleston, SC
Is Madelyn Cline in a relationship?
Chase Stokes and Madelyn Cline announced in June 2020 that they are dating but broke up in November 2021 after less than 2 years together.

In December 2021, she was spotted on a dinner date with DJ Zack Bia. In 2022, she started dating Jackson Guthy, the lead singer of the band North of Nine.
How tall is Madelyn Cline?
Madelyn Cline's height of 5ft 6 (167.6 cm) is slightly above the average height of an American woman, which is approximately 5ft 4 inches (162.6 cm).
Feet/Shoe Size:
8 (US)
What is Madelyn Cline known for?
She is best known for her role as Sarah Cameron in the Netflix drama series Outer Banks
Does Madelyn Cline have any tattoos?
She got her first tattoo in November 2021.

Inked by tattoo artist Kate McDuffie of The Ghost Kat, it's a finger tattoo with the words "tell me more" in thin, capital letters across her index finger.
Did Madelyn Cline got to college?
She dropped out of college in South Carolina to become an actress.
Madelyn Cline Started Her Career at an Early Age
Like her on-screen counterpart, Sarah Cameron, Madelyn Cline is comfortable on the beach, as she grew up in Goose Creek, South Carolina, a suburb near Charleston.
Her mom, Pam, was a real estate agent, and her dad, Mark, was an engineer, so Cline knew that success comes in many forms. Still, even at a young age, she dreamed of stardom.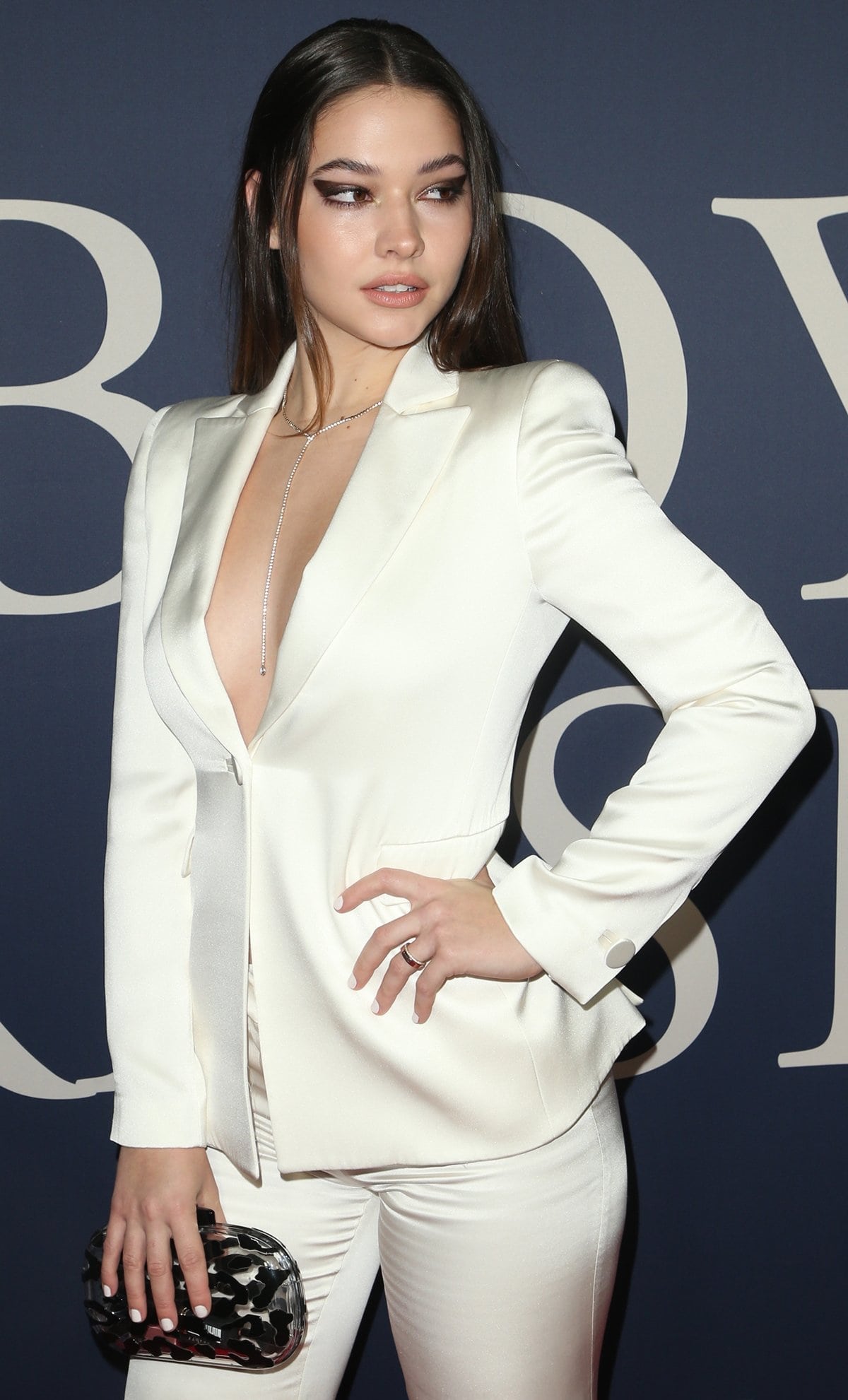 Madelyn Cline in a sexy white suit at the premiere of Focus Features' 'Boy Erased' at Directors Guild of America on October 29, 2018, in Los Angeles, California (Credit: FayesVision / WENN)
Cline is absolutely gorgeous, so it is easy to guess that she was an adorable kid. In 2008, the young Madelyn Cline won a local competition that catapulted her childhood modeling career.
At only ten years old, the actress began modeling and doing commercial print work in New York City. She was featured in numerous publications, such as Parent & Child and American Girl magazine, the latter being the dream of many little girls.
She went on to do campaigns for EZ Bake Oven, Sunny D, Toys R Us, and more, before taking her likeness to the small screen.
Madelyn Cline began appearing in commercials as a child and realized she had a strong and intense love for acting.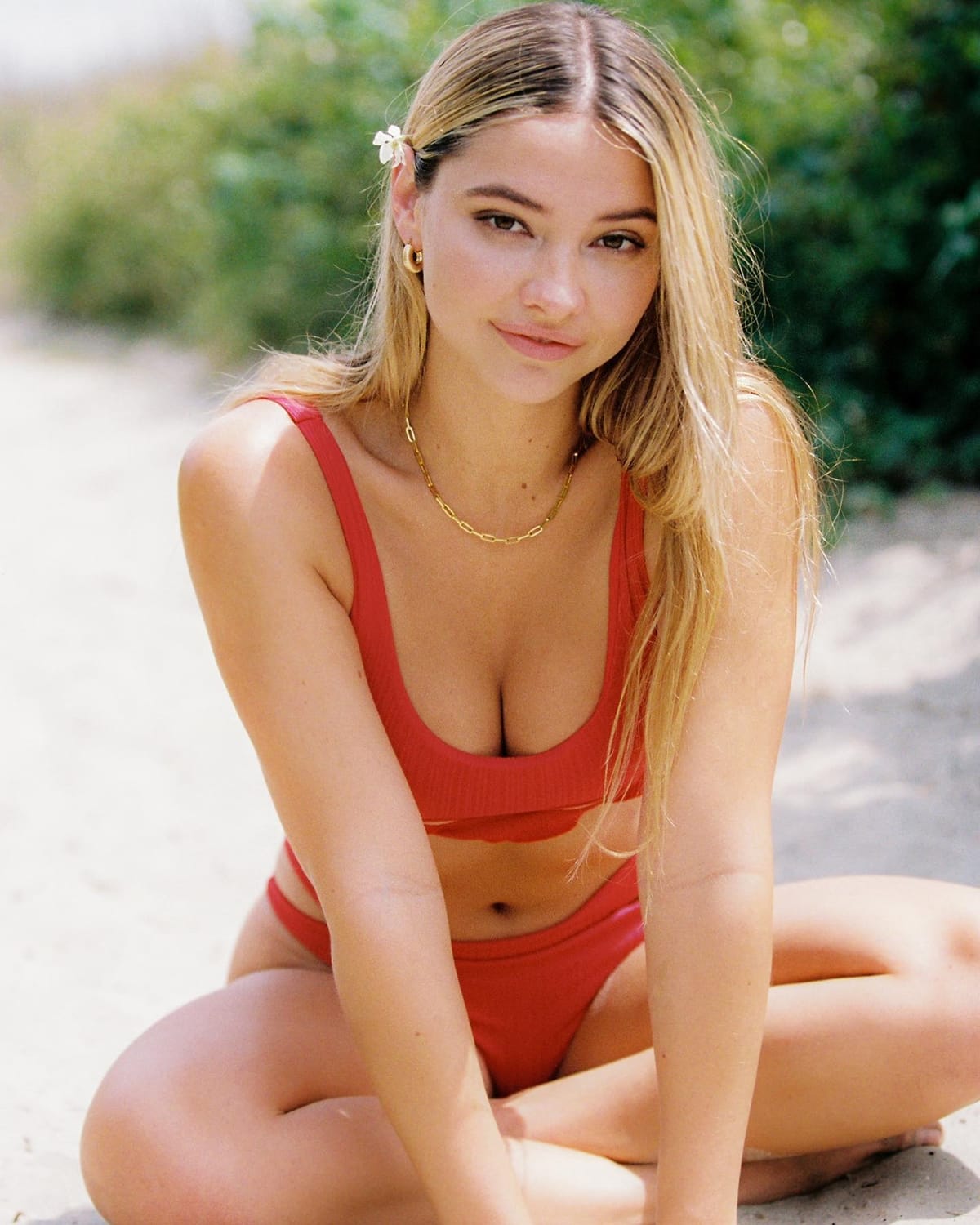 Madelyn Cline flaunts her boobs in her swimwear collaboration with Aro Swim (Credit: Aro Swim)
In an interview with Schön! Magazine, Cline said that her acting career was a bit of a "slow burn" saying, "When I was 10, I started going to New York to do commercial print work. I loved the city, I loved being on sets and being around other creatives, and it was a way to save up for college later on, so it was kind of a win-win. I never really grew out of my love for it and combined with how much I loved cinema, I later transitioned into acting."
Although it may have been a smart move financially, being a young model and actress wasn't all sunshine and daisies for Madelyn Cline.
As a model, Cline came to understand that her image was everything. Unfortunately, this warped her own self-image and made her extremely self-conscious.
Madelyn Cline, Carlacia Grant, and Chase Stokes arrive for the People's Choice Awards on December 7, 2021, in Los Angeles, California (Credit: MEGA / WENN)
In an interview with Women's Health, the actress revealed that she struggled to have a healthy relationship with food during the time, as the modeling industry's stringent standards constantly made her doubt her body.
"When I was younger I did struggle with eating disorders, specifically when I was a teenager," she said in the interview. "I think I was around 16 when I started working out a lot. I would wake up every morning at 5 a.m. and I would work out for 30 minutes. It was super rigorous cardio every day."
Madelyn Cline as Sarah Cameron in the American action-adventure mystery teen drama streaming television series Outer Banks (Credit: Netflix)
Cline explained that she was trying to achieve an unrealistic body type that she had idolized, constantly beating herself up for not being able to achieve an unattainable image, saying, "All I knew is I wasn't achieving a particular body image, and so I was angry. I was harming myself and starving myself in the process of trying to achieve that."
Thankfully, Madelyn Cline was able to realize that she was beautiful the way she was, and her mom, Pam, was instrumental in helping her recover, saying, "My mom was a wonderful help in that. She would stand there in the mirror with me and we would list out things that I liked about my body. After that repetition, those things became solidified in my mind. I like my curves, I like my hips, and after a while I started to love my body. I became so much happier."
Madelyn Cline was cast as Sarah Cameron in 2018 and the first season of Outer Banks was released on April 15, 2020 (Credit: Netflix)
It is wonderful to hear that Madelyn Cline has been able to overcome her negative body image. Now, even though she is still scrutinized, the actress is celebrated for being absolutely gorgeous.
There are rumors that Cline has had several procedures done — specifically lip fillers for her iconic pout, a nose job, and breast augmentation — but the actress has never confirmed that this is the case. Either way, who cares? She looks great!
The Road to Outer Banks and All the Bumps Along the Way
After high school, Madelyn Cline went on to go to college at Coastal Carolina University. However, this coincided with her acting career picking up, and the actress landed multiple more minor roles in titles such as The Originals and Stranger Things.
Ultimately, Cline was only enrolled in college for a whopping six weeks before she dropped out to pursue her acting career. Her parents weren't pleased, but she knew in her heart that this was what she truly wanted to do.
Madelyn Cline in an oversized Lanvin purple blazer and ankle-strap pumps at the 2021 InStyle Awards at The Getty Center on November 15, 2021, in Los Angeles, California (Credit: MEGA / WENN)
"I had run out of excused absences at school and I wanted to carry through with my studies, but in my heart, I knew I didn't want to continue splitting my time – I wanted to at least try to pursue [acting] full time," the actress told Schön! Magazine.
"So, I ended up dropping out, packing my car up, and leaving for LA. It was one of those moments where it felt like there was absolutely no going back. It was terrifying and also the most exciting."
Eventually, she received the script for Outer Banks, not knowing that it would change the trajectory of her life. She wasn't totally on board at first, though, telling Vogue, "The log line was basically 'four friends on a treasure hunt.' And I was like, 'I don't know, it's a little corny.'"
The script grew on her, though, and Cline auditioned. She had originally been slated to audition for the role of Kiara, but told her agent that she "didn't want to white wash" the character and wanted to audition for Sarah, instead.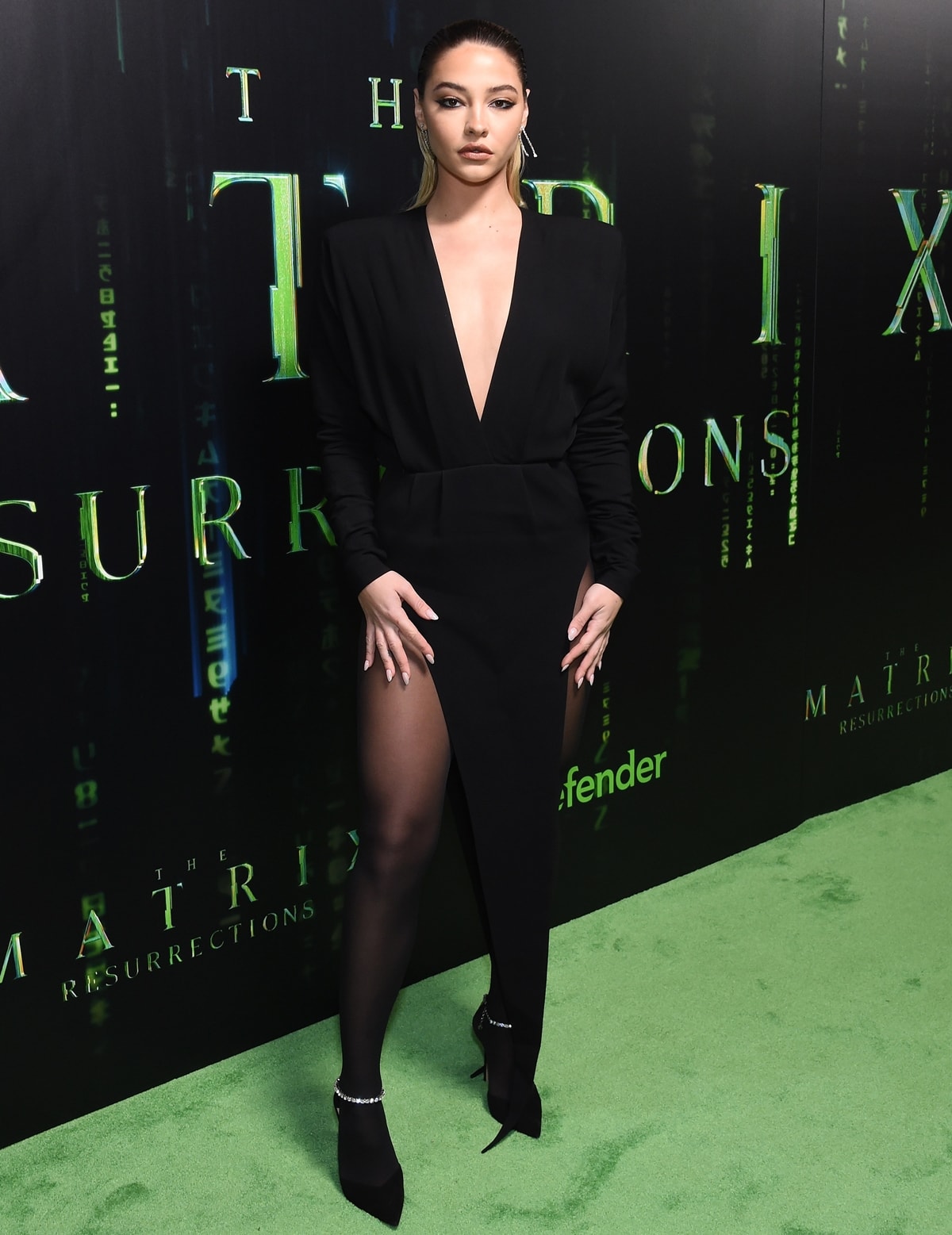 Madelyn Cline in a black Alexandre Vauthier Spring 2021 Haute Couture long sleeve v-neck dress at the premiere of The Matrix Resurrections on December 18, 2021, at the Castro Theatre in San Francisco, California (Credit: MEGA / WENN)
This was a great move on Cline's part, as she received a callback to meet with producers in Charleston, South Carolina, near to where she grew up and where her parents still lived. The fact that she felt so at home there certainly gave the actress an edge, and she was informed that she had secured the role of Sarah Cameron — her first starring role in a television show.
"It all happened so quickly that I just remember thinking, 'I don't know, I feel like this is all happening so fast, this is all too good to be true!'" she told Vogue. "I feel like they've got the wrong gal and we're going to go to the table read and in the end they're going to be like '…she's not Sarah.' But, I guess it ended up working out!"
It definitely did work out, and Outer Banks became a smash hit the moment it premiered on Netflix. Now, Madelyn Cline is a bonafide star.
Drama and Romance Behind the Scenes of Outer Banks
There is just as much drama off-screen as there is on-screen with Outer Banks. As characters are falling in love, so are the actors!
Many fans have "shipped" Madelyn Cline and her co-star Austin North, who play Sarah and Topper, respectively.
Cline and North have fantastic on-screen chemistry, so it makes sense that fans would draw the conclusion that the actors are dating in real life. Unfortunately, this is not the case, and fans will simply have to be disappointed.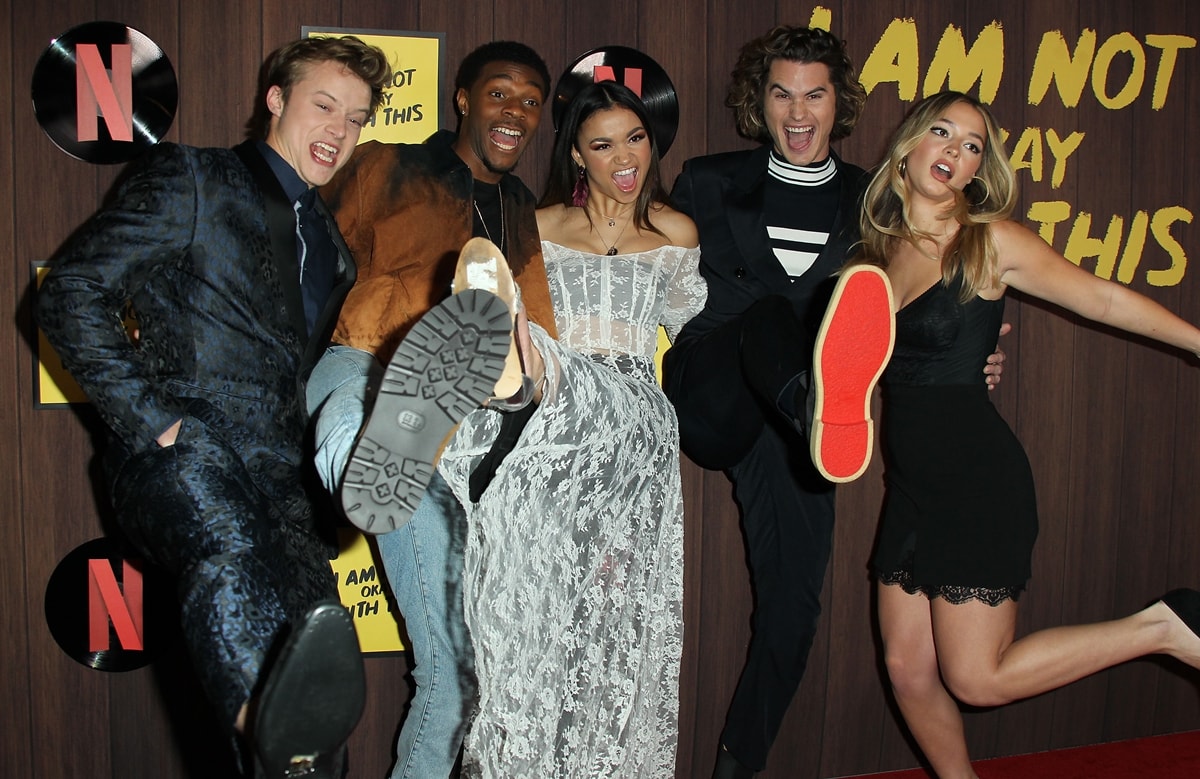 Outer Banks cast members Rudy Pankow, Jonathan Davies, Madison Bailey, Chase Stokes, and Madelyn Cline (Credit: Adriana M. Barraza / WENN)
However, in June 2020, Madelyn Cline revealed that she was dating a different Outer Banks co-star, Chase Stokes.
"People were already speculating… people knew before we said anything!" the actress said in an interview with Entertainment Tonight.
Working with your significant other isn't always an easy undertaking, though. Cline and Stokes have had their fair share of off-screen drama and split in November 2021.
"We always said that the job remains untouched. Nothing else, personal or negative, will touch the job," Madelyn told Cosmopolitan about her relationship with Chase Stokes.
"And while that's not always easy, our job is to leave the show better than we found it, to leave the season better than we found it. And I'm really appreciative of that."
What Madelyn Cline Is Doing Now
Madelyn Cline is still reprising her role as Sarah Cameron on Outer Banks, but her newfound fame has led her from the small screen to the silver screen.
Madelyn Cline rocks long, black leather gloves and shows off her toned back (Credit: MEGA / WENN)
One of the hottest women in Hollywood, she recently starred as Olivia in the 2019 psychological thriller movie The Giant and as Whiskey in the 2022 American mystery film Glass Onion: A Knives Out Mystery.
On December 7, 2021, Netflix announced that Outer Banks had been renewed for a third season. Original stars Chase Stokes, Madelyn Cline, Madison Bailey, Jonathan Daviss, Rudy Pankow, Austin North, Drew Starkey, Charles Esten, and Carlacia Grant all returned for the third season, which premiered on February 23, 2023.
"I think Sarah's style has gone from more aesthetic to still cute but [more] functional," Cline told InStyle about Sarah Cameron's fashion sense in the third season.
Joined by Golden Onion: A Knives Out Mystery director Rian Johnson, Madelyn Cline turned heads in a stunning black dress with a low-cut neckline and spaghetti straps that flaunted her toned arms at the Hollywood Critics Association's 2023 HCA Film Awards at Beverly Wilshire, A Four Seasons Hotel on February 24, 2023, in Beverly Hills, California (Credit: Faye's Vision/Cover Images)
"Now her life is something completely different than what it used to be, and over the past three seasons, there's been this slow subtle transition from Kook, if you will, to more Pogue: a little looser but still some Sarah flair, for sure."
"In the first season, Sarah did not wear ripped shorts, they were always cuffed. Now, they're starting to be a little frayed at the bottom. Really subtle things that Emmie has done such a good job on, and she's really honed in on every single character so well," she added about the show's costume director, Emmie Holmes.