Madison Beer is a 22-year-old singer, songwriter, and influencer living in Los Angeles. She first gained widespread recognition in 2012 when Justin Bieber himself shared a link to a Youtube music cover she had posted.
She has steadily released music ever since, consistently improving both her vocal and lyrical skills with age. In February 2021, Madison Beer released her debut full-length album titled "Life Support."
Madison Beer looked much taller than her actual height of 5′ 5″ (167 cm) in black platform heels at the premiere of Spider-Man: No Way Home on December 13, 2021, at the Regency Bruin Theatre in Los Angeles (Credit: MEGA / WENN)
Although she hasn't quite reached the top of the charts yet, Madison's popularity is only growing, especially with singles such as "Selfish" and "Good in Goodbye" going viral on the popular social media platform TikTok.
Madison Beer Facts
How much is Madison Beer's net worth?
She is an American singer and actress with an estimated net worth of $16 million.
Full Name:
Madison Elle Beer
Born:
March 5, 1999, in Jericho, a hamlet and census-designated place in Nassau County, New York.
Did Madison Beer have a crush on David Dobrik?
No, she did not and they have never dated.
How tall is Madison Beer?
5′ 5″ (167 cm)
Feet/Shoe Size:
7 (US)
How old is Madison Beer?
She turned 22 on March 5, 2021, and will turn 23 on March 5, 2022.
Who is Madison Beer dating?
Madison Beer started dating TikTok star Nick Austin in the summer of 2020.

She has previously been in relationships with Brooklyn Beckham (2017), Blake Griffin (2019), Zack Bia (2017 - 2019), Jack Gilinsky (2015 - 2017), and Claudia Tihan.
Source of Wealth:
Music, modeling, social media, film, and television.
Why Is Madison Beer Famous?
Beyond her musical talents, Madison is also a well-known influencer in Los Angeles who is touted as being one of the most beautiful brunettes in the industry.
She has gorgeous tanned skin (no doubt thanks at least in part to the warm L.A. sun), long brown hair, almond-shaped hazel eyes, a button nose, and a perfect pout.
Madison Beer tries to look tall at the 2021 MTV Video Music Awards on September 12, 2021, at the Barclays Center in New York City (Credit: MEGA / WENN)
Having dated Brooklyn Beckham (2017), Blake Griffin (2019), Zack Bia (2017 – 2019), Jack Gilinsky (2015 – 2017), and Claudia Tihan, the Ashkenazi Jewish beauty is also blessed with a beautiful slim-yet-shapely figure.
She stays in great shape to keep up with all the shows and performances required of a young artist.
How Tall Is Madison Beer?
Although Madison is above-average in almost all other areas of her life (talent, looks, etc…), her height clocks in at 5'5. That makes her just 1 inch taller than the average of all American women.
Although her height is quite regular, Madison Beer's body shape works in her favor- she has enviable long legs that often make her appear taller than she is.
Singer Madison Beer bends over in denim Blank NYC shortalls and beige Oxfords at Nickelodeon Kids' Choice Sports Awards 2014 at UCLA's Pauley Pavilion on July 17, 2014, in Los Angeles, California (Credit: Adriana M. Barraza / WENN)
For shows and red-carpet events where she chooses to wear heels, her legs are elongated even further, and the help of a good heel can push Madison's height to a statuesque 5'8 – 5'11 depending on how high her shoes are.
In September 2021 she attended the VMA's wearing a vintage Dolce & Gabbana corset dress that featured a high slit, showcasing her long legs and slim waist.
From the photos, her heels for the event appear to be approximately 4 inches high, which would make Madison a stunning 5'9 on the red carpet.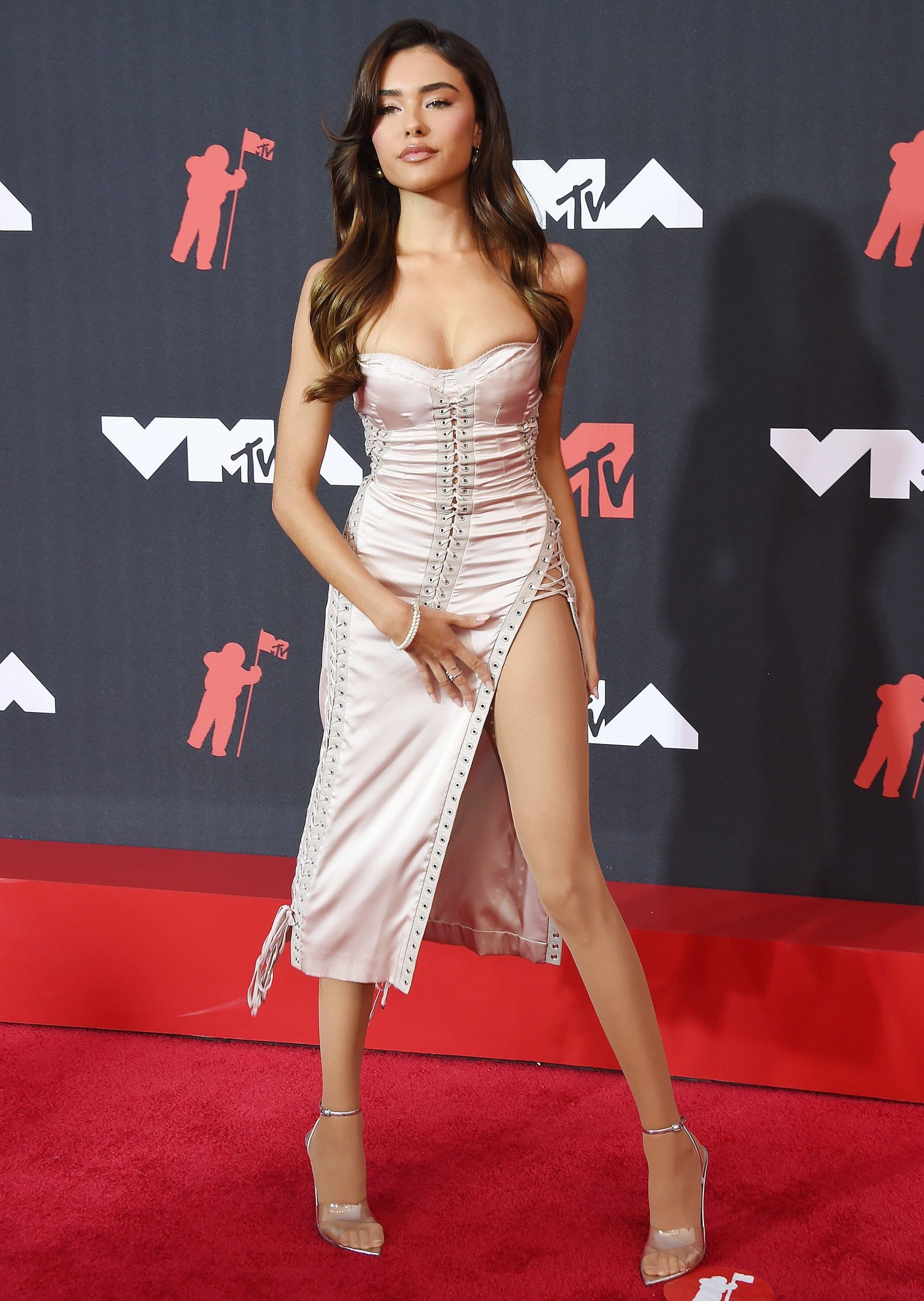 Madison Beer in a dress from Dolce & Gabbana's Spring 2003 collection and Loree Rodkin jewelry (Credit: MEGA / WENN)
Madison also attended the long-awaited "Spider-Man: No Way Home" premiere in California. She hit the red carpet with her brother, Ryder Beer, an L.A.-based producer who at just 19 years old stands tall above his sister.
For this event, Madison elected to wear a cut-out red mini dress with nylons and tall black heels. Her shoes appear to be about 5 inches high, which would make Madison 5'10 on the Spider-Man red carpet. Since Ryder is still at least a few inches above his sister, that makes him over 6 feet tall!
Madison Beer shows off her feet in Gianvito Rossi Stark silver metallic sandals (Credit: WENN / MEGA)
Overall, Madison Beer is a growing star, whose beauty and talent shines. While her height may be technically average, nothing else about her is- she knows how to play to her strengths, often appearing taller than she truly is.
Madison Beer knows several fashion tricks to make herself look taller (Credit: MEGA / WENN)
Ever since Justin Bieber shared a Twitter video of Madison Beer singing, her career has been on the upswing.
In 2017, the then 18-year-old sensation was making headlines due to her music career, social media presence, and of course, her rumored relationships.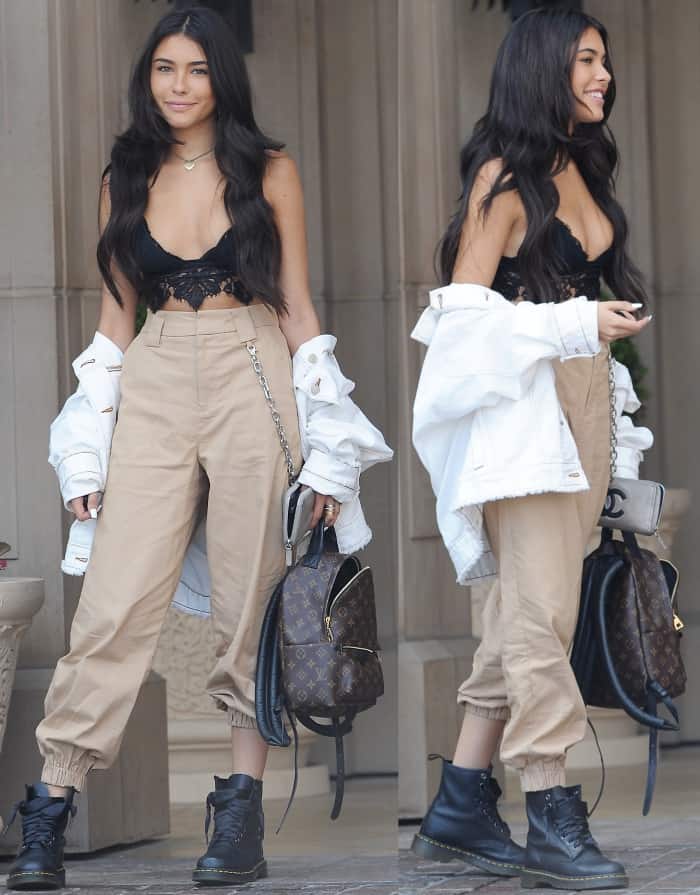 Madison Beer leaves the 5-star luxury Montage Hotel in Beverly Hills, California, on August 23, 2017 (Credit: WENN)
In July 2017, she caused quite a frenzy when she was spotted kissing Brooklyn Beckham in Beverly Hills.
One month later, Madison was photographed leaving the Montage Hotel in a racy top and boots from Dr. Martens after visiting Justin Bieber.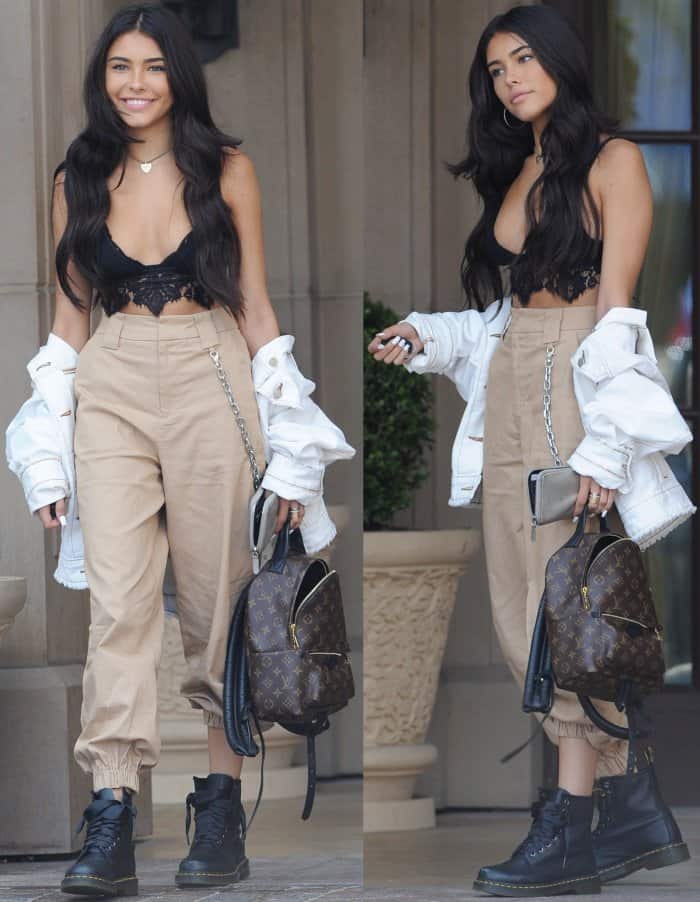 Madison Beer styled a racy black top with a BDG ivory denim trucker jacket (Credit: WENN)
Madison set hearts racing in a lacy black top that flaunted her decolletage and a hint of her toned stomach. She wore the Are You Am I "Sylph" triangle bra with delicate straps and dramatic scalloping.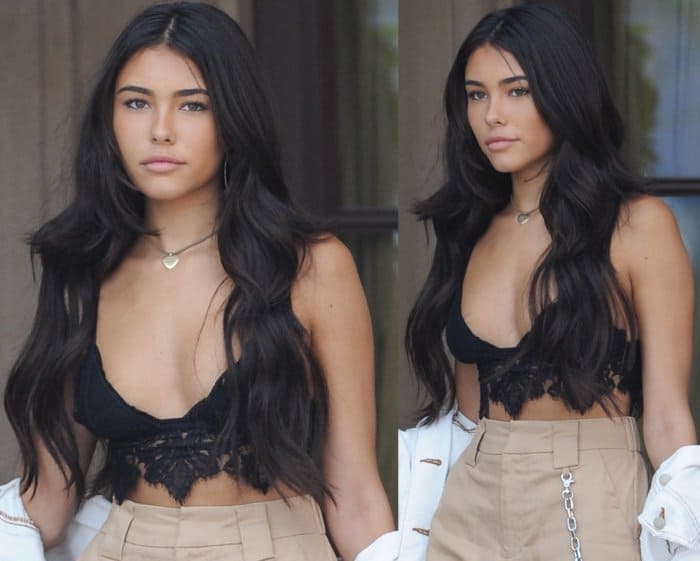 Madison Beer wears a black triangle longline bra in lush French lace from Rumi Neely's Are You Am I (Credit: WENN)
Madison toned it down with the BDG ivory denim trucker jacket and the I.AM.GIA "Cobain" high-waisted tan pants with chain detailing.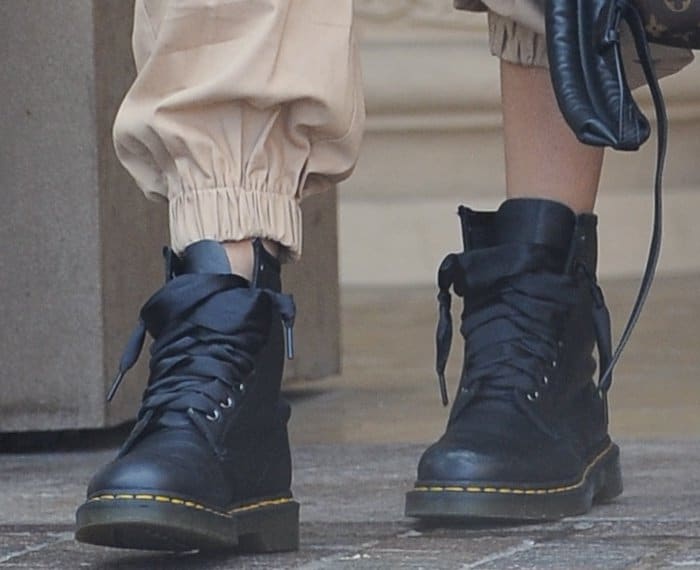 Madison Beer rocks Dr. Martens 1460 boots with I AM GIA Cobain pants (Credit: WENN)
She styled her hair in center-parted waves and accessorized with a silver Chanel clutch and a Louis Vuitton backpack. Boots from Dr. Martens with loosely-tied laces provided the finishing touches to her look.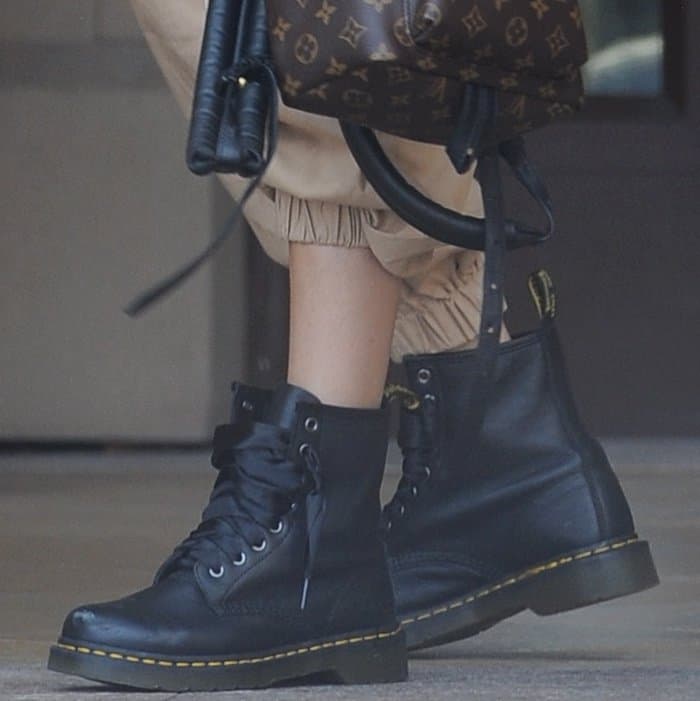 Madison Beer shows how to lace the original Dr. Martens 8-eye boots (Credit: WENN)
The popular "1460" boots bring a cool edge to any outfit. These shoes have leather uppers, a lace-up style, and the classic "Air Wair" heel loops.
Available at Zappos and Nordstrom, they also feature the brand's signature welted construction and iconic yellow stitching with grooved sidewalls.
Black Dr. Martens "1460" 8-Eye Boots, $135