Madison Bailey is known for her lead role on the Netflix series Outer Banks, a show that launched her into stardom at the age of 20.
Beyond her career, Madison has also made headlines for her sexuality and her identification as a pansexual woman.
Who Is Madison Bailey?
Madison Lilly Bailey is a 24-year-old American actress of African and Italian ancestry from Kernersville, North Carolina.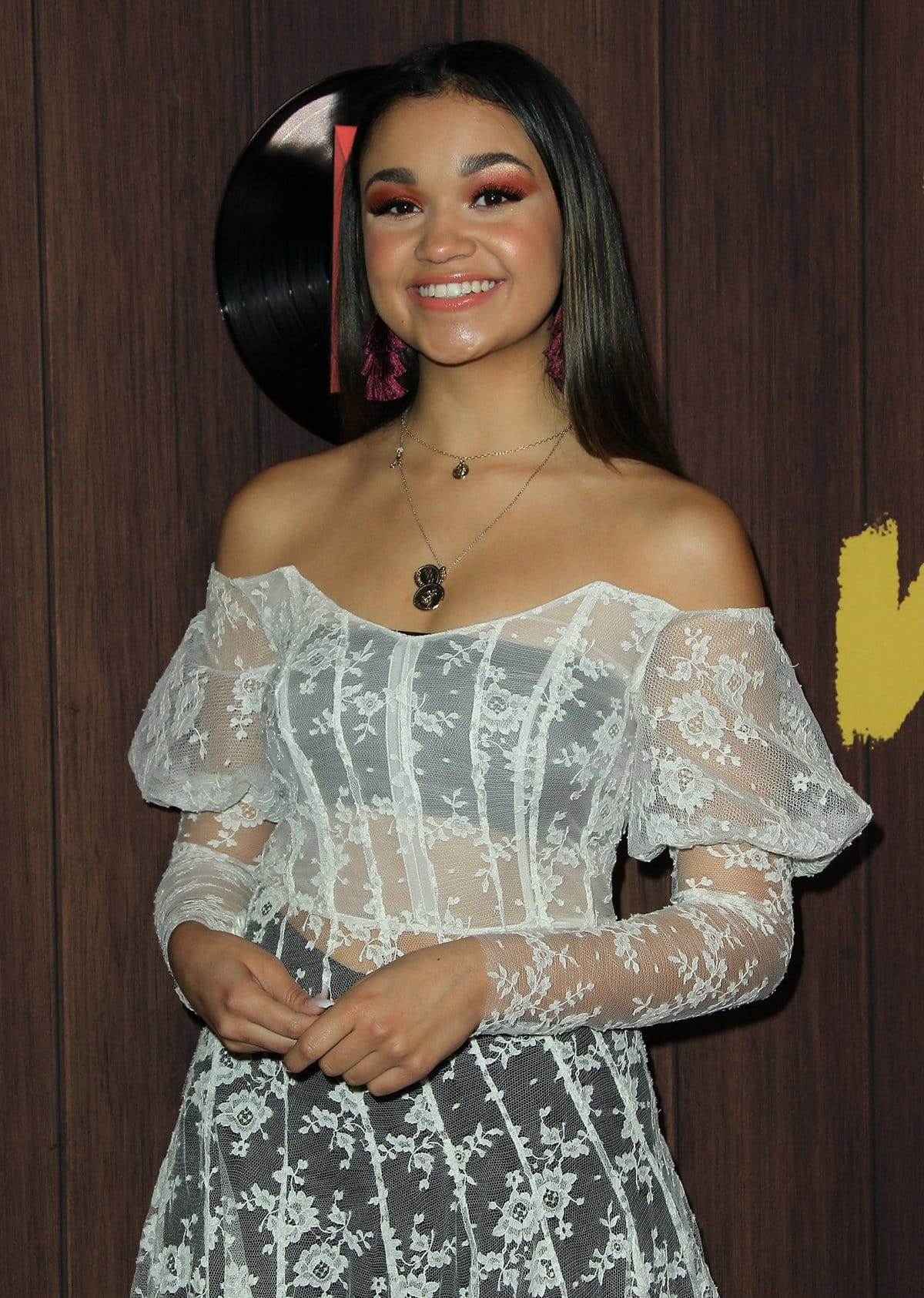 Madison Bailey attends the premiere of Netflix's "I Am Not Okay With This" at The London West Hollywood on February 25, 2020, in West Hollywood, California (Credit: Adriana M. Barraza / WENN)
She is the youngest of seven siblings, with three adoptive brothers and three sisters. At a very young age, Madison was interested in acting and music. It was during high school that she made her debut in the entertainment industry.
Madison was adopted from Atlanta, Georgia, and moved to North Carolina with her foster parents, Mary Katherine Bailey and Alex Bailey.
View this post on Instagram
After a brief battle with Sepsis, Mary Katherine (Shackleford) Bailey passed away in 2018 after 45 years of marriage to Alex.
"She was a Jesus-loving, Bible-believing Christian and upheld the Biblical teaching to love one another on a daily basis," her obituary stated.
View this post on Instagram
Madison has been very open about her sexuality and stated that she identifies as pansexual.
During an Instagram Live Q&A, she shared, "I feel like there's no cons (to coming out), and I have very accepting friends, a very accepting family, an industry that's very welcoming and very accepting. As far as pros go, being open and honest feels so good!"
Madison began acting professionally in 2015, and today she has an estimated net worth of $500,000. The young actress is tall and lean, and she stands at 5' 8" (173 cm).
Madison Lilly Bailey is of African and Italian heritage and stands at an impressive height of 5 feet and 8 inches (173 cm) (Credit: Adriana M. Barraza / WENN)
Before Madison's big break on Outer Banks, she had minor roles in Constantine, Swamp Murders, Night Club Secrets, Black Lightning, and Council of Dads. In 2021, Madison starred as Emily in the action comedy film Supercool.
Madison Bailey Facts
| How much is Madison Bailey's net worth? | She is an American actress with an estimated net worth of $500,000. |
| --- | --- |
| Full Name: | Madison Lilly Bailey |
| Born: | January 29, 1999, in Kernersville, NC |
| Who is Madison Bailey in a relationship with? | She announced in June 2020 that she's dating UNC-Charlotte basketball player Mariah Linney. |
| Is Madison Bailey dating Chase Stokes? | No, she has not dated Chase Stokes. |
| Feet/Shoe Size: | 7 (US) |
| Height: | 5′ 8″ (173 cm) |
| Is Madison Bailey adopted? | Yes, she was adopted by white foster parents Alex and Katherine Bailey. |
| Source of Wealth: | Film and television |
| Are Madison Bailey and Madelyn Cline friends? | Yes, they are reportedly close friends. |
Outer Banks
This Netflix original series premiered on April 15, 2020, and has had three successful seasons. The third season of the series premiered on February 23, 2023, and before its release, the show was already picked up for a fourth season.
Madison Bailey plays Kiara Carrera in this American drama about a group of rebellious teens hunting for $400 million worth of gold.
Madison's character, Kiara, comes from the "right" side of the tracks, but she prefers to hang with her friends from the poorer or "wrong" side of the tracks.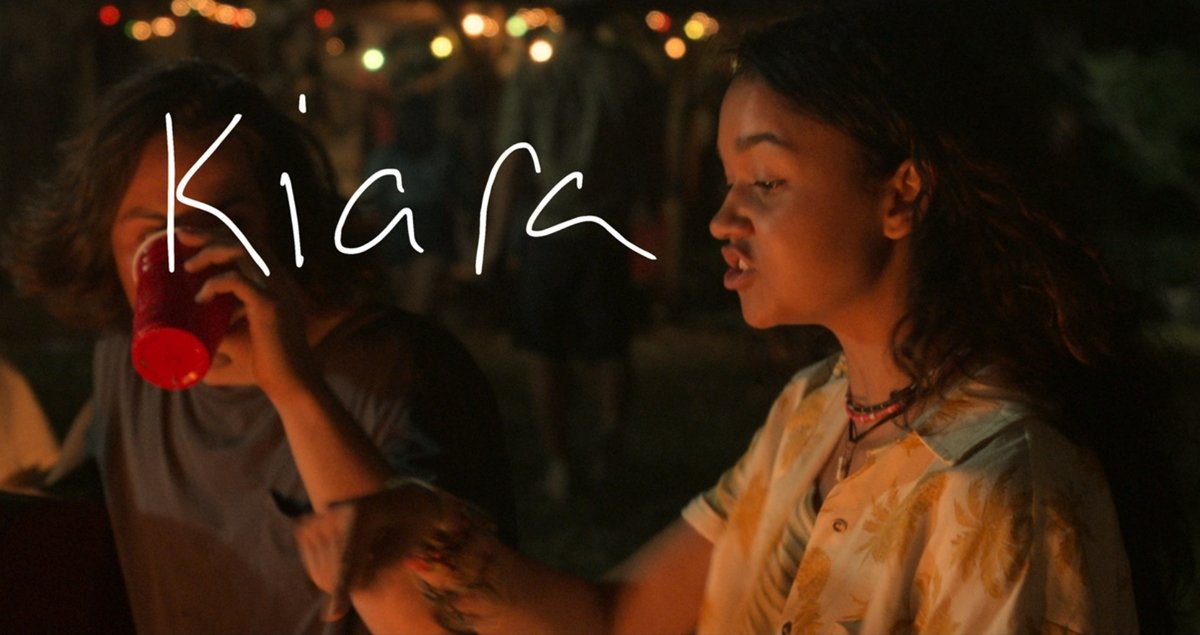 Madison Lilly Bailey portrays Kiara Carrera on the Netflix teen drama series Outer Banks (Credit: Netflix)
Madison shared, "I'm from a small town, it was interesting. You see the topic on the show of the class divide between the Pogues versus the Kooks. They're not called Pogues and Kooks, but you know exactly who they're talking about. I liked it because you don't see [the North Carolina version of] that often… I connected to it 100 percent, like I know every single one of these people."
Madison fell in love with her character after reading the show's script. She loved that Kiara hung around with mostly boys and that the character could be robust and smart. She said, "I think I'm super similar to Kiara, I feel like I'm playing myself at times. Kiara's sort of in between a lover and a fighter, and I would consider myself to be both."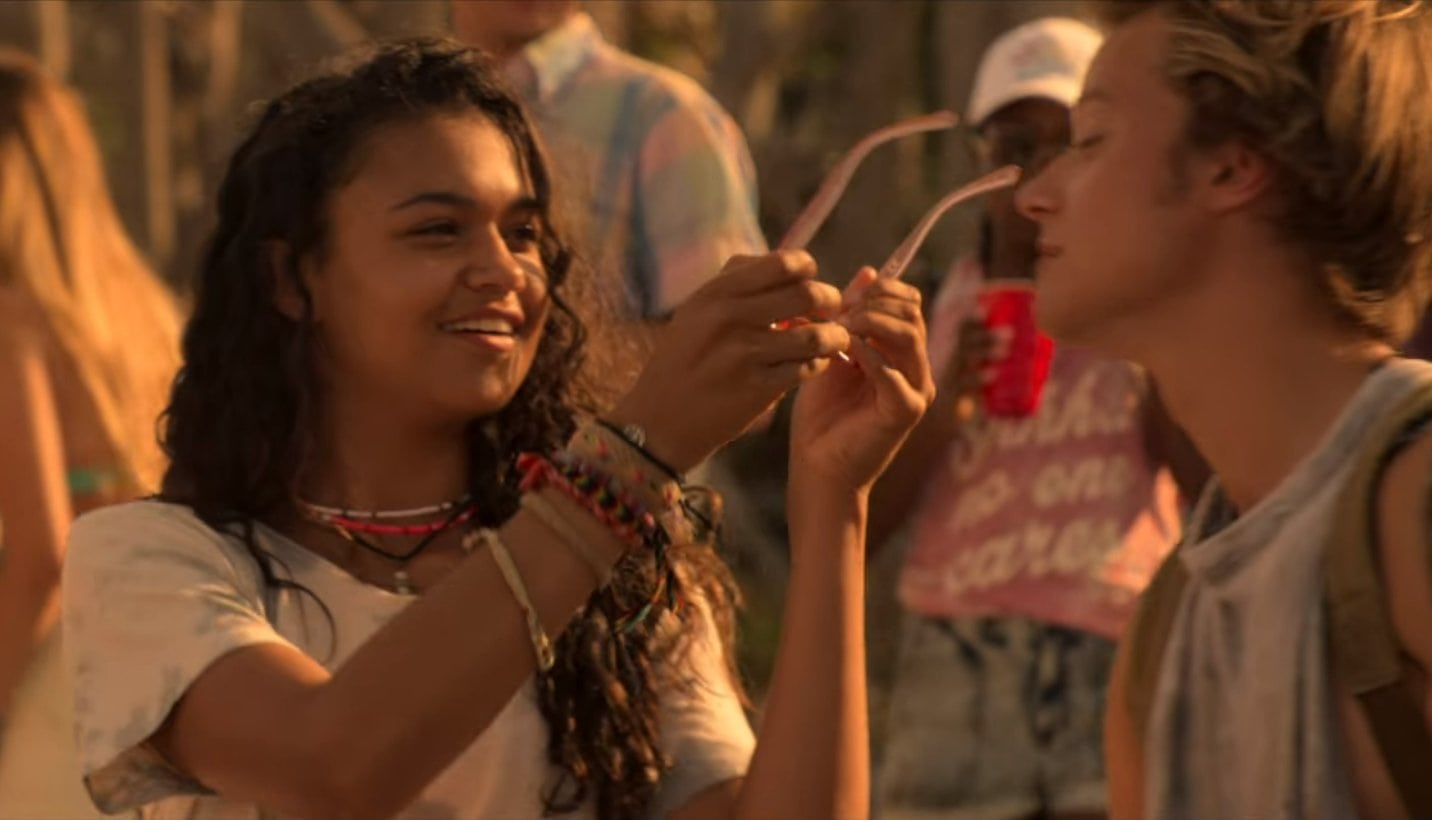 Madison Bailey portrays Kiara "Kie" Carrera, the daughter of a successful restaurant owner (Credit: Netflix)
One notable difference between Madison and her character on Outer Banks is that Kiara wasn't much of a makeup kind of girl.
Madison told Popsugar, "I don't think Kiara would touch makeup. I myself love makeup. I collect makeup. I wear a lot less makeup than I did before the show. That definitely change the way I view makeup. I'm more into a natural, glowy look versus a full face. It made more comfortable in my own skin. I feel a lot more naturally beautiful than I ever have.
Another reason Madison loves acting on this show is her castmates. She shared with L'Officiel, "We hung out every single day, off-camera… I was 24/7 with them. We hung out on the weekends and we'd have parties or hang out by the pool. I made some very genuine friendships. Rudy [Pankow] and Chase [Stokes] immediately moved in together at the beginning of filming. [Madelyn] Cline had moved in with me for a month. It was all very immediate."
(L-R) Rudy Pankow, Jonathan Daviss, Madison Bailey, Chase Stokes, and Madelyn Cline attend the premiere of Netflix's "I Am Not Okay With This" at The London West Hollywood on February 25, 2020, in West Hollywood, California (Credit: Adriana M. Barraza / WENN)
At one point, rumors circulated that Madison was dating her costar, Rudy Pankow, but those rumors do not seem true.
Madelyn Cline and Chase Stokes dated in real life, but their relationship ended in November 2021.
American Horror Stories
The spin-off to American Horror Story, called American Horror Stories, features Madison Bailey. She plays the role of Kelley in "Drive In," the third episode of the series.
Rhenzy Feliz as Chad and Madison Bailey as Kelley in the American Horror Story spin-off American Horror Stories (Credit: FX on Hulu)
The premise, per FX, is that "a screening of a forbidden film has disastrous consequences." You can watch the episode on Hulu.
It aired on July 22, 2021. This series has the same creators, Ryan Murphy and Brad Falchuk, as the original AHS franchise.
Madison + Mariah
Madison is proudly and openly a pansexual woman. Pansexual, in the Oxford dictionary, is defined as "not limited in sexual choice with regard to biological sex, gender, or gender identity."
Madison Bailey displays her size 7 (US) feet in crystal sandals (Credit: MEGA / WENN)
Madison is currently dating former UNC Charlotte basketball player Mariah Linney. The pair met through the video app TikTok after Madison saw a video of Mariah and decided to direct message her on Instagram. The pair has been together since June 2020 and enjoy sharing flirty videos of one another.
Madison told ET, "I had zero hesitation to post on social media about it because I was like, 'No matter what happens, you will be in my life forever.' I care about her so much."
View this post on Instagram
The actress shared, "She's very gentle-hearted, kind, loving, and you see that in the way she loves basketball [and] her family. You see her loyalty and dedication in the things that she cares about. I think I am in love." This interview was from June 2020, very close to the time the two women met and began dating.
In an interview with Elle about taking the relationship public, Madison shared, "It's not something that we ever talked about. We just started posting each other, as anybody would. We make TikToks together. That's the only time I make TikToks is with her. She'll teach me how to do the dances that I'm not fantastic at. I love my girlfriend. That's all. I love sharing that with the fans."
In a separate interview, Madison told Glamour, "When I'm with my girlfriend, I feel the everyday joy of it. I feel joyful with her every single day. That might sound corny but I'm so serious — the joy is just being who I am with my girlfriend every single day."
Madison Bailey came out as pansexual in a video on TikTok (Credit: MEGA / WENN)
Their love goes both ways. In January 2021, Mariah shared an Instagram tribute post about her girlfriend, Madison, on her 22nd Birthday.
Mariah shared, "I'm going to start off by saying how proud I am of you — although I haven't even known you for even a year yet, you continue to amaze me every day. You are everything I can ever ask for in a woman & more! Nothing ever truly made sense until you came into my life … I can be myself when I'm with you; despite your highest highs & your lowest lows, I want you to know that I love you, I'm here, I'm not going anywhere and I'm willing to see all of it through as long as you allow me."
View this post on Instagram
It's obvious that Mariah and Madison adore one another and plan to be together for a long time.
Fashion Forward
In 2021, the American actress and model launched a line of bracelets inspired by the style of her Outer Banks character, Kiara.
Madison collaborated with Pura Vida to introduce five new styles that can be stacked or worn solo. These bracelets retail from $10 to $45 for a set of all five.
Madison has been vocal about protecting the environment and giving back to communities, so it makes sense that she partnered with Pura Vida.
Outer Banks actress Madison Bailey has collaborated with ethical jewelry company Pura Vida on a line of bracelets (Credit: Pura Vida)
Pura Vida, meaning "pure life" in Spanish, was founded by two Southern Californian friends after visiting Costa Rica in 2010. Donating is a huge part of the organization's mission.
It's not just jewelry for Madison Bailey. She and her Outer Banks costar, Chase Stokes, appeared in American Eagle's "Jeans Are Forever" campaign.
The two modeled the clothing, but they also have photographer credits on the campaign, as they shared turns snapping pictures of one another in American Eagle's spring collection.
Outer Banks stars Chase Stokes and Madison Bailey fronted American Eagle's Beachy New Campaign (Credit: American Eagle)
Chase estimates he owns about 15 pairs, and Madison estimates she owns about 60 pairs of denim in her closet.
She told People, "There isn't a pair of jeans that I don't like. I love American Eagle's mom jeans, or jeans with any 'destruction' in them."
What's Next for Madison Bailey?
Madison plans on being with her girlfriend, Mariah, for the rest of their lives. Madison even referred to Mariah as her soulmate in an Instagram photo caption from November 2020.
Madison Bailey flaunts her legs in a red pleated velvet lurex Alexandre Vauthier Spring 2021 Haute Couture mini dress at the 6th Annual InStyle Awards on November 15, 2021, in Los Angeles, California (Credit: MEGA / WENN)
Madison shared an Instagram post for their first anniversary in June of 2021 that said, "Celebrated our anniversary all weekend. Although it's been a year, I fall more & more for this woman every second we spend together and I can't wait for our forever."
The two are very serious about one another, and we hope for the best for them.
View this post on Instagram