Madelyn Cline may be best known for her role as Sarah Cameron on the hit Netflix show Outer Banks, but did you know the actress also had a role in another popular show on the streaming platform? That's right — Stranger Things!
Abigail F. Cowen as Vicki Carmichael (L), Madelyn Cline as Tina (C), and Chelsea Talmadge as Carol in the Netflix original series Stranger Things (Credit: Netflix)
Though Millie Bobby Brown and Winona Ryder may be the first actresses you think of when you think about Stranger Things, the show was also a major career point for Madelyn Cline.
In fact, the science fiction tale was actually one of the catalysts that inspired Cline to pursue acting full-time.
Madelyn Cline with her blonde hair slicked back in a sheer black dress paired with stockings and black pointed-toe pumps with crystal ankle strap pumps at the premiere of The Matrix Resurrections on December 18, 2021, at the Castro Theatre in San Francisco, California (Credit: MEGA / WENN)
In a video interview with Wired magazine, Madelyn Cline revealed that she did attend college, although her time there was brief, saying, "I went to college for a hefty six weeks at Coastal Carolina University. I dropped out right before midterms. I'm pretty sure all my teachers thought I just didn't want to take tests."
However, this was not the case! During the six weeks that Cline was enrolled at the public university in Conway, South Carolina, she was constantly taking trips and having to miss classes in order to be on set for her roles in Stranger Things and The Originals.
Eventually, this began to take a toll on both her grades and mental well-being, as dividing her attention between her studies and her career was a very difficult undertaking that eventually led to Cline having to make a hard decision between the two.
"I was in college, driving back and forth from Myrtle Beach to Atlanta to work on The Originals and Stranger Things, and I realized that something had to give. I had run out of excused absences at school, and I wanted to carry through my studies, but in my heart, I knew I didn't want to continue splitting my time," Madelyn Cline said about dropping out of Coastal Carolina University in an interview with Schön! magazine.
Madelyn Cline had small recurring roles in The Originals and Stranger Things before her big break in Outer Banks (Credit: MEGA / WENN)
"I wanted to at least try to pursue it full time. So, I ended up dropping out, packing up my car, and leaving for LA. It was one of those moments where it felt like there was absolutely no going back. It was terrifying and also the most exciting."
Though it might have been terrifying at the time, Cline's decision to leave school and devote her attention to acting paid off, as her role in Stranger Things helped catapult her career into the success she has now.
Madelyn Cline plays Tina, a popular girl who antagonizes the main characters in Stranger Things, and she is almost unrecognizable. As Tina, Cline sports huge, 80s-style hair in a deep brunette shade.
Without her Outer Banks' signature beachy blonde locks and tanned skin, the actress almost looks like a different person!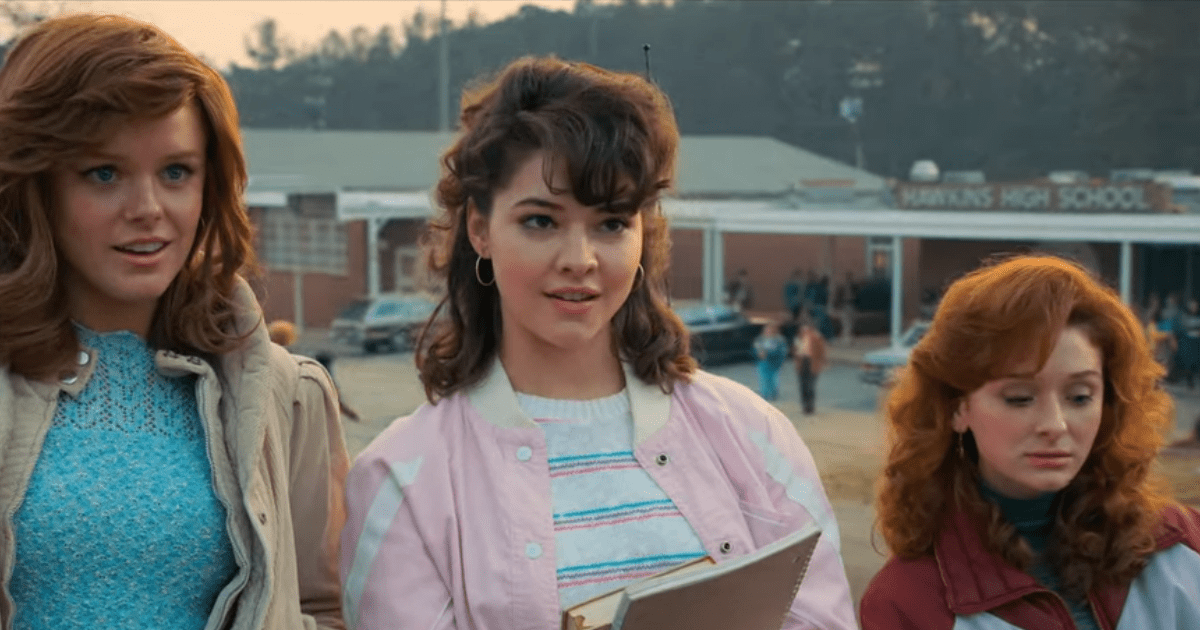 Madelyn Cline quit Coastal Carolina University and relocated to Los Angeles to star in Stranger Things (Credit: Netflix)
Considered one of the hottest women in the world right now, Cline only appears in two episodes during the second season of the show, so if you blink, you might miss her.
Madelyn Cline isn't the only Outer Banks star to have made an appearance in Stranger Things.
Chase Stokes, who plays John B. on Outer Banks, briefly appears in the first season as Reed, a dirty-minded teenager who harasses Natalia Dyer's character, Nancy, whilst driving by.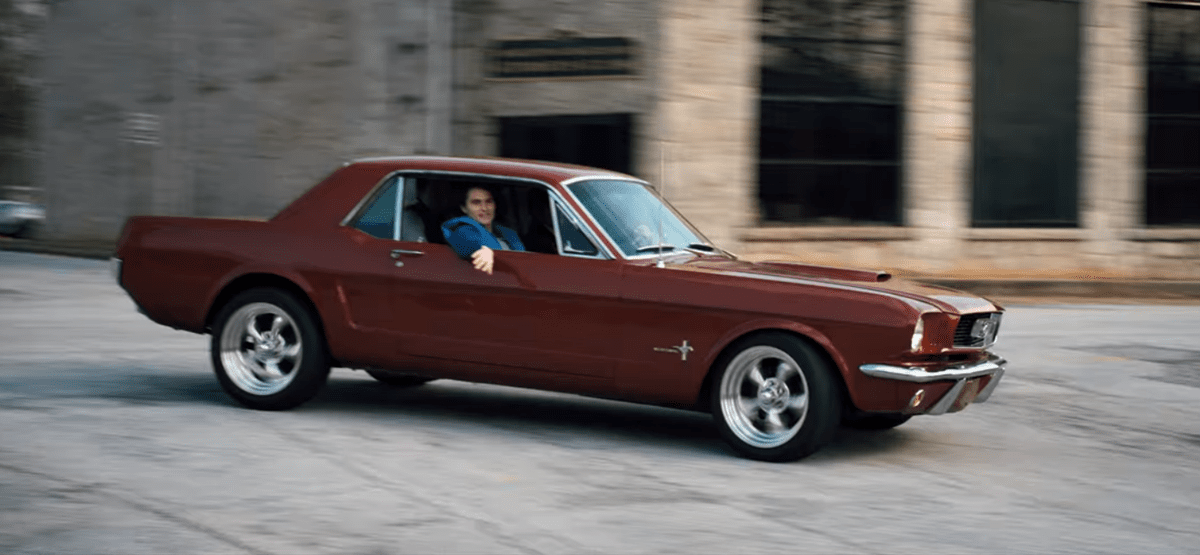 Chase Stokes appears briefly in the sixth episode of the first season of Stranger Things as a character called Reed (Credit: Netflix)
Additionally, Caroline Arapoglou (who plays Rose Cameron in Outer Banks) has a short cameo in season three of Stranger Things and can be seen lounging by the pool waiting for the hunky lifeguard, Billy.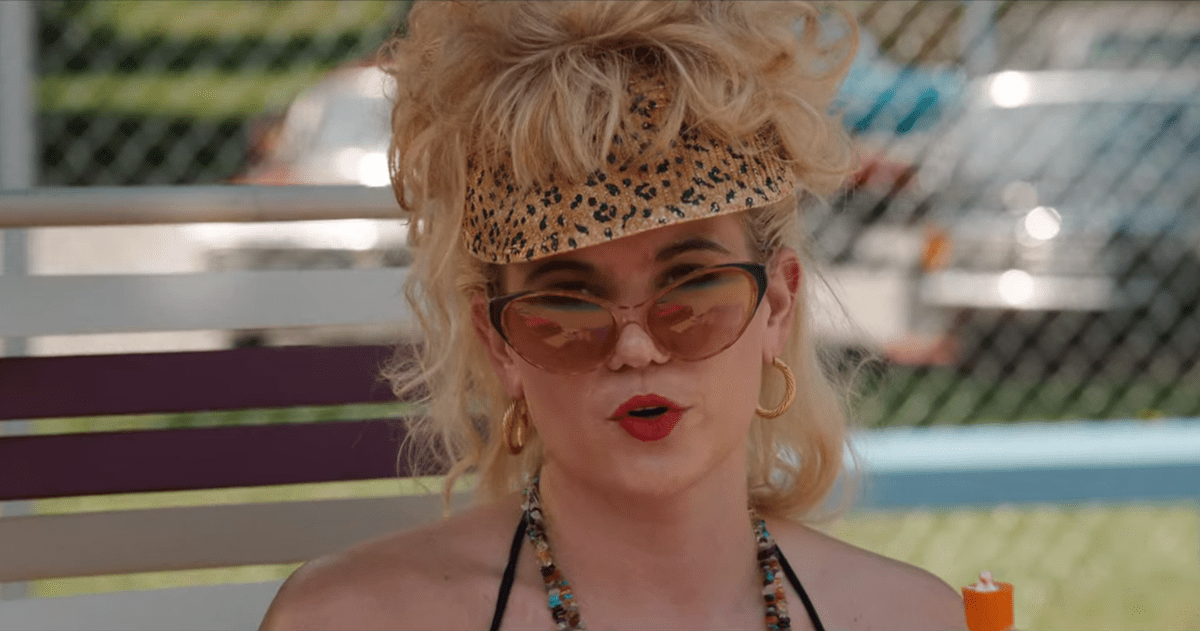 Caroline Arapoglou appears as Winnie Kline in a few episodes of the third season of Stranger Things (Credit: Netflix)
Though these appearances may be small, they led to big life changes for the Outer Banks stars — and in Madelyn Cline's case, a complete 180.