Every woman should have a few pairs of shoes in her closet, and at the top is a pair of nude-colored shoes.
Nude shoes come in all different styles and shades, and they're one of the most straightforward pairs of shoes to slip into, no matter the occasion. Let's delve into why exactly nude color shoes are so popular:
What Are Nude Shoes?
If you think you don't know what nude shoes are, you likely don't know what they're called. Nude shoes are trendy, and if you pay even the slightest attention to fashion, you'll notice someone wearing a pair.
Nude shoes are any shoes that come in the same color as someone's skin tone (Credit: LilM91 / Shutterstock)
Nude is the color of skin, so nude shoes are simply any pair of shoes that is the same color as someone's skin tone. Nude shoes can be in various shades and come in different styles, such as sandals, dress shoes, or pumps.
Why Women Wear Nude Shoes
Choosing a pair of shoes is a profoundly personal decision, but when it comes to wearing a pair of nude shoes, women often wear them for reasons other than just liking how they look. Nude shoes serve several different fashion purposes.
1. Nude Shoes Elongate Legs
One of the top reasons women wear nude shoes is because they elongate the legs. When donning a pair of nude shoes, the shoes look more like the feet than others, giving the illusion of an extra long leg.
Shoes in other colors, like black, navy, or dark green, can cut the leg short because of the color block.
Nude shoes give the appearance of a longer leg as they come in the same tone as the skin (Credit: Olexandr Taranukhin / Shutterstock)
2. Nude Shoes Make You Look Taller
Nude shoes also make women look taller, and it's for the same reason as why they elongate the leg.
It's simply an illusion, but it's one that's quite effective, especially when wearing shorts, dresses, or skirts that expose the leg. When looking to add some height without slipping into platform pumps, opt for a simple pair of nude shoes.
Nude shoes can make one look taller, especially when paired with short dresses or skirts
3. They're Easy to Style
Nude shoes are also incredibly easy to style. They match everything, so choosing a nude shoe is as simple as choosing the style of footwear that'll best complement the outfit.
No matter what color clothes you're wearing, you can throw on a pair of nude shoes and look fashion-forward.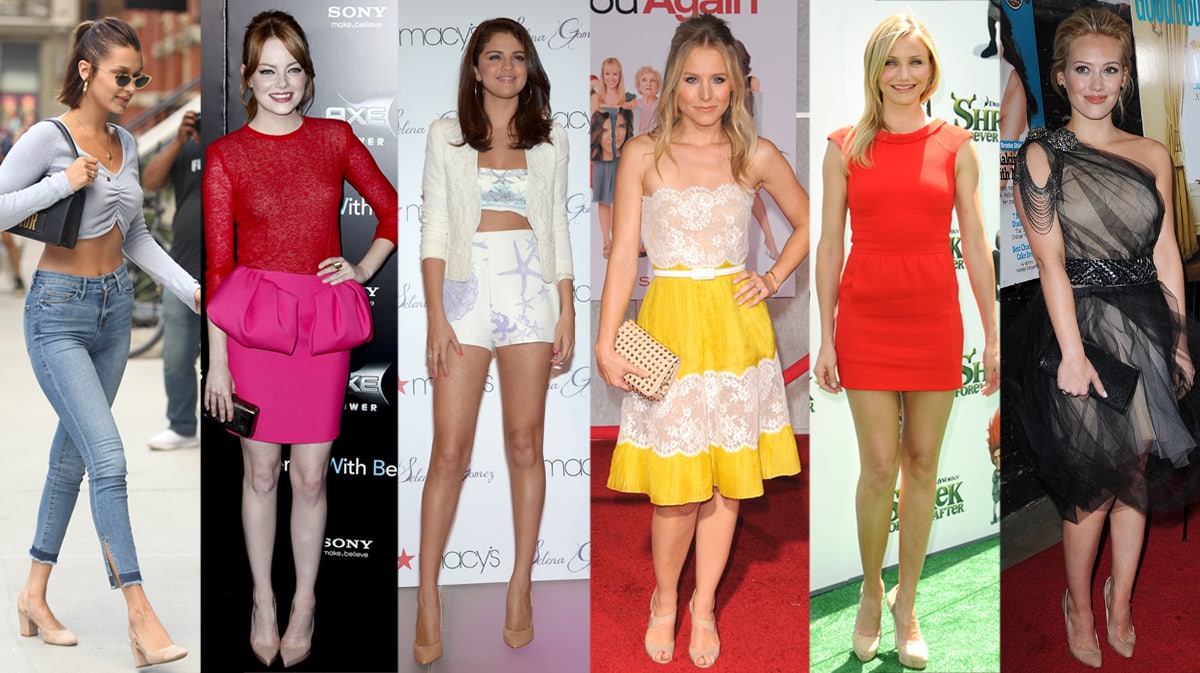 Bella Hadid, Emma Stone, Selena Gomez, Kristen Bell, Cameron Diaz, and Hilary Duff show different ways to wear nude shoes (Credit: Freddy Baez / B. Ach/INFevents / Albert Michael / Sara De Boer / Humberto Carreno / Startraksphoto)
Nude shoes are also easy to style an outfit around. If you've got a pair of nude shoes you're dying to wear, you can easily structure an outfit around the shoes without worrying about which color looks best.
If the color looks great on your skin, it'll look great with your pair of nude shoes, too.
6 Popular Nude Shoes on the Market
You can walk into virtually any shoe store in the world and find a pair of nude shoes, but if you're looking for something specific, here are some classic options in all price ranges that'll definitely get worn:
1. Christian Louboutin 'So Kate' Pumps, $795 at Mytheresa
The Louboutin "So Kate" Pumps are arguably the most famous pair of nude shoes.
Featuring Louboutin's stunning signature red bottom, these heels are the quintessential nude shoe that everyone imagines when picturing nude shoes.
Christian Louboutin's So Kate pumps are a classic celebrity favorite, with sleek pointed-toe and stiletto heels
With a pointed toe and a sleek stiletto, some wearers have warned that they can be a beast to keep on for too long, so make sure you've broken them in before taking them out on the town.
2. Coach 'Clip' Low Top Sneaker, $129 at Nordstrom
Nude shoes don't have to only be heels – there are plenty of sneaker options that'll elongate the legs without you having to sacrifice comfort. Take the Coach "Clip" low top sneaker.

Coach Clip boasts the American fashion label's signature jacquard and leather uppers with fabric lining and footbed and rubber outsole
These easy-to-wear shoes feature the brand's logo in an eye-catching and contemporary way without being gaudy. They're perfect for the fashion-forward woman who doesn't want blisters on her feet after a day running errands or a casual dinner out.
3. Jessica Simpson Pumps, $54.99 on Amazon
Anyone looking for a nude shoe at a great price can turn to Jessica Simpson. The singer-turned-shoe-designer has affordable options that don't lack in quality, and her nude shoes are some of her brand's most iconic designs.
These Jessica Simpson pumps are one of the brand's most iconic designs, featuring platform soles and extra-long stilettos
The Jessica Simpson Pumps are about as famous as the designer herself, thanks to their platform sole and extra-long stiletto. The pair can be purchased with a round or a peep toe, making them versatile throughout the entire year.
4. Vince Camuto 'Saprenda 2' Sandals, $39 – $59.40 at Nordstrom
Every woman needs a pair of nude sandals, too. While a closed toe is all well and good, sometimes it's simply too hot to don them, and a shoe that gives your feet room to breathe while remaining fashionable is much needed.

The Saprenda 2 by Vince Camuto has a trendy open square toe, ankle strap, and slim heel
The Vince Camuto "Saprenda 2" sandal is the perfect option and retails for a reasonable price. It's a shoe that'll last you years to come, and you'll quickly get your money's worth out of them.
5. Schutz 'Cendi' Transparent Pump, $118 at Nordstrom
Sometimes a nude shoe needs a little extra pizzaz, and that's where the Schutz "Cendi" Transparent pump comes in.
These pointed-toe pumps feature a transparent panel on either side of the foot, leaving the faux nude for the toe and the heel and giving onlookers a glimpse at some real nude on the foot.
Schutz's Cendi pumps have transparent sides that bring a charming glass-slipper aesthetic to a pointy pump design with slender stiletto heels
This patent leather pump is an excellent option for anyone who loves a striking nude for their heels outfits but needs to add a little spice now and then.
6. Nine West 'Speakup' Ballet Flat, $63.20 at Zappos
And, of course, there's always a need for flat shoes. The Nine West "Speakup" Ballet Flats are perfect for a day in the office or one spent shopping.
They'll go well with any casual outfit and won't be quite as hard on your feet as a Louboutin or a Schutz. If you're not too fond of heels, these will become your new go-to.

The Nine West SpeakUp flats are a classic wardrobe staple that has almond toes, breathable man-made lining, and cushioned footbed
There's a nude shoe for every shoe lover on the planet, and each one will undoubtedly raise your fashion game no matter the height of the heel.
Whether scouring end-of-the-season sales hoping to find staples for next year or preparing to refresh your closet for what's to come, a nude shoe will do just the trick.