With her commanding stage presence and soulful pipes, it may come as a surprise that Ariana Grande is actually one of Hollywood's tiniest starlets. The glamorous pop star is believed to be pint-sized, standing at five feet and a half-inch tall.
Don't feel bad if she had you fooled – the petite queen has become an expert in height illusion dressing throughout her career.
Whether she's glammed up on the red carpet or enjoying an off-duty stroll, Ariana knows all the tricks to dress in a way that makes her look taller than she actually is.
Ariana Grande performing at the American Airlines Arena in Miami, Florida, on April 14, 2017 (Credit: INSTARimages)
Learn exactly how Ariana Grande creates the illusion of extra height through strategic styling and footwear below!
Ariana Grande's Go-To Shoe Styles for a Taller Appearance
Ariana's not-so-secret weapons for looking taller are her signature sky-high heels. The pop star doesn't play when it comes to tall footwear; she can be spotted in heels as high as five inches.
She also loves platform styles that give her an additional boost. If Ariana ever wears sneakers, you can bet they're platform sneakers. However, it's not just about the heel height. Ariana regularly chooses footwear with additional elongating details:
1. Low Vamp Shoes: Enhancing Leg Exposure
If Ariana wears pumps, they'll often have an extra low vamp. This means that the upper part of the shoe offers low coverage of the foot so that the skin of the leg has as much exposure as possible.
Ariana Grande wearing low-vamp pumps with a mini dress to show off as much leg as possible (Credit: INFevents)
2. Over-the-Knee Boots: Elevating Height with Style
A tall, heeled boot is Ariana's other preferred shoe style. These over-the-knee boots aren't just great for adding an alluring appeal to any outfit.
They also draw the eyes upward, creating the illusion of longer legs. Fans may have noticed that Ariana never seems to wear ankle or calf-length boots. This is likely because they can cut off the legs at an awkward place and make the legs appear shorter.
Ariana Grande looking warm and cozy in a jacket and over-the-knee boots in New York City on December 7, 2018 (Credit: Humberto Carreno / INSTARimages)
3. Nude and Light-Colored Footwear: Blending with Skin Tone
Sometimes, Ariana wears black shoes, but you'll usually spot her in nude or light-colored shoes. She knows how shoes that match or even blend in with her skin tone can seem like an extension of the legs.
Ariana Grande wearing nude low-vamp pumps, so the legs have as much exposure as possible (Credit: INFevents)
4. T-bar Straps: The Vertical Illusion for Extra Height
Like any vertical stripe, the strap on a T-bar heel draws the eyes upwards and creates the illusion of height.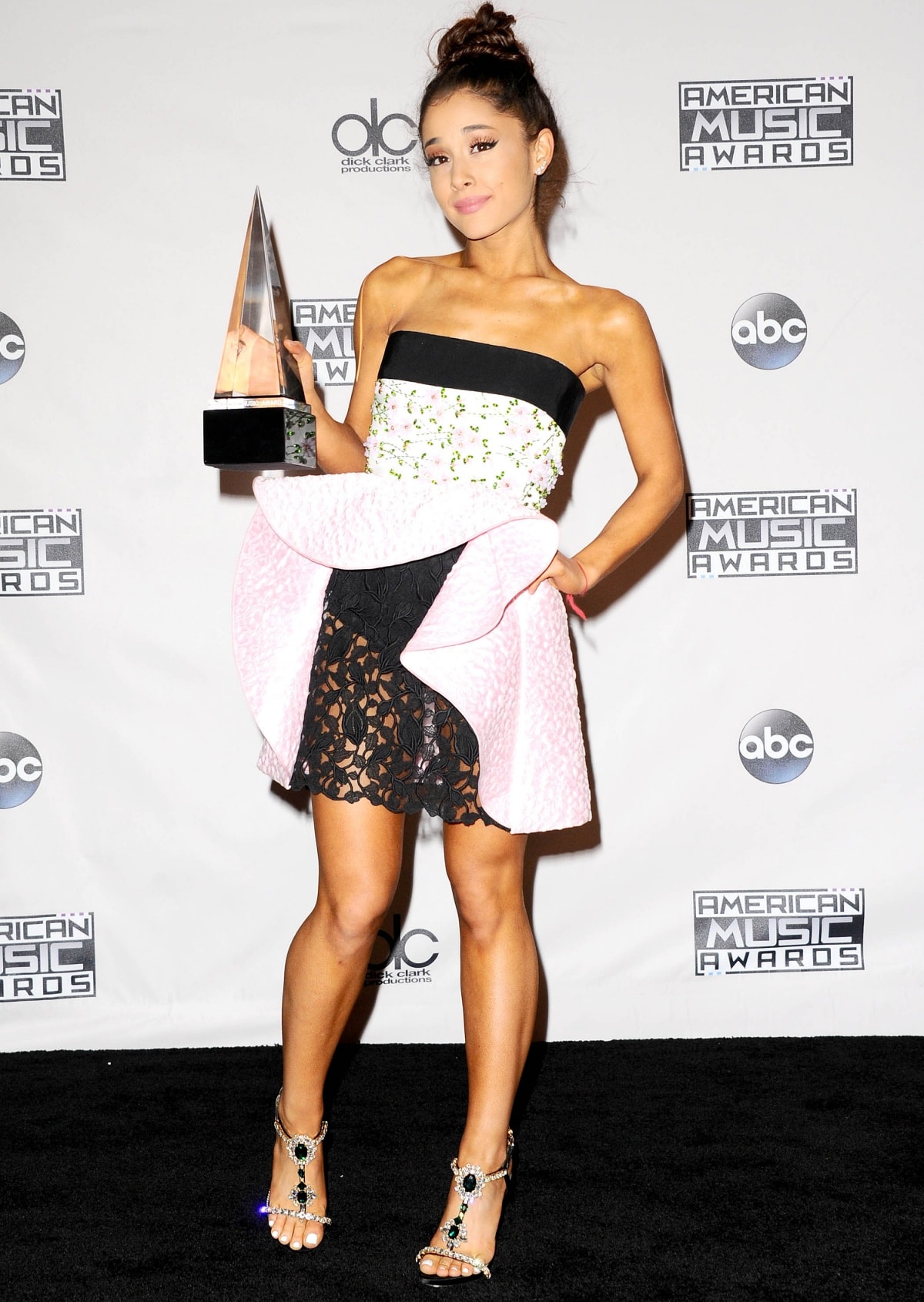 Ariana Grande showing off her award and bejeweled T-bar heels at the 2018 American Music Awards in Los Angeles, California, on November 22, 2015 (Credit: Kyle Rover / Startraksphoto)
The Victorious superstar always tends to have the same shoe styles on rotation, and for good reason! She knows exactly what works in her favor and what doesn't.
Ariana Grande's Fashion Techniques for an Elongated Look
Towering heels play a big role in Ariana's height illusions, but she also strategically chooses her clothing to optimize the elongating effect.
Ariana knows every trick in the petite styling playbook. Her signature style involves a lot of elements that boost her height, primarily by making her legs look longer.
1. Embracing Mini Hemlines: Maximizing Leg Visibility
Ariana's miniskirts and dresses perfectly match her tall boots and low-vamp pumps. They allow her to show as much leg as possible, making her look taller.
Wearing her signature minidress and tall boots combo as she performs at 103.5 KTU's KTUphoria 2014 at the Izod Center in East Rutherford, New Jersey on June 29, 2014 (Nancy Rivera / ACE / INFphoto)
2. Leg Slits: Creating Vertical Lines for Length
The pop star doesn't just stop at mini hemlines; she'll often choose styles with an additional slit that works as a vertical line to create even more length.
Ariana Grande showing her leg in a cut-out dress with a thigh-high slit at the 2016 Billboard Music Awards held at the T-Mobile Arena in Las Vegas, Nevada on May 22, 2016 (Credit: INFphoto)
3. Low Necklines: Drawing the Eyes Downward
Ariana often pairs her mini hemlines with low necklines, such as V-neck or sweetheart styles, since she knows they draw the eyes down to create an all-over elongating effect.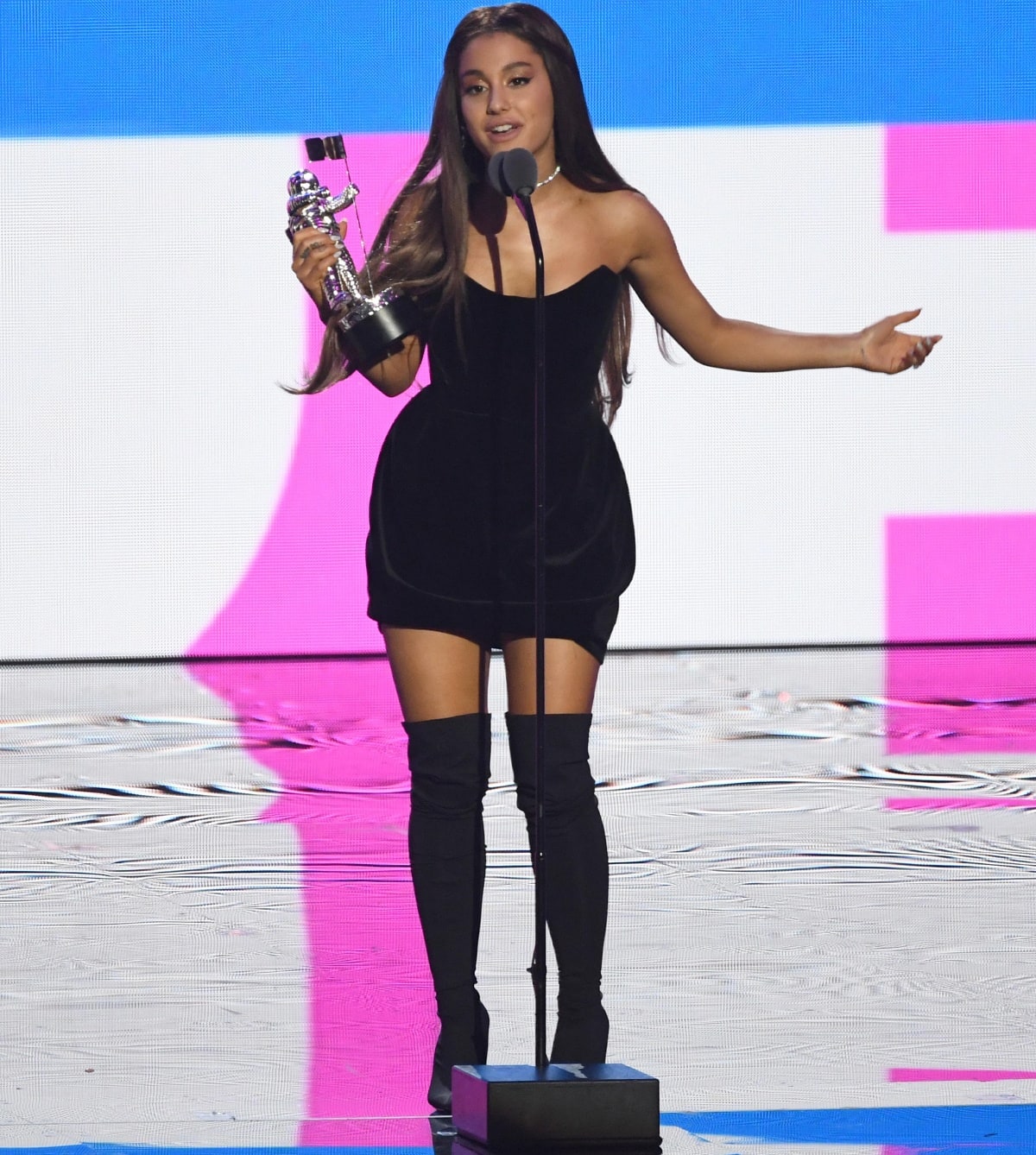 To accept her trophy, Ariana Grande is seen wearing a minidress with a low neckline and a short hemline styled with her signature over-the-knee boots at the 2018 MTV Video Music Awards (Credit: PA Images / INSTARimages)
4. High-Waisted Pants: Elongating the Leg Line
If she's not wearing a dress or a skirt, Ariana almost always opts for pants with a high-waisted silhouette. She knows that raising the waistline creates the appearance of longer legs, especially when paired with a crop top that accentuates the waist.
Ariana tends to pair her high-waisted pants with shoes in a matching color to create a continuous line from her waist to her toes, making her legs look as long as possible.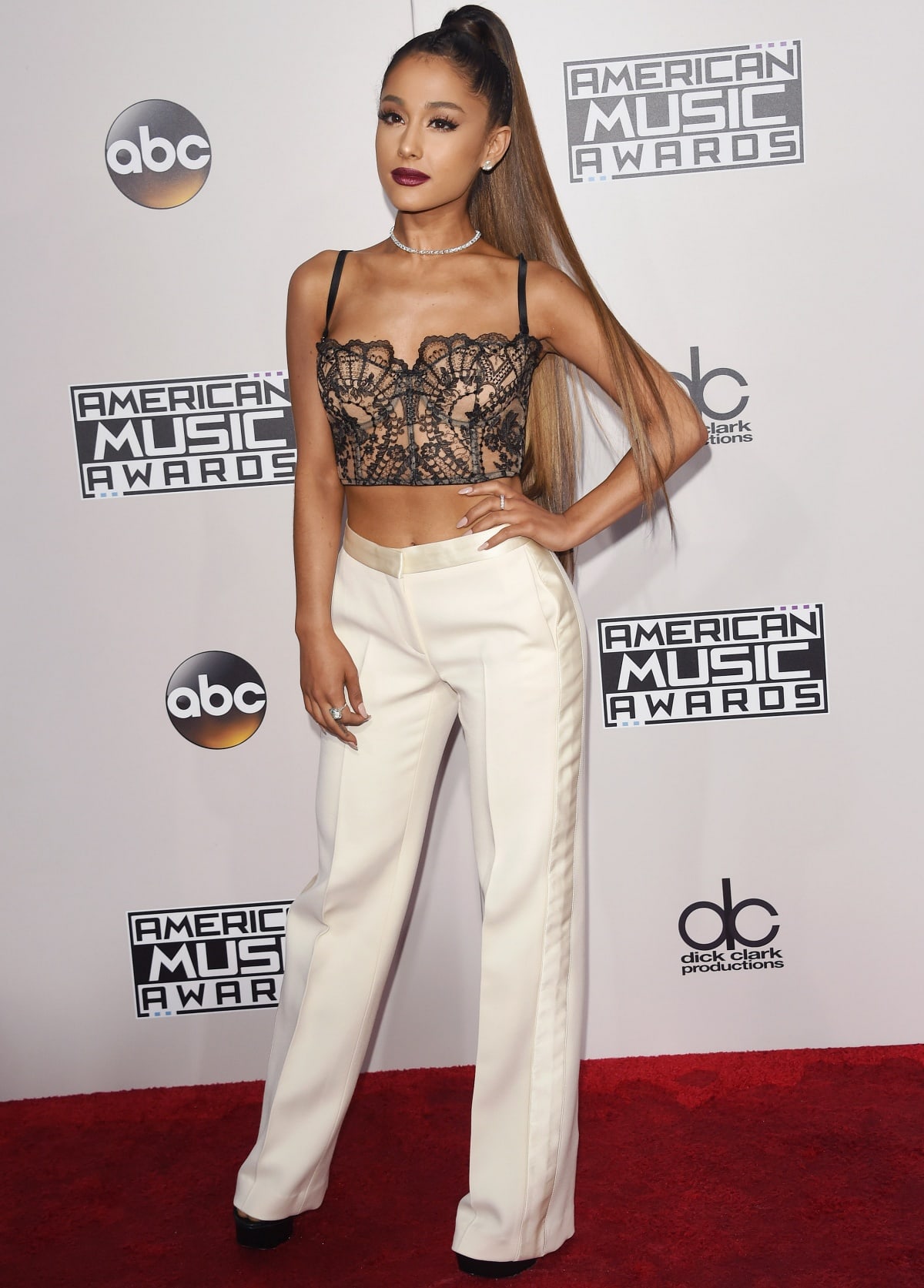 Pop superstar Ariana Grande arriving in a lace crop top with white high-waisted pants at the 2016 American Music Awards (Credit: Vince Flores / Startraksphoto)
5. Voluminous Styles: Adding Height with Bold Fashion
Ariana often wears voluminous gowns adorned with tiers and ruffles when she's not wearing bodycon styles on the red carpet.
These show-stopping styles naturally take up a lot of space, which makes Ariana appear taller than she actually is. Ariana knows how to create balance by choosing a fitted bodice or top with voluminous skirts.
At the 62nd Annual Grammy Awards, Ariana Grande stepped out in a voluminous gown with a fitted strapless bodice on the red carpet in Los Angeles, California on January 26, 2020 (Credit: Startraksphoto)
6. The High Ponytail: Ariana's Signature Height-Adding Hairstyle
Of course, you can't forget about the singer's signature hairstyle! We're sure that Ariana keeps her ponytail as high as possible to add an inch or so to the crown of her head.
Ariana Grande showing off her signature high ponytail at Billboard's 13th Annual Women in Music in New York City on December 6, 2018 (Credit: Kristin Callahan / ACE / INSTARimages)
The Art of Leg-Lengthening: Why Focusing on the Legs Matters
You may wonder why all these styling tricks focus on elongating the legs. It all comes down to optical illusion.
Humans associate long legs with increased height rather than a long torso. So, if you want to look taller, just choose styles that emphasize leg length!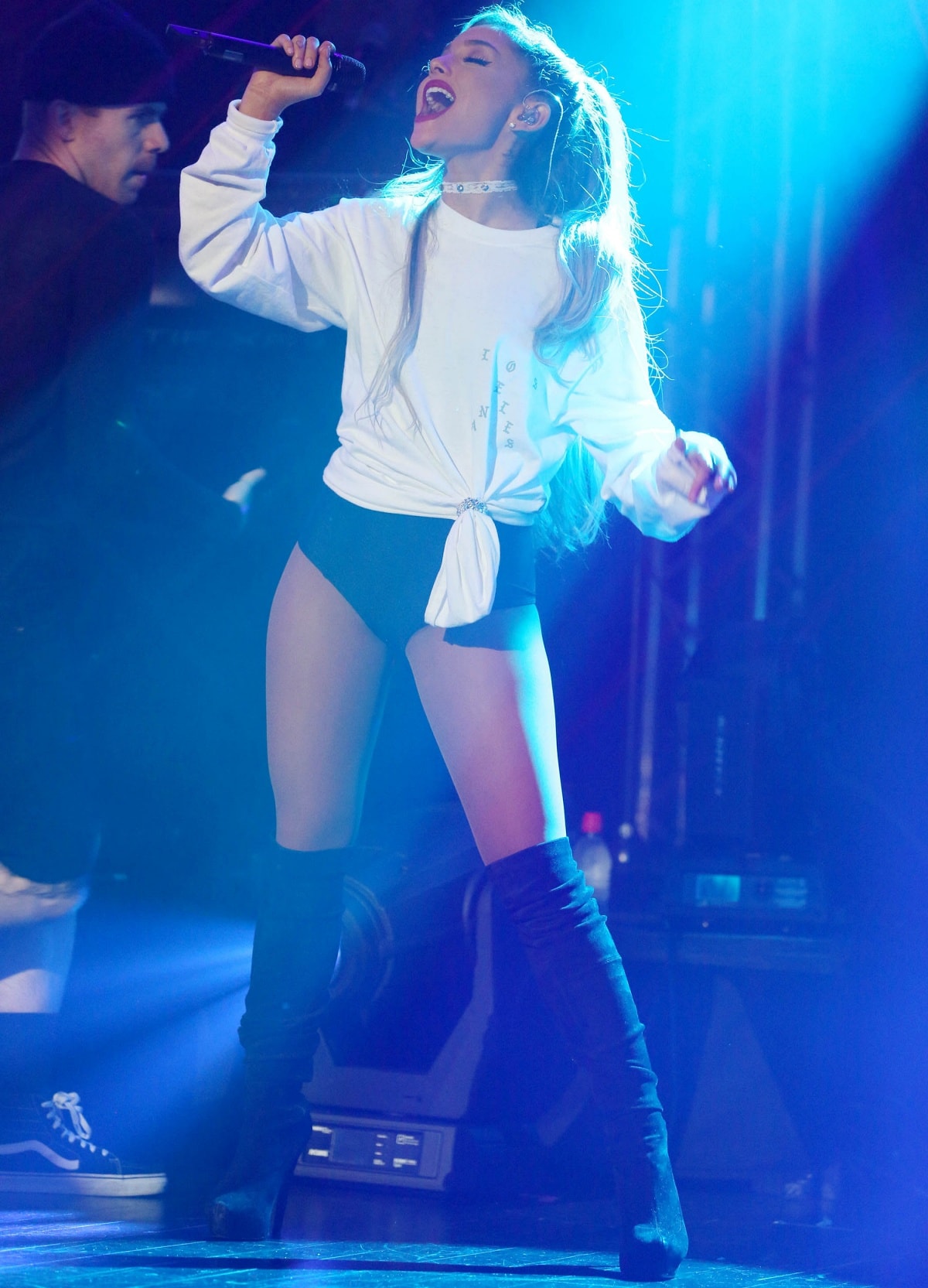 Ariana Grande performing at the HP Lounge Party held at Trianon in Paris, France on June 8, 2016 (Credit: Jerome Domine / Abaca / Startraksphoto)
Celebrity Height Illusions: Lessons from Petite Stars
Ariana Grande is far from the only petite star who can create flattering optical illusions through fashion. These fellow singers and actors have also mastered the art of petite styling to look taller.
1. Lady Gaga: High Fashion for Added Height
The singer-turned-actress may have a larger-than-life persona, but her height is a slight five feet, one and one-fourth inches tall.
Like Ariana, Lady Gaga is a huge fan of towering platforms, short hemlines, leg slits, and voluminous gowns. Who can forget the staggering nine-inch heels she regularly used to wear at the beginning of her career?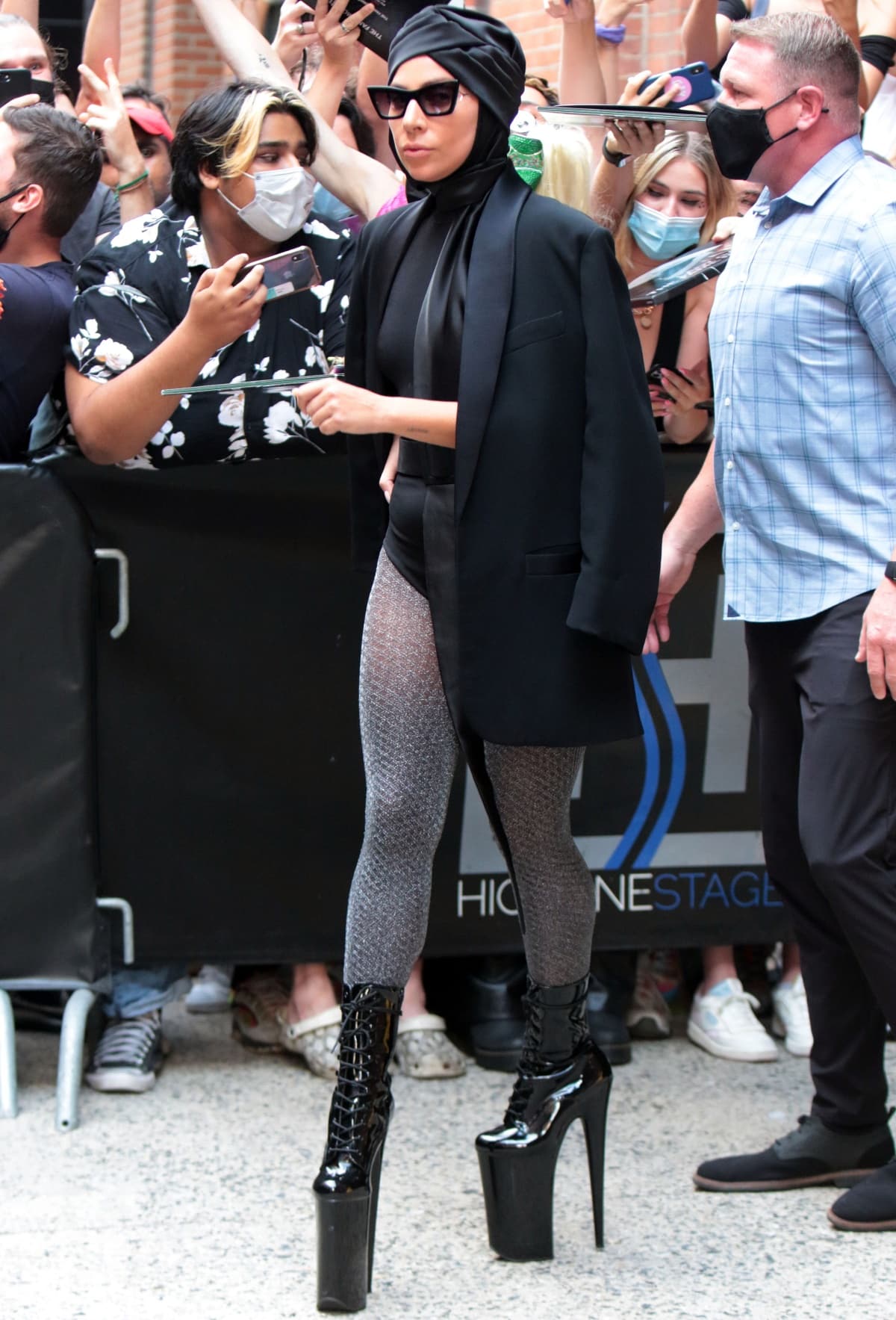 Lady Gaga wearing towering platform boots at Radio City Music Hall in New York City on July 28, 2021 (Credit: ROGER WONG / INSTARimages)
2. Camila Cabello: Following Ariana's Styling Footsteps
Fellow singer Camila Cabello stands slightly taller than Ariana Grande at five feet and two inches.
Like Ariana and her ex-fiancé Pete Davidson (who stands at six feet, one and three-fourth inches), Camila's height became noticeable after being photographed with Shawn Mendes, who stands at six feet and two inches.
She often takes a leaf from Ariana's styling book by opting for high-waisted bottoms, mini hemlines, nude heels, and tall boots.
Camila Cabello wearing a cleavage-baring crop top, a matching floor-sweeping skirt with a thigh-high slit, and high platform heels at the 2021 Met Gala (Credit: / ABACA USA / INSTARimages)
3. Selena Gomez: The Taller End of Petite Fashion
Coming in at the taller side of the petite scale, Selena Gomez is about five feet, four and three-fourth inches.
She doesn't have to be as conscious of her height when getting dressed, but Selena is still a fan of high-waisted pants, mini hemlines, and high heels.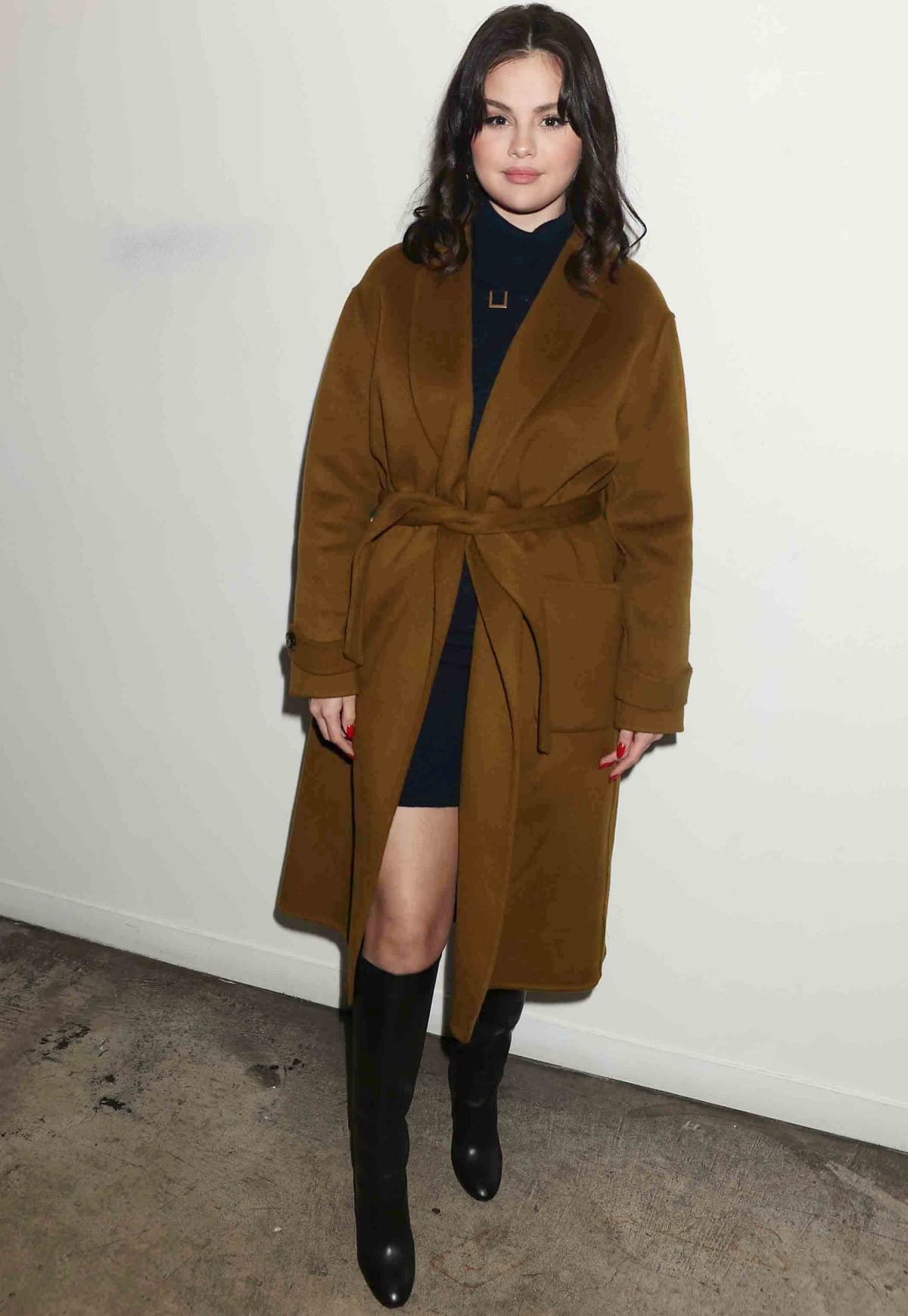 Selena Gomez attending the FYC screening and Q&A of her documentary Selena Gomez: My Mind & Me in a Sezane Mederick coat over a Louis Vuitton short sweater dress and Louis Vuitton Donna high boots in New York City on December 1, 2022 (Credit: Dave Allocca / StarPix / Startraksphoto / Cover Images)
Other noteworthy petite celebs who know how to add height through fashion include Vanessa Hudgens (five feet and two inches), Nicole Richie (five feet and one inch), and Emma Roberts (five feet and two inches).
If you're a petite girl looking to create the illusion of a few inches, pay attention to these ladies' styling tricks, and you'll look like a long-legged beauty in no time!