Just a few days after lighting up the Empire State Building in New York City in November 2013, Victorious actress Ariana Grande participated in the Macy's Thanksgiving Day Parade.
Cast in the Nickelodeon television show along with 13 co-star Elizabeth Gillies in 2009, she portrayed the "adorably dimwitted" Catarina "Cat" Valentine. The Victorious finale aired on February 2, 2013.
Ariana Grande covers her hair with large earmuffs as she performs at the 87th annual Macy's Thanksgiving Day Parade held on November 28, 2013, in New York City
Her character Cat Valentine had red hair, which meant Grande was dyeing her hair frequently.
"It's kind of like the red was Cat, and that was very much a character, and it was very much a portion of my life that I love and I am so grateful for," Ariana said in an interview with the Zach Sang Show.
She added, "And I look at it and I love it and I see red hair … and I think fondly of that, but again, is not me."
Ariana Grande had to dye her hair red every other week for the Cat Valentine role on Victorious
Premiering on March 27, 2010, Ariana Grande was 16 at the time. Born on June 26, 1993, in Boca Raton, Florida, she turned 17 on June 26, 2010. The Scream Queens actress was 19 when the final episode aired on February 2, 2013.
According to TMZ, Ariana earned $9,000 per episode for the first season. She also raked in $4,000 for a theme song, $3,000 for a song played in various episodes, and $1,500 for a 20-second "ditty."
Proving that she can sing, Ariana also performed the song "L.A. Boyz" with Victoria Justice for "Victorious 3.0: Even More Music from the Hit TV Show," the third soundtrack and the second extended play for the Victorious series.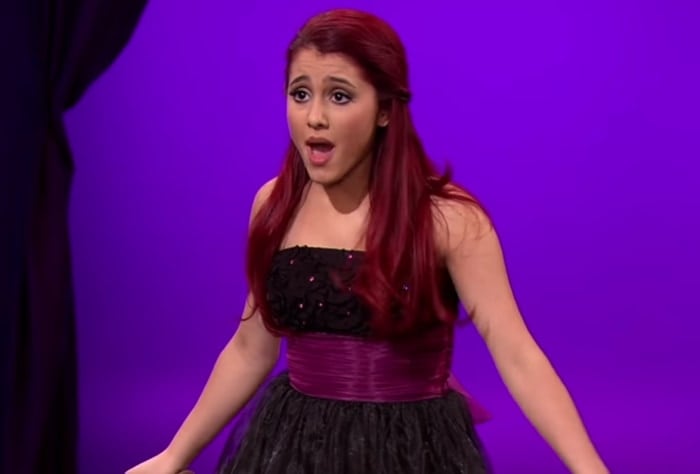 Ariana Grande was 16 when the first episode of Victorious aired in 2010 and 19 when the season finale aired in 2013
Rumored to have undergone plastic surgery, she also sang "Give It Up" with Elizabeth Gillies in the Victorious hour-long special "Freak the Freak Out," which premiered on November 26, 2010, in North America.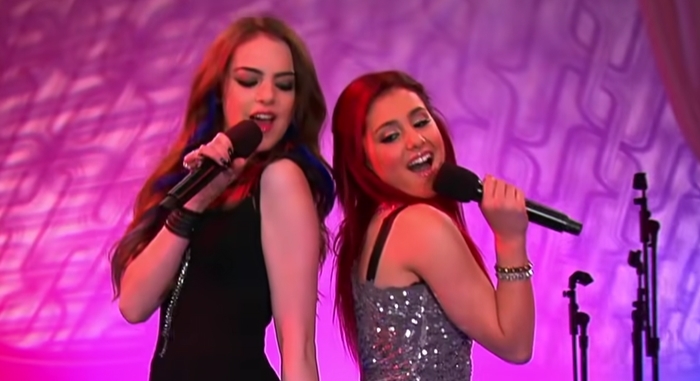 Elizabeth Gillies as Jade West and Ariana Grande as Cat Valentine perform Give It Up at the Karaoke Dokie in the Victorious hour-long special Freak the Freak Out
In March 2020, Ariana Grande celebrated the 10-year anniversary of Victorious by sharing a picture of the cast on Instagram.
"Just want to say how grateful I will always be for being on this show and for those years of my life," Grande wrote.
"I couldn't have spent my teenage years with a better, more funny, talented group of human beings. I really loved playing cat valentine (even though sometimes people think I actually still speak and act like that and her essence will lovingly haunt me till I die)."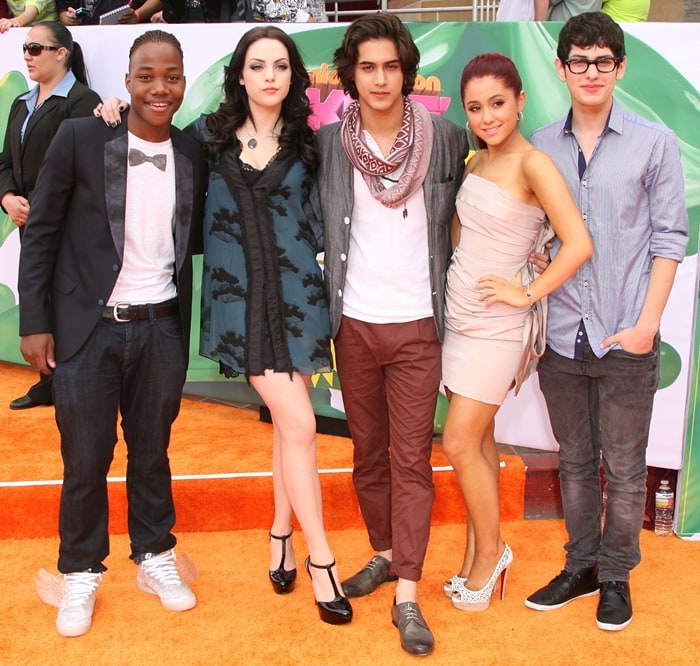 Victorious cast members Leon Thomas III, Elizabeth Gillies, Avan Jogia, Ariana Grande, and Matt Bennett arrive at Nickelodeon's 24th Annual Kids' Choice Awards at Galen Center on April 2, 2011, in Los Angeles, California
"I miss getting in trouble w my friends the school room and trying not to laugh when we weren't supposed to on set," she added.
"I even miss waking up with red hair dye stained pillows. thank u @danwarp and to my castmates for some of the most special years of my life and for bringing all of us into each other's lives. happy anniversary!"
View this post on Instagram
Having turned 20 on June 26, 2003, Ariana Grande-Butera performed Last Christmas from her Dora the Explorer float while dressed in a thick powder blue coat by Miss Selfridge and large cream earmuffs.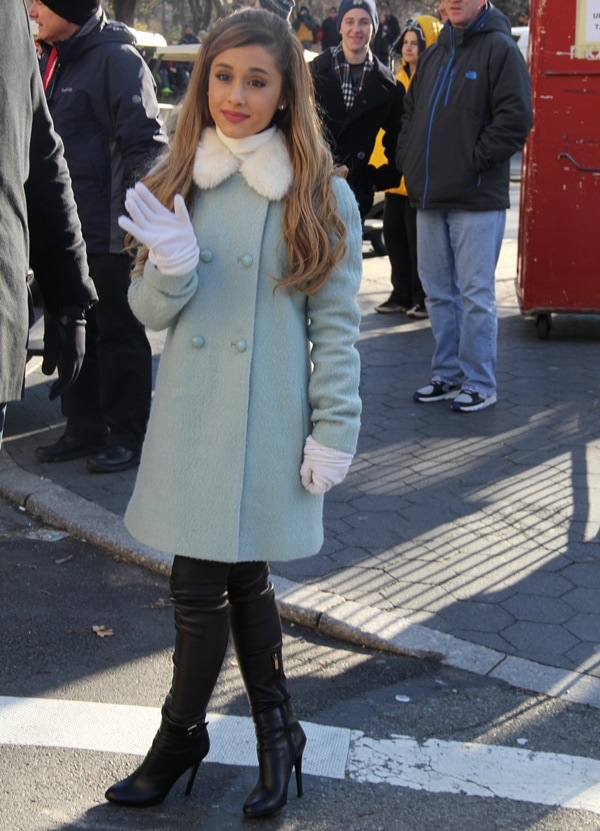 Ariana Grande wears a powder blue Miss Selfridge coat at the Macy's Thanksgiving Day Parade
The Florida-born actress and singer completed her outfit with a gorgeous pair of black Jimmy Choo "Tamba" boots, which we have previously spotted on Jamie Chung and Nicole Kidman.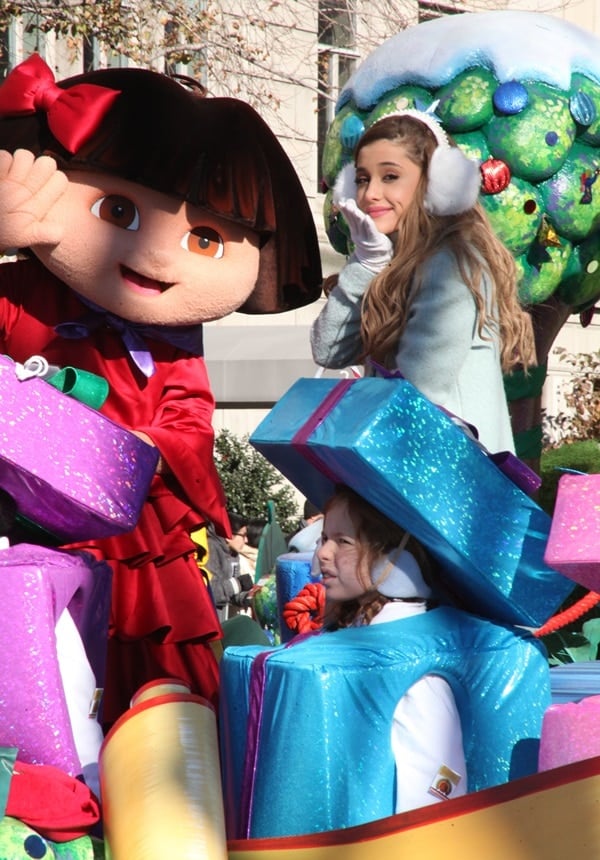 Ariana Grande blows a kiss as she performs on a Dora the Explorer-themed float
Ariana Grande warms up with white gloves and white fuzzy earmuffs
Jimmy Choo's stretch-leather boots with scuba-jersey backing are available online at Farfetch and Nordstrom.
Jimmy Choo 'Tamba' Stretch-Leather Over-The-Knee Boots, $1,895
Credit: PNP / WENN / Joel Ginsburg / Adriana M. Barraza