This week's celebrity of focus is the young, international pop star, Ariana Grande.
With her infamous high pony (you like her hair? Gee thanks, she bought it), lush lashes, plump lips, thick brows, and curvy figure, it's hard to think it's all-natural.
For example, reference the below pictures of Grande and see how many differences you can spot for the Thank U, Next singer's appearance.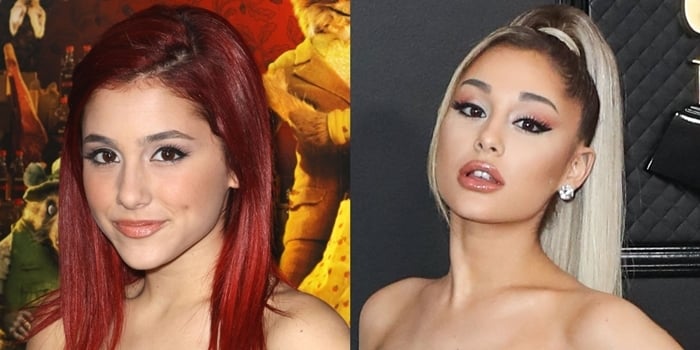 Face before and after rumored plastic surgery: Ariana Grande arrives to the 2009 AFI Festival opening night featuring "Fantastic Mr. Fox" held at Grauman's Chinese Theatre on October 30, 2009 in Hollywood, California (L) and at the 62nd Annual GRAMMY Awards held at Staples Center on January 26, 2020 in Los Angeles (R)
While some of her appearance upgrades can be explained by maturity and some deft contouring, there is plenty left on the table for fans and plastic surgeons alike to question.
According to @exposingcelebsurgery on Instagram, they speculate Ariana has had "lip fillers, a nose job, an eyebrow lift, and a temple lift". When a storm of social media posts brought her nose into question, Ari took to Twitter defending her nose saying it was her "birth nose".
Ariana Grande hilariously shuts down nose job rumours
It seems that the bridge of her nose has at least been slimmed, and her lips are no doubt pumped with fillers on both top and bottom.
According to Medium, it's possible the star has even had chin reduction surgery. They state, "in her teens, her chin was a little bigger and more protruded…the change is not so drastic to be obvious but it is noticeable when comparing old and new photos".
The Skin Care Edit states that when Ariana was 20, there were photos of her lifting her brows without lines. They state, "she is raising her eyebrows to make this expression, then why aren't there any creases on her forehead?
A brow lift would definitely explain this situation—go on and Google "brow lift before and after" and you'll see".
Ariana Grande's face at the Los Angeles Premiere "Justin Bieber: Never Say Never" at Nokia Theatre L.A. Live on February 8, 2011 in Los Angeles, California
They go on to state, "I always felt like something was "off" about her face, but I couldn't put my finger on it. Now that I've examined the photo evidence, my guess is that Ariana had a brow lift (forehead lift), rhinoplasty, and possibly Restylane lip injections.
Though I can't imagine why—I think she was incredibly adorable as a teenager, with her eyebrows right where they were. I suppose, like many child stars, there was pressure to transition from "cute" to "sexy."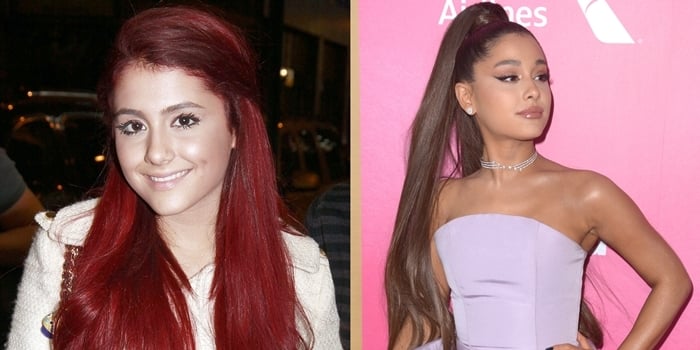 Ariana Grande with red hair in 2010 (L) and with a brunette ponytail at In Music 2018
What a shame that her face has been permanently altered. I can't help but notice that the light has also gone out of her eyes".
Ariana has been in the spotlight since her early teen years on Nickelodeon. While she has grown up before our eyes and undergone a few style transformations like from red hair and thick liner to pouty lips and a high pony, we think she's had more than a little work done, too.
If so, we say it's money well spent as the not even 30-year-old star looks happy, glowing, and fabulous. Just like she sounds.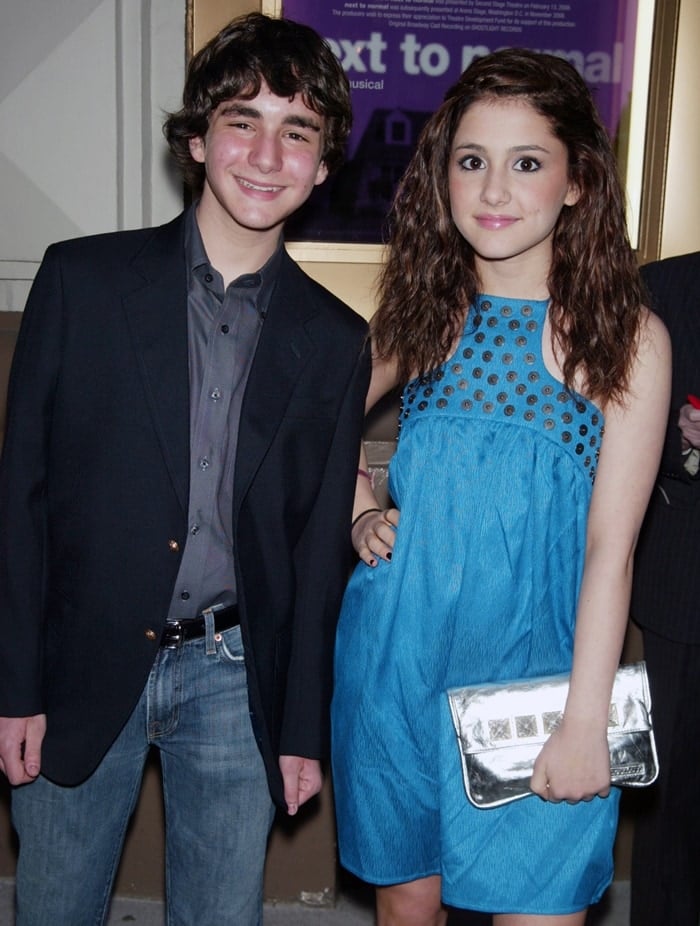 Ariana Grande with her best friend Aaron Simon Gross at the opening night of "Next to Normal" on Broadway at the Edison Ballroom on April 15, 2009, in New York City
Just a few days after attending a PETA event in leather wedge sneakers in January 2014, Ariana Grande tried to be the cutest on the red carpet at the 2014 Grammy Awards.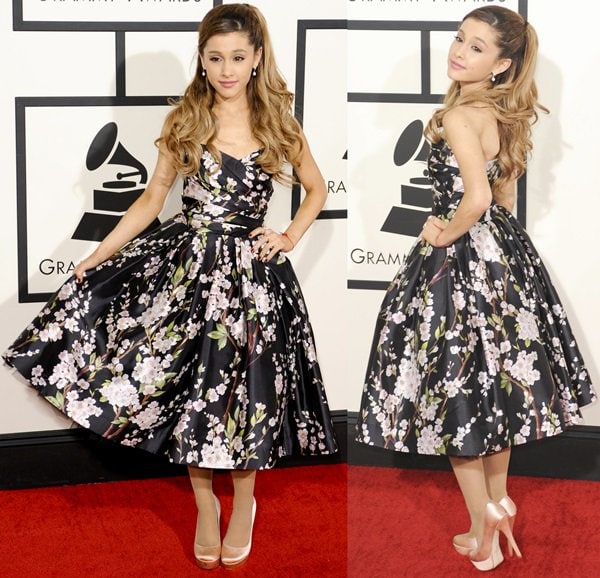 Ariana Grande's black floral dress by Dolce & Gabbana
The American actress, singer, and songwriter donned a black floral dress by Dolce & Gabbana, which she accessorized with Effy and Lorraine Schwartz jewelry.
Both edgy and retro at the same time, her ensemble was also one of the most feminine of the evening. Ariana completed the ensemble with a pair of Aldo satin pumps.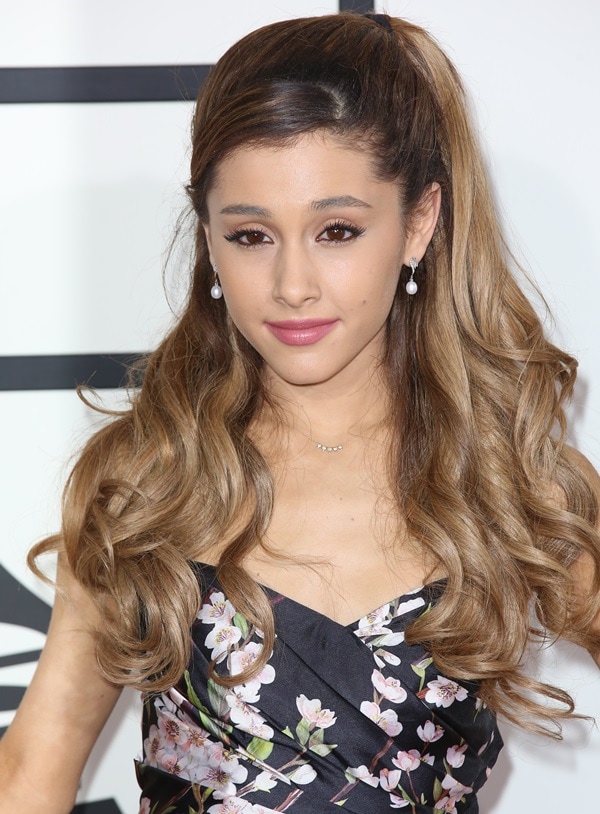 Ariana Grande at the 56th Annual Grammy Awards held at the Staples Center in Los Angeles on January 26, 2014
Unfortunately, as they were dyed by Aldo to complement the flowers on her dress, you will not be able to find Ariana's pumps at Aldo retailers, such as Amazon and Aldo.
Ariana Grande showed off her feet in Aldo satin pumps
Pairing a high-end designer dress with relatively inexpensive pumps was a brave move, but most fashion critics hated them and thought her shoes looked cheap. What do you think?
While Ariana's Aldo heels cannot be purchased online, here are some shoes from the same brand that we found at Zappos:
ALDO 'Bottoni' Black Leather Heels, $97.99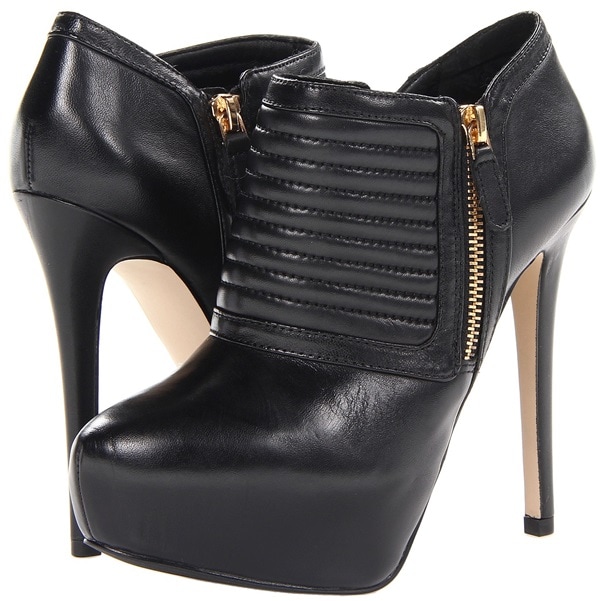 ALDO 'Flosapa' Court Shoes, $84.99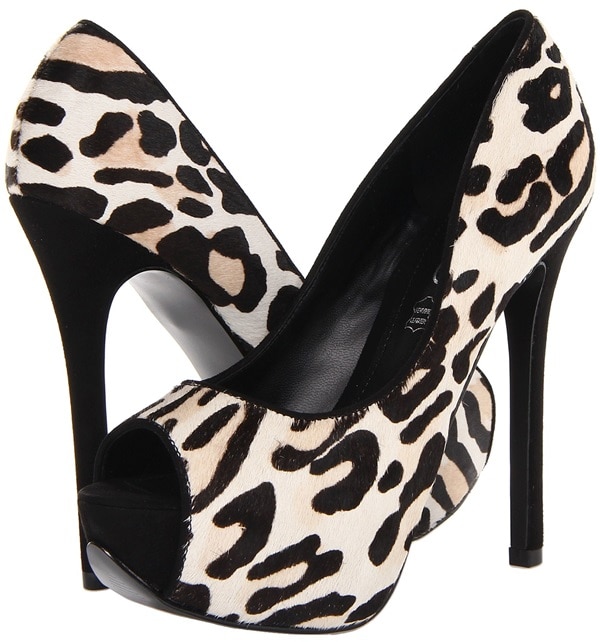 ALDO 'Givens' Open-Toe Heels, $77.99
Credit: SIPA / WENN / FayesVision / Apega / Joseph Marzullo / Avalon / Ivan Nikolov