Dolce & Gabbana is one of the most famous Italian brands in the world. The fashion house personifies the idea of 'La Dolce Vita' – the good life.
Founded in 1985 in Legnano by Italian designers Domenico Dolce and Stefano Gabbana, it has grown from its humble beginnings as a women's ready-to-wear line to a lucrative international brand with an extensive perfume and beauty range.
Dolce & Gabbana is a household name that is synonymous with European luxury. The D&G logo is instantly recognizable and has come to represent the pinnacle of Italian fashion.
The luxury clothing brand is famous for designing the yellow plaid suit that Alicia Silverstone wore as Cher in Clueless.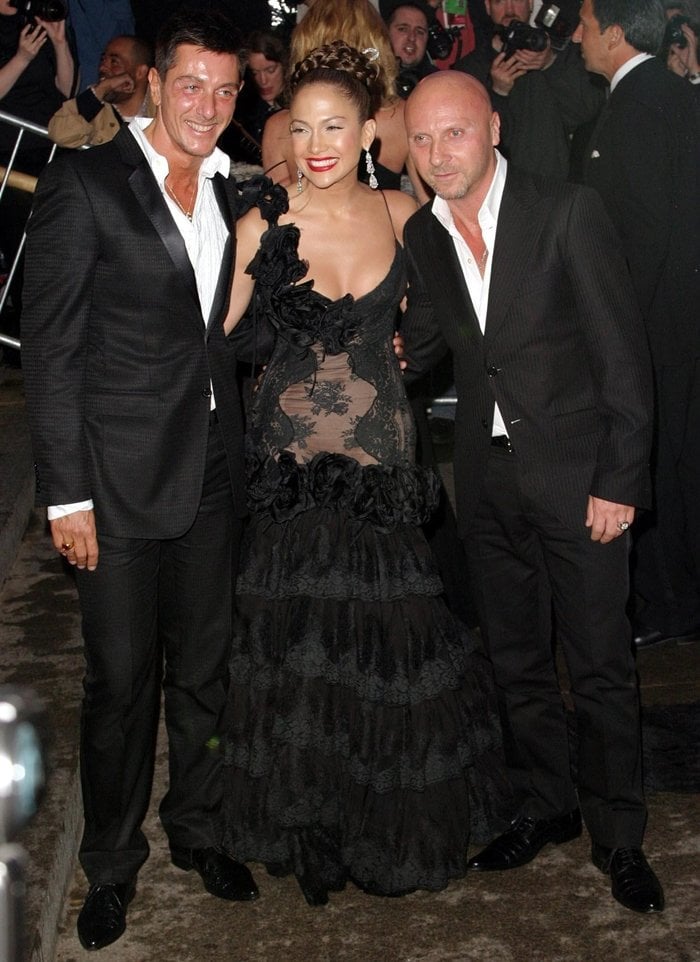 The Sicilian design duo Domenico Dolce (R) and Stefano Gabbana (L) posing with Jennifer Lopez at the 2004 Met Gala (Credit: Joseph Marzullo / WENN)
We will cover everything you need to know about Dolce & Gabbana, from its beginnings in Milan to how to spot a fake D&G product.
The History of Dolce & Gabbana
Dolce & Gabbana began as a consulting studio owned by Domenico Dolce and Stefano Gabbana after the pair met while designing for the same label.
Dolce & Gabbana released their first women's ready-to-wear line in 1985, showcasing it as part of the up-and-coming labels section at Milan Fashion Week.
They entitled the collection 'Real Women,' as the designers couldn't afford to hire models and instead used friends for the show.
While the collection initially did not receive much acclaim, by the launch of the brand's 1992 collection, the fashion journalist Michael Gross had described them as transformative and "a secret known only to a handful of Italian fashion editors."
The brand's fourth collection focused on Domenico Dolce's Sicilian heritage, with the ad campaign taking its inspiration from Old Hollywood and Italian cinema.
The Sicilian dress from this collection would help Dolce & Gabbana break out into the mainstream with its sartorial style. The dress had a slip silhouette, bra-like straps, and a sinch waist.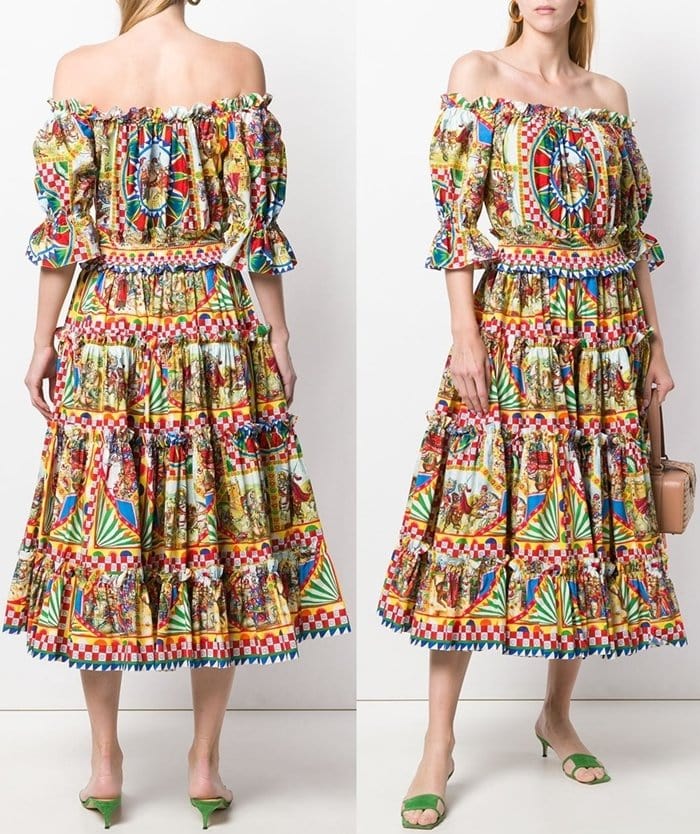 Dolce & Gabbana's wonderfully romantic and feminine aesthetic is showcased through their signature Sicilian prints and stunning florals
Hal Rubenstein would later name it one of the 100 most important dress designs of all time. This dress would represent the essence of Dolce & Gabbana, who would continue to put the Sicilian influence at the heart of their brand.
The Italian brand is unapologetically sensual, launching its leotard line in 1988 and its underwear and swimwear lines the following year.
One of the brand's first international ventures was to Japan in 1990, becoming an instant hit in the Asian market.
1992 saw the release of Dolce & Gabbana's first men's collection, along with their signature Dolce & Gabbana perfume for women, which was an instant award winner. By the end of the 1990s, Dolce & Gabbana was already bringing in half a billion dollars in revenue.
Dolce & Gabbana broke into the mainstream as a household name when they began to design for Madonna in the early '90s. The brand created the gemstone corset she wore to the premiere of Truth or Dare: In Bed with Madonna.
Madonna helped make Dolce & Gabbana famous internationally when she started wearing the brand (Credit: Joseph Marzullo / WENN)
They would create 1,500 costumes for her 1994 Erotica tour. Dolce & Gabbana would continue to partner with Madonna, later releasing a collection of sunglasses in partnership with the singer in 2010 entitled 'MDG.'
Their diffusion brand 'D&G' launched in 1994 with a younger demographic than the mainline. In 2012, the diffusion line 'D&G' was merged with the mainline to strengthen the brand's image.
As the popularity of Dolce & Gabbana grew, the fashion house looked into expanding their ranges. The late 2000s saw the launch of their cosmetics brands, with Scarlett Johansson becoming its global ambassador. Dolce & Gabbana followed in the footsteps of other European fashion houses to launch their fine jewelry collection.
What Dolce & Gabbana is best known for is not their handbags but their perfume. Their fragrances take inspiration from the Mediterranean way of life, with sensual scents for both men and women.
Dolce & Gabbana's most recognizable perfumes include 'The One' and 'Light Blue,' both international best-sellers at Sephora and Amazon.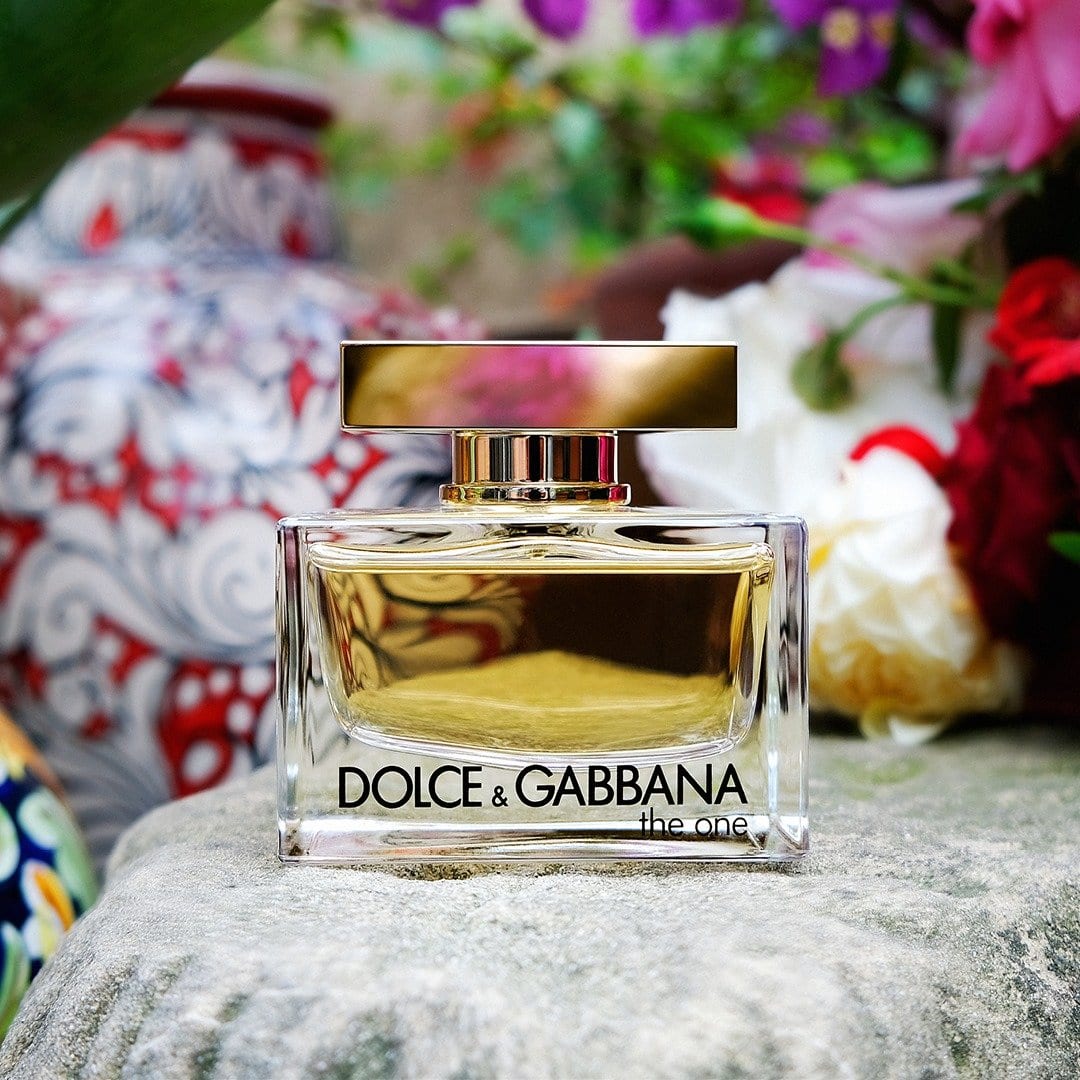 Dolce & Gabbana's The One Eau de Parfum combines contemporary fruit ingredients with the perfumer's classic palette of white flowers
Dolce & Gabbana has had extensive collaborations with brands outside the fashion industry. They have designed the football kit for A.C. Milan since 2004, along with their suits for official team events.
From 2010 to 2013, the brand was also designed for Chelsea F.C., including for its staff members. The mid-2000s saw Dolce & Gabbana collaborate with the technology company Motorola to create their own cellular phone.
They would later collaborate with Sony Ericsson to release a 24-karat gold version of their Jalou phone. Other collaborations include a partnership with the French car manufacturer Citroen to co-design their C3 Pluriel car.
In recent years, they have collaborated with the homeware brand SMEG to create a collection of Sicilian-inspired prints for kitchen appliances.
As an international fashion house, Dolce & Gabbana expanded their brand in 2016 to launch a collection of hijabs and abayas featuring their signature prints and fabrics.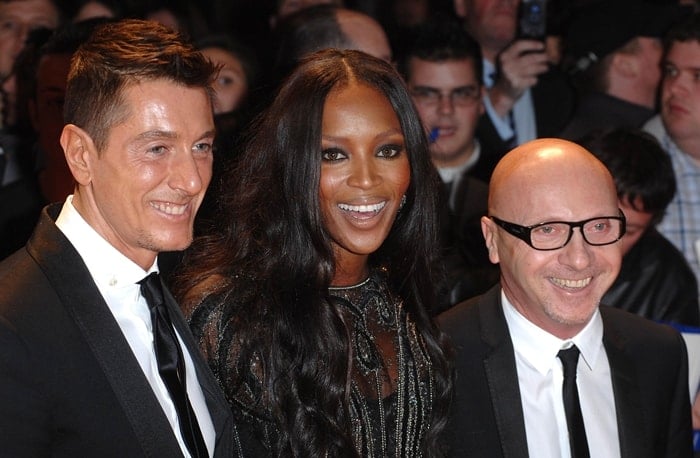 Naomi Campbell posing with Italian designers Domenico Dolce and Stefano Gabbana at Swarovski Fashion Rocks 2007 on October 18, 2007, at the Royal Albert Hall in London, England (Credit: Joseph Marzullo / WENN)
Dolce & Gabbana is the fashion brand that has personified the idea of 'La Dolce Vita,' the key concept behind the golden era of Italian cinema. Their clothing tells a story, with each collection designed as though it were for a film.
Sicily is a major influence on the brand's designs, with fabrics inspired by the region's heritage. Dolce & Gabbana's designs are unapologetically feminine and sensual, revolutionizing the industry by using underwear as outerwear.
Who Owns Dolce & Gabbana?
Let's learn how to say Dolce & Gabbana. You pronounce the brand's name as "dol-chee" and guh-baa-nuh".
The fashion brand is now owned by the parent company Dolce & Gabbana Srl, including its fragrance and accessory ranges. Stefano Gabbana remains the Chairman of the company's board, with Domenico Dolce's brother Alfonso taking over as Chief Executive Officer in 2019.
The brand's COO is Cristiana Ruella. Dolce & Gabbana's succession plan includes Dolce's family taking control of the company. Their plans include keeping the brand within the founder's family instead of selling to investors and continuing to operate as a private company.
The brand's expansion plans include a focus on relaunching the brand in Asia after several controversies in the region.
What brands are like Dolce & Gabbana?
Dolce & Gabbana's primary competitors include fellow European brands, Valentino and Versace. Both are glamorous Italian brands that focus on feminine designs that push the boundaries of fashion.
Versace is similar to Dolce & Gabbana's focus on extravagant fabrics with a European influence. Valentino focuses on using feminine silhouettes, making it a direct competitor in the women's ready-to-wear sector.
The brand would have a similar client base to Salvatore Ferragamo and Prada, both of which focus on Italian influences in their design. For handbags and accessories, another major competitor would be the fellow European brand, Fendi.
You can also compare Dolce & Gabbana to American brands like Tory Burch, which creates similar silhouettes and accessories focusing on understated luxury.
What are Dolce & Gabbana famous for?
Dolce & Gabbana is the brand that made 'Mediterranean fashion' its own genre in the industry. Their inspiration comes from the 1963 film 'The Leopard' by Luchino Visconti.
They are famous for looking at their Italian heritage for inspiration while creating innovative designs.
Their bold prints, typically incorporating Sicilian heritage, such as lemons, are instantly recognizable. Dolce & Gabbana's signature handbag is the Sicily, a large top-handle leather satchel bag. The brand releases new colors and prints of the bag each season.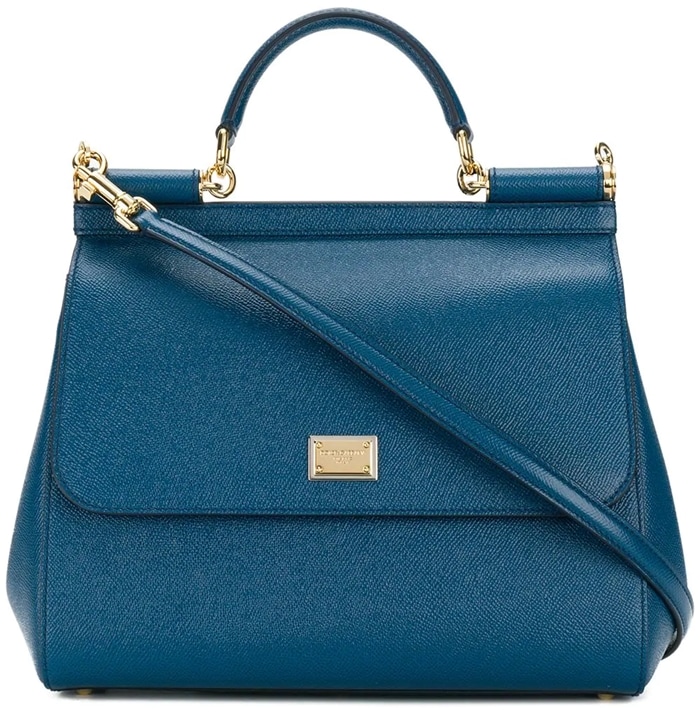 Dolce & Gabbana's signature Sicily handbag pays tribute to the beauty of the Italian design duo's native Sicily
While luxury houses are typically known for their fashion design, Dolce & Gabbana is perhaps best known for its extensive collection of perfumes.
Their original scent 'Dolce & Gabbana Pour Femme' won the Perfume Academy's award for Best Feminine Fragrance of the Year in 1993. The male version of the perfume would win the same prize in 1995 for men's fragrance.
The Dolce & Gabbana perfume collection is one of the most extensive of any luxury fashion house, including the cult-favorite 'Light Blue' scent.
Dolce & Gabbana's Light Blue fragrance line was launched in 2001 and has won numerous fragrance-industry awards
Most of their fragrances have a male and female equivalent, with several scents launching into their own diffusion range.
In 2006, Dolce & Gabbana launched their first beauty collection, one of the first luxury fashion brands to venture into the industry. The packaging incorporates the brand's glamorous aesthetic, focusing on classic makeup trends.
How can I spot a fake Dolce & Gabbana product?
Like every luxury fashion brand, Dolce & Gabbana is the victim of counterfeit products. The best way to guarantee an authentic Dolce & Gabbana product is to buy from the brand directly or one of their official stockists.
If you're purchasing a Dolce & Gabbana item pre-loved from a vintage store or second-hand website, there are a few things that you should keep an eye out for.
If the price is too good to be true, it usually is. Dolce & Gabbana is one of the most expensive fashion brands in the world.
If you see a product sold for a fraction of its retail price, you should hear an alarm bell ringing. This rule is particularly true if it's a newer product still available from the band directly.
These metallic Keira sandals are made in Italy and set atop the house's iconic D&G baroque heels
You always want to check how the logo and packaging are presented on the item. Check that the brand uses the font and spells the name correctly.
If you're purchasing a product with a box, the manufacturer information should match that on the item. Products such as sunglasses should have an accompanying guarantee card and care booklet.
It's important to note that unlike brands like Chanel, Dolce & Gabbana do not add serial codes or RFID tags to their handbags.
Dolce & Gabbana's products are made in Italy. If you see another country listed as the origin of an item, you should instantly become suspicious.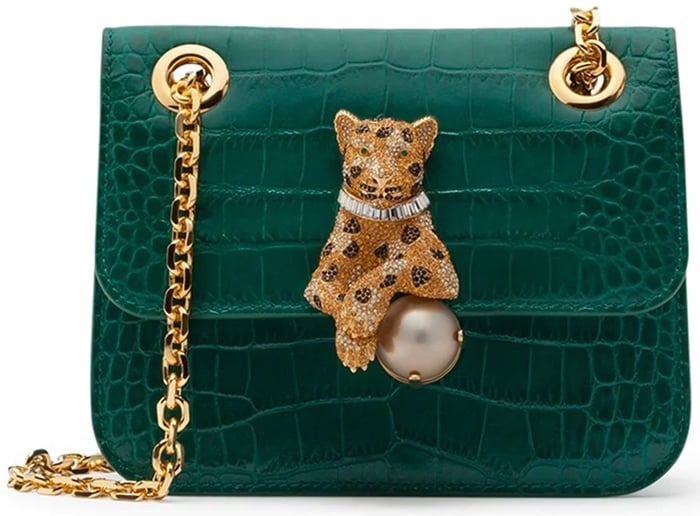 Dolce & Gabbana's dark emerald green pearl tiger crossbody bag is made from alligator leather and lambskin
As sunglasses are one of the most common counterfeit items, you'll want to pay particular attention to minor details.
The left arm of the sunglasses should feature the model number and the lens and frame measurements. On the right arm, you should find the brand's name and 'Made in Italy'.
You should always examine the quality of the item that you're purchasing. If you see obvious flaws in the manufacturing, such as with the stitching or label, it's likely a fake.
The right arm of Dolce & Gabbana sunglasses displays the brand's name and 'Made in Italy'
Dolce & Gabbana is a luxury Italian brand famous for its high-quality products. On handbags like the Sicily, the rings should always be solid and whole. Any gapping is an instant red flag.
T-shirts carrying the 'D&G' logo are one of the most popular counterfeit designs. A quick glance at those available from official stockists will show that the logo branding rarely appears in a graphic format.
Authentic white cotton logo T-shirt from Dolce & Gabbana featuring a round neck, short sleeves, and a slim fit
If the label says 'Made in China' or 'Made in Turkey,' you can write it off as a fake. Be aware of websites selling super fakes, which look practically identical to the authentic product, recreating the packaging and item more accurately than other counterfeits.
Where are the best places to buy Dolce & Gabbana products?
If you want the complete Dolce & Gabbana experience, the best place to buy their products is directly from the brand. You can purchase their products directly from their official online website.
If you intend to buy online, make sure it is from the official website, not a cleverly disguised counterfeit website masquerading as the brand. Dolce & Gabbana have sales throughout the year, and their products are available at Nordstrom Rack.
Dolce & Gabbana is a brand available at practically every luxury department store, with its beauty and fragrance range available widely through stores like Walmart.
Department stores like Nordstrom and Saks Fifth Avenue offer the entire Dolce & Gabbana range, including collaboration products like the SMEG line.
You can also buy Dolce & Gabbana from official stockists such as Matches Fashion, Mytheresa, Harvey Nichols, and Farfetch.
If you're considering buying Dolce & Gabbana products pre-loved, you have several options. It's best to look at websites like Vestiaire Collective, which can offer an authentication service to guarantee that the product is genuine.
If you decide to look for vintage Dolce & Gabbana products at second-hand stores, you'll want to make sure that you research the brand's signature design elements and understand how to spot a fake item.