Italy may be the home of pizza, pasta, and gelato – but it is also the birthplace of some of fashion's most iconic designers and fashion houses. Italy has a rich heritage as one of the leading countries for fashion manufacturing.
Whether it's fine silks or premium leathers, Italy develops most of the luxury fashion you see today. Even brands that aren't Italian – like Chanel – choose to use the country as one of their manufacturing bases to facilitate their global production.
Unsurprisingly, Italy has firmly established itself as one of the foremost fashion hubs globally. Milan Fashion Week is a premier highlight on the fashion calendar, generating immense buzz and anticipation. Italian fashion, however, extends its influence far beyond what one might initially perceive.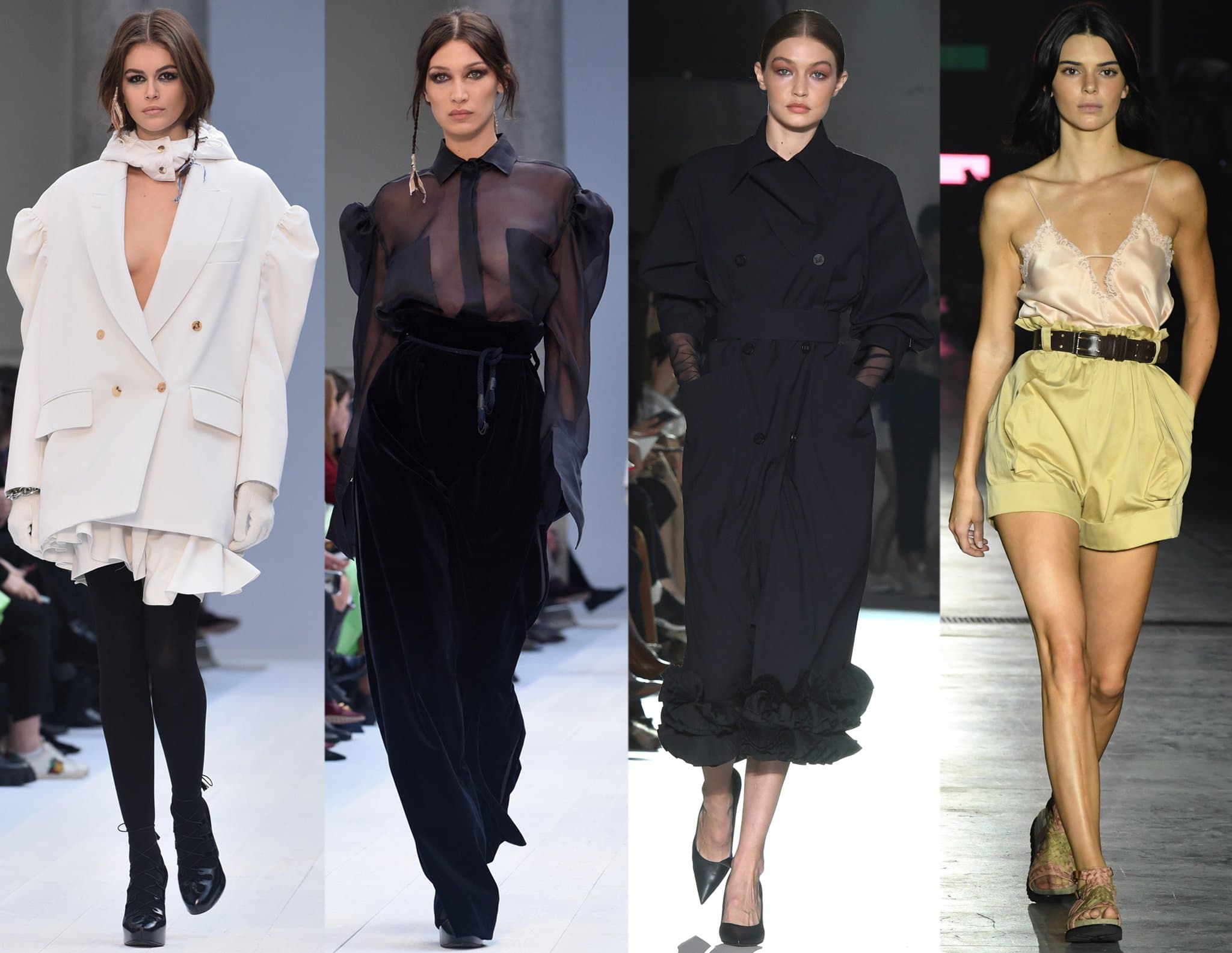 Kaia Gerber, Bella Hadid, Gigi Hadid, and Kendall Jenner on the runway during Milan Fashion Week (Credit: Laura Villani / WENN)
From the comeback kid of Bottega Veneta to the always on-trend Gucci and Versace's recognizable Medusa head logo. They all hail from Italy, showing the versatility of the country's fashion.
Italy has nurtured some of history's most famous fashion designers and houses. No luxury shoe collection is complete without at least a few of the illustrious 'made in Italy' shoes.
The classic 'made in Italy' stamp instantly raises the price of an item – showing just how much pull Italy has on the fashion industry.
From one-of-a-kind jewelry to seductive footwear and timeless handbags, Italy is the birthplace of some of the most sought-after fashion pieces in the world.
We're taking an in-depth look at some of the most famous Italian fashion houses, their origins, and their signatures. You might even find the inspiration for your next shoe perhaps. Read on to see an overview of the 20 most popular Italian brands.
1. Bottega Veneta: From Humble Beginnings to Global Stardom
Meet the comeback kid of fashion. Bottega Veneta has had a rough few years before jumping back onto the fashion scene as the must-have brand that everyone should see you wearing.
Bottega Veneta, which means "Venetian workshop" in Italian, was founded in 1966 in Vicenza, Veneto
Bottega Veneta translates into 'Venetian Workshop' or 'Venetian Atelier'. It was launched in 1966 by Michele Taddei and Renzo Zengiaro, specializing in making small Italian leather goods and accessories.
While the brand has not shifted to providing menswear and womenswear, it's still famous for its use of Italian leather.
While Bottega Veneta is famous for its signature Intrecciato weaving technique, the fashion house also offers a variety of fashion pieces crafted from different materials
One of the signature elements of Bottega Veneta's craftsmanship is the Intrecciato leather, distinguished by its intricate hand-woven technique that creates a captivating cross-hatched pattern, lending each piece its distinctive and tactile texture.. It was in the face of plunging sales and the switch from the minimalism of the '80s to the minimalism of the '90s.
The brand has changed its logo and prints several times to meet its ever-evolving aesthetic. Some bags feature the oversized 'BV' impersonation that they would rather sit and sip on cocktails than see a piece being made.
Pronounced Bo-TAY-ga VAN-ah-ta instead of ven-ETT-a in Italian, Bottega Veneta has become the global powerhouse it is today while staying true to its humble beginnings.
In 2001, Bottega Veneta was acquired by Gucci Group and is now a part of the French conglomerate Kering.
2. Giorgio Armani: The Quintessential Italian Fashion House
You probably think of advertisements with football players standing in their underwear. Giorgio Armani is the European take on minimalist all-American Calvin Klein – although it's so much more than just underwear.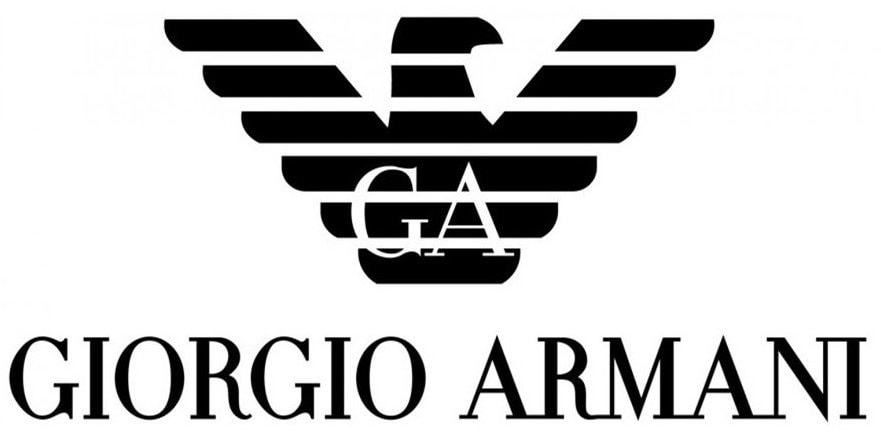 Giorgio Armani is a family-owned fashion house with several sub-labels
Giorgio Armani has several diffusion lines, offering something to work with every price tag.
Armani is one brand that needs no introduction. It offers something for everyone, making it one of the most versatile collections on the market.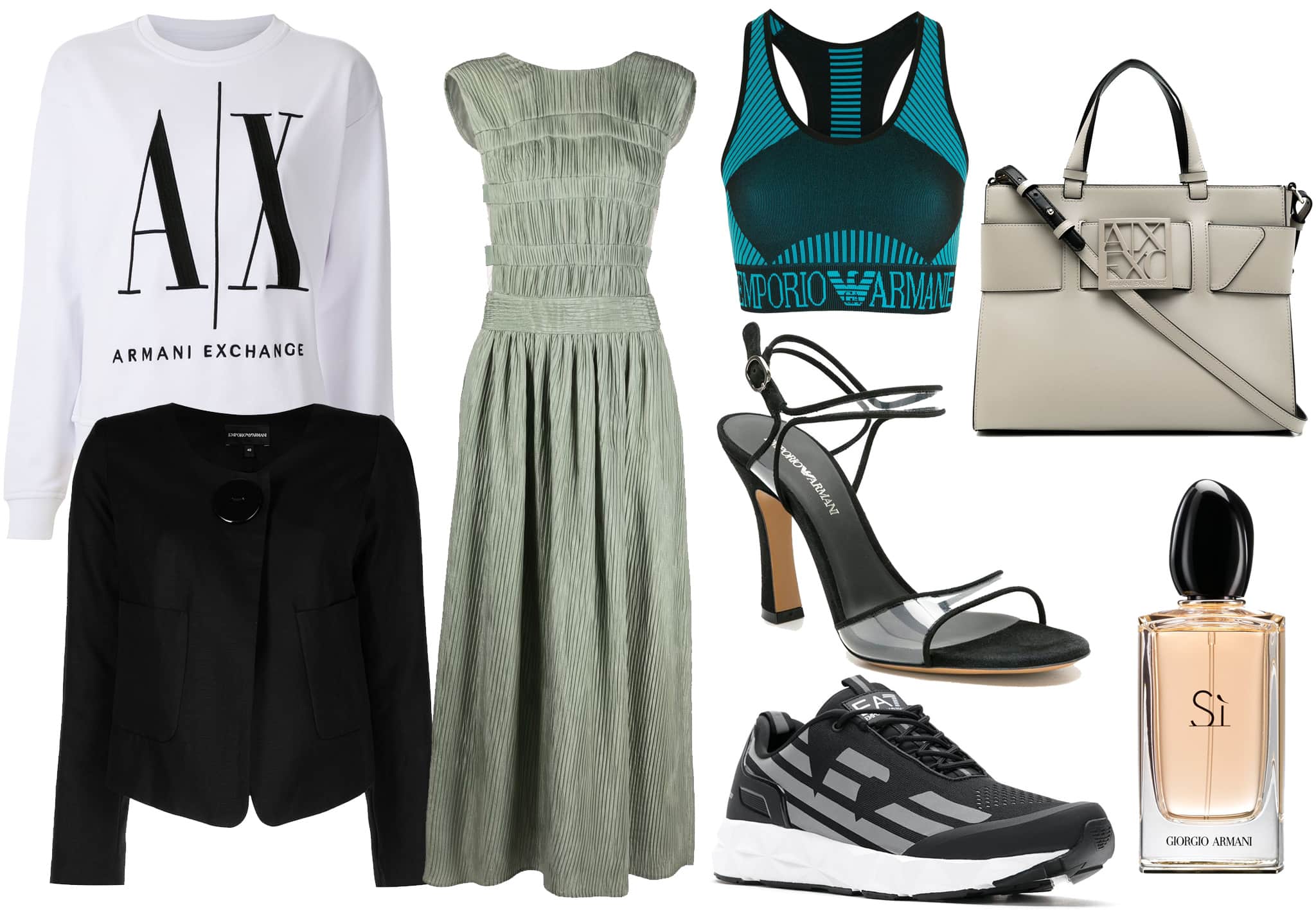 Giorgio Armani has everything– from clothes to shoes, perfumes and accessories
The Armani brand began in 1975 with a design vision to meet the needs of everyday individuals. You'll find several diffusion lines from the Gorgio Armani fashion house, including Armani Exchange, Armani Jeans, Emporio Armani, and EA7.
The beauty of this Italian fashion house is that it is still owned by the family. Giorgio Armani captures the seduction and natural flirty flare that comes with living in Italy.
His designs feature the same glamorous twist, representing the needs of the fashion community. The Armani aesthetic is effortlessly chic, softly spoken shades and toned-down clothing.
3. Gucci: From Luggage to TikTok Stardom
If there's one fashion house that might be the king of TikTok, it's Gucci. The brand is one of the oldest operating Italian fashion brands after being styled by a beauty artist.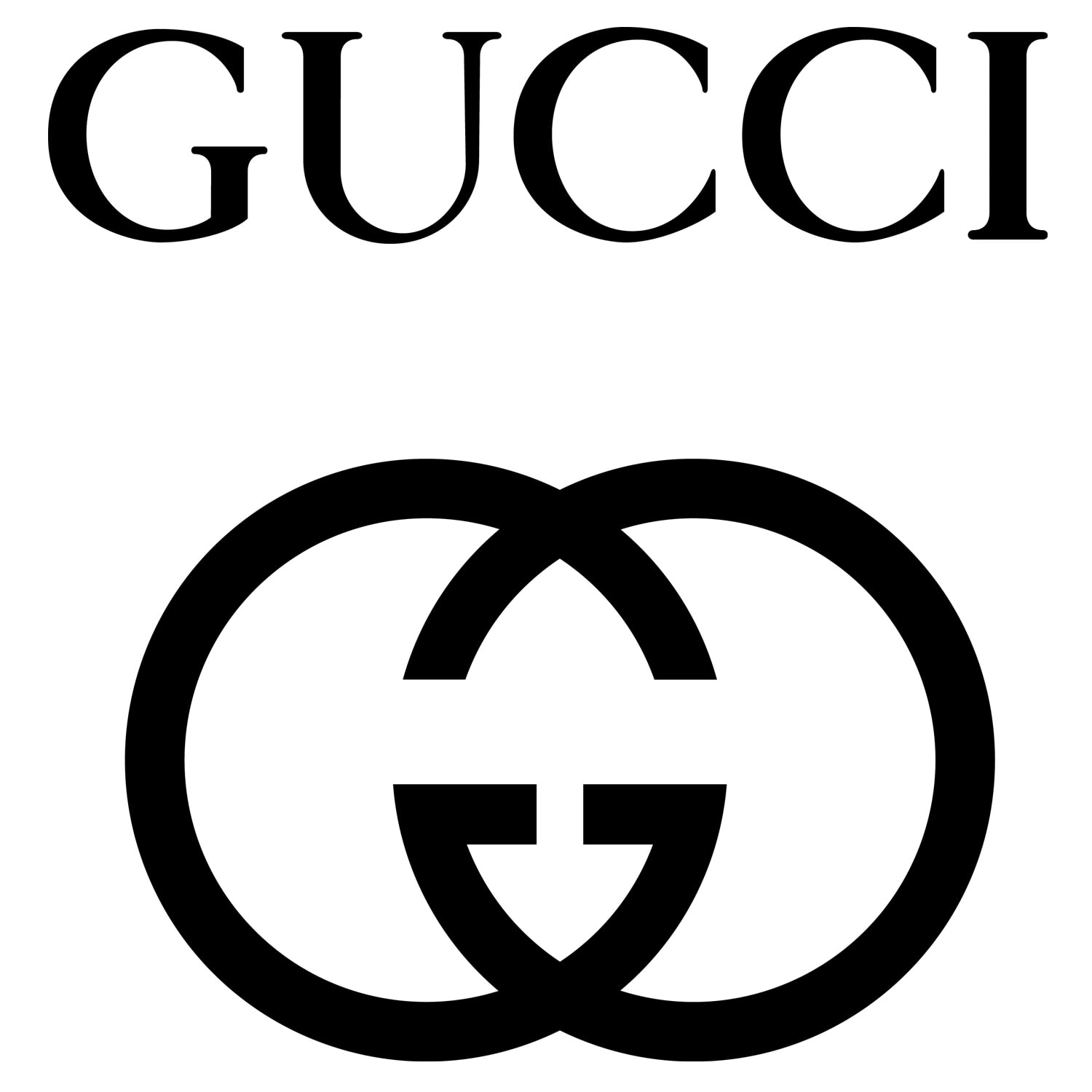 Gucci's interlocking G logo, which is the initials of Guccio Gucci, has become synonymous with luxury and sophistication
Gucci was launched in 1921, with a focus on luggage to meet the needs of the luxury lifestyle of those he met while traveling across the world.
From these early days, Gucci's aesthetic has included the Tuscan local craftsmanship. This is evident in the use of high-quality materials and attention to detail, which are hallmarks of the brand. Gucci is also known for its innovative designs, which often feature bold colors and patterns.
In addition to its fashion, Gucci is also known for its fragrances. Gucci Guilty is one of the brand's most popular fragrances, and it is known for its sensual and provocative scent. The aroma is often associated with awkwardness in-store, which can overwhelm some shoppers. However, Gucci Guilty is a popular fragrance for a reason, and it is sure to please those looking for a bold and unforgettable scent.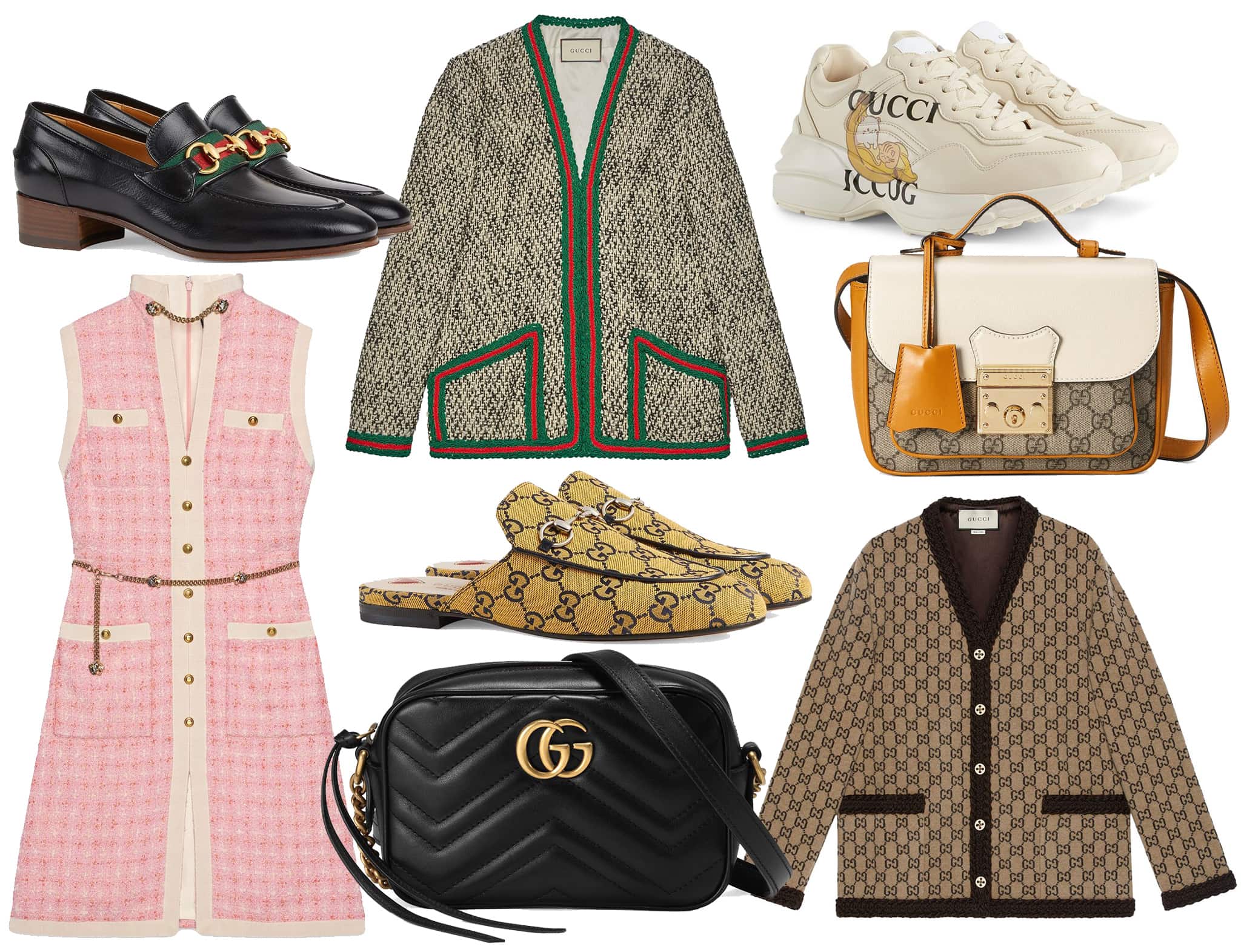 Gucci's signature designs include the interlocking double G logo and the green-and-red stripes
Like other European brands, the origin story for Gucci includes horses and the equestrian community. The horse bit logo comes from the horse-riding industry, making it an iconic and recognizable staple of any outfit.
In 1994, American designer Tom Ford took over as Creative Director and took Gucci through its own approach. The Gucci we know and love together came from the current Creative Director, Alessandro Michele.
Alessandro Michele has shifted his focus on celebrating the extraordinary with high-fashion pieces incorporating the green and white stripe and a green monogram.
You can thank Alessandro Michele for reimagining the fashion house.
4. Heritage Italian Fashion House: Fendi
When it comes to heritage Italian fashion houses, Fendi is at the top of our list. A husband-and-wife duo of Edoardo and Adele Fendi launched it in 1925. Fendi originally focused on fur and leather goods.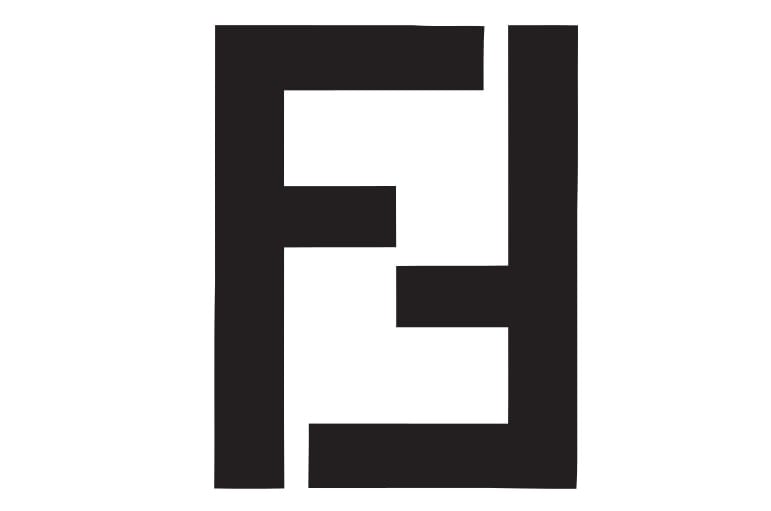 The double F logo was created by Karl Lagerfeld when he joined the fashion house in 1965
The brand catered to a luxury audience and the jet set of Rome. The famous double-F monogram is recognizable globally, just as much as the interlocking LV or CC from Louis Vuitton or Chanel.
What makes Fendi unique is its ownership and creative direction. In the 1940s, Fendi was handed down to the next generation of the family.
You'll find the signature double F logo design on almost every Fendi fashion piece
For twenty years, the five Fendi sisters oversaw the direction of the Fendi brand. It all changed in the 1960s when Karl Lagerfeld was brought on board.
While Lagerfeld is most often associated with Chanel, he pushed the boundaries at Fendi and redefined the idea of fur in fashion. Lagerfeld remained the Creative Director of the company until he died in 2019.
Whether it's micro bags or small leather goods, Fendi has produced some of the must-have pieces of the season, growing on its heritage as a luxury Italian-made brand.
Fendi was purchased in the 1990s and brought within the LVMH house, cementing its place as a globally recognized luxury brand.
5. Marni's Journey from Fur to Ready-to-Wear
Founded in 1994 by Consuelo Castiglioni, Marni is one of the youngest Italian brands on our list. This brand has a younger audience and incorporates contemporary designs into its work.
Marni is widely recognized for its women's, men's, and children's ready-to-wear and accessories collections
Marni began as a brand to experiment with the furs and textiles produced by Castiglioni's family fur business. The brand quickly branched out and entered the world of ready-to-wear, accessories, and jewelry.
Marni offers contemporary designs that are well-received by its younger customers
One of Marni's most famous segments is their shoes, with the brand often behind the 'it' shoes of the season.
One of the most popular current products from the Marni range is their signature sneaker. While the Marni's Sneaker takes obvious inspiration from several Adidas silhouettes, it's become one of the fashion house's most popular items.
6. Miu Miu: A Playful Prada Offshoot
Miu Miu is the sister company of Prada (more on them later!) and was founded in 1993 by Miuccia Prada.
Miu Miu is a high-fashion brand founded by the granddaughter of Mario Prada, Miuccia
This Prada offshoot is famous for its handbags and ready-to-wear, although none of the bags we viewed would be considered as a collection that works for everyone.
Unlike Prada, which is known for its sophisticated designs, Miu Miu's fashion pieces are more on the girly end
The Miu Miu aesthetic is the polar opposite of Prada's – using color, shape, patterns, and sparkle. What makes Miu Miu a unique Italian brand is that Japan is its strongest market.
While it does not qualify as 'maximalism,' it incorporates everything from chains to sequins and fur into their garments and accessories.
The brand is a testament to the talent of Miuccia Prada, who was able to move seamlessly between two fashion brands on opposite ends of the fashion spectrum.
7. Palm Angels: A New Star on the Italian Fashion Horizon
Italian fashion brands aren't all established houses. One of the most exciting names in Italian fashion is the evolving Palm Angels.
This streetwear brand may be in its infancy, but it is quickly leaving its mark on the fashion industry.
Palm Angels was founded in 2015 by Francesco Ragazzi, who previously worked for Moncler
Palm Angels takes its inspiration from the skateboard culture of Venice Beach and Manhattan Beach, which form the name of the project he had been working on at the time.
Palm Angels is a high-end streetwear label that has become a favorite among athletes and celebrities across the globe
The versatility of Palm Angels as a next-generation 'made in Italy' brand means that it truly has something to offer everyone.
Its blend of grunge and sophistication means Palm Springs is only a few collections away from fully stocking your closet.
You'll find everything from contemporary silhouettes to camouflage patterns and daring cuts within this brand, which is key to leave its mark behind on the fashion industry at large.
8. Prada: A History of Luxury and Innovation
Prada launched in 1913 with Mario Prada, who was quick to make a success of his newfound fashion.
The brand began with a focus on luxury leather goods, earning the symbol representing their status as a supplier to the Italian royal household within a few hours.

Prada is known for its understated high-class elegance and quality luxury goods
What makes Prada unique is that it's another previously family-owned business. In the 1970s, Prada entered a league of its own when Mario's granddaughter, Miuccia Prada, was playing outside.
Prada shows its trademark minimalist style into its every design
The Prada brand has come to define what we think of elegance, effortless chic, and aesthetics. You never know what to expect from Prada and its minimalistic fashion range.
The current 'it' collection within the Prada house is its recyclable nylon range and the OG handbag designs from 2005 and 2009.
9. From One-Man Show to Global Icon: The Enduring Legacy of Valentino
Valentino started as a one-man powerhouse before becoming one of the most famous Italian brands in the world. Do you own a pair of Rockstud (or inspired) heels?
Valentino was created in 1960 by Italian fashion designer Valentino Garavani
Chances are that you could recognize a Valentino design in the wild. Valentino Garavani started designing at an early age before enrolling in formal education in Paris. (yep, it was expensive!)
The Valentino fashion house launched in 1960 and quickly began to make its statement as a brand everyone needs to know. The brand has severed everyone from Hollywood royalty to European royalty, even designing wedding dresses for several Princesses.
Valentino is known for its edgy yet elegant designs
'Valentino Red' is the brand's signature shade and just as recognizable on its packaging and products as the aesthetic of other famous brands like Chanel and Christian Louboutin.
Valentino is the reason why Italian designers are thought of as ostentatious. While the brand has been successful since its early years, its Rockstud collection is the reason for its modern success as its must-have product range.
10. Versace: The Epitome of Glamorous Luxury
Their Medusa head might be one of the most recognizable logos in the world. It strikes a different chord than the other classic Italian fashion houses.
Versace was founded in 1978 by Gianni Versace, but it was only in 1993 that the Medusa logo was introduced
While brands like Valentino are ostentatious, Dolce & Gabanna is more glamorous. Versace straddles the two, capturing a luxury audience with elevated everyday essentials from your closet.
The Versace woman isn't afraid to make her presence known – even if it involves ruffling a few feathers in the process. Versace was founded in 1978 by Gianni Versace, instantly becoming one of the most famous Italian brands in the world.
Versace's signature is its use of bold patterns and vibrant prints. It plays heavily into the idea of Greek mythology, with the medium head slowly making its way back into the mainstream of the collection.
Following Gianni Versace's murder in 1997, his sister – Donatella – oversaw the shift to Versace becoming a 'larger than life' party. The brand has now become an advocate for LGBT rights.
Versace designs feature bold patterns and vibrant prints, usually incorporating the Medusa emblem
The bold designs of the Versace print – such as their unique silk shirts – didn't leave my friends feeling warm and secure inside.
For years, Versace remained in the primary ownership of the Versace family before being sold to the Michael Kors Group for $2.1 billion. The acquisition shows the success of Versace and the strategic role it can play in a young conglomerate with a few household brands.
11. Max Mara: A Pinnacle of Contemporary Ready-to-Wear
Max Mara was launched in 1951 by Cavaliere Achille Maramotti, becoming one of the most recognizable and prestigious fashion houses in the world, with an international reputation.
The brand is synonymous with its contemporary ready-to-wear and tailoring, which sits at the heart of the brand's DNA.
Cara Taylor, Gigi Hadid, Joan Smalls, and Irina Shayk walk the runway at the Max Mara fashion show during the Milan Fashion Week – Spring / Summer 2022 on September 23, 2021, in Milan, Italy (Credit: MEGA / WENN)
Since the late 1960s, Max Mara has been expanding its industry presence with several diffusion brands, including Sportmax and Weekend by Max Mara.
The Max Mara fashion house now contains 35 brands, although the focus remains on womenswear. While the fashion house is famous for its tailored coats, its footwear features the same sleek silhouettes and understated elegance.
Max Mara is considered the largest of Italy's fashion houses and represents style, quality, and luxury. The tailoring at the heart of Max Mara's designs has been passed down from the Maramotti family and its founder's mother and great-grandmother.
Kaia Gerber walks the runway during the Max Mara fashion show as part of Milan Fashion Week Fall/Winter 2020-2021 on February 20, 2020, in Milan, Italy (Credit: KIKA / WENN)
The fashion house recently celebrated its 70th anniversary with collections inspired by the brand's origin. Max Mara is the go-to brand for women who want practical and beautiful designs. Their rural-meets-urban designs offer sensible silhouettes combined with Italian tailoring.
12. Fausto Puglisi: A Rebellious Designer with a Passion for American Glamour
Fausto Puglisi approaches fashion without boundaries, describing himself as a "Fausto Puglisi". The designer was born in Sicily but fell in love with American films, inspiring a lifelong affiliation with America.
At the age of 18, he took five dresses made by local Messina tailors and took them to Saks Fifth Avenue to sell.
Puglisi got his big break in 2010 when he partnered with Domenico Dolce and Stefano Gabbana on their Spiga 2 project. His rise within the fashion industry was turbocharged when he became Creative Director of Emanuel Ungaro in 2012, with his eponymous label launching in 2013.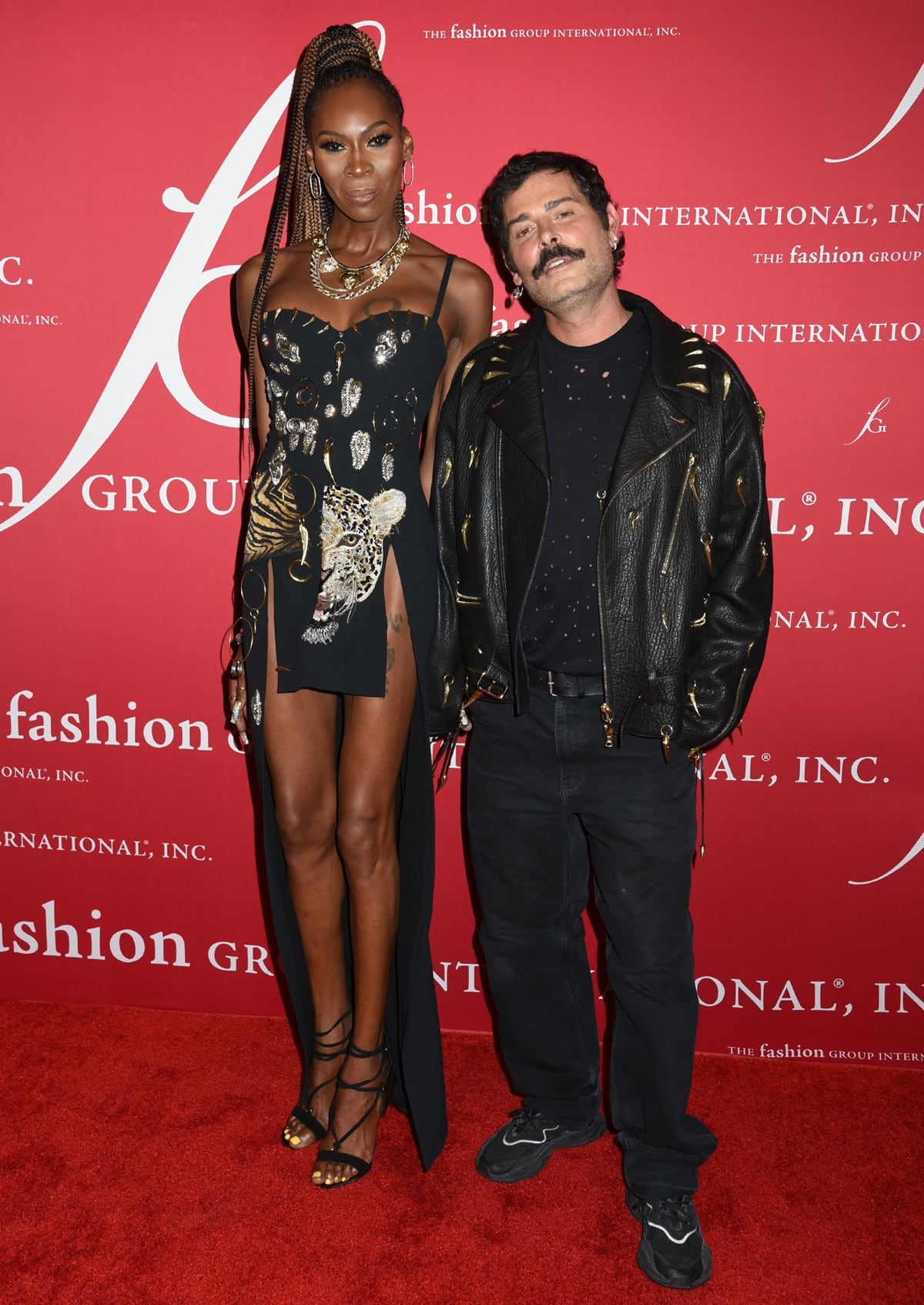 Dominique Jackson and Fausto Puglisi attend Fashion Group International Night of Stars 2021 at Cipriani South Street on October 13, 2021, in New York City (Credit: MEGA / WENN)
In 2020, Fausto Puglisi was appointed Creative consultant of Roberto Cavalli, bringing new bold designs to the brand. If you're searching for footwear that blends sensuality and high fashion with a twist of originality, then Fausto Puglisi is for you.
The eponymous brand and its designer are known for creating energetic styles that help you unlock your inner confidence, incorporating cultural influences with impeccably designed silhouettes and unique prints.
Although an Italian designer, Fausto Puglisi's designs can be found everywhere from Hollywood to New York as a firm favorite brand amongst a-list celebrities who appreciate a theatrical moment.
13. Emilio Pucci: A Master of Color and Effortless Elegance
If you're a fan of kaleidoscopes of color, you'll already be familiar with Emilio Pucci. This eponymous Italian fashion brand is known for its geometric prints and classic Italian styling. The brand was launched in 1947 by Emilio Pucci, with the first boutique opening in Capri in 1950.
As a Florence native, Pucci reimagined womenswear with a revolutionary perception of the modern woman, blending style and personality to reinvent elegance as being effortless, spontaneous, and joyful. Pucci and the fashion house are synonymous with its use of color and blending comfort with high fashion.
Amber Heard, Lisa Snowdon, and Rita Ora wearing outfits by Emilio Pucci (Credit: WENN / Lexi Jones / Joe Alvarez / Derrick Salters)
Emilio Pucci was affectionately known as 'Prince of Prints', combining the joy of color with streamlined designs and silhouettes. The brand is credited for creating everything from the first leggings to caftans and foulard shirts.
Now part of LVMH, Emilio Pucci is one of the most sought-after luxury brands in the world. The brand continues to produce designs incorporating playful femineity with contemporary symbolism, allowing you to look at fashion in a new light. Emilio Pucci is a staple brand for you if you're a fan of classic Italian design with a feminine feel.
14. Cesare Paciotti: A Legacy of Italian Shoe Design
Cesare Paciotti is an Italian shoe designer whose eponymous brand offers everything from leather goods to contemporary accessories. His dagger logo is instantly recognizable throughout the fashion industry. Footwear design runs in Paciotti's blood as his father founded a shoe company in the late 1940s, which Paciotti inherited in 1980.
The company was duly renamed 'Cesare Paciotti' in 1980 when he took control, overseeing the creative elements of the company, while his sister oversaw operational matters. The Cesare Paciotti company has three labels within its fashion house, including Cesare Pacittoi, Cesare Paciotti 4US, and Cesare Paciotti Jewels.
Paris Hilton goes shoe shopping at the popular Cesare Paciotti shoe store in Milan (Credit: star.press / WENN)
Cesare Paciotti describes itself as "a dynamic brand with creative products and revolutionary advertisements". This "anti-conformist brand" breaks the so-called fashion rules in contemporary fashion, creating simplistic designs that encapsulate the idea of Italian luxury.
The shift in Cesare Paciotti came in 1990 when Cesare transformed the brand's women's collection by introducing feminine designs and moving away from the traditionally masculine shoes. These designs focus heavily on the classic high stiletto heel, incorporating unapologetically feminine silhouettes with seductive cuts.
Celebrities including Paris Hilton, Serayah Ranee McNeill, Lea Michele, and Nikki Reed have all been spotted wearing Cesare Paciotti heels.
15. A Tale of Two Designers and a Global Fashion Phenomenon: Dolce & Gabbana
One of Italy's most recognizable fashion houses, Dolce & Gabbana, was founded in 1985 by Domenico Dolce and Stefano Gabbana.
The two designers had met in the early 1980s while designing at the same fashion house before creating their own consulting studio. Over time, they became known by their surnames – "Dolce and Gabbana'.
Their first collection was presented in 1986, with their first store opening its doors a year later. The brand's Mediterranean aesthetic has won the world over, drawing on the Sicilian heritage of its designers.
Animal rights activists during an Anti-Fur March in front of the Dolce & Gabbana store on Fifth Avenue in New York City on October 9, 2021 (Credit: MEGA / WENN)
One of their most famous designs includes taking the traditional masculine tailored suit and making it a modern symbol of female power.
Dolce and Gabbana are known to play with sexy and sartorial concepts, blending the two together with an infusion of Italian culture.
The Dolce and Gabbana brand has grown into a global powerhouse, with several diffusion lines being launched throughout the years.
D&G and Dolce & Gabbana existed as two separate lines before being merged under the 'Dolce and Gabbama' name. The brand has been closely linked with celebrities like Kylie Minogue and Madonna, for whom the brand has created several tour outfits and red-carpet dresses.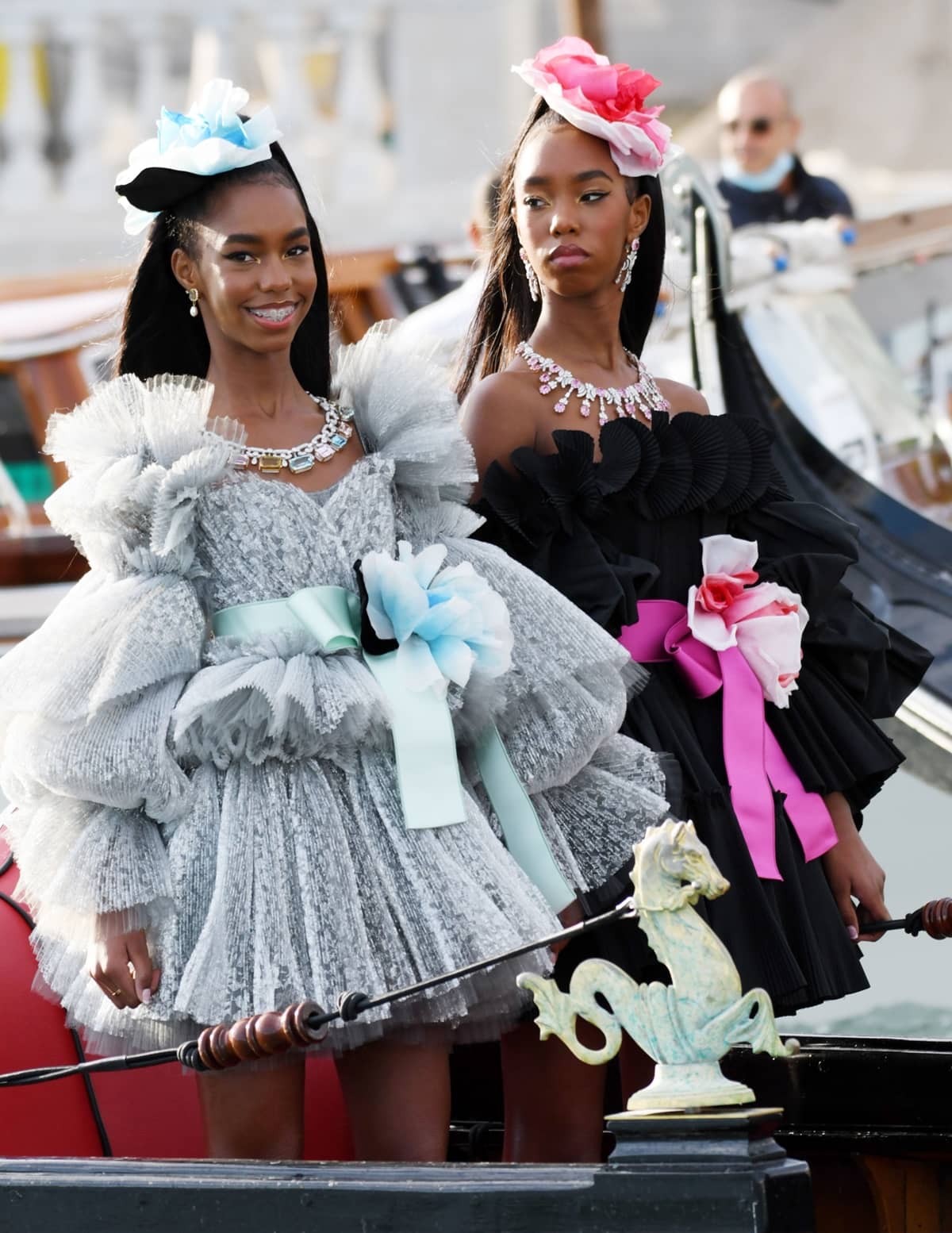 Sean "Diddy" Combs's twin daughters, D'Lila Star and Jessie James, arrive at the star-studded Dolce & Gabbana 2021 Alta Moda runway show in Venice, Italy, on August 29, 2021 (Credit: MEGA / WENN)
Some of the most recognizable faces in the world, including Scarlett Johansson, have represented the brand as global ambassadors. Dolce and Gabbana is feminine seduction meets Italian style with a classic Mediterranean flair.
16. Giambattista Valli: A Fashion Visionary With a Passion for Couture
Giambattista Valli is an Italian fashion designer known for his semi-annual Haute couture and ready-to-wear collections that are shown at Paris Fashion Week. Born and raised in Rome, Valli launched his eponymous brand in 2005, setting off to achieve his ambition of creating a 'Maison'.
Valli had previously worked at Fendi, Roberto Capucci, Fendi, and Emanuel Ungaro. Amongst the ready-to-wear pieces, Valli designed a range of leather goods and accessories, including shoes, bags, and jewelry.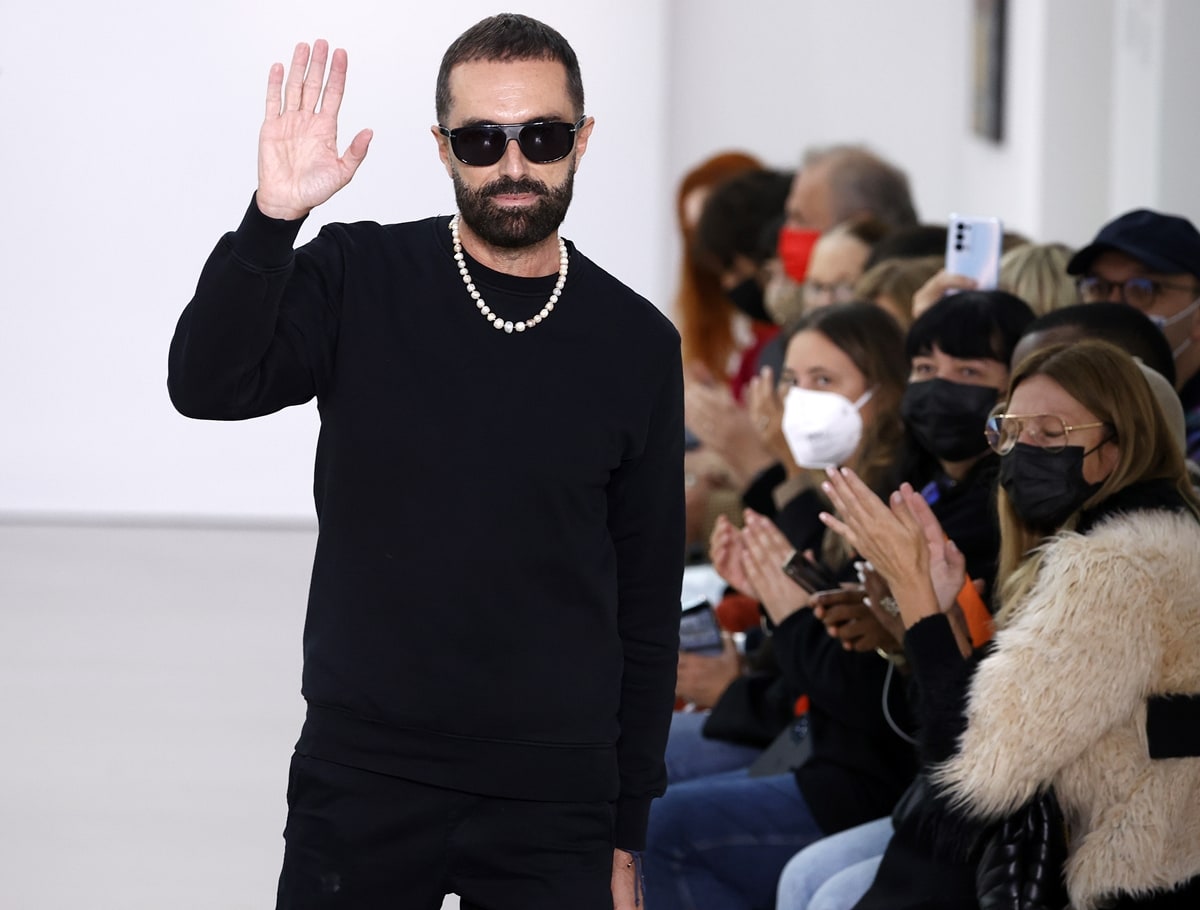 Giambattista Valli is an Italian fashion designer from Rome, Italy (Credit: MEGA / WENN)
In 2011, Galli became an official member of the Cambre Syndicale de la Haute Couture. He is one of a select few non-French designers to be granted membership to it.
In 2014, the brand launched its 'younger sister' ready-to-wear line, Giamba. During the early years of Valli's eponymous brand – up until 2017 – he was also serving as Creative Director of Moncler Gamme Rouge, bringing a new understanding to the world of activewear.
Who is Giambattista Valli?
He is an Italian fashion designer known for his timeless elegance. Giambattista was born on June 27, 1966, in Rome, Italy.
How to pronounce Giambattista Valli
It is pronounced jam-bat-EE-stuh VAL-i (-j as in Jack, -al as in pal)
How much is a Giambattista Valli wedding dress?
Most Giambattista Valli wedding dresses range from $10,000 to $20,000.

Jessica Biel's pink wedding dress reportedly had a price tag of $100,000.
Where to buy Giambattista Valli
You can find Giambattista Valli's flagship stores in the world's major fashion capitals. You can also buy his dresses and shoes at Farfetch and Matches Fashion.
What makes Valli different is his approach to luxury and beauty, creating an allure that attracts a generation of international jetsetters and glamorous modern women across the globe. Celebrities such as Olivia Palermo, Salma Hayek, Rita Ora, and Zoe Saldana are frequently spotted wearing his designs.
The Giambattista Valli brand works on the narrative of a love story between the brand and its customers. It's all about shared dreams and lovers with a common philosophy for ageless, timeless, effortless beauty.
17. Le Silla: A Haven of Exquisite Footwear
Le Silla is a 'made in Italy' footwear brand founded in 1994 by Enio Silla and Monica Ciabattini, creating a brand synonymous with style and intricate details.
The brand began with an "image of a new femininity in black and white." Le Silla started with their famous 10cm heel, giving the stiletto a charming and feminine shape.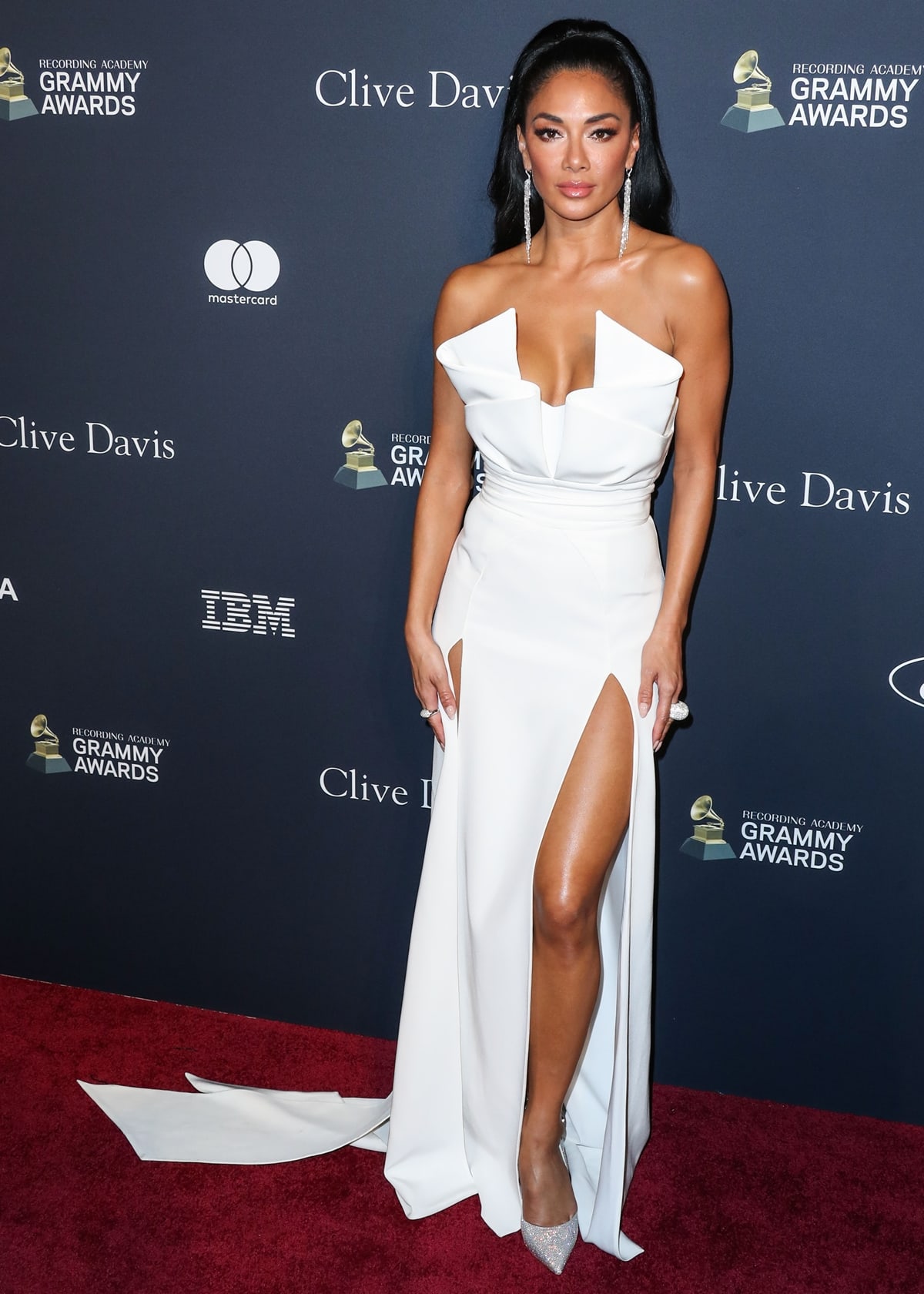 Nicole Scherzinger styled her glittering Le Silla pumps with a strapless gown by Azzi and Osta and Jacob & Co. jewelry at The Recording Academy And Clive Davis' 2020 Pre-GRAMMY Gala held at The Beverly Hilton Hotel on January 25, 2020, in Beverly Hills, Los Angeles (Credit: Avalon / WENN)
The brand creates shoes inspired by the modern woman, incorporating urban elements into their designs. These luxury shoes will take you from a day at the office to special occasions.
Le Silla's website states, "Luxury in pure Made in Italy style has always been the leitmotif of our mission." The Italian brand looks at shoes as 'jewels to wear,' often incorporating gemstones and intricate detailing into their designs.
Their footwear is made in Marcha and embodies the classic Italian style with an effortlessly contemporary twist.
18. Casadei: A Legacy of Italian Craftsmanship and Exquisite Footwear
Launched in 1958, Casadei has anticipated and inspired fashion for generations. For half a century, it's been one of the world's best-loved footwear brands, producing timeless creations in their San Mauro Pascoli base. The brand is credited with making Italian footwear among the most desirable in the world.
Casadei's journey began as a family-owned business that has since evolved into a global brand. These shoes are not just functional but also exquisite works of art meant to be worn and appreciated for their beauty.
In September 2021, Angela Bassett revealed her new wax figure featured at Madame Tussauds Hollywood. Her wax figure is dressed in a sequined Greta Constantine jumpsuit paired with black high-heeled Casadei shoes and a long, wavy hairdo.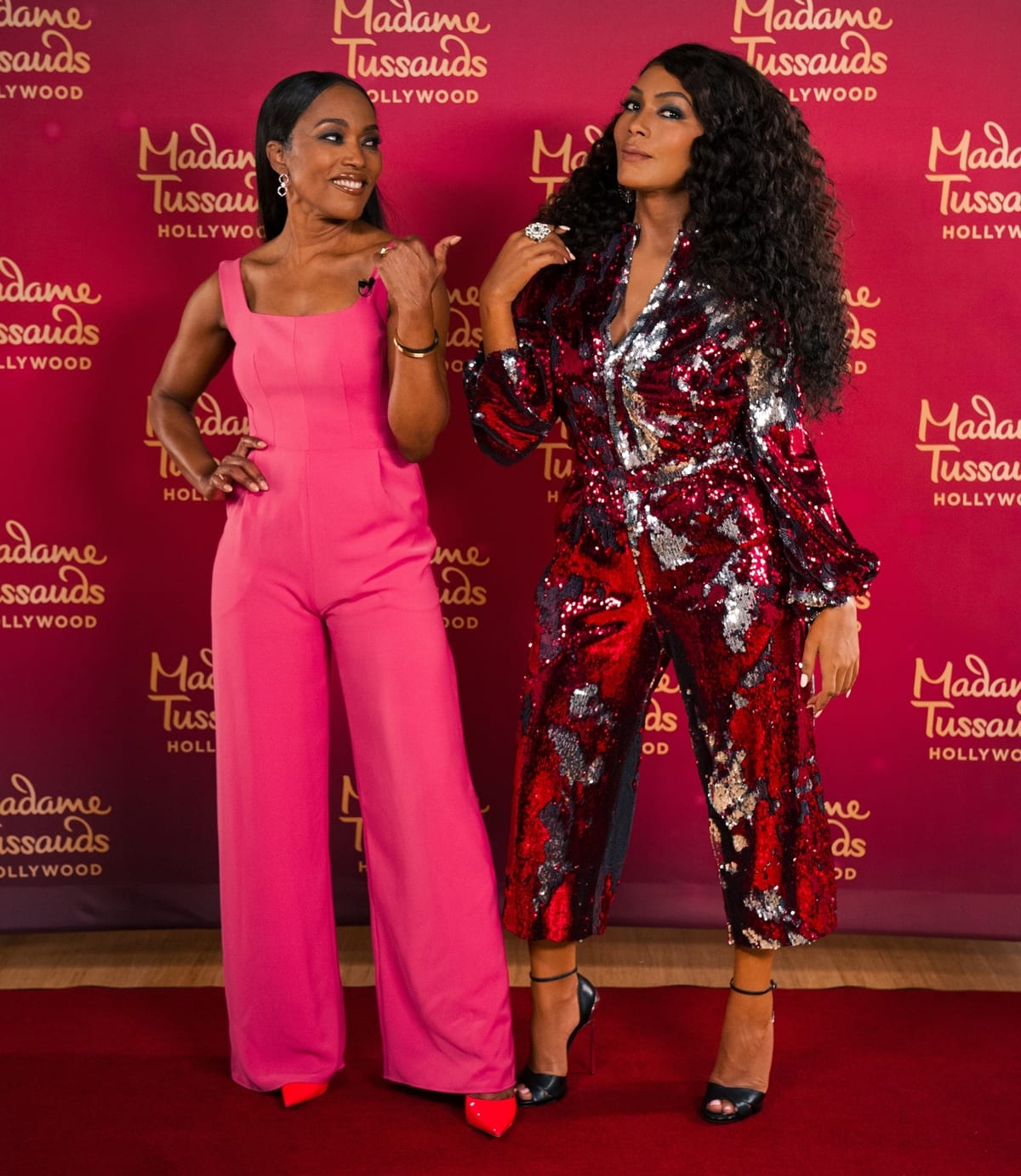 Angela Bassett's wax figure at Madame Tussauds Hollywood is wearing a sequin jumpsuit by Greta Constantine with shoes by Casadei (Credit: MEGA / WENN)
The brand was made famous by its sandals and experimentation with platform soles during the 60s and 70s. Casadei is credited for transitioning platform soles into wedges, creating new techniques within the footwear industry.
Exclusivity sits at the heart of the Casadei brand. Their designs typically feature decorative elements, including Swarovski crystals, eyelets, structural elements, and dyed fur.
Casadei has collaborated with some of the most recognizable names in the fashion industry, including Mario Testino.
19. Golden Goose: A Fusion of Italian Craftsmanship and Californian Cool
If you're a fan of sneakers, you'll be no stranger to Golden Goose. The brand is synonymous with its Italian tradition, craftsmanship, and contemporary design. Gold Goose began as a "dream that head off from Venice and went far as the skate parks of Los Angeles" while staying true to its Italian heritage.
Golden Goose was founded in 2000 by Francesca Rinaldo and Alessandro Gallo, two fashion industry outsiders. Their designs are instantly recognizable thanks to their vintage aesthetic and Star logo. The brand's sneakers are the standout hero product among their ready-to-wear, accessories, and footwear.
The brand is synonymous with a refined style with a distinctive vintage feeling and an Italian sartorial twist. Its designs are American style meets Italian sophistication.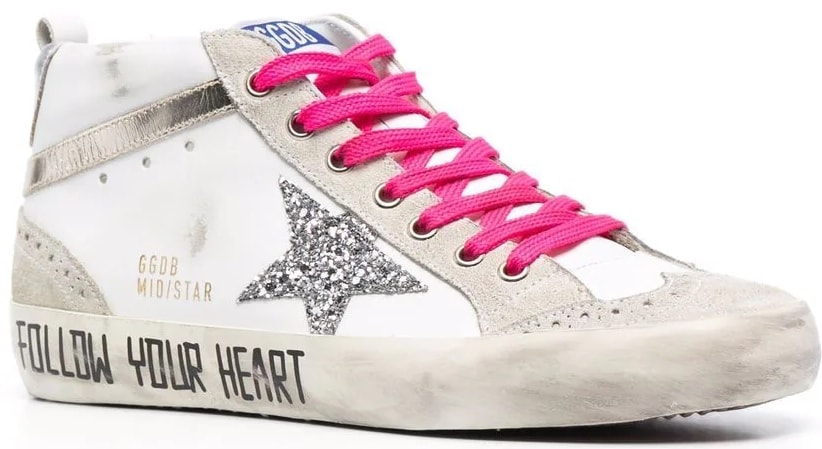 The Golden Goose Mid-Star slogan-print sneakers offer a relaxed look and supportive ankle-length design
In 2019, Golden Goose opened their LAB in their Milan store, showing customers how their craftsman distresses the shoes by hand using professional brushes and treatments. The following year, Golden Goose celebrated its 20th anniversary by opening its new Milan headquarters.
Golden Goose's shoes are famous for their 'lived in' signature. Unlike other designer shoes, you'll receive these shoes looking as though someone else has already worn them. The artificial distressing on the shoes is part of the charm and the unique charisma of the fashion brand.
The brand is credited with starting the 'ugly sneaker' trend and has a cult following amongst celebrities, including Hilary Duff, Alessandra Ambrosio, Megan Fox, Mandy Moore, and Selena Gomez. You'll struggle to find a celebrity anywhere who hasn't stepped out in a pair of Golden Goose sneakers.
20. Oscar Tiye: Quirky Stilettos with a Global Reach
Oscar Tiye is an Italian women's luxury footwear and accessory brand synonymous with quirky stilettoes.
The Oscar Tiye brand is the brainchild of Amina Muaddi and Irina Curutz and was born out of the ambition to create the 'perfect' show.
While Muaddi has gone on to launch her eponymous footwear line, Oscar Tiye continues to grow in popularity.
Jordanian-Romanian fashion designer and shoemaker Amina Muaddi left Oscar Tiye in 2017 and launched her eponymous brand (Credit: Jeff Grossman / WENN)
Launched in 2013, Oscar Tiye's most iconic shoes are nicknamed the 'Minnie Mouse' heels for their distinctive silhouette that replicates the shape of the iconic cartoon character. If Carrie Bradshaw were a fashion influencer today, she'd be rocking Oscar Tiye shoes.
If you're looking for designer Italian footwear with a twist, Oscar Tiye is your brand. It takes the 'made in Italy' quality and uses it to create contemporary designs that capture your imagination and inject a little fun into your closet. These shoes aren't afraid to be feminine and daring.
Oscar Tiye shoes are the go-to choice for some of today's most recognizable celebrities. Sarah Rafferty, Nina Dobrev, Britney Spears, and Camila Alves have all been spotted rocking Oscar Tiye shoes.
The Oscar Tiye 'Minnie' sandals are named after Minnie Mouse, a cartoon character created by The Walt Disney Company
Like Muaddi's eponymous brand, Oscar Tiye was instantly acclaimed. Although it's an Italian brand, its name has a fascinating and distinctive origin. 'Oscar' pays homage to Muaddi's family members, while 'Tiye' draws inspiration from Queen Tiye of Egypt, the wife of Pharaoh Amenhotep III.
The gold scarab on each shoe represents the golden scarab jewelry that Queen Tiye received as a wedding gift.
Oscar Tiye sat alongside some of the most recognizable Italian footwear brands. Their collection focuses on Italian shoes with a twist, from classic stilettoes to sandals and satin mules.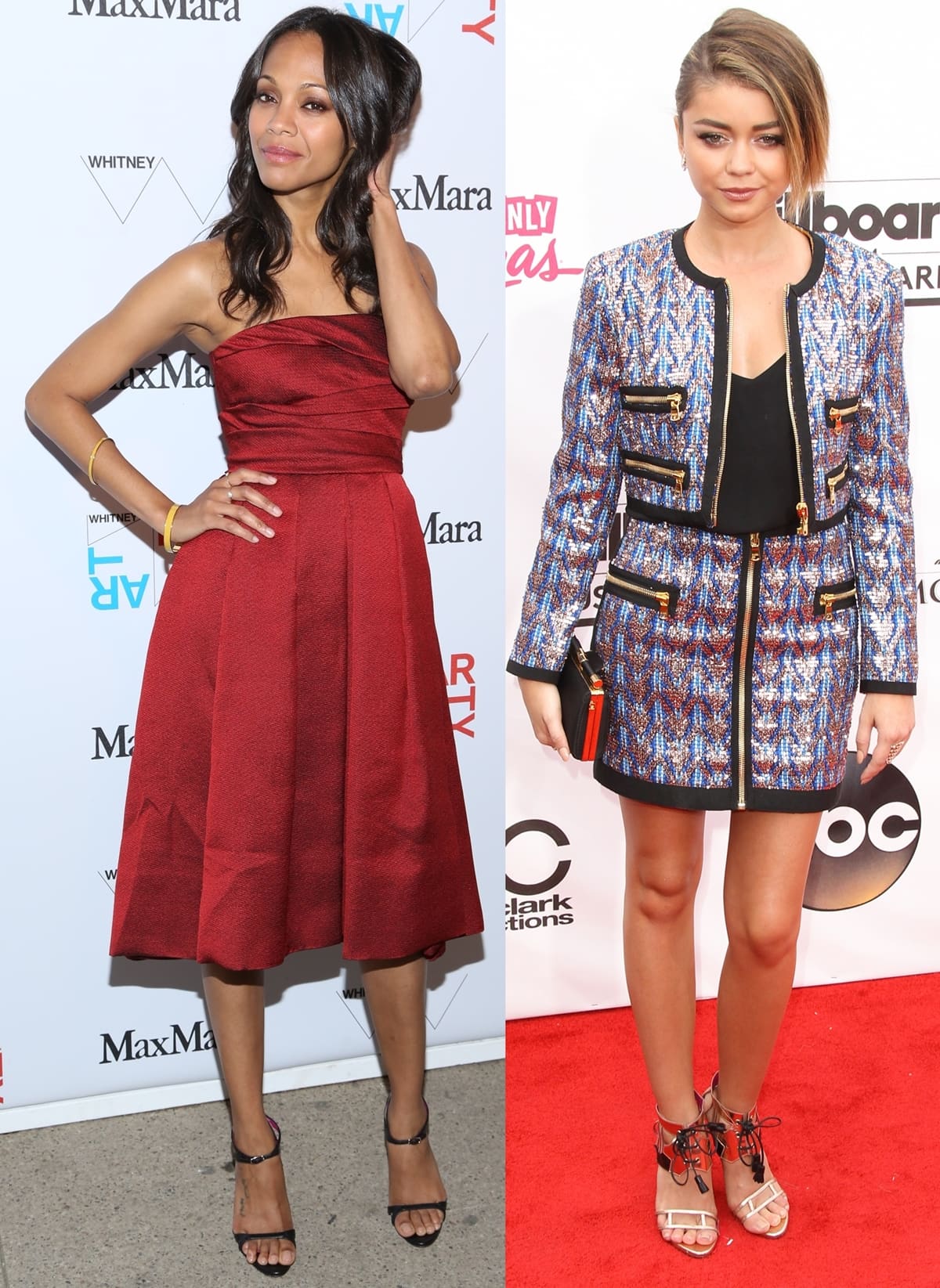 Zoe Saldana and Sarah Hyland wearing Oscar Tiye sandals (Credit: Andres Otero / WENN / FayesVision)
Although it's relatively new to the market, Oscar Tiye has already made a name for itself as the footwear brand for the modern woman who isn't afraid to risk with a whimsical accessory.
Although Muaddi left the company in 2017 to launch her eponymous brand, Oscar Tiye is still known for its quirky shoes.
Which of these Italian fashion houses and brands is your favorite? Is there one that is your ride-and-die?