Selena Gomez isn't quite a fashion icon yet, but she's starting to have her moments — much like the transition that Posh Spice made to Victoria Beckham.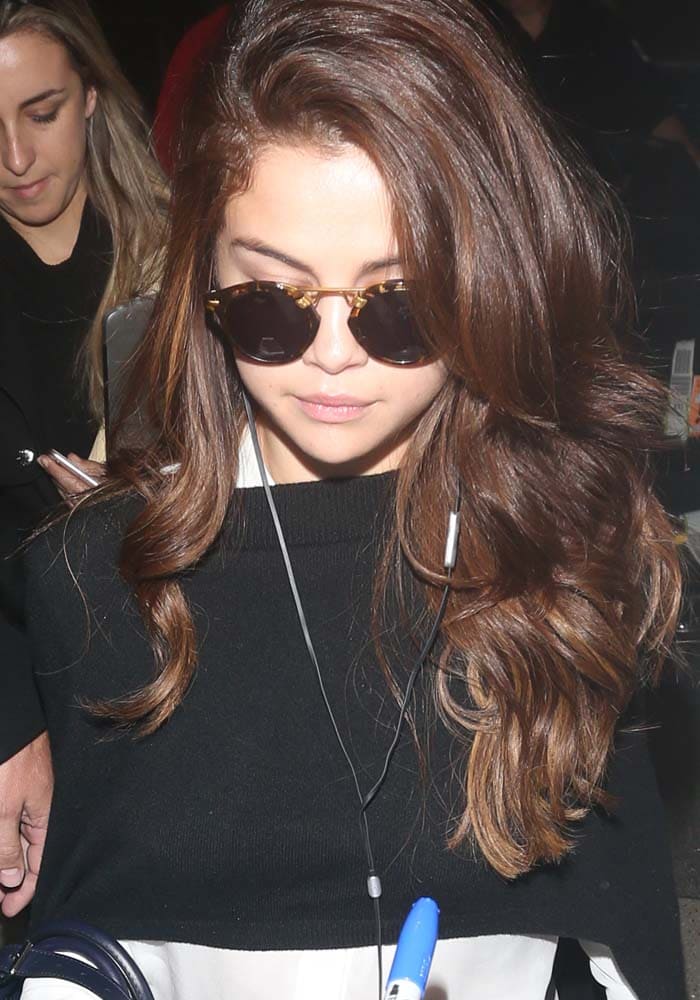 Selena Gomez styled a Barrie Glamour cashmere-knit poncho with Alice and Olivia's Lolita drop hem button-down shirt
Sel has had some fabulous red carpet looks, but she's still working on upping her casual style game and is clearly open to trying new things.
Selena recently arrived back at the Los Angeles Airport from her Paris trip in dirty sneakers — shoes that were intentionally already distressed and dirty at the time of purchase. In other words, dirty shoes that can't be cleaned.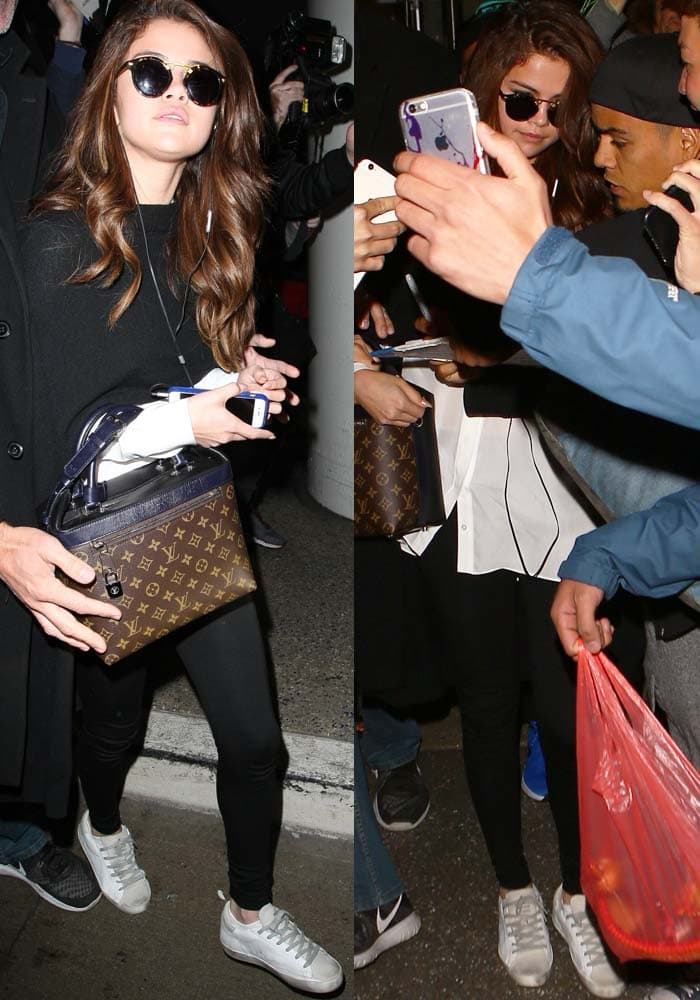 Selena Gomez is surrounded by fans and photographers as she arrives at Los Angeles International Airport (LAX) on March 11, 2016
Selena arrived in a long, white button-down shirt and black jeans from Alice + Olivia, which she layered underneath a sweater Glamour cape by luxury cashmere specialist Barrie.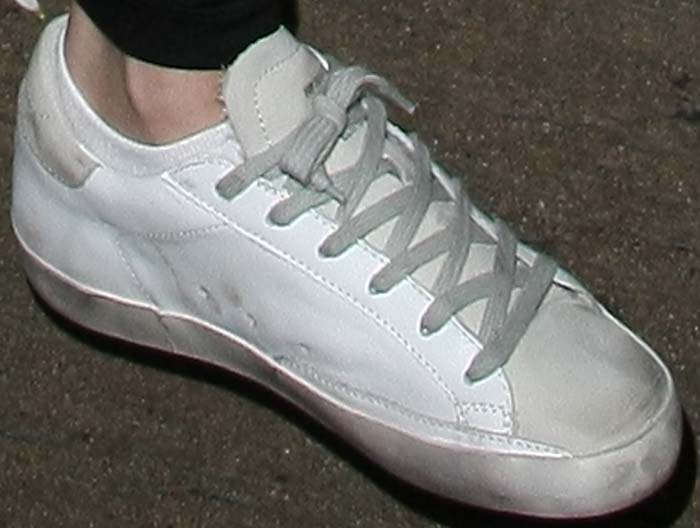 She didn't miss laundry day: Selena Gomez puts on a pair of already-dirty "Superstar" sneakers by Golden Goose
The "Hands to Myself" singer polished her airport style with a Louis Vuitton top handle bag and the distressed "Superstar" sneakers by Golden Goose.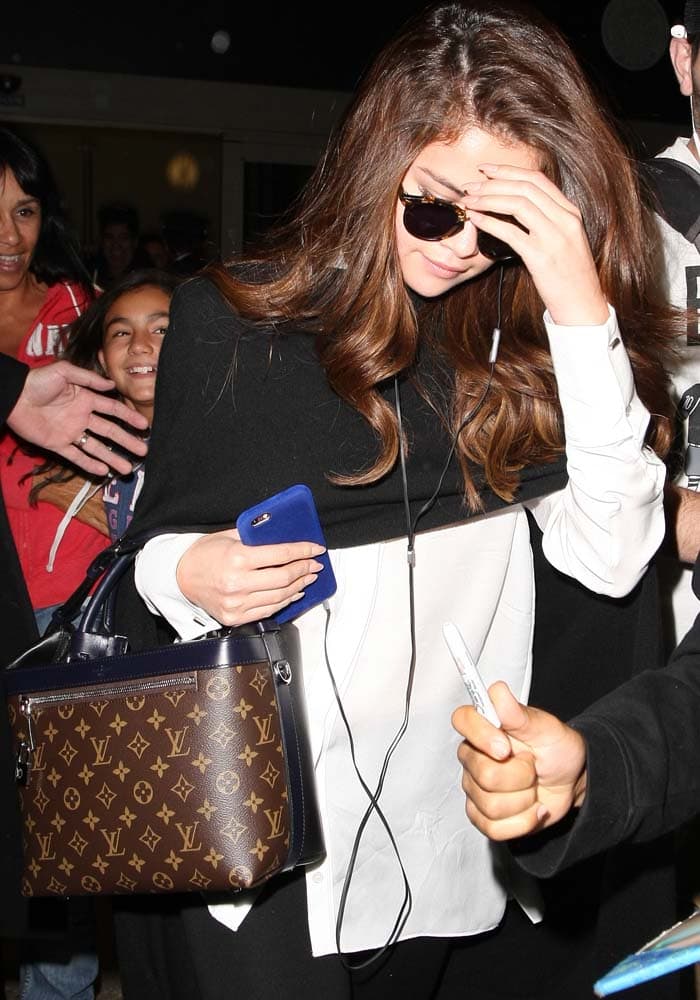 Selena Gomez plugs in her earphones as her arrival triggers chaos at the airport
The usually accommodating Selena calmly made her way through the crowd with her earphones plugged in, ignoring everyone around her.
We can't really blame her — with the rude questions that the paparazzi throw her way, we're surprised she hasn't punched somebody in the face yet a la Kendall Jenner.
Selena must've felt the need to get more comfortable for the trans-Atlantic flight. Before sporting the dirty sneakers, she was wearing the Soebedar 'Shania' mesh pumps to go about her last day of promotional duties in London.
Selena Gomez leaving after an interview at Capital Radio in London, and arriving to catch a flight back to LA at Heathrow Airport on March 11, 2016
It seems like the Golden Goose sneakers are Sel's current favorite traveling shoes because she also wore them when she caught an earlier train ride at London's King's Cross railway station.
Selena Gomez arrives on a train from Paris at King's Cross railway station in London, England, on March 10, 2016
The 23-year-old was cool and comfy in a white Alice + Olivia "Quiana" sheer sweater, a Rodarte x & Other Stories suede and fur jacket, black James Perse leggings, and Krewe Du Optic "St. Louis Bengal" sunglasses.
One fan gifted her with roses, and another even boldly went in for a hug! Selena's bodyguard didn't look too happy about that.
A male fan gives Selena Gomez a hug, which Selena's bodyguard quickly put a stop to
It's well believed that Chuck Taylors look better when they're worn out. It seems Golden Goose took the grunge look into consideration while making these Adidas copycats. The "Supeswere intentionally distressed with frayed leather edges and muddied soles.
Do you think this trend will catch on?
Try out a pair for yourself by checking out the Golden Goose 'Superstar' Sneakers at Nordstrom, Shopbop, and Farfetch.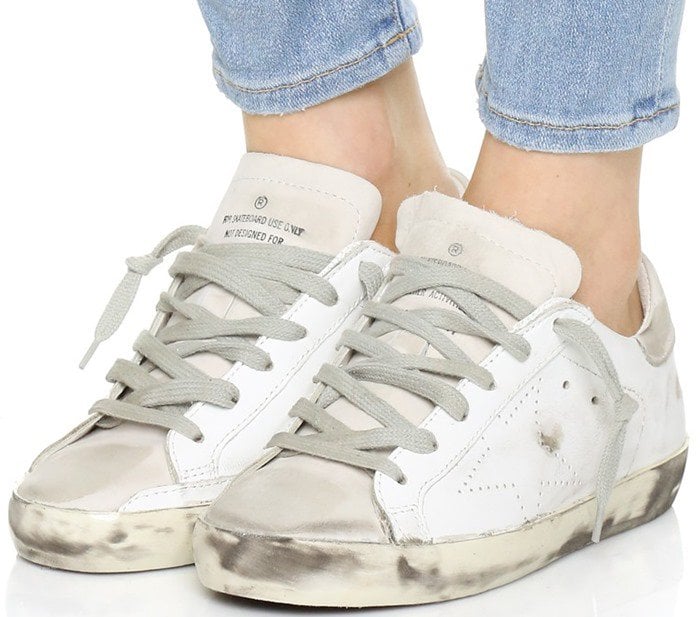 Golden Goose "Superstar" Sneakers, $520 – $523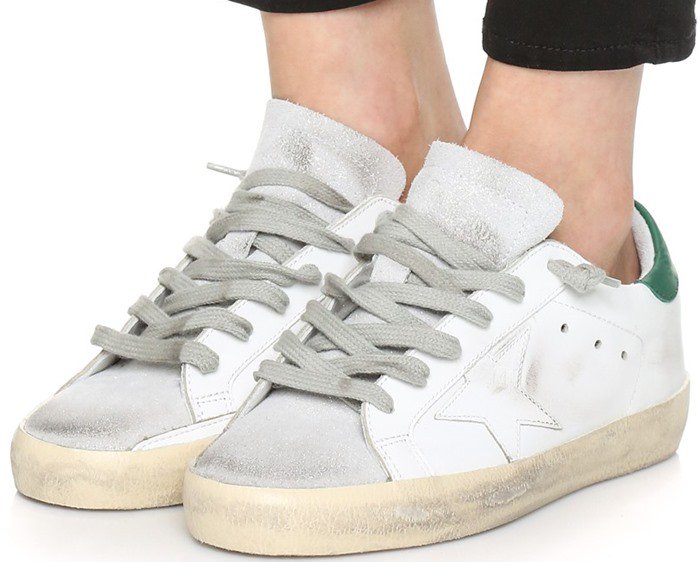 A signature cutout star underscores the retro appeal of a low-profile Italian sneaker styled with a terry-lined fold-over tongue and strategic hits of color and glitter
Golden Goose "Superstar" Sneakers, $569 – $575
Credit: Mario Mitsis / Tim McLees / Will Alexander / WENN