Salma Hayek has been a Hollywood starlet for decades now, playing roles in dozens of films, and earning an Oscar nomination for her work in Frida.
The actress gained international fame thanks to one role, but she almost lost her opportunity. Here's how Salma Hayek got cast in cult classic From Dusk till Dawn:
Salma Hayek's Background
Salma Hayek was born in Mexico, and from the time she was a child, she knew she wanted to be an actress. Hayek studied acting as a young girl, and after graduating from Universidad Iberoamericana in Mexico City, she sought a serious acting career.
Hayek's first role was in the Mexican telenovela Teresa, for which she played the titular role, but after just a few years starring in the show, she moved to Los Angeles, California to pursue an acting career in America.
Salma Hayek had her breakthrough as Carolina in the 1995 American neo-Western action film Desperado (Credit: Sony Pictures)
To begin with, the actress had many small roles but was eventually cast in Desperado, which brought her to prominence in Hollywood.
A year after acting in Desperado, Hayek starred in a film written by Quentin Tarantino, From Dusk Till Dawn.
Hayek's Casting Story
Fresh off his Best Writing Oscar win for Pulp Fiction, Quentin Tarantino teamed up with director Robert Rodriguez and rounded up some of the finest actors Hollywood had to offer, like George Clooney and Harvey Keitel for the action-horror film From Dusk Till Dawn.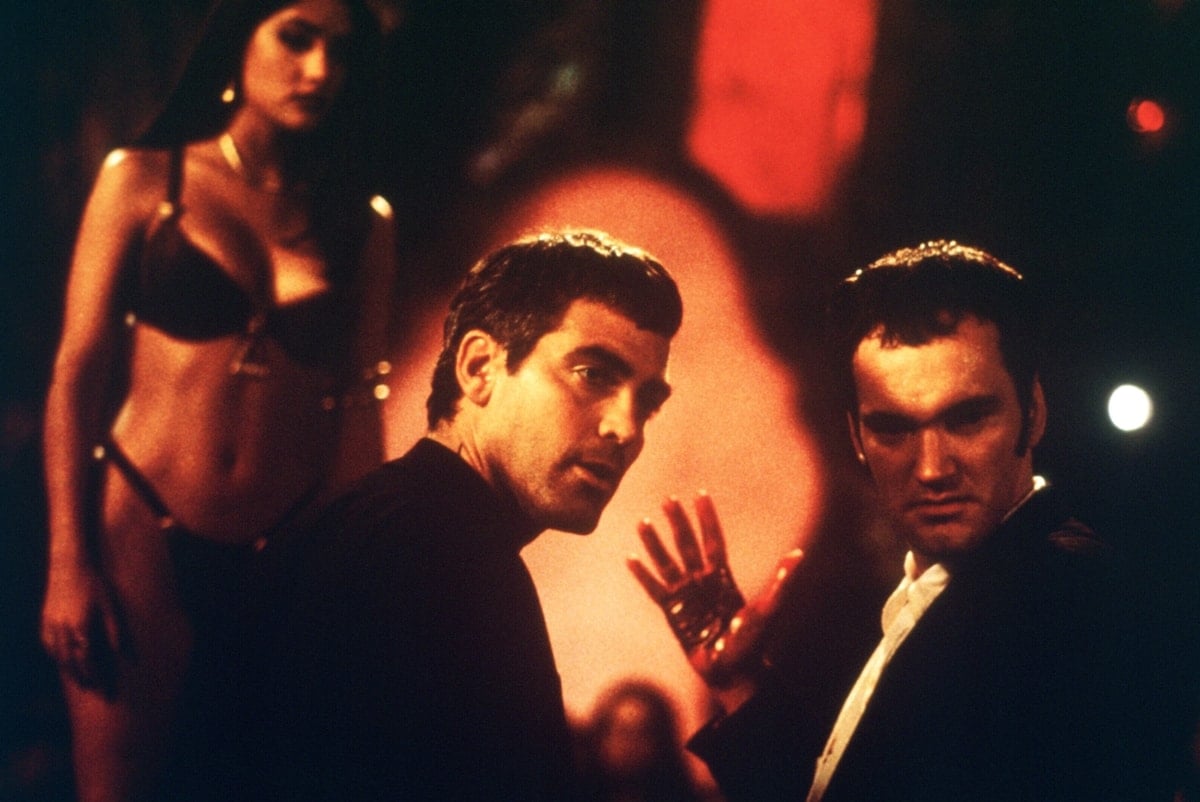 Quentin Tarantino wrote the screenplay and George Clooney starred as Seth Gecko in the 1996 American action horror film From Dusk till Dawn (Credit: Miramax Films / WENN)
Salma Hayek was cast, too, but, as mentioned, she almost lost the part.
The Role Was Made For Hayek
Hayek and Rodriguez had worked together before filming From Dusk Till Dawn. He had hired her to play the role of a stripper in a previous movie of his, Four Rooms.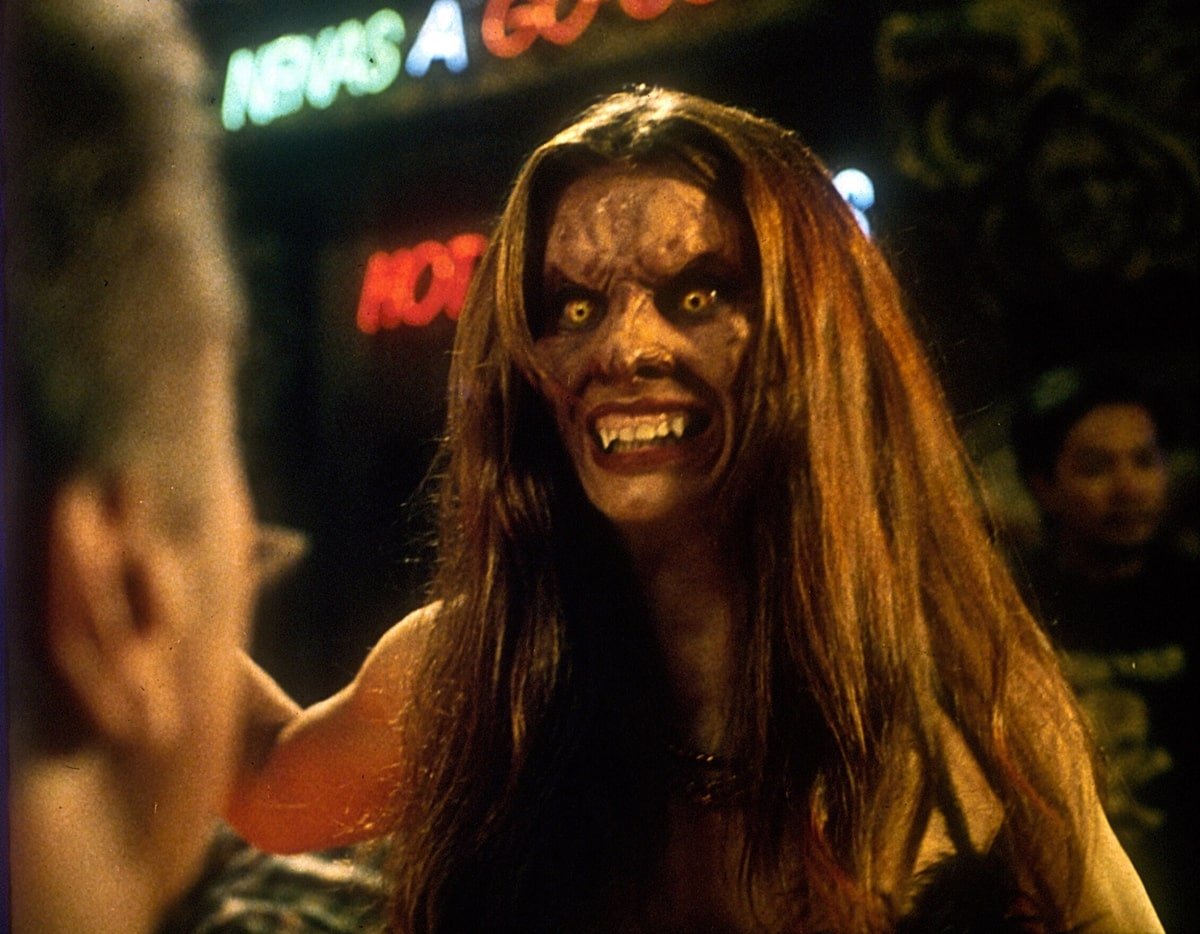 Salma Hayek as Santanico Pandemonium, the Vampire Queen of the Titty Twister and a former dhampir, in From Dusk till Dawn (Credit: Miramax Films / WENN)
Tarantino saw her performance and wrote the part of Santanico Pandemonium specifically for Hayek. Filmed during the summer of 1995, Salma was 28 years old while shooting at the fictitious Titty Twister bar.
Born on September 2, 1966, in Coatzacoalcos, a port city in the southern part of the Mexican state of Veracruz, she was 29 years old when the film was released on January 17, 1996.
Hayek Almost Lost the Part
Hayek was ready to act in From Dusk Till Dawn. She had signed on to play stripper Santanico Pandemonium, but Tarantino and Rodriguez added a new requirement to the part: Hayek would have to dance while holding a snake.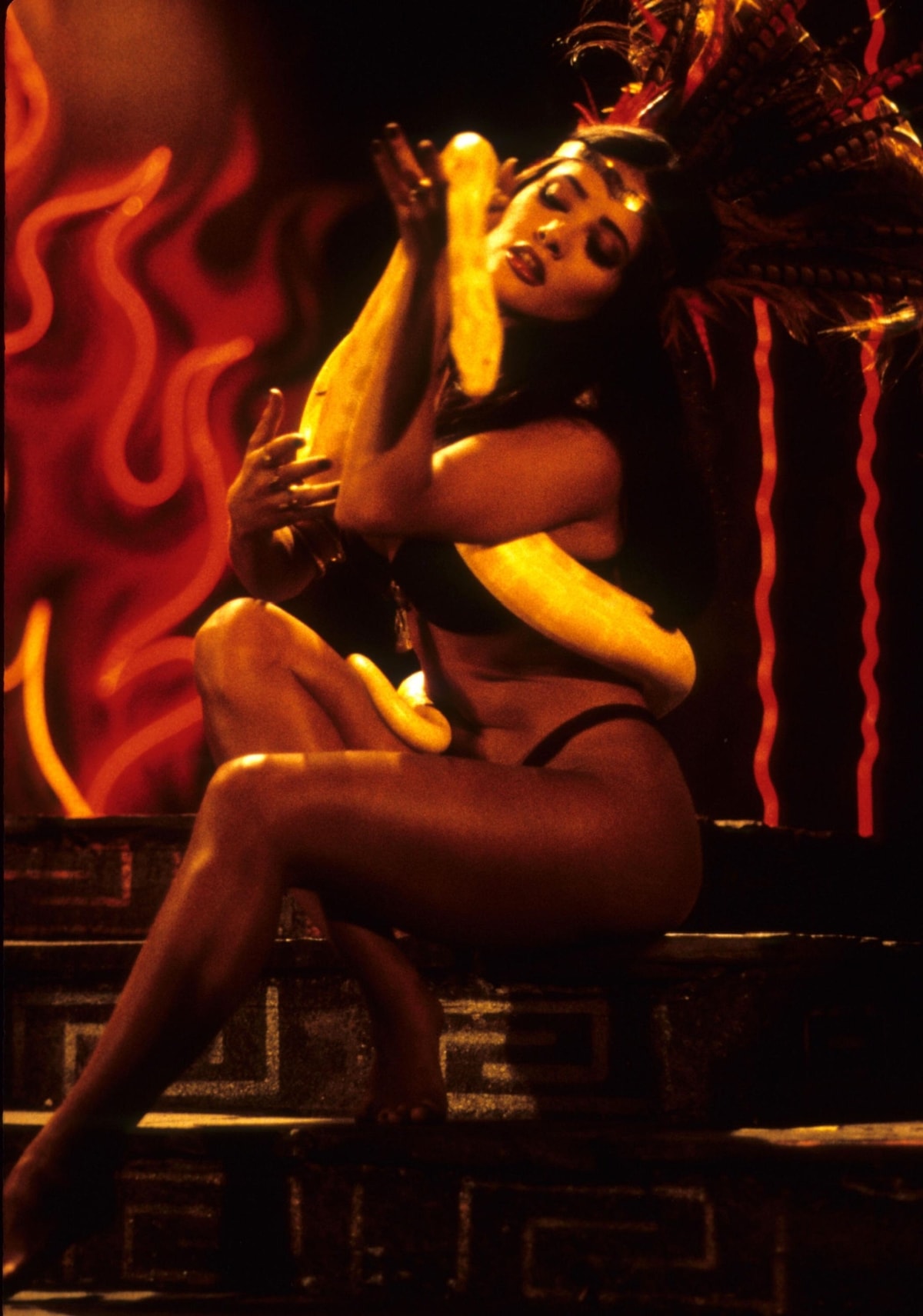 Salma Hayek reluctantly agreed to portray a snake-dancing stripper vampire in From Dusk till Dawn (Credit: Miramax Films / WENN)
Hayek's one major caveat regarding the new requirement? She was terrified of snakes. Tarantino told Hayek he would give the part to Madonna, claiming she was interested, so Hayek figured out a way to work with a snake despite her phobia.
"Quentin told me, 'Oh, by the way, you're dancing with a snake.' I said, 'I can't do that, I can't do that. It's my greatest fear,'" Hayek recalled during a 2017 Role Recall interview with Yahoo Entertainment.
"He said, well, Madonna will do it, I already talked to her, and she's willing to dance with the snake," she added.
"It was good because I had to overcome my greatest fear. I had to go on trance to do the dance… And there was no choreography. It was improvised. Because you can't choreograph a snake, we don't know what she's going to do!"
Hayek Duped Herself to Play the Part
Hayek, who needed to pay rent, wasn't willing to give up the role, but it wasn't easy for her to dance with the snake.
Salma Hayek beat out Madonna to play Santanico Pandemonium in the iconic 1996 American action horror film (Credit: Miramax Films / WENN)
She prepared for a month in advance, and after learning that snakes symbolize power in certain cultures, the actor put herself in a trance to perform the scene, improvising the entire choreography.
The Movie's Reception
Like many of Quentin Tarantino's movies, From Dusk Till Dawn became a cult classic. Many people are still fans of the film today, and Salma Hayek's snake-dancing scene has become synonymous with the flick.
Salma Hayek performed a memorable table-top snake dance as a vampire queen in Rodriguez's cult horror film From Dusk till Dawn (Credit: Miramax Films / WENN)
Had Hayek not needed to pay the rent, she might not have kept the role and overcome her fear of snakes, and we might not have ended up with the iconic film that is From Dusk Till Dawn.
Salma Hayek leads a busy life. If you spent your time traveling between houses in London, Paris, Washington, and Los Angeles, you'd definitely suffer from jet lag as well.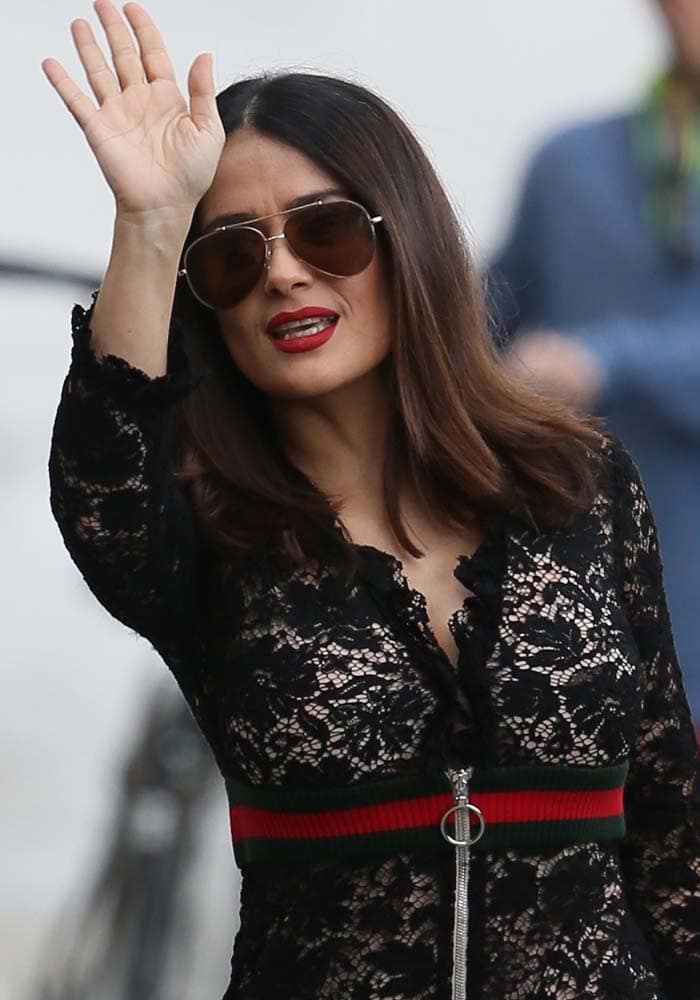 Salma Hayek wears her hair down while leaving ABC studios after filming "Jimmy Kimmel Live!" on March 20, 2016, in Los Angeles (Credit: Michael Wright / WENN)
In March 2016, Salma arrived at the ABC Studios in Los Angeles for her appearance on "Jimmy Kimmel Live!" running on three days of no sleep. Yikes.
Salma stayed loyal to one of her go-to brands, Gucci, for her lace dress, which featured the brand's signature colors around the waist.
Salma Hayek wears a Gucci dress as she leaves a taping at "Jimmy Kimmel Live!" (Credit: Michael Wright / WENN)
The actress turned to Giambattista Valli for her gorgeous glittered, chunky-heeled sandals.
"I haven't seen him since he started this part of his entertainment career. I don't think he would listen to me, no," Salma told Jimmy about her thoughts on Donald Trump.
"You don't need to talk sense into him, everyone is entitled to their own madness. You need to talk sense into the people who are not seeing the madness."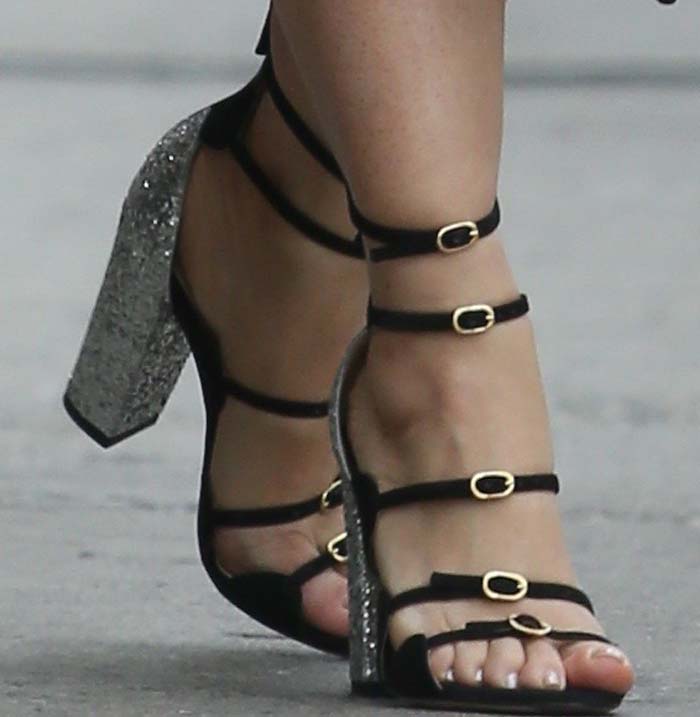 Salma Hayek's feet in glittery heels from Giambattista Valli's latest collection (Credit: Michael Wright / WENN)
We're pretty sure the jet lag and sleeplessness has made her incoherent, and it showed in her outfit choice. The dress itself was custom-made with a black fabric rather than the collection's traditional green style, which just doesn't make sense to us.
Her Giambattista Valli heels are gorgeous but, come on, lace and glitter? Really?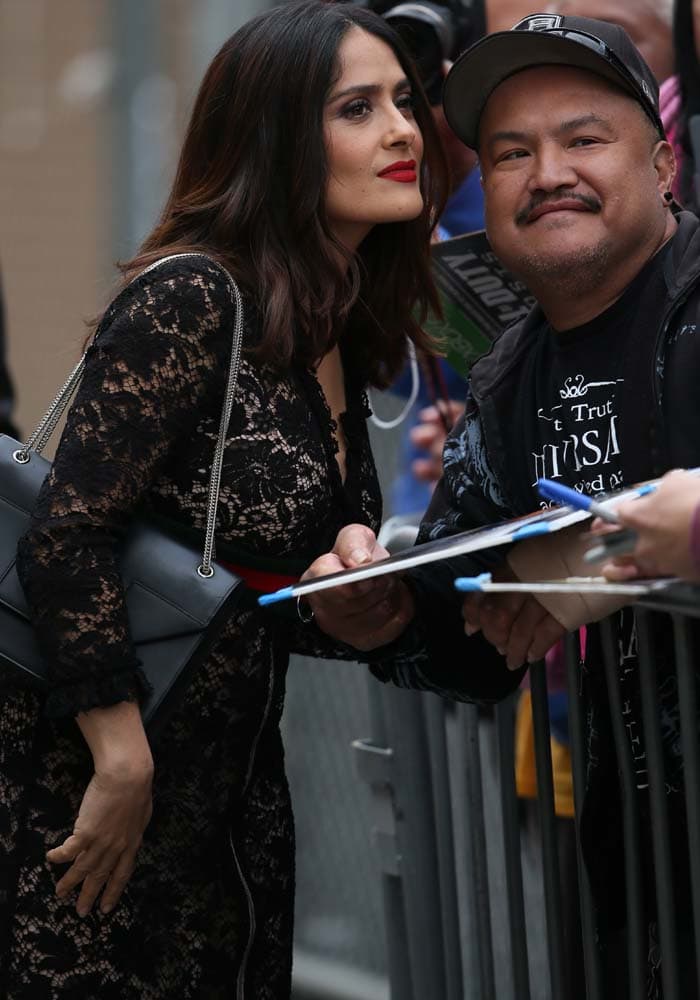 Salma Hayek poses for photos with fans despite her lack of sleep (Credit: Michael Wright / WENN)
Even if her jet lag incoherence manifested itself in her choice of clothing, Salma was able to hold down the fort on her Spanish-English struggle.
You can order a Giambattista Valli pair from the same collection similar to Salma's at Farfetch.
Giambattista Valli Embellished-Heel Sandals, $1,105.04