When working with Quentin Tarantino for the first time on "Pulp Fiction," nothing was more terrifying for Uma Thurman than dancing opposite John Travolta.
The music played during the "Twist contest," in which Vincent Vega (John Travolta) and Mia Wallace (Uma Thurman) competed, was Chuck Berry's 1964 song "You Never Can Tell," also known as "C'est La Vie" or "Teenage Wedding."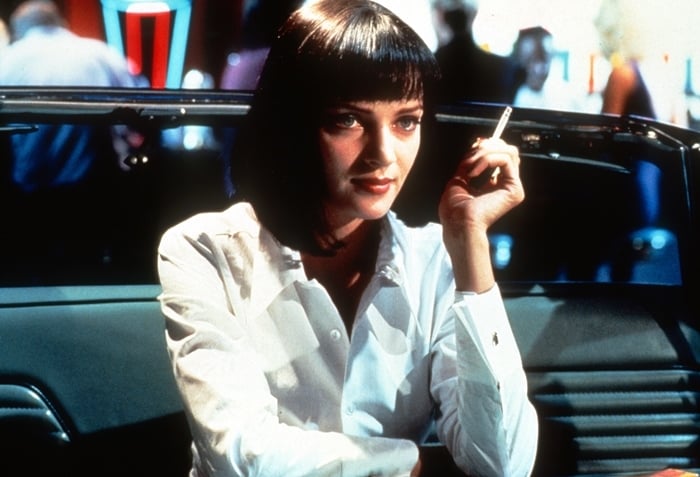 Uma Thurman played the memorable character of Mia Wallace in Pulp Fiction (Credit: Miramax Films)
She was only 24 years old when she starred as Mia Wallace, the wife of gang boss Marsellus Wallace (played by Ving Rhames).
At the time of Pulp Fiction's premiere on October 14, 1994, John Travolta was 40 years old, Samuel L. Jackson was 45, Bruce Willis was 39, Harvey Keitel was 55, Tim Roth was 33, Amanda Plummer was 37, Ving Rhames was 35, and Eric Stoltz was 33.
Uma Thurman's impressive performance made Mia Wallace's character in Pulp Fiction unforgettable. However, Brigitte Nielsen, Sylvester Stallone's ex-wife and Red Sonja star, was Quentin Tarantino's first choice for the role.
Nielsen was a friend of a friend, and in 1991, she could have potentially helped finance Pulp as a low-budget short. As the project expanded into a feature-length film script by 1993, Tarantino considered several other actresses for the role, including Holly Hunter, Meg Tilly, Alfre Woodard, and Rosanna Arquette, while Michelle Pfeiffer and Meg Ryan's agents pitched them for the part.
Quentin Tarantino has revealed that Jennifer Aniston was considered for the role of Mia Wallace in Pulp Fiction, but Uma Thurman ultimately won the part (Credit: Miramax Films)
Arquette even tested for the role, but Thurman eventually won out. Although Tarantino initially had reservations about Thurman, he changed his mind after meeting her in person, and they hit it off. Despite this, Uma initially turned down the role because she didn't think it was right for her.
All in one night, she seamlessly dances the twist, overdoses on heroin, and takes a shot of adrenaline straight to the heart.
The dance sequence between Mia Wallace and Vince Vega at the Jack Rabbit Slims restaurant, set to the rhythm of Chuck Berry's "You Never Can Tell," is undeniably one of the most iconic scenes in Pulp Fiction (Credit: Miramax Films)
In what has become one of Tarantino's most iconic scenes of all time, Mia Wallace and hitman Vincent Vega get up on stage at the fictional Jack Rabbit Slims restaurant and perform the twist during a dance competition.
Although Chuck Berry's "You Never Can Tell" played during the Jack Rabbit Slim's Twist Contest scene in Pulp Fiction, Uma Thurman didn't actually like the song.
She expressed her opinion to Quentin Tarantino, stating that it didn't sound right. However, Tarantino reassured her, saying, "Trust me, it's perfect."
Samuel L. Jackson (as Jules Winnfield), John Travolta (as Vincent Vega), Bruce Willis (as Butch Coolidge), Uma Thurman (seated as Mia Wallace) in Pulp Fiction (1994) (Credit: Miramax Films)
"I was more afraid of the dancing than almost anything because it was exactly to my total insecurity," Thurman said during a keynote speech at France's Series Mania Festival.
"Being big and awkward and still quite young then. But once I started dancing I didn't wanna stop, so it was a dream come true."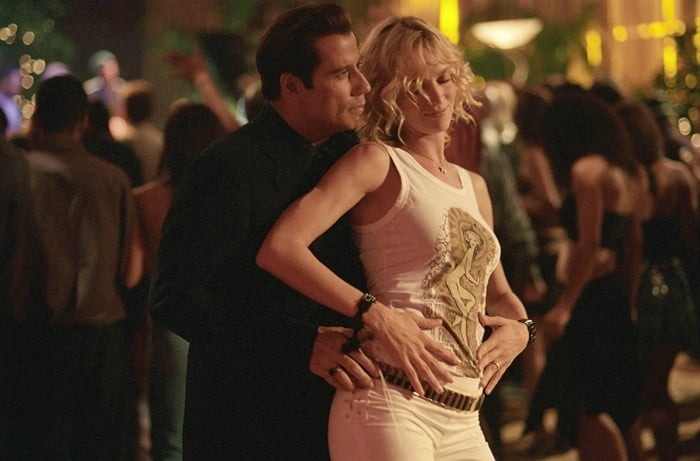 John Travolta and Uma Thurman also starred as Chili Palmer and Edie Athens in the film comedy Be Cool (Credit: Miramax Films)
According to Vanity Fair, Thurman was nervous about the dance number because she "was so awkward and embarrassed and shy."
"Quentin [Tarantino] recommended the Twist. And I said, 'Well, Little Johnny Travolta won the Twist contest when I was eight years old, so I know every version," John Travolta said and promised to teach his co-star Uma.
"I said, 'There was the Batman, the Hitchhiker, the Swim, as well as the Twist.' And I showed them to him, and he loved them. I said, 'I'll teach Uma [Thurman] the steps, and when you want to see a different step, call it out,'" he recalled.
Part of the dance sequence featuring John Travolta's character Vince and Uma Thurman's character Mia in Jack Rabbit Slim's was meticulously replicated from the dance performed by Barbara Steele's character Gloria Morin and Mario Pisu's character Mario Mezzabotta in Fellini's 8½ (1963). The movements were copied exactly, step by step.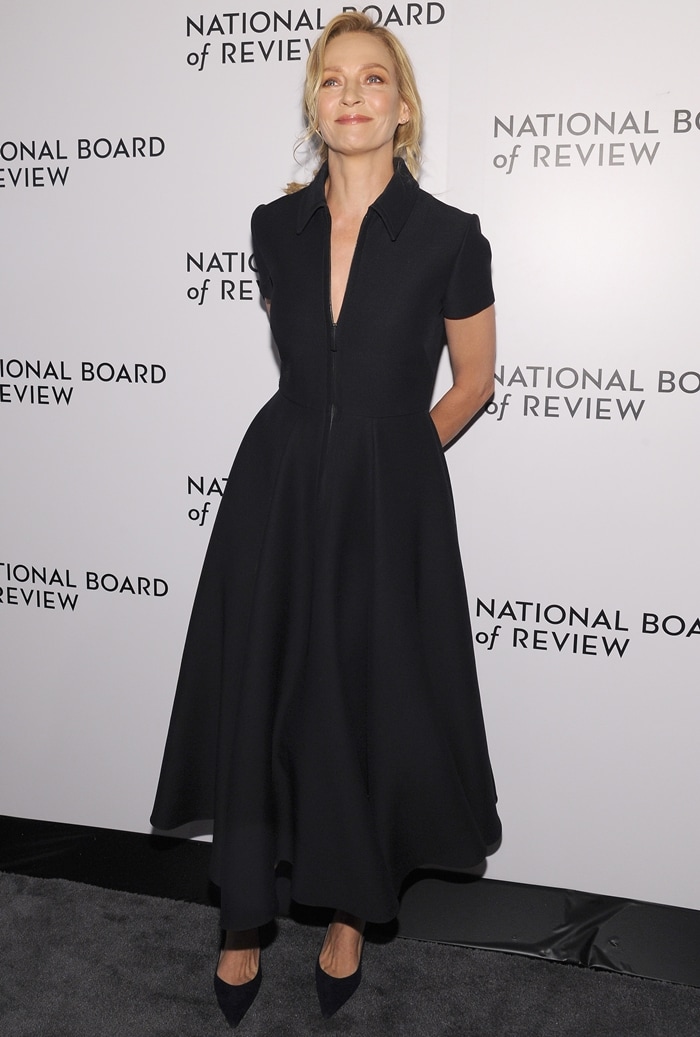 Uma Thurman at the 2020 National Board Of Review Gala in New York City on January 8, 2020 (Credit: Jeff Grossman / WENN / Cover)
In September 2015, Uma Thurman attended the 2015 Couture Council Luncheon honoring Manolo Blahnik at David H. Koch Theater at Lincoln Center in New York City.
She took to the stage to present the Couture Council Award for Artistry of Fashion to the Spanish designer for his longstanding dedication to craftsmanship and innovative design.
Uma Thurman attends the 2015 Couture Council Awards Luncheon honoring Manolo Blahnik held at David H. Koch Theater at Lincoln Center in New York City on September 9, 2015 (Credit: Jeff Grossman / WENN / Cover)
The then-45-year-old actress wore a classic look, accentuating her slender frame in a simple black dress with three-quarter sleeves and a hem that fell just a little below her knees.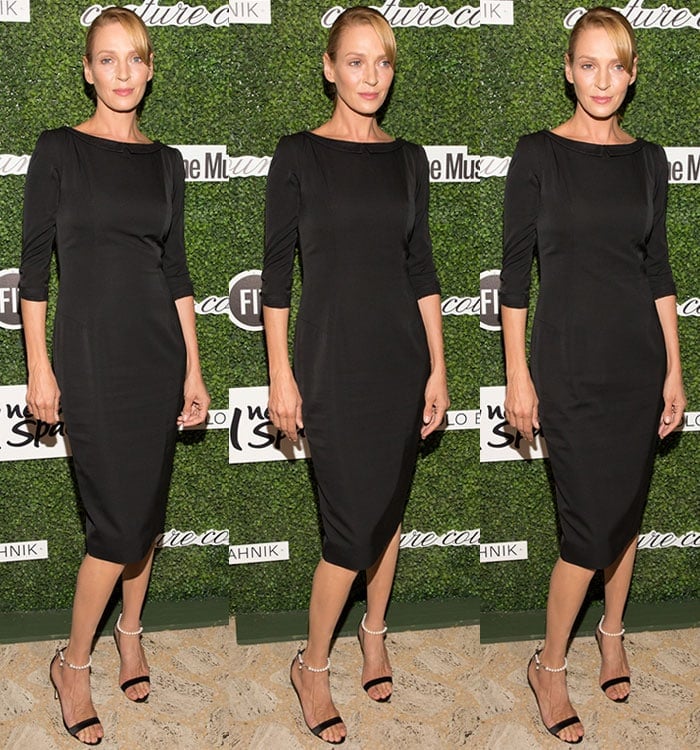 Uma Thurman wears a simple black dress as she poses against a green backdrop (Credit: Jeff Grossman / WENN / Cover)
She kept everything else simple by pairing the dress with black Manolo Blahnik sandals. The American actress/model pulled her hair back into a wispy ponytail and wore barely-there makeup.
Uma Thurman shows off her unpolished toes in a pair of Manolo Blahnik heels (Credit: Jeff Grossman / WENN / Cover)
Uma's black satin Manolo Blahnik heels added luxe to her classy minimalist look. They feature unique ankle straps made of pearls, rhinestone details, lobster clasp closures, thin toe bands, and about 3.5-inch covered heels.
These Manolo Blahnik sandals can be purchased at Farfetch and Nordstrom.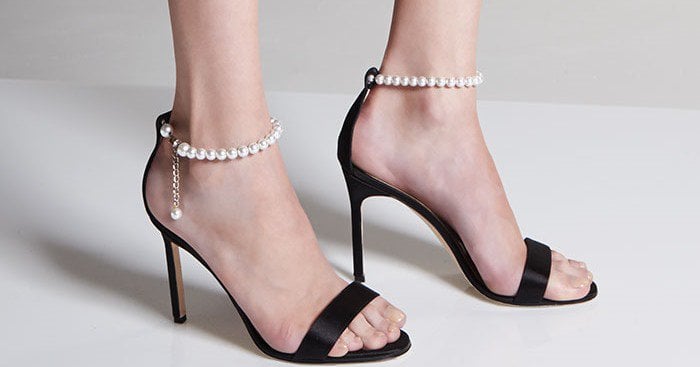 Black satin Manolo Blahnik Chaos sandals with tonal stitching, covered heels, and lobster clasp closure at faux pearl ankle straps
Manolo Blahnik satin evening sandal featuring a pearly-bead ankle strap with rhinestone detail
Manolo Blahnik Chaos Pearly Ankle-Wrap Sandals, $865