John Travolta is one of Hollywood's most beloved actors, known for his electrifying performances on the big screen and his magnetic charm off it.
With a career spanning over five decades, the 69-year-old actor has captured the hearts of millions of fans worldwide. He has starred in some of the biggest blockbusters of all time, including Grease, Saturday Night Fever, and Pulp Fiction.
John Travolta at the G'Day USA Standing Together event in Beverly Hills, California, on January 25, 2020 (Credit: Tony Forte / Media Punch / INSTARimages)
But when it comes to his personal life, plenty of rumors and speculations are swirling around.
Let's dive deeply into John Travolta's love life and explore the truth behind the tabloid headlines. Buckle up and get ready for a wild ride through the romantic escapades of one of Hollywood's biggest stars.
Is John Travolta Gay?
John Travolta's romantic life has garnered significant attention over the years. He has been linked to both men and women, leading to many speculations and rumors about his sexuality.
Travolta has been plagued by allegations of being gay throughout his career, although he was married to Kelly Preston for 29 years, and they have three children together.
John Travolta signing autographs outside the Build Series studios in New York City on November 25, 2019 (Credit: Roger Wong / INSTARimages)
The claims began when Californian pilot Doug Gotterba purported to have dated John for six years. After a while, John Travolta finally refuted the accusation.
In a story published by the National Enquirer, which Travolta's representatives have dismissed as "ridiculous," Gotterba claims that he met the "Grease" star in February 1981 while interviewing for a pilot position. By September of that year, they had become lovers.
Gotterba remembers the exact date the affair began, as he still has the logbook and records. He claimed they had a romantic dinner at the Highlands resort in Carmel, shared a bottle of merlot wine, and went back to their room.
As they walked, Travolta offered Gotterba a massage, which led to sex. Gotterba described Travolta as gentle but very passionate and said that the next day, Travolta told him with a big smile on his face that he had enjoyed their night together.
John Travolta's Dating History
John Travolta's dating history is diverse, with high-profile relationships and alleged romances.
The actor was in a long-term marriage with Kelly Preston but was also allegedly romantically linked to some men, such as Paul Barresi and Doug Gotterba.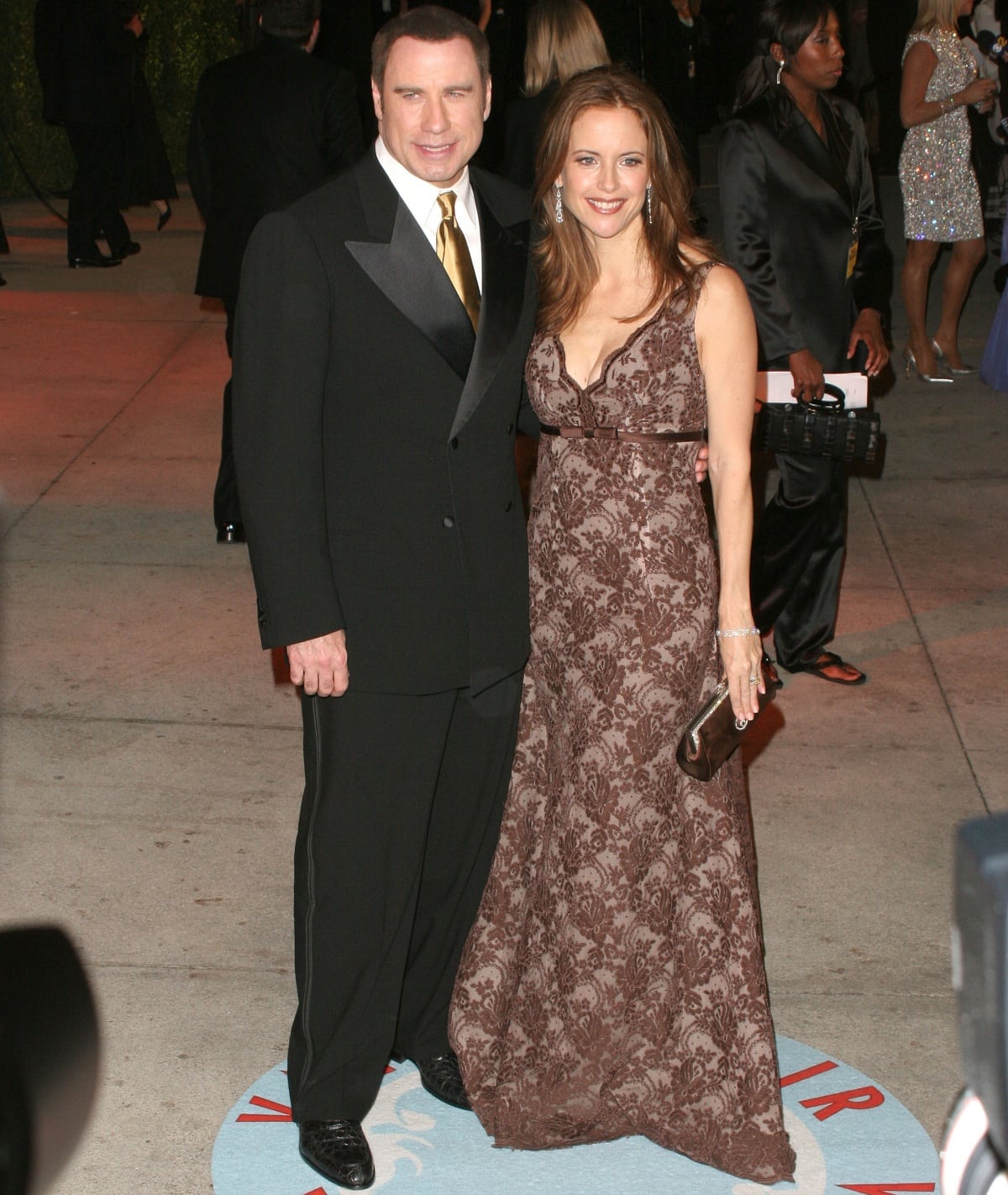 John Travolta with his wife Kelly Preston at the Vanity Fair Oscar Party in Hollywood, California on March 5, 2006 (Credit: Michael Williams / Startraksphoto)
He has also dated prominent women, including Brooke Shields, Catherine Deneuve, Marilu Henner, Diana Hyland, and Anita Gillette.
Who Is John Travolta's Wife?
Kelly Preston was married to John Travolta for 29 years. They appeared in three films together; Old Dogs (2009), The Experts (1989), and Gotti (2018).
John and Kelly met while shooting The Experts in 1987. The actor was dating Marilu Henner at the time, while Kelly was married to Kevin Gage.
John Travolta with his wife Kelly Preston departing Spago restaurant in Los Angeles, California in 1991 (Credit: Bart Sherkow / Shutterstock)
She started dating John, whom she met through Scientology, early in 1990, following the breakup of her romance with Charlie Sheen. They got married on September 5, 1991, following an 8-month engagement.
In 1992, she welcomed a baby boy named Jett. However, Jett tragically died from seizures in 2009 at 16 while on vacation in The Bahamas. Kelly gave birth to a daughter, Ella Bleu, in 2000, and the couple welcomed a son named Benjamin in 2010.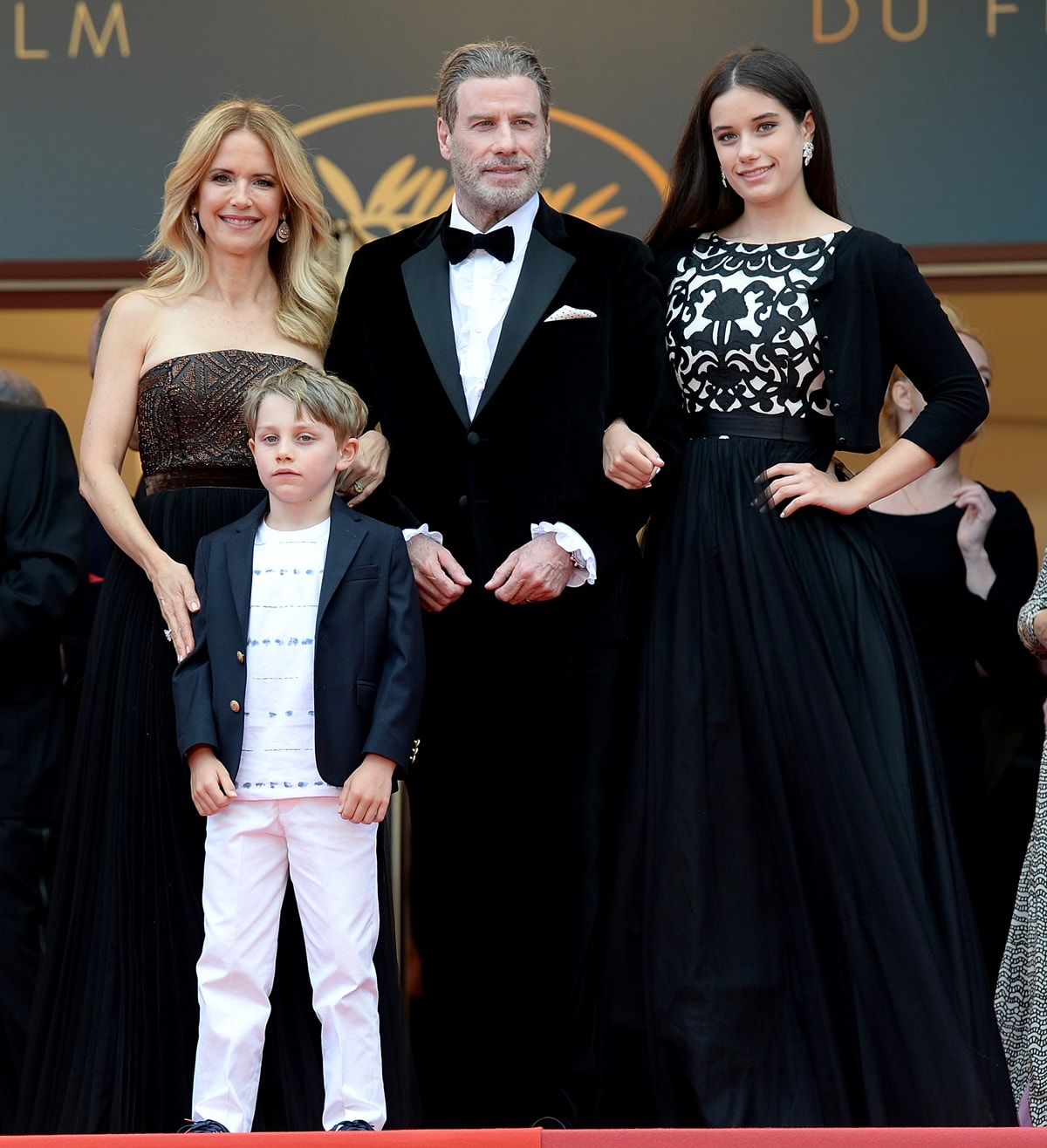 Kelly Preston passed away in July 2020 at the age of 57 after being diagnosed with breast cancer, leaving behind her husband John Travolta and their two children: Benjamin and Ella Bleu Travolta (Credit: INSTARimages)
After a two-year fight with breast cancer, Kelly Preston passed away on July 12, 2020, leaving John and their two surviving children, Ella and Benjamin.
Anita Gillette: John's First Famous Relationship
When John started his acting career in 1976, he began dating American actress Anita Gillette. The couple didn't stay together for long because the moment the actor met Diana that year, he immediately fell in love with her.
John Travolta at the G'Day USA Australia Week 2010 Black Tie Gala held at the Kodak Theater in Hollywood, California on January 16, 2010 (Credit: s_bukley / Shutterstock)
John Travolta and Diana Hyland
Towards the end of 1976, John Travolta started dating American actress Diana Hyland.
The pair met while filming The Boy in the Plastic Bubble. Although Diana played John's character's mother, the two actors nonetheless fell in love when he was 23 and she was 41.
After four months of dating, their relationship fell apart when she was diagnosed with breast cancer. Her health continued to deteriorate even after getting a mastectomy procedure.
Season 1 promo shot of the American television comedy-drama series Eight Is Enough featuring Diana Hyland (Credit: ABC)
John would subsequently disclose that they had chosen a house and planned to move in before she died in his arms in March 1977.
He told People that he had "more fun with Diana than I ever had in my life," indicating that his relationship with her was meaningful and that he even desired marriage.
His On-And-Off Relationship With Marilu Henner
After Diana's passing, John Travolta began dating Marilu Henner, another actress.
The two were romantically involved from August 1978 through May 1989, and the 70-year-old actress even starred with John in the 1985 film Perfect.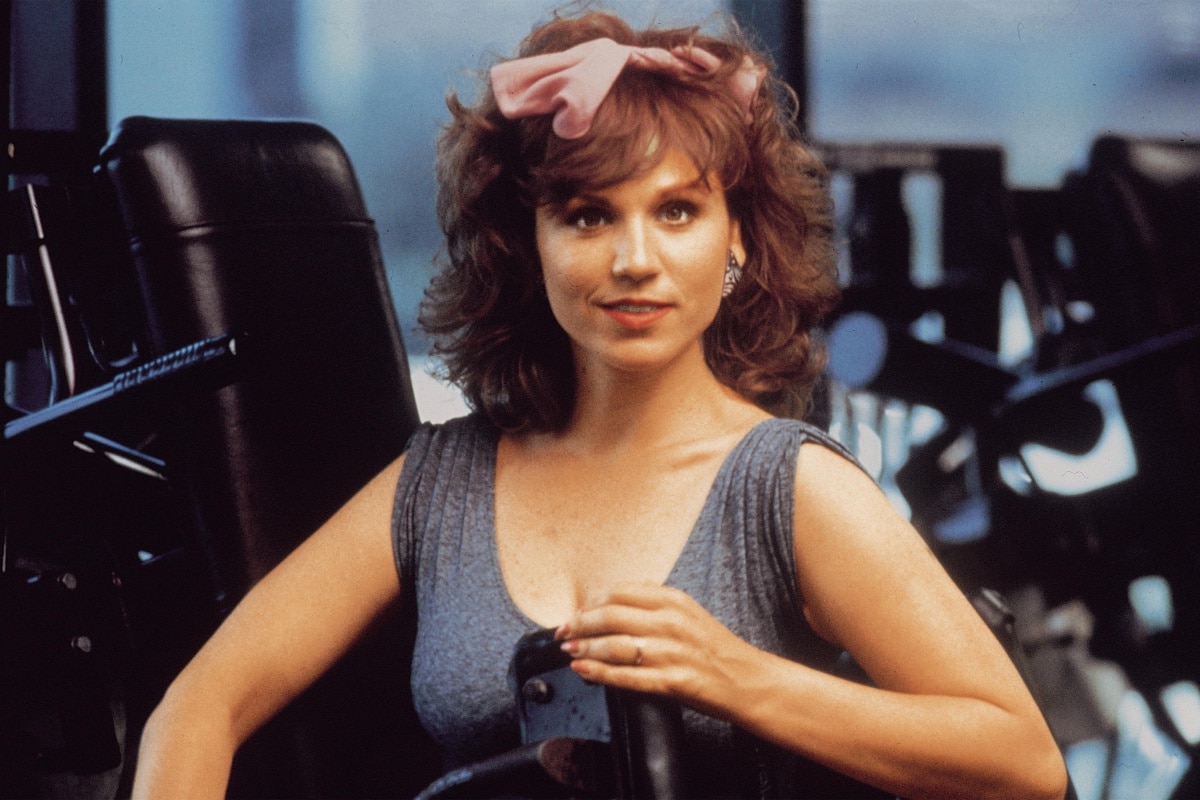 Promo shot of Marilu Henner as Sally in the 1985 American romantic drama film Perfect, which also stars John Travolta in the lead role (Credit: Columbia Pictures)
John met actress Marilu Henner while preparing for Grease in November 1972. They allegedly fell in love immediately, but they didn't go out together for over a year since he was dating someone else.
The couple dated for years, on and off, but eventually, their relationship ended, and John Travolta moved on to date other women.
Catherine Deneuve and John Travolta
Another actress John Travolta was romantically linked to is the French model Catherine Deneuve.
Rumors swirled that the two had a brief romantic relationship in 1980. However, neither of them ever confirmed or denied the rumors.
Catherine Deneuve attending the Louis Vuitton Fall/Winter 2023 show during Paris Fashion Week in Paris, France on March 6, 2023 (Credit: Aurore Marechal / Abaca Press / INSTARimages)
Did John Travolta Date Brooke Shields?
John Travolta also struck up a relationship with the gorgeous American actress and model Brooke Shields.
Brooke's mother, Teri, arranged for her then-16-year-old daughter to meet the then-27-year-old actor in 1981. They both had movies coming out at the time: Endless Love for her and Blow Out for him.
Nonetheless, because the actress was only a teenager and John was close to his thirties, their relationship remained platonic.
Teenage Brooke Shields as Jade Butterfield in the 1981 American romantic drama film Endless Love (Credit: Universal Pictures)
According to Gotterba, he suggested to Travolta that he get a girlfriend as a cover-up for their relationship, which is when the actor started dating Brooke Shields.
Gotterba claimed there was no chemistry between Travolta and Shields and that they only smiled for the cameras to maintain the illusion of being a couple.
His Controversial Affair With Doug Gotterba
In addition to his relationships with women, John Travolta has been linked to several men. One of his alleged romantic partners is Doug Gotterba, who worked as John Travolta's pilot in the 1980s.
During interviews with several newspapers, Doug disclosed that he first met the actor in February 1981 when applying for a pilot position with John Travolta's aviation company, Alto, and continued to work there until he came to a signed termination contract in 1987.
The pilot asserted that their friendship grew significantly more intimate during their six-year employment relationship.
John Travolta attending the 13th Annual Living Legends of Aviation Awards held at the Beverly Hilton Hotel in Beverly Hills, California, on January 22, 2016 (Credit: Tinseltown / Shutterstock)
John's lawyer sent cease-and-desist letters to the pilot after Doug spoke with The National Enquirer and revealed plans to publish a book, alleging Doug violated a confidentiality clause in his first termination agreement.
However, Doug and his attorney claimed the papers were fake, insisting they were merely an early copy of the contract.
To determine whether the agreement was legitimate and whether or not confidentiality was enforceable, Doug sued John and Alto.
The action was predicated on "the validity of the asserted termination agreements," according to Doug's victory in the California appeals court's ruling.
Paul Barresi and John's Scandalous Rumor
Another man John Travolta has been linked to is Paul Barresi, a former gay porn actor. However, that wasn't a typical affair or a well-known love tale, according to Paul Barresi, who claimed it was sexual harassment.
The first accusation was made in May 1990 when Paul Barresi informed National Enquirer that he had numerous sexual encounters with John over two years. But, John and his lawyer refuted the charges.
Since then, new names have repeatedly been mentioned, but they have all been swiftly forgotten, and it has never damaged John and Kelly's marriage.
John Travolta at the 22nd Annual Critics' Choice Awards held at Barker Hanger in Santa Monica, California on December 11, 2016 (Credit: Kathy Hutchins / Shutterstock)
John Travolta's Acting Career
American actor John Travolta started in the theater in New York before going to Los Angeles and transitioning to television and movies.
When John was 17, he decided to leave high school and relocate to New York City, where he would eventually land roles on Broadway in the show Over Here! and in the touring production of Grease.
He moved to Los Angeles shortly after that to advance his career. His first notable screen appearance after moving to Hollywood was in the 1976 horror movie Carrie. Moreover, he was cast as Vinnie Barbarino in ABC's Welcome Back, Kotter television sitcom.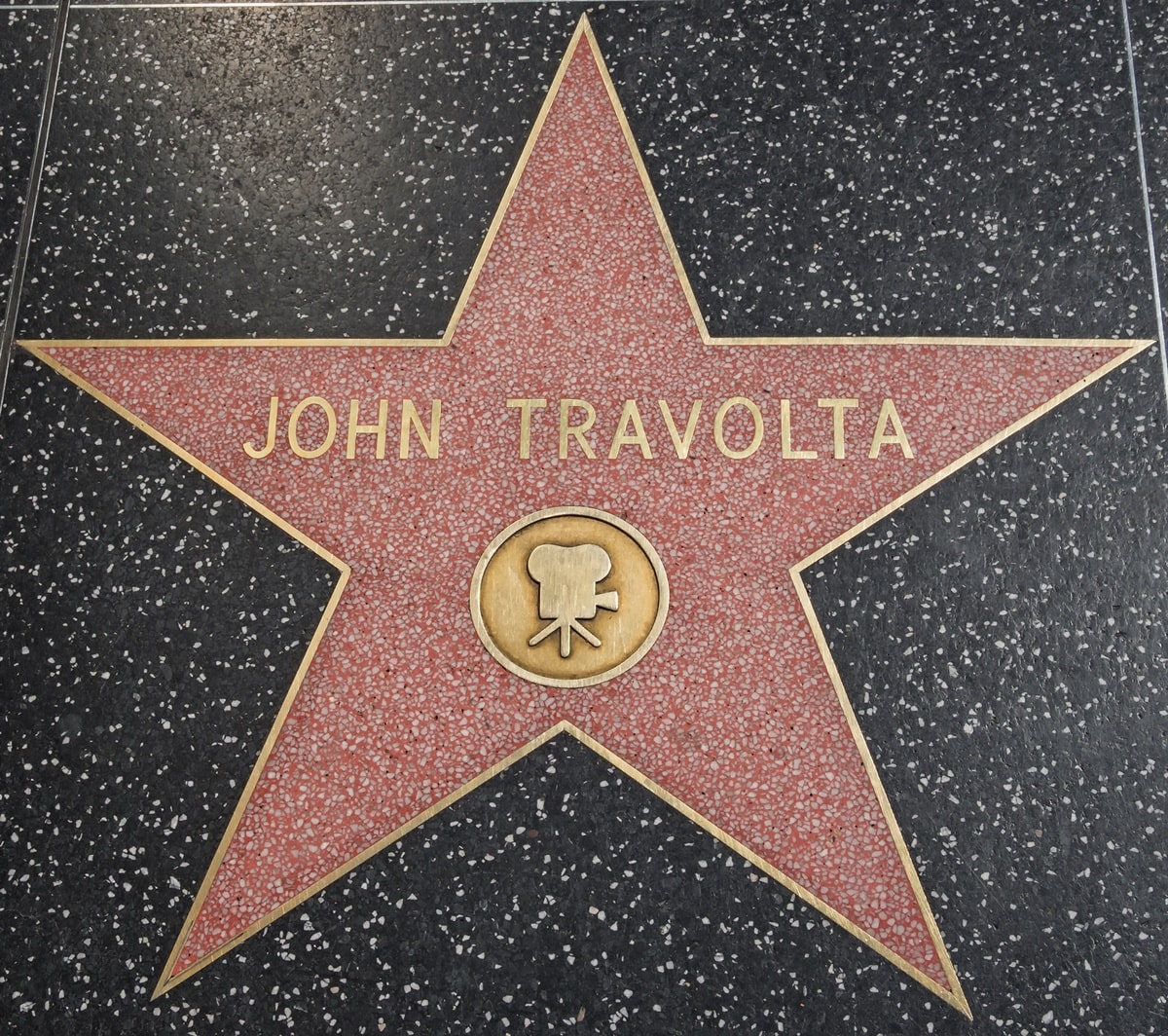 Star of John Travolta on the Hollywood Walk of Fame (Credit: Helena Garcia Huertas / Shutterstock)
Where Will We See John Travolta Next?
The legendary actor John Travolta will star in the upcoming action film American Metal.
In this action-thriller movie, a struggling father is driven to rob a drug factory out of sheer desperation. The mafia that controls Dixieland and the police will both be after him once the job goes violent.
John Travolta walking the red carpet during the 14th Rome Film Festival in Rome, Italy, on October 22, 2019 (Credit: Claudio Bottoni / Shutterstock)
While his romantic life has been a topic of speculation, it's clear that his talent and dedication to his craft have been the driving force behind his success.
As he continues pursuing new roles and projects, there's no doubt that his legacy in the acting world will continue to inspire and entertain audiences for years.