You may not recognize the name Laura Prepon, but there's a good chance you would recognize her face. You likely know her as Donna Pinciotti from That '70s Show or Alex Vause from Netflix's Orange Is the New Black.
Although well-known for her roles, little is known about the American actress, leaving many to ask questions like what is her natural hair color? Who is she dating? And what is her net worth?
Ben Foster and his wife Laura Prepon attend the "Orange Is the New Black" Final Season World Premiere at Alice Tully Hall, Lincoln Center on July 25, 2019, in New York City
With a little bit of digging, we've got the answers to these pressing questions! But, before we get to the more personal topics, let's look at who Laura Prepon really is and where she grew up.
Who is Laura Prepon?
Laura Helene Prepon was born on March 7, 1980, in Watchung, New Jersey. Her father, Michael Prepon, was an orthopedic surgeon who died during heart surgery when Prepon was just 13 years old.
Her mother, Marjorie Prepon, was a high school teacher. Prepon expressed an interest in acting from a very early age. After graduating high school in New Jersey, she went on to study at Total Theatre Lab in New York.
Mila Kunis as Jackie Burkhart, Lisa Robin Kelly as Laurie Forman, and Laura Prepon as Donna Pinciotti on That '70s Show
While in New York, Prepon starred in a few plays and began modeling, which took her to Paris and Milan. Although she was experiencing a bit of success in her acting career, it wasn't until she landed the role of Donna in That '70s Show that fame and fortune started to pour in.
Since playing Donna, Prepon has gone on to star in a number of TV shows and movies. With a successful career like Prepons, we can assume she has made a good amount of money. But what is her net worth exactly? Here's what we know…
Laura Prepon: Net Worth Revealed
Prepon's breakthrough role as Donna in the Fox sitcom That '70s Show ran from 1998 to 2006 – that's a long time for a sitcom!
In fact, it is Fox's second-longest-running sitcom in the network's history and launched the careers of all the actors who starred in it, including Mila Kunis. Laura was 18-years-old when the first episode aired on August 23, 1998.
How tall is Donna from That 70s Show?
Portraying Eric's longtime girlfriend (and briefly fiancée) Donna Pinciotti on That '70s Show, many fans were impressed by her height. When asked about her tall stature on Twitter, Laura confirmed that she measures 5'10 (178 cm) without heels. Her husband, Ben Foster, could need a pair of elevator shoes when posing with his wife.

Laura Prepon measures 5'10 (178 cm) without heels
Although the amount she made per episode remains unknown, we can assume that she received a hefty paycheque that grew with the show's success.
Laura Prepon during the 10th Annual Billboard Music Awards at MGM Grand Hotel in Las Vegas, Nevada, on December 8, 1999
While the show was still airing, Prepon worked on additional projects. In 2002 she starred in a college comedy called Slackers. That same year, she was nominated for a Teen Choice Award and also named one of Stuff magazine's "Sexiest Women in the World."
In 2004, her voice was used for a United Nations Space Command in the Halo 2 video game, and she also appeared in the film Lightning Bug.
In 2005, Prepon died her hair blonde for her role in Karla. The movie was based on a true story about Canadian couple Paul Bernardo and Karla Homolka, who abused and murdered three girls in Ontario.
The same year, she appeared on Maxim's "Hot 100" lists and was the executive producer of E! Hollywood Hold 'em, a poker television show.
Mila Kunis and Laura Prepon during FOX 2004-2005 Prime Time Upfront Afterparty at Central Park Boathouse in New York City on May 20, 2004
For the next few years, Prepon had several small roles appearing as a guest star in TV shows like How I Met Your Mother, Castle, and House M.D, among others.
In February 2011, she was cast in a new sitcom, this time with NBC, where she played the lead role of Chelsea Newman. The show was called Are You There, Chelsea? and was inspired by Chelsea Handler's popular 2008 book that you can buy on Amazon.
Unfortunately, the show didn't see the same level of success as That '70s Show and was canceled the following year.
Christopher Masterson was in a relationship with his brother Danny Masterson's That '70s Show co-star Laura Prepon from 1999 to 2007
In 2013 she premiered in the Netflix original Orange Is the New Black as Alex Vause. In the show, Prepon plays an ex-drug dealer and Piper Chapman's (lead character) ex-girlfriend. Her role grew as the series progressed, and she became a major part of the cast. The series ended last year, lasting an impressive six years.
Prepon has had a full career and has seen a significant amount of success over the past twenty years. At now 40 years old and after wrapping up Orange Is the New Black, Laura Prepon's net worth is believed to be $12 million.
Laura Prepon's diverse roles and acting ability have as much range as her color. It seems that with each new role, Prepon changes the color of her hair.
Laura Prepon's Natural Hair Color
In That '70s Show, she had red and blonde hair, in Are You There, Chelsea? she had blonde hair and in Orange Is the New Black, she has black hair. The fact that Prepon is able to pull off every shade of hair color out there is just as impressive as her acting abilities!
View this post on Instagram
Well, thanks to some old childhood photos she shared on her Instagram page, we now know that Laura Prepon's natural hair color is red. After seeing these adorable pics of her has a red-headed little girl, I am a little biased and think this color looks best on her!
Laura Prepon Relationships
This natural-redhead rose to fame at just 18 years old. Since then, Prepon has done a good job of keeping her personal life out of the media. That said, we do know a bit of her dating history.
When she started filming the show, she was introduced to co-star Danny Matheson's brother, Christopher Masterson, who starred on the show Malcolm in the Middle. The relationship was short-lived.
Following that, Prepon dated Scott Michael Foster, an actor known for roles in television series Greek and Chasing Life. The two broke up in 2013.
Laura Prepon, who wears shoe size 9 (US), shows off her feet and legs at a party in 2007
Prepon is known to remain quiet and private about her personal life, but she did reveal on Live with Kelly and Ryan in 2017 that she and her fiancé Ben Foster were expecting their first child.
Prepon's daughter, Ella, was born in August 2017, and just under a year later, Prepon and Foster married. Earlier this year, in February, the family of three grew by one more, and Prepon gave birth to their son.
Ben Foster and Laura Prepon married in June 2018 and have two children
She has not yet released his name and has not shared any photographs of her children's faces. Laura and her husband both feel they should respect the fact that their children aren't old enough to choose if they want to have their photographs shared on social media and have chosen not to reveal information or pictures of their kids.
She has denied ever dating fellow Scientologist Tom Cruise, who was previously married to Katie Holmes (m. 2006–2012), Nicole Kidman (m. 1990–2001), and Mimi Rogers (m. 1987–1990).
"It's just so funny that when people don't know, they just make stuff up, [like], apparently I'm dating Tom Cruise right now. And apparently, he doesn't want me doing the show because I portray a lesbian and I'm a Scientologist," she told SheKnows in April 2014. "This is false; where are they even getting this stuff? It's unbelievable to me."
A pregnant Laura Prepon shows off her growing belly in June 2017
Despite keeping her family life very private, Prepon is open about her religious beliefs.
Laura Prepon Religion
Prepon's father was Jewish, and her mother Catholic, so her conversion and choice to join the Church of Scientology in 1999 came as a shock to her family. It is believed that Prepon was introduced to the religion by her then-boyfriend, Christopher Masterson, who is a Scientologist along with his brother Danny Masterson.
Prepon has spoken out about her involvement with, and appreciation for, the Church of Scientology. In interviews, she has said that it had changed her and her life for the better.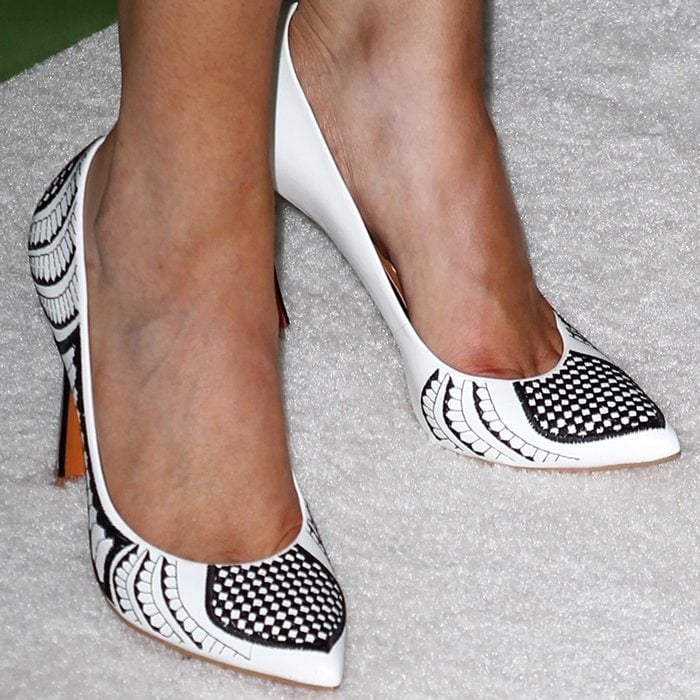 Laura Prepon shows off her feet in Christian Louboutin high heels
In Scientology, "auditing" is the route of traveling to a higher state of spiritual awareness, which is achieved by ridding yourself of spiritual disabilities and increasing spiritual abilities.
When asked about it, Prepon says, "The auditing has stripped away all of this charge, false ideas, decisions and mis-emotions that were affecting me. I recently had one of my biggest cognitions in a New Era Dianetics session. I spotted this decision I made a long time ago that was affecting me to this day. It was a huge realization."
She has also said that this auditing has helped her in her roles, and because of it, she is able to be vulnerable and immerse herself in her scenes.
In 2016, Laura and her nutritionist pal Elizabeth Troy released the book "The Stash Plan" on Amazon. It outlines their 21-day food preparation-based detox plan.
Laura Prepon promotes her book The Stash Plan: Your 21-Day Guide to Shed Weight, Feel Great, and Take Charge of Your Health
Her involvement in Scientology has come with a bit of negative press. Former That '70s Show co-star and Scientology member Danny Masterson was charged with criminal rape. Prepon, along with the Church of Scientology, was accused of trying to silence the victims.
Although Prepon's PR team attempted to handle the situation and downplay her involvement with the church, it didn't slow rumors. At specific periods through the Orange Is the New Black series, Prepon is seen less.
Laura Prepon is much taller than her husband Ben Foster
Some believe that it is because the LGTBQ+ storyline is against Scientology beliefs, and so Prepon was pulling back. She has denied this, but former Scientology star Leah Remini believed this to be true and said that Scientology is against the LGTBQ+ community.
Laura Prepon is a red-headed Scientologist with a successful acting career spanning two decades. Although not currently acting, we can still catch Prepon in reruns or online streaming of That '70s Show, and Orange Is the New Black.
The actress is taking a pause from the camera and is now focusing on her family while remaining active on Instagram with her Instagram series #PrepOn where she shares cooking tutorials in her home kitchen.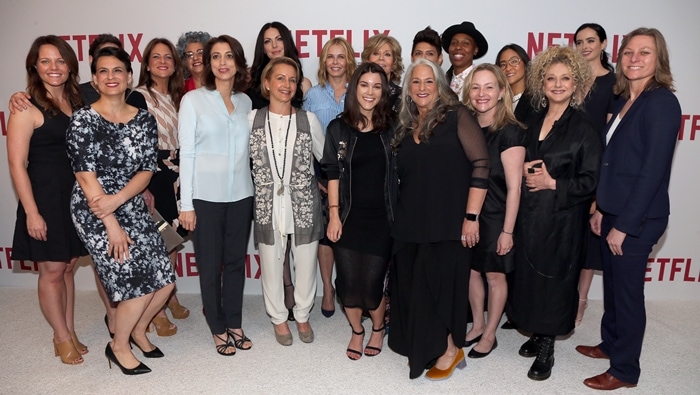 Lisa Nishimura, Laison Goss, Cindy Holland, Jane Wiseman, Cathy Schulman, Jane Fonda, Laura Prepon, Krysten Ritter, Chelsea Handler, Dominique Crenn, Jenji Kohan, Carol Kane, Moira Demos, Laura Ricciardi, Gabrielle Carteris, Abby Fuller, and Lena Waithe at Netflix's Rebels and Rule Breakers celebrating The Women of Netflix held at the Beverly Wilshire Four Seasons Hotel on May 14, 2016, in Beverly Hills, California
We are fairly certain Prepon will soon find another awesome role to showcase her acting abilities, but what remains unknown is the color her hair will be next. Perhaps if we see her hair color change we can expect an exciting new role to be announced soon after.
Credit: Avalon / WENN / Chris Connor / Nikki Nelson / Emily Grant / 
Michael Carpenter / FayesVision / Patricia Schlein