Ella Bleu Travolta, the daughter of American Pulp Fiction actor John Travolta, ensured her father felt the love on his special day.
On February 18, the celebrity turned 69 years old, and over the weekend, his 22-year-old daughter posted a touching tribute in his honor.
Kelly Preston was an actress and the wife of actor John Travolta, with whom she had three children, including Benjamin and Ella Bleu Travolta, before passing away at the age of 57 in July 2020 after being diagnosed with breast cancer (Credit: INSTARimages)
Along with a picture of the two smiling cheek to face, Ella remarked, "Yesterday marked the birthday of my hero. The most incredible father, friend, and role model anyone could ask for. I love you, Daddy ❤️❤️❤️."
"I love you too, my dearest Ella. More than you know," John said in the comments section in response to the post where he included a red heart emoji.
View this post on Instagram
In addition to wishing the Saturday Night Fever star a happy birthday, Ella's fans also sent heartfelt messages to the father-daughter tandem.
The actor has two children, Ella being the eldest, with his late wife Kelly Preston, whom he wed in 1991. Benjamin, his youngest son, is twelve years old. Jett, his first child, died in 2009 at sixteen. In 2020, Kelly lost her fight against breast cancer.
On her Instagram, Ella has previously lavished her parents with love, frequently emphasizing how much she values them.
View this post on Instagram
In 2019, Ella wrote a heartfelt message for her daddy through an Instagram post, saying, "Dad, you are my role model, you have taught me so much, and I know I can always go to you for advice on anything and everything, and you'll have the perfect answer. Thank you for your constant and unconditional love and support always, thank you for the laughs, the adventures, and the beautiful opportunities, thank you for your incredible patience and kindness to everyone."
View this post on Instagram
Last year, Ella captioned a picture of herself with her father and brother Benjamin on Father's Day with, "Happy Father's Day, to the smartest, kindest, most generous man I know. Just by being yourself, you have taught me the most important lessons in life. Thank you for everything you do and for being my friend. I love you, Daddy."
Together with a picture of her mother as a child, Ella wrote about the powerful women in her life on Mother's Day.
She captioned the picture, saying, "I've learned a lot from all of the strong and powerful women in my life. I thank you all for being such wonderful role models. I miss and love you, mama. Happy Mothers to all of the wonderful moms out there!"
View this post on Instagram
When his daughter decided to follow in the footsteps of her famous parents and pursue acting, John previously told People that he couldn't be more proud of her.
Ella played a supporting role in the 2019 thriller The Poison Rose, which also starred her father and Morgan Freeman.
John said, "She is her own person. She is gracious, generous, poised, graceful, and gorgeous. I don't know how she came to be, and I don't take any credit other than just adoring her. And maybe that's a valid contribution."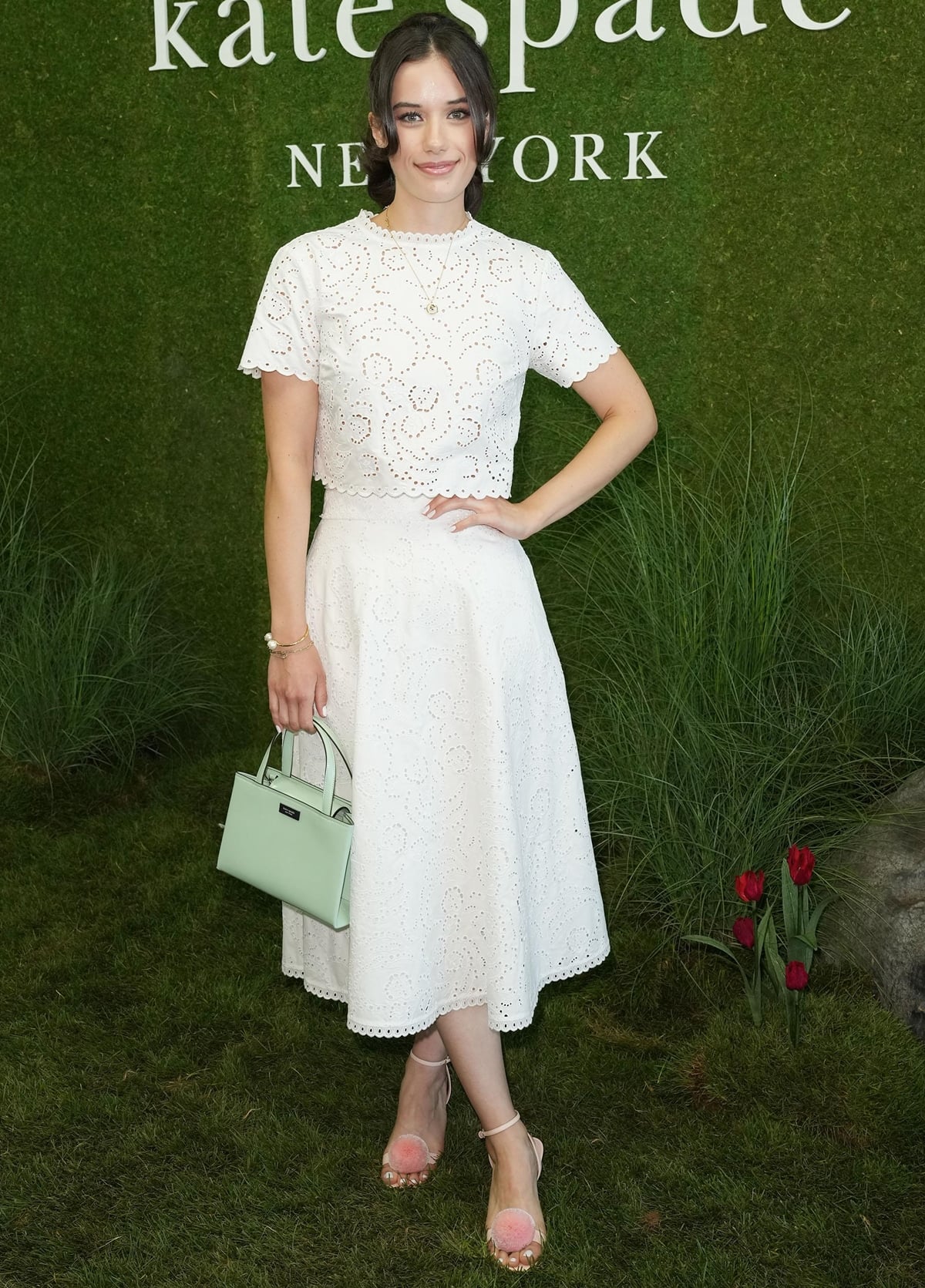 Ella Bleu Travolta in a white dress at the Kate Spade Presentation during September 2022 New York Fashion Week at 3 World Trade Center on September 9, 2022, in New York City (Credit: John Nacion /Startraksphoto / Cover Images)
The actor went on to say that he thinks giving kids the freedom to express themselves is crucial. "I really do believe that children have rights. Just because they are little bodies doesn't mean that they shouldn't have a say-so. I find when you consult them, they can come up with much better ideas than yours."