In January 2016, When a Stranger Calls actress Camilla Belle wowed at the grand opening of Jennifer Lopez's new Las Vegas residency "Jennifer Lopez: All I Have" held at Planet Hollywood Resort & Casino.
Camilla Belle wears her hair down at "Jennifer Lopez: All I Have" held on January 20, 2016, at The AXIS at Planet Hollywood Resort & Casino in Las Vegas
10 years earlier, she starred as Jill Johnson in When a Stranger Calls, an American psychological horror film directed by Simon West and written by Jake Wade Wall.
Is When a Stranger Calls a true story?
No, it's not based on a true story. It is a remake of Fred Walton's 1979 horror film of the same name, which was written and directed by Fred Walton and co-written by Steve Feke.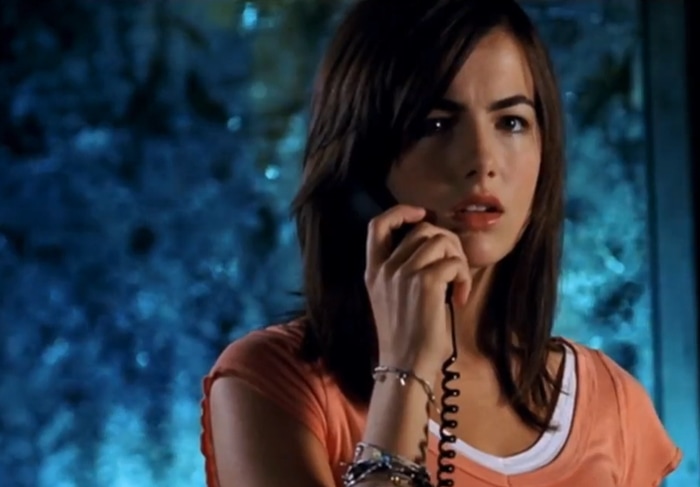 Camilla Belle as Jill Johnson in When a Stranger Calls
After Evan Rachel Wood turned down the part, Camilla Belle accepted the role despite her personal dislike for horror films.
"There's really no script that a female character so young is able to play and to carry a film. There's really no roles like that around, it's very rare. So I wanted to take on that opportunity and see if I could pull it off," she told Horror in a 2006 interview.
In another interview with Radio Free Entertainment, she revealed that it took some convincing before she accepted the role.
He's very right. I was really skeptical about doing it…and I was like, "No, I don't want to do a horror movie. Not my thing." And then my agent was like, "Just go meet with Simon…I think this is a little bit different than what you think it's going to be." So then I met with him, and I read the script, and he was telling me the type of movie he wanted to make. "I want to make a psychological thriller. I don't want to make a horror film…And we really want to make it like Wait Until Dark with Audrey Hepburn." I was like, "Oooh, okay! Well, if that's the type of movie you're going to make, I'm fine." [laughs] I had a couple concerns about the setup of the character and whatnot, and he agreed, and we just got along really well. We had the same ideas about the film and we kind of clicked, and then I just decided to do it.
How old was Camilla Belle in When a Stranger Calls?
Principal photography began on January 1, 2005, and completed on February 28, 2005, in Vancouver, British Columbia, Canada.
Born on October 2, 1986, in Los Angeles, California, she was 18 while filming the movie and celebrated her 19th birthday on October 2, 2005.
The film was theatrically released on February 3, 2006, and was a moderate box office success despite negative reviews from film critics.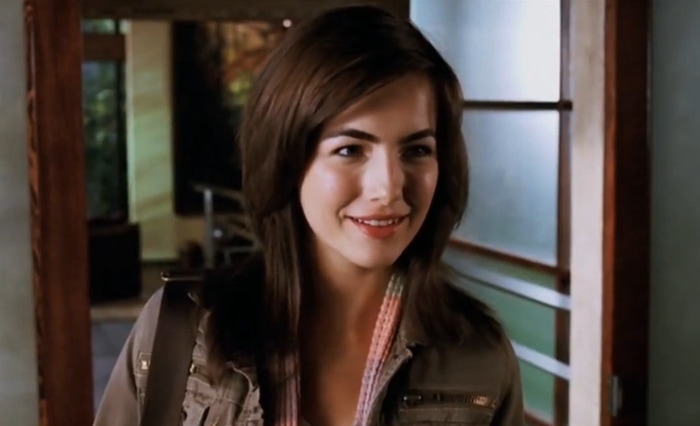 Camilla Belle was 18 years old when filming When a Stranger Calls
10 years later, the then 29-year-old actress walked the red carpet in an intricately beaded black dress by Ralph Lauren. The frock had a vintage feel to it with its fringed hem, but the plunging v-neckline kept things modern.
Camilla Belle wears a black flapper-style Ralph Lauren dress on the red carpet
Camilla let her flapper-style dress do the talking by keeping her accessories to a minimum.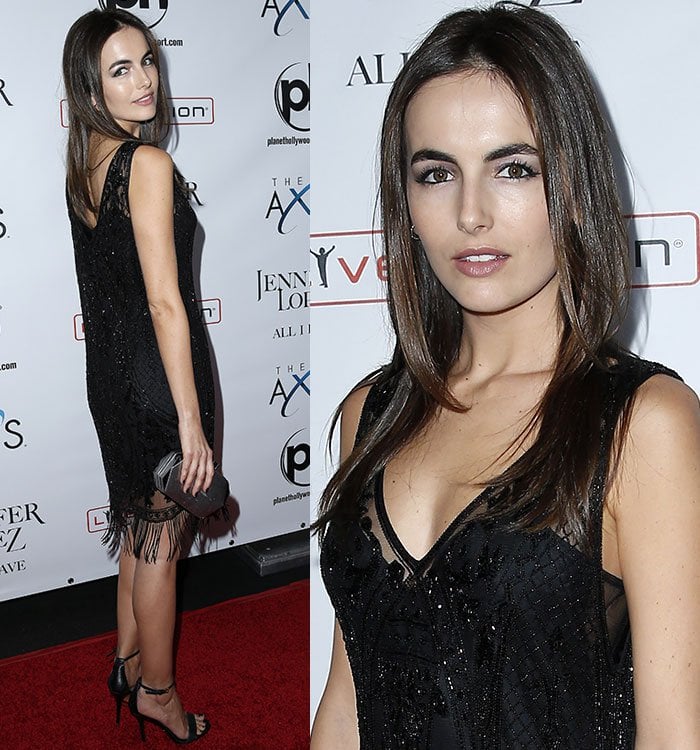 Camilla Belle shows off the beaded detail on her vintage-inspired Ralph Lauren dress
The Lost World: Jurassic Park actress teamed the dress with a pewter clutch and a pair of black sandals and completed her look with fiery eye-makeup and straight locks.
Camilla Belle teams her fringe-hemmed dress with a clutch and black sandals
Later that evening, Camilla Belle joined other celebrities at the after-party held at the new Mr. Chow at Caesars Palace.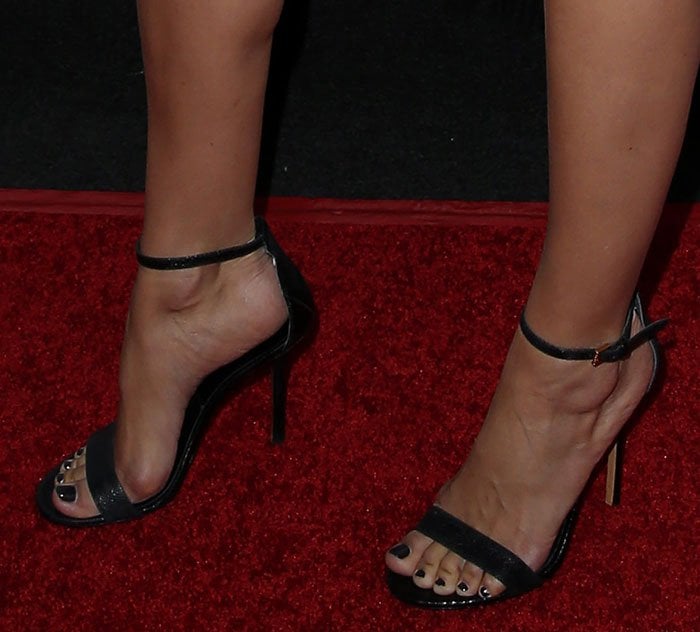 Camilla Belle's feet in simple black sandals
Prior to her arrival, she swapped her black frock for a floral embroidered dress from Monique Lhuillier's Fall 2015 collection.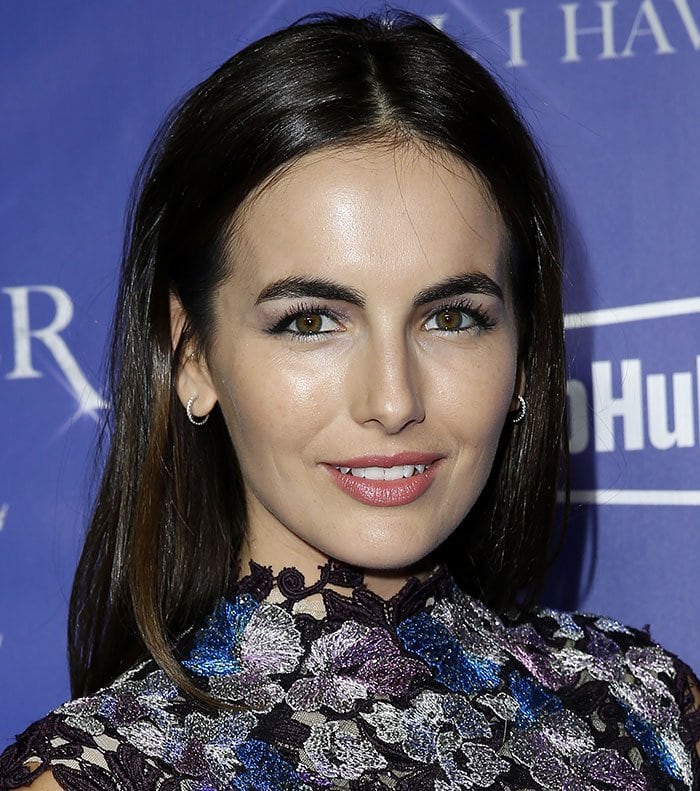 Camilla Belle attends the Jennifer Lopez Official After Party Red Carpet held Jan. 20, 2016, at Mr. Chow inside Caesars Palace in Las Vegas
The "Open Road" actress kept the vintage vibe going in the purple, silver, and blue mini dress. It also featured a high neck, cap sleeves, and a thigh-skimming hemline.
Camilla wore the same accessories, hair, and makeup as before, and topped off the look with a pair of metallic sandals.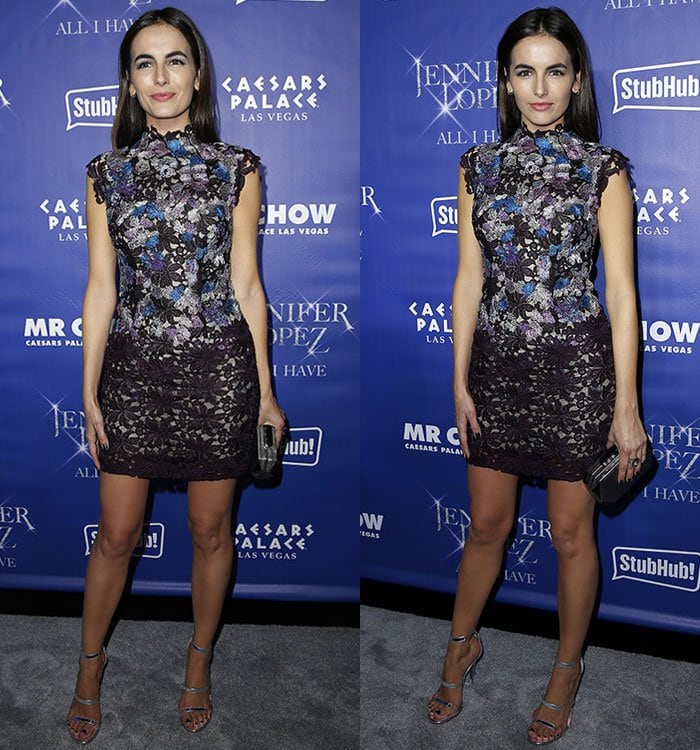 Camilla Belle wears a vintage-inspired Monique Lhuillier mini dress
Camilla picked the Tamara Mellon "Frontline" sandals in metallic silver for her feet. They have transparent side straps that create the illusion of floating straps, back zip fastenings, and about 4.5-inch heels.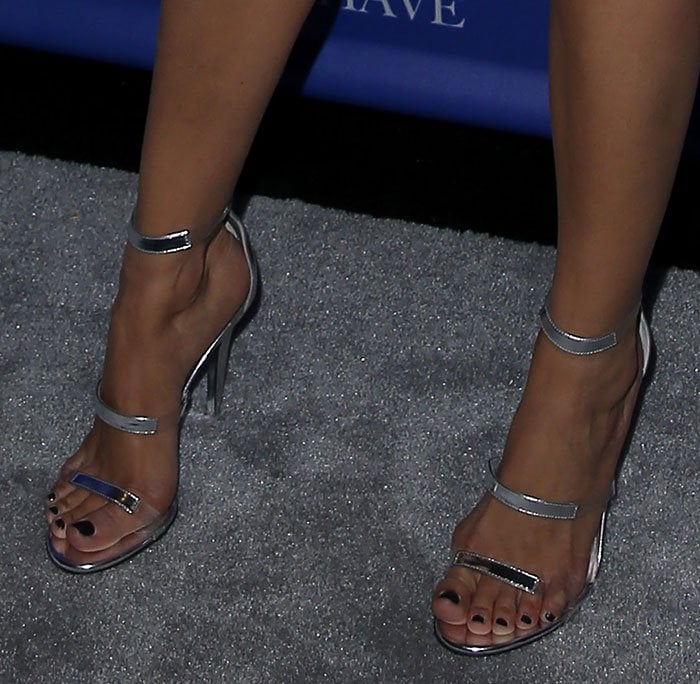 Camilla Belle's feet in silver Tamara Mellon sandals
You can check out these sandals in different versions at Amazon.
Tamara Mellon Frontline Sandals, $595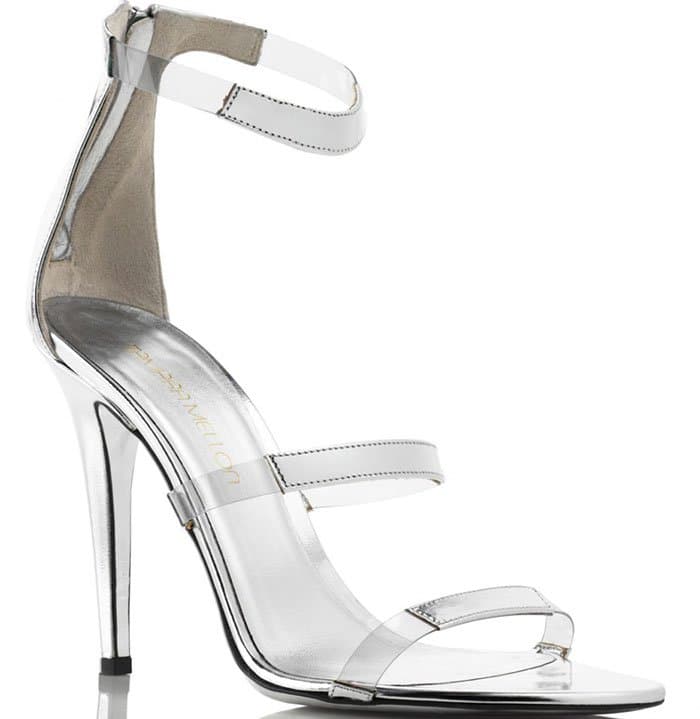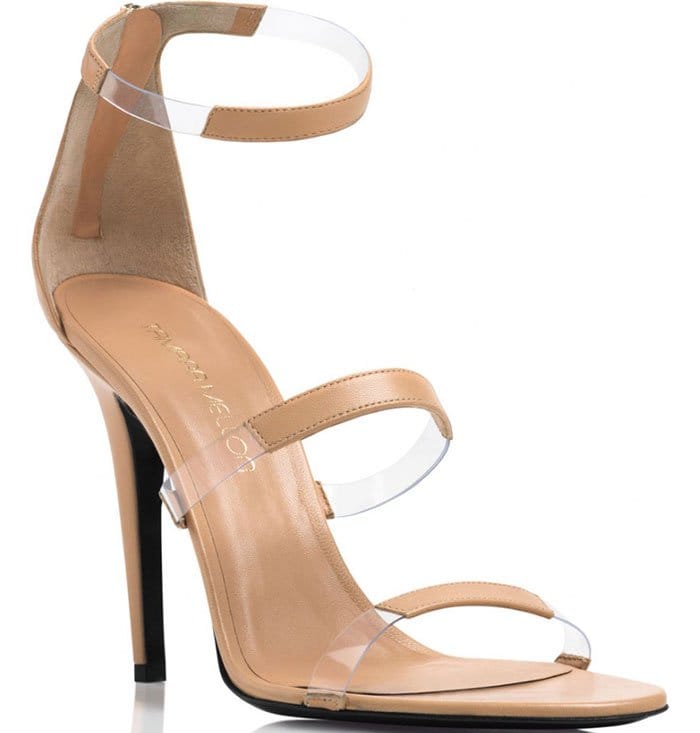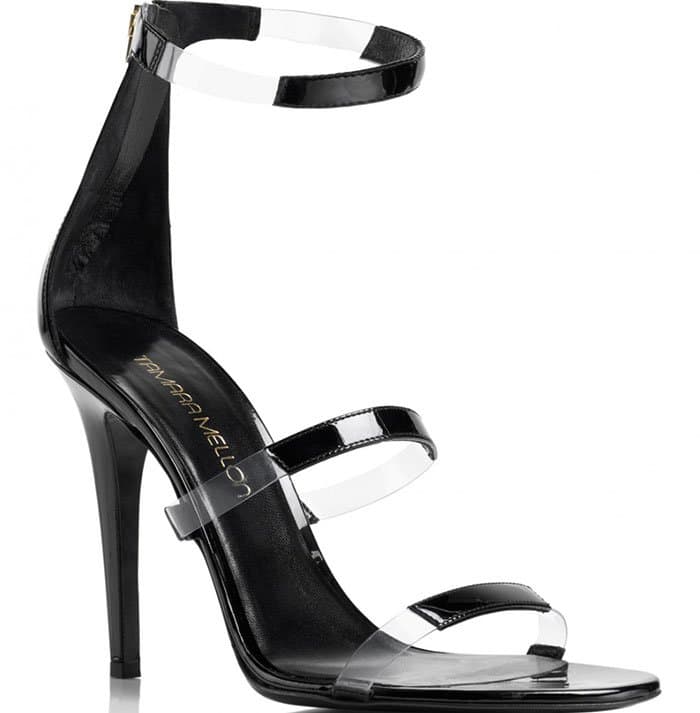 In December 2019, she also attended Brooks Brothers' Annual Holiday Celebration to Benefit St. Jude at the West Hollywood EDITION in Los Angeles.
The American actress styled another pair of Tamara Mellon shoes with a sequin embroidered cotton dress and coat from Tory Burch.
Camilla Belle attends Brooks Brothers Annual Holiday Celebration To Benefit St. Jude at The West Hollywood EDITION on December 07, 2019, in West Hollywood, California
Credit: DJDM / Judy Eddy / WENN / Instar