Monique Lhuillier is a Filipino fashion designer behind the infamous American-based bridal and lifestyle brand under the same name.
Her eponymous brand began with a focus on bridalwear in 1996 before expanding to become a luxury fashion house in Los Angeles, focusing on provoking femininity, allure, and glamour through sophisticated designs.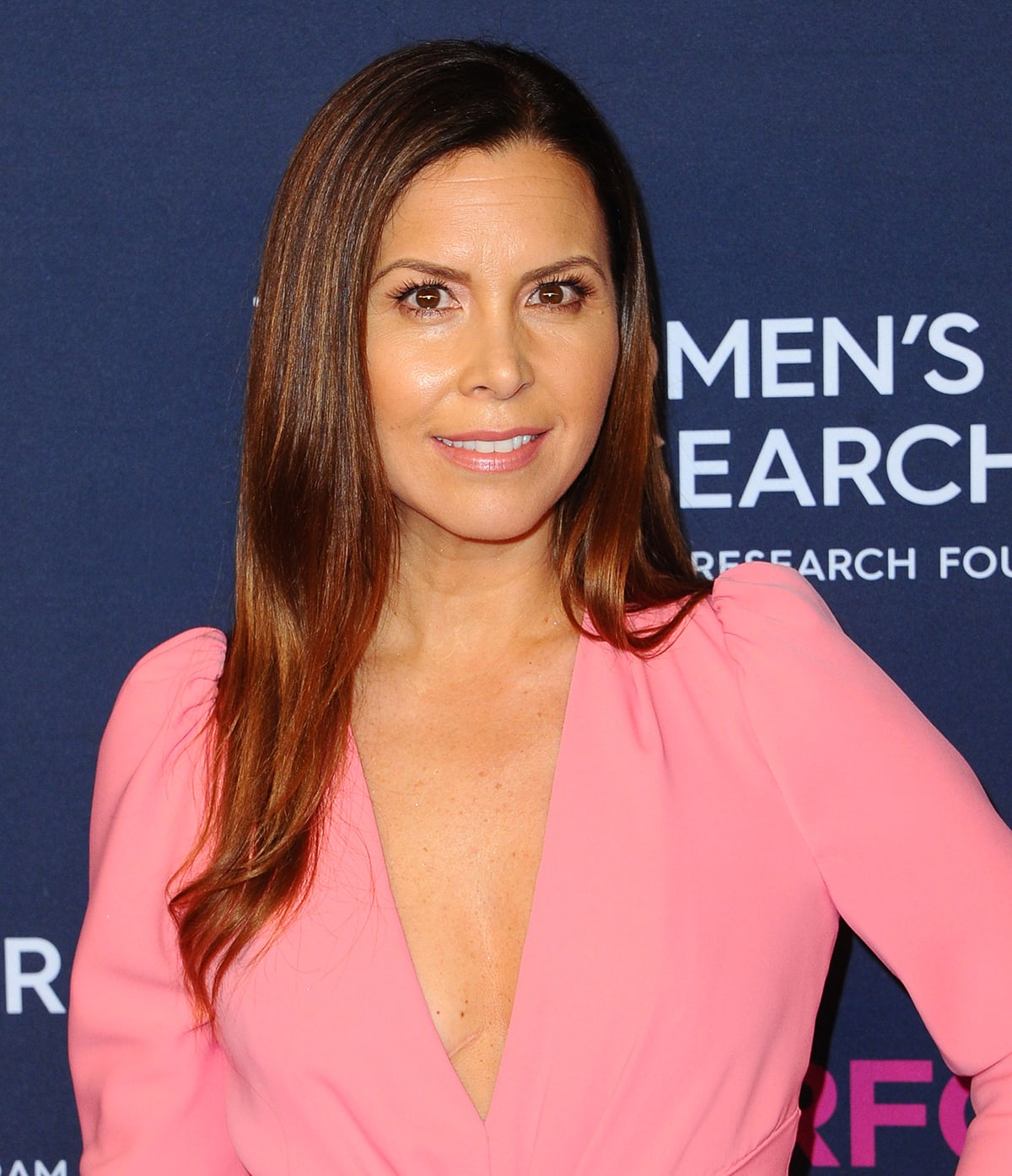 Filipino fashion designer Monique Lhuillier launched her eponymous fashion house in Los Angeles in 1996 with a focus on bridalwear (Credit: Sara De Boer / startraksphoto)
Monique Lhuillier has almost 2 million followers on Instagram with a global network of celebrity clientele.
The designer and brand are infamous for their whimsical and feminine bridal wear and showstopping red-carpet looks. The brand found mainstream success after Lhuillier designed Reese Witherspoon's famous pink wedding dress in 2011.
We're sharing everything you need to know about Monique Lhuillier and answering the most popular questions about the brand.
Who Is Monique Lhuillier?
Monique Lhuillier is one of America's leading bridal and ready-to-wear designers. Her wedding dresses have been worn by celebrities like Sophia Bush, Ashley Tisdale, Carrie Underwood, and Lea Michele. The brand's popularity with celebrity brides rivals that of Vera Wang and Elie Saab.
Lhuillier moved to Los Angeles to study design at the Fashion Institute of Design & Merchandising (FIDM) before meeting her husband, Tom Bugbee, whom she married in 1995.
Monique Lhuillier is a Philippine-born LA-based fashion designer who has become a household name in fashion for her wedding dresses (Credit: DARA KUSHNER / INSTARimages)
The brand began with a focus on bridalwear, with Lhuillier designing dresses from her parents' basements. At the same time, her husband worked on the company's financial strategies while taking his MBA at USC.
The Monique Lhuillier brand was launched in 1996 by Lhuillier and her husband, quickly establishing itself as one of the leading bridalwear brands in the U.S.
It became synonymous with contemporary but feminine designs with a chic and whimsical aesthetic, offering the perfect look for a modern fairy tale.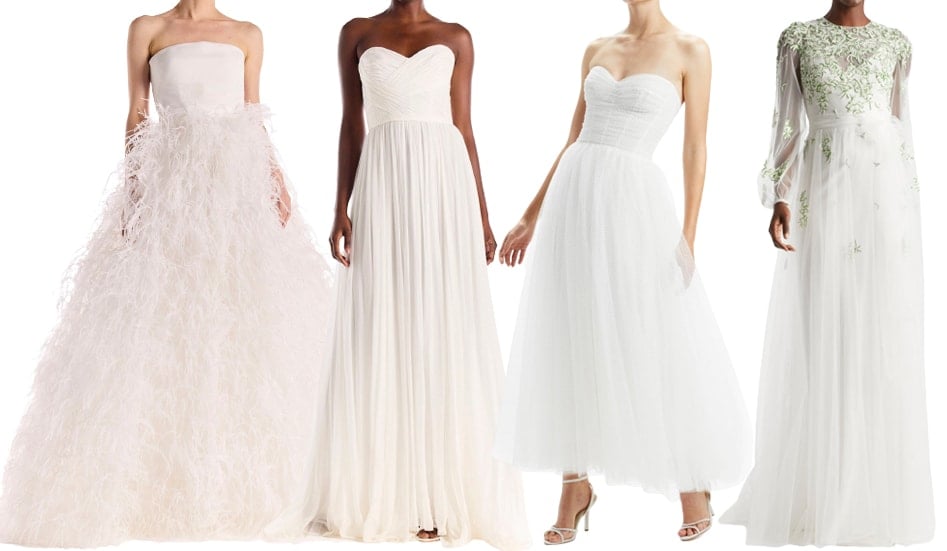 Monique Lhuillier is famous for her bridal gowns, ready-to-wear and lifestyle brand (Credit: Monique Lhuillier)
A ready-to-wear and accessory range followed the success of the bridal range, with the Monique Lhuillier brand eventually being licensed for lifestyle products. Monique became a member of the Council of Fashion Designers of America in 2003.
The official Monique Lhuillier website describes how her "craft and techniques defy the conventions of day versus evening dressing." The brand considers itself "a destination for women who understand the art of fashion."
Monique Lhuillier currently lives between Los Angeles and New York with her husband, Tom, and children, Jack and Sophia. She also works on several philanthropic projects alongside her design work, partnering with Baby2Baby and BCRF.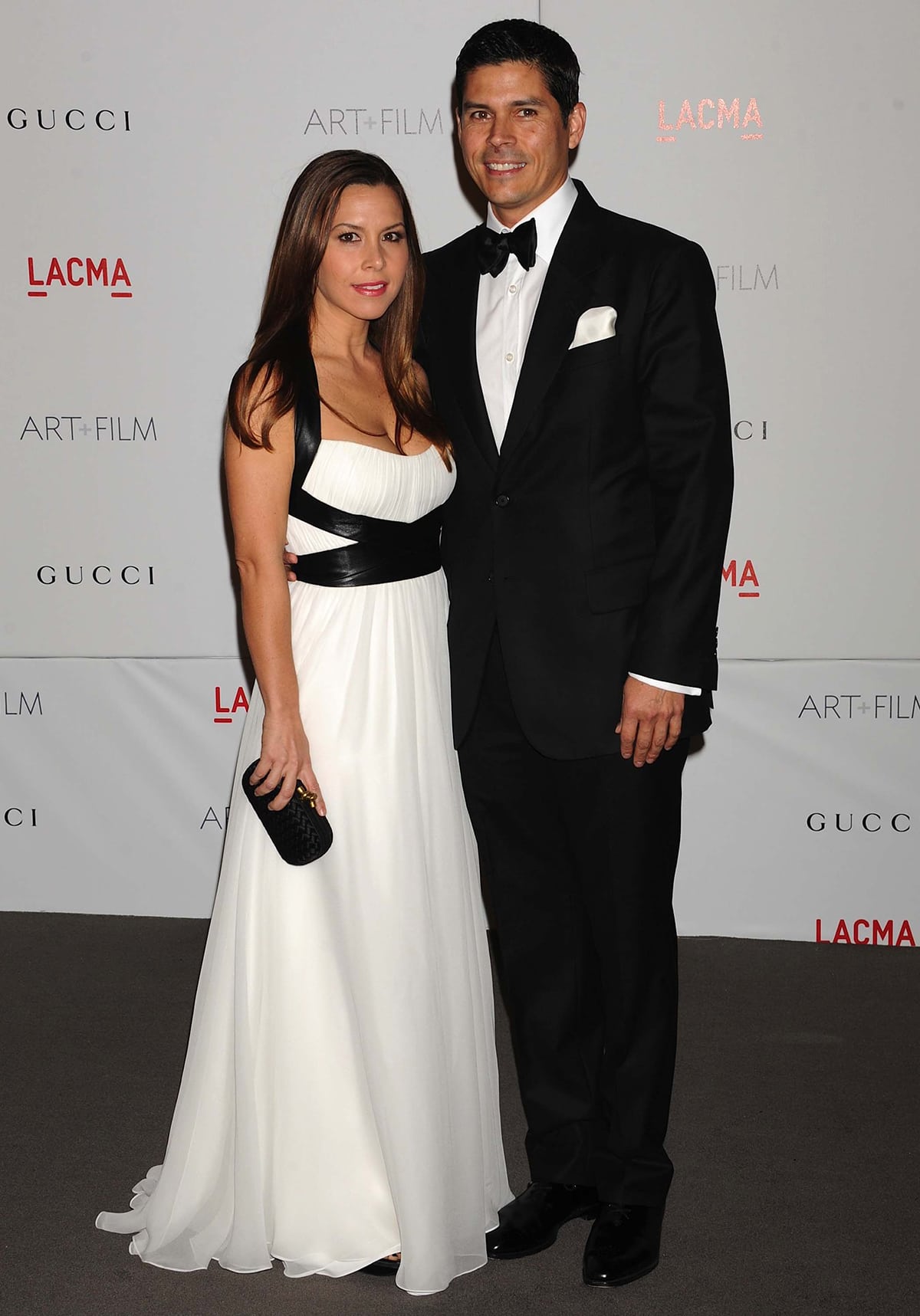 Monique Lhuillier currently lives between Los Angeles and New York with her husband, Tom, and children, Jack and Sophia (Credit: Jennifer Graylock / INFevents)
What Is Monique Lhuillier Known For?
Monique Lhuillier's brand is synonymous with luxury, femininity, allure, and Hollywood glamour.
Her well-maintained image and brand DNA has led to several licensed collections with corporate partners like Pottery Brand and a range of fine jewelry, wedding invitations, fragrance, and lingerie. The fashion label has moved beyond its original bridalwear category to become a full lifestyle brand.
The brand is famous for its celebrity following. Lhuillier has designed custom dresses and styled celebrities like Taylor Swift, Blake Lively, Emma Stone, Reese Witherspoon, and Gwyneth Paltrow. Her designs have also been worn by American First Ladies, including Michelle Obama and Melania Trump.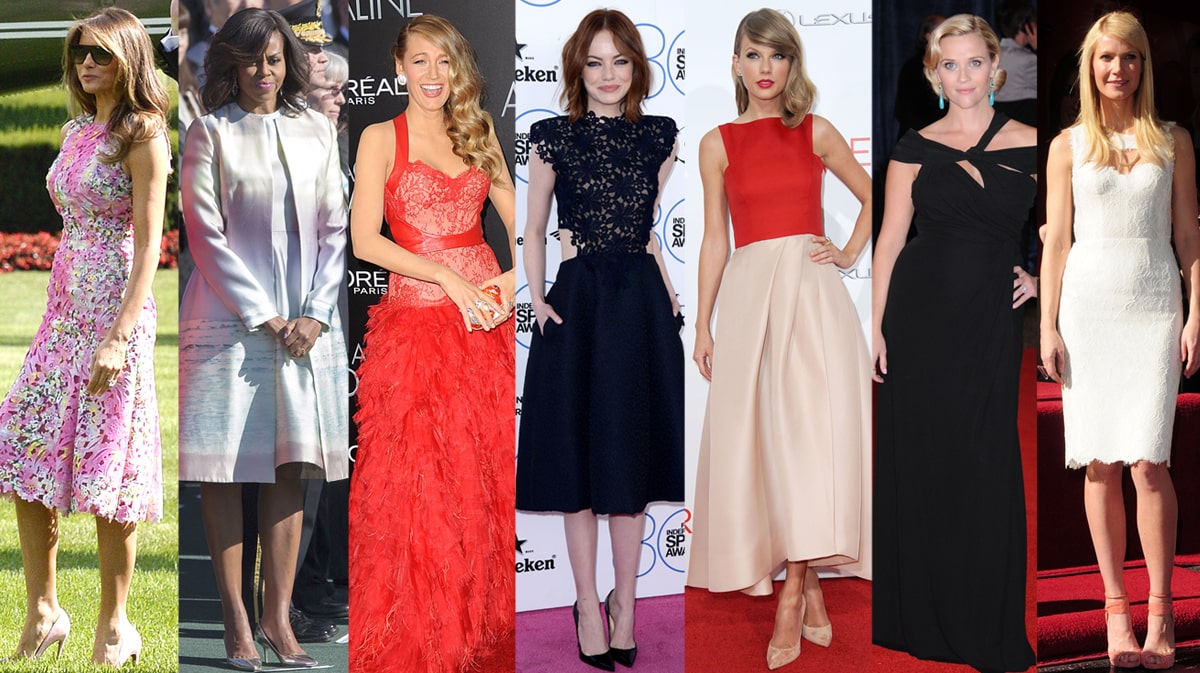 Former First Ladies Melania Trump and Michelle Obama and actresses Blake Lively, Emma Stone, singer Taylor Swift, Reese Witherspoon, and Gwyneth Paltrow wearing Monique Lhuillier dresses (Credit: Olivier Douliery / ABACA USA / INSTARimages / ACE / INFphoto / Chris Kleponis / Lionel Hahn / Marcus Owen / Michael Williams / startraksphoto)
Lhuillier famously dressed eight celebrities for the 2019 Golden Globes – a record for a single designer for that award show. The celebrities included Emmy Rossum, Isla Fisher, Linda Cardellini, Heidi Klum, and Amber Heard.
The brand's designs are featured in two of the Fifty Shades of Grey movies, including the wedding dress worn by Dakota Johnson in the final movie.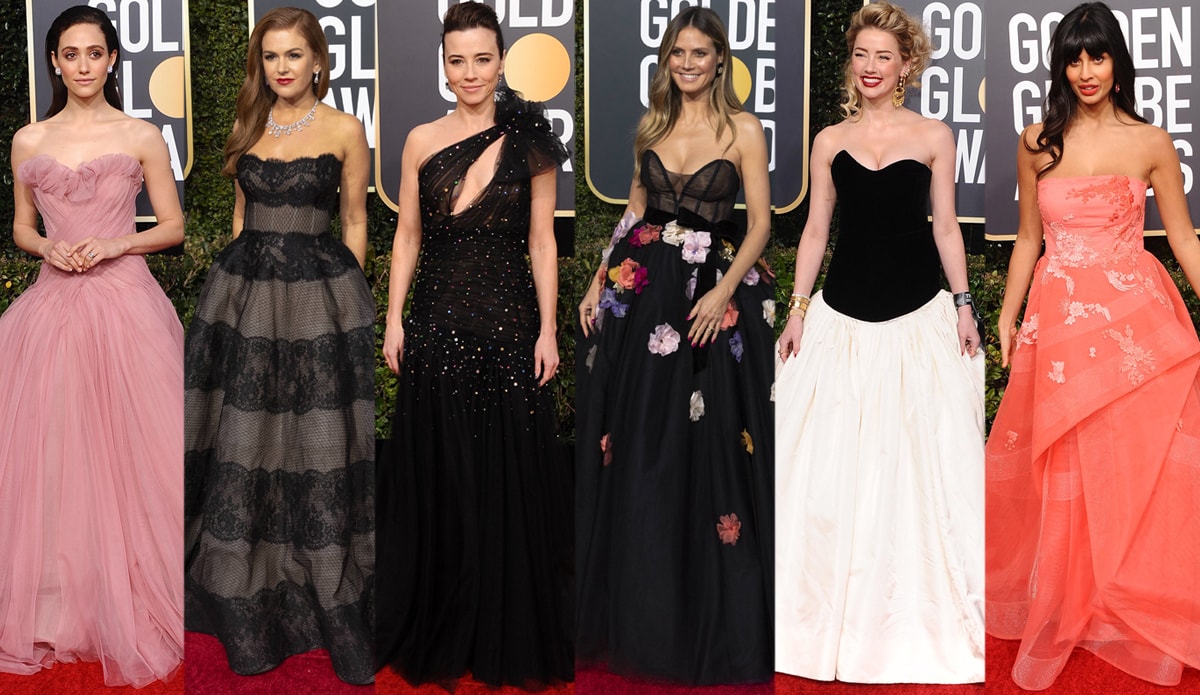 Emmy Rossum, Isla Fisher, Linda Cardellini, Heidi Klum, Amber Heard, and Jameela Jamil were just six of the eight celebrities who wore Monique Lhuillier to the 2019 Golden Globe Awards (Credit: Sara De Boer / startraksphoto / Hubert Boesl / picture-alliance / Cover Images)
Monique Lhuillier is known for its celebrity connections, but no dress is as famous for the Lhuillier than the blush pink wedding dress that Reese Witherspoon wore in 2011.
It helped the brand become mainstream, and the dress has become part of its permanent collection, with pink becoming its signature color.
Reese Witherspoon in a custom Monique Lhuillier blush-hued wedding gown for her second wedding (Credit: People)
Ownership of Monique Lhuillier
Monique Lhuillier continues to be privately owned by the 'Monique Lhuillier Inc.' company, with Lhuillier herself continuing to lead the brand creatively.
There is no information about potential private equity investors or stakeholders.
Monique Lhuillier remains a privately owned company, with Lhuillier herself continuing to lead the brand creatively (Credit: Sara De Boer / startraksphoto)
Where to Find Monique Lhuillier Stores
Monique Lhuillier currently has three stores across the United States and is rumored to be opening its first European store in London's affluent Mayfair district.
The brand's US flagship stores are in Costa Mesa, California, Madison Avenue, New York, and Melrose Place, Los Angeles.
View this post on Instagram

You'll also find Monique Lhuillier at luxury department stores and independent boutiques, including Bloomingdale's, Nordstrom, and Bergdorf Goodman.
You can use the brand's retail location search function on their website to find a stockist for the specific product category you're shopping for.
Fans of Monique Lhuillier designs can also preview upcoming collections from the brand's bridal, bliss, and ready-to-wear collections through their regular trunk shows. These trunk shows are advertised on the brand's official website.
How to Pronounce Monique Lhuillier
Monique Lhuillier is pronounced as "mo·neek loo·ee·lyay"
Where Are Monique Lhuillier Products Made?
Monique Lhuillier's ready-to-wear and bridal dresses are made in the United States, while its footwear is made in Brazil and its handbags in Italy.
You can check where your Monique Lhuillier production was manufactured by reading the production description on the brand's website.
A 2021 New York Times article deep-dived into the 'Anatomy of a Monique Lhuillier Gown.'
The brand sources luxury fabric from around the world, including Italy, India, Spain, Switzerland, France, and Portugal.
Lace is one of its signature design elements, with most of it imported from Asia and France, while embroidery and crystal work is crafted in India and sent to the fashion house's US base.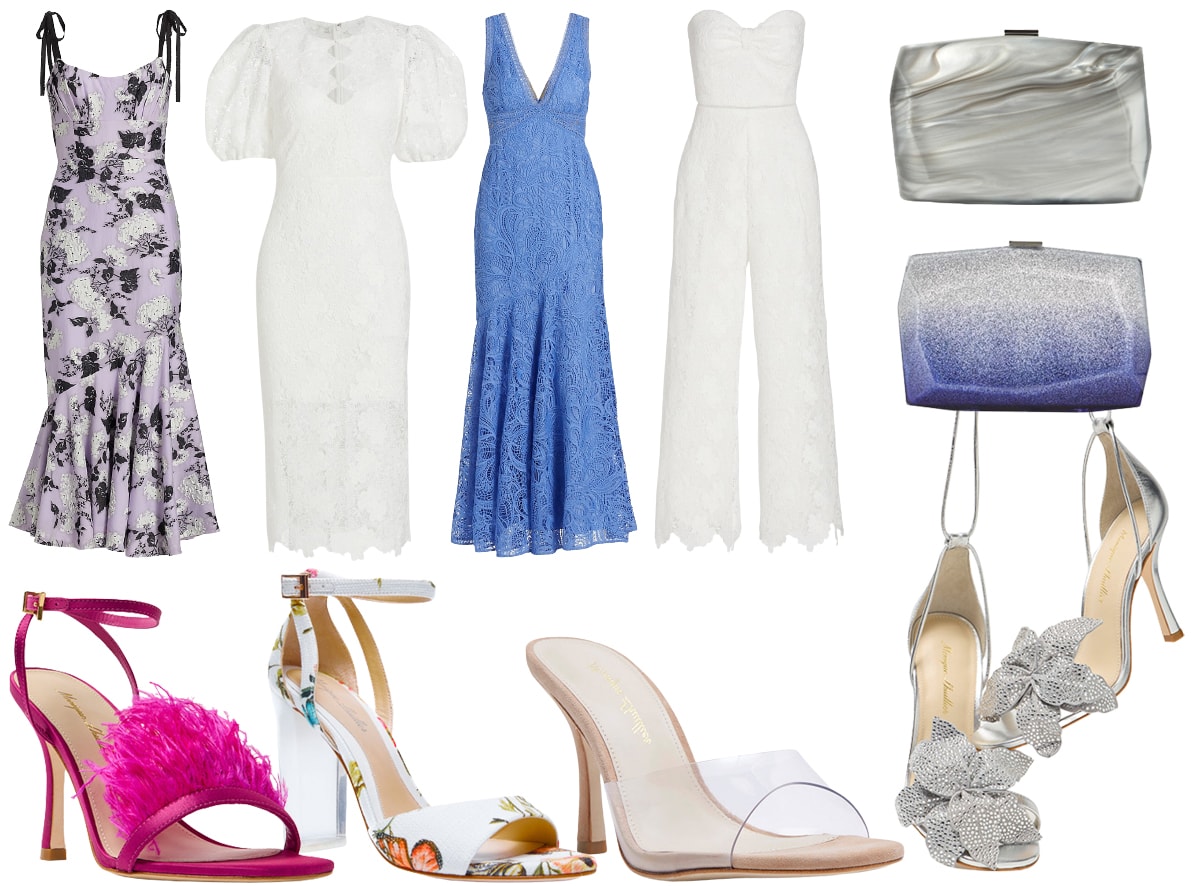 Monique Lhuillier's bridalwear and ready-to-wear are made in the United States, while shoes are made in Brazil
Monique Lhuillier's licensed product portfolio includes fragrances, collections with Pottery barn, and the ML Monique Lhuillier diffusion line. The bridal designer-turned-lifestyle brand also offers licensed home fragrances, lingerie, fine jewelry, and wedding invitations.
We recommend checking the country of origin for these individual products as the licensed product lines – except for categories like fine jewelry – will not meet the same quality standards as the main line.
How Expensive is Monique Lhuillier?
The average Monique Lhuillier luxury dress will set you back $7,000. The price tag reflects the luxury nature of the design and its construction.
Monique Lhuillier estimates that an average of 15 people, including the design team, patternmakers, sewers, and hand finishers, work on each dress. Pieces within Lhuillier's platinum collection start at $12,000 and can take up to 1,000 hours to make.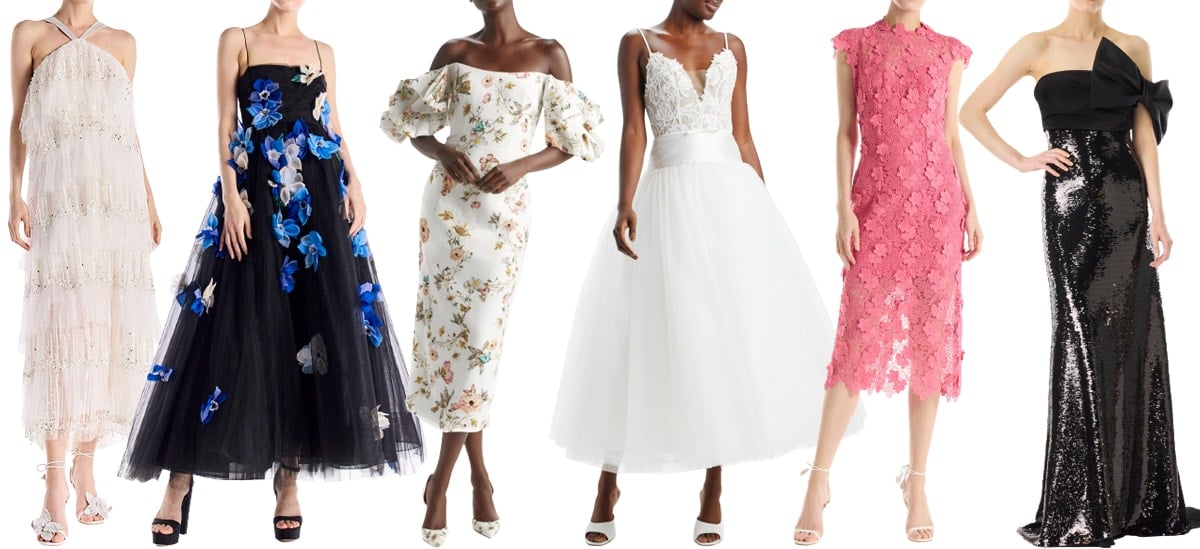 Monique Lhuillier gowns and dresses are usually priced between $400 and over $16,000
Licensed Monique Lhuillier products are available at a more attainable price point, making them ideal for fans of the brand who don't want to splash out hundreds or thousands of dollars.
Discover Hollywood's favorite designer for elegant red-carpet looks and whimsical wedding dresses by exploring Monique Lhuillier's dresses and shoes at Mytheresa and Farfetch.