Jamie Dornan is an Irish actor who has had a successful acting career in both TV shows and, more notably, in movies.
While he had held a few roles before this time, he became publicly well-known in 2013 for his work in BBC's 'The Fall' playing Paul Spector.
Gillian Anderson as DSU Stella Gibson and Jamie Dornan as Peter Paul Spector in the crime drama television series The Fall (Credit: Fables Limited / Artists Studio)
He has also appeared in other notable films such as 'A Private War' and 'Robin Hood', among others, but is best known for his work as Christian Grey in the 'Fifty Shades of Grey' franchise.
Who Is Dakota Johnson?
Dakota Johnson is an American actress, who has followed in her family's famous footsteps. She is the daughter of famous actors Don Johnson and Melanie Griffith.
Her maternal grandmother is also the actress Tippi Hendren, and was Antonio Banderas' stepdaughter for the duration of his marriage to her mother, though the two ultimately divorced in 2015.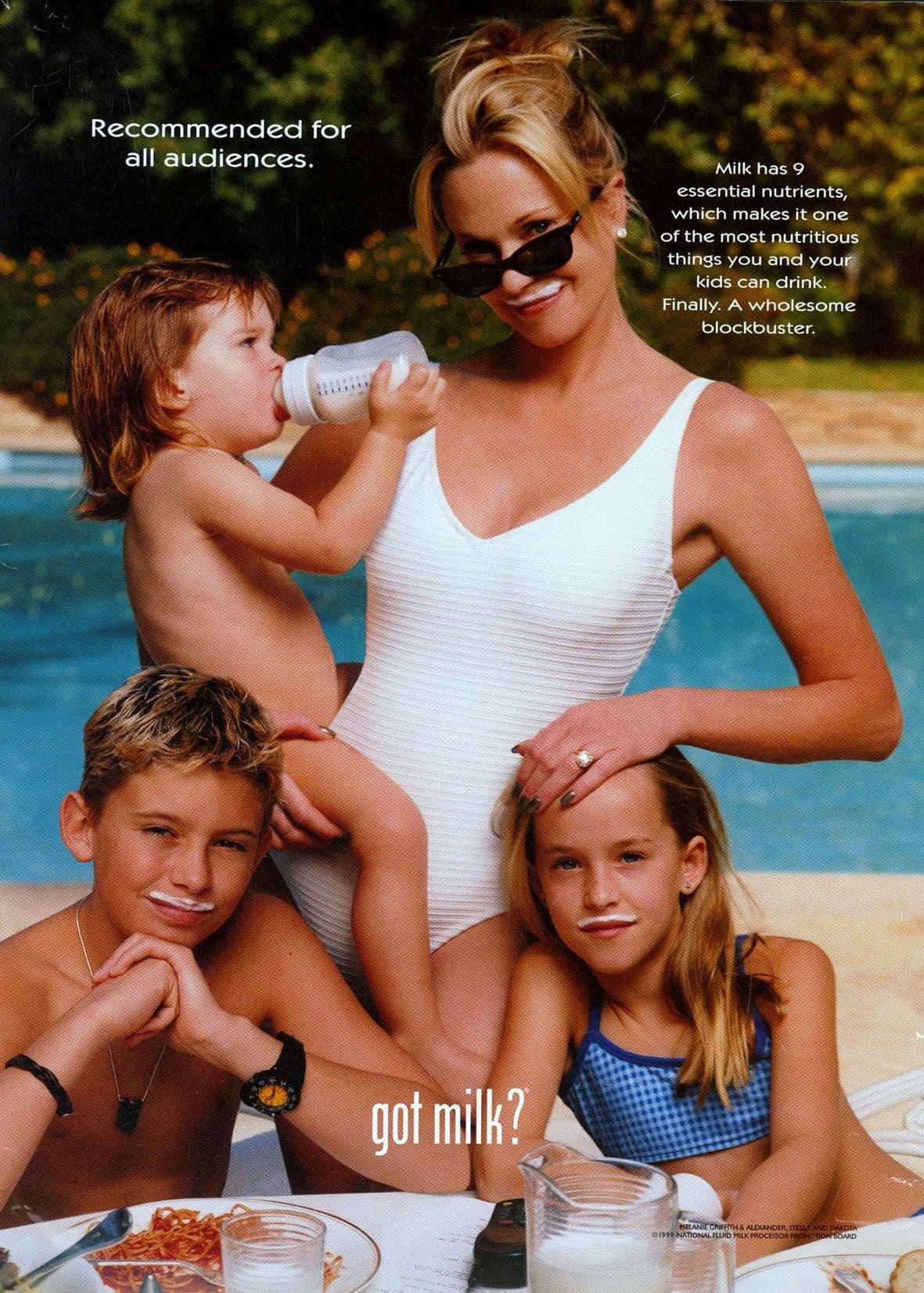 Melanie Griffith with her children: Alexander Bauer (dad is Steven Bauer), Stella del Carmen Banderas Griffith (dad is Anotonio Banderas), and Dakota Mayi Johnson (dad is Don Johnson) in a 1998 advertisement for Got Milk? (Credit: WENN)
She even made her film debut alongside her mom in 1999's Crazy in Alabama.
Dakota Johnson has appeared in several notable films, such as The Social Network and 21 Jump Street, but much like her co-star Jamie Dornan, she first became a household name due to her role as Anastasia Steele in the Fifty Shades of Grey franchise.
What Is Fifty Shades of Grey?
Fifty Shades of Grey is the story of a 21-year-old college student, Anastasia, who begins a relationship with a 27-year-old wealthy businessman Christian Grey, and the two embark on a very emotional and very explicit love story together.
Before it made it to the big screen, Fifty Shades of Grey was published as a book that the author E.L. James initially wrote as 'Twilight' fanfiction. You can purchase her bestselling books on Amazon.
The British-American film trilogy series Fifty Shades consists of three erotic romantic drama films and is based on the Fifty Shades trilogy by English author E. L. James (Credit: Sorbis / Shutterstock)
However, due to the intense sexual nature of the books, the character names were changed and the story was adapted to become its own distinct entity.
Two sequels, Fifty Shades Darker and Fifty Shades Freed, also saw great success upon their releases.
The trilogy has since become known worldwide, and all three books were adapted into major films with leading stars Jamie Dornan and Dakota Johnson playing Christian and Anastasia, respectively.
Jamie Dornan Reflects on Fifty Shades of Grey
Despite the box office success of Fifty Shades of Grey, there are also many critics who refuse to take the film seriously, and/or question the quality of the writing, the acting, or both.
However, despite this criticism, Jamie Dornan told GQ that he has no regrets about his role in the film.
"Look, put it this way—It's done no harm to my career to be part of a movie franchise that has made more than $1 billion. Every working actor would say the same thing. It's provided – a lot."
Dakota Johnson portrays Anastasia Steele and Jamie Dornan plays her lover Christian Grey in the trilogy series Fifty Shades (Credit: Universal Pictures)
He also added that regardless of the criticism the film franchise faced, everyone involved worked extremely hard on the project(s).
Finally, he proved that he can handle the often cutthroat Hollywood industry, explaining that the criticism only fuels him to work even harder and prove himself as a serious actor.
Jamie Dornan and Dakota Johnson's Relationship
Although they portrayed a very romantic relationship on-screen, Dakota Johnson and Jamie Dornan were not involved romantically either before, during, or after their work together.
In fact, both actors are in long-term relationships with other people. Dakota Johnson is dating Chris Martin, and Jamie Dornan is married to Amelia Warner.
The pair are the proud parents of three young daughters, Dulcie, Elva, and Alberta.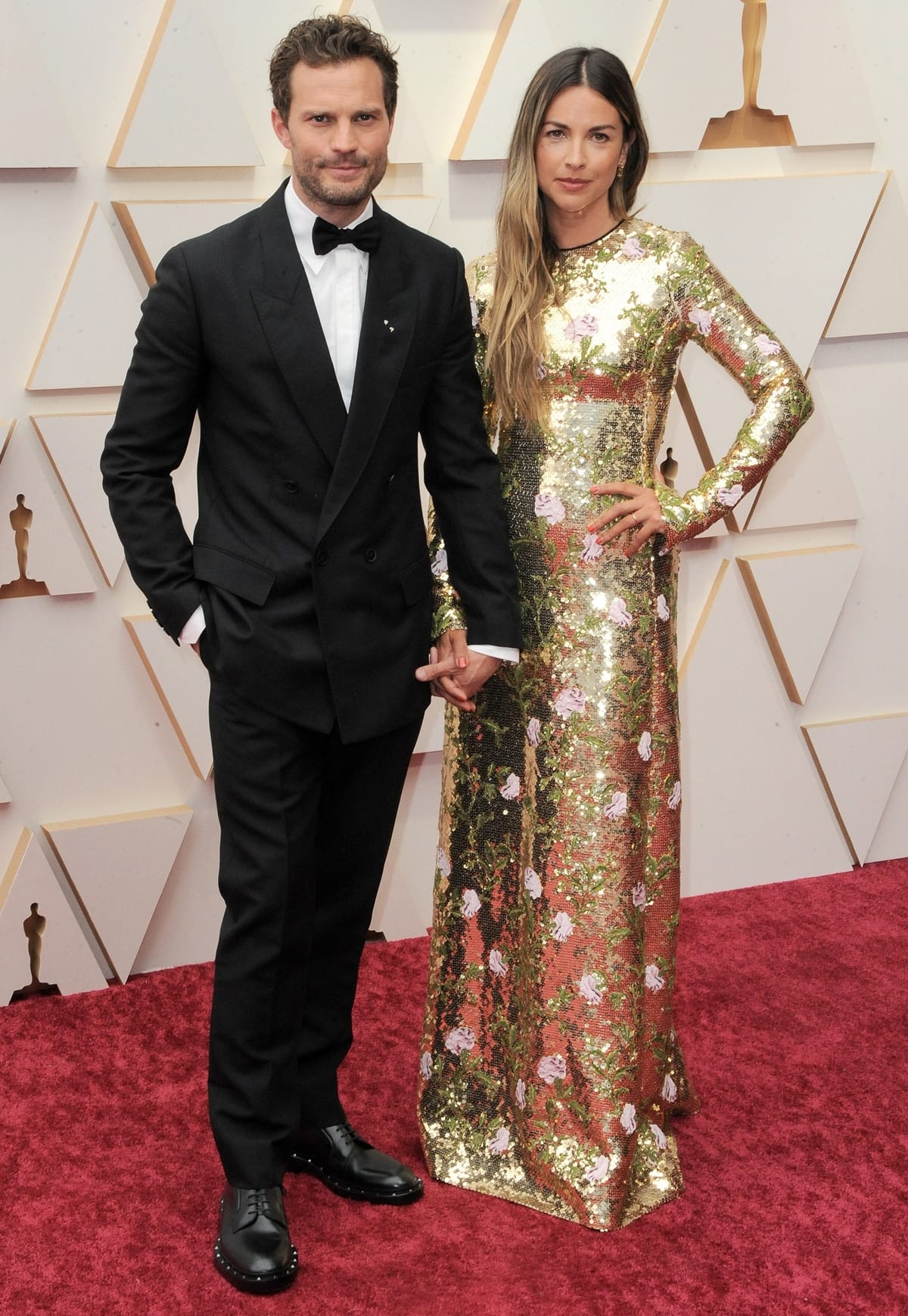 Jamie Dornan and his wife Amelia Warner attend the 94th Annual Academy Awards at Hollywood and Highland on March 27, 2022, in Hollywood, California (Credit: MEGA / WENN)
However, although Dakota and Jamie were not romantically involved, the actors have gone on record to say that they did develop a very healthy and trusting platonic friendship during their work together.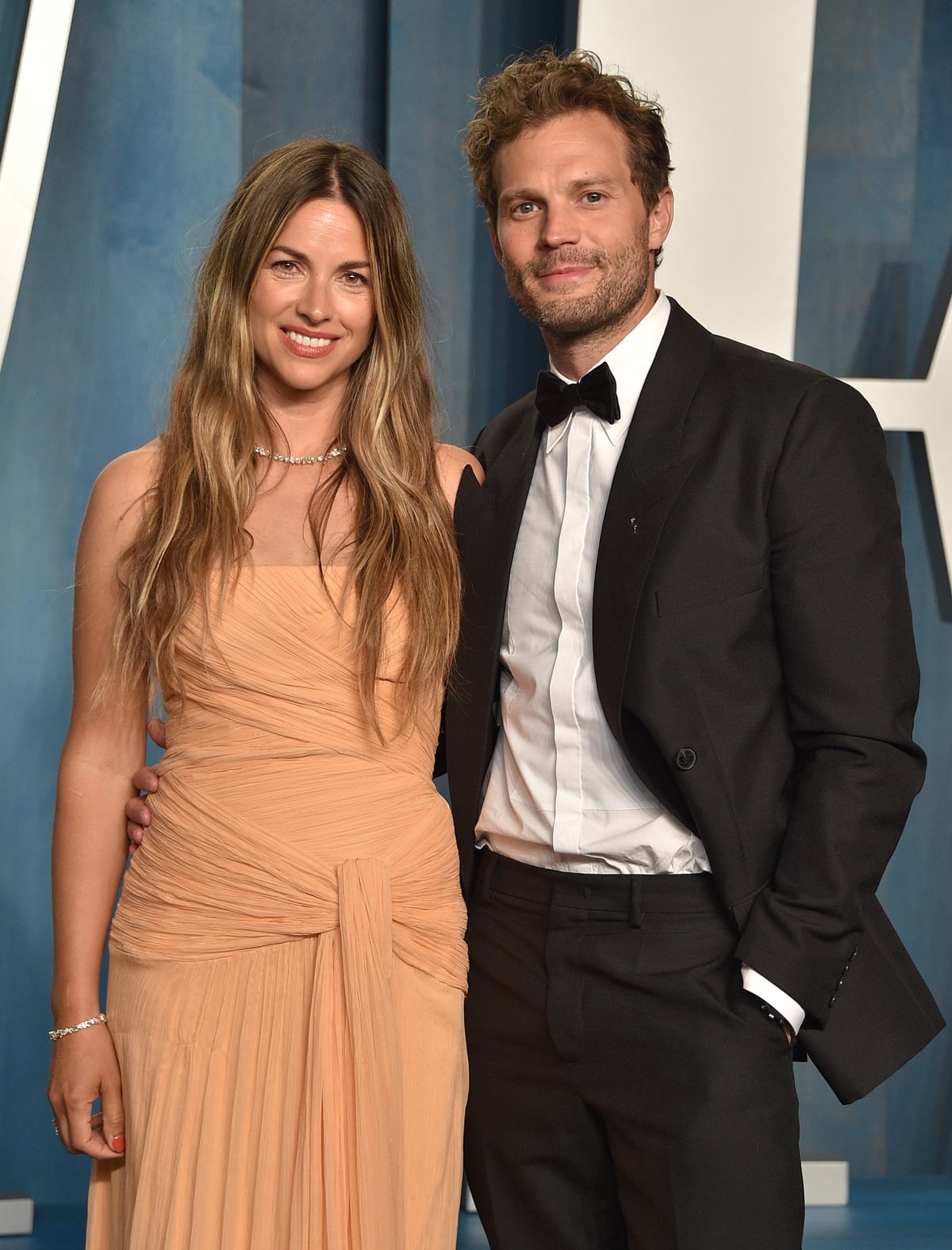 Jamie Dornan Amelia Warner met at a party in 2007 and married in 2013 (Credit: MEGA / WENN)
They also mentioned that working in such close quarters basically forced them to become friends and that they are grateful they get along well for the same reason.
How Much Were Jamie Dornan and Dakota Johnson Paid?
For the first film, Fifty Shades of Grey, Dakota Johnson and Jamie Dornan were reportedly paid a base salary of $250,000, alongside an undisclosed amount of box-office-related earnings.
However, even with the added compensation, it's unlikely that they earned over $1,000,000 each. For the average person, that salary sounds pretty great.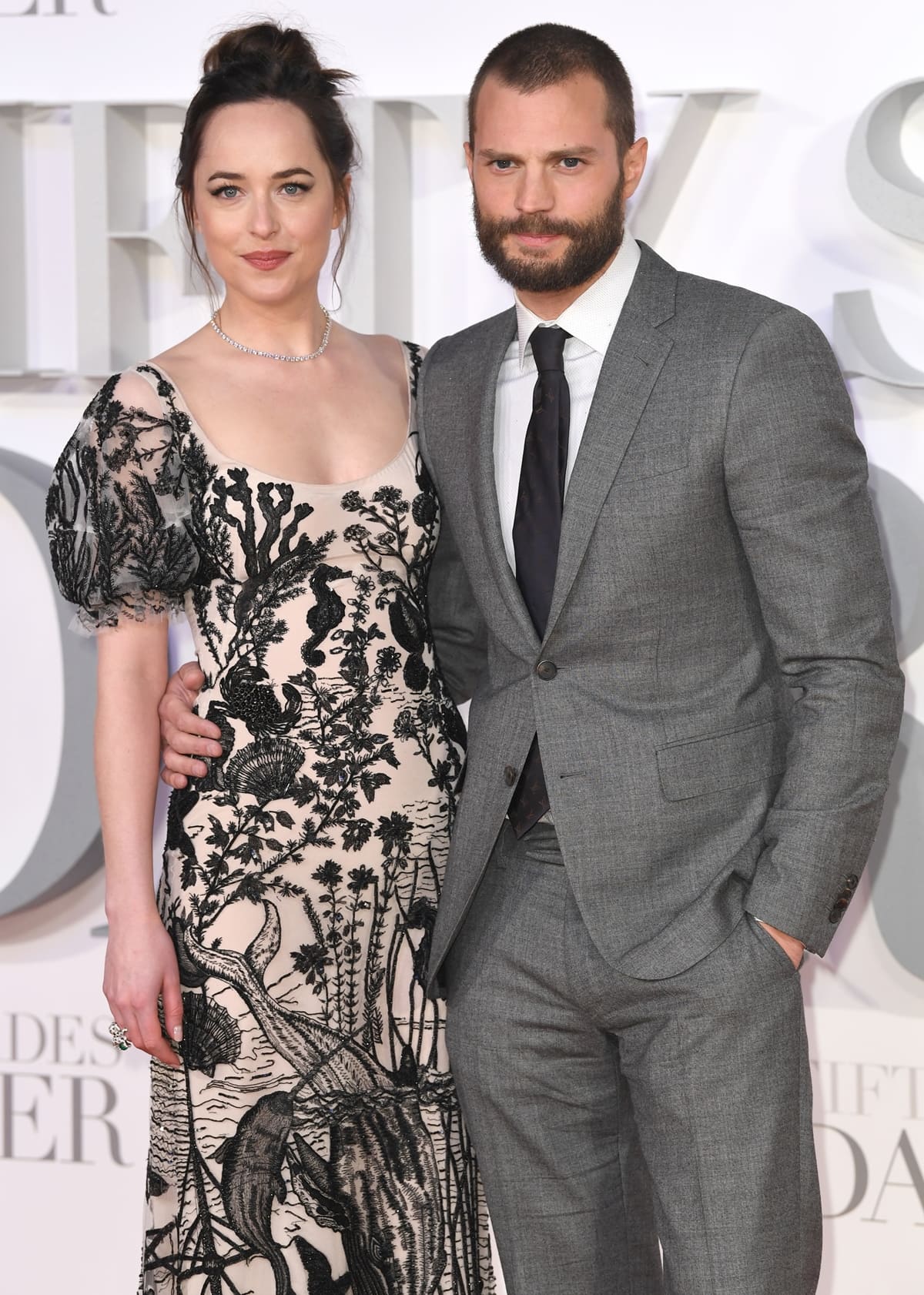 Jamie Dornan and Dakota Johnson were reportedly paid $250,000 each for filming Fifty Shades of Grey (Credit: Doug Peters / EMPICS Entertainment)
However, considering the worldwide success of Fifty Shades of Grey, it makes sense that the actors wanted to re-negotiate their salaries for the second and third films, which is an industry standard for franchises.
How Does Jamie Dornan's Wife Feel About the Movie?
Many spouses would feel uncomfortable having their significant other star in a film that centers around them sleeping with another person (even if they don't actually perform the act, it is still intimate).
However, Jamie Dornan's wife, Amelia Warner, has no problem with it. In fact, while she supports her husband's success, she hasn't actually watched the films herself.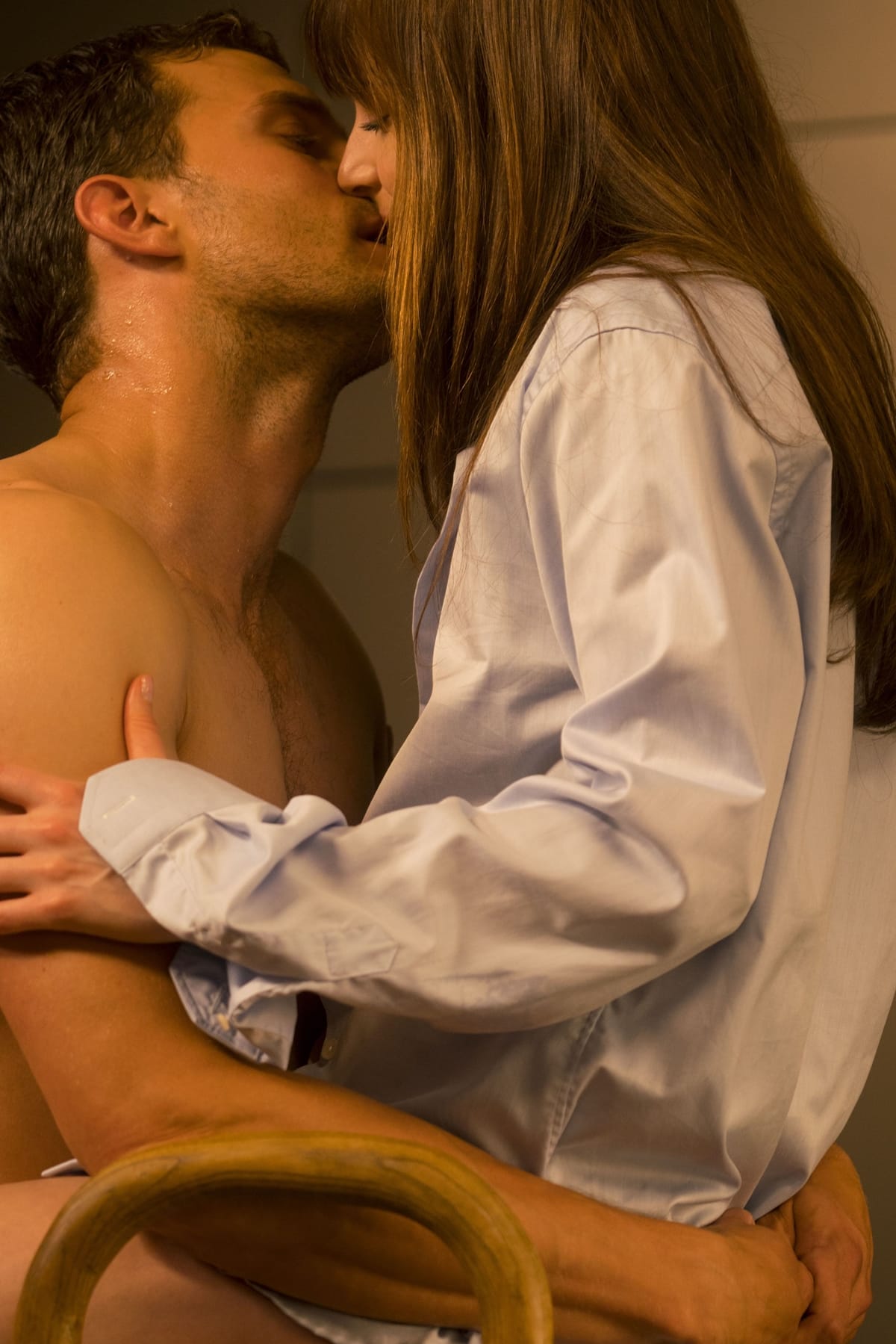 Jamie Dornan's wife Amelia Warner has not seen her husband's sex scenes with Dakota Johnson in the Fifty Shades trilogy (Credit: Universal Pictures)
Jamie Dornan has admitted he's happy she hasn't, as he doesn't want her to equate him to his character.
Fifty Shades Franchise Trivia
1. Fifty Shades of Grey Trivia
The 'red room' (A.K.A., the sex room) scenes between Dakota Johnson and Jamie Dornan were filmed last to ensure that they would be more comfortable together after having already filmed the rest of the production.
2. Fifty Shades Darker Trivia
In the second film, Dakota Johnson's character Anastasia says "I expect you to call me Ana. I don't expect you to fetch me coffee unless you're getting some for yourself, and um, the rest we'll just make up as we go along."
Dakota's mother Melanie Griffith said the same line during her role in Working Girl in 1988.
3. Fifty Shades Freed Trivia
In the final film of the franchise, there's a fun cameo from E.L James, the author, and creator of the franchise.
When Christian shows up at Anastasia's office, when he gets out of the elevator, E.L James walks past him.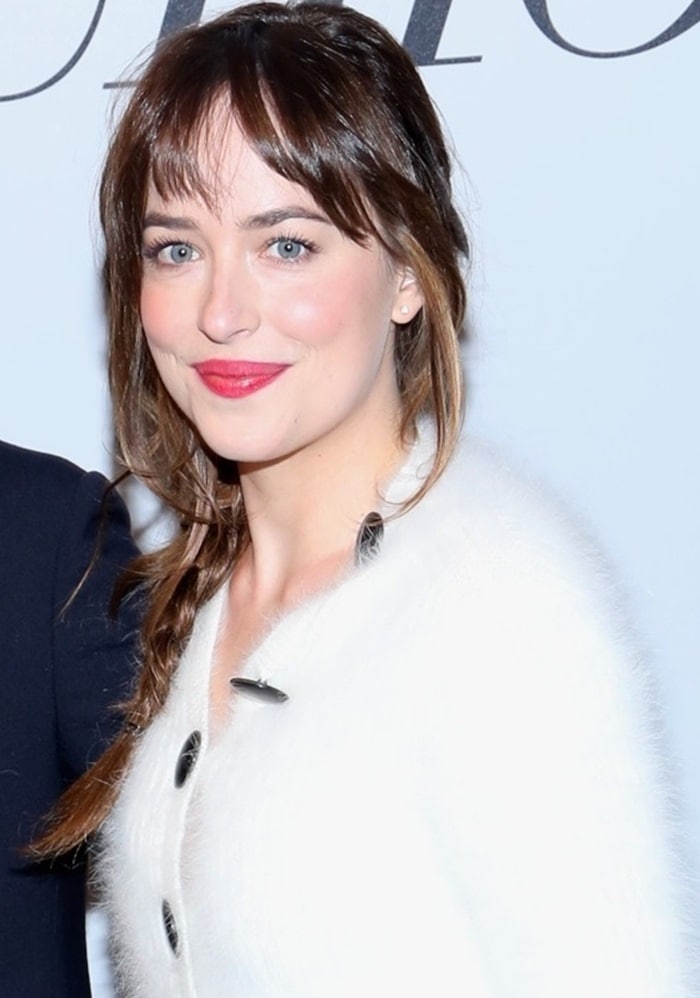 Dakota Johnson's messy braid and fuzzy white Balenciaga sweater (Credit: WENN)
In February 2015, Dakota Johnson, who stars as Anastasia Steele in the film adaptation of Fifty Shades of Grey, attended a New York screening of the film alongside her co-star Jamie Dornan.
Dakota looked chic in a fuzzy white sweater and a leather pencil skirt, both from Balenciaga. She finished the ensemble with satin ankle-strap pumps and a messy braid.
Dakota Johnson and Jamie Dornan at the Fifty Shades of Grey Fan First Screening at Ziegfeld Theatre in New York City on February 6, 2015 (Credit: Andres Otero / Dennis Van Tine / Future Image / WENN)
Of course, there was nothing inherently wrong with this look. It was season-appropriate, and fit her Fifty Shades character.
However, fans were concerned that future Fifty Shades events would continue to lack the glamour that is expected to come along with such a steamy franchise.
Twilight fans, in comparison, were rarely disappointed. Remember when K-Stew wore this jaw-dropping Zuhair Murad gown?
Fans were also disappointed by Dakota and Jamie's apparent lack of chemistry. The two actors play characters who share an undeniable attraction, but they appeared stiff and uncomfortable when appearing in public together.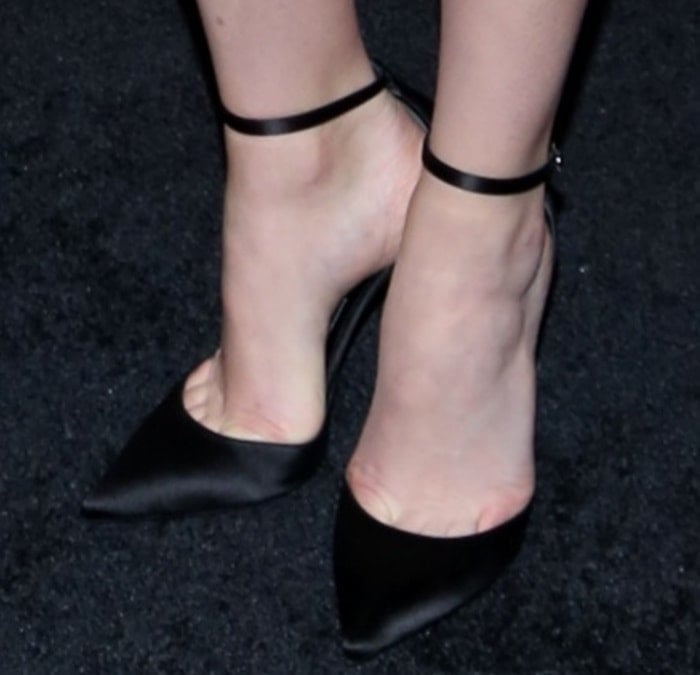 Dakota Johnson's toe cleavage in black heels (Credit: WENN)
If you'd like to mimic Dakota's sexy secretary vibe, we found a few styles at Zappos that would each be a knockout for Valentine's Day.
Burberry London Alanson Pumps, $850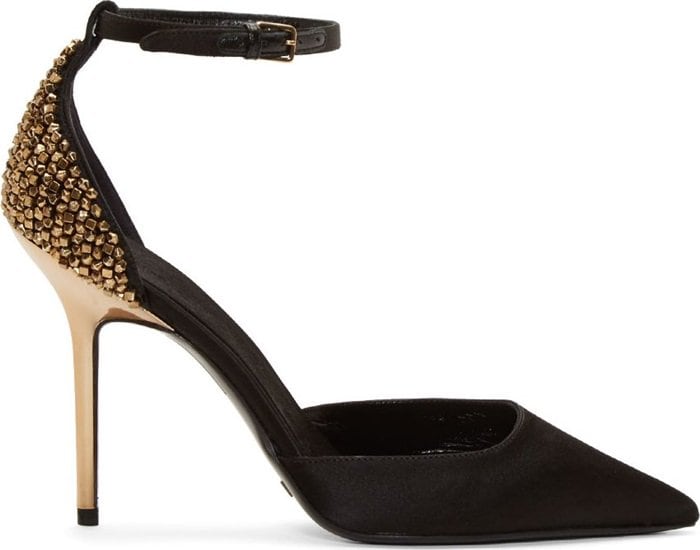 Burberry black embellished satin pumps with gold metallic heel
Via Spiga Chera Pumps, $225
Slim ankle straps and a gracefully pointed toe intensify the modern glamour of a classic single-sole pump
BP. Mallory Pumps, $69.95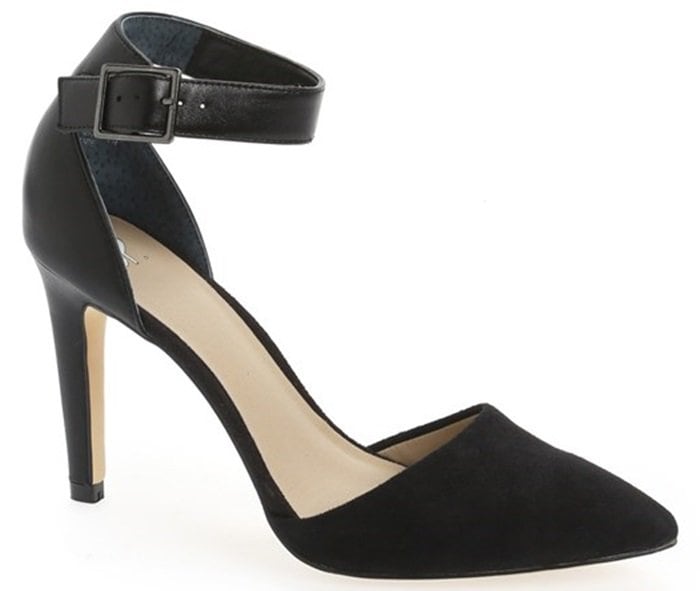 A versatile, elegant pump is cut from a tonal mix of leather and suede with a pointed toe and a bold buckle strap at the ankle