Rihanna, who is in her third trimester of pregnancy, and her boyfriend A$AP Rocky were met by a fleet of ten police officers as they touched down at Los Angeles International Airport.
The police chose not to give Rocky any notice of the impending arrest. The "arrest was more than a week in the making," according to TMZ. Rocky, 33, was arrested due to an alleged shooting in November 2021.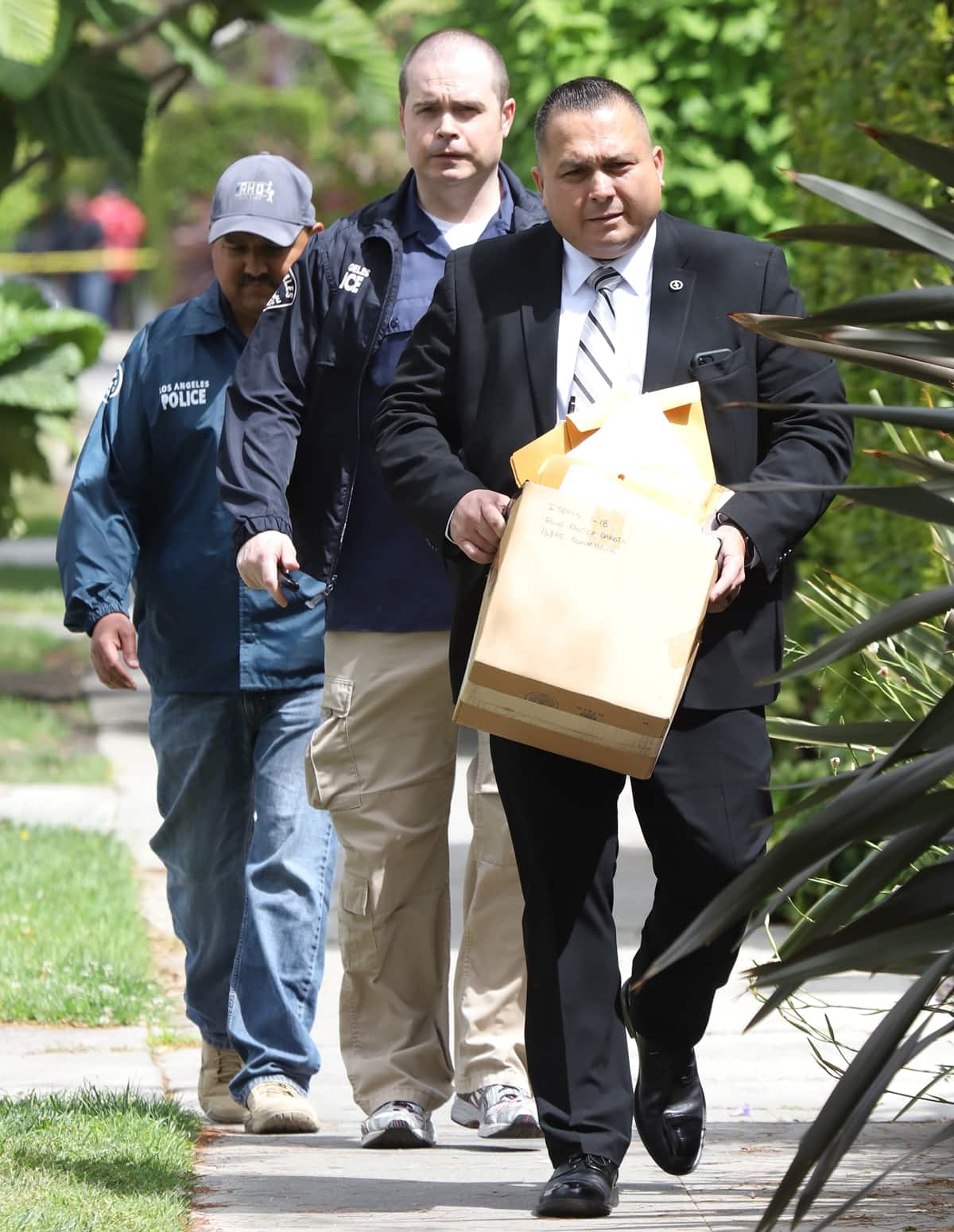 Gangs and narcotics investigators assigned are seen leaving the A$AP residence in Los Angeles on April 22, 2022 (Credit: MEGA / WENN)
Police stated that the ambush tactic was "to see if they could find the gun used in the shooting" and didn't want to give him time to dispose of the weapon. Rocky's home was searched while the arrest was taking place.
The Incident Which Led to the Arrest
Rocky has been released on bail after spending three hours in a police jail, to the tune of half a million dollars. His court date is set for August 17th.
The Los Angeles Police Department made a statement about the incident, stating that the argument was between two acquaintances.
Rihanna shows off her huge baby bump in a denim crop top paired with a rib-knit maxi skirt from Alaïa and an LAFD hat at Nobu in West Hollywood on April 6, 2022 (Credit: MEGA / WENN)
According to the police statement, "The victim sustained a minor injury from the incident and later sought his medical treatment. Following the shooting, the suspect and two additional males fled the area on foot… The suspect has been identified as 33-year-old Rakim Mayers, a Los Angeles resident, also known as music artist A$AP Rocky."
Barbados trip amidst cheating rumors
The couple were returning from a trip to Barbados when police met them at LAX airport.
A false cheating rumor had previously flooded the internet, stating that the couple had broken up due to Rocky cheating on the pregnant star with a Fenty designer.
Rihanna in a black Balenciaga couture gown with her boyfriend, A$AP Rocky, at the 2021 Met Gala on September 13, 2022, at the Metropolitan Museum of Art in New York City (Credit: ABACA USA / INSTARimages)
The designer issued a statement, calling out the lies spreading throughout the internet. Louis Pisano, a writer who started the rumor with a reckless tweet about the couple splitting, also issued an apology.
The Baby Shower
A few days after the arrest, the couple made their first public appearance at a baby shower to celebrate the imminent arrival of their first child together with friends and family.
Although the arrest has been unsettling, a source told Us Weekly that Rihanna's "truly focussed on her pregnancy and not trying to get too stressed. She is very confident about everything and has told friends she just hopes for a positive outcome."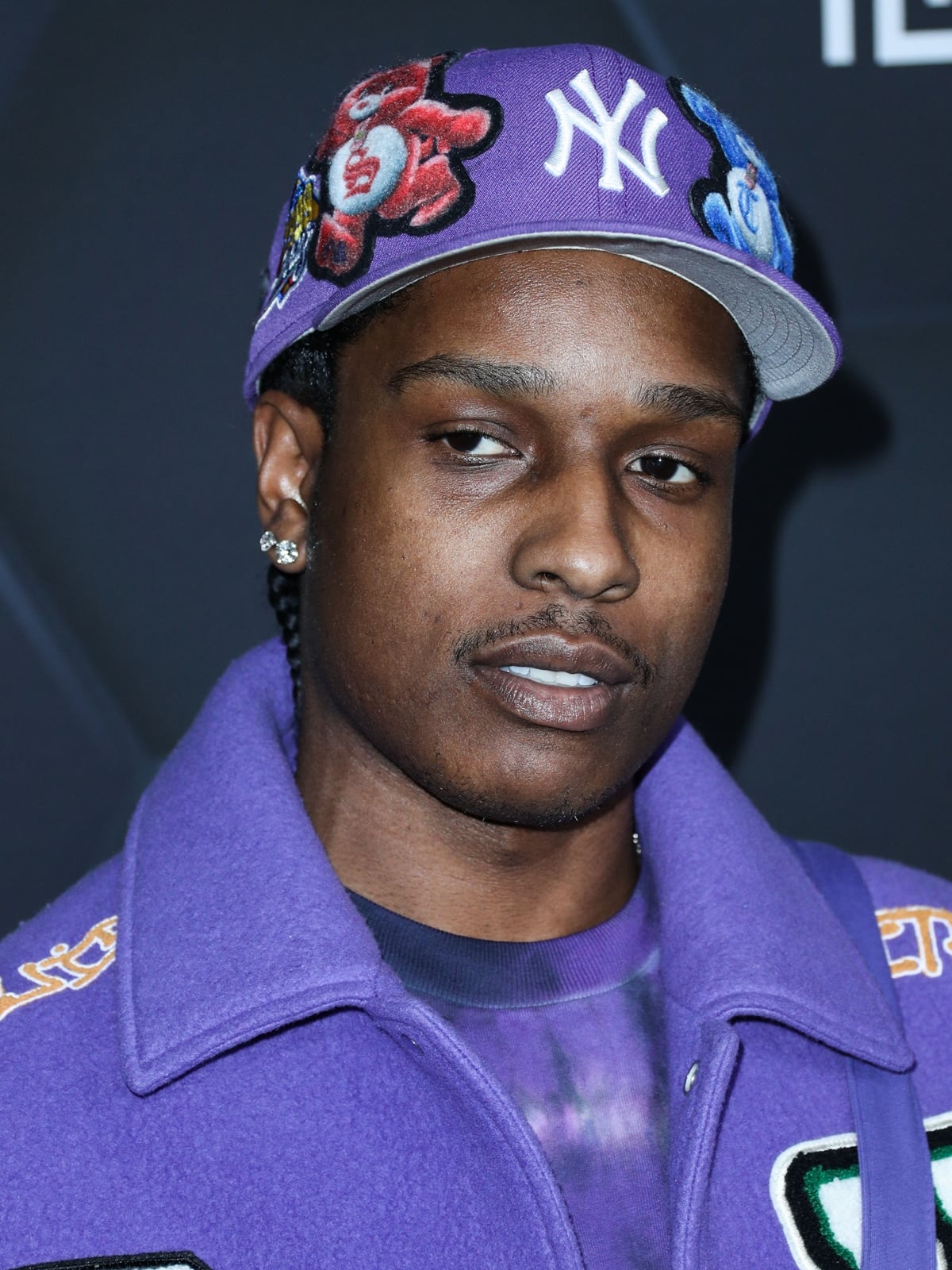 A$AP Rocky was arrested for assault with a deadly weapon on April 20, 2022, at LAX Airport in Los Angeles (Credit: MEGA / WENN)
The couple was seen dining for a couple of hours amongst a relaxed group, with the focus "very on Rihanna and the baby," according to a source.
The pregnancy reveal
Rihanna first announced her pregnancy in January, telling Vogue that the pair were not planning on starting a family, but they were "certainly not planning against it. I don't know when I ovulate or any of that type of s–t. We just had fun."
Rihanna in a shredded green top and her partner A$AP Rocky at the Fenty Beauty and Fenty Skin party held at Goya Studios on February 11, 2022, in Los Angeles (Credit: MEGA / WENN)
Rihanna, 34, has wowed the internet with her stunning maternity fashion. "My body is doing incredible things right now, and I'm not going to be ashamed of that. This time should feel celebratory," she told Vogue. "Because why should you be hiding your pregnancy?"
Amidst a cheating scandal and the arrest of Rocky, Rihanna "wants to be mellow, relaxed, and focused 100 percent on the arrival of her baby—not stressing out!" An insider told ET, "This drama is the last thing Rihanna needs right now."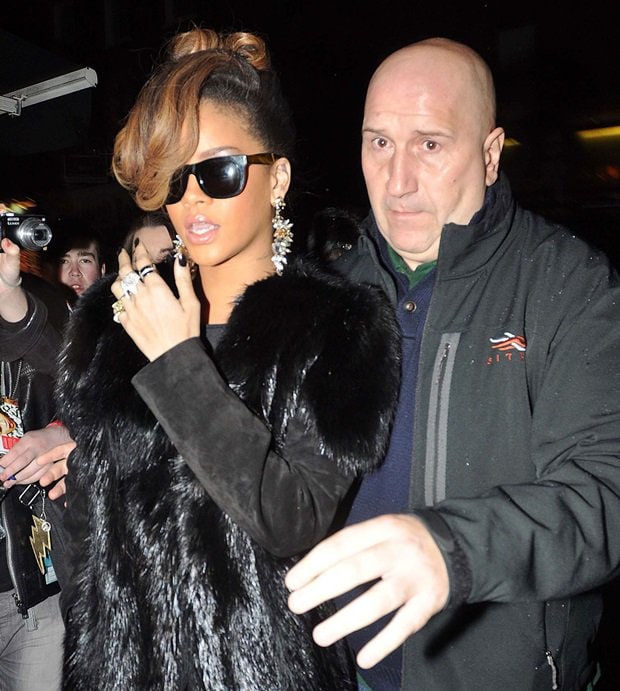 R&B singer Rihanna arrives at O'Donoghue's pub on Merrion Row to host a Thanksgiving dinner for her band and crew in Dublin on November 24, 2011 (Credit: WENN)
In November 2011, singer Rihanna turned heads in a luxurious fur coat styled with embellished Lanvin pumps on Thanksgiving while in Dublin.
Rihanna hosted a Thanksgiving dinner for her band and crew in a luxurious fur coat (Credit: WENN)
The Barbadian singer and songwriter looked super sexy and wintery in these pumps.
They perfected her ensemble by adding an extra touch of glam. Heels like this are great for wearing to holiday parties and events but will take you into other seasons as well.
Rihanna shows off her feet in crystal-embellished Lanvin Tyrone leather pumps (Credit: WENN)

I could only find the 'Tyrone' online at Harrods, but I did find it in grey at Farfetch minus the ankle strap.
Would you wear them with a lush all-black ensemble as Rihanna did? Take a peek at this embellished pump and tell us what you think: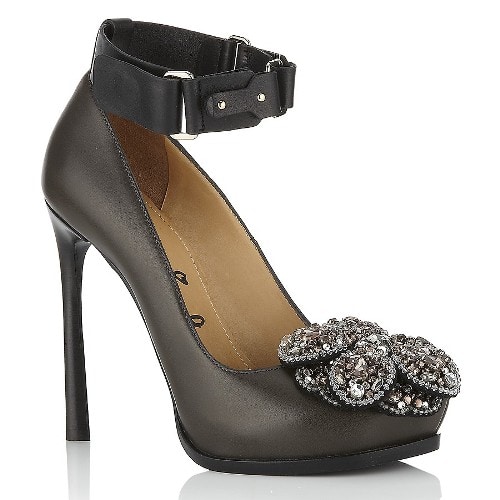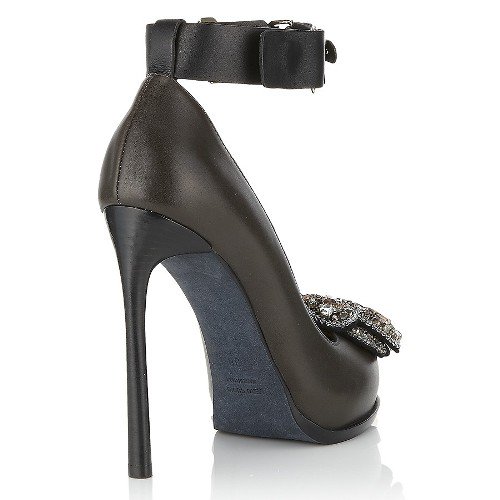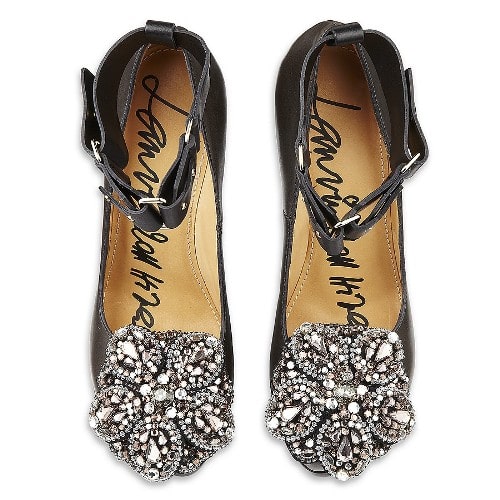 Black Crystal-Embellished Lanvin 'Tyrone' Pumps, £269
Black Crystal-Embellished Lanvin 'Corsage' Pumps, $1,247