You may not have heard of Louisa Jacobson Gummer just yet, but you have heard of her mother.
Just like her "The Gilded Age" character, Jacobson comes from an impressive lineage.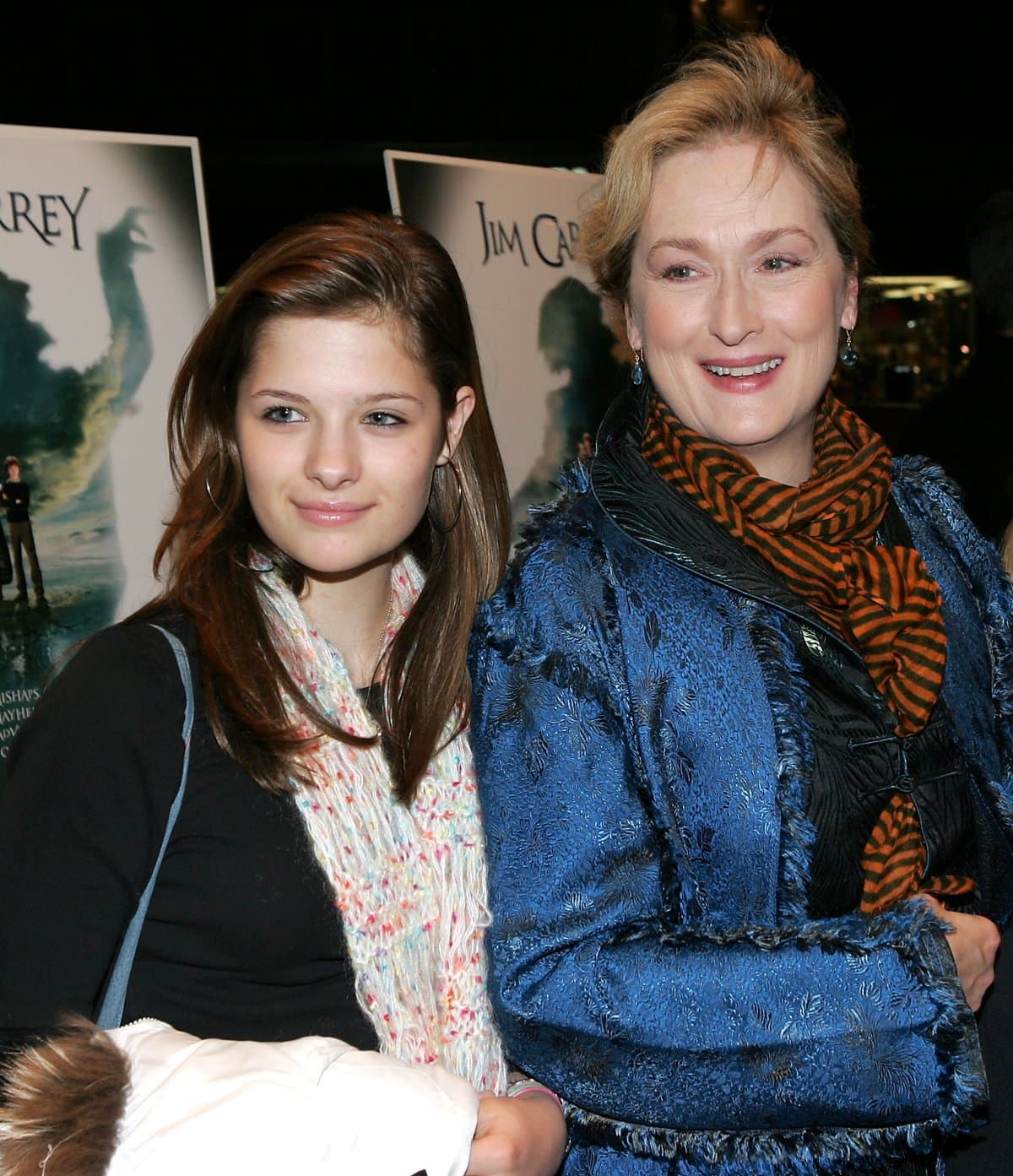 Meryl Streep with her daughter Louisa Jacobson Gummer during a screening of "Lemony Snicket: A Series of Unfortunate Events" at Clearview Beekman Theater in New York City on December 13, 2004 (Credit: Albert Ferreira / Startraksphoto)
This 30-year-old actress is the youngest daughter of Meryl Streep and sculptor Don Gummer. Unlike her siblings who have taken their father's surname, Jacobson has opted to go by her middle name.
Early Years
Jacobson is the youngest of four siblings. Henry Gummer, the eldest, is a talented musician, while both Mamie and Grace Gummer followed their mother's footsteps into acting.
Maeve Kinkaid III, Harry Streep, Meryl Streep, Don Gummer, Grace Gummer, Henry Gummer, Mamie Gummer, and Ben Walker Davis arrive for the formal Artist's Dinner honoring the recipients of the 2011 Kennedy Center Honors hosted by United States Secretary of State Hillary Rodham Clinton at the U.S. Department of State December 3, 2011, in Washington, D.C. (Credit: Ron Sachs / Startraksphoto)
She was born in Los Angeles but spent her time growing up in Connecticut. Mamie Gummer noted their happiness growing up away from the city, "so the industry didn't, kind of, loom large over everything."
She would often perform spontaneously with her sisters at home but decided to go against the grain and choose a different path for herself.
"When I got to college, I was like, 'I want to try something different,'" she said on Today in February 2022. "And I graduated and worked in advertising for two years in an office."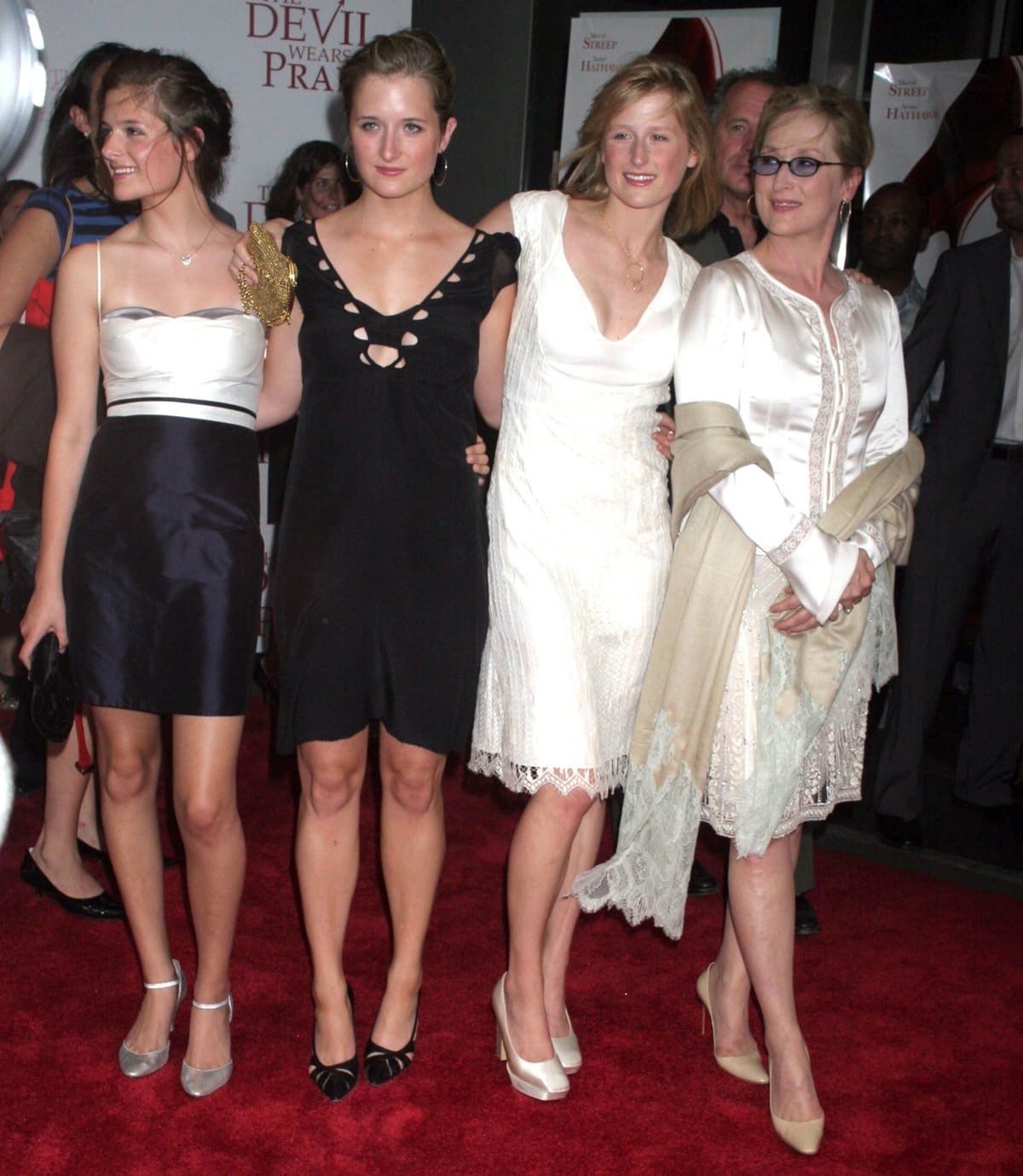 Actress Meryl Streep and her daughters Louisa, Grace, and Mamie Gummer attend the 20th Century Fox premiere of The Devil Wears Prada at the Loews Lincoln Center Theatre on June 19, 2006, in New York City (Credit: Dara Kushner / INFGoff)
Jacobson attended Vassar college, majoring in psychology while minoring in art history, opting to "bury my desire to act".
"I needed to prove to myself, my family, and my peers that somehow I was different," she told Vanity Fair.
Jacobson started a nine-to-five job at an advertising agency after graduation.
But she didn't leave the arts completely behind: while working, she continued auditioning and modeling on the side. But she couldn't deny her urge to act.
Meryl Streep and her daughter Louisa Jacobson Gummer at the 81st Annual Academy Awards held at The Kodak Theatre on February 22, 2009, in Hollywood, California (Credit: Carlos Diaz / INFevents)
Jacobson went on to pursue drama school at Yale, and from there, her acting career was born.
Introducing Louisa Jacobson
When people discover who Jacobson's family is, many people jump to the conclusion that the actress didn't want to gain fame through nepotism. Why else would she not jump right into an acting career?
They would be wrong.
Jacobson has no desire to distance herself from her famous parents. Rather, her reason for changing her name is wholly practical.
Denee Benton and Louisa Jacobson are seen at the film set of the American historical drama television series The Gilded Age on April 8, 2021, in New York City (Credit: Jose Perez / INSTARimages)
A unique stage name is needed to join SAG-AFTRA, the Screen Actors Guild, and the name Louisa Gummer was already taken.
If Jacobson wanted to make a big break as a famous actress, her name would have to change. Good thing she had a fitting middle name!
The first Louisa Gummer is a British actress and voice actor with a career spanning two decades.
How a 10-year-old impacted "Mamma Mia"
It was the autumn of 2001, and Meryl Streep was at a Broadway showing of the famous musical for Jacobson's birthday.
"I took my daughter Louisa, who was 10, and six of her friends, and we were all up dancing in the aisles," Streep told Good Housekeeping, recounting that fateful day. Dancing queens, indeed.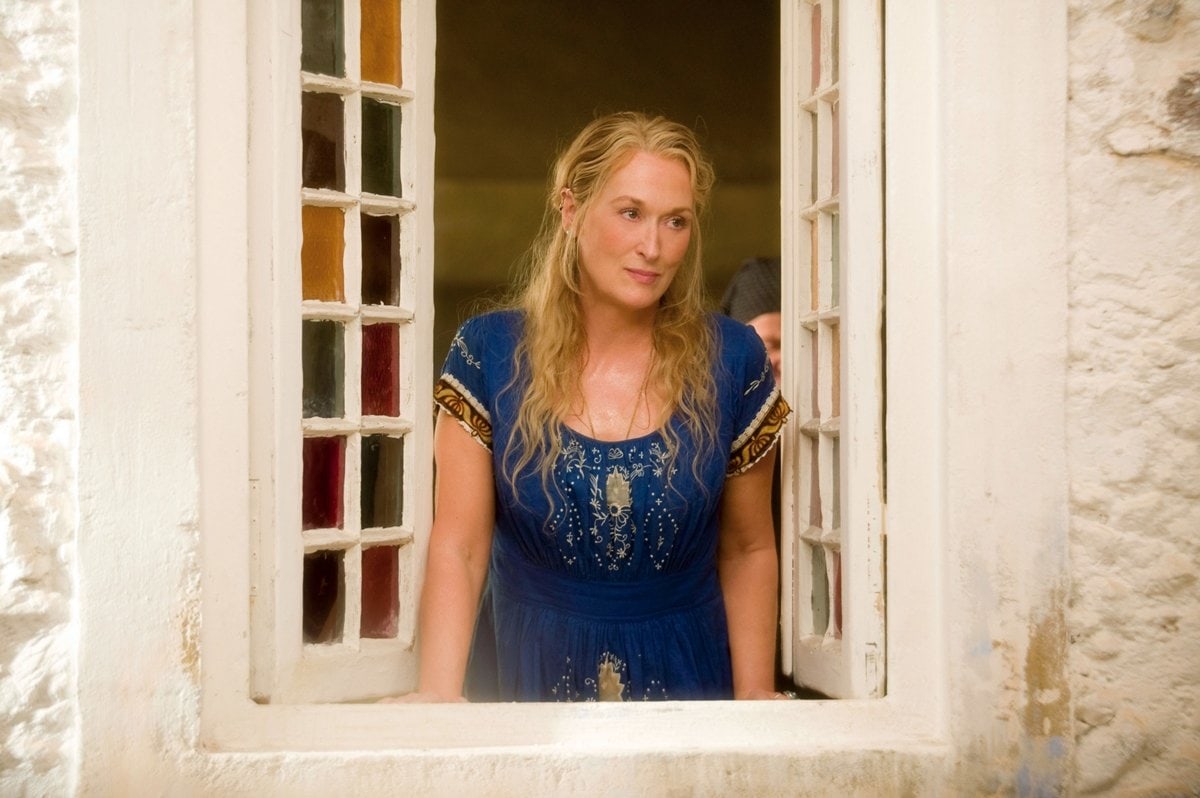 Meryl Streep was cast as Donna Sheridan-Carmichael in the 2008 jukebox musical romantic comedy film Mamma Mia! thanks to her daughter Louisa Jacobson (Credit: Universal Pictures)
Streep loved the show so much that she wrote a letter to the cast. When gearing up to film, the production team remembered that letter and offered Streep the part.
And just like that, one of Streep's most famous and memorable roles was set in motion.
Screen time
Jacobson began her acting career on HBO's "The Gilded Age".
She plays the role of Marian Brook, a young woman who has discovered that her father spent all of her inheritance who is then forced to live with her aunts in New York City.
Jacobson was perfectly suited for the role, as she claims to be a lot like her character.
Louisa Jacobson poses in a leather coat at the opening night of "American Buffalo" on Broadway at The Circle in the Square Theatre on April 14, 2022 in New York City
"I think more than rebellious, Marian is curious … I definitely, as a kid, was very curious about everything," Jacobson said. "I sort of was always watching all the grown-ups around me and, like, calculating and learning all the rules."
And that isn't the only connection Jacobson has to the show.
Apparently, Jacobson is quite the history buff, making the transition to the late 19th century quite easy for the new actress.
Louisa Jacobson goes by her middle name as there was already a professional actress by the name of Louisa Gummer when she started acting (Credit: John Nacion / Startraksphoto)
"I'm such a history geek," she explained. "That's a wonderful part of being an actor, digging into other periods you have never studied before."
Jacobson made sure to immerse herself into the time period. She got herself a membership to the New York Public Library and read the appropriate novels to put herself into the right mindset, and also watched movies and listened to all the podcasts she could to prepare for the role.
Familial advice
Jacobson didn't star in her first prime-time gig without a little advice from her family.
She stepped into her role armed with a notebook filled with advice from her famous mother and sisters. She never asked for help before this, but Jacobson knew her family would only be a help to her as she entered this new stage of her career.
Actress Meryl Streep and her daughter Louisa Gummer attend "The Giver" premiere at Ziegfeld Theater on August 11, 2014 in New York City (Credit: Debby Wong / Shutterstock)
That advice proved to be invaluable to Jacobson. At the start of shooting, she found herself feeling overwhelmed and out of touch with her performance.
"[Streep] said, 'Don't forget to touch and smell the room, to be in this space. Acting is like a great, deep belief and almost religious faith in what you're doing.'"
Her mother's message stuck
"The Gilded Age" is only the start for Jacobson, who is sure to star in upcoming shows.
HBO's "The Gilded Age" premiered in January of 2022 to generally favorable reviews. The following month, it was renewed for a second season.
Meryl Streep is known for her designer glasses and eyeglasses frames that make a fashion statement
In February 2017, Meryl Streep was seemingly tasked with recognizing the best in costume design at the 2017 Costume Designers Guild Awards held at the Beverly Hilton Hotel in Beverly Hills.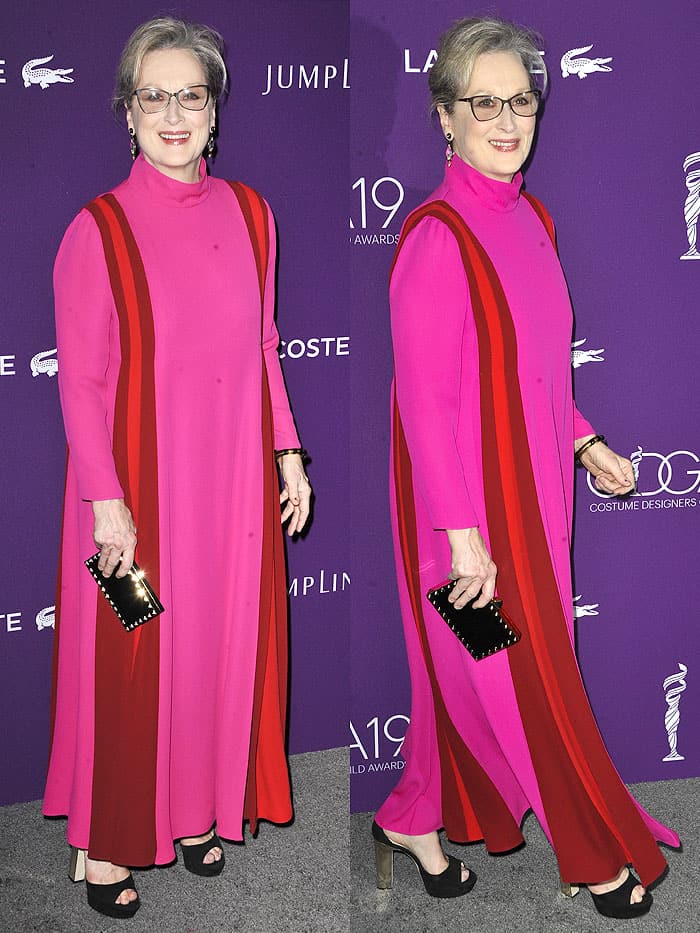 Meryl Streep in a pink and red Valentino Spring 2017 midi dress at the 2017 Costume Designers Guild Awards
The then 67-year-old actress donned a flowy, pink Valentino gown with modest long sleeves and a high mock turtleneck.
Meryl Streep styled her Valentino dress with fabulous eyewear
Due to the double red stripes going down on both shoulders of the frock, Meryl looked as if she was wearing a chic version of a priest's robe.
It made us wonder if religious fashion was about to become a thing. After Beyonce's golden deity costume at the 2017 Grammys and Meryl Streep's pink Valentino vestment, we were looking at a budding trend.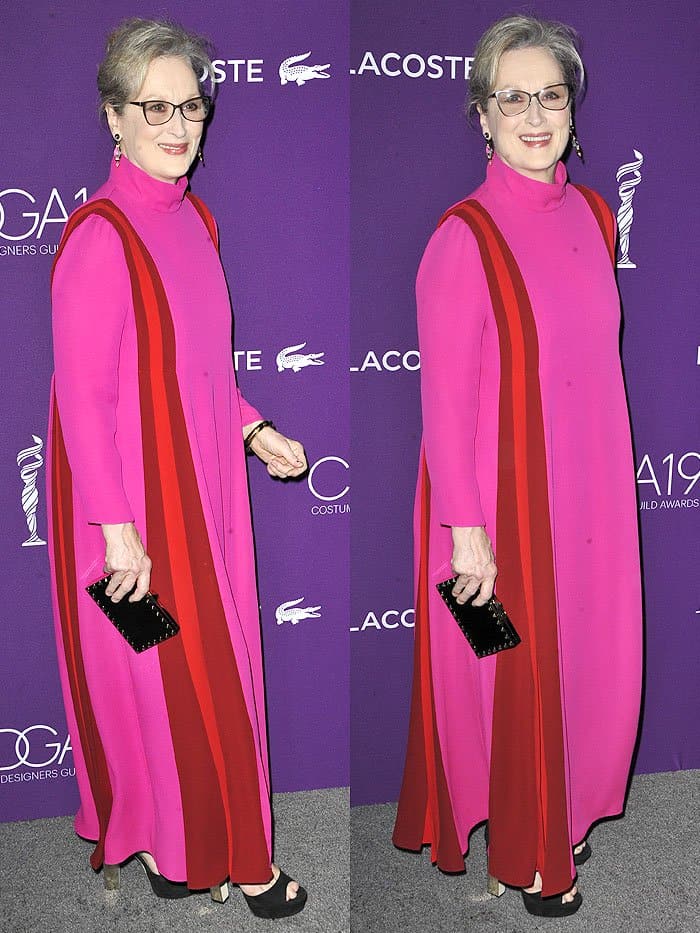 Meryl Streep in a Valentino long-sleeve dress with vertical stripes at the 2017 Costume Designers Guild Awards at the Beverly Hilton Hotel in Beverly Hills, California, on February 21, 2017 (Credit: Apega / WENN)

There was nothing religiously chaste about Meryl's footwear choice, though. She sported black suede platform sandals with chunky high heels.
Meryl Streep shows off her feet in Jimmy Choo black suede platform sandals with chunky metallic heels (Credit: Apega / WENN)
We have yet to ID Meryl's shoes, but the open-toe vamp straps and the way the mirrored heels extend a little at the part where they meet the soles are very much like the Jimmy Choo "April" platform sandals.