Whether it's Kim and North, Kourtney and Penelope, or Khloe and True, 'Mommy and Me' outfits are everywhere you look.
A quick scroll through Instagram or TikTok will show you dozens of a-list celebrities dressing their kids in matching outfits. It may be a subtle lookalike outfit with matching accessories or an all-out coordinated moment.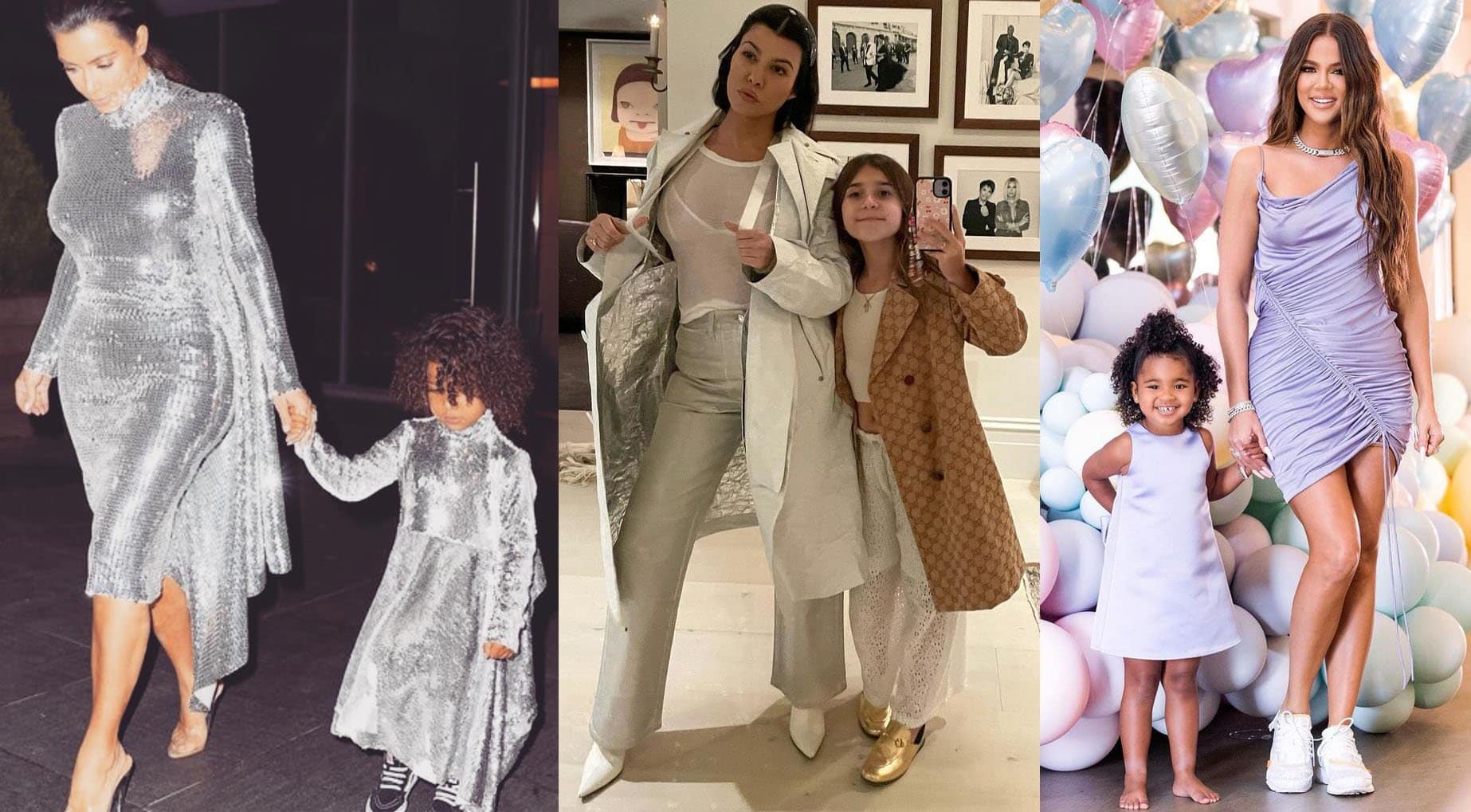 Kim, Kourtney, and Khloe Kardashian matching outfits with their mini-me North, Penelope, and True (Credit: @kimkardashian / @kourtneykardash / @khloekardashian / Instagram)
But where can you get these 'mommy and me' outfits if you don't have a Kardashian budget? That's where this brand guide comes in.
We're sharing the best stores to shop from for mommy and me outfits. These brands offer everything from casual everyday outfits to occasion wear and swimwear.
Whether you're matching with one kid or multiples, these brands have got you covered. Grab your credit card, and let's start shopping!
One of the UK's most popular brands for mommy and me outfits is Boden. The brand has a long list of celebrity followers, including Catherine, Duchess of Cambridge.
Boden offers clothes from new-born right through to ladieswear. 'Mini Boden' has a dedicated section on the Boden website and is the perfect place to look for matching kids' outfits.
Crew Neck Maxi Dress in Multi, Exotic Paradise, $190; Frill Sleeve Printed Dress in Mini Me Multi Jungle, $47
While Boden comes with a mid-tier price tag, the brand is a great place to shop for occasion wear or if you're looking for matching outfits for multiple siblings.
Look out for the sales section on the brand's website, as well as the frequent discounts and promotions they send through their newsletter.
Are you looking for mommy and me outfits on a budget? Sticking to basics and neutrals is the easiest way to achieve this look.
Mainstream brands like H&M are the perfect place to start. The store offers clothing for everyone from new-born to adults, making it easy for you to find matching outfits.
Lace V-Neck Dress in light blue, $79.99; 2-piece Cotton Set in light blue, $19.99
Start by choosing an outfit for your little one before shopping around the store for a coordinating look for yourself.
Don't focus too much on finding an exact match. Look for an outfit that incorporates the same print and color for a subtle matching moment.
You might be looking to buy a 'mommy and me' outfit for a special occasion. It may be a milestone birthday, dream vacation, or family event.
Don't overlook marketplaces like Etsy, where you can have custom 'mommy and me' outfits created.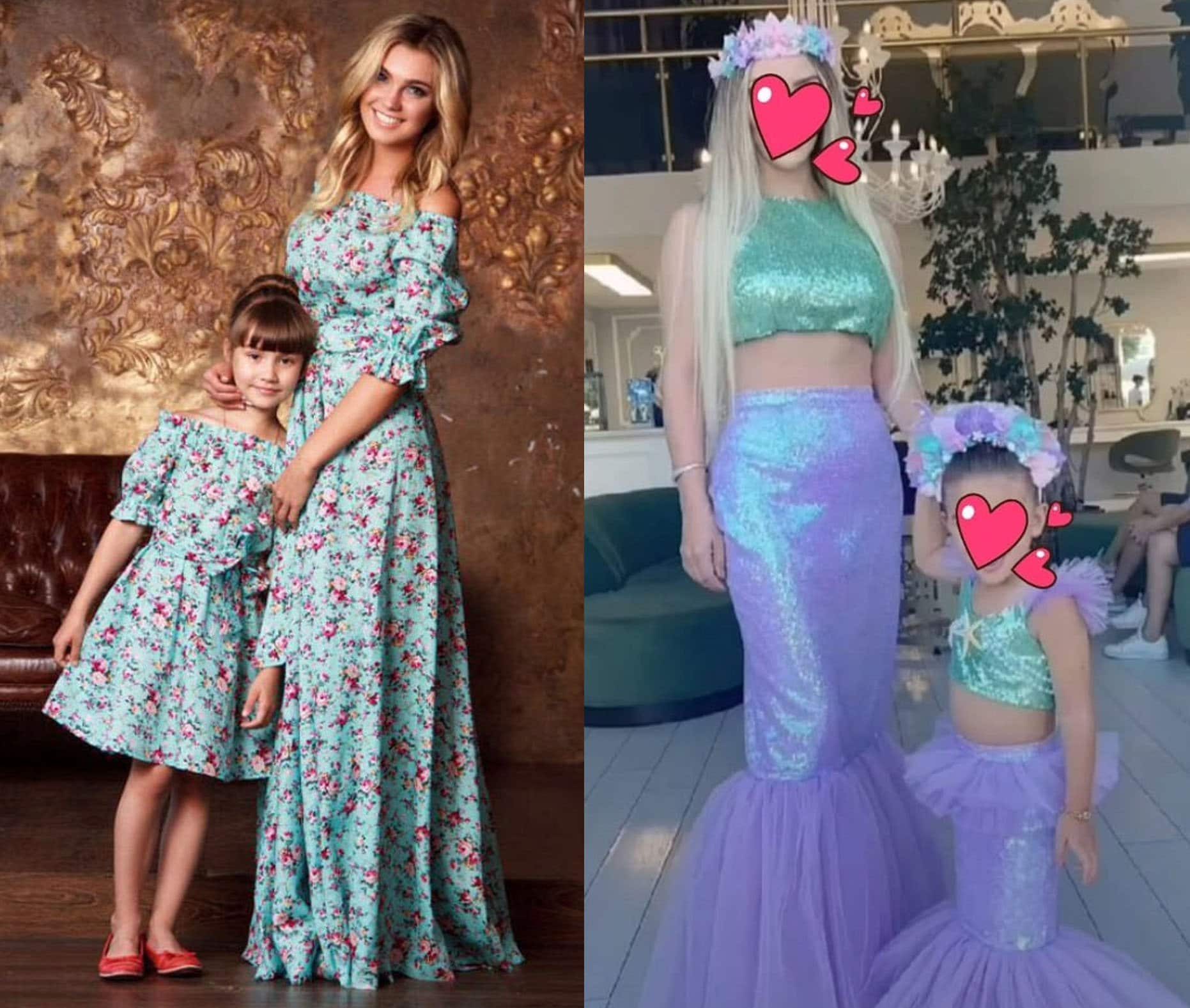 HisAndHersBoutiStore Mommy & Me dress, $24.99+; Ikrakids Mommy and Me Mermaid costume, $209.99
Shop around and find a brand that matches your style aesthetic. The benefit of using a small business for custom mommy and me outfits is that they'll usually be able to accommodate alterations and personalization.
If you're a fan of the 'cottagecore' aesthetic, you've heard of the coveted Nap Dress.
The dress went viral at the start of the pandemic with the brand gaining an army of loyal Nap Dress lovers. Some of the brand's most popular looks are their mommy and me outfits.
The Ellie Nap Dress in Candy Kaleidoscope Linen, $150; The Tiny Ellie Nap Dress, $75
Almost every collection drop includes kids' options, such as the Tiny Ellie Nap Dress. You can buy dresses in matching prints or go all out with the same dress.
Hill House Home also offers a range of childrenswear in their most popular prints for more subtle mommy and me outfits.
One fashion blogger known for her 'mommy and me' outfits is Rachel Parcell. Her daughter Isla Rose is one of the models for her eponymous fashion brand that offers "charming girl's dresses".
The little girl dresses retail for under $100, making them an ideal choice for any special occasion.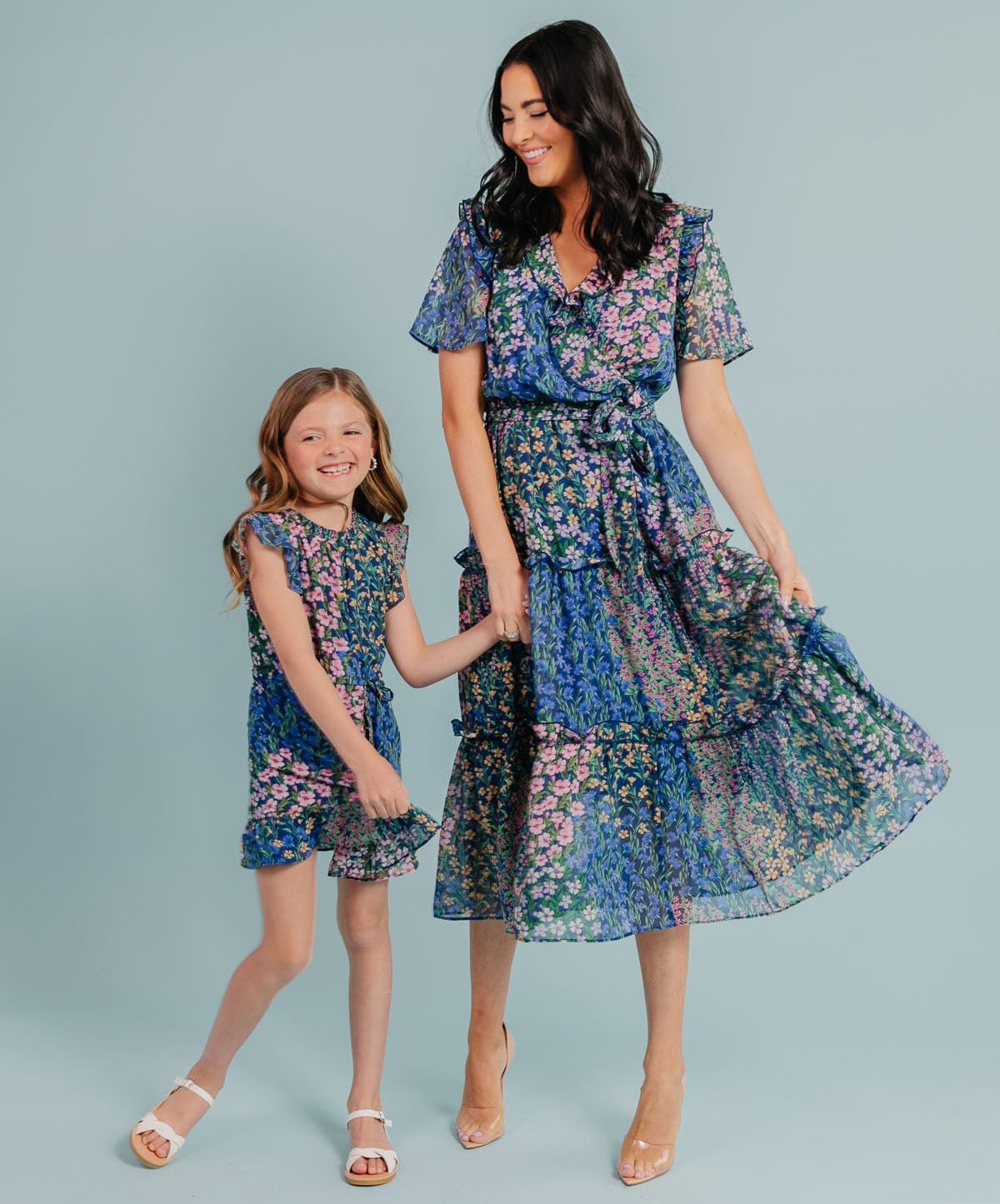 Girls Garden Floral Chiffon Fit and Flare dress, $88; Chiffon Garden Floral Midi dress, $248
If you're looking for inspiration for 'mommy and me' outfits, check out Rachel's Instagram, where she shares her own outfits, as well as her daughter's.
It's easy to think that a 'mommy and me' outfit needs a matching look. Brands like Lilly Pulitzer show that all you need is a coordinating print. The label's founder, Lilly Pulitzer Rousseau, died in 2013.
While the resort wear brand is known for its vibrant prints, they offer clothing for women and girls of every age. Whether it's a Baby Paloma Bubble Dress or Tabby Shift Dress, Lilly Pulitzer is a one-stop-shop for mommy and me outfits.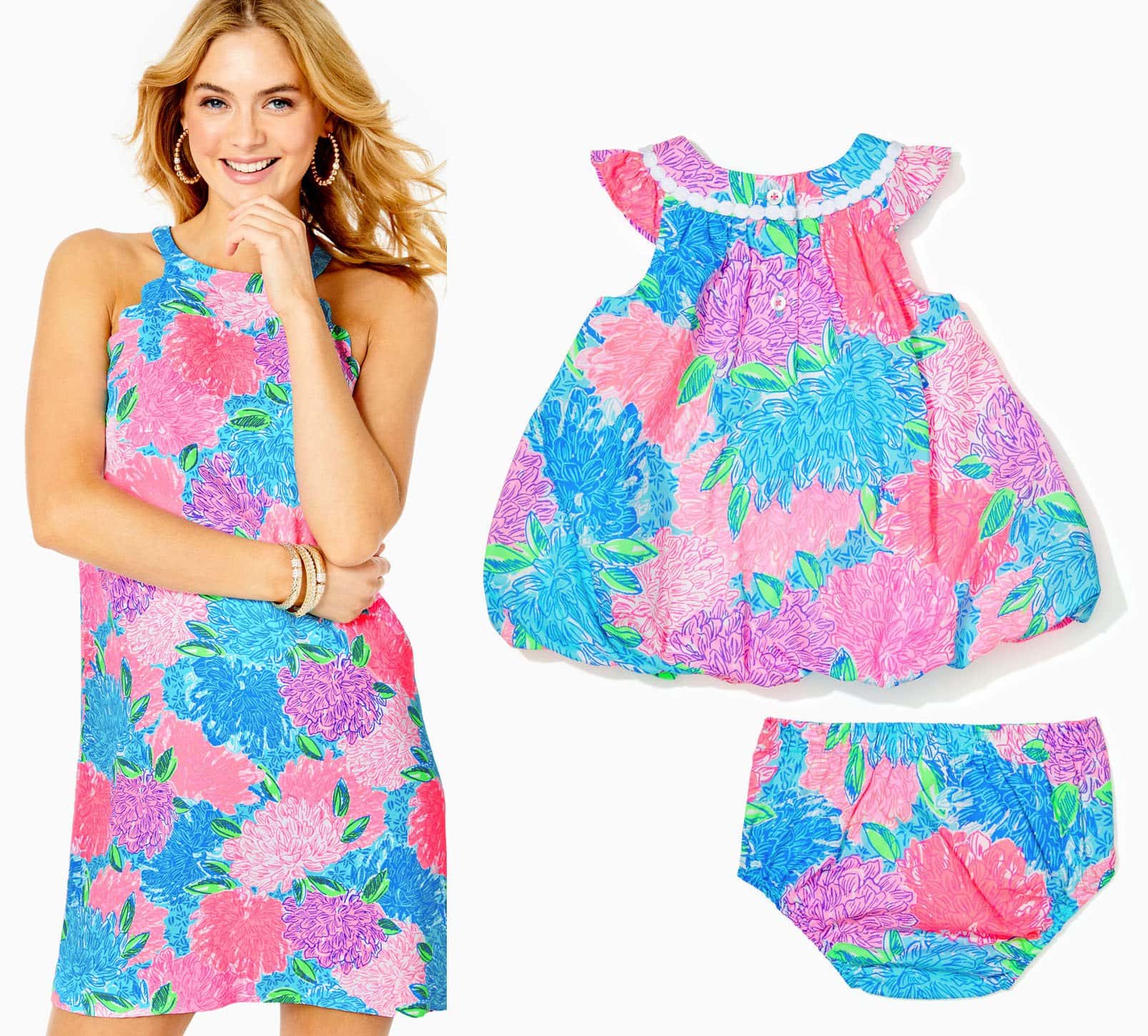 Tabby Shift dress in Multi Beach House Blooms, $178; Baby Paloma Bubble dress in matching print, $58
The brand's 'mommy and me 'range also includes swimwear that is the perfect splurge purchase for your next family vacation.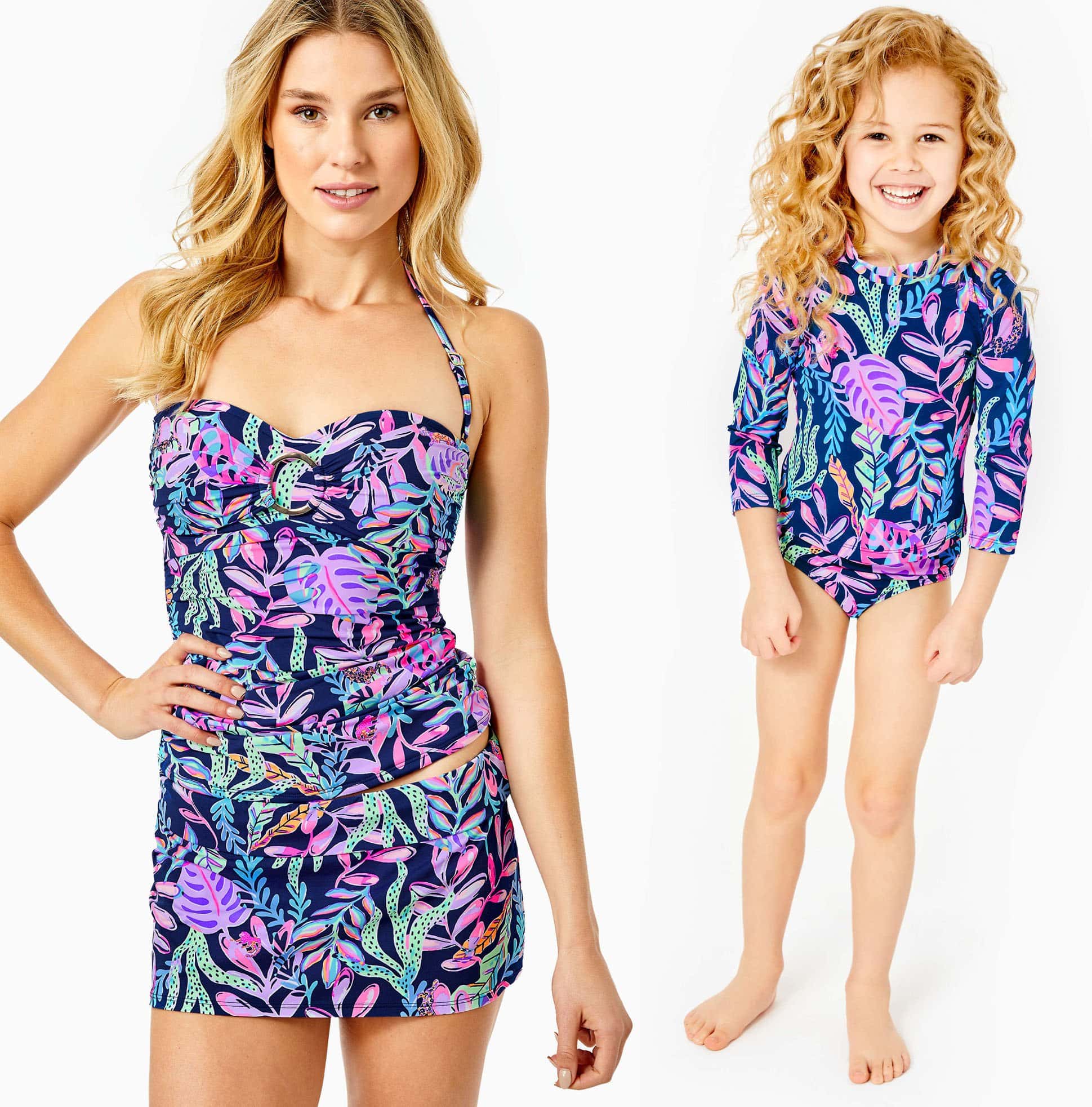 Kady Tankini Top in Oyster Bay Navy Youve Been Spotted, $128; matching Calah Skirted Bikini Bottom, $88; UPF 50+ Girls Bobby Rashguard Set, $88
One of the easiest ways to create a 'mommy and me' outfit is by investing in basics. Old Navy is a budget-friendly option that gives you affordable clothes without compromising on quality.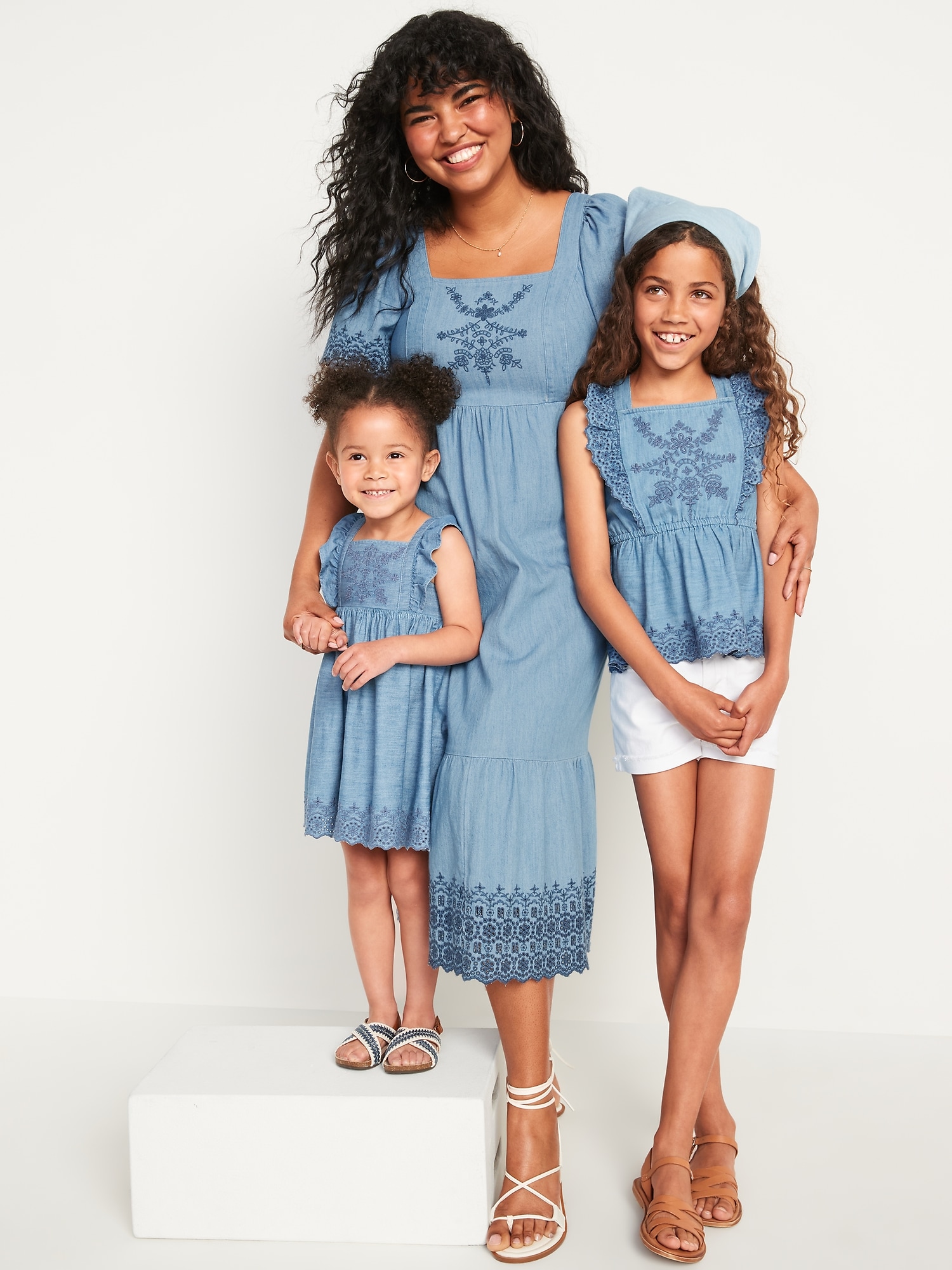 Chambray Flutter-Sleeve Embroidered Tie-Back Top for Women, $34.99; Embroidered Ruffle-Trim Chambray Swing Dress for Toddler Girls, $26.99; Sleeveless Chambray Embroidered Ruffled Apron-Style Top for Girls, $26.99
You'll find a variety of matching mommy and me outfits – from PJs to jeans and a t-shirt.
If you're looking for 'mommy and me' outfits that you can buy in just a few clicks, check out Seraphine.
The brand is famous for being the go-to choice for the Duchess of Cambridge for her maternity fashion. Although known for its maternity clothing, Seraphine also offers 'Mama and Mini sets that are ideal for new mums.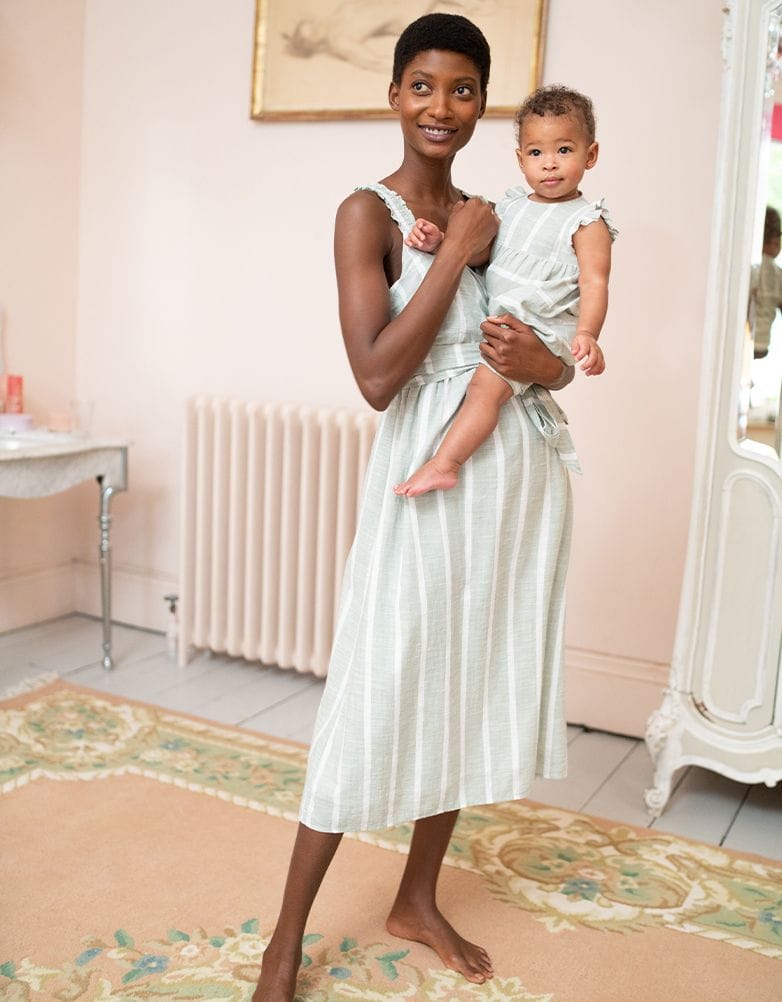 Stripe Cotton Baby Romper in sage and white, $39; Stripe Cotton Maternity to Nursing Wrap Dress, $99
If you want to incorporate mommy and me fashion into your everyday closet, check out Seraphine. We love the matching 'Mama and Mini' knitted beanies.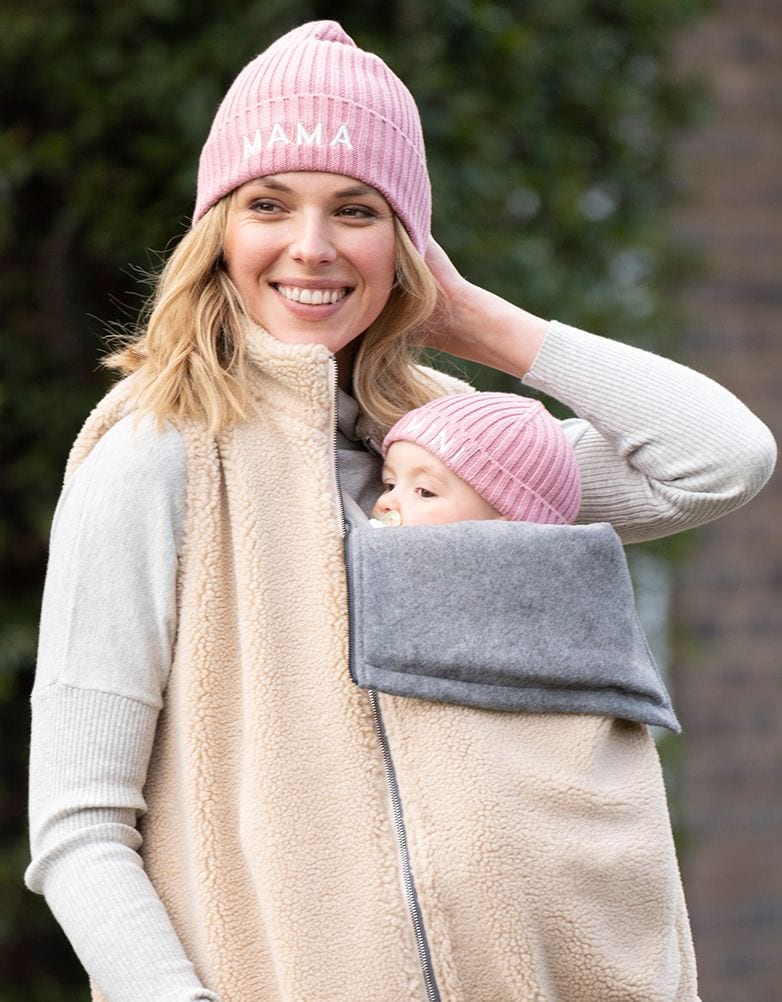 Pink Cotton Mama & Mini Knitted Beanies, $45
Lovers of minimalism will already be familiar with The White Company. The brand is famous for its neutral home wear, but have you checked out their clothing?
You'll find a range of classic clothing from PJs to dresses designed for kids of all ages. While the brand doesn't offer matching outfits, you can easily create a coordinated look with a matching color scheme.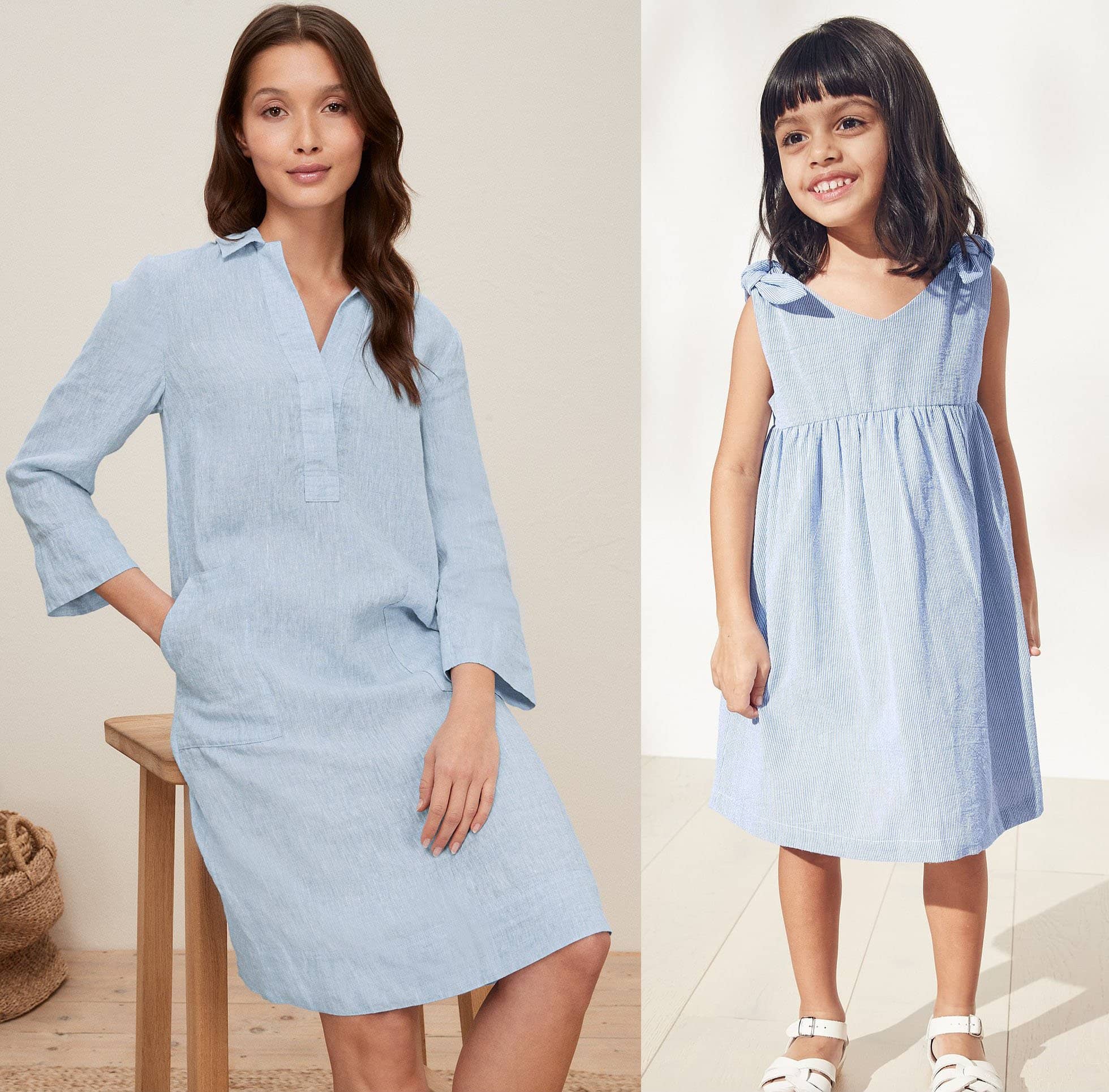 Linen Shirt Dress in denim blue, $169; Tie-Shoulder dress in blue stripe, $46
The White Company should be top of your shopping list if you're looking for preppy 'mommy and me' outfits, whether you have a son or daughter.
Look out for classic prints, including stripes, as well as The White Company's signature floral pattern. The 'Matching Siblings' section of their website is the perfect place for outfit inspiration.
Jeannie Check Overalls & Top Set, $59; Jeannie Check Dress, $46
When you're shopping for 'mommy and me' outfits, maternity and postpartum brands are often the best options.
Juno Jack's is an independent brand that specializes in breastfeeding clothing. The brand offers several 'twinning sets' that allow you to buy matching mommy and me outfits. The 'Izzy' is one of the brand's most popular outfits and is ideal for new or nursing moms.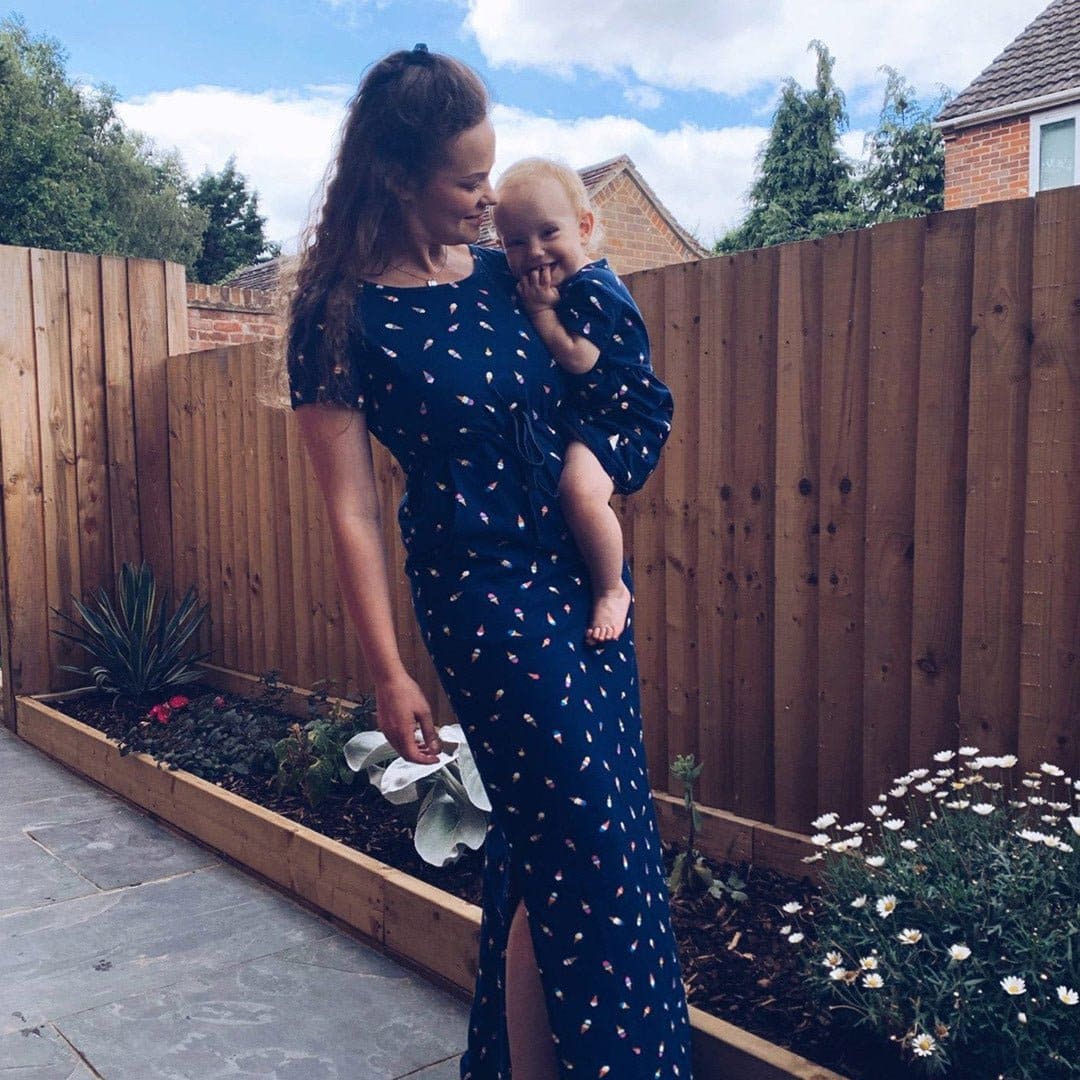 Juno Jack's The Izzy Breastfeeding Mumma ice cream-print dress, £36.99; matching baby dress, £14.99
Along with matching dresses, Juno Jack's also offers coordinating t-shirts, sweatshirts, and headbands.
Meet the brand made for 'mommy and me' outfits. This independent brand has a celebrity following in the UK for their mum and daughter matching outfits.
The brand gives you styles made with both of you in mind. Me and Maeve Grace is inspired by a mother's struggle to find cute 'mommy and me' outfits.
Me and Maeve Grace Rachel Girls Magnolia Romper, £40; Lauren Silk Magnolia Dress, £165
The brand is currently expanding internationally, meaning you can soon expect to see it popping up locally.
Another brand that curates 'mommy and me' outfits is Mia Belle Girls. This online boutique offers budget-friendly clothing that both mom and daughter will adore.
Their range includes casual everyday clothes, pajama sets, and matching dresses.
Mommy & Me Little Bohemian Floral Dress, $47.99-$52.99; Mommy & Me Hot Spot Crew Neck Top, $42.99-$47.99; Mommy & Me Matchy-Matchy Tie Dye Jumpsuit, $56.99-$62.99
If you're looking for affordable everyday outfits, give this boutique a try.
A high-street brand you might not expect to have 'mommy and me' outfits is Reiss. The brand is synonymous with its elegant styling and elevated look.
Greta Sleeveless Embroidered Lace Blouse, $225; Callie Junior Knitted Button Through Cami Top, $75
Whether it's dresses or matching jeans, Reiss is the perfect choice for the mom who wants to dress her daughter like a 'mini me'.
Mariah Linen Belted Button Midi Dress, $290; Dana Junior Linen-Blend Mini Dress, $115
Free-spirited mamas rejoice, we've found the perfect brand for you. Bohemian Mama is for the laidback mother with a love for simple and timeless fashion.
The brand's 'Mommy & me' collection offers dozens of matching outfit options.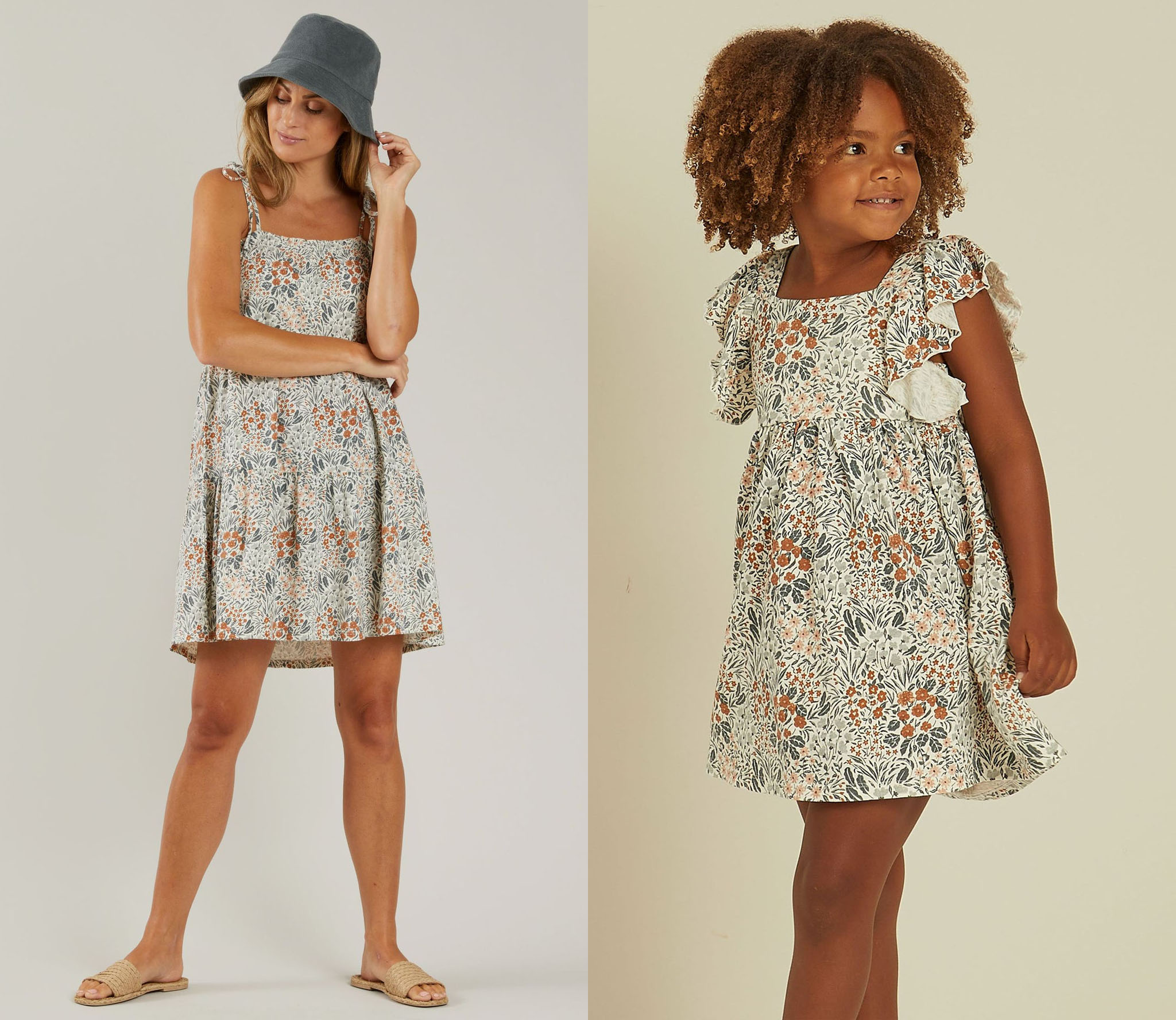 Tie Mini Dress in Flower Field, $66; matching Mariposa Dress, $48
You can choose from graphic t-shirts and coordinating swimsuits. If you're heading off on vacation, make a pit stop at Bohemian Mama before you start packing.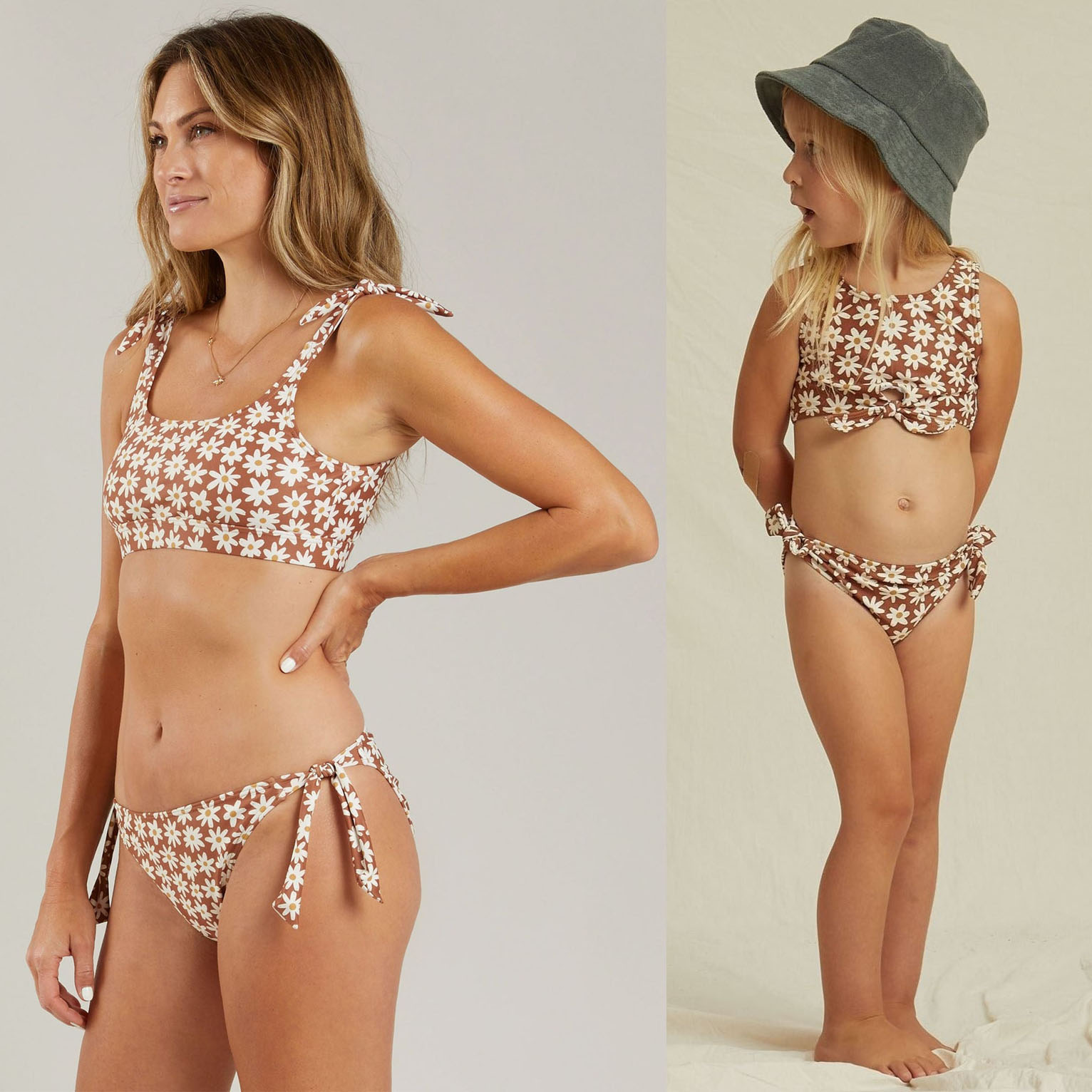 Knotted Bikini Top, $44; Knotted Bikini Bottom, $35; Knotted Bikini in Daisy for Girls, $52
Another mother/daughter brand that we're loving right now is Rylee and Cru. Inspired by the beach of sun-kissed beaches and crystal-clear oceans, this brand is perfect for the modern mama.
Bardot Dress in Terracotta, $105; Ava Dress for Girls, $66
Highlights from the brand include their 'sun and swim' line, perfect for getting ready for your next summer vacation. The brand was founded by Kelli Murray, an illustrator, and inspired by her children.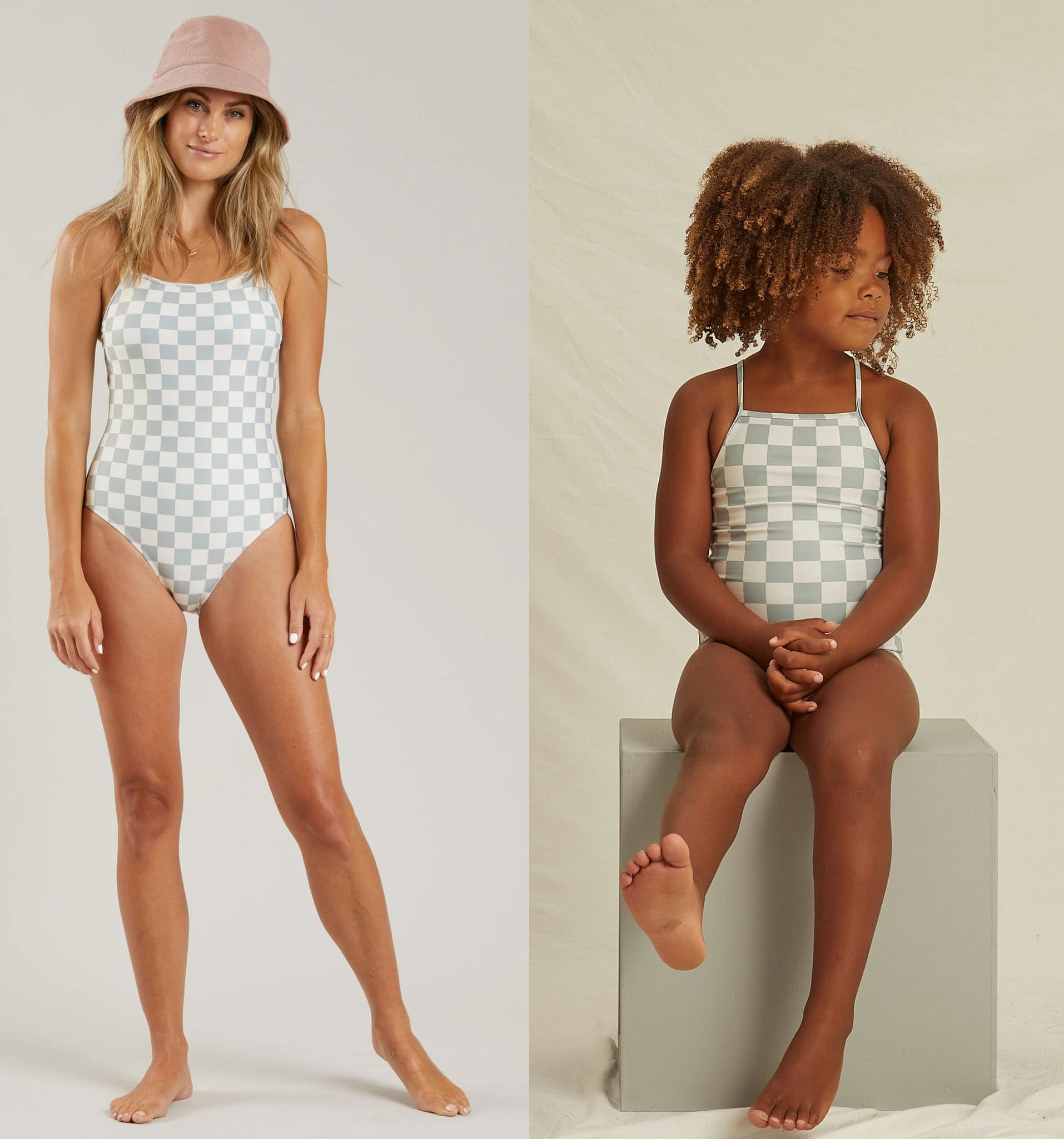 Square-Neck One-Piece Light Blue Check Swimsuit, $70; matching Sky One-Piece Swimsuit, $52
Add a touch of Parisian chic to your mommy and me outfits with You&Milk. Designed as a brand for breastfeeding moms, it also offers matching outfits for all the family.
Their clothes are made using organic cotton and eco-responsible materials that the modern mother will love.
Paulin Signature Végétale x You&Milk Saharan breastfeeding dress
Their 'Merinere' range includes matching outfits, with our favorite being the sailor sweater. It's a closet staple you'll wear long after your baby has outgrown theirs.
Box Mèrinière Breastfeeding sweater & baby sailor sweater
Are you a momma raising her child by the beach? Perhaps your favorite treat is a dip in the pool. Olivia + Ocean is a 'mommy and me' brand that specializes in swimwear.
Whether you're hitting your local beach or going on vacation, this brand has something for every mother-daughter duo. The brand has been featured by Goop, Today, Yahoo!, Popsugar, and Motherly.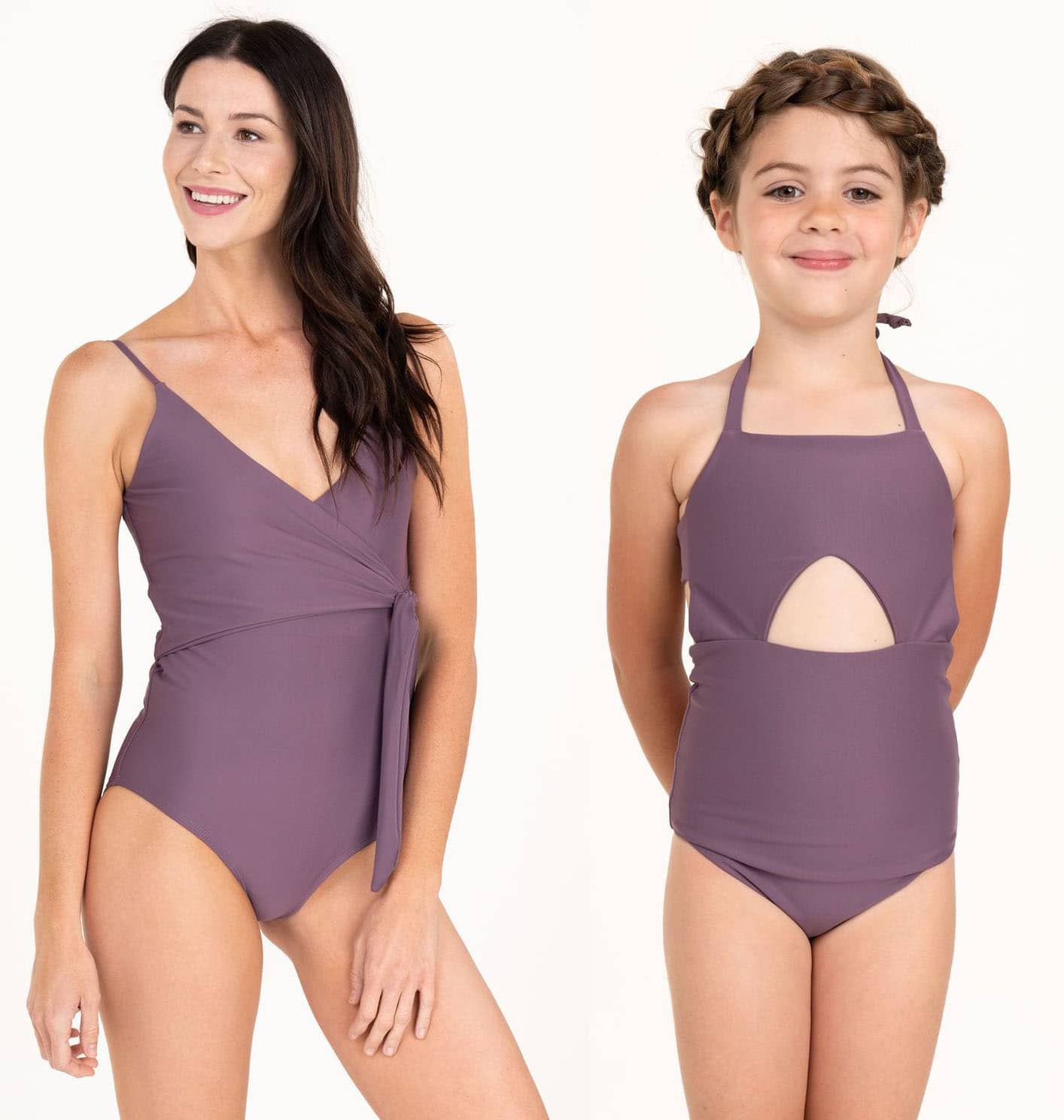 Mom Bod One Piece Toasted Mauve, $149; Malibu One Piece Toasted Mauve, $65
Which of these 'mommy and me' brands will you be shopping with?