Jennifer Garner, best known for her role in the movie 13 Going On 30, which was released in 2004, just happily celebrated her 50th birthday on April 17, which fell on Easter this year.
She's been active on Instagram since September of 2017. This year, she created two Instagram posts to celebrate her birthday. Quite a few celebrities responded to their friend, giving her birthday cheers.
In her first Instagram post, which has accumulated over 24 million views, she said, "…the one and only, legend in his own time, object of my childhood adoration and devotion— @donnyosmond showed up to…"
View this post on Instagram
You can see her watching a video on her phone before legendary American performer Donny Osmond shows up and sings to her. She gets a little overwhelmed; he gives her a cake, and then they sing together.
Here is what some celebrities said in response:
Diane Keaton, known for her Woody Allen films and other comedy movies, said, "HAPPY BIRTHDAY @jennifer.garner ❤️".
Candace Nelson, a famous pastry chef, said, "Epic!!!!!!!!! Happy birthday!!!".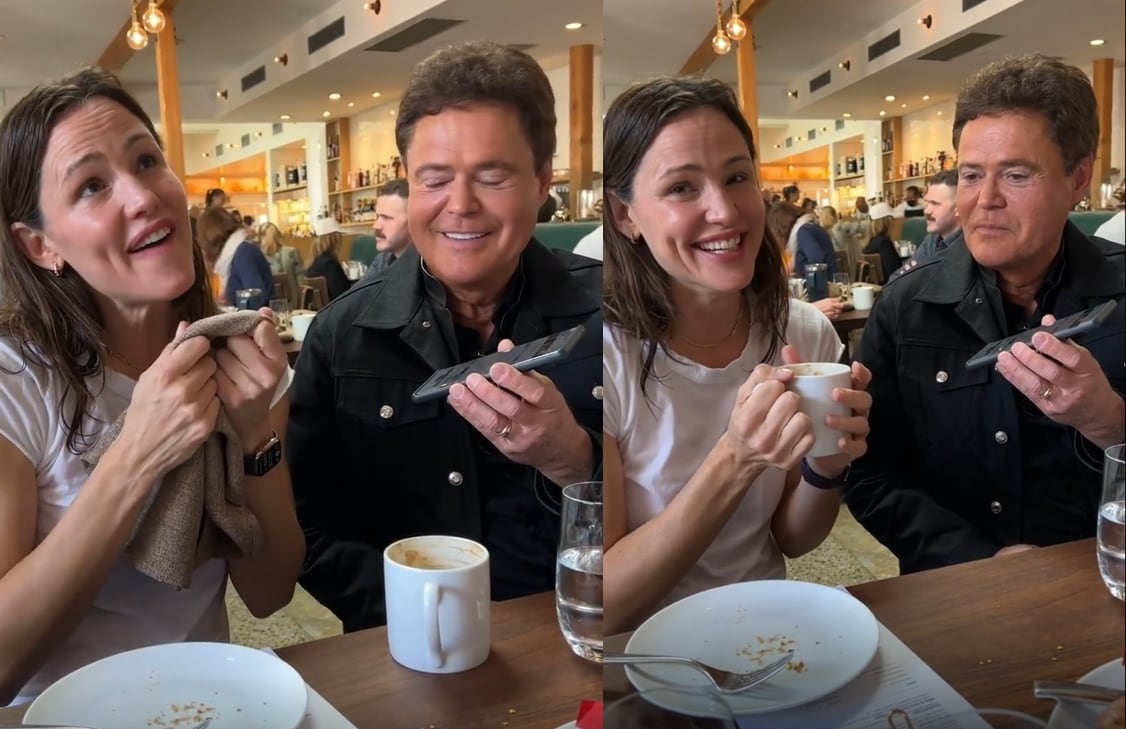 Just a few days before her 50th birthday, Jennifer Garner received a serenade birthday present from Donny Osmond (Credit: Jennifer Garner's Instagram)
And then, "Happy (pre-)birthday beautiful Jen! Wishing you many more decades of great health and joy 🎉❤️❤️❤️," commented Dr. Doris Day, known around the world for her dermatology practice.
21 Jump Street's star, Holly Robinson Peete, also commented saying, "NO WAY!!!!!!!!!!! 🎉🎉🎉🎉🎉🎉🎉".
Julie Benz, famed for her roles in Buffy the Vampire Slayer and Dexter, commented, "😱😱😱😱 I'm dead 😵😍😍😍😍…. Living vicariously through you!!!!!!"
One of the most famous salon stylists of the time, Tracey Cunningham, also commented, "I don't believe it!!!!!!!!!!!!! He is everything!!!!!"
Amy Purdy, who has also met Donny Osmond, said, "Omg I love this!!! Happy Birthday!!! @donnyosmond gave me my first 10 on DWTS!! I love him & you! What a fun surprise! ❤️".
Garner shared her second Instagram post, featuring three different farm animals frolicking in a video and the caption "🎉" just one day later.
Almost 4 million people have seen this post, and many celebrity friends also commented to say happy birthday.
View this post on Instagram
Reese Witherspoon, known for her role in Legally Blonde, said, "Happiest Birthday to our happy little farm girl! 💗".
The host of Barefoot Contessa, Ina Garten, commented, "Happy, Happy Birthday!!! Sending lots of love. ❤️❤️❤️".
Giselle Eisenberg, a 15-year-old known for her role in the comedy Life in Pieces, cheered, "💕💕#hoppybirthday 😆".
Lacey Chabert was one of the most famous child actresses of her time and is a singer and actress. She said, "Happy Birthday!!!! Wishing you all the joy in the world 💜".
Famed television journalist, Maria Shriver, commented, "happy happy my friend what a great day to have a birthday".
Jennifer Garner was 24 years old when she gained her first leading role as Mary Rose Clayborne in the 1997 American Western television film Rose Hill (Credit: Sonar Entertainment)
The Office's Pam Beesly, played by Jenna Fischer, said, "Happy Birthday!!!".
Tracey Cunningham visited this post as well to say "Happy Birthday 😍❤️❤️❤️❤️❤️❤️❤️❤️❤️".
Producer, writer, and wife of Jerry Seinfeld, Jessica Seinfeld, also commented, saying, "Happy Birthday to an 👼🏼 !!! ❤️❤️❤️".
Merrin Dungey, who was in the TV series the King of Queens, among others, commented, "Happiest birthday my friend!! ❤️❤️❤️🥳🥳🥳".
Jennifer Garner looks like she had a wonderful birthday and has many celebrity friends. We hope she has many more birthdays to celebrate.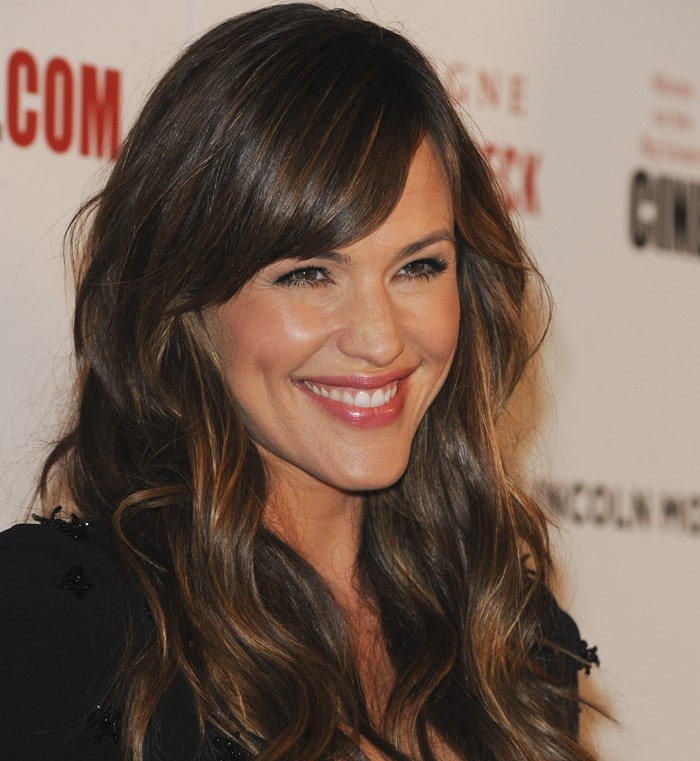 Jennifer Garner at the 2014 American Cinematheque Award ceremony at The Beverly Hilton in Beverly Hills on October 21, 2014 (Credit: WENN / FayesVision)
In October 2014, Jennifer Garner once again flaunted her sexy legs on the red carpet at the 2014 American Cinematheque Award ceremony held at The Beverly Hilton Hotel in Beverly Hills.
She was there to support the evening's honoree, Matthew McConaughey, and was joined by Anne Hathaway and numerous other Hollywood stars.
Jennifer starred alongside the evening's honoree Matthew McConaughey in 2013′s Dallas Buyers Club and 2009′s Ghosts of Girlfriends Past.
Matthew McConaughey as Ron Woodroof and Jennifer Garner as Dr. Eve Saks in the 2013 American biographical drama film Dallas Buyers Club (Credit: Focus Features)
The then 42-year-old actress and film producer donned a black dress by Dolce & Gabbana, which was embellished with studs and sequins.
Jennifer accessorized with Norman Silverman bracelets and an EFFY Jewelry ring and completed the ensemble with a pair of peep-toe "Banana" platform pumps by Christian Louboutin.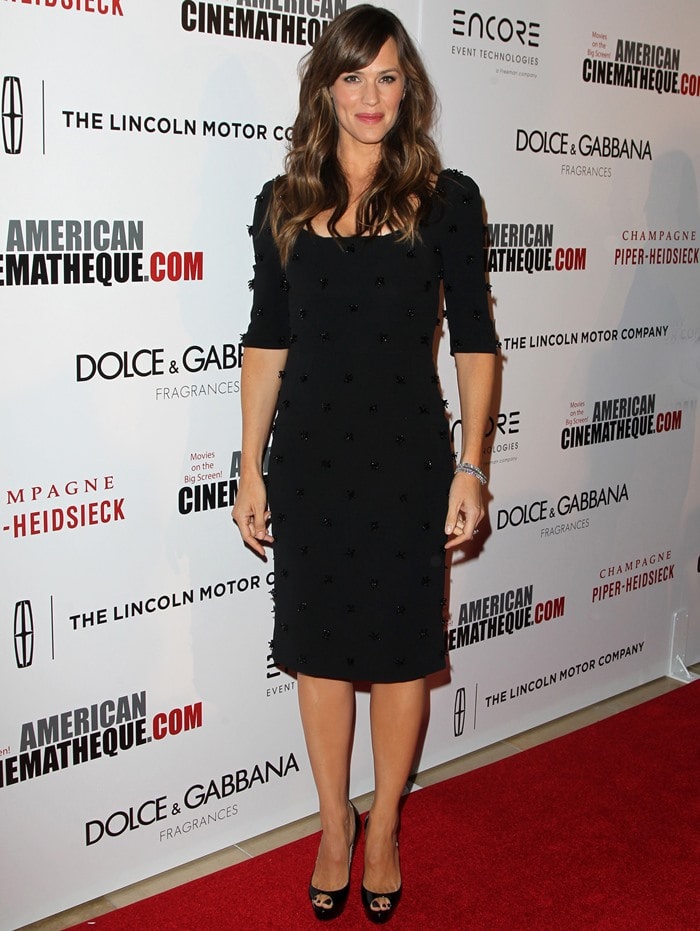 Jennifer Garner flaunts her legs in a black dress by Dolce & Gabbana featuring studs and sequins (Credit: WENN / FayesVision)
How do you like Jennifer's embellished dress? Her black patent leather pumps used to be available in a variety of color variations, but they have unfortunately sold out.
Christian Louboutin "Banana" Platform Pumps, $845