A tremendous commercial success at the box office, the American fantasy romantic comedy film 13 Going on 30 was also one of the biggest-selling DVD rental titles in 2004.
Jennifer Garner starred as Jenna Rink, a 13-year-old girl who suddenly finds herself being 30-years-old.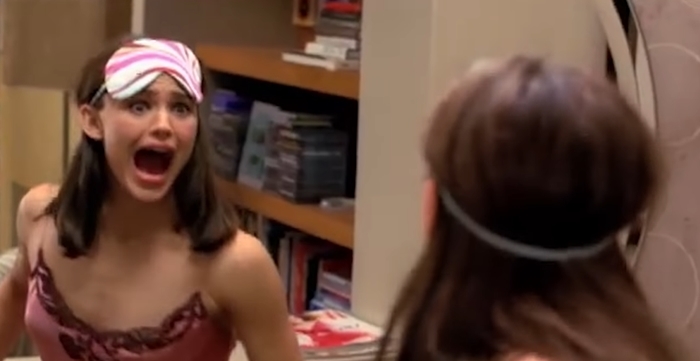 Jennifer Garner discovers she is 30 in 13 Going on 30
Christa B. Allen, later known for her role as socialite Charlotte Grayson on the ABC drama series Revenge, portrayed the 13-year-old Jenna Rink.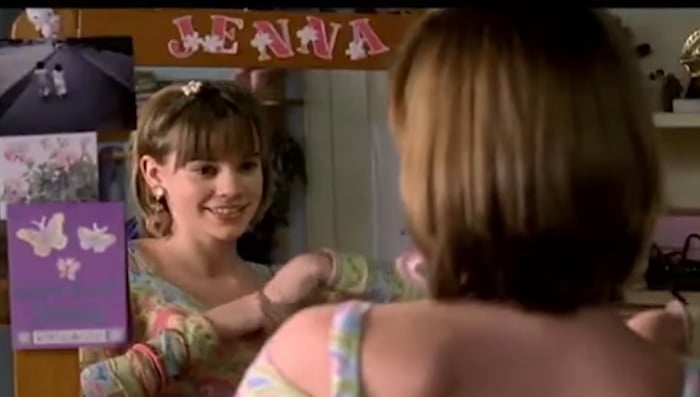 Christa B. Allen starred as young Jenna Rink in 13 Going on 30
Brie Larson also had a minor role in the movie as one of the Six Chicks. Filming started on May 13, 2003, when Brie Larson was 13-years-old. She turned 14 on October 1, 2003, and principal photography finished in November 2003.
The other mean girls were Ashley Benson, Brittany Curran, Alexandra Kyle, Julia Roth, and Megan Lusk.
Brie Larson (R) had a minor role as a mean girl in 13 Going on 30
Jennifer Garner was 31-years-old while shooting the movie, having turned 31 on April 17, 2003. Christa B. Allen was 11 while filming and turned 12 on November 11, 2003.
15 years after the release of the smash hit film 13 Going on 30, Jennifer Garner paid tribute to the movie on her Instagram.
"Fifteen years ago today #13GoingOn30 made her debut, directed with ❤️ by our beloved Gary Winick 😇 and a clutch of loving, hardcore producers (3 brilliant women—before it was cool to be led by women!)," Jennifer posted.
Jennifer Garner on the set of 13 Going on 30 in New York City's Central Park on June 30, 2003
"The movie benefitted from the performances of so many young actresses. Open and twinkly-magical then— now, 15 years later, they are ruling the world. (Hi #SixChicks—@brielarson, @ashleybenson, @christabrittany—who also played a young me in Ghosts of Girlfriends Past—and my own sweet @revjuliaroth)," she continued.
"I loved my day with this slumber party crew: they danced with abandon and reminded me of the power of just saying yes—to being in a group, to vulnerability, to wearing a bra over your clothes. At the last minute, I tossed my adopted LA family member Maddy Sprung-Keyser into the scene. @maddsk went on to be an Academic All American swimmer at Amherst, got her law degree from NYU, and is producing podcasts for @pineapple.fm. Looking back into her adolescence—with the hair and the men not wanting to jump her bones—is extra special today. Imagine if every 13-year-old girl had an opportunity to dance and feel beautiful like the girls in this film. I am proud of all of you," Jennifer added.
Jennifer Garner was 31-years-old when filming 13 Going on 30
Garner concluded, "I feel so, so lucky to have had the experience of making this joyful movie. And even luckier to be part of something that, all of these years later, can still make people (hi, @arianagrande 🤗) smile."
View this post on Instagram
In November 2018, Ariana Grande paid tribute to 13 Going on 30 in the music video for "Thank U, Next" by honoring the emotional climax of the film.
After a very rough 2015 due to her divorce from Ben Affleck and the nanny drama, Jennifer started the new year off on a pretty good note. In January 2016, Jennifer took her son, Samuel Garner Affleck, out in Brentwood on an afternoon to play.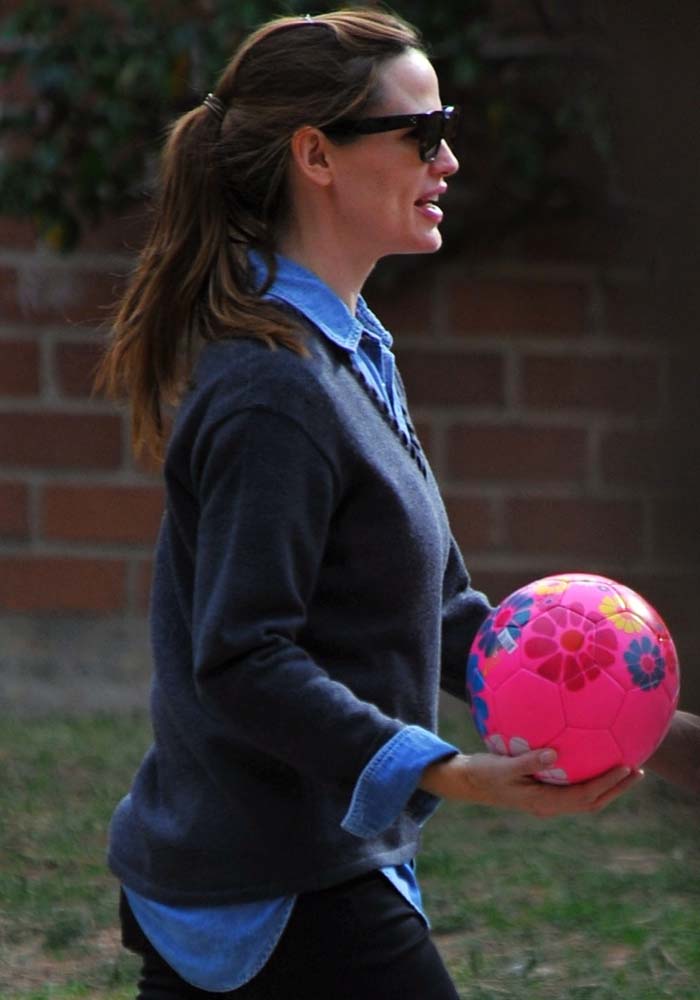 Jennifer Garner wears her hair half-up and half-down while out in Brentwood on January 3, 2016
Jennifer wore a chambray top layered underneath a sweater. The then 43-year-old paired her tops with black jeans and Isabel Marant tassel boots. She kept her eyes hidden behind a pair of sunglasses.
Jennifer Garner layers a sweater over a chambray top while out in Brentwood with her son
The actress was all-smiles as always as she returned a runaway ball to a kid, and was later on seen carrying a sleepy little barefoot Samuel.
Jennifer Garner carries her son Samuel to the car after a playdate
We're not sure who her new mystery man is, but the two were spotted talking in his car for a good thirty minutes. Reports say the man is the family's accountant. Prior to the sighting, rumors of Jennifer Garner getting together with Patrick Dempsey were afloat.
Jennifer's Isabel Marant tassel boots are from a collection a few years back and are now sold out online.
Check out some similar boots below that we found at Nordstrom and Zappos.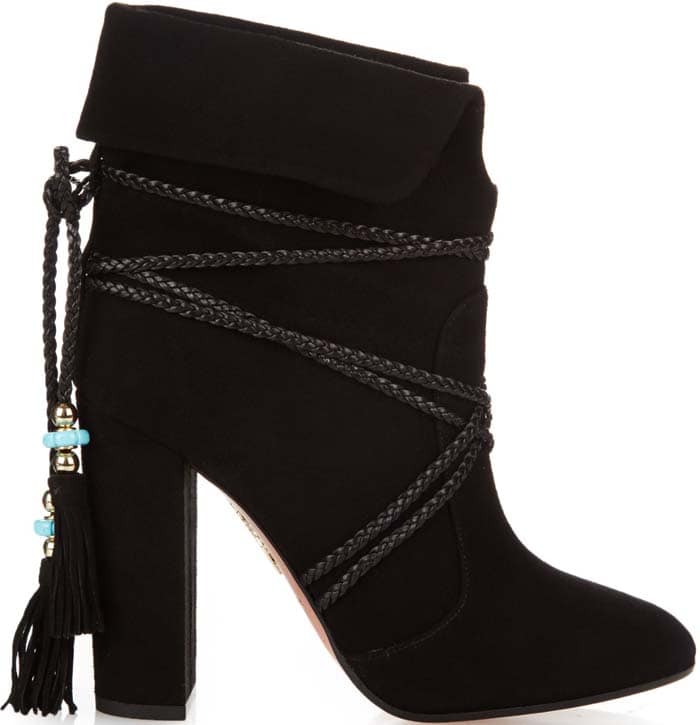 Aquazzura x Poppy Delevingne "Moonshine" Ankle Boots, $1,099
Chloé Tasseled Suede Ankle Boots, $995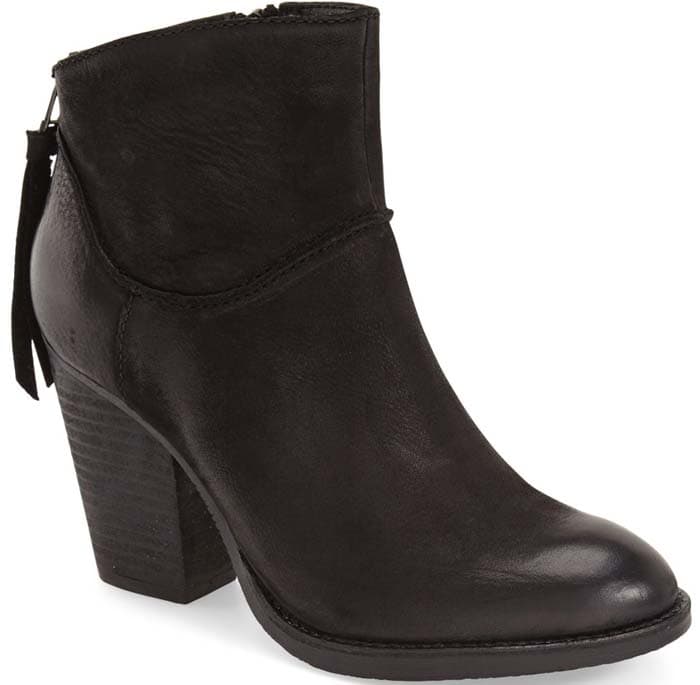 Steve Madden "Radioo" Bootie, $129.95
Credit: WENN / Vallenilla