In a very candid interview this month with The New York Times, Ben Affleck speaks honestly about his divorce from Jennifer Garner like he never has before.
"The biggest regret of my life is this divorce," Ben said. "Shame is really toxic. There is no positive byproduct of shame. It's just stewing in a toxic, hideous feeling of low self-worth and self-loathing," he continued.
Ben Affleck is seen with his daughter Violet Affleck in Los Angeles on January 5, 2020
"I drank relatively normally for a long time," the 47-year-old actor added. "What happened was that I started drinking more and more when my marriage was falling apart. This was 2015, 2016. My drinking, of course, created more marital problems."
"It's not particularly healthy for me to obsess over the failures — the relapses — and beat myself up," he continued. "I have certainly made mistakes. I have certainly done things that I regret. But you've got to pick yourself up, learn from it, learn some more, try to move forward."
Ben Affleck, picking up his daughter Seraphina Rose Elizabeth Affleck from soccer on December 14, 2019, says the biggest regret of his life is the divorce from Jennifer Garner
It's not every day that your typical Hollywood exes do what they can to remain civil – or is this perhaps an attempt to fix their marriage?
In October 2015, despite being in the middle of a divorce procedure, Jennifer Garner looked every inch a wife to Ben Affleck (sans her wedding ring). He accompanied her to the grocery store after she attended church by herself.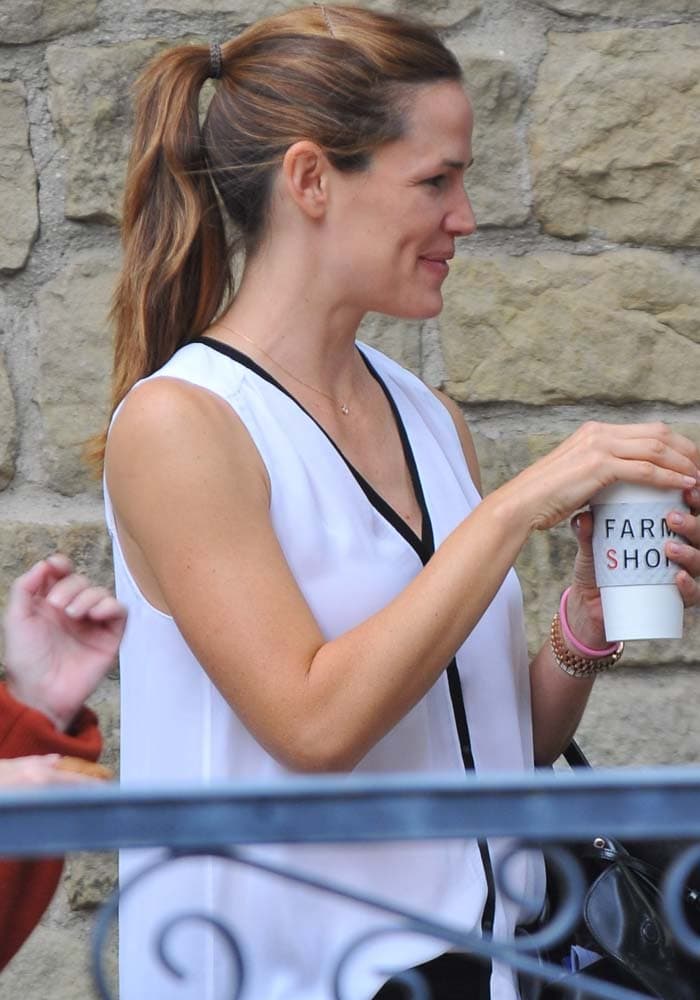 Jennifer Garner in a white silk top from Andrea Lieberman's A.L.C.
Ben reportedly helped Jennifer with her groceries, even loading them into their car before leaving for home. The two were at the time still living in the same house.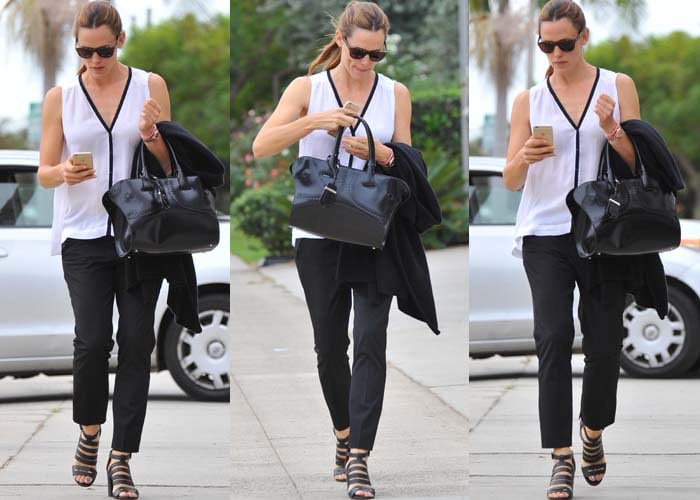 Jennifer Garner toting a black Tod's small cape bag
Jennifer wore a striped tank top from A.L.C. with loose black trousers, which she paired with Givenchy cutout heels. She showed off her feet in the same heels on a trip to the market before the divorce announcement.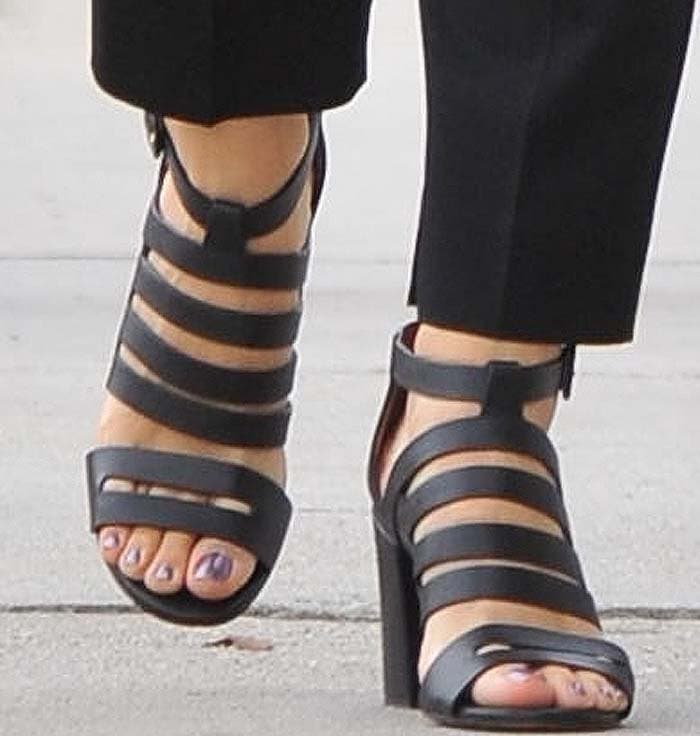 Jennifer Garner shows off her feet in Givenchy sandals
Just a few days earlier, they took their children to the Farmer's Market and attended counseling together. Jennifer kept mum about her personal life and everyone was hoping for news of their reconciliation.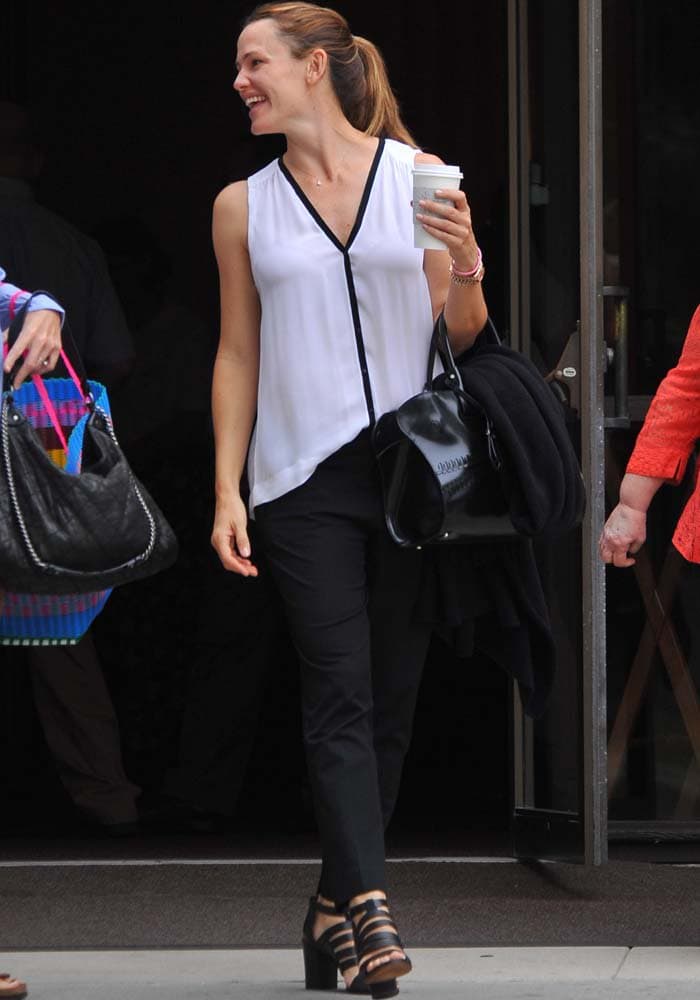 Jennifer Garner leaves church in Brentwood on October 25, 2015
Whatever the outcome is, we're glad the two are exerting effort to make things work.
Entertainment Tonight reports on Jennifer Garner being accompanied to the grocery store by Ben Affleck
Jennifer's heels are already sold out but you can find similar Givenchy shoes at Nordstrom and Farfetch.
Givenchy Black Cutout Block Heel Sandal
Black Givenchy Woven-Cage Leather Sandal, $950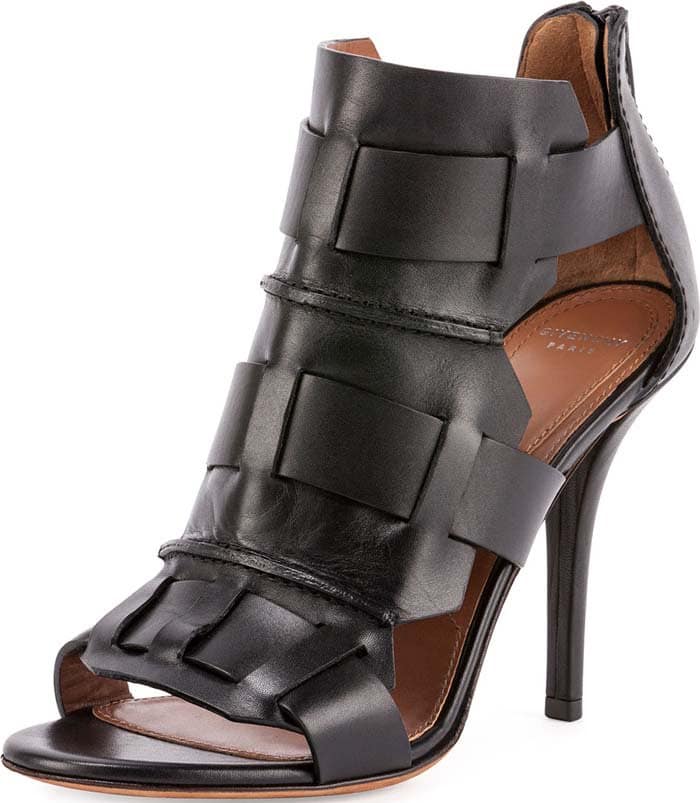 Credit: WENN / Instar