Olivia Marie Osmond was born in Ogden, Utah, on October 13, 1959. She grew up in a big family, the eighth child out of nine and the only girl.
While her brothers achieved fame with their singing group, The Osmond Brothers, and made appearances on popular television networks, Marie Osmond was not actively involved in their endeavors due to her young age at the time.
Donny, Marie, and Jimmy Osmond are seated with Jay, Tom, family patriarch George, singer Andy Williams, Merrill, Allan, and Wayne Osmond standing at a ceremony honoring The Osmond family with a star on the Hollywood Walk of Fame on August 7, 2003, in Hollywood, California (Credit: s_bukley / Shutterstock)
Marie Osmond was one of only two siblings who didn't participate in the family band, The Osmond Brothers, along with her brother Tom Osmond, who was deaf.
She was raised in the Church of Jesus Christ of Latter-day Saints, and for a while, she was content living outside the limelight and embracing her childhood. Besides one brief appearance on The Andy Williams Show with her brothers, Marie Osmond was separate from the family business.
Marie Osmond's Remarkable Music Career
In the 1970s, after much pressure from her mother, Marie Osmond decided to sign with her family's record company MGM Records, and pursue her solo career in country music.
This leap would be a life-changing one, as Marie Osmond is still making music today in 2022. Her music career has been extremely successful, and she has graced the top charts with both her singles and albums numerous times.
After performing 1,730 shows over the course of 11 years, Donny and Marie Osmond ended their Las Vegas residency at Flamingo on November 16, 2019 (Credit: Ehrlif / Shutterstock)
Marie Osmond went from being a four-year-old girl tagging along with her older brothers on TV to a country music superstar all on her own.
Her musical talents have been on Broadway, she has participated in a Vegas residency, and she has even tested herself while performing opera. Wherever Marie goes, she leaves a mark.
Marie Osmond's Journey in Acting
Along with her successful music career, Marie Osmond has also had an incredibly impactful acting career.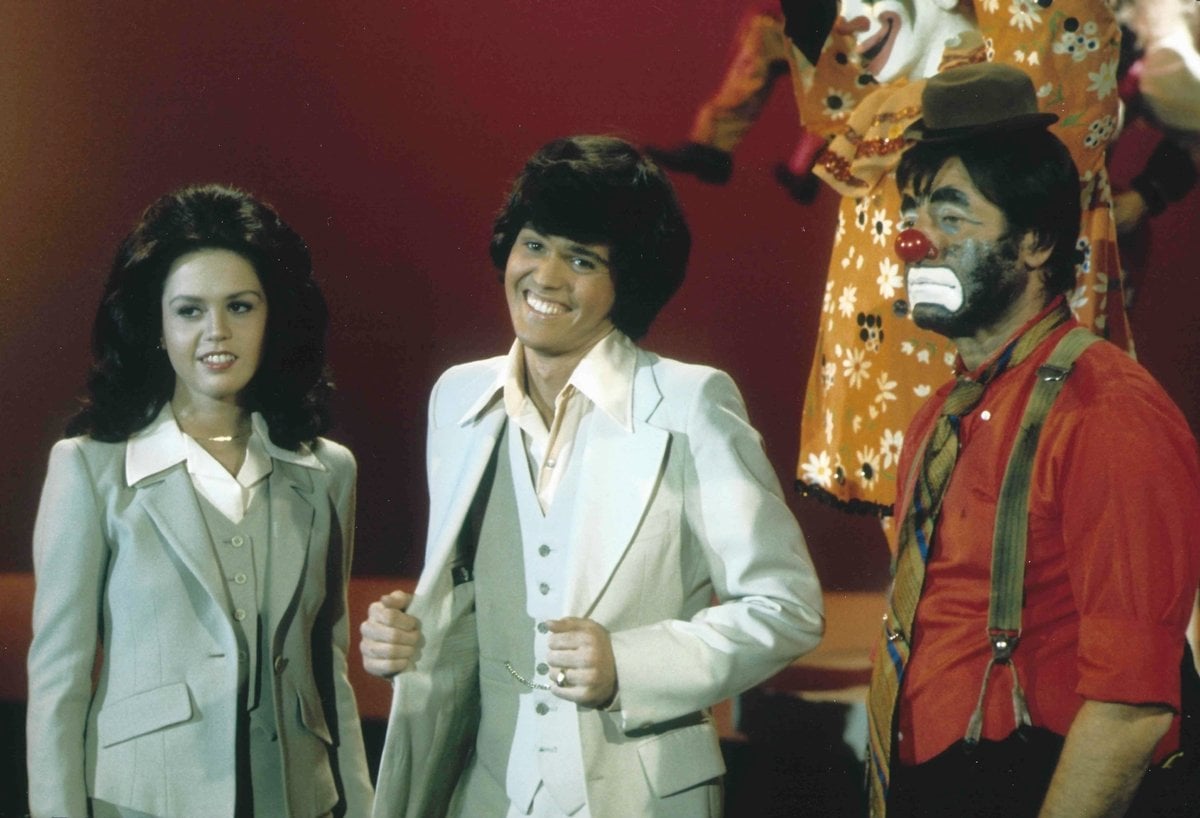 Jerry Lewis, Donny Osmond, and Marie Osmond appearing on the American variety show Donny & Marie (Credit: The American Broadcasting Company)
She started out her acting days with a collaborative show with her brother Donny, titled Donny & Marie, in 1975.
Since then, she has been in movies and television shows like Maybe This Time, The Velveteen Rabbit, I Married Wyatt Earp, and Marie. She was also a judge on Celebrity Duets.
Marie Osmond's Role on The Talk
One of Osmond's most recent and most controversial acting stints was on The Talk, a CBS talk show focusing on headline news, fashion, and celebrity gossip.
Marie Osmond hosted the CBS daytime show "The Talk" alongside Eve, Carrie Ann Inaba, Sharon Osbourne, and Sheryl Underwood (Credit: CBS)
Marie Osmond filled in on the show in over 90 episodes between 2013 and 2019, any time a regular host was out. When season 10 came out, it was broadcasted that she would become a full-time host. After one season, however, she left the show.
Why Marie Osmond left The Talk
Marie Osmond left The Talk after it was rumored that two of her cohosts, Sharon Osbourne and Sheryl Underwood, went to CBS executives and told them they would resign unless Osmond was fired.
The rumor is that even after Carrie Ann Inaba vouched for Marie and begged her and the executives to allow her to stay, she still left.
Did any of this happen, or is it just a rumor?
Marie Osmond wrote on social media on her public profiles that she was leaving to pursue other projects and spend time with family, but could this be an excuse to avoid any further controversy? Only Marie, her former cohosts, and CBS truly know the answer to that!
We do know, however, that a ton of hate has come to The Talk as a result of Marie Osmond's departure.
Marie Osmond flaunts her legs in a glittering dress at the National Television Awards 2013 at The O2 Arena on January 23, 2013, in London, England (Credit: Featureflash Photo Agency / Shutterstock)
Fans of the show have been consistently commenting on the show's social media, voicing their opinions, and ensuring that the executives know that they are not happy about the decision to release Osmond. Many stopped watching the show completely as a result.
"Don't believe anything you read," Marie said on Watch What Happens Live in May 2020 about the alleged feud with her The Talk co-host Sharon Osbourne.
"Sharon and I are great friends. Everybody who sits at that table is a very strong woman. She'll say things and I'll go, uh, no. But that doesn't mean we don't like each other."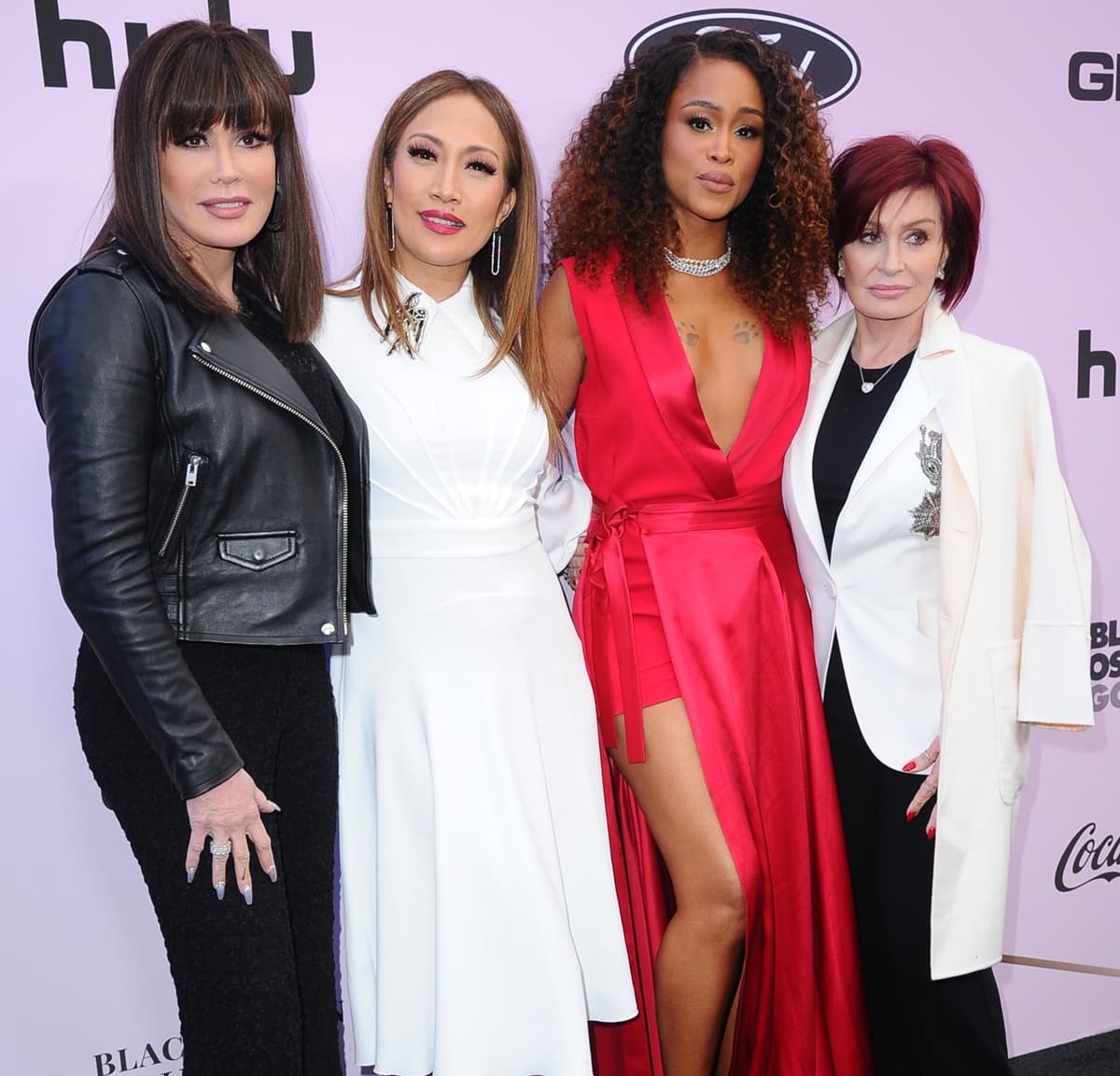 Marie Osmond, Carrie Ann Inaba, Eve, and Sharon Osbourne attend the 13th Annual Essence Black Women In Hollywood Awards Luncheon at the Beverly Wilshire Four Seasons Hotel on February 6, 2020, in Beverly Hills, California (Credit: Sara De Boer / Startraksphoto)
"We're very different and yet similar in ways," she added. "We're both strong women, I've been in this business, this is my sixth decade. I've been around."
Though she was born into a family on the brink of successful careers, Marie made her own way in the world and has dealt with a lot of difficulties throughout her lifetime.
Marie Osmond's Marriage Journey
On June 26, 1982, Marie Osmond was married to Stephen Lyle Craig, a basketball player for Brigham Young University. They had their only child, Stephen James Craig, a year later in 1983. Unfortunately, just two years later, the couple got a divorce.
Steve Craig and Marie Osmond separated in October 1985 and remarried in 2011 (Credit: s_bukley / Shutterstock)
Marie Osmond married her second husband, Brian Blosil, on October 28, 1986. They'd go on to give birth to their children Rachael and Matthew and then adopt five children, Jessica, Michael, Brandon, Brianna, and Abigail. They were married until 2007 when they surprisingly announced an amicable divorce.
On May 4, 2011, Marie put her dress from 1982 back on and walked down the aisle again to Stephen Lyle Craig. The two decided to give it another try, and they are still married to this day.
Marie Osmond's Struggles With Mental Health
Rumored to have had plastic surgery, Osmond wrote about her battle with postpartum depression in a book that she co-authored titled, Behind the Smile, which you can buy on Amazon.
Through this book, Osmond gave a real and transparent account of what it is like to be a woman struggling with the disease and by doing so, she was a trailblazer in transparency in mental health.
There was a rumor of a suicide attempt from Marie Osmond in 2006, but this claim was denied by her team and they instead stated that she had a bad reaction to the medication. Regardless of what it was, we are happy that she is still here and that she seems to be doing well these days.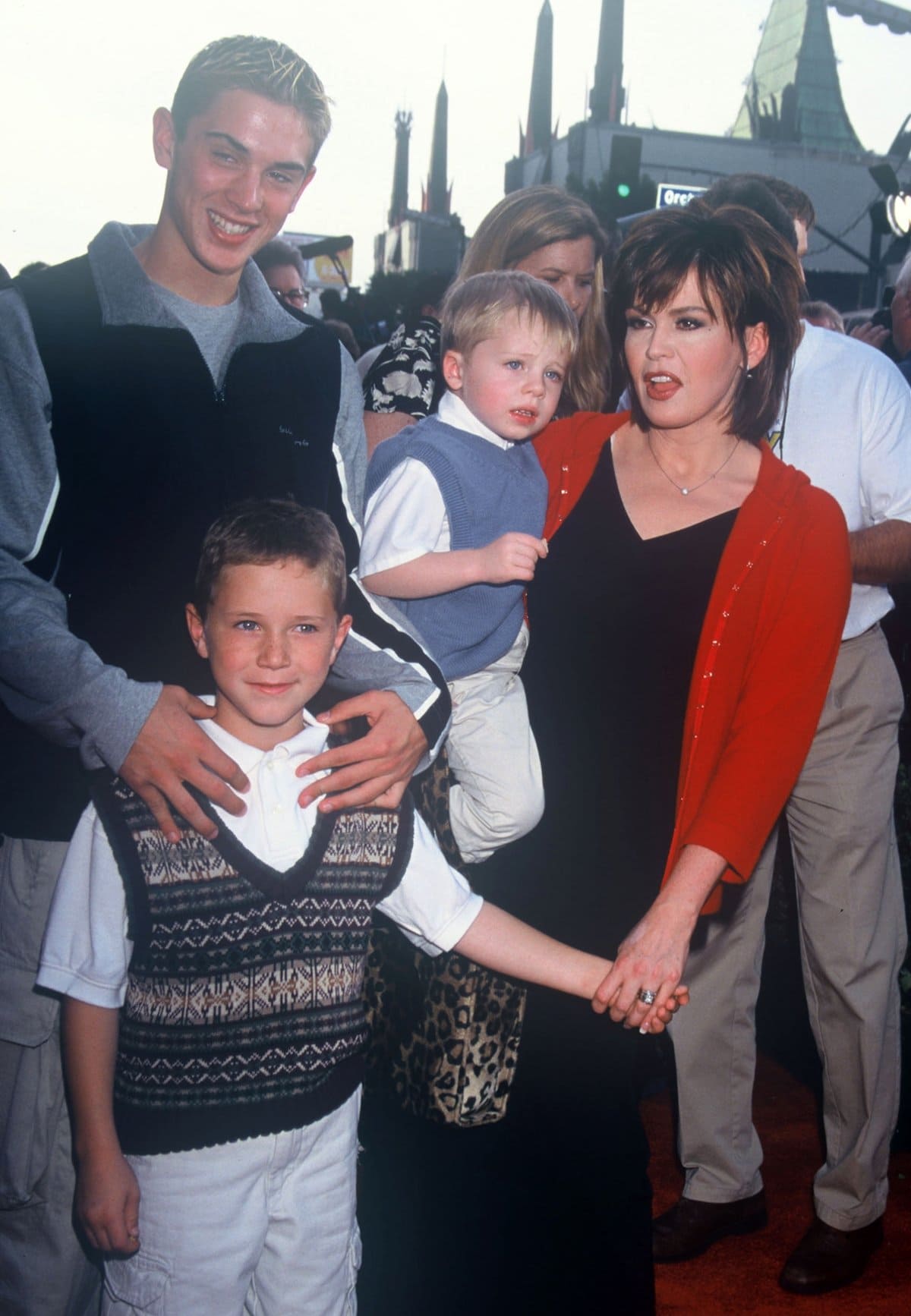 Marie Osmond with her sons Stephen, Michael, and Brandon at the premiere of "Toy Story 2" at El Capitan on November 13, 1999, in Los Angeles, California (Credit: Kathy Hutchins / Shutterstock)
On February 26, 2010, tragedy struck Marie Osmond and her family when her son Michael took his own life. Michael had a hard battle with depression and addiction.
He had been in and out of rehab since the age of 12 though there were no drugs in his system at the time of death. This tragedy was absolutely heartbreaking and no doubt shook the family to its core.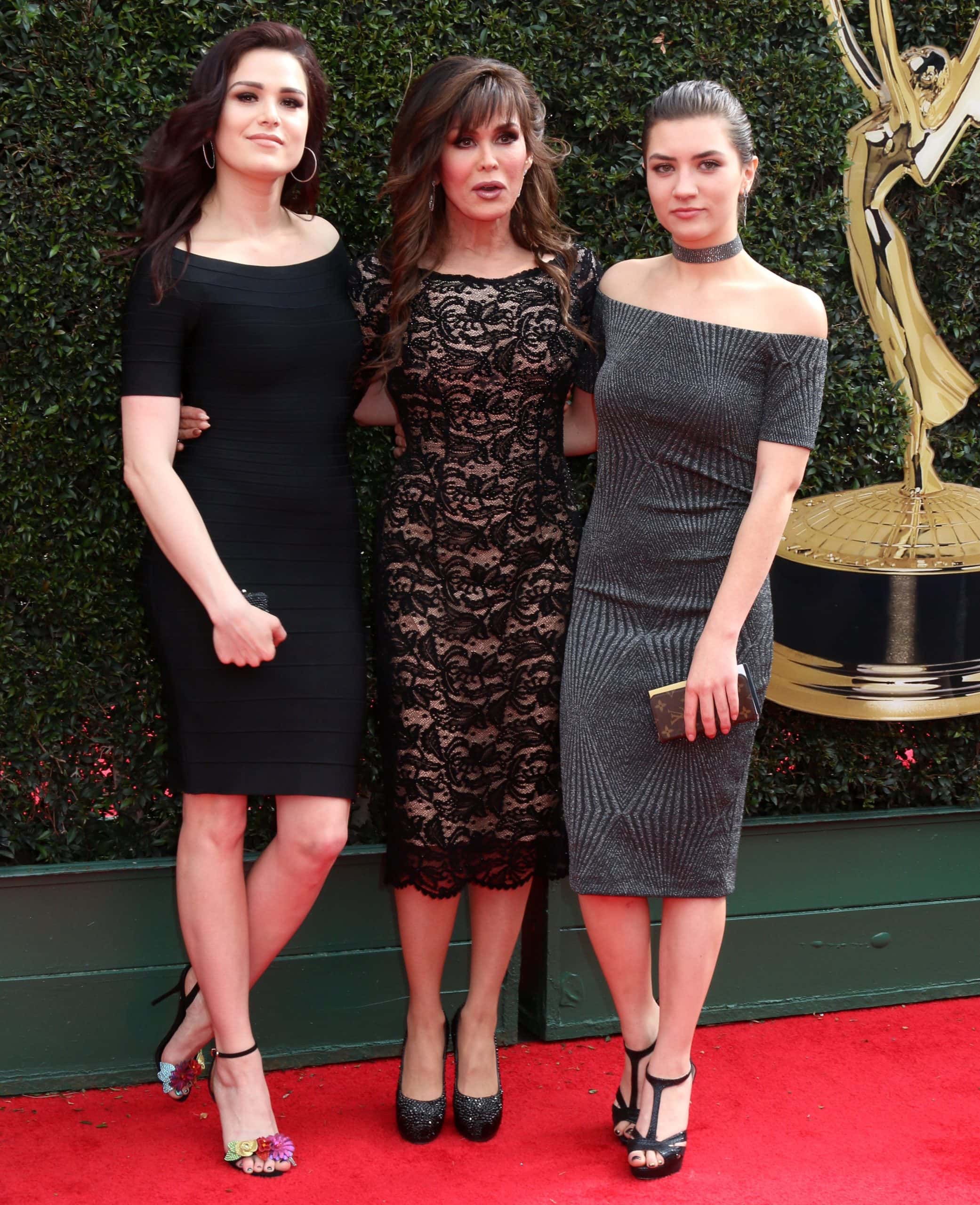 Marie Osmond with her daughters Rachael Krueger and Brianna Patricia Blosil at the 2018 Daytime Emmy Awards at Pasadena Civic Auditorium on April 29, 2018, in Pasadena, California (Credit: Kathy Hutchins / Shutterstock)
If you have also been struggling with depression or suicidal thoughts, please know that you're not alone. There are so many resources out there for you and so many people that want to help you to feel better so that you can be safe in your own mind.
To get help, please contact therapists or psychiatrists in your area. If it's an emergency, please have a loved one or a taxi service drive you to the nearest hospital.
Suicide hotlines are also a great way to connect and they're a great resource to have on hand in case of emergency. Please reach out to your country's suicide hotline number any time of day.
Marie Osmond's Net Worth
It is no surprise that Marie Osmond has done well for herself. After all, she has a career that started when she was a young girl and that has spanned over the course of her life. And she is STILL working!
As of 2022, Osmond's net worth is over $20 million! With a massive net worth like this, you'd think her family would be set for life.
Uniquely enough, however, Osmond announced in 2020 that she would not be leaving a single dime to her children when she passes away.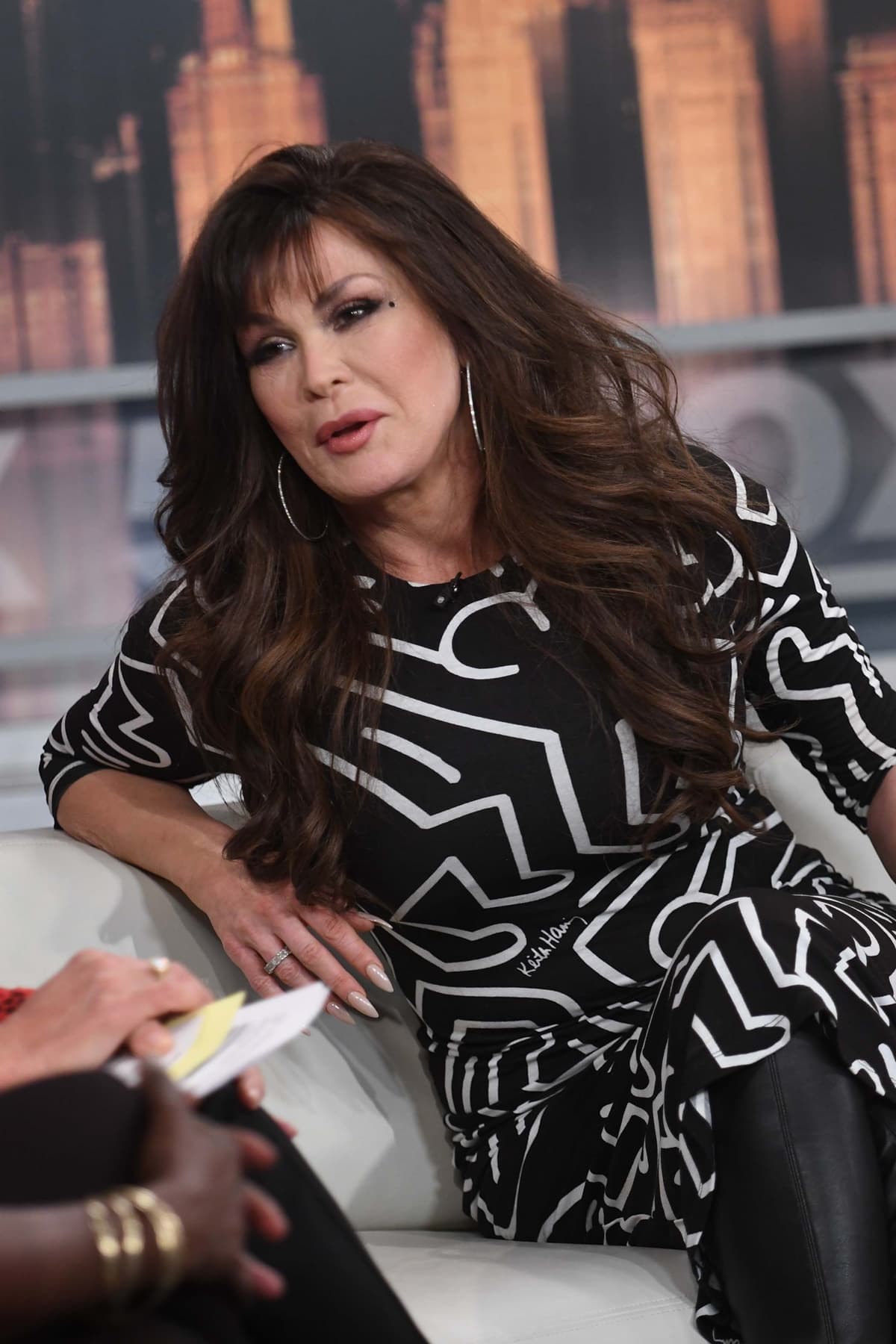 Marie Osmond plans on donating all her money to charity when she passes away one day (Credit: Michael Simon / Startraksphoto)
She claimed it would be doing a disservice to them and they could make their own money. "I'm not leaving any money to my children. Congratulations kids," Marie said on an episode of The Talk in February 2020.
"My husband and I decided, I think you do a great disservice to your children to just hand them a fortune because you take away the one most important gift you can give your children and that's the ability to work," Marie added. "You see it a lot in rich families, where the kids, they don't know what to do and so they get in trouble. Let them be proud of what they make and I'm going to give mine to my charity."
Marie is a tough, hard-working woman who worked from the ground up for what she has, and she wants her children to do the same! You have to respect that!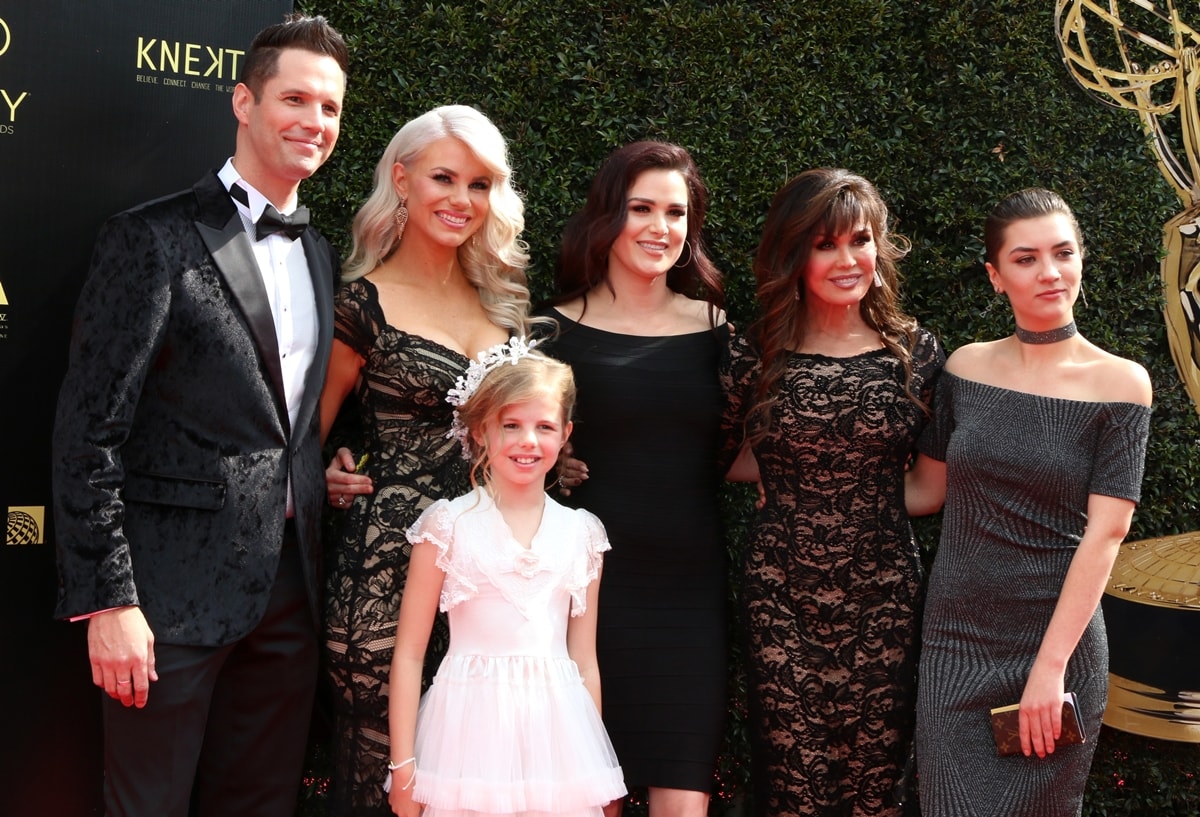 Marie Osmond with her daughters Rachael Krueger and Brianna Patricia Blosil, her son David Levi Osmond, her daughter-in-law Valerie McClain, and her granddaughter Saffron Gloria Osmond (Credit: Kathy Hutchins / Shutterstock)
How much money has Marie Osmond made from Nutrisystem?
Marie Osmond has not disclosed how much money she has made from Nutrisystem. However, it is estimated that she has made millions of dollars from the company.
Osmond has been a spokesperson for Nutrisystem since 2007, and she has helped the company to sell millions of weight loss plans. In 2015, Osmond was named the "Most Effective Spokesperson for Weight Loss" by Advertising Age.
Osmond's success as a spokesperson for Nutrisystem is due in part to her own personal weight loss journey. In 2007, Osmond weighed 200 pounds and was struggling with her weight.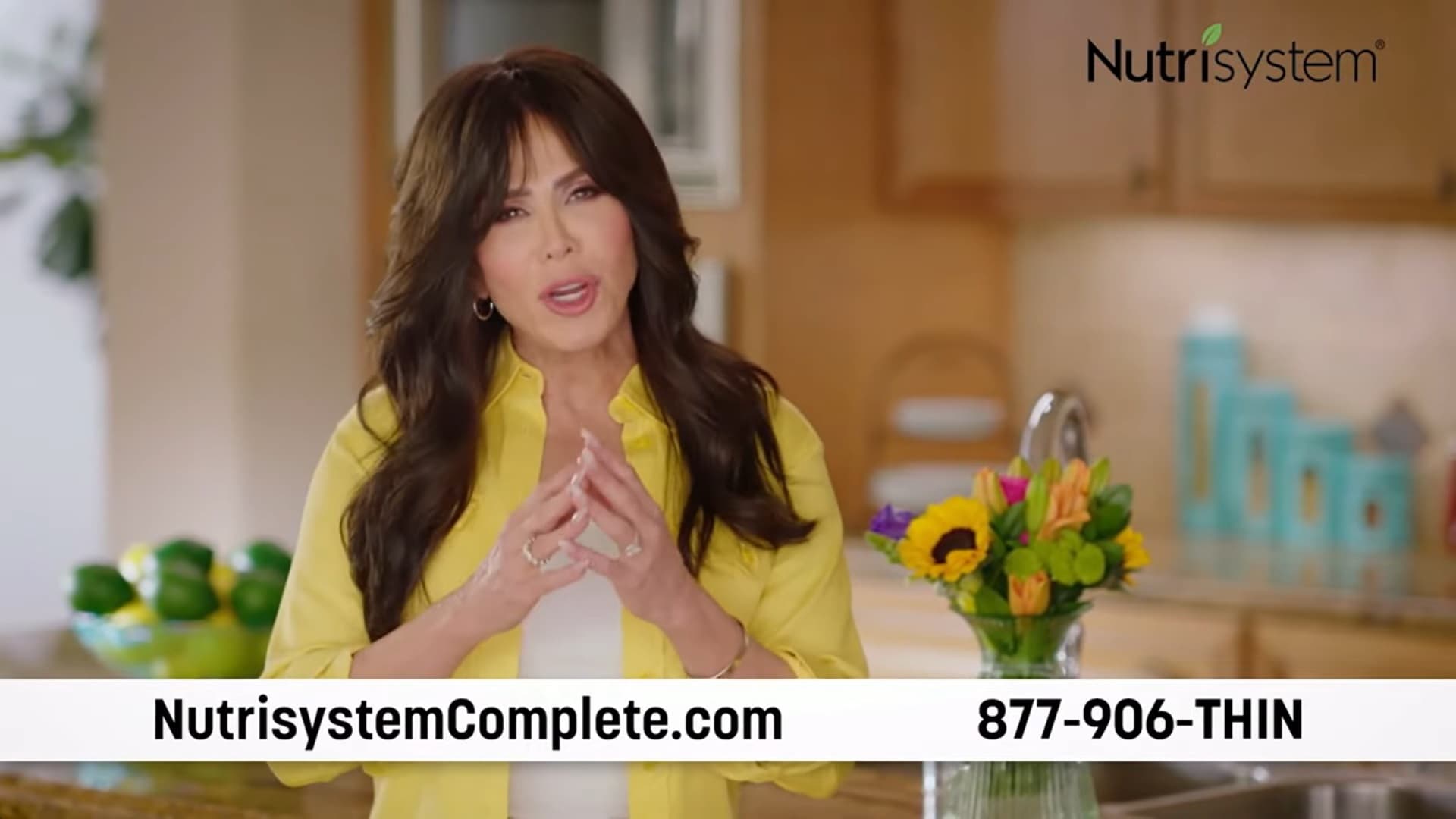 Marie Osmond became a spokesperson for Nutrisystem in 2007, promoting their weight loss program through her personal success story and appearances in commercials and advertisements (Credit: Nutrisystem)
She decided to try Nutrisystem and lost 50 pounds in just six months. Osmond's weight loss success story has inspired millions of people to try Nutrisystem, and it has helped to make the company one of the most successful weight loss programs in the world.
Marie Osmond has had an incredibly successful career that has continued over many years. With no indication of stopping soon, there is no telling what the future holds for Osmond!
Despite the controversy, tragedy, and all of the odds that were stacked against her, Marie Osmond has become one of the most successful women in entertainment. She continues to flourish through a successful career, a beautiful family, and an impressive net worth. What will she do next?