Hollywood is known for quick relationships, rushed marriages, and couples that seem to fizzle out as quickly as they got started.
However, Matthew McConaughey and his wife Camila Alves defied the traditional Hollywood relationship and are still going strong today.
Who Is Camila Alves?
Alves is a Brazilian-American model and designer. Being a model, Alves is taller than the average woman, standing at 5'9". However, McConaughey is a few inches taller than Alves, at 6'0", making the couple fit perfectly together.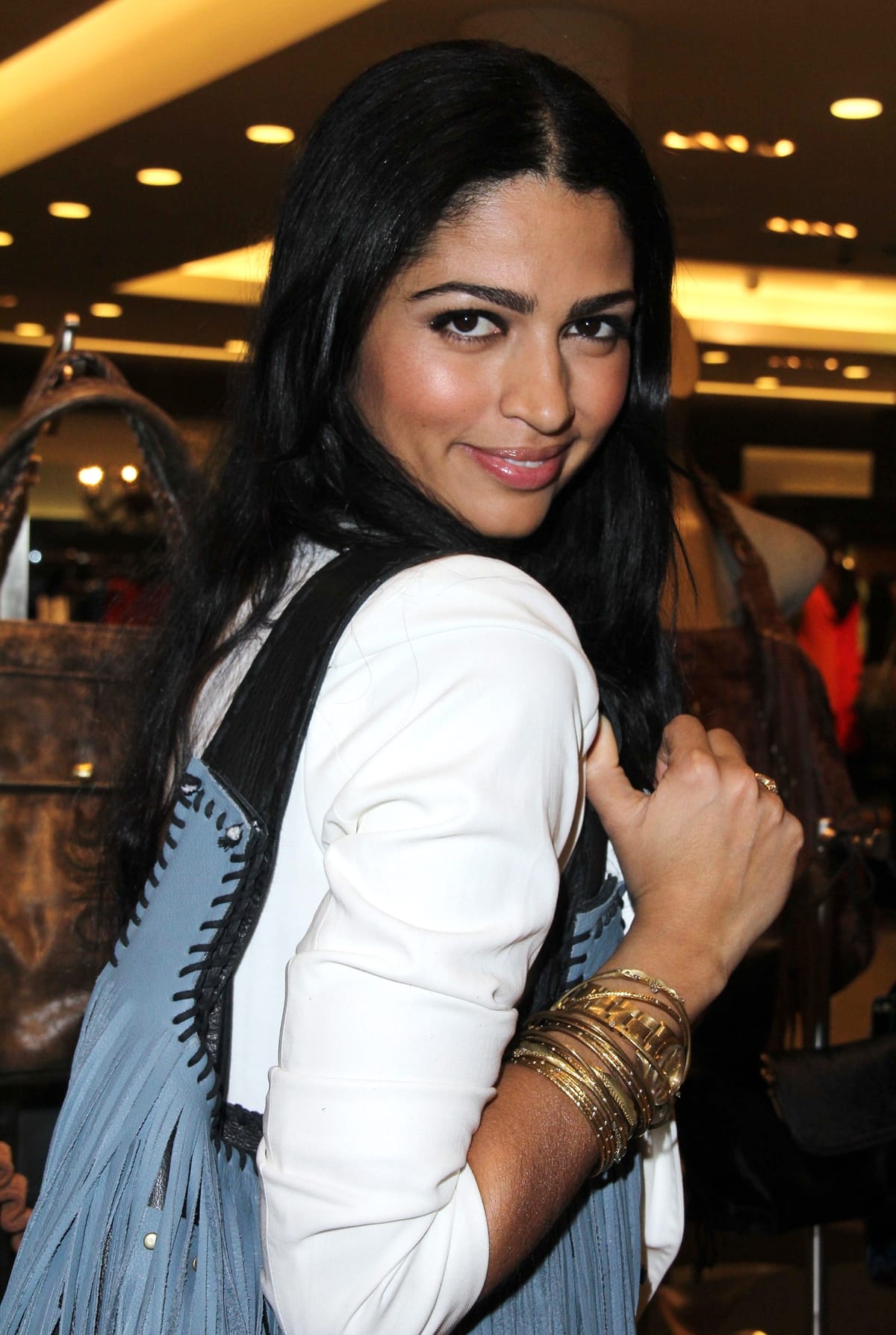 Brazilian-American model and designer Camila Alves McConaughey moved from Brazil to Los Angeles when she was 15 (Credit: s_bukley / Shutterstock)
McConaughey and Alves met in 2006 at a club. This is a fairly common meet-cute story, but not the classic way to meet your husband in Hollywood. Forget sets and film crews, this couple met in a way that many regular couples meet.
What Is the Couple's Relationship History?
The couple met at a club on Sunset Boulevard in Los Angeles when Alves was 24 and McConaughey was 36. The 12-year age gap is significant, but not as drastic as some Hollywood stars. When they met for the first time, McConaughey felt it was love at first sight.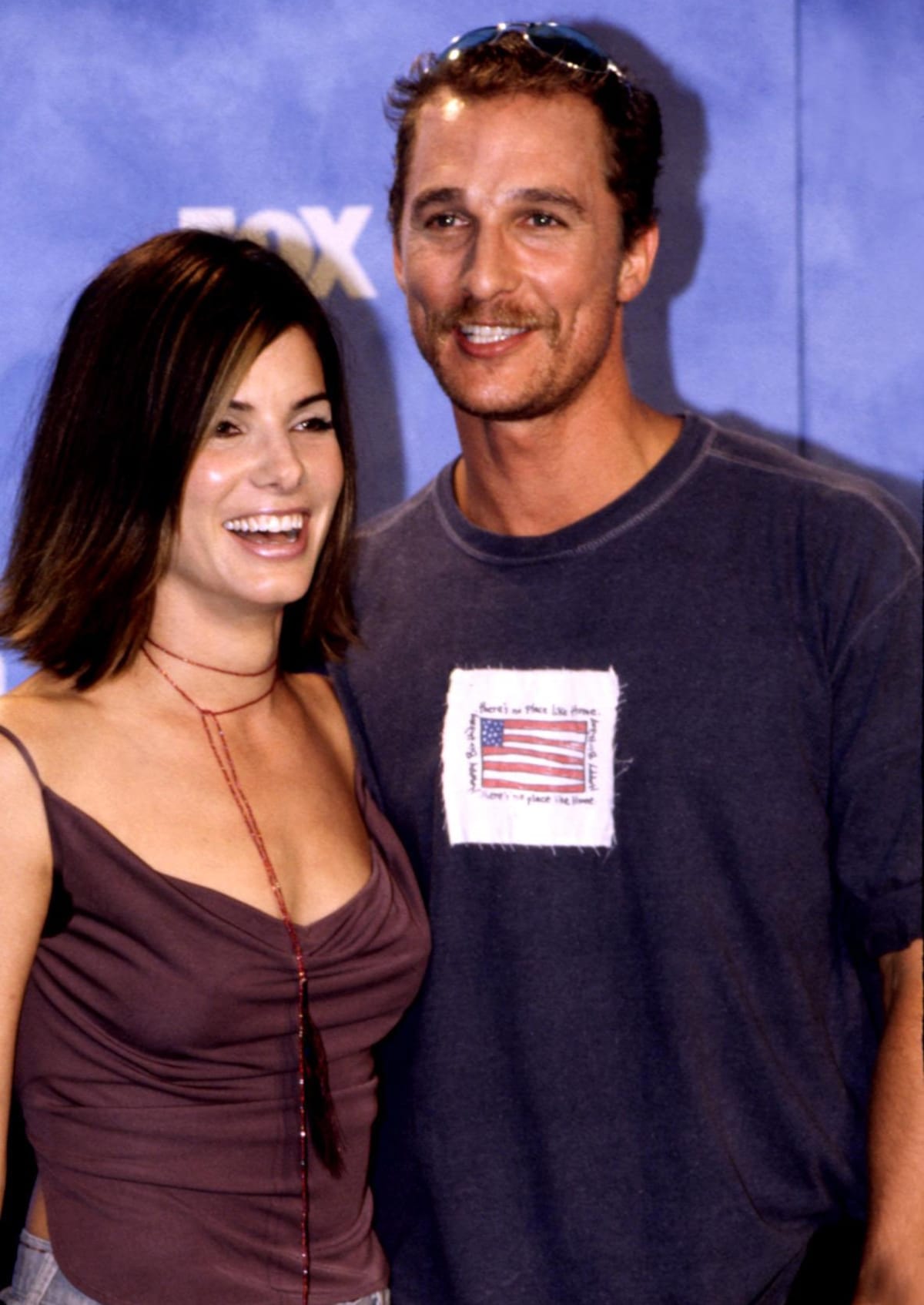 Sandra Bullock and Matthew McConaughey dated for about two years after meeting on the set of A Time to Kill in 1996 (Credit: Everett Collection / Shutterstock)
He explained this on the Oprah show, next to his wife. However, Alves didn't recognize, nor feel sparks at her first sighting of McConaughey. Still, McConaughey worked his Magic Mike magic and managed to keep in contact with Alves.
| What is Matthew McConaughey's net worth? | He is an American actor and producer with an estimated net worth of $140 million. |
| --- | --- |
| Full Name: | Matthew David McConaughey |
| Born: | November 4, 1969, in Uvalde, a city in and the county seat of Uvalde County, Texas. |
| Kids: | He has three children, son Levi Alves McConaughey (2008), daughter Vida Alves McConaughey (2010), and son Livingston Alves McConaughey (2012). |
| How tall is Matthew McConaughey? | 6′ 0″ (182 cm) |
| Nationality: | American |
| How old was Camila Alves when she met Matthew McConaughey? | They met in 2006 when she was 24 and he was 36. |
Prior to meeting his future wife, Matthew McConaughey was in relationships with Cassandra Hepburn (2007), Penélope Cruz (2005 – 2006), Salli Richardson-Whitfield (2000 – 2001), Sandra Bullock (1996 – 1998), and Ashley Judd (1995 – 1996).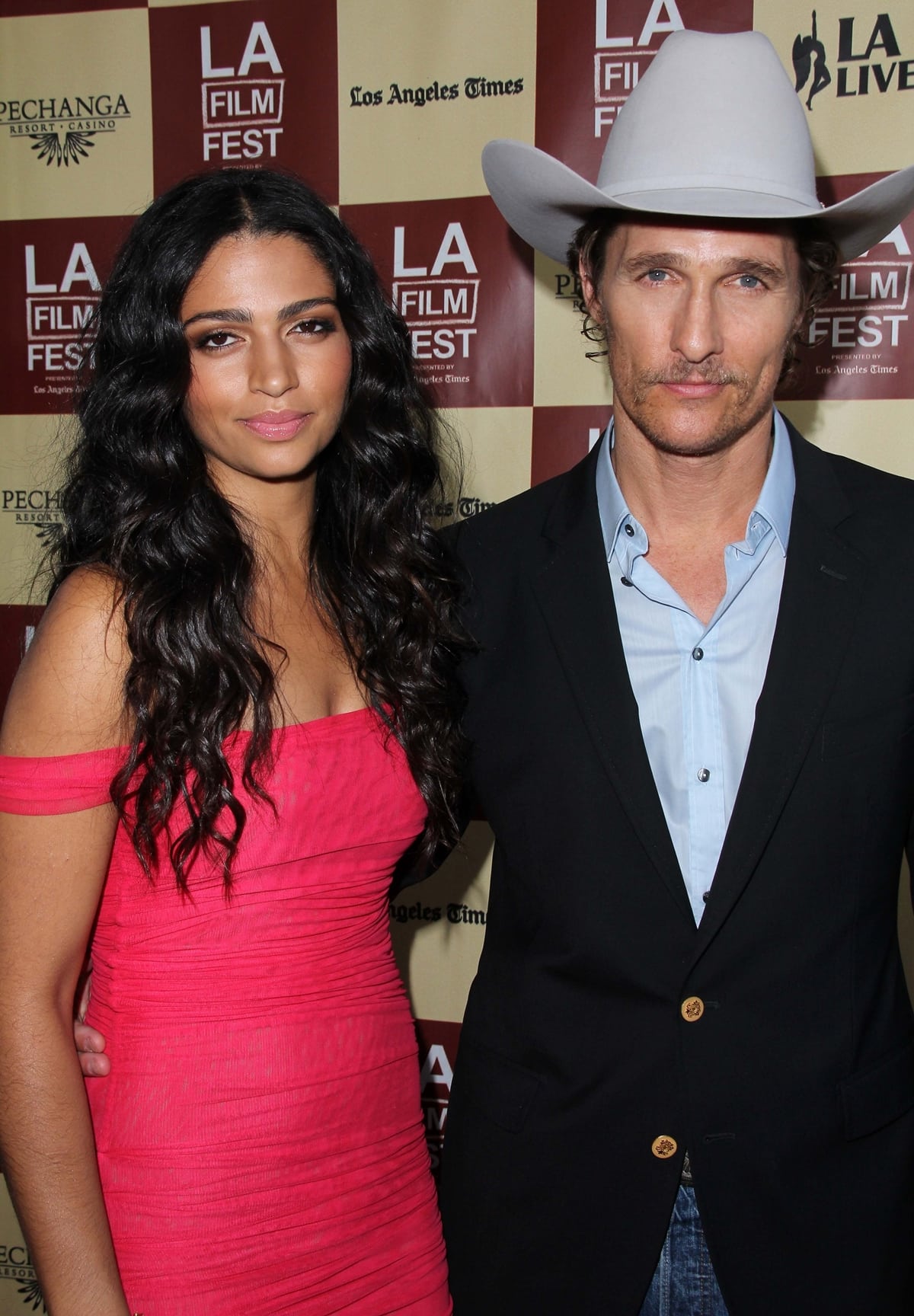 Camila Alves and Matthew McConaughey met at a club on Sunset Boulevard in 2006 (Credit: s_bukley / Shutterstock)
"I didn't say, 'Who is that.' I said, 'What is that,'" he told Oprah Winfrey in 2020. "We had a great connection. I spoke better Spanish and Portuguese that night than I have since, you know what I mean?"
"We met at a bar, at [West Hollywood lounge] Hyde," Alves revealed in an interview with Access Hollywood in 2012. Former professional road racing cyclist Lance Armstrong served as Matthew McConaughey's wingman.
"We had two interactions at the bar. The first time, the first interaction, I did not know who he was. It was the time he had a really long beard, and he had this rasta hat. He was all covered up, and I didn't really realize who he was."
"Lance came to talk to me and it was at a time when you knew they were always together. So I was like OK, I'm outta' here. I'm going to the other side of the room."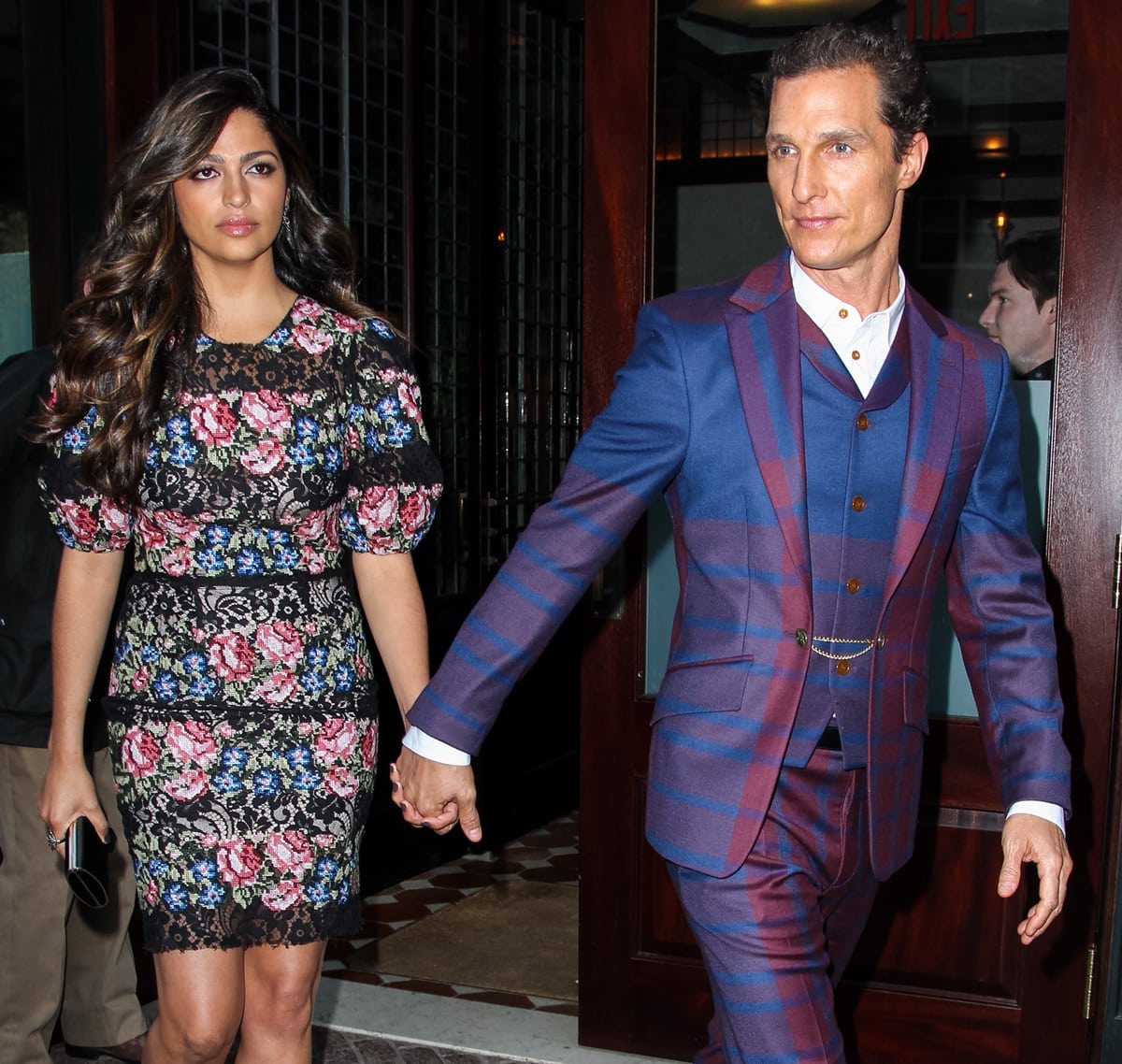 Camila Alves is shorter and 12 years younger than her husband Matthew McConaughey (Credit: Liam Goodner / Shutterstock)
"We go back to the house and continue to party for a while, and I'm trying to extend the time. Now she's like, 'Okay, I'm gonna go, I'm gonna get a cab.' I'm like, 'No, no, no, don't do that it's way too late. Take the guest bedroom.' Talk her into that," he said, adding with a laugh, "I did sneak down to the guest bedroom twice that night and got booted out," he told Howard Stern.
"Coming down the stairs I hear this laughter, the kind of laughter that you hear from people who hang out a lot. And I walk in and there sits this woman in the same green, turquoise dress she had on last night, holding court with my buddies and our housekeeper eating breakfast, acting like they'd been buddies for 10 years," he added about falling in love with his future wife.
Their first date took place at McConaughey's house in Malibu, only three days after their first meeting. McConaughey was already sold on Alves and continues to swoon over his gorgeous wife.
Alves must have felt sparks with McConaughey too, as their relationship picked up speed quickly. The couple welcomed their first child, Levi Alves McConaughey, only two years later in 2008.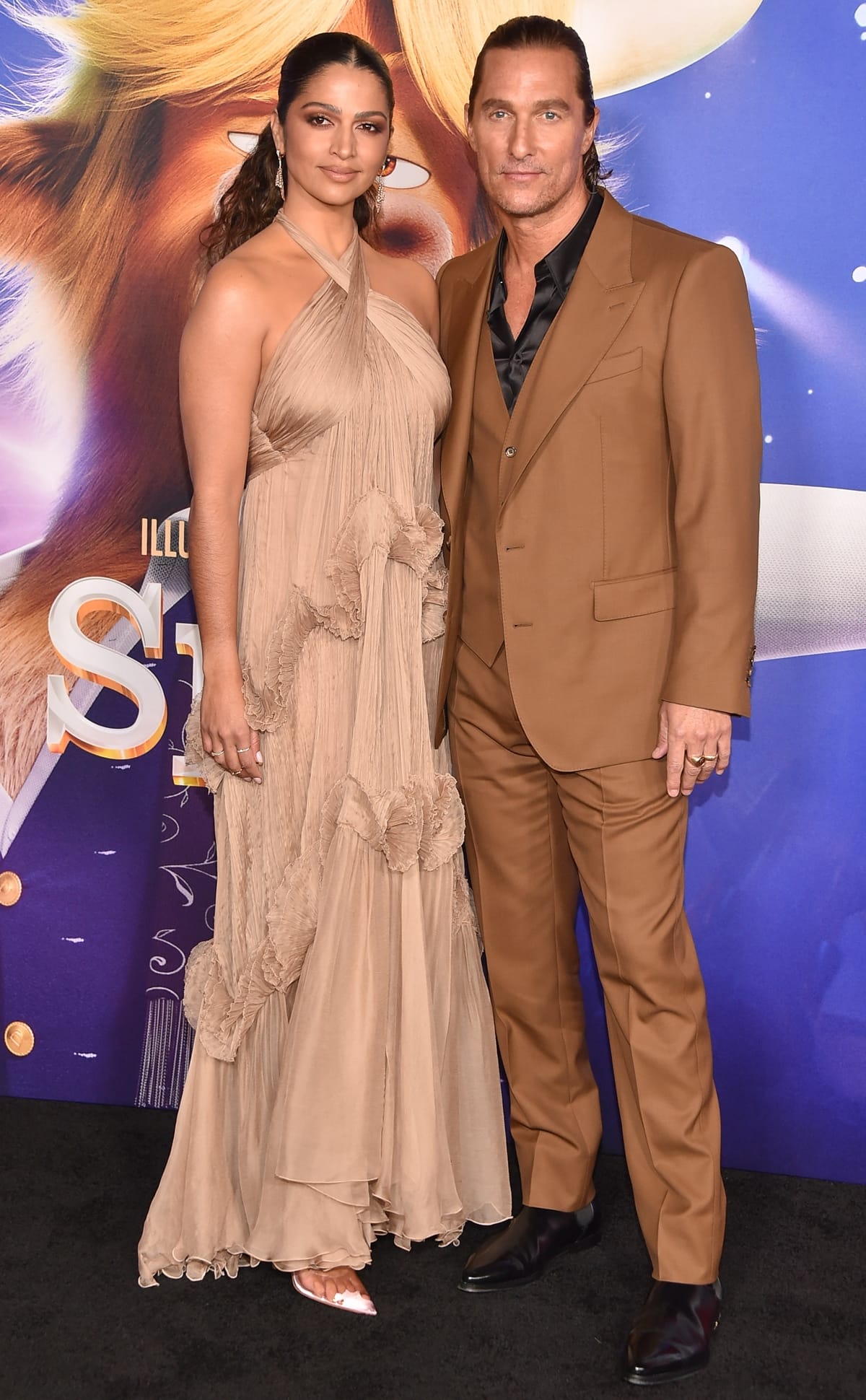 Matthew McConaughey in a brown Dolce & Gabbana suit and his wife Camila Alves in a Maria Lucia Hohan silk gown, Kallati earring, and rings by Djula and LeVian at the premiere of Sing 2 on December 12, 2021, in Los Angeles (Credit: DFree / Shutterstock)
"A healthy baby boy was born," McConaughey said in a statement when his first child was born. "Camila and I were side-by-side the entire time. We are both tired and elated and are so happy to have created the greatest miracle in the world — having a child and making a family. Now comes the greatest adventure — raising one, together."
"Our son was born at 6:22 pm, and this particular time represents my favorite verse in the book of Matthew in The Bible: 'If thy eye be single, thy whole body will be full of light.'"
"The next time after that, I wanted to go on another date. The next time after that, I wanted to go on another date. And I've been wanting to go on a date with her for the last nine years," he told People about their first date.
Matthew McConaughey and Camila Alves Finally Married
Untraditional, but right for McConaughey and Alves, they had two children before they got married. In 2011, the two moved into a house in Malibu that they built together.
View this post on Instagram
"We had children first," McConaughey told People's editor-in-chief Jess Cagle. "Two of our children before we got married, before she handed me the invitation to our wedding."
They'd been living in McConaughey's house in the Hollywood Hills, but McConaughey wanted a place that felt like both of theirs, not just his. Shortly after, they got married.
"Before this, I had a super home in the Hollywood Hills that I did by myself — landscaping, detailing pretty much everything," McConaughey told Esquire about their Malibu house in 2011.
"But that house was mine. And yeah, we coulda gone in there right away. Camila would have said, 'Fine, don't change a thing.' But I thought, I found the woman I wanna do it with, the woman I wanna make a family with, hopefully, live our life out together. She needs to have 50% of that. I mean, it's a lot easier for me to be at 100%. I'd always been 100%. It's braver for me at 50%."
During the summer of 2020, Camila Alves McConaughey sold their longtime Malibu home to American film producer Phil Lord for $14.8 million. The couple moved to Texas in late 2011. He grew up in Uvalde, a city located 2 hours from Austin by car, and earned his film degree in 1993 from the University of Texas in Austin.
"No one recognizes you and no one asks you, 'Hey, what do you do?,' because I don't think anyone cares," McConaughey said in early 2012 about moving back to his home state. "Fridays show up sooner here. You want to get along in Austin, you want to get along in Texas, all you have to do is be yourself."
"My mother-in-law from Brazil has traveled around the world and we've lived in Los Angeles and New York," McConaughey said about Camila's mother Fátima Saraiva.
"She says to me the other day, 'In L.A., people will walk on your back and stand on your shoulders to get where they are going, in New York, they will just pull out a gun and tell you they will kill you. Here in Texas, everybody walks together.' I think that is a compliment, Austin."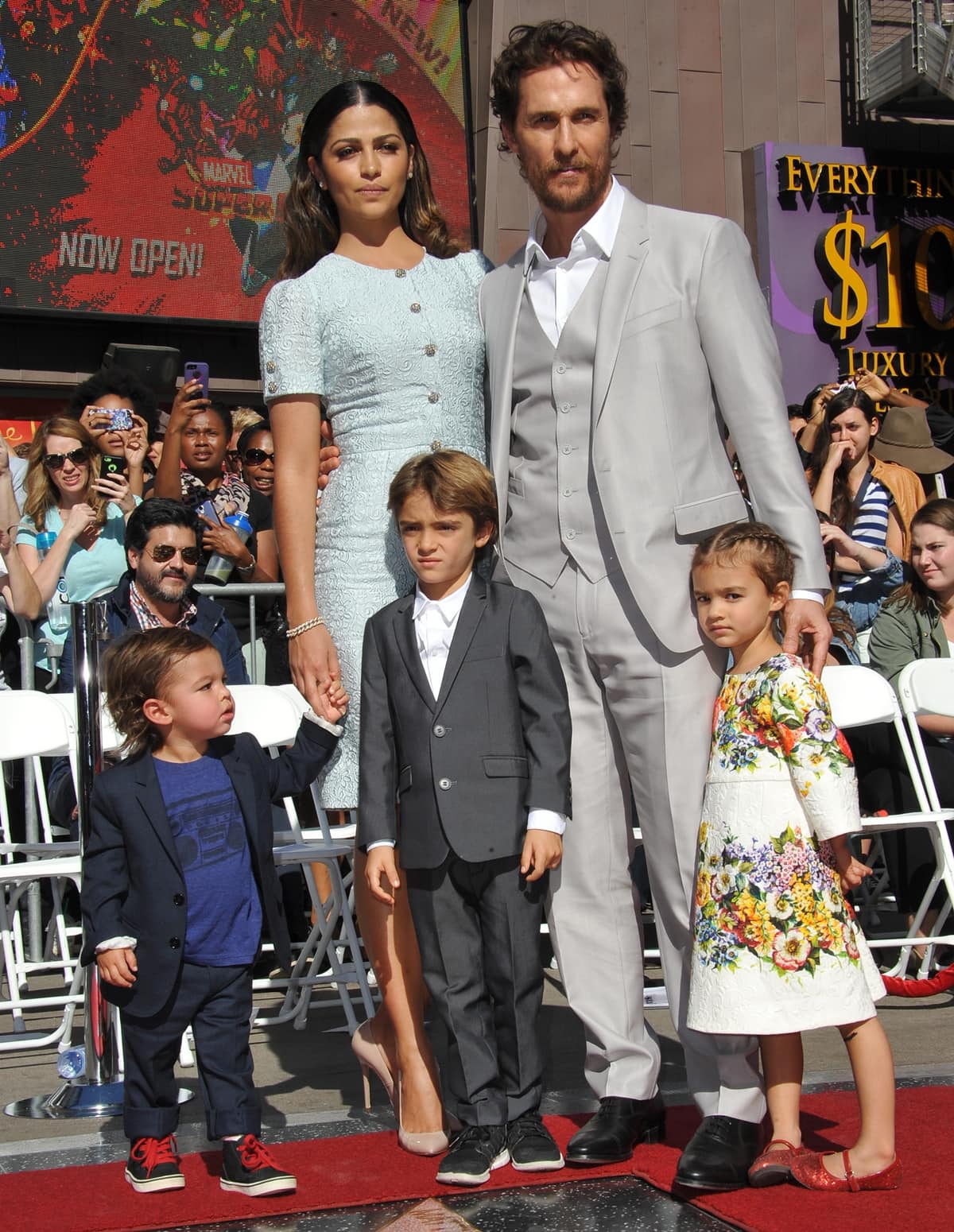 Matthew McConaughey was joined by his wife Camila Alves, their daughter Vida, and their sons Levi and Livingston while receiving his star on the Hollywood Walk of Fame on November 17, 2014, in Hollywood (Credit: Featureflash Photo Agency / Shutterstock)
Their first son, Levi, began questioning why his mom had a different last name than the rest of the family. This prompted McConaughey to consider why the two hadn't gotten married and if his own fears were keeping them from tying the knot.
On Christmas day in 2011, he proposed to Alves. However, she didn't say yes right away. Still, McConaughey stayed on one knee until she said yes only a few moments later.
"I had wrapped the engagement ring in about eight different boxes deep, so she would keep opening boxes to get with it," he said about the proposal during an interview on "The Tonight Show With Jay Leno" in 2012.
"We finally got to her, and I'm calling my family over. She gets to it, she opens it up, her eyes go wide. I take a knee and I ask her, 'Will you marry me and take my name?'"
"The first word out of her mouth was not 'yes.' I'm not gonna say what it was. But I did say, 'Look, I'm down on a knee. I'll stay here a while. I will outlast you.' And I did! She conceded," he added.
"I think it's something that we evolved to," she told People in 2012. "I was never the girl that grew up saying I want to get married. I actually told my parents to not expect me to get married."
"The main thing for me is to make sure our home is peaceful, that it's healthy, that the kids are good. I didn't know how important [the wedding] was, and how really truly special it was, until I went through the ceremony," she added about their at-home wedding in Austin, Texas, that took place on June 9, 2012.
Since then, the two have shared significant milestones together. From McConaughey winning his first Oscar to Alves becoming an American citizen, the two always had each other by their side.
View this post on Instagram
"Happy to say I now hold an American passport! I have so much respect and appreciation for this country. #newuscitizen," Alves wrote on Twitter in August 2015.
What's the Two's Secret to Marriage?
McConaughey recently revealed that his secret to a happy marriage was that "If things are going well, keep catching green lights. If they're not, deal with them soon so they don't bubble up and get you later." Staying faithful has undoubtedly helped as well.
"Yeah. In Texas," he confirmed in an interview with GQ when asked if he goes to church with his family. "It's non-denominational. It's based in the faith that Jesus is the son of God, that he died for our sins, but many different denominations come in."
Basically, don't sweep things under the rug, stay honest with each other, and keep up the good work.
In January 2014, Camila Alves stunned the crowd at the 25th Anniversary Palm Springs International Film Festival held at the Palm Springs Convention Center in California.
Camila Alves wears her hair down at the 25th annual Palm Springs International Film Festival held on January 4, 2014, at the Palm Springs Convention Center in California (Credit: FayesVision / WENN)
The then 31-year-old Brazilian beauty attended the event in support of her husband Matthew McConaughey, but she made sure that she was more than just arm candy.
Camila Alves wears a black Mikael D gown on the red carpet of the Palm Springs International Film Festival (Credit: FayesVision / WENN)
Camila opted to wear a black floor-length Mikael D gown and a pair of t-strap pumps in the same shade.
Camila Alves shows a little skin thanks to the strategic lace cutouts of her Mikael D gown (Credit: FayesVision / WENN)
She turned heads thanks to the interesting details of her dress, which featured lace cutouts along the bodice and a very sexy thigh-high slit.
The handbag designer left her dark hair down, carried a tiny black clutch, and didn't bother much with jewelry except for a few rings on her fingers.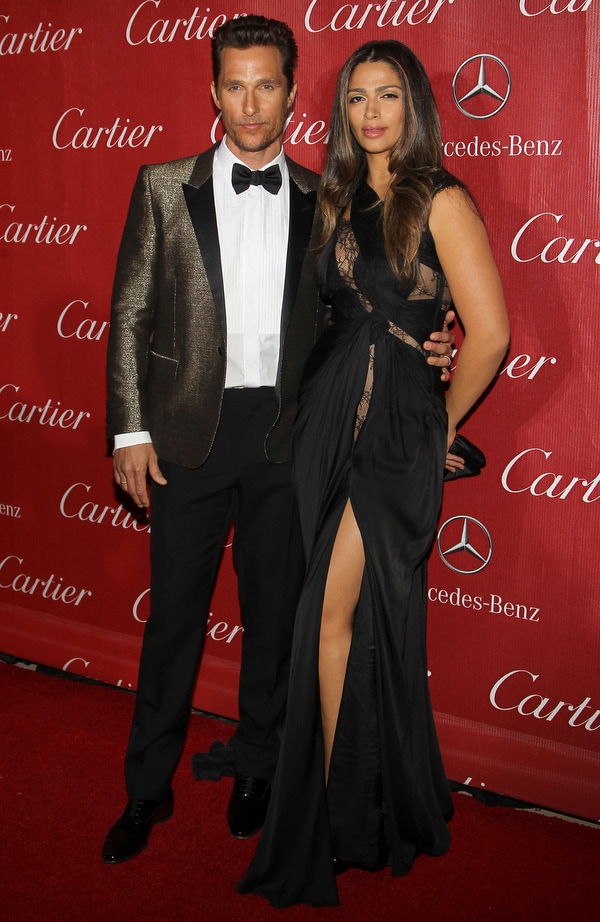 Camila Alves and husband Matthew McConaughey pose for photos on the red carpet of the Palm Springs International Film Festival (Credit: FayesVision / WENN)
The mother-of-three, who one month earlier also showed her impeccable style in a Dolce & Gabbana lace number, truly gave other A-listers at the event — like Julia Roberts and Sandra Bullock — a run for their money.
We don't have a close-up photo of Camila's shoes, but she sported a pair of pointed-toe, t-strap pumps that perfectly complemented her gown.
Here are some similar styles from Nasty Gal and Zappos that we hope you'll like:
Black faux suede pumps featuring a pointed toe and ankle strap with geometric cage detailing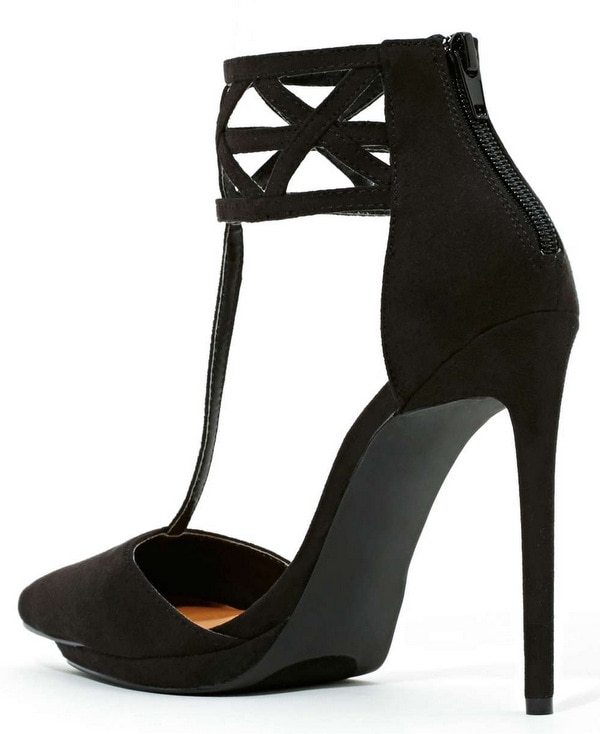 Shoe Cult Cage Match Pumps, $88
Pointy-toe t-strap pumps from Gwen Stefani's footwear label
L.A.M.B. 'Serena' T-Strap Pumps, $265