After two years of dating Matthew McConaughey and being followed around by the paparazzi, I guess Brazilian model Camila Alves can rightfully be called a "celebrity" herself.
So what's a new celebrity to do? Start her own fashion line of course!
On the My Muxo website, the about page says that it was the difficulty of finding strong and sexy handbags that drove Camila to create her own handbag line. So together with her mother Fatima, she founded My Muxo and designs handbags that "are as ready for the beach as they are Fifth Avenue."
Camila Alves of course models for her handbag brand: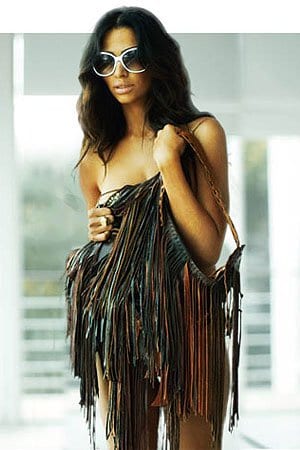 Camila Alves modeling her own design on the MUXO website
Here are more pictures of Camila Alves using her own MUXO handbags herself:
Camila Alves arriving at the launch of her My Muxo handbag collection at Kitson in Los Angeles on August 7, 2008
Camila Alves appears on The Marilyn Denis Show to promote her new line of handcrafted leather bags in Toronto, Canada, on March 30, 2012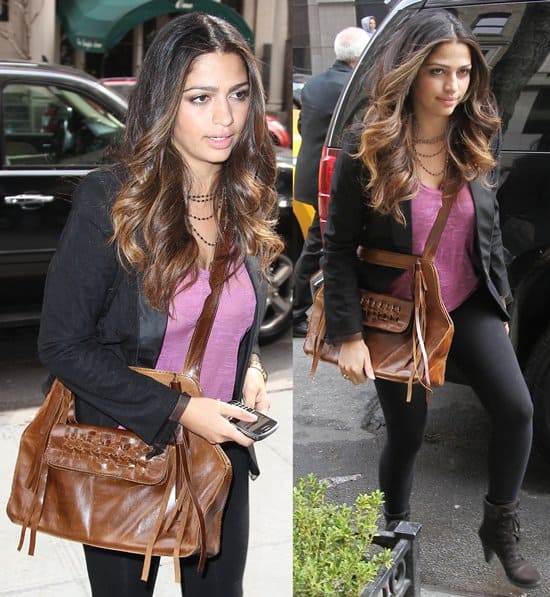 Camila Alves leaving her apartment with a My Muxo bag on March 10, 2012
These bags are actually some of the "tamer" ones from the My Muxo collection. The other bags have details like prints, ribbons, weaving, and fringe, while other bags have all of that all at once.
I know My Muxo handbags might be too busy or have too much going on for some, but I find them intriguing. It's like each bag has its own personality. Unfortunately, it's also puzzling to me why some of these bags are priced well over a thousand dollars, a few even breaching the $2,000 range. I know I said Camila Alves can be considered a celebrity, but even more well-established celebrities start their clothing lines at introductory prices.
So what do you think of Camila Alves' line of handbags?
Credit: Dominic Chan / WENN / JDH