The Netflix series 'Bridgerton' is a smash hit for the streaming service. Fans can't get enough of the period drama and that includes the personal lives of the stars of the show.
A big focus of the fandom is the real-life friendship of actors Simone Ashley and Jonathan Bailey, who play Kate Sharma and Anthony Bridgerton respectively.
Bridgerton stars Jonathan Bailey and Simone Ashley have become great friends (Credit: Netflix)
With their on-screen chemistry being as steamy as it is, fans are dying to know everything about how that chemistry happens.
According to interviews with the stars, the duo instantly formed a close bond that helped bring the complicated love story of their characters to life.
When you watch interviews of the pair together, it's hard not to feel a little FOMO (fear of missing out) as they tend to laugh and make jokes while answering questions about the show.
Bailey spoke highly of his "amazing friendship" with Ashley in a red carpet interview with the Associated Press. He added, "The moment that we met, it was evident that we were going to work really well together. . . It was a really special companionship."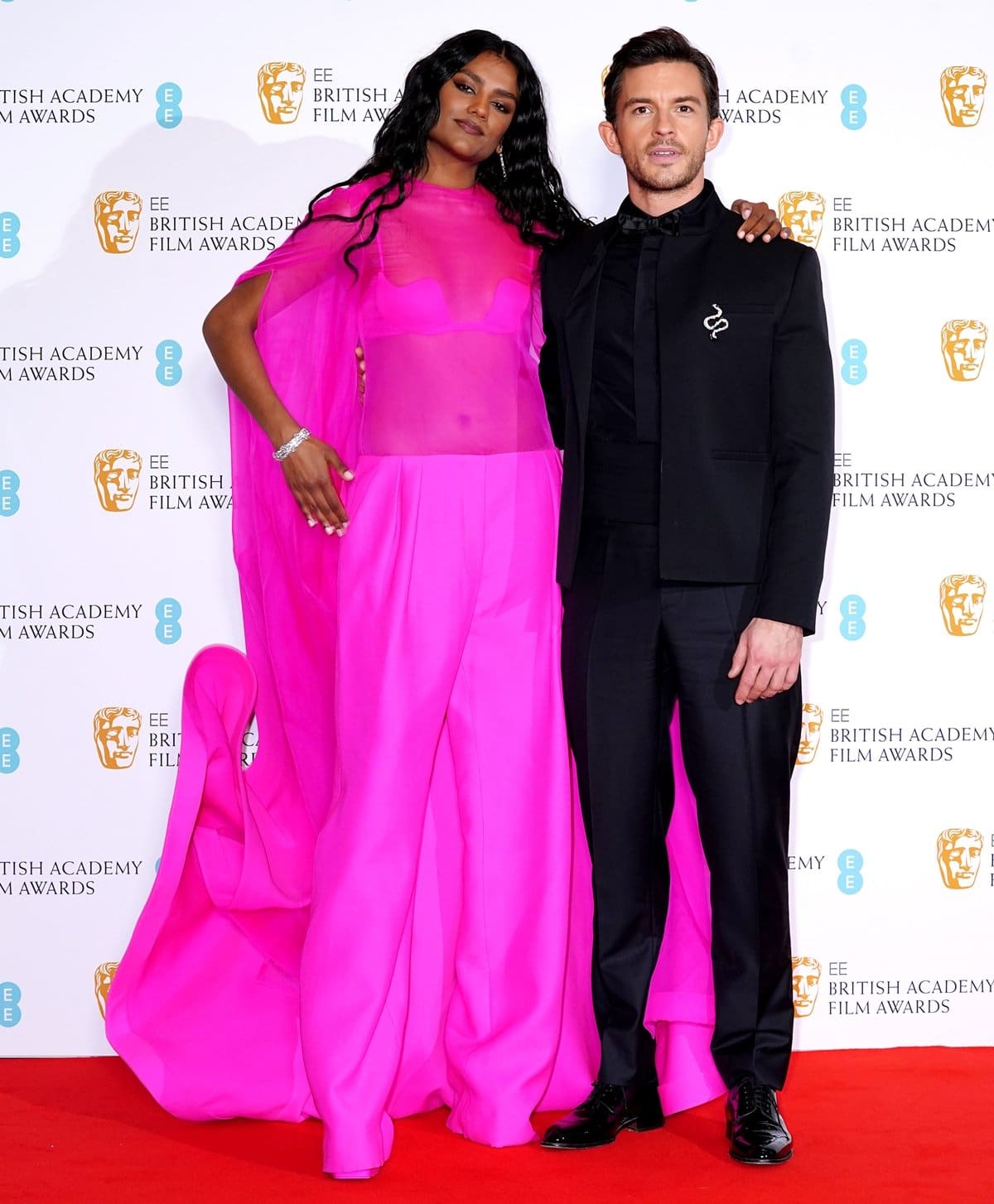 Simone Ashley in a pink see-through Valentino jumpsuit and her Bridgerton co-star Jonathan Bailey in Dior at the 2022 EE British Academy Film Awards on March 13, 2022, at Royal Albert Hall in London, England (Credit: Ian West / PA Images / INSTARimages)
As if that wasn't already so sweet, Ashley told Glamour UK that they even have a history of exchanging gifts with one another.
The British actress, whose real name is Simone Ashwini Pillai, joined the series in season 2 to play Bailey's love interest. The perfect gentleman, he sent flowers to her trailer to make her feel welcome.
Ashley tells the mag that turned into them sending gifts back and forth to each other's trailers. "I would always leave him his favorite snacks in his trailer," Ashley said. "We had a very unspoken rhythm going on in that sense, leaving gifts in each other's trailers."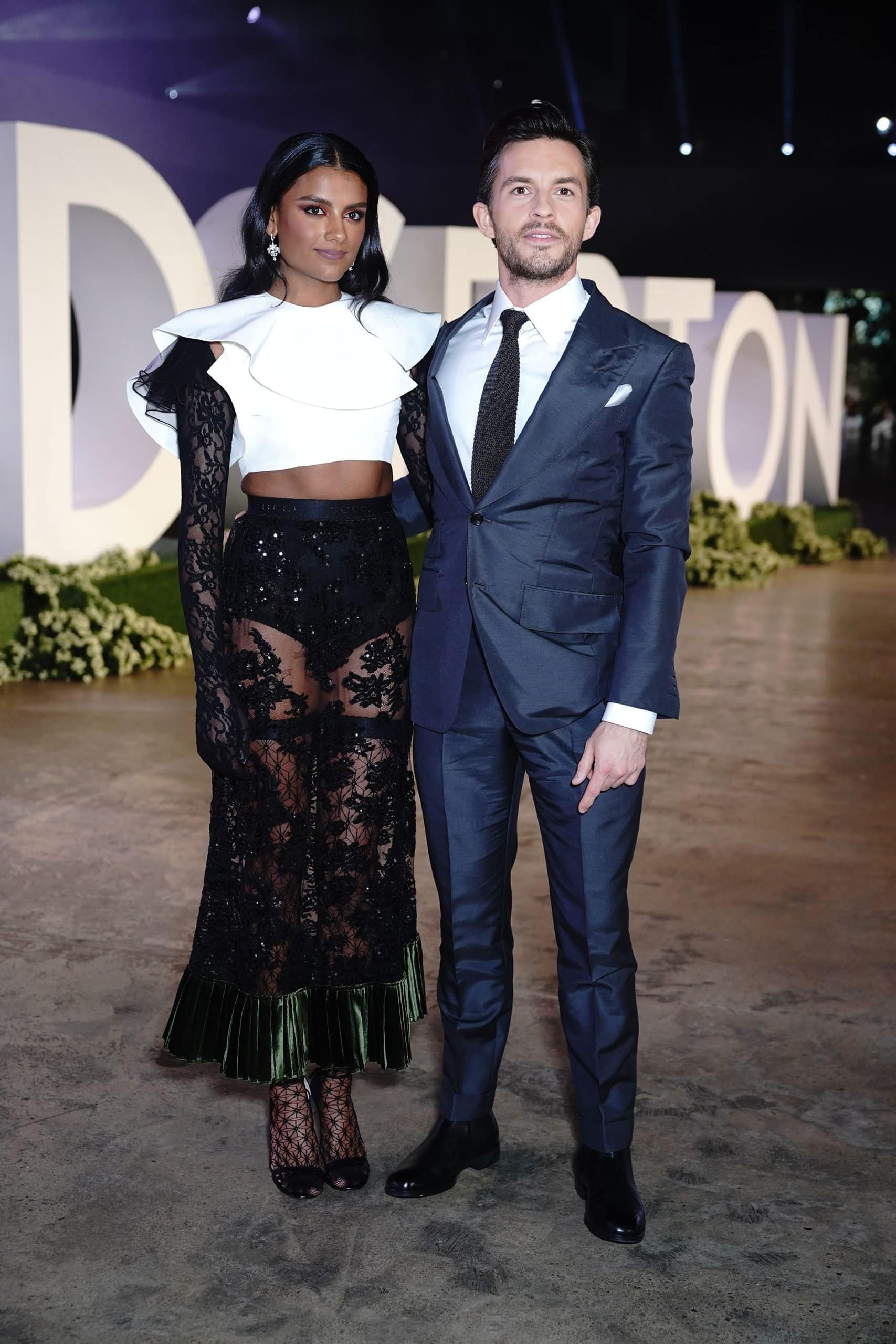 Jonathan Bailey and Simone Ashley have developed an offscreen friendship but are highly unlikely to start dating in real life (PA IMAGES / INSTARimages)
Thanks to a great storyline, their real-life chemistry flourished on screen. Ashley said, "The relationship between Kate and Anthony is so beautiful that it was easy to just get lost in that."
According to Insider, the duo even helped choreograph their steamy sex scene. The publication spoke with the show's intimacy coordinator Lizzy Talbot, who also worked with Phoebe Dynevor and Regé-Jean Page.
She revealed how the pair collaborated to make sure the passionate moment unfolded in the best way possible.
Talbot told the online media company, "They know their characters so inside out. They know exactly what their character would do in this moment, and they can bring so much to the scene because of that."
Jonathan Bailey and Simone Ashley helped choreograph their own Bridgerton sex scene (Credit: Netflix)
She also noted how sex scenes are hard enough as it is, and then adding in the show's Regency-era costumes makes it that much harder. Talbot said the actors were the key to figuring out the logistics of the scene.
"Jonny and Simone both had really wonderful suggestions on how to get out of their own costumes, because obviously, they get in and out of them all day, every day," she explained.
The episode seven scene took two days to film. Talbot says both actors put their full effort into it.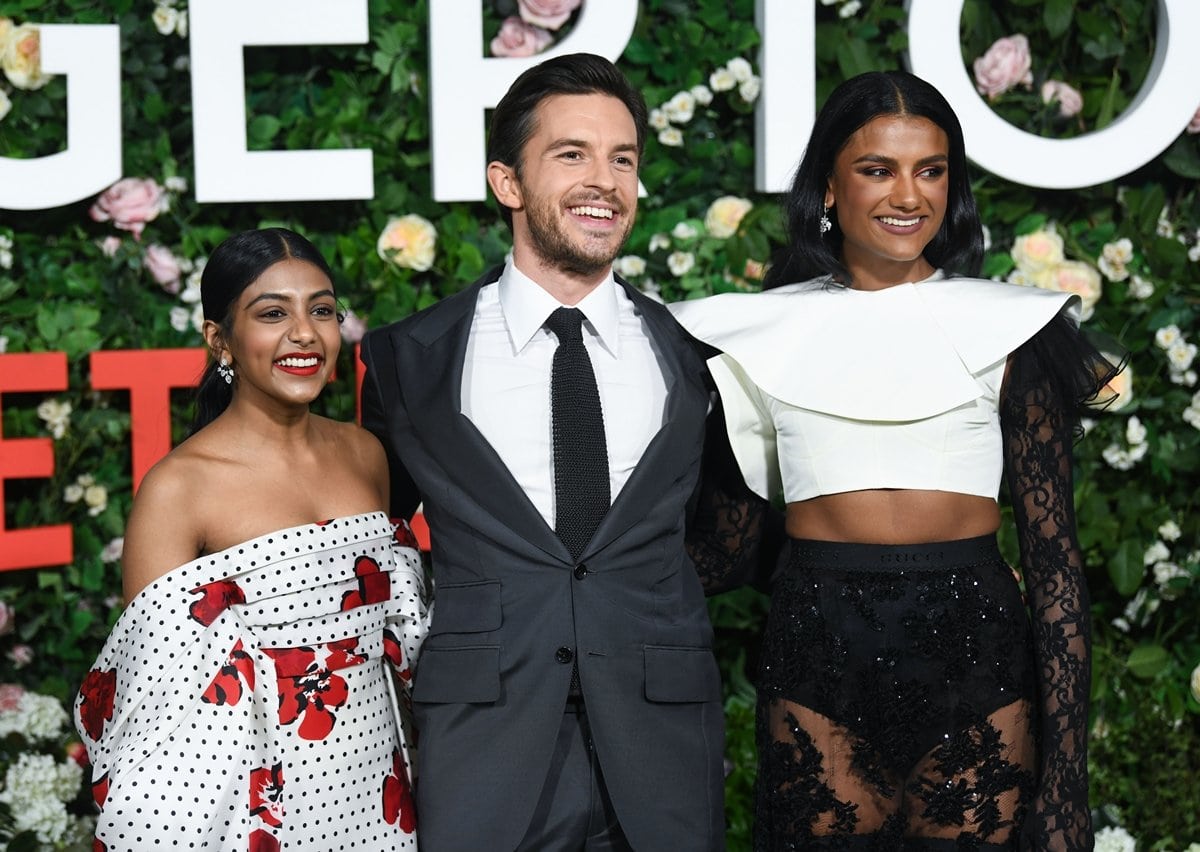 Charithra Chandran in Carolina Herrera, Jonathan Bailey, and Simone Ashley in Gucci at the "Bridgerton" Series 2 World Premiere at Tate Modern on March 22, 2022, in London, England (Credit: Doug Peters / EMPICS / PA Images / InstarImages)
"Jonny brings such wonderful energy, charm, and hilarity," she said, "and Simone is so confident, cool, calm, collected. It was a really beautiful merger."
Of course, fans are hoping the incredible chemistry and BFF status will translate into dating in real life.
Jonathan Bailey is openly gay and his Bridgerton co-star Simone Ashley has not shared details about her dating life (Credit: Doug Peters / EMPICS / PA Images / InstarImages)
Fans shouldn't get their hopes up though, because while the chemistry is palpable that doesn't necessarily mean it will translate to a real-life relationship.
Also, Bailey has been pretty open about his homosexuality. He recently told GQ that he realized he didn't need to be straight "in order to be happy."
"I reached a point where I thought, Fuck this, I'd much prefer to hold my boyfriend's hand in public or be able to put my own face picture on Tinder and not be so concerned about that than getting a part."
Chris Van Dusen, Ted Sarandos, Simone Ashley, Jonathan Bailey, Charithra Chandran, Betsy Beers, and Shonda Rhimes attend the "Bridgerton" Series 2 World Premiere at Tate Modern on March 22, 2022, in London, England (Credit: PA IMAGES / INSTARimages)
So fans will just have to enjoy Simone and Bailey's chemistry through their characters.
Born on April 25, 1988, in Wallingford, a historic market town and civil parish located between Oxford and Reading on the River Thames in England, he's seven years older than his co-star Simone Ashley.
She was born on March 30, 1995, in Camberley, a town in the Borough of Surrey Heath in Surrey, England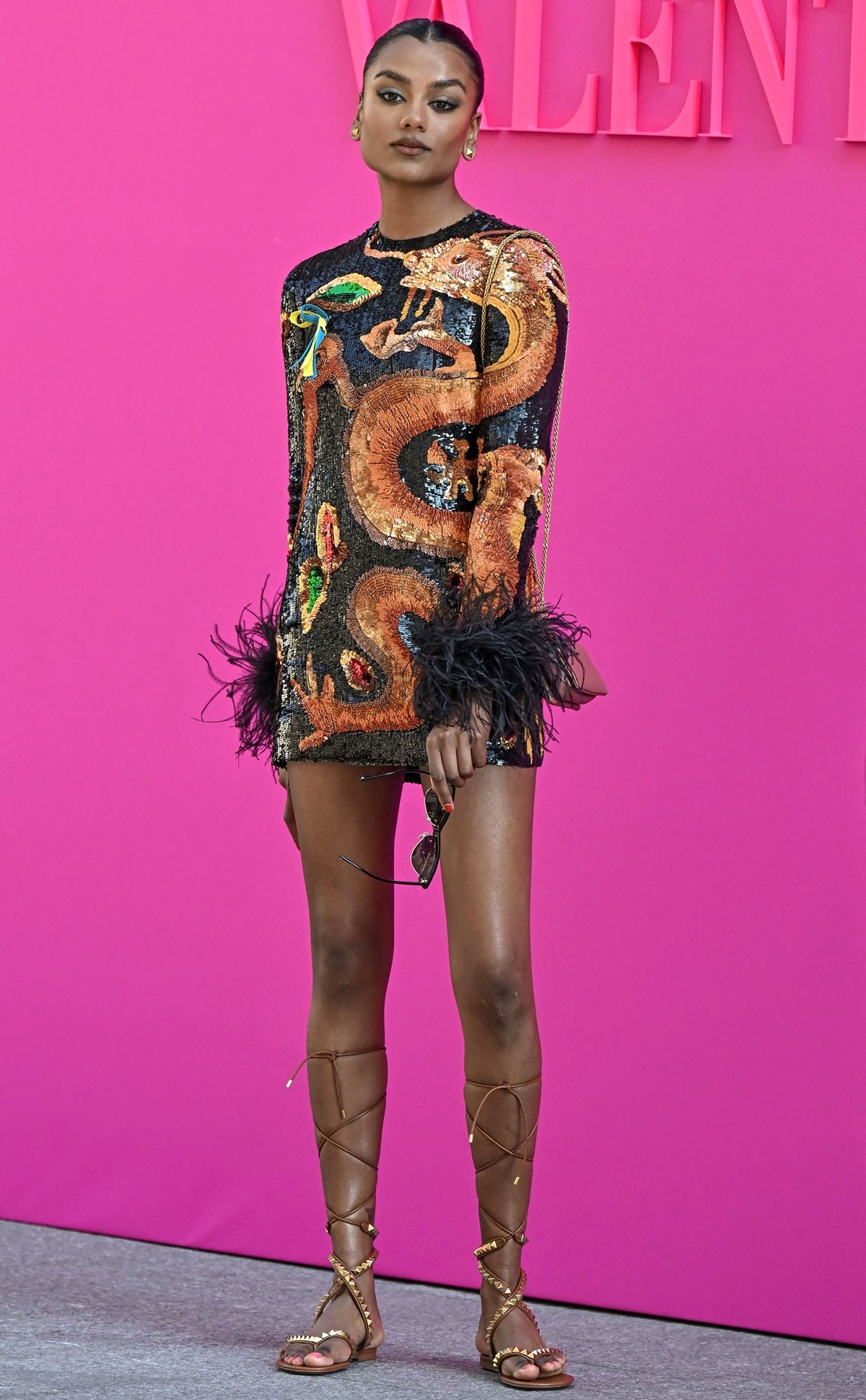 Simone Ashley flaunts her incredible legs at the Valentino Womenswear Fall/Winter 2022/2023 show as part of Paris Fashion Week on March 6, 2022, in Paris, France (Credit: Julien Reynaud / ABACA / INSTARimages)
Which, of course, is totally fine seeing as their storyline is one that people are looking forward to more of.
If joining the hit show seems like a dream come true enough as it is, it sounds like the work environment is also a dream come true.
Ashley told People in October that in addition to Bailey, the whole cast welcomed her with open arms. Everyone according to Ashley is "all so supportive of one another. We're a team and there are no egos in that sense. Everyone understands we're all in the same boat and we're in it together."
Simone Ashley shows off her feet in studded lace-up gladiator sandals(Credit: Julien Reynaud / ABACA / INSTARimages)
And if you're dying for more of Simone and Bailey's on-screen love, you're in luck! Both actors are set to return for Bridgerton season three.
Which means not only will we get to enjoy more of their undeniable chemistry, but hopefully we'll get to see more of their behind-the-scenes friendship fun too.
Actress Simone Ashley flaunts her legs before an appearance on the Today show on March 24, 2022, in New York City (Credit: Roger Wong / InstarImages)
In an interview with People, Simone discussed her Bridgerton sex scenes with co-star Jonathan Bailey.
"I was very confident," she said of playing Kate Sharma, the love interest of Anthony Bridgerton and the older half-sister to Edwina Sharma.
Actress Simone shows off her leg tattoo and pretty feet in wedge platform sandals (Credit: Roger Wong / InstarImages)
"I felt very safe. I felt very protected. I was very excited to be doing these scenes where we can show a dark-skinned woman and her body and not be so taboo about it. Especially a dark-skinned Indian woman where maybe they're represented in a conservative way sometimes."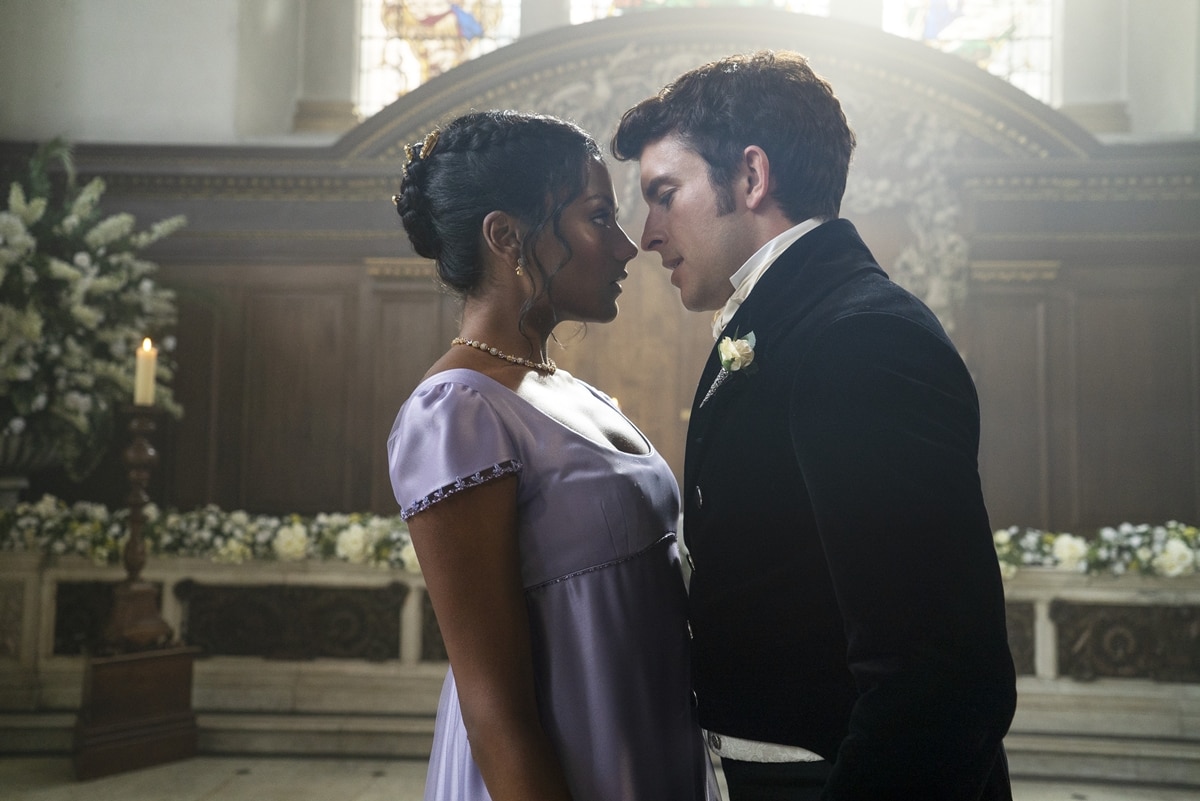 Simone Ashley says she felt safe filming her Bridgerton sex scenes with Jonathan Bailey (Credit: Netflix)
"Johnny was an amazing co-partner to work with," she added.
"We worked with an amazing intimacy coordinator who ensured that it was choreographed and it was a safe space where we could communicate and make sure that we knew exactly what was going to be happening on the day. And I think that's something that Johnny and I had throughout the whole series. We always had each other's backs and made sure that each other, as much as we were doing our own work and we were on our own journeys, we would always check in with one another and make sure that they were okay."