In April 2011, Lindsay Lohan, who was supposed to play Victoria Gotti in a movie project called, "Gotti: Three Generations", attended a press conference to promote the film with big wig John Travolta and the Gotti clan.
She wore a three-piece combo that included grey trousers, a halter blouse, and a black leather jacket.
John Gotti, Jr., actor John Travolta, Victoria Gotti, and actress Lindsay Lohan pose with members of the Gotti family at the 'Gotti: Three Generations' press conference at Sheraton New York Hotel and Towers in NYC on April 12, 2011 (Credit: Ivan Nikolov / WENN)
"We're very pleased to have Lindsay on-board for both of these films," said producer Marc Fiore at a press conference for the film.
"She has been very enthusiastic about the Gotti project, and after resuming discussions with her, we were impressed by her commitment to the film and felt she would be a perfect Kim Gotti."
However, things didn't work out, and she was fired from the project. Kelly Preston ended up portraying Victoria Gotti in the 2018 American biographical crime film Gotti.
John Travolta as John Gotti and Kelly Preston as Victoria Gotti in the 2018 American biographical crime film Gotti (Credit: Vertical Entertainment)
"It just didn't work for me," executive producer Marc Fiore told TMZ. "I will only ride a merry-go-round with my kids," he added, indicating that Lohan wasn't easy to deal with.
Lindsay Lohan and Victoria Gotti attend the Gotti press conference (Credit: WENN)
"We are not talking any further about Lindsay playing Victoria," Marc Fiore revealed to People in April 2011. "She is no longer being considered. The talks have stopped. We are going to meet with other people [for the role]."
Victoria Gotti, John Travolta, John Gotti Jr and Lindsay Lohan (Credit: Brad Barket / INFevents)
"She a wonderful person," he added, without providing details about why Lohan would not be portraying Victoria Gotti, the daughter of Gambino crime family Mafia boss John Gotti.
"Her legal case has nothing to do with it. We just couldn't reach terms," he said of Lohan being charged with stealing a $2,500 necklace from a Venice jewelry store.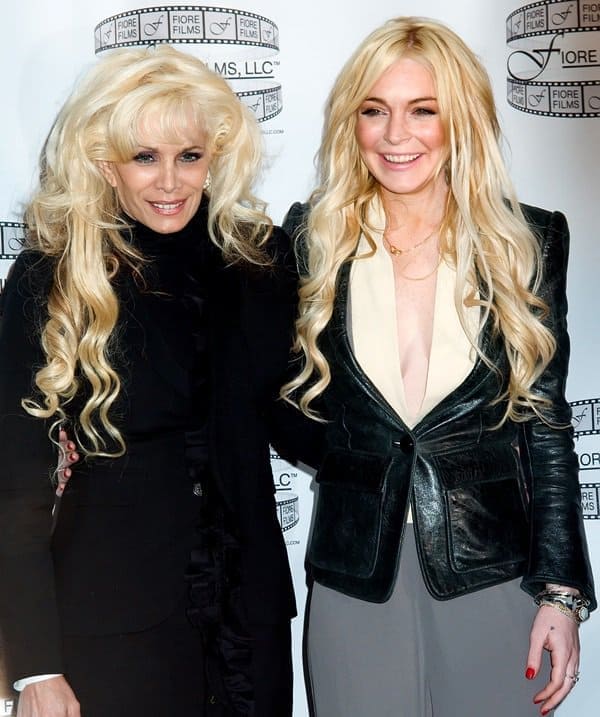 Lindsay Lohan was supposed to portray Victoria Gotti in the 2018 American biographical crime film Gotti (Credit: WENN)
What do you think of LL's style? Frankly, I find it strange to see her all covered up and conservative, but at the same time, I also find it refreshing to see that she's not showing too much skin.
Now the whole look can actually also be achieved by going for a maxi skirt instead of pants. But every piece must fit perfectly to avoid looking like a potato sack.
The best skirt to use would be something that would fall close to the body, for exa, this long pencil skirt from Acne that we found at Shopbop:
Black Acne Pearl Long Skirt, $420
Wearing this Acne skirt with a well-fitted blazer or jacket will definitely make a lady look sophisticated and sexy even when she's covered from head to toe.
To achieve LL's style, simply combine it with a light-colored blouse and a sexy tone-on-tone jacket.
Lindsay Lohan blows a kiss to photographers in London (Credit: WENN)
Money woes? True or not, in December 2012 Lindsay Lohan was continuing to enjoy the holiday season like a millionaire in London.
Lindsay Lohan left Dorchester hotel and headed for C London on December 30, 2012 (Credit: WENN)
On the last Sunday of the year, she spent lavishly shopping at Harrods and dining at C London restaurant.
Lindsay Lohan toted a Chanel quilted purse (Credit: WENN)
LiLo looked stunning and elegant. She wore another furry coat, this time in black, and underneath it a pretty glittery white A-line dress. The only accessory was her Chanel quilted purse.
To complete the ensemble, Lindsay sported a pair of red sole Christian Louboutin 'Aeronotoc' black-lace, crystal-embellished platform booties that she also wore on Jay Leno earlier the same year.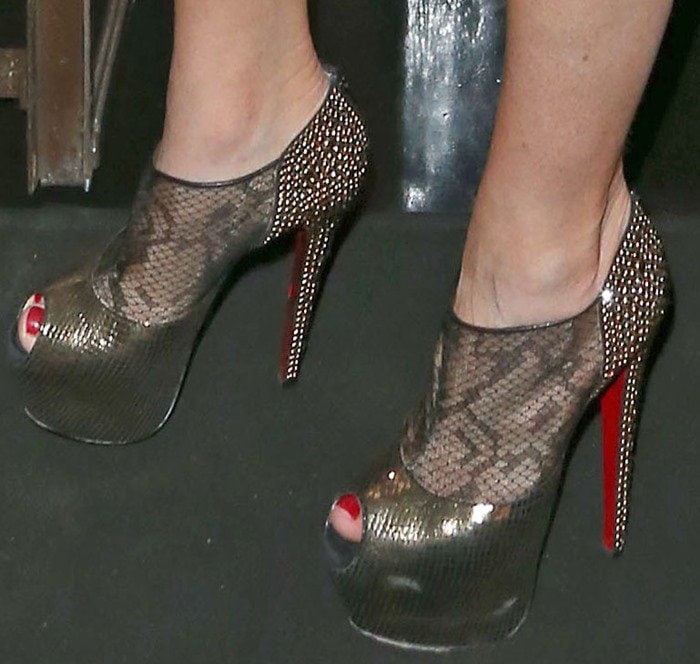 Lindsay Lohan displays her toes in Christian Louboutin Aeronotoc booties (Credit: WENN)
I'm not sure where she got her coat and dress, but they are without doubt designer items. Regardless, the Louboutin booties made her entire look edgier and more stunning:
Black and Gold Christian Louboutin 'Aeronotoc' Booties
The mixed media booties feature a textured snakeskin-like effect on the vamp and platform. We also love the black-lace mesh and gold-rimmed black crystal embellishments at the heel counter, and to top it off a towering heel that's about 6 inches high.
If you're looking for something even fiercer, perhaps you'll like the calf hair version even more:
Christian Louboutin 'Aeronotoc' Booties in Calf Hair & Lace Red Sole Bootie, $2,395