Unfortunately, even the most talented film stars are bound to create a dud at least once in their illustrious careers.
Such is the case of Mr. Right (2015), a romantic comedy set to be a hit but ended up being nothing more than a disappointing footnote of a film.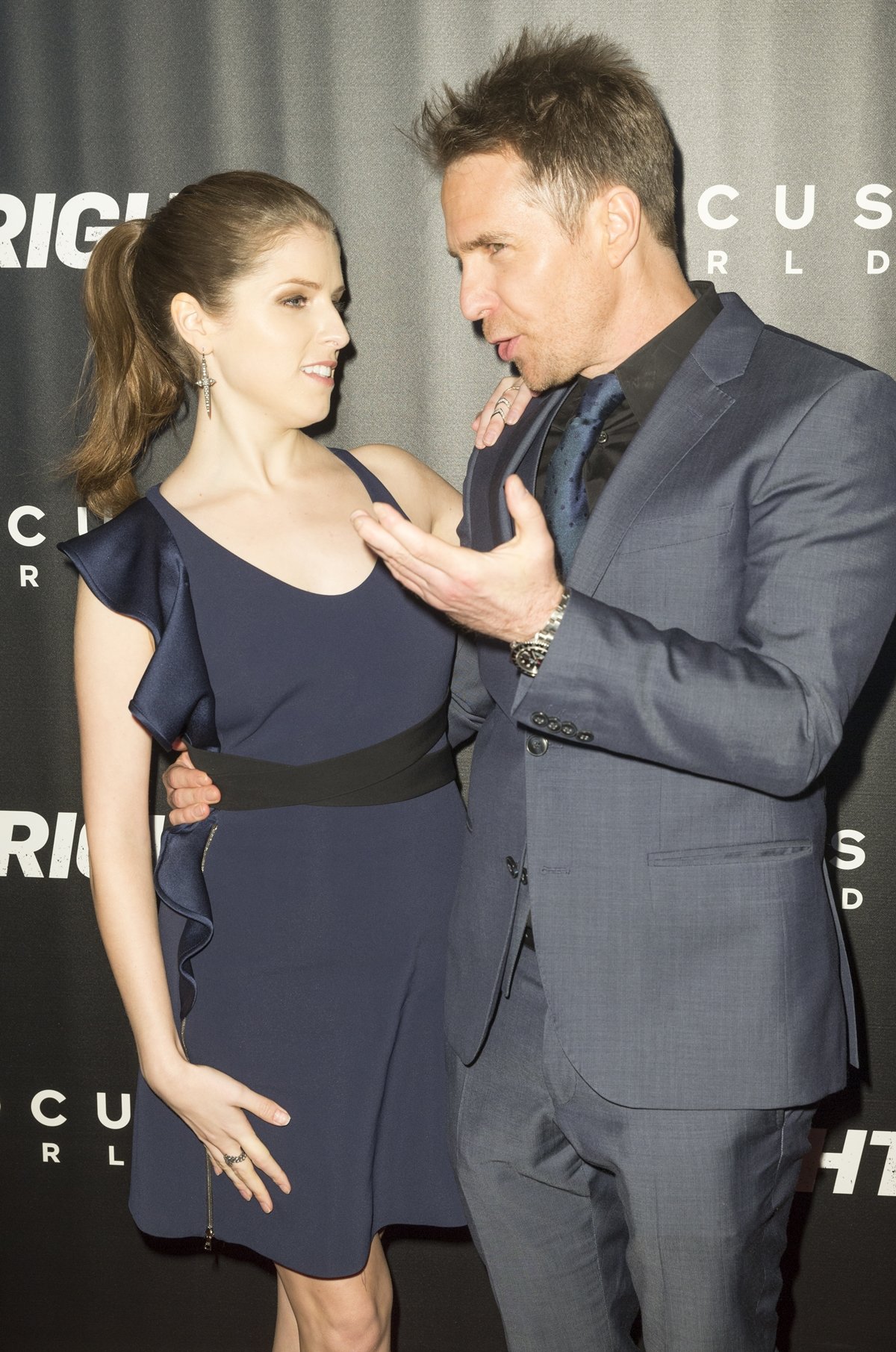 There's a 16-year- age difference between Mr. Right stars Anna Kendrick and Sam Rockwell (Credit: Lev Radin / Shutterstock)
Before we discuss Mr. Right, however, let's take a look at the charismatic actors that star in the film and how Mr. Right had all of the trappings of a potential comedy classic.
The Stars: Sam Rockwell's Hollywood Career
Sam Rockwell was born in 1968 in Daly City, California, to actors Pete Rockwell and Penny Hess. Being the child of two actors, Sam seemed destined for the silver screen.
Sam Rockwell (L) is the only child of actors Pete Rockwell (R) and Penny Hess (Credit: Kathy Hutchins / Shutterstock)
As a child, Sam split time between living with his father in San Francisco and his mother in New York City.
His first taste of acting came at the age of 10 when he played Humphrey Bogart in an improv comedy show in New York.
Leslie Bibb and Sam Rockwell have been dating since they met in October 2007 at Chateau Marmont in West Hollywood while he was filming the historical drama film Frost/Nixon (Credit: Cubankite / Shutterstock)
Rockwell would land his debut role in Clownhouse (1989), a film that would go down in notoriety due to the sexual abuse trials surrounding its director, Victor Salva.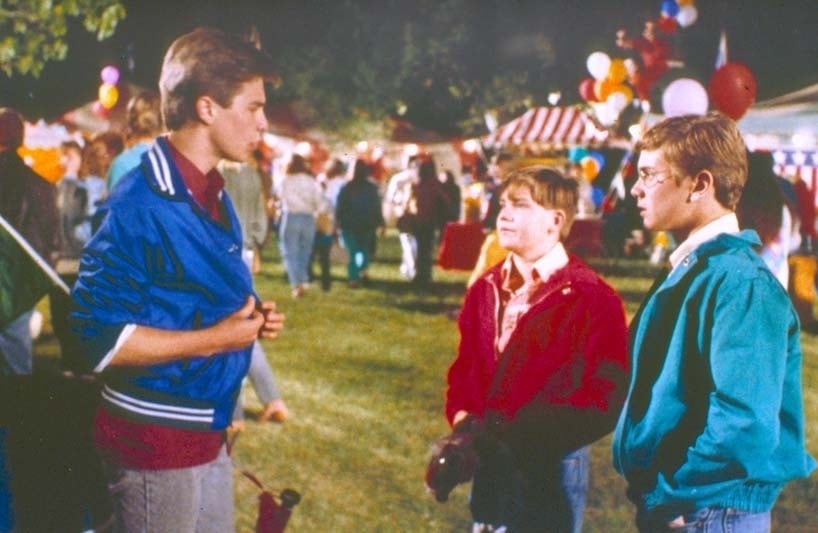 Sam Rockwell made his film debut as Randy and starred with Nathan Forrest Winters as Casey and Brian McHugh as Geoffrey in the controversial 1989 American slasher film Clownhouse (Credit: Commercial Pictures)
Nevertheless, Rockwell would continue to pursue acting and moved to New York City to study under acting teacher William Esper. During this time, Rockwell would make ends meet by working in restaurants and doing food deliveries.
His big break would come in 1996 when he was cast as "The Kid" in Box of Moonlight (1996), an indie film that ended up receiving critical acclaim.
Sam Rockwell was praised for his performance as eccentric man-child "The Kid" (Buck/Bucky) in the 1996 American comedy-drama film Box of Moonlight (Credit: Trimark Picture / Box of Moonlight Pictures)
After small roles in successful films such as The Green Mile, Rockwell would continue his successful acting career well into the 2000s, with roles in films such as The Matchstick Men (2003), Show Angels (2008), and Iron Man 2 (2010).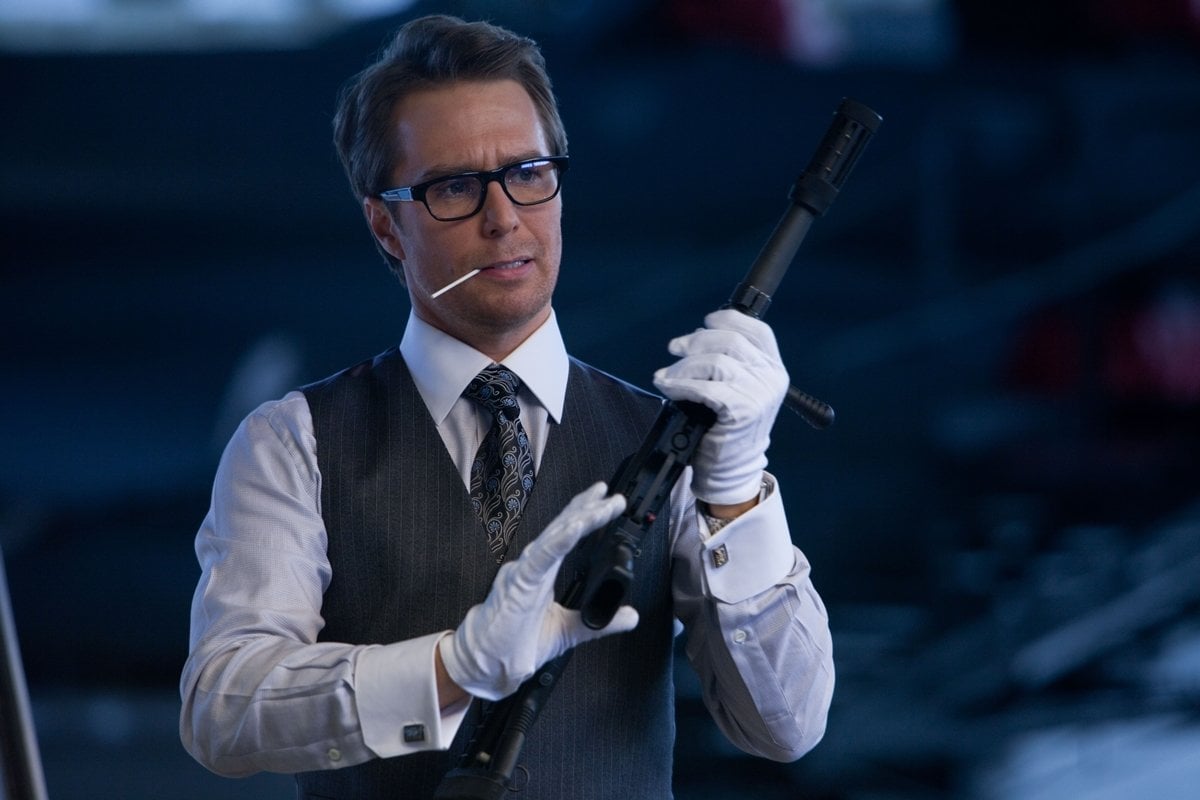 Sam Rockwell as Justin Hammer in the 2010 American superhero film Iron Man 2 (Credit: Paramount Pictures)
In 2017, he would win his first academy award for his role as Jason Dixon in Three Billboard Outside Ebbing, Missouri, cementing his status as a formidable character actor with a long laundry list of successful roles.
Anna Kendrick's Humble Beginnings
Rockwell's co-star in Mr. Right, Anna Kendrick, had a fairly unique path to her career as a Hollywood star as well. Unlike Rockwell, Kendrick was born quite a bit away from Hollywood, as she hailed from Portland, Maine.
Born in 1985 to an accountant and history teacher, Kendrick started her acting career as a child, auditioning for roles in theatre production across New York City.
She would land roles in musicals such as High Society and A Little Night Music before making her film debut in the musical film Camp (2003), which would prove to have a cult following.
Anna Kendrick made her film debut as Fritzi Wagner in the 2003 American musical comedy-drama film Camp (Credit: IFC Films)
Her first foray into non-musical cinema was in the indie film Rocket Science (2007), where she received a warm reception for her role as high-school debater Ginny Ryerson.
Her first major role, however, would be in the popular young adult film Twilight (2008), where she played the role of Jessica Stanley, a close friend of the film's protagonist, Bella Swan.
Twilight was a massively successful series at the time, which propelled Anna Kendrick to stardom.
She would continue to shine in the limelight alongside Hollywood icon George Clooney in Up in the Air (2009), a role that would land her nominations for multiple different awards, including the Academy Awards, Golden Globe Awards, and the Screen Actors Guild Awards.
Anna Kendrick was praised for her performance as Natalie Keener in the 2009 American comedy-drama film Up in the Air (Credit: Paramount Pictures)
In 2012, Kendrick would land her perhaps most famous role in Pitch Perfect, a musical comedy that would prove to be a hit with fans of the genre.
Mr. Right – How the Stars Got Cast
With both stars enjoying successful careers in their own right, Mr. Right was announced in 2011, with director Paco Cabezas set to direct the film, written by Max Landis.
Landis, at that point, had gained a fair level of success with writing credits on films such as Chronicle (2012) and American Ultra (2015).
Production would stall on the film until Sam Rockwell and Anna Kendrick were cast in the lead roles of Francis Munch and Martha McKay, respectively.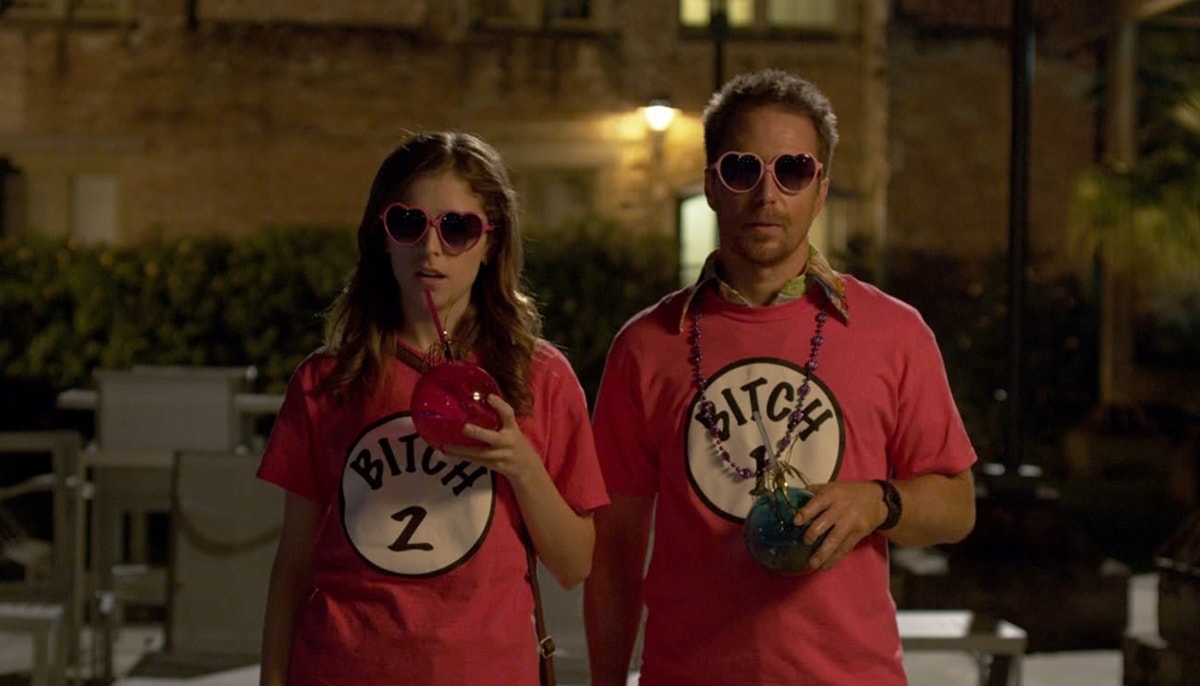 Sam Rockwell and Anna Kendrick wear 'Bitch #1' and 'Bitch #2' t-shirts in the 2015 American romantic action comedy film Mr. Right (Credit: Focus World)
The film revolves around Francis Munch, an ex-CIA agent who currently works as a hitman and mercenary who only kills those sent to kill him. While being on the run from individuals looking to kill him, he sparks a sudden romance with Martha McKay.
After being thrust into his world of violence, Munch reveals to McKay that all events of the world have an underlying current, a current which he believes McKay is sensitive to as well.
Anna Kendrick flaunts her legs in a Giulietta dress, Paul Andrew shoes, and Yeprem jewelry at the premiere of Mr. Right held during the 2015 Toronto International Film Festival at Roy Thomson Hall on September 19, 2015, in Toronto, Canada (Credit: BAKOUNINE / Shutterstock)
When this proves to be true, Francis and Martha begin a torrid and violent romance, where they find themselves constantly at odds with forces looking to eliminate them.
The film has a comedic tone, with Munch being regretful of his past life as a hitman, and often donning a red clown nose when killing the men sent to assassinate him.
Where Mr. Right Went Mr. Wrong
Despite the onscreen chemistry of the quirky pair of lead actors separated by a large age gap (Rockwell was 47 at the time of the film's release, and Kendrick was 30), Mr. Right would fail to win over critics and audiences.
Criticisms were levied at the simplistic, stale plot of the film, which was riddled with film cliches.
In a review for Rogerebert.com, film critic Matt Zoller Seitz would claim "Kendrick and Rockwell are appealing enough that the film isn't a complete wash…but that's not exactly what you'd call a ringing endorsement."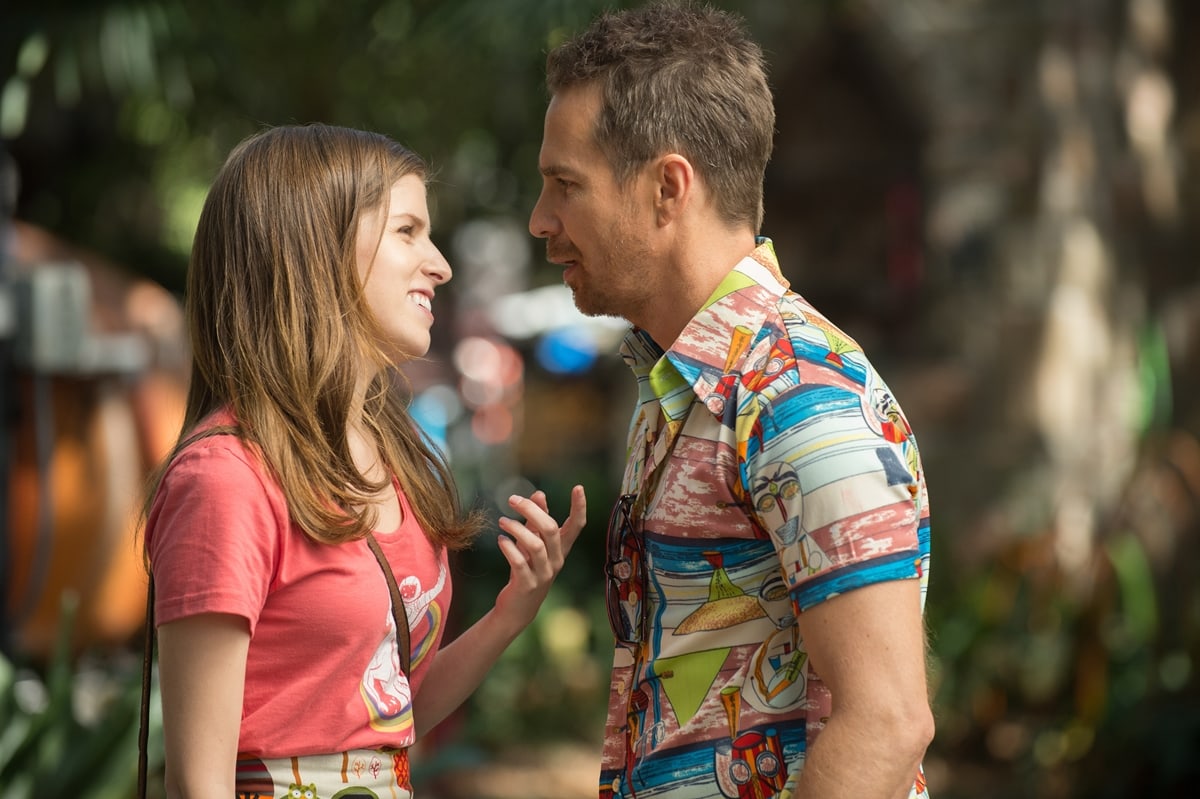 Sam Rockwell as Francis Munch / Mr. Right and Anna Kendrick as Martha McKay in the 2015 American romantic action comedy film Mr. Right (Credit: Focus World)
Overall, film critics and audiences alike were confused by the tone of the film, which was uneven, and flip-flopped between violent action and romantic comedy in a jarring manner.
Despite this, some film critics were more ambivalent toward the film. In a review for the Chicago Sun, film critic Richard Roeper stated "Rockwell hits it out of the park as Francis, a charming, dorky, self-effacing but ridiculously efficient assassin…"
In the end, Mr. Right would only bring in a meager sum of $830,374 USD, against a budget of $7.5 million USD.
While Rockwell and Kendrick are typically darlings of quirky independent cinema, not even their charm and chemistry were enough to save this sinking ship of a film.
Anna Kendrick wears her hair back at the premiere of "Mr. Right" held on April 6, 2016, at AMC Lincoln Square Theater in New York City (Credit: Ivan Nikolov / Andres Otero / WENN)
In April 2016, Anna Kendrick made quite a daring entrance at the New York premiere of her new movie "Mr. Right" held at the AMC Lincoln Square Theater.
The then 30-year-old actress flashed a glimpse of side-boob in a blue-and-black mini dress while posing alongside her co-star Sam Rockwell, who complemented Anna's outfit in a deep blue suit with matching waistcoat, a black shirt, and a dotted tie.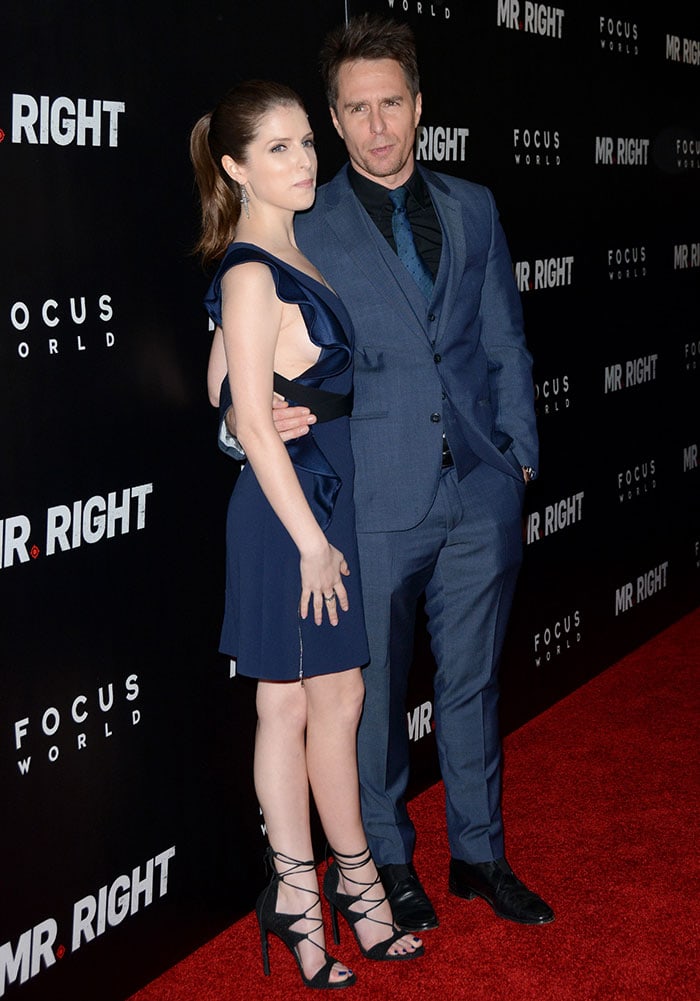 Anna Kendrick and Sam Rockwell pose for photos at the premiere of "Mr. Right" (Credit: WENN)
The "Pitch Perfect" star flaunted her arms and legs in an asymmetric navy blue dress from David Koma's Spring 2016 collection.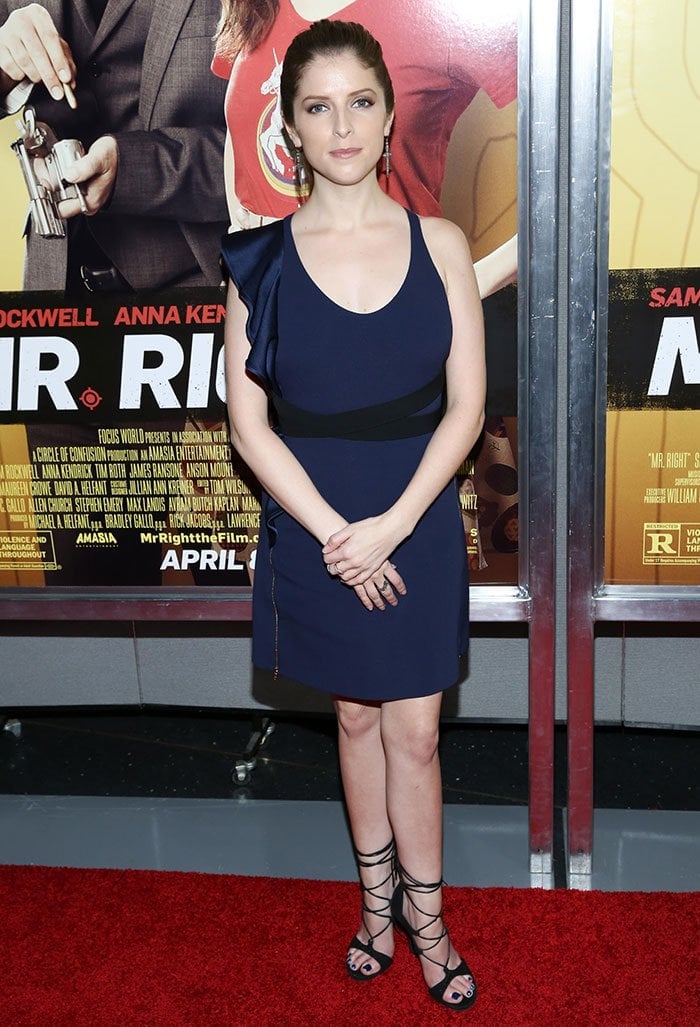 Anna Kendrick wears a frilled David Koma dress on the red carpet (Credit: WENN)
It had a frill detail on one shoulder, revealing cut-away panels at the lats, side zips, and a black ribbon that further accentuated her tiny waist.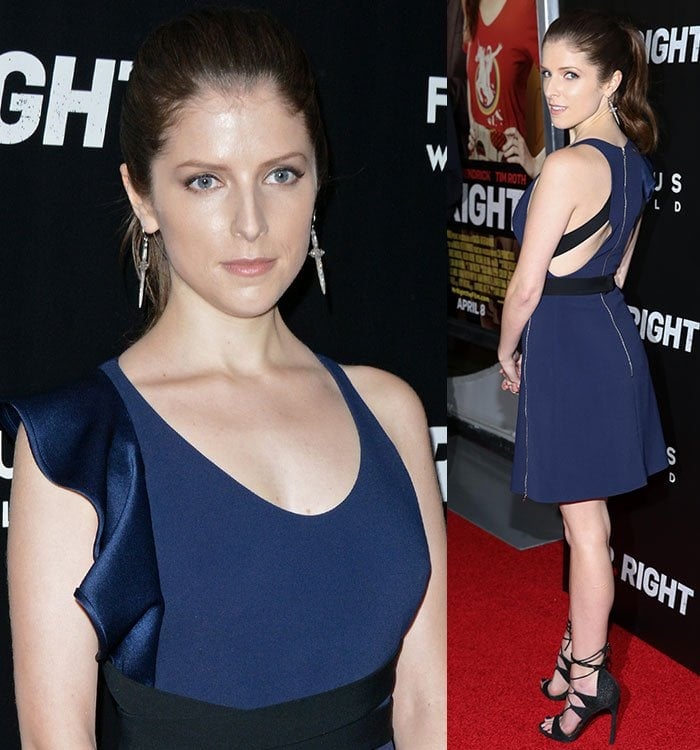 Anna Kendrick wears a navy blue-and-black David Koma dress at the premiere of "Mr. Right" in New York City (Credit: WENN)
Anna edged up the rather sexy look with a large pair of cross earrings, a couple of rings, and a pair of strappy heels.
She pulled her hair back into a high ponytail and kept the look radiant with smokey eyeshadow and nude lipstick.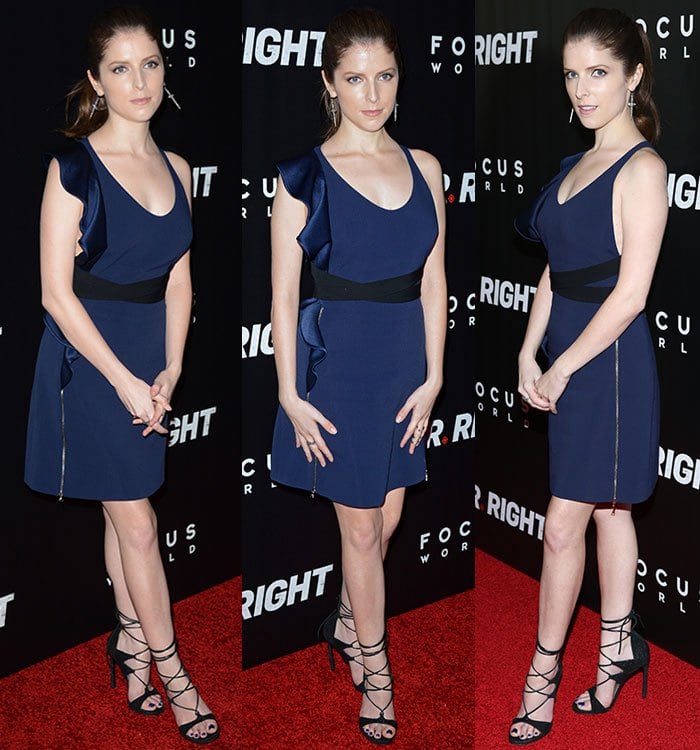 Anna Kendrick wears a David Koma dress on the red carpet (Credit: WENN)
Anna displayed her feet in Stuart Weitzman's "LegWrap" sandals, which are popular among celebrities.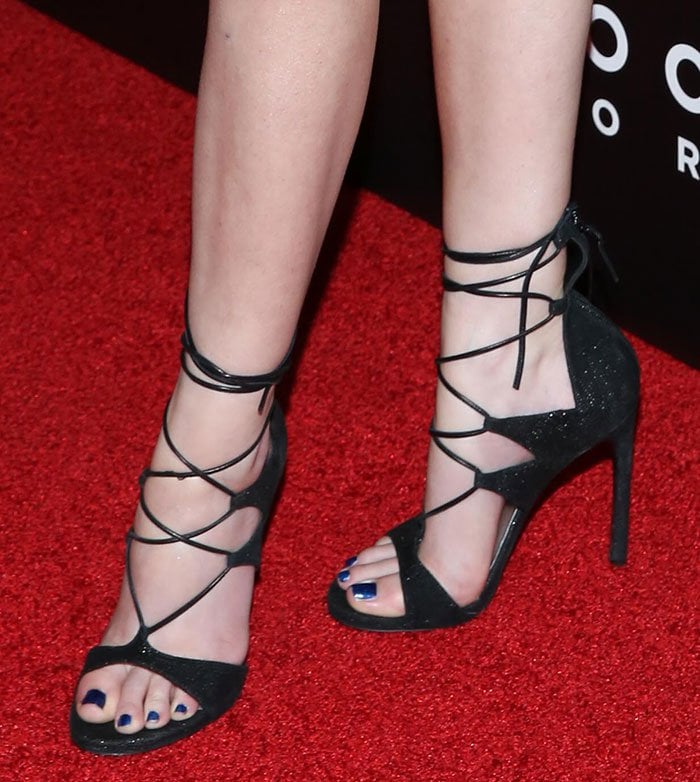 Anna Kendrick's feet in Stuart Weitzman sandals (Credit: WENN)
They feature crisscross laces that wrap the feet, back-zip fastenings, and 4.5-inch stiletto heels.
Anna Kendrick's feet in strappy "LegWrap" sandals (Credit: WENN)
You can buy these Stuart Weitzman sandals on Farfetch, Nordstrom, and Zappos.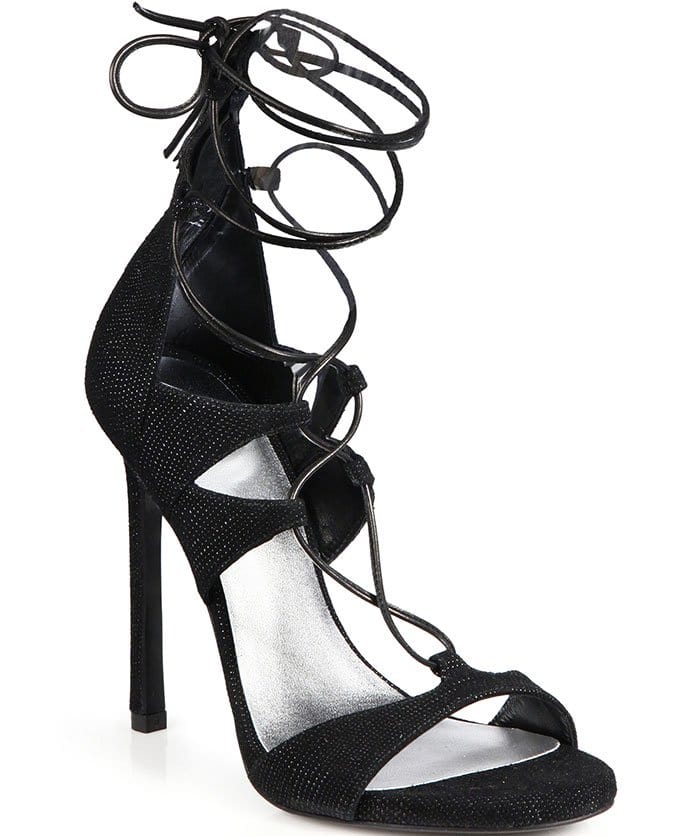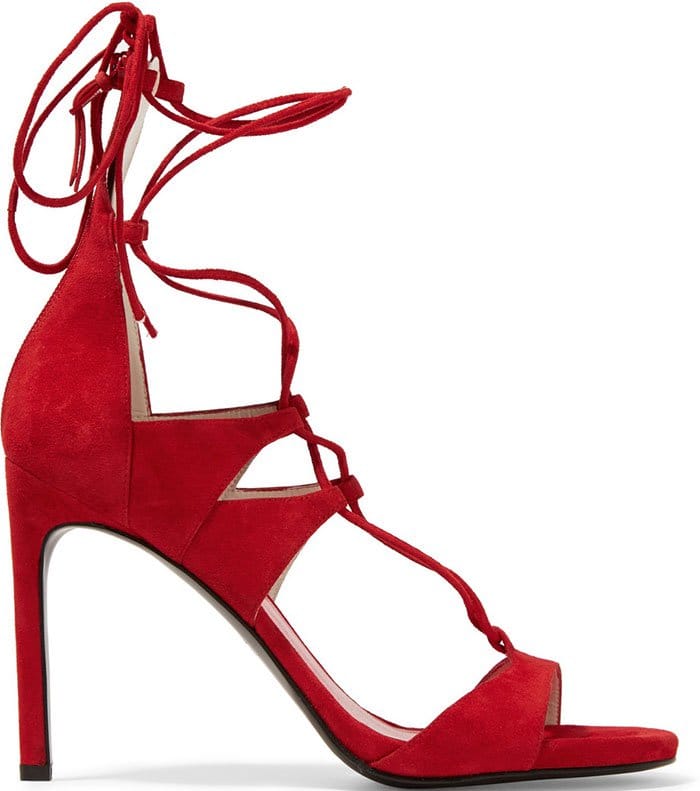 Stuart Weitzman "LegWrap" Lace-Up Sandals, $495 – $498