MSNBC has a new president.
As of February 1, 2021, Rashida Jones – no, not the actress – is the new president of MSNBC. Longtime president Phil Griffin stepped down after 12 years at the helm of the network.
Rashida Jones was named the new MSNBC president in February 2021, replacing longtime MSNBC chief Phil Griffin (Credit: Virginia Sherwood / NBC)
Jones was formerly the senior vice president of the network and will be the first Black person to run a major news network.
Career before taking the helm
Prior to becoming the president of MSNBC, she was most recently in charge of breaking-news coverage for both NBC News and MSNBC.
She simultaneously ran daytime and weekend news programming for MSNBC and was the key force behind revitalizing the company's daily programming.
Rashida Jones was in charge of breaking-news coverage for NBC News and MSNBC and ran MSNBC's daytime programming (Credit: NBC News)
The Chairman of NBCUniversal News Group, Caesar Conde, said this in a staff memo: "Rashida knows and understands MSNBC, in part because it's where she started when she first joined NBCU seven years ago.
She knows that it is the people who work here that make it great, and she understands its culture. She also appreciates the impact and potential of the brand."
Jones has been nothing but a positive impact on the company. There are now more anchors from more diverse backgrounds on weekend schedules. Two African-American journalists, Jonathan Capehart and Tiffany Cross, were given weekend programs.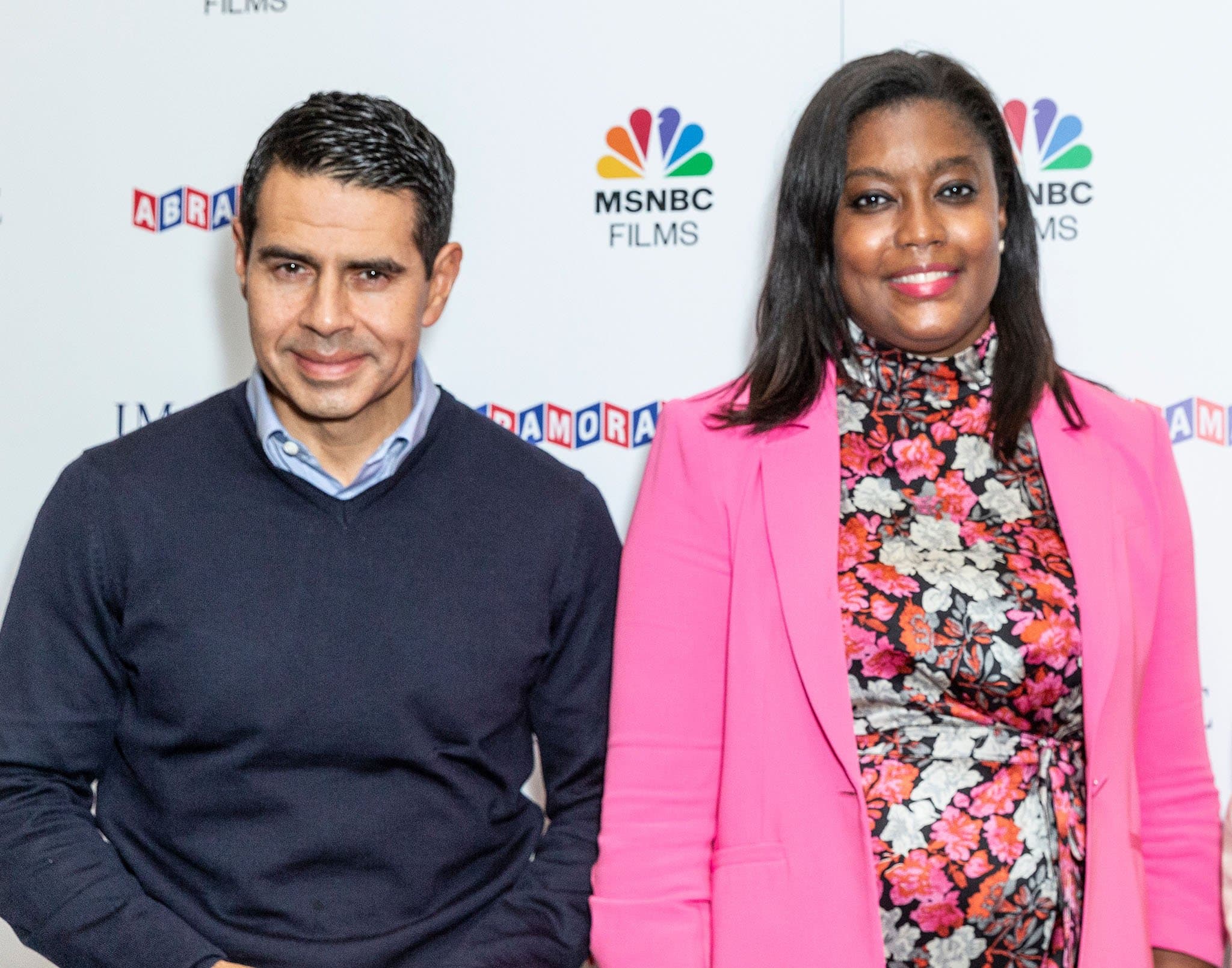 Chairman of NBCUniversal News Group, Caesar Conde, and MSNBC president Rashida Jones attend the special screening of Paper Glue at MoMA on November 8, 2021 (Credit: lev radin / Shutterstock)
Conde went on to say that Jones "has masterfully guided our coverage of the global pandemic, the social justice protests and unrest, Decision 2020, and the two most-viewed Democratic presidential debates in television history.
She helped lead the preparation for Kristen Welker's role as general election debate moderator. And she has steered many of our groundbreaking editorial series."
And it's true. Jones produced two town-hall events with Joe Biden and Donald Trump, and also oversaw the second and final presidential debate that was hosted by NBC correspondent Kristen Welker.
Jones helped Walker prepare for weeks with daily mock debates, where Jones helped Welker hone her techniques for getting two chatty politicians to stay on topic.
Rashida Jones giving AJC reporter Rodney Ho a behind-the-scenes look at the studio prep work for the Democratic Debate in Atlanta in November 2019 (Credit: Atlanta Journal-Constitution / Youtube)
Not many people remember the candidate's performance, but they do remember how Welker handled the situation.
After her talked-about performance, Welker said this of Jones: "She is someone who leads with a very firm sense of direction she's going in but also is very calming and encouraging, and I think that's what makes her such an effective leader and producer and colleague frankly."
Kristen Welker is co-chief White House correspondent and co-anchor of Saturday Today with Peter Alexander.
Life before MSNBC
Jones loved the news industry well before adulthood.
She was drawn to journalism at a young age. "I was always just interested in and fascinated by information and news," Jones said in an interview with The Daily Beast.
She added: "I didn't know what that meant at the time. I thought I wanted to be an English teacher because I knew writing and English were two things that went hand in hand. But I remember starting a neighborhood newsletter when I was in the third grade because I liked the idea of writing things down."
Rashida Jones, pictured with SHSJC Dean B. Da'Vida Plummer, was inducted into the Scripps Howard School of Journalism and Communications Hall of Fame at Hampton University in 2019 (Credit: SHSJC)
Jones became editor of her high school newspaper and eventually became a mass media arts major at Hampton University.
She went on to become the star intern at her local CBS affiliate service, WTKR Channel 3.
In the eight years prior to becoming president of MSNBC, Jones worked as an executive producer of storm coverage at the Weather Channel and as a news director of an NBC affiliate in Columbia, South Carolina.
After her stint in Columbia, Jones became an executive producer of a short-lived daytime show. The show didn't survive, but Jones' career did.
Rashida Jones worked as an executive producer of storm coverage at the Weather Channel and as a news director of an NBC affiliate in Columbia, South Carolina (Credit: NBC News)
When asked about her success, Jones had this to say: "I'm still routinely either the youngest or the only person who looks like me in a room and at this level, and with the track record I have, there's a lot less convincing industry-wide about what I can do and what I'm capable of, but in real life, in work life, people make assumptions and I just let it roll off my back."
"The more you distract yourself with what other people think, the slower you are to get your goal. And I, very much from the beginning, decidedly tune that stuff out. If someone had a question or a concern or a challenge to what my skill set was, my ability was, what I was capable of, I always viewed it as that's their problem, not my problem."
Who wouldn't want her leading their company?
Family life
Jones is a mother of two children.
Colleagues at MSNBC wondered how she managed to work 18 hour days with a 15-year-old son and 12-year-old daughter at home. Even during the height of the pandemic, Jones opted to work from the office.
Jones has been seriously involved with Edward Fisher, a fellow Hamptons University alum and community and government relationship exec at American University.
"Congrats to Rashida Jones!!' Parks and Recreation actress Rashida Jones said in an Instagram post in December 2020.
View this post on Instagram
"The FIRST BLACK PERSON EVER to run a major cable news network!! 'I'm so proud to share a name with you and also take this #myelf challenge to the next level. Rashida Jones on Rashida Jones INFINITY. ZOOM IN.'"
In April 2016, Rashida Jones hit the red carpet in style at the Refugee Exhibit Opening held at the Annenberg Space for Photography in Century City, California.
She was joined by Tracee Ellis Ross, Amy Adams, Kristen Bell, Kristin Davis, and Maria Shriver.
Rashida Jones wears her cropped hair down at the Refugee Exhibit Opening held on April 21, 2016, at the Annenberg Space for Photography in Century City (Credit: WENN / FayesVision / Charlie Steffens)
The then 40-year-old American actress, comic book author, film producer, singer, and screenwriter looked older than her age in a long metallic silver blazer from the Suno Fall 2016 collection.
Rashida Jones wears a metallic silver blazer from Suno (Credit: WENN)
She styled the matronly jacket with a black dress and completed her disappointing ensemble with an unexciting pair of black pointy-toe pumps.
Rashida Jones wears a long metallic blazer over a long black dress on the red carpet (Credit: WENN)
Do you agree that this outfit was poorly styled?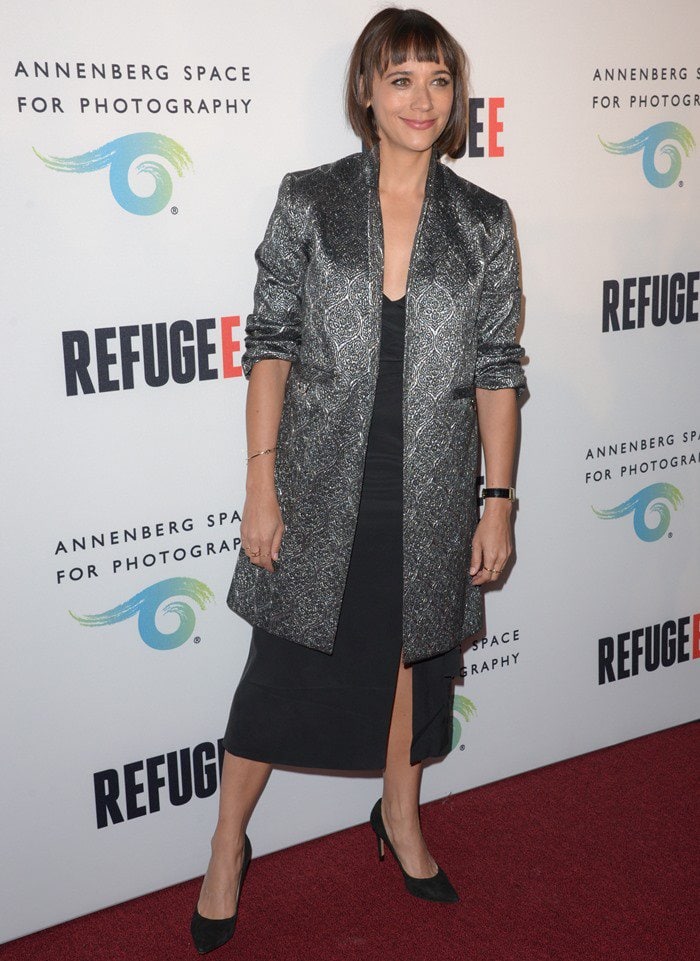 Rashida Jones wears an unflattering Suno blazer over an unflattering black dress (Credit: WENN)