Rashida Jones is an actress, writer, and producer who is best known for her roles on sitcoms like Parks and Recreation and The Office, however, she has had several roles in some of Hollywood's biggest projects, and is one of the creatives behind some of your favorite movies.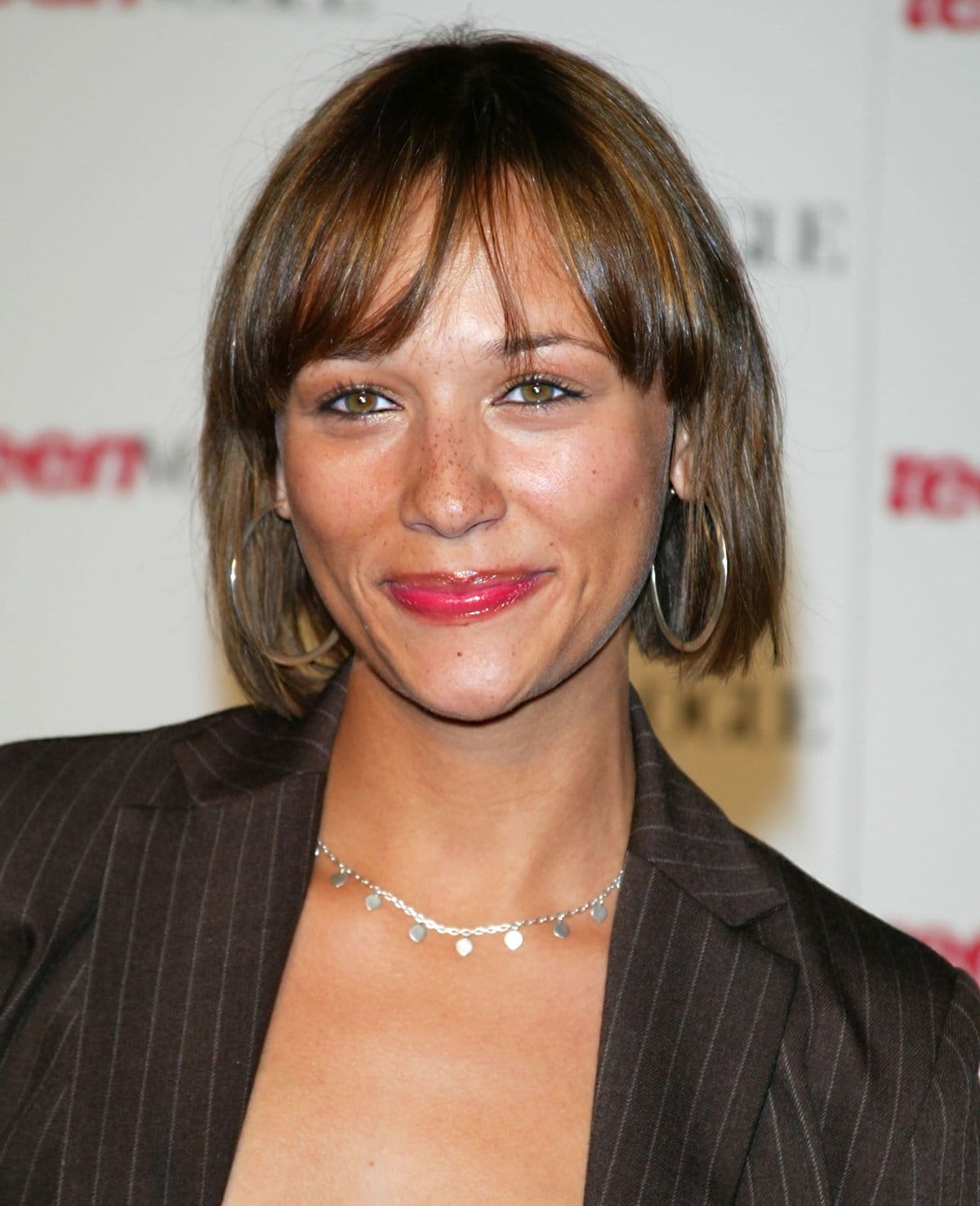 Rashida Jones is the younger daughter of musician Quincy Jones and actress Peggy Lipton (Credit: DFree / Shutterstock)
For many people, their first introduction to Jones was as Karen Filipelli in The Office. It wasn't long after joining, though, before she left the show to pursue other opportunities.
Let's get into who Rashida Jones is, her role on The Office, and why she left the hit sitcom.
Rashida Jones's Background
Rashida Jones is an incredibly talented woman who has proven her talent time and again, but some people may look at her background and assume she had an easy road to stardom.
Jones's parents are both famous for their work in the entertainment industry. Her mother is actress Peggy Lipton, and her father is the legendary record producer Quincy Jones. Rashida's older sister is fashion designer Kidada Ann Jones.
Quincy Jones's ex-wife Peggy Lipton, who died of colon cancer in Los Angeles on May 11, 2019, posing with her elder daughter Kidada Jones at the Disney Vault 28 Opening in Anaheim, California. on November 12, 2006 (Credit: s_bukley / Shutterstock)
Jones attended Harvard University for college where she reignited her passion for the arts. She had grown up displaying tremendous amounts of artistic talent but didn't see it as a career path until she was in higher education.
Inside Her Role on The Office
Although Jones had a couple of acting credits before joining the cast of The Office, the sitcom role was one that made her pop as an actress.
The Office ran on NBC for nine seasons, starring Steve Carell, John Krasinski, Rainn Wilson, Jenna Fischer, and others.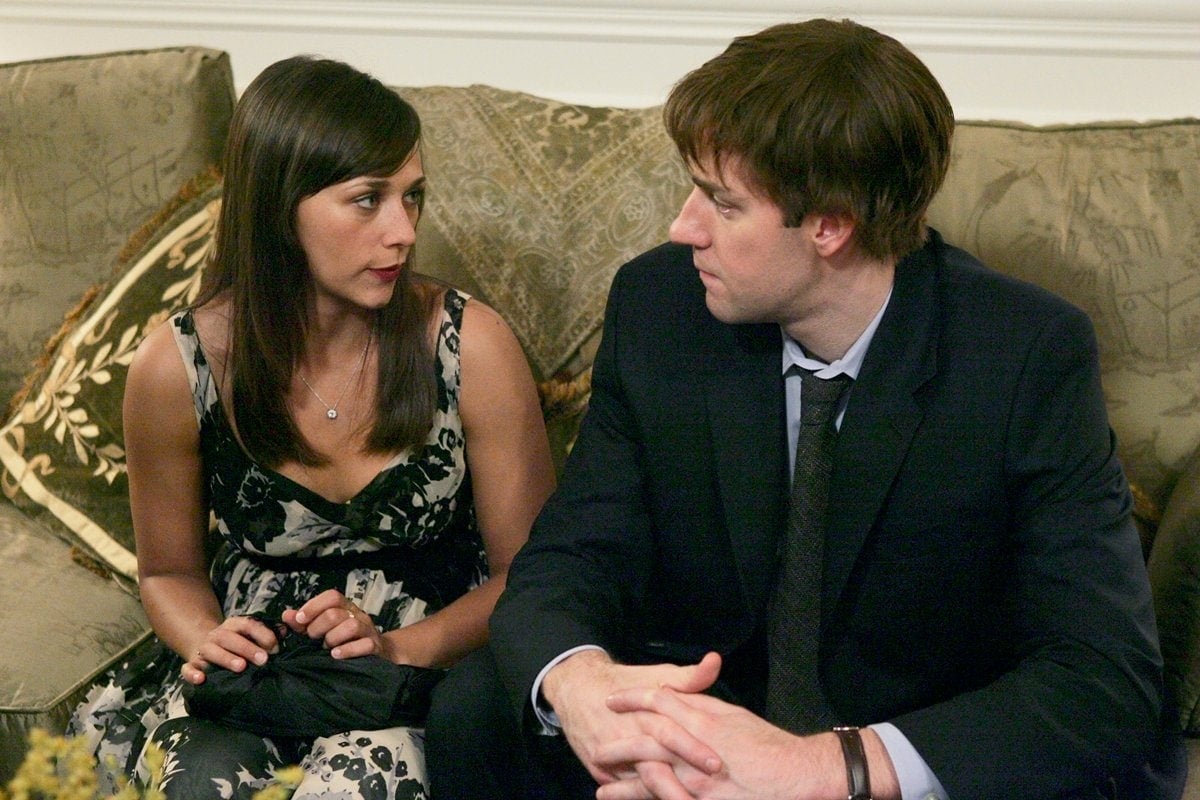 Rashida Jones as sales representative Karen Filippelli starts dating dates fellow salesman Jim Halpert played by John Krasinski (Credit: NBC)
A workplace comedy filmed in mockumentary style, the show is best known for its main character, Michael Scott, and the antics that ensue at the Dunder Mifflin Paper Company, including pointless lectures and elaborate pranks, much to the dismay of many of the employees.
Jones played Karen Filippelli, an employee at Dunder Mifflin who transferred from another office. She first appeared in "Gay Witch Hunt," the third season premiere that aired in the United States on September 21, 2006, on NBC. Born on February 25, 1976, in Los Angeles, Rashida Jones celebrated her 30th birthday on February 25, 2006.
Some of Her Notable Moments
Rashida Jones auditioned several times before she got the role in The Office. She knew one of the show's producers, Michael Schur, but she still had to audition and prove she was right for the role.
Eventually, after reading with Jenna Fischer who plays Pam on the show, Jones felt at ease on set and was soon offered the role. Before getting the part, Jones was about to quit acting.
Rashida Jones and her co-star Ed Helms during The 24th Annual William S. Paley Television Festival – An Evening with "The Office" at DGA in West Hollywood, California (Credit: s_bukley / Shutterstock)
Some of her most memorable episodes include "Ben Franklin," where Karen and Pam discuss whether Pam still has feelings for Jim, as Karen and Jim are dating, as well as the episodes "The Job Part 1" and "The Job Part 2" where Karen and Jim both interview for a job in New York at the corporate office.
Karen tells Jim she would move to New York if he were to get the job, but he never answers whether he would do the same.
At the end of the episode, viewers learn that Jim and Karen broke up, and that is the last time we see Jones as a regular cast member. She does return later in the series for various episodes where, we get an update on her life, as she is working as the manager for another Dunder Mifflin branch.
Her Relationship With John Krasinski
Karen Filipelli was Jim's love interest on The Office. Fans were not happy about this, as they were rooting for Jim and Pam to get together. In real life however Rashida Jones and John Krasinksi, the actor who played Jim, actually dated.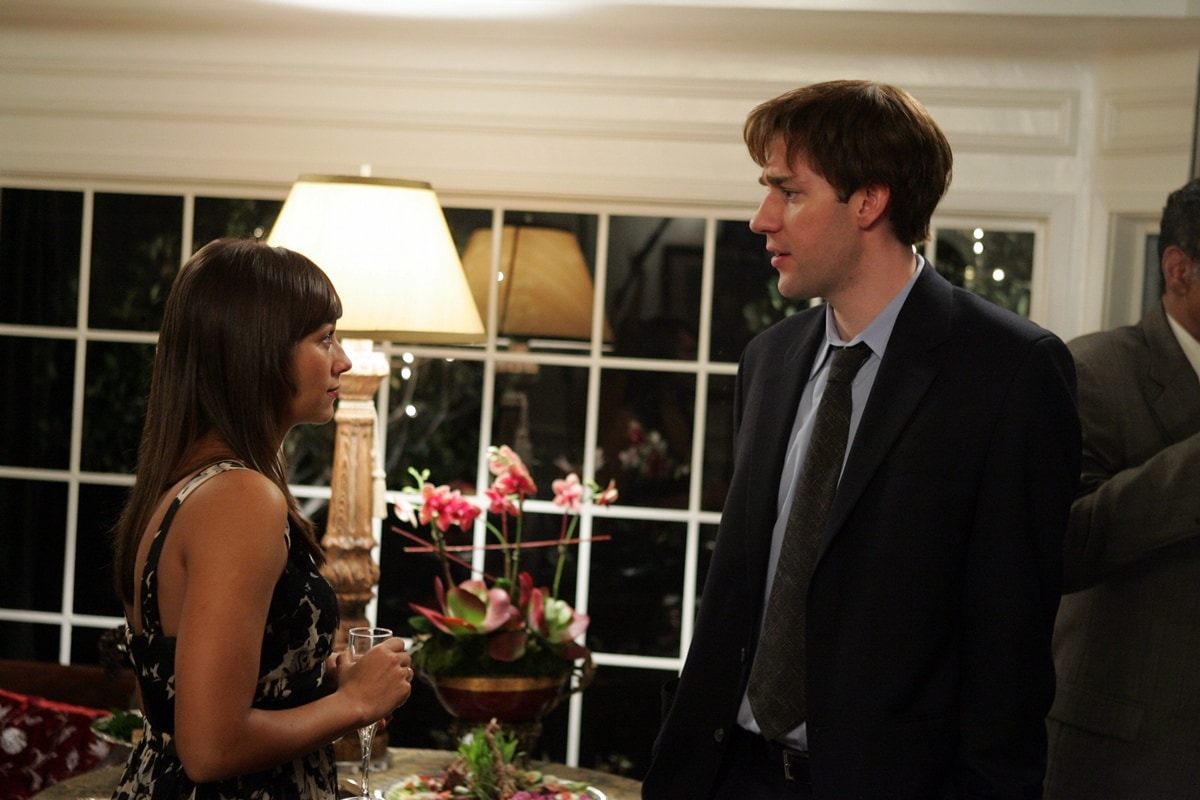 John Krasinski and Rashida Jones started dating in 2005, before she was cast in The Office, and split amicably in 2006 (Credit: NBC)
The two were an item before her role in The Office, but they were very professional on set as they remained friends after breaking up.
Inside Rashida Jones's Exit From The Office
Most fans of The Office were relieved to see Karen go, as this meant Jim was available to finally date Pam.
Jones very well could have stayed on the show, and there was an alternate ending to the last episode she was in before leaving where her character got the job she had applied for at the corporate office and became Michael Scott's boss.
Rashida Jones was first introduced at the beginning of season three of The Office and was a regular during the third season (Credit: NBC)
However, this storyline did not come to fruition because Jones had gotten a role in a new comedy series that was originally supposed to be a spinoff of The Office, entitled Parks and Recreation.
Although Jones enjoyed her time on The Office, she wanted to have a bigger role in an ensemble sitcom.
Joining Parks and Recreation
Parks and Recreation is another workplace comedy filmed in mockumentary style.
It was created by Michael Schur, and it documents the main character, Leslie Knope, played by Amy Poehler, as well as her coworkers, played by Aziz Ansari, Aubrey Plaza, Nick Offerman, and others.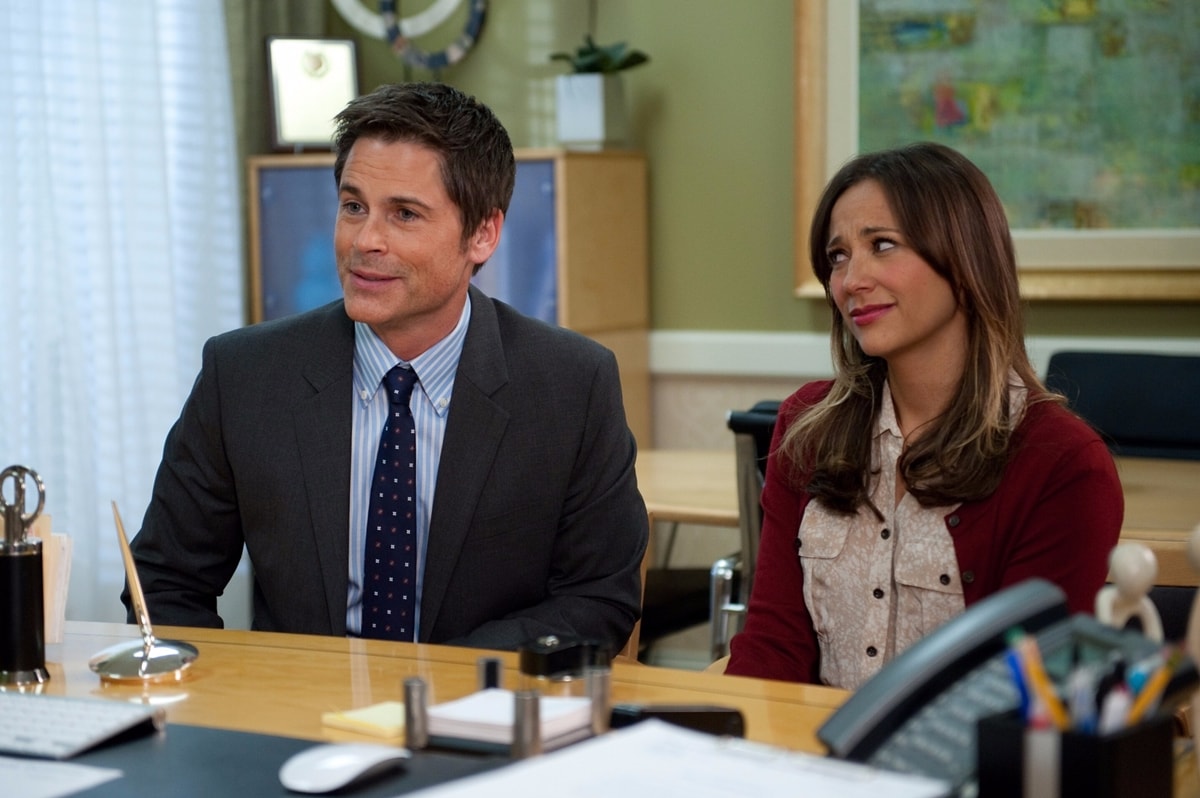 Rob Lowe as Chris Traeger and Rashida Jones as Ann Perkins in the American political satire mockumentary sitcom television series Parks and Recreation (Credit: NBC)
She deals with the difficult and ridiculous citizens of Pawnee, Indiana as the Parks and Recreation Department Deputy Director. Jones played Ann Perkins, a nurse and Leslie Knope's best friend for six seasons before leaving.
The show ran for another season after Jones left to make more out of her career and get into producing. After leaving Parks and Recreation, one of her immediate projects included starring in the television show Angie Tribeca, and later starring in and executive producing the Netflix comedy #blackAF.
Jones's Other Notable Works
In addition to acting and producing, Rashida Jones is a very accomplished writer.
Some of her notable works include part of the script for Toy Story 4, an episode of Black Mirror, work in Teen Vogue, and a chapter of her father's biography Q: The Autobiography of Quincy Jones.
Her Personal Life and Dating History
In addition to dating John Krasinski, Rashida Jones had a serious relationship with music producer Mark Ronson. The two were engaged for nearly a year before calling it quits.
Rashida Jones in a black jacket paired with a floral skirt and combat boots at The Paley Center For Media's 2019 PaleyFest LA – "Parks And Recreation" 10th Anniversary Reunion held at Dolby Theatre on March 21, 2019, in Hollywood, California (Credit: Kathy Hutchins / Shutterstock)
She's also been in relationships with Colin Jost (2013 – 2016), Jon Favreau (2009 – 2010), Charlie Hunnam (2006), Seth Meyers (2005), John Krasinski (2005 – 2006), Tobey Maguire (1997 – 2000) and Jeremy Renner.
Currently, Jones is dating musician Ezra Koenig, one of the members of the band Vampire Weekend, and the two have a son together. Jones is known for keeping her personal life very private from the public.
Rashida Jones wears her short hair down at PaleyLive LA: An Evening With Angie Tribeca held on April 14, 2016, at The Paley Center for Media in Beverly Hills (Credit: WENN / Brian To)
In April 2016, Rashida Jones looked feminine and sophisticated as she attended "PaleyLive LA: An Evening With Angie Tribeca" at The Paley Center for Media in Beverly Hills, California.
She was joined by her "Angie Tribeca" co-stars Andree Vermeulen, Hayes MacArthur, Jere Burns, and writer-director Ira Ungerleider.
Rashida Jones accessorizes with Kavant & Sharart pearl earrings (Credit: WENN / Brian To)
The then 40-year-old actress donned a white knee-length dress from Victoria Beckham that featured a floral pattern.
Rashida accessorized with Kavant & Sharart pearl earrings and matching black-and-silver rings.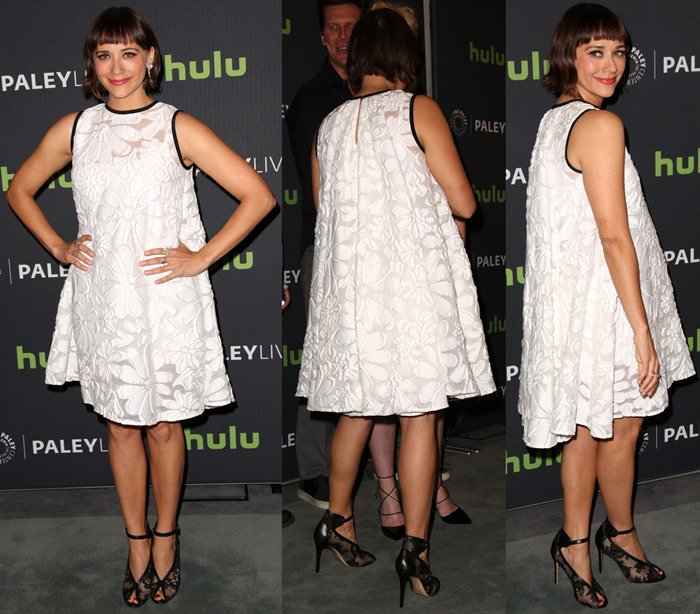 Rashida Jones wears a white Victoria Beckham dress to a PaleyFest panel (Credit: WENN / Brian To)
She completed her ensemble with a pair of lace ankle cuff pumps from Monique Lhuillier.
Rashida Jones's feet in lace-accented Monique Lhuillier pumps (Credit: WENN / Brian To)
These four-inch heels feature lace panels, an ankle cuff connected with a delicate strap, and speckled suede heel covers.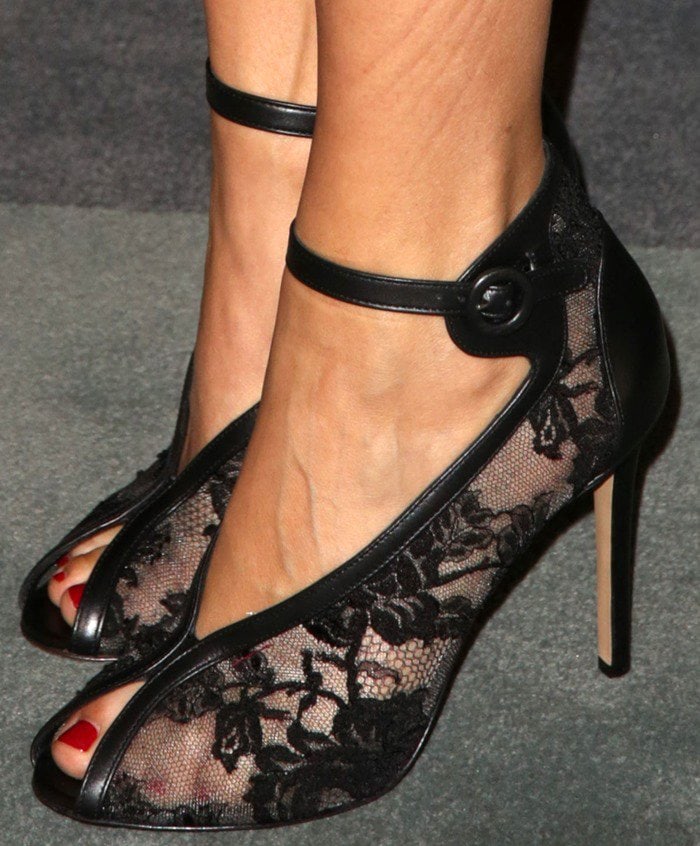 Rashida Jones's feet in black lace Monique Lhuillier heels (Credit: WENN / Brian To)

You can find a similar pair of femme fatale pumps by Monique Lhuillier at Farfetch.
Monique Lhuillier Lace Accent Heels, $795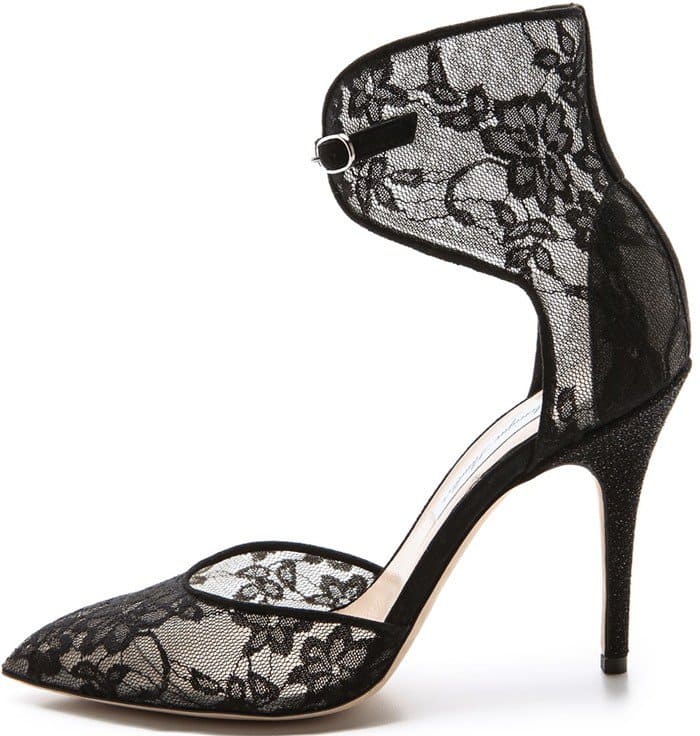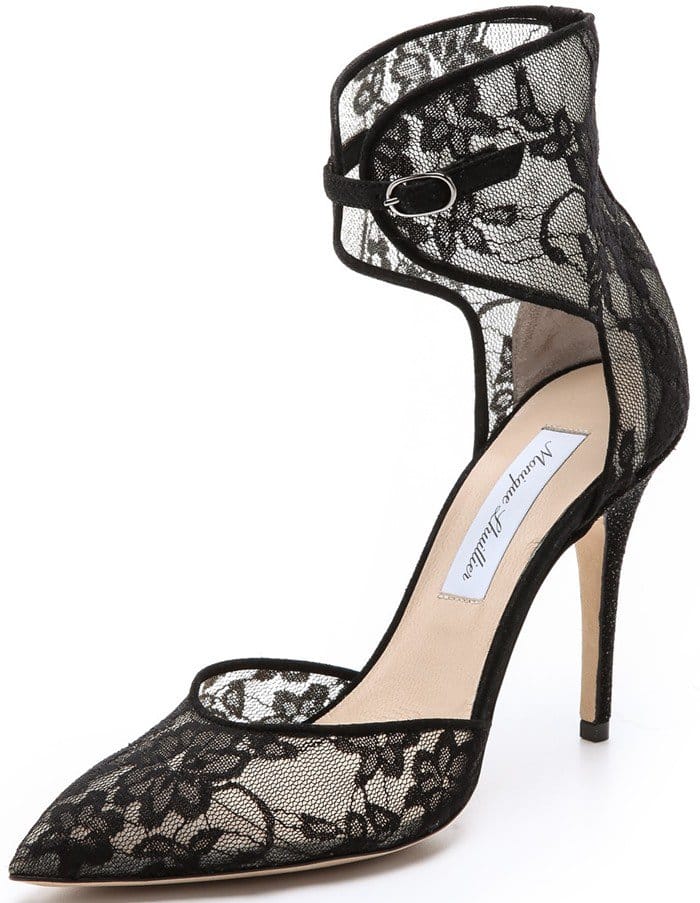 There's also a mesh and suede ankle-strap sandal from the same fashion designer on sale at Nordstrom. It's available in three amazing colors.
Monique Lhuillier High Heel Ankle-Wrap Sandals, $319