Although she's now solidified her career as a TV star, at one point actress Margaret Constance "Maisie" Williams was a young girl from Bristol, the United Kingdom with aspirations of becoming a dancer.
With these dreams in mind, Maisie Williams attended Bath Dance College in Bath, United Kingdom, where she studied a wide variety of performing arts and dancing, including musical theatre, ballet, pointe, gymnastics, and trampoline.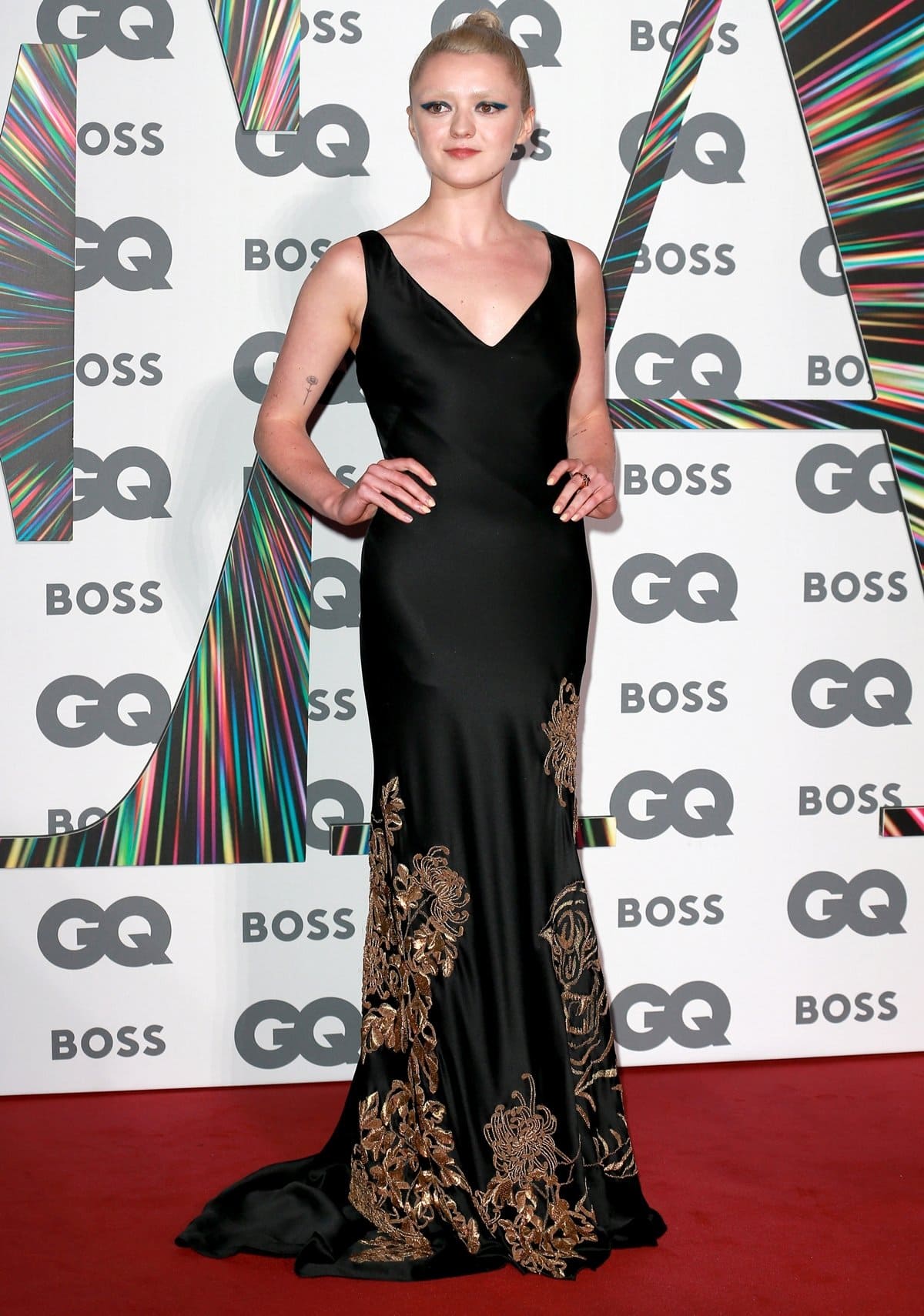 Maisie Williams in a vintage Alexander McQueen embroidered tiger dress at the 24th GQ Men of the Year Awards in association with BOSS at Tate Modern on September 1, 2021, in London, England (Credit: Cubankite / Shutterstock)
It didn't take long for her career to take off, however, as at the young age of 12 Maisie would be cast as Arya Stark in Game of Thrones, the role which made her a household name.
Initially, Maisie's primary motivation for landing the role as Arya was to earn enough money to buy a new laptop, as she claims in an interview with The Guardian that "The thing I was really obsessed with was whether I would earn enough money to buy myself a laptop."
We're sure she earned enough to buy whichever laptop she wished, and then some!
Maisie Williams joined Game of Thrones when she was 12 and grew up in front of fans (Credit: HBO)
As the show went on Maisie excelled in playing Arya, the fan-favorite tenacious tomboy, and her role would quickly cement her as an up-and-coming star within Hollywood.
This critical praise would garner the attention of multiple casting directors, which would help her further develop her acting skills and take on a variety of roles, including roles in The Falling, Gold, and Cyberbully.
Maisie Williams was praised for her performance as Casey Jacobs in the 2015 British docudrama television film Cyberbully (Credit: Raw TV / Channel 4)
Her performance in the 2015 made-for-TV movie "Cyberbully" convinced television executives Steven Moffat and Brian Minchin to offer her a role in Doctor Who.
"It was just Maisie onscreen for 80 minutes…and she was captivating," Doctor Who's executive producer Minchin said in a video posted to the official "Doctor Who" YouTube channel.
"And, you know, if someone can take 80 minutes of screen time and tell a story like that and take you with them, then that is really extraordinary."
Maisie Williams Begins Her Doctor Who Journey
In 2015, Maisie would be approached to land a role in BBC's cult-hit sci-fi series Doctor Who. Initially, Maisie divulged that she didn't know much about the role that she would eventually be cast into, only being told that she was to play "a new character to work closely with the Doctor".
While this initial description was vague, Maisie was obviously attracted to the opportunity to become a part of the illustrious and admired sci-fi franchise, as she described herself as a fan of the long-running British television show.
Jenna Coleman as Clara Oswald and Maisie Williams as Ashildr (also known as Me) in the British science fiction television series Doctor Who (Credit: BBC)
Maisie was cast in the role of Ashildr, a young Viking girl who befriends the Twelfth Doctor, portrayed by Scottish actor Peter Capaldi.
The first episode of Doctor Who she appeared in was "The Girl Who Died", which pits her character in a conflict between her Viking village and an alien race known as the Mire. During the events of the conflict, Ashildr dies, which in turn causes the Doctor to resurrect her, inevitably making her immortal in the process.
The next time Doctor Who fans would run into the character of Ashildr is in the episode "The Woman Who Lived", where the Doctor again encounters Ashildr, but this time in England in the year 1651. 800 years after their original encounter, Ashildr now works as a robber who refers to herself only as "Me".
Maisie Williams plays Ashildr, a Viking girl who later began calling herself Me due to her immortality-related memory loss (Credit: BBC)
While her body has remained healthy and immortal, her mind has been damaged from the amount of time she has lived and she is not able to contain all of her memories of her extended life.
This damage has caused her personality to radically shift, and she becomes colder and more selfish, due to herself being the only constant within her 800 year lifetime.
Seeking adventure, Ashildr wishes to explore the galaxy with the help of an alien named Leandro. However, Leandro betrays her and sets his sights on attacking Earth instead.
The Doctor and Ashildr combine forces to defeat Leandro, which causes Ashildr to have a change of heart, pledging to spend her life defending the Doctor's companions on Earth.
Maisie Williams was picked to play a part in Doctor Who Season 9 after the show's executives saw her performance in the 2015 made-for-TV movie Cyberbully (Credit: Cubankite / Shutterstock)
The next episode that Ashildr would appear in was "Face the Raven", where she now operates a refugee camp for aliens in the 21st century in London.
In this episode, Ashildr places a countdown tattoo on one of The Twelfth Doctor's acquaintances, named Rigsy. Once the tattoo reaches zero, a Quantum Shade appears to kill the tattoo's bearer. The Doctor's closest companion, Clara, decides to bear the tattoo herself, thinking Ashildr would not let her die.
Unfortunately, the tattoo reaches zero and Ashildr cannot stop the Quantum Shade from killing Clara, which devastates the Doctor. The Doctor scolds Ashildr and asks her to stay away from him.
The final episode where Maisie Williams would play Ashildr was the ninth series finale, entitled "Hellbent". In this episode, the Doctor attempts to have Clara avoid her grisly fate at the hands of the Quantum Shade by subverting time itself.
Maisie Williams was introduced as Ashildr in the ninth series episode The Girl Who Died (Credit: BBC)
They end up at the end of time at the Doctor's home planet of Gallifrey, where it is revealed that Ashildr is the last living being in the universe.
Ashildr dissuades the Doctor from going through with his plans, and the Doctor agrees to have his memories of Clara wiped from his mind. Clara then leaves to explore the universe with Ashildr and promises to return and die in the manner she was meant to originally.
The Critical Reception of Maisie William's Performance in Doctor Who
The episodes in which Maisie Williams has portrayed Ashildr have been critically acclaimed by both fans of Doctor Who and critics alike.
Rob Smedley of the website CultBox reviewed Maisie's performance in "The Girl Who Died", noting the young actresses "envied natural talent".
His later review of the episode "The Girl Who Lived" had him commenting that Maisie did "a terrific job of making the character feel like she's lived lifetimes since we last saw her."
A testament to her character's popularity can be seen in the Doctor Who: Legacy mobile game, where Ashildr remains a playable character.
Maisie Williams has made it clear she will not be returning to hit BBC series Doctor Who (Credit: Cubankite / Shutterstock)
Overall many Doctor Who fans have commented positively of Maisie's role within their favorite sci-fi franchise. With her natural acting talent, it comes as no surprise that Maisie would be able to appeal to even the most ardent fans of Doctor Who, as she is certainly no stranger to franchises with huge fanfare.
Her experiences on both Game of Thrones and Doctor Who have undoubtedly shaped her as an actress, and we are excited to see how those roles will continue to shape the roles she takes in the future.
"Everyone's hyping about it, which is very exciting, but I guess that's more of a publicity thing," she said in early 2016 about a possible return to Doctor Who. "But no, I'm not going to return, I have a lot of other really exciting projects lined up instead."
In March 2016, Maisie Williams attended the 21st Jameson Empire Awards to show support for "Game of Thrones," which was nominated for Best TV Series.
Maisie Williams wears her hair up at the 2016 Jameson Empire Awards held on March 20, 2016, at the Grosvenor House, Park Lane in London (Credit: WENN)
The then 18-year-old actress opted for a fun and flirty look, which was a far cry from her tomboy character, Arya Stark, in the hit fantasy drama show.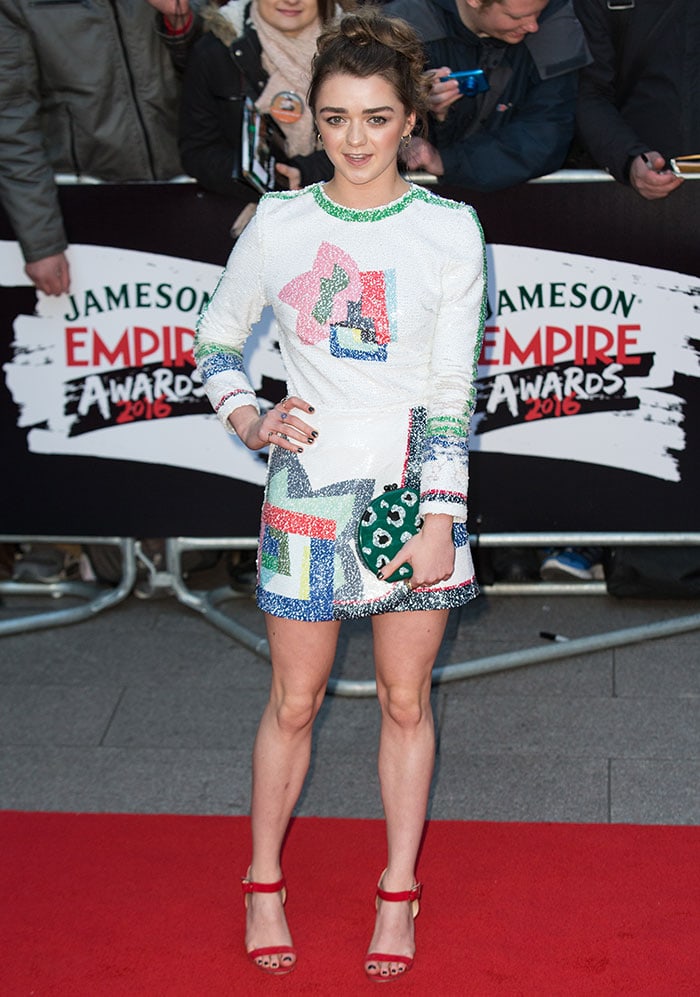 Maisie Williams wears a colorful Sadie Williams mini dress on the red carpet (Credit: WENN)
Maisie showed off her toned legs in a colorful sequined mini dress from Sadie Williams' Spring 2016 collection.
Maisie Williams shows off the all-over sequined design of her Sadie Williams mini dress (Credit: Mario Mitsis / Lia Toby / WENN)
The youthful and playful frock featured an all-over sequin embellishment, long sleeves, a colorful geometric graphic print, and a crossover mini skirt.
Maisie Williams arrives at the Jameson Empire Awards in a Sadie Williams mini dress (Credit: Mario Mitsis / Lia Toby / WENN)
She enhanced the look by accessorizing with Maria Francesca Pepe earrings and other jewelry by Monica Vinader and Buja Fine Jewelry.
The English actress amped up the playful vibe of her ensemble with a green leopard-printed round clutch and a pair of red heels.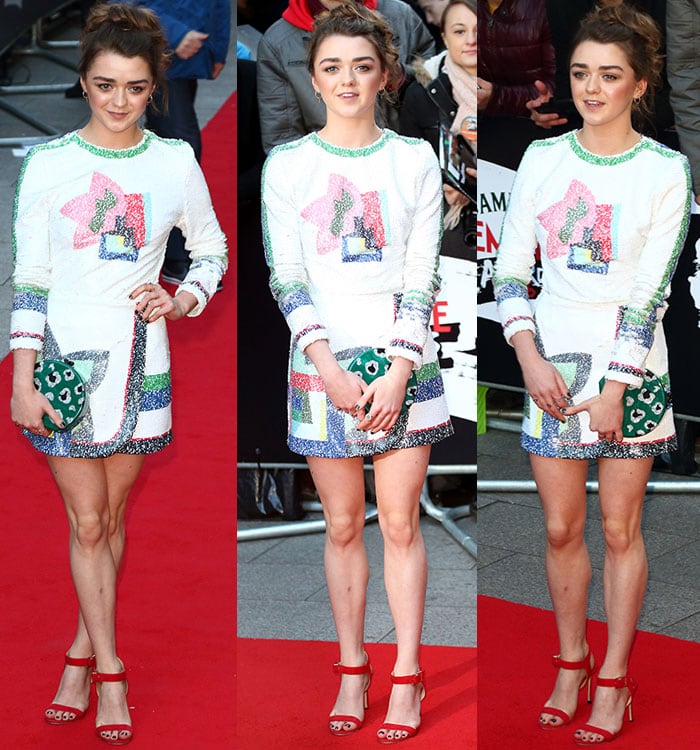 Maisie Williams accessorizes with a green leopard print clutch and red heels (Credit: Mario Mitsis / Lia Toby / WENN)
How do you like Maisie's look? Her red suede heels are by Jimmy Choo.
Maisie Williams's feet in strappy red Jimmy Choo sandals (Credit: WENN)
Unfortunately, we can't find them online. You can check out new shoes from the popular women's shoe designer at Farfetch and Mytheresa.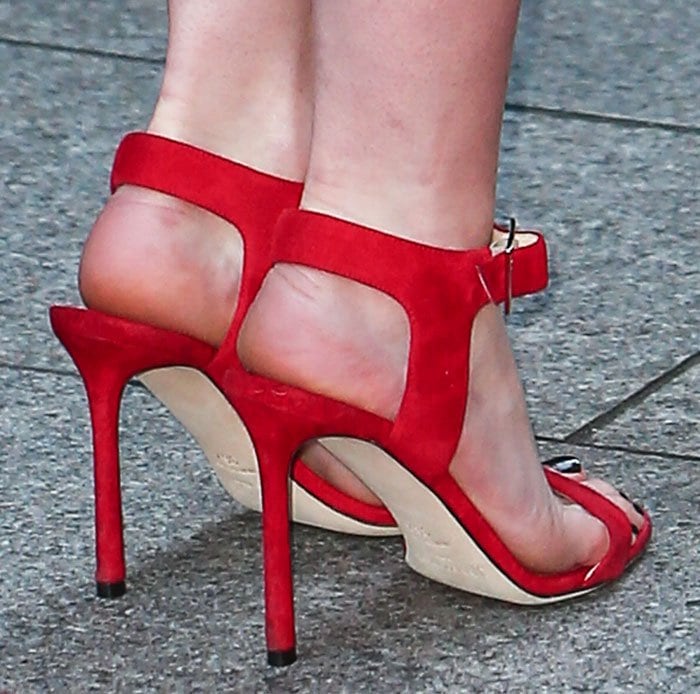 Maisie Williams's feet in red suede Jimmy Choo sandals (Credit: WENN)
New customers at ShoeDazzle can buy a similar heeled sandal for just $10. It features an inset comfort pad for all-night wearability.
Wearing red high heels can make you more attractive and sends signals of status and dominance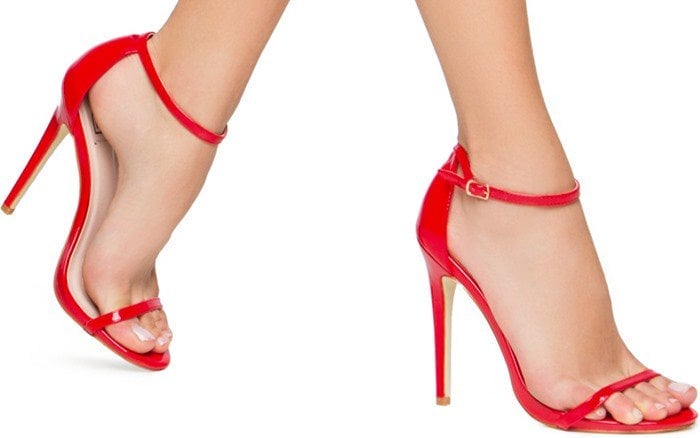 This red pair of minimalist sandals is everything your date night needs
Red High Heel 'Galya' Ankle-Strap Sandals, $1o