Since Nancy Sinatra released "These Boots Are Made for Walkin'", women everywhere have been searching for the ultimate staple boots.
While heels are a girl's best friend, boots will never let you down. Whether it's April showers or the winter snow, boots will see you through every season.
Just like Louboutin for stilettoes or Gucci for heels, there's a go-to brand for women's boots. Meet Frye – the American footwear brand with almost 160 years of heritage. If you want high-quality women's boots that won't break the bank, Frye is the brand you should explore.
We're sharing our insight into Frye, how to get their boots for the best price, and which styles we're loving for 2022.
What is Frye?
Frye is one of the United States' oldest footwear brands – dating back to 1863 with its trend-setting styles. The brand is synonymous with its high-quality craftsmanship and leather shoes.
American living has served as the muse for Frye's designs – everywhere from Arkansas to New York and New Orleans.
Founded in 1863, The Frye Company is an American manufacturer of shoes, boots, and leather accessories
When you buy a pair of these boots, you're not just buying a piece of the Frye brand. Frye has a partnership with 'Feeding America', helping them to end hunger in the United States.
When you treat yourself to a pair of Frye boots, you're helping Frye to support the work of 'Feeding America'.
How to get Frye boots at the best price
Frye sits at a mid-tier price point, making their boots accessible without breaking the bank. You can expect to pay between $280 to $500 for a pair of Frye boots at The Frye Company or Zappos.
Compared to other brands, the price point is great for the quality, craftsmanship, and heritage of Frye boots.
Frye sits at a mid-tier price point, but the brand also offers up to 50% discount on certain styles (Credit: cowandpiggie / Shutterstock)
If you're looking to save a little extra cash, there are different ways to get your Frye boots at the best price. The brand has a dedicated sales section on their website, where you'll find certain styles at up to 50% off.
Many more discounted Frye shoes, belts, accessories, and handbags are available at Nordstrom Rack and Saks OFF 5TH.
You can also save $50 off your first order of $250 or more when you sign up for their VIP program. It's also an easy way to earn exclusive discounts while you shop, including 20% off on your birthday.
While Frye offers a variety of women's footwear styles, their most popular is their boots. We're rounding up some of their most sought-after styles. Each of these deserves a spot in your closet.
1. Harness 12R Mid-Calf Boots, $388 at Zappos
Frye is no stranger to looking back into American history for style inspiration. The brand's iconic "Harness" boots are inspired by the Civil War cavalry.
Inspired by the Civil War cavalry, the Frye Harness 12R features a harness detail and a luxurious leather upper that gets better with age
These boots only get better with age, developing a character that is unique to each pair. The Harness 12R boots are American through and through – from their design to their domestic leather and production.
2. Veronica Ankle Booties, $278 at The Frye Company
Finding bohemian chic boots for women isn't always easy. The "Veronica" short ankle boots take their inspiration from vintage motorcycle jackets with stone-tumbled leather that gives the shoes a worn-in look.
Taking inspiration from a vintage motorcycle jacket, the Veronica bootie is crafted from stone-tumbled full-grain brush-off leather and features hand-stitched Goodyear welt soles
They're meant to look as though you've stolen them from your favorite aunt's closet. These shoes are designed to last with their durable and waterproof leather that will keep you going – come rain or shine.
3. Veronica Combat Leather Boots, $278 at Zappos
Do you prefer a more structured boot? The Veronica style is also available in a classic combat boot. These are the shoes that do all the talking – with their streamlined silhouette and soft vintage leather.
Cut from pebbled leather, the Veronica Combat boots have a streamlined silhouette and a hand-burnished finish
Style with tights and a dress for a feminine twist or embrace your inner Rockstar with denim and leather.
4. Sabrina Chelsea Boots, $398 at Amazon
The right boots will carry you from a day at the office to cocktails with your girlfriends and a last-minute dinner date. The "Sabrina" Chelsea boots are the perfect choice for anyone who counts Audrey Hepburn as their fashion muse.
Mixing country with an urban twist, these timeless Sabrina Chelsea boots are designed from smooth handworked full-grain oil-tanned Italian leather with round toes, elasticated side gores, and low block heels with a Goodyear welted construction
They're understated and elegant, blending urban and country for a modern shoe that will stand the test of time. The Italian leather and round toe make them look more expensive than their $400 price tag.
5. Veronica Harness Tall Boots, $378 at Nordstrom
When we think of boots for women, we can't go past riding boots. This equestrian style makes us think of some of the most fashionable women in the world – from the Duchess of Cambridge to Miley Cyrus.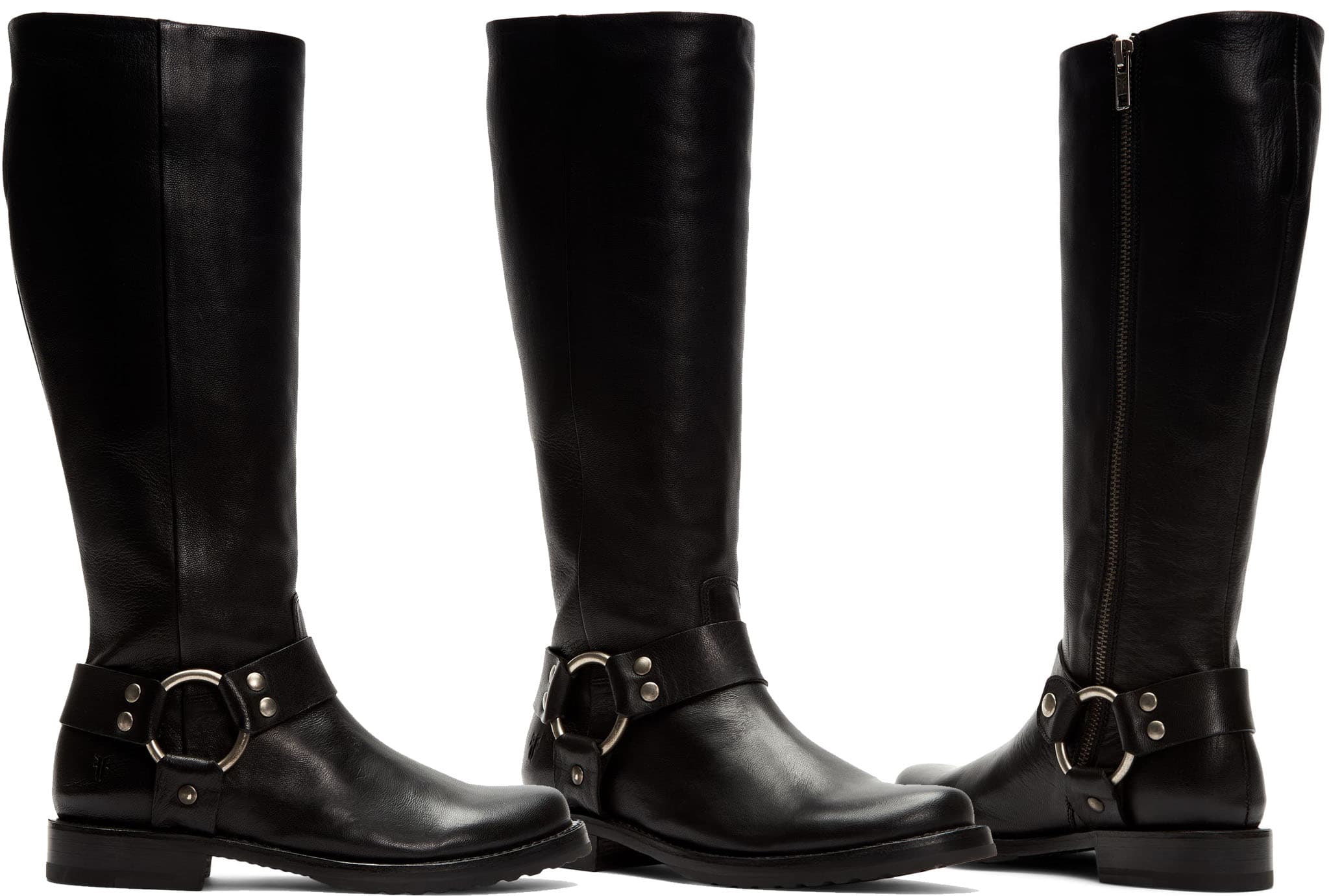 The classic O-ring and harness detail give a timeless appeal to the Veronica knee-high boots built with short chunky heels and rubber lug outsoles
The signature harness adds a classic feel to these timeless boots, putting them right on trend with the horsebit motif from luxury brands like Gucci.
6. Sabrina 6G Lace-Up Boots, $398 at Zappos
The modern woman needs boots that take a classic silhouette and turn it on its head. The "Sabrina 6G" lace-up boots are the lovechild of combat and Chelsea boots.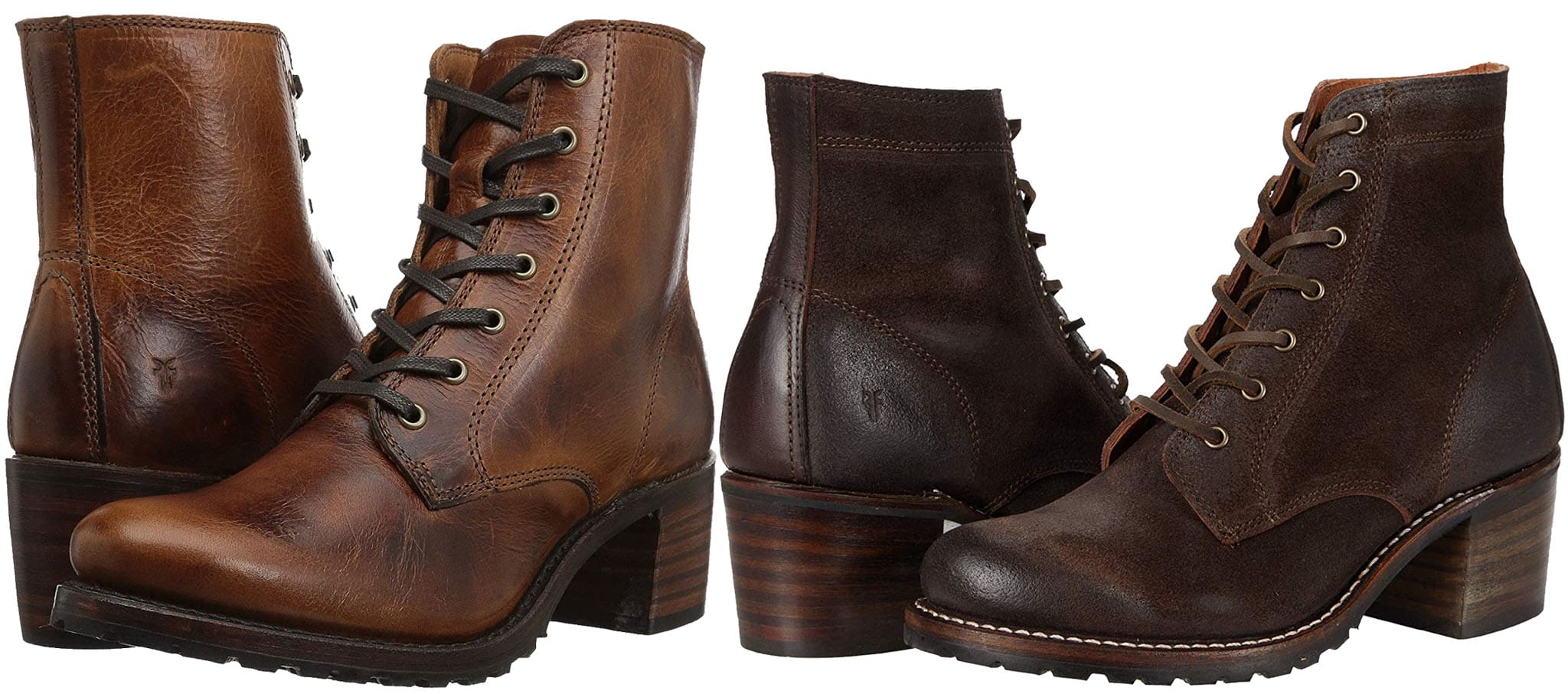 The Combat boot version of the Sabrina Chelsea, the Sabrina 6G lace-up is made of thick leather with smooth leather lining, cushioned leather footbed, and a short block heel
They're an edgier alternative to the other Sabrina boots on this list but just as versatile. It's a transitional style that will see your closet through from autumn to spring effortlessly.
7. Georgia Lace-Up Booties, $348 at The Frye Company
Thanks to shows like Bridgerton and The Gilded Age, we're all looking to add a little vintage fashion to our closet. Enter the "Georgia" lace-up bootie.
Minimalist but timeless, the Georgia lace-up boots have slim round cotton waxed laces, trendy square toes, squared back mid heels, full leather welt and outsole with stitch and scoring detail
The cognac leather boots have a minimalistic design and feature a square toe with a mid-heel and hidden eyelets. These are the boots that the heroine of a Shonda Rhimes show would wear.
8. Carson Piping Tall Wide Calf, $358 at Zappos
Tall boots add a seductive but timeless feel to any outfit. Once the temperatures drop, you'll find yourself reaching for the "Carson" boots.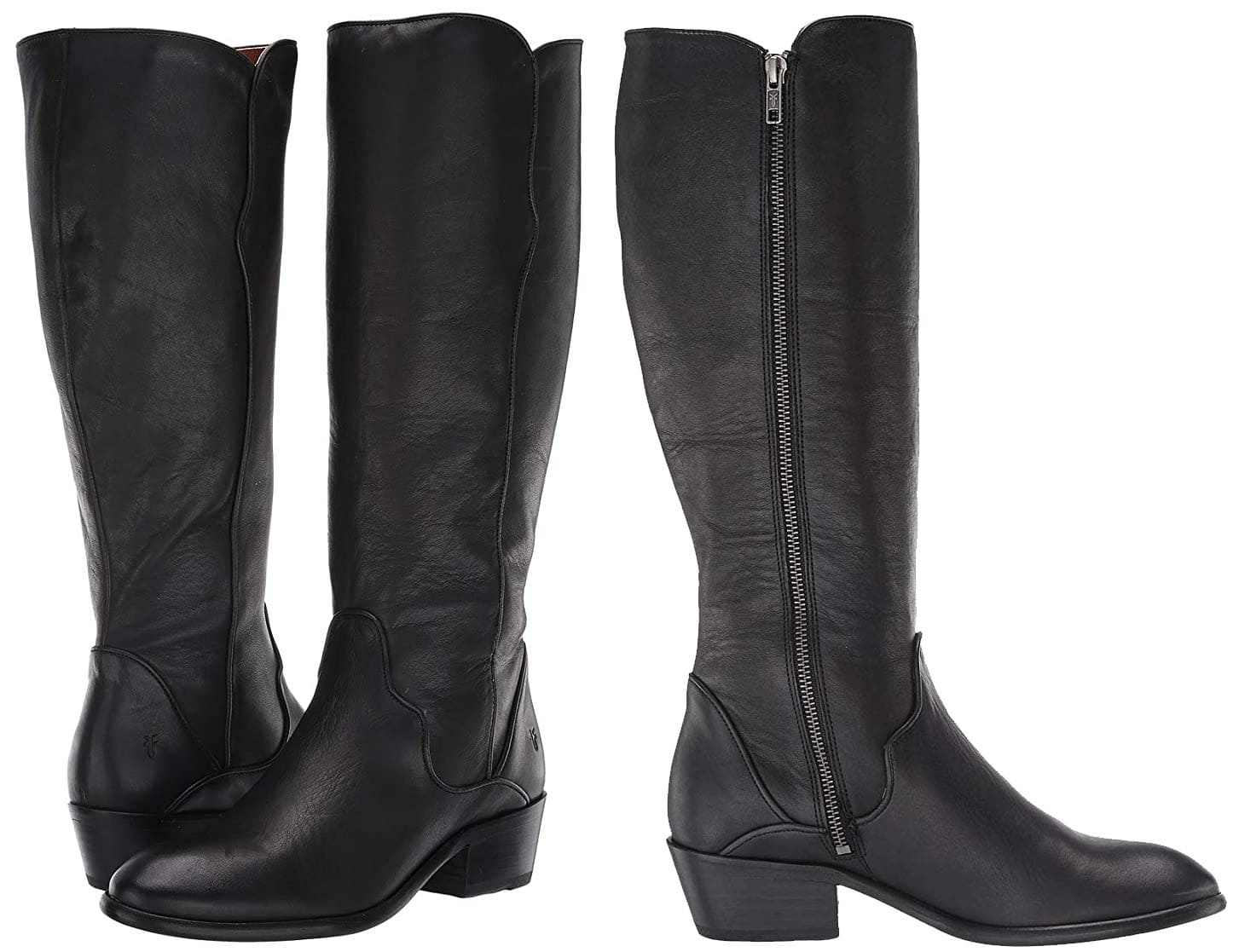 A modern interpretation of the classic Western riding boots, the Frye Carson tall boots are made from soft full-grain leather and feature a uniquely Western-inspired piping accent
These boots are Frye's modern interpretation of the classic Western riding boots. You can find these boots in both a standard and wide calf fitting to give you the most comfortable shoe possible.
9. Deborah Studded Boots, $598 at The Frye Company
We couldn't finish off this list of the best Frye boots for women without mentioning a western style. The "Deborah" studded boots are instant head-turners with their tri-colored metal studs and distressed leather.
Also a favorite of Miley Cyrus, these boots are the statement piece that your closet has been waiting for.
A showstopper, the Deborah mid-calf ankle boot is encrusted with tri-colored metal studs over distressed and perforated full-grain leather
Update your shoe collection for 2022 with a pair of Frye boots. Which of these Frye boots will you be adding to your closet in 2022?