Lena Dunham is the renowned writer, actor, and producer of the hit HBO series Girls.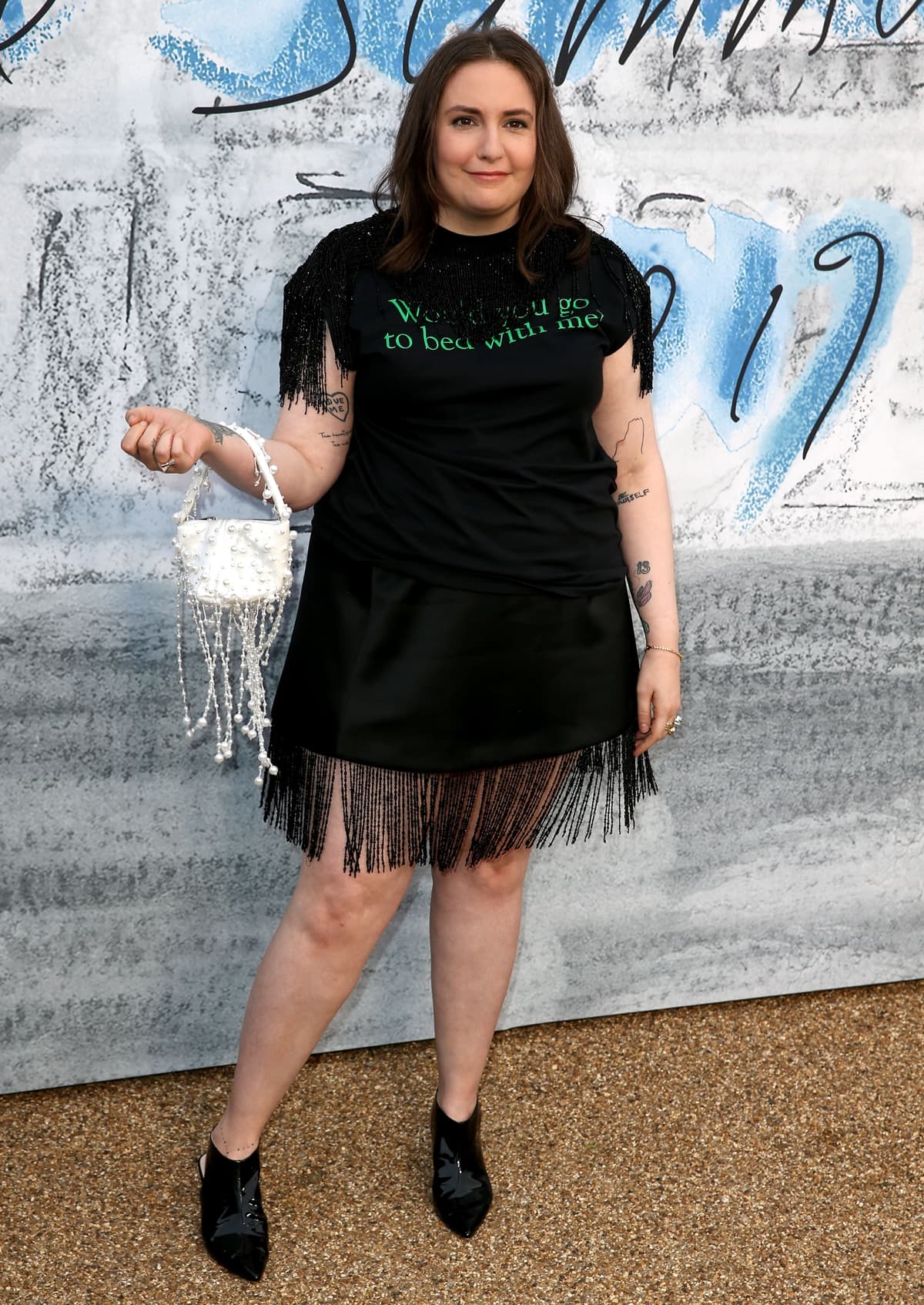 Lena Dunham in a Christopher Kane 'Would you go to be with me?' print fringe-trimmed T-shirt and a fringe skirt at The Summer Party 2019 Presented By Serpentine Galleries And Chanel at The Serpentine Gallery on June 25, 2019 in London, England (Credit: Cubankite / Shutterstock)
Following a change in appearance after quarantine, she was sadly harassed online by masses of people and had to issue a public response to the social media trolls.
The Hate Comments
The 35-year-old actor had just married musician Luis Felber and had posted about it on her Instagram, hoping for a warm response. She said she'd been "avoiding" the comment section for fear of negativity but decided to check it eventually.
View this post on Instagram
Lena married the 35-year-old English-Peruvian musician, who is known professionally as Attawalpa, in September 2021. They met earlier the same year in London on a blind date through a mutual friend.
"The first time we hung out, we didn't stop talking for, like, eight hours," he told The New York Times in an interview.
"I'd been on quite a few dates in the past year. As someone who's quite open, I find you hold a lot back on your first three dates. Or first 10 dates," he added. "I was just a bit fed up with that, so I just walked into the situation very myself, shall I say. And Lena liked that. And she's the same."
"I think when you know, you know. I've only been alive for 35 years in this lifetime, and I think it's another archaic thing for guys to hide their feelings. I'm way more into the flow of getting to know the person. And I think Lena's the same," Felber admitted. "And I think — I'm going to sound cheesy — but when you find your soulmate, you just know."
View this post on Instagram
She was disappointed to find "many, many" hateful comments about her appearance and she continued receiving vile comments for days afterwards. One user cruelly wrote, "did Lena eat the cast of Girls?" Dunham said the rest of the comments were not worth repeating, and just described them as "gnarly".
In an interview with The Hollywood Reporter, Dunham revealed that half of the nasty messages were actually from women.
"People had a very swift and strong and allergic reaction to what I looked like, and they made it very clear to me," the Girls creator argued. "I was getting messages – many, many, many of them a day — about what I looked like."
"Things most people will never have said to them in their lives because most of polite society keeps people from walking up to each other at a Target and going like, 'You're fat, you're ugly and you deserve to die.'"
View this post on Instagram
Yet she still has empathy for them, saying this behaviour reflects their own self-hatred, which is a result of societal pressure for females to be a certain shape.
"I think people would think it would be like Trump-loving men in the heartland," the actress explained.
"But it was women. Probably women with similar body types to me who had internalised the kind of hatred that we are supposed to have of our bodies. If they weren't going to enjoy their body, then I sure as hell wasn't supposed to enjoy mine."
Although she tried to ignore it and enjoy her newlywed happiness, so many people joined in that Dunham penned a response urging people to stop sending her hurtful messages.
Lena Dunham's Response
Dunham posted a picture of herself smiling and calmly responded in a length caption, explaining that she was striving to set a positive example. She began by saying: "I don't want other women, other people, to get lodged in their heads is that I should somehow be ashamed because my body has changed".
View this post on Instagram
Dunham explained that although she was thinner before, this was not for a good reason. "The pics I'm being compared to are from when I was in active addiction with an undiagnosed illness."
Therefore, she feels no urge to rush back to this unhealthy weight. It's clear that Dunham's sobriety and subsequent body change is something to be celebrated, not scrutinized.
Fellow actress Lily Collins showed her support for Lena, commenting that the post was "so beautifully said. And I thank you for putting it out there."
Final Thoughts
The Girls star concluded her post by saying "for any other person whose appearance has been changed with time, illness or circumstance — it's okay to live in your present body without treating it as transitional".
Dunham's words are humble yet encouraging, and they demonstrate the body positivity that frankly the internet seems to be lacking.
Lena Dunham, widely considered one of the worst-dressed celebrities of 2013, once again hit the red carpet for the premiere of her hit show, "Girls," held at Lincoln Center in January 2014.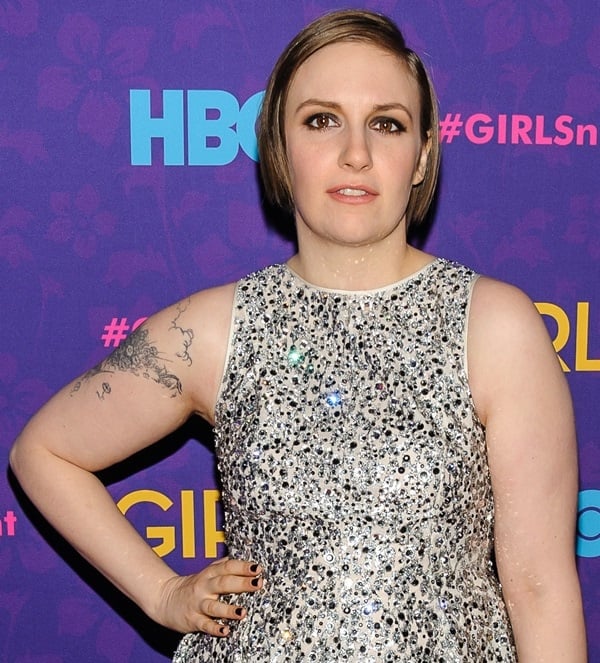 Lena Dunham wears her hair down at the "Girls" Season 3 premiere held on January 6, 2014, at Jazz at Lincoln Center in New York City (Credit: WENN)
She was joined on the red carpet by Alex Karpovsky, Allison Williams, Jemima Kirke, producer Judd Apatow, and Zosia Mamet. The third season of "Girls" was released on HBO on January 12, 2014.
Lena Dunham wears a silver crystal-embroidered Rochas dress on the red carpet (Credit: Dennis Van Tine / Future Image / WENN / C. Smith)
Lena donned a silver crystal-embroidered and bonded-silk dress from the Rochas Spring 2014 collection.
The sleeveless dress, which retailed for $27,395, featured a velvet floral pattern and a panel-seamed tea-length skirt.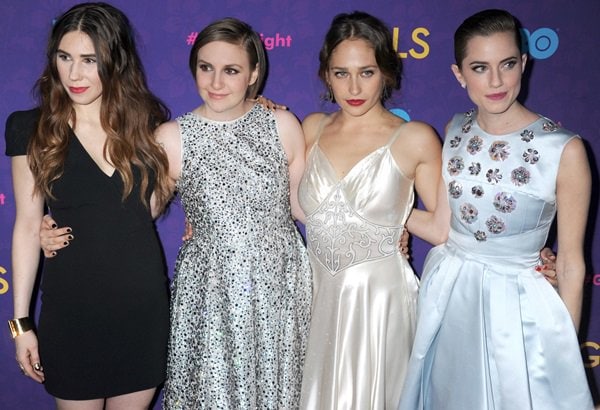 Actresses Zosia Mamet, Lena Dunham, Jemima Kirke, and Allison Williams attend the "Girls" Season 3 premiere in New York City (Credit: WENN)
The then 27-year-old American filmmaker and actress styled the dress with crystal-embellished "Tartini" high heel pumps from the Jimmy Choo Cruise 2014 collection.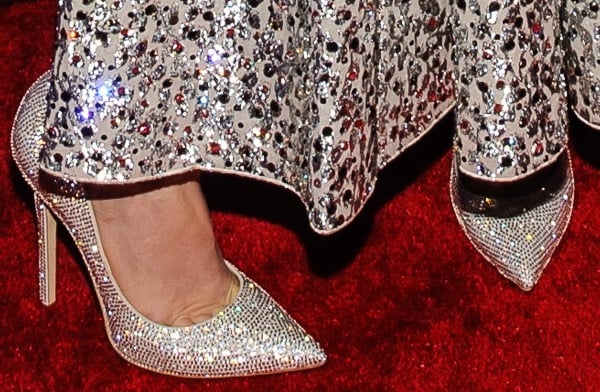 Lena Dunham's feet in crystal-embellished Jimmy Choo pumps (Credit: WENN)
The glittering "Tartini" pumps from the popular women's shoe designer are covered with silver crystals for maximum sparkle and feature 120 mm stiletto heels, leather soles, and pointed toes.
Jimmy Choo 'Tartini' Square Pavé Crystal & Suede Pumps, €1,850
Do you like the way Lena Dunham styled her $27,395 Rochas dress?